Jawbone Overlook: A Short, Steep Hike Leads to Far-Reaching Views in Luray
I recently completed three hikes back-to-back, all with trailheads on Crisman Hollow Road near Luray, including Kerns Mountain, Duncan Knob and Jawbone Overlook.
Crisman Hollow Road was closed the last time I was in the area, so I was eager to maximize my opportunity to access the hiking trails along this gravel road.
The hike to Jawbone Overlook begins across Crisman Hollow Road from the Duncan Knob hike. Honestly, unless you knew it was there, you wouldn't know it was there.
There is no signage. You will see a "Road Closed" barrier with a gravel road leading up a hill. You will have no idea there is a trail, but there is, and it leads to a gorgeous overlook.
| Trail Stats | |
| --- | --- |
| Length | 2.6 miles |
| Difficulty | Moderate |
| Trail Type | Out-and-Back |
| Elevation Gain | 879 feet |
| Duration | 1.5-2 hours |
| Terrain | Mostly dirt & rock trails, some gravel road |
| Dog-Friendly | Yes |
| Fee | Free |
| Driving Directions | Click Here |
Arriving at the Trailhead
Driving along Crisman Hollow Road, you will see the sign for the Gap Creek Trail a few miles in. From the north, the "Road Closed" barrier is just before this sign.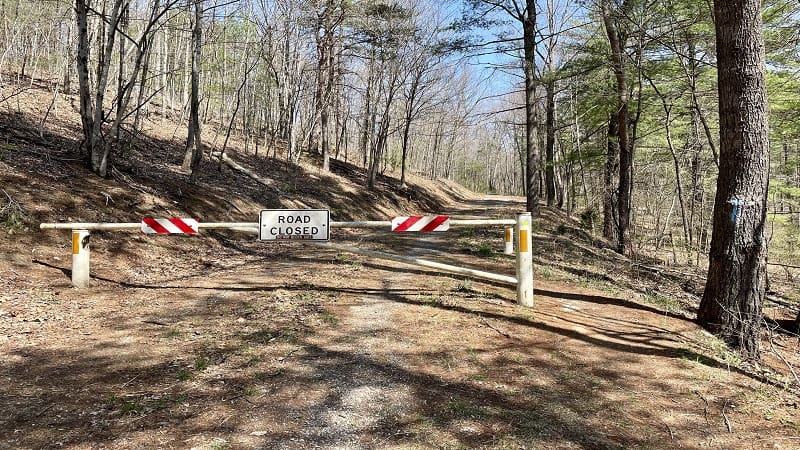 Park parallel alongside Crisman Hollow Road. There is no dedicated parking lot for this hike, but there is enough space for a few cars to safely park.
The hike begins at the "Road Closed" barrier. You will also see a light-blue blaze on a tree to the right of the barrier. From here, the ascent on the gravel road begins.
The First Steps
Walk around the "Road Closed" barrier and ascend the service road (aka hiking trail). It's a nice shaded walk up the hill. At the .3-mile mark, turn left to stay on the trail.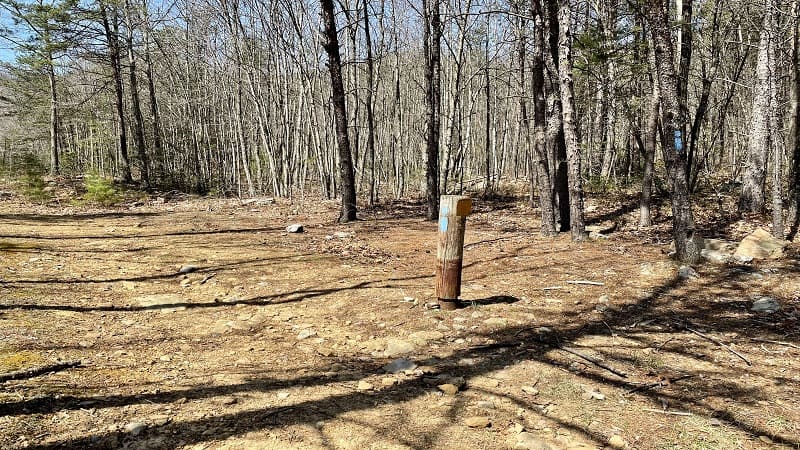 You will see a post with a light-blue blaze. Then, the trail is more dirt and rock. No more gravel. In a few more steps, you will see a stone fire ring on the left.
There's enough space to set up a few tents at this primitive camp site. The site overlooks a small pond. At first, I thought this was Emerald Pond given the green hue.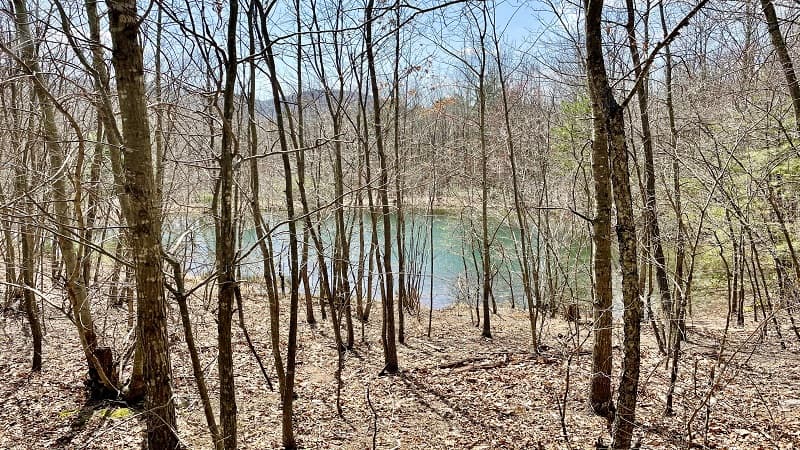 Emerald Pond is actually only a few miles away, but this is a different pond. It's also quite scenic and worth stopping for a few minutes to take in the watery oasis.
You will continue on what is called Turkey Pen Road in AllTrails, though I don't recall seeing any signage. In fact, I didn't see any trail signs until the 1.2-mile mark.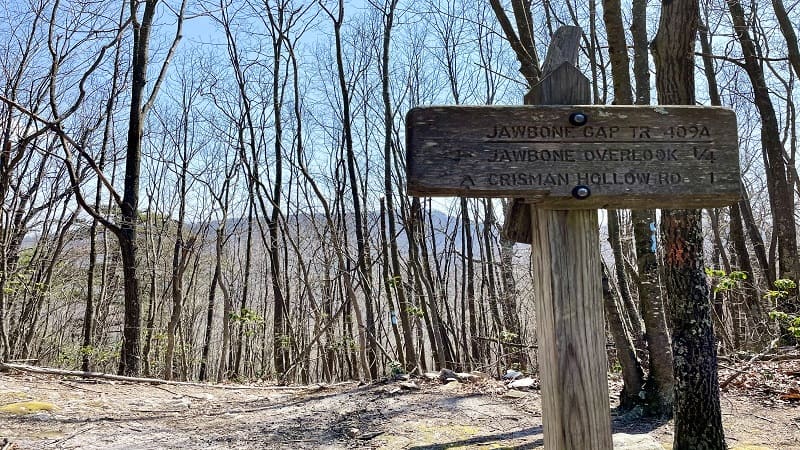 After a few switchbacks, a sign for the Jawbone Gap Trail appears on the right, indicating that the Jawbone Overlook is only .25-mile more up the hill.
At this point, you will turn right onto the white-blazed Overlook Trail. Again, there is no signage. I'm only relaying what I know from AllTrails.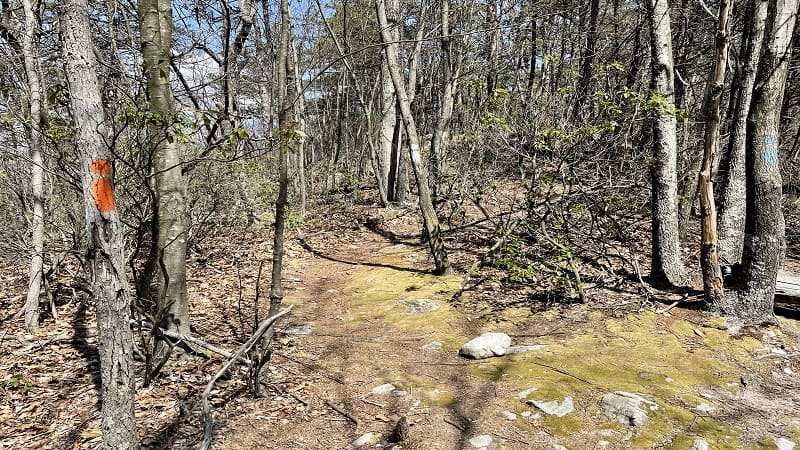 Here you're actually at a junction of three trails, including the orange-blazed Massanutten Trail. You would turn left or go straight ahead for this hiking trail.
At the 1.3-mile mark, you will reach Jawbone Overlook. It's a beautiful rocky overlook with far-reaching views of neighboring mountains. Sit and savor the views for awhile.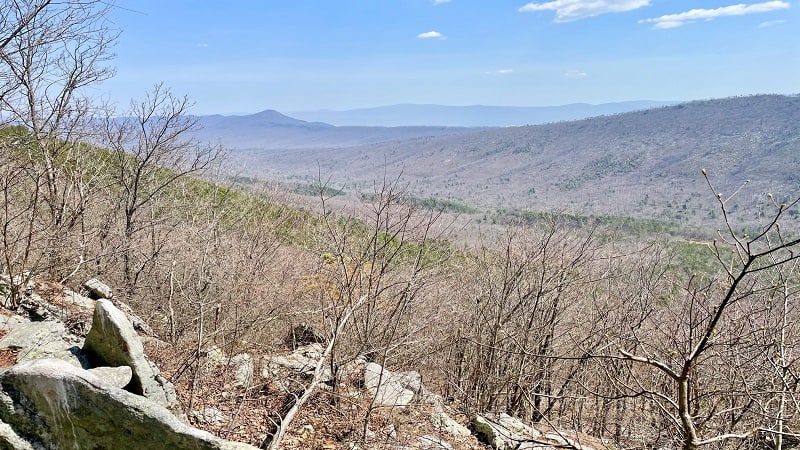 When you're ready, re-trace your steps to the parking area. Your hike is complete.
Wrap-Up Options
From my vehicle, this hike took me 1 hour, 10 mins including time spent ogling the views. I was ready for a break too because this is a steep hiking trail. Oof.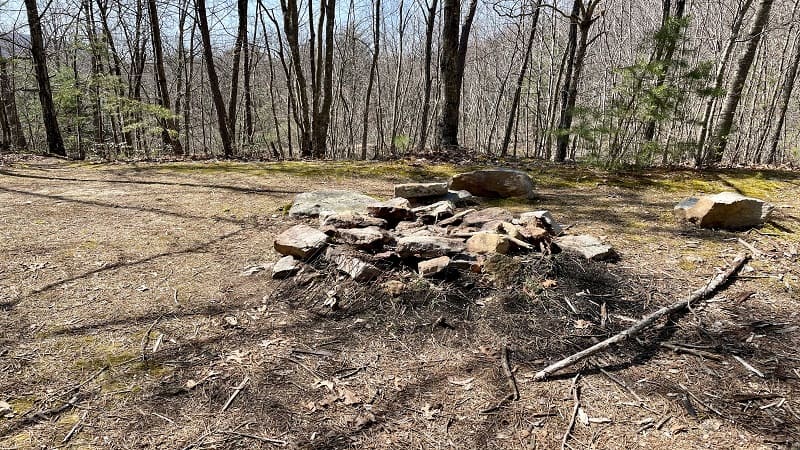 There are several other nice hikes along Crisman Hollow Road if you have the time and energy, including Storybook Trail (.7 miles) and Strickler Knob (5.8 miles)
The Kerns Mountain hike (2.2 miles) along the orange-blazed Massanutten Trail is another top pick for a scenic overlook. One more first-rate trail nearby is Kennedy Peak.