How to Hike the Virginia Triple Crown (Hotel-Style)
The Virginia Triple Crown makes many hiking bucket lists. This scenic trio of strenuous hikes in Virginia's Blue Ridge Region wows with breathtaking views aplenty.
There are many ways to complete these three hikes, which include Dragon's Tooth, McAfee Knob and Tinker Cliffs.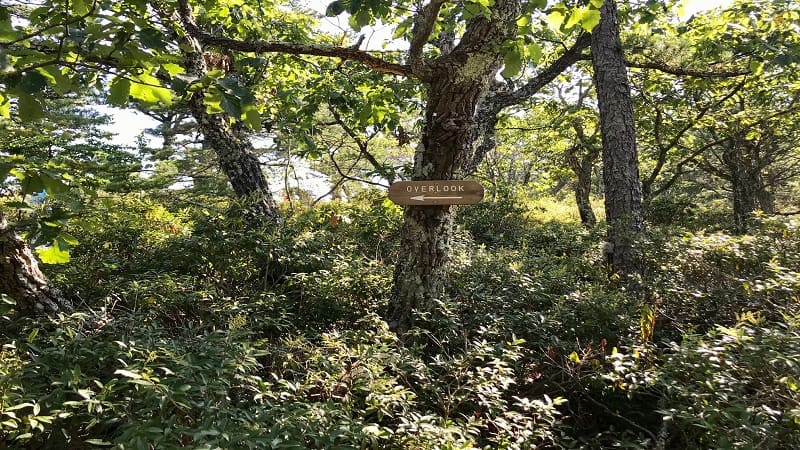 Some people choose to backpack the three hiking trails, over two or three days, pitching a tent alongside the trail, maybe at a shelter on the Appalachian Trail.
I opted for a one-night hotel stay in Salem. I completed Dragon's Tooth on Day One, then tackled McAfee Knob and Tinker Cliffs on Day Two. It worked out really well.
Hike #1: Dragon's Tooth
I drove to the trailhead for Dragon's Tooth in Catawba (just northwest of Roanoke). This was a 3.5-hour drive from my home in Northern Virginia, mostly along I-81.
I was liaising with fellow hikers from a MeetUp group at 1 pm. I was pleased to arrive to a good-size parking lot and lots of parallel spots on Catawba Valley Drive.
There are two vault toilets at the trailhead, so consider a stop before tackling this 4.8-mile out-and-back hike, which has an elevation gain of more than 1,300 feet.
The hike begins simply enough, slowly guiding you along Dragon's Tooth Trail across wooden bridges and rocky stream crossings in the Jefferson National Forest.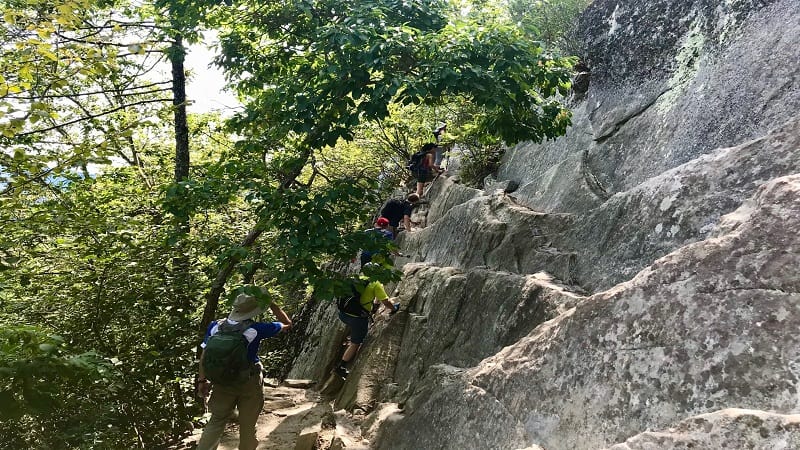 At the 1.5-mile mark, you will reach a trail sign politely informing you that the next mile is not going to be easy. To be more precise, it will be "rocky and steep."
You will soon encounter steep rocky steps and areas where you will feel as though you are scaling the side of Cove Mountain (literally, no exaggeration).
However, once you reach the top and the 35-foot-tall rock spire (Dragon's Tooth) comes into view, you'll be glad you dug deep to secure your reward.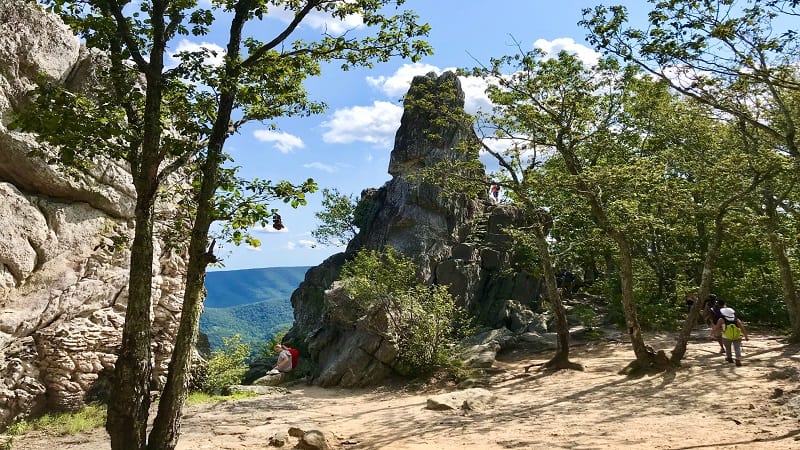 Savor the views, then re-trace your steps slowly as not to trip or slide on any rocks on your way back to the parking area.
From here, I made a beeline for the Baymont Inn & Suites in Salem (an 18-minute drive from the trailhead). It's a simple budget motel, but it was perfect.
Hike #2: McAfee Knob
The second day started early thanks to a 13.4-mile hike we had ahead of us. I also had a 3.5-hour return drive to Northern Virginia after the hike. Oof, exhausting.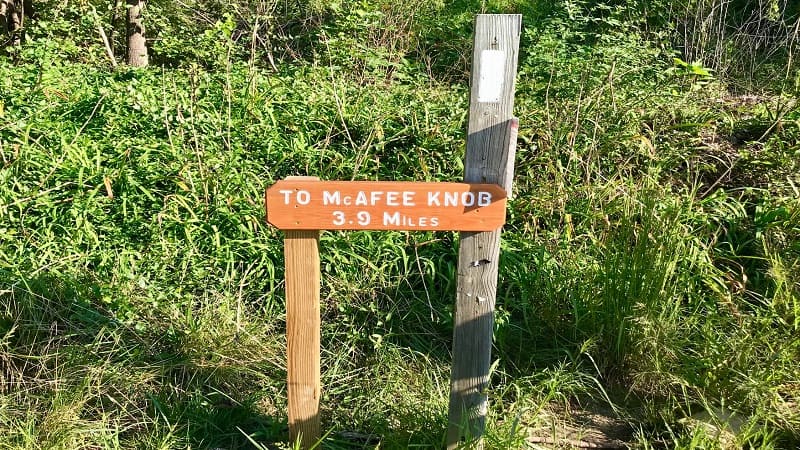 The plan was to complete both McAfee Knob and Tinker Cliffs as a point-to-point hike, which required more thoughtful consideration than your average hike.
A few of us parked at the McAfee Knob parking area and a few of us parked at the Tinker Cliffs parking area, then consolidated and shuttled back to McAfee Knob.
Once we were all at McAfee Knob, and there were enough cars at Tinker Cliffs, we were ready to go. But first, a word about parking.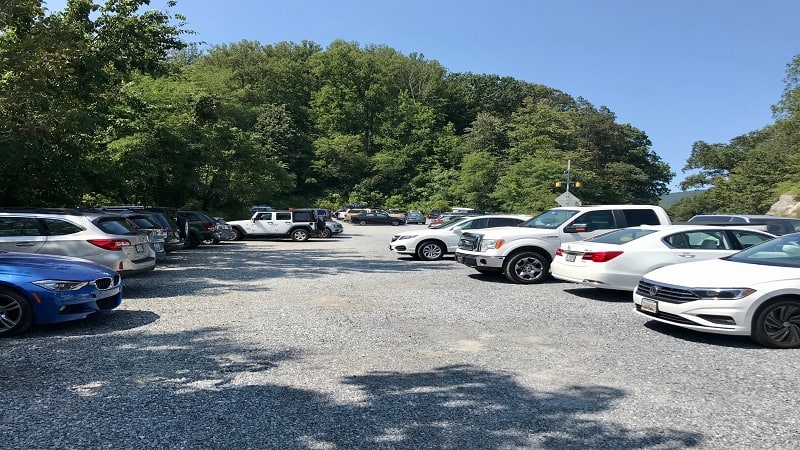 McAfee Knob is one of the most popular hikes in the state. That noted, the parking lot can fill up very quickly, like before 8 am on weekends.
I will also note that local law enforcement does not mess around when it comes to illegal parking on this section of Catawba Valley Drive. They are very quick to tow.
Eventually, we got going, crossing over Catawba Valley Drive to the McAfee Knob trailhead. We started to hike, then at the .3-mile mark, there was a decision to make.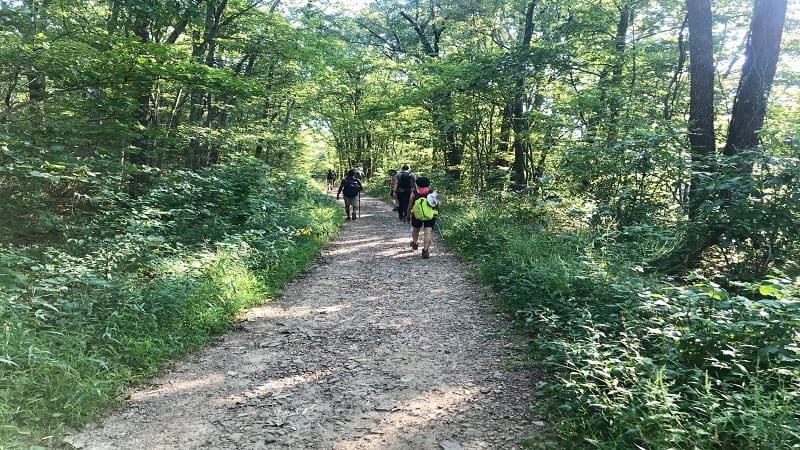 There are actually two routes to McAfee Knob. I hate to say the "easy way" and the "hard way," but the description works and is mostly accurate.
You can either stay left to take the McAfee Knob Trail (a wide fire road) or stay right for the Appalachian Trail. The two come together at the 2.5-mile mark.
We opted for the McAfee Knob Trail, mostly because it allowed for greater social distancing on the trail (I did this hike in September 2020).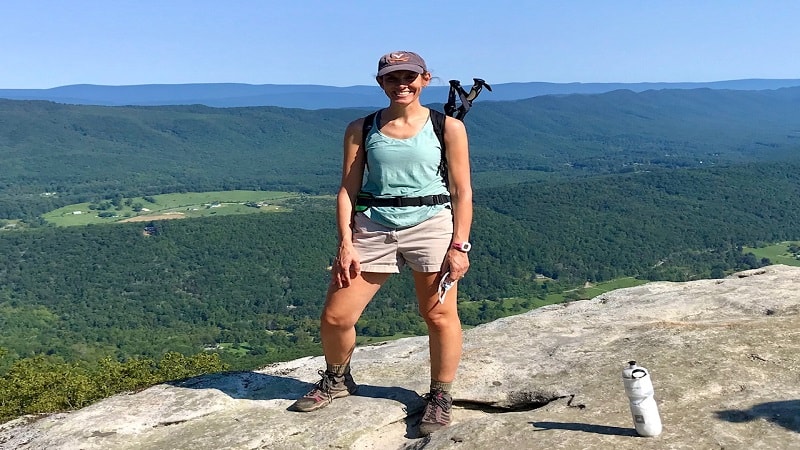 McAfee Knob appears at the 3.7-mile mark. From here, you can see near 270-degree views, including Catawba Valley, Roanoke Valley and North Mountain.
Hike #3: Tinker Cliffs
We re-hydrated and savored the far-reaching views, but then it was time to keep go. As in, on to Tinker Cliffs, in order to complete the Virginia Triple Crown.
At this point, you are on the Appalachian Trail, so continue hiking south on a less-traveled section. You'll soon reach the Campbell Shelter and a picnic table.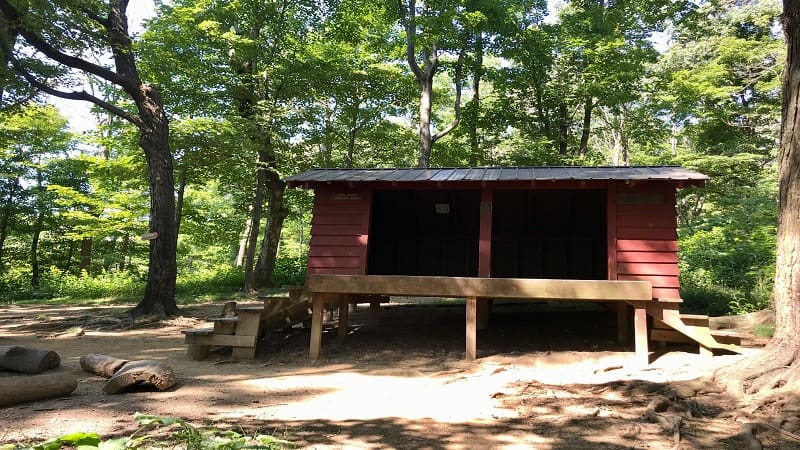 Near the 7-mile mark, we found some nice rocks that were just right for taking a lunch break and enjoying the views of the Carvins Cove Reservoir off in the distance.
Once you've hiked 8 miles, you will see a trail sign. Tinker Cliffs, it's so close. Yet, you will have to earn every single view you take in at Tinker Cliffs over the next 1.3 miles.
The views from Tinker Cliffs are magnificent. In fact, the Catawba Valley vistas are even more amazing than you will expect, so take the time to enjoy them.
Soon, you must descend lots and lots of steps. After that steep hike up to Tinker Cliffs, you've got to go down to reach the parking lot. Oh my gosh. So many steps.
Shortly after you connect with the Andy Layne Trail, you will step foot on private property. You will see a wide-open field, politely grazing cows and two wooden bridges.
After the second footbridge, the end of this hike is nearly in sight. At the 13.4-mile mark, you will see the parking lot and a massive trail sign. You are a champion.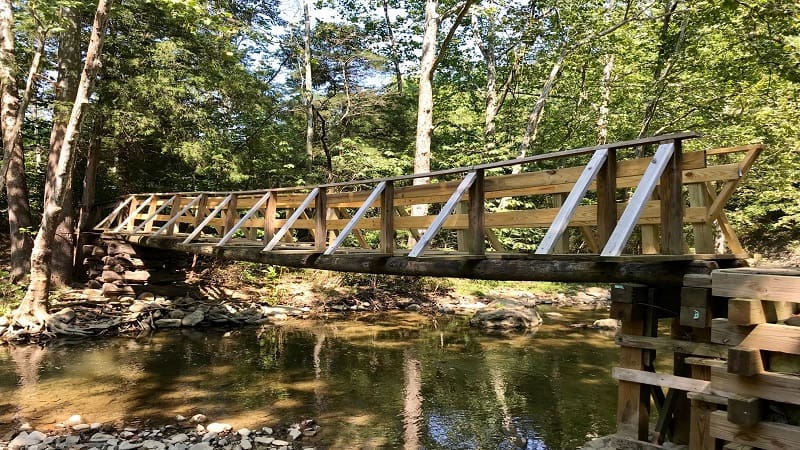 Hopefully you parked a car in this parking lot. Otherwise you've got to slog another 6 miles to the McAfee Knob parking area.
If you did park here, it's a short 15-minute drive back to the McAfee Knob lot. Phew.
Quick Tips & Advice
Before I wrap up this post, I wanted to share a few quick tips and pieces of advice.
#1: Hike Sawtooth Ridge
The 1.9-mile Sawtooth Ridge hike shares a parking lot with McAfee Knob. This is a great hike to add on if you arrive early on Day One.
The trailhead is 4.1 miles (6 minutes) from the parking lot for Dragon's Tooth. If you have the time (and can get a parking space), this is a really nice, shady hike.
#2: Stay in Salem
There's not a lot in Salem, but it's the perfect place to stay. There are three hotels that share a parking lot: Baymont Inn & Suites, La Quinta Inn and Fairfield Inn & Suites.
There's also a Burger King in the same parking lot (I am a Junior Whopper fan when I travel). I liked the Baymont Inn & Suites because the rooms opened out to fresh air.
#3: Get an Early Start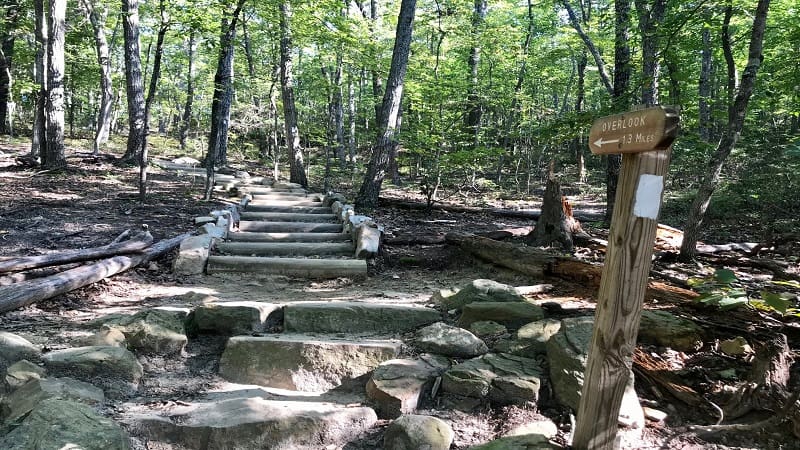 As I noted above, these three hikes – especially McAfee Knob – are very popular and the parking lots fill up very quickly. Keep this in mind as you plan your day.
It pays to bring a small car too as the McAfee Knob lot and the adjacent narrow, windy road where you can parallel park when the lot is full are quite a mess.
#4: Know Your Limits
Take breaks, stay hydrated, know your limits. Some sections of Dragon's Tooth are technical. There is no shame in turning back rather than practically scaling a mountain.
Also consider going with a group. There are many hiking MeetUp groups that organize trips and it's worth joining one to give you greater peace of mind on each section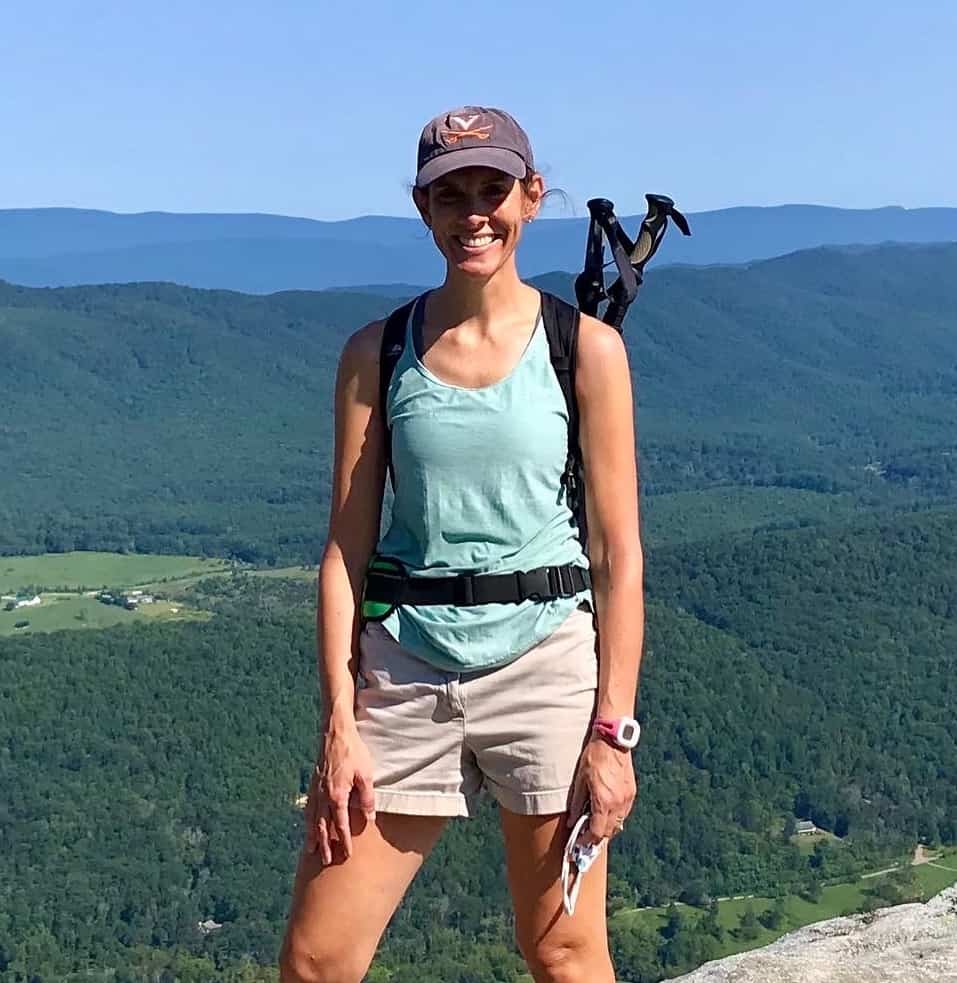 Erin Gifford is the editor of Go Hike Virginia. She has completed more than 300 hikes in Virginia. She is also the author of three hiking guidebooks from Falcon Guides. Need help finding a hike? Check out the Trail Finder feature or send Erin a message.