15 Best Hikes In and Near Roanoke, Virginia
Roanoke may be America's East Coast Mountain Biking Capital, but there are so many fantastic hiking trails near Roanoke, Virginia.
Among the best hikes are two hiking trifectas, including the Virginia Triple Crown and the Peaks of Otter. Both awe with three fantastic and scenic hikes.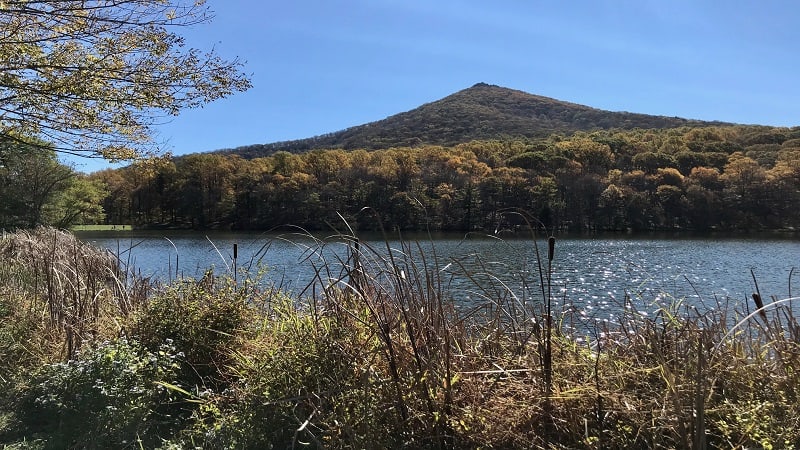 Downtown Roanoke is also less than one hour from more than a few gorgeous waterfalls, as well as easy hiking trails at Smith Mountain Lake State Park.
Hiking Near Roanoke
To make it easy to navigate, I've organized Roanoke hiking trails by difficulty level so you have a good idea what to expect before stepping foot on the trails.
For the hikes below, I share what's to love and how far each trailhead is from Roanoke (from Market Square, to be precise). Get ready to get hiking, friends.
Easy Hikes
It's a cinch to fall for easy-going hikes to gently cascading waterfalls and big mountain views, even small islands. These hikes near Roanoke fit the bill.
For those who aspire to hike the Virginia Triple Crown – as in, Dragon's Tooth, Tinker Cliffs and McAfee Knob – a good place to start is Sawtooth Ridge.
This 1.9-mile out-and-back hike in Catawba guides hikers on a southbound stretch of the Appalachian Trail with scenic views and a rock scramble.
The Sawtooth Ridge hike shares a parking lot with the uber-popular McAfee Knob hike. What does that mean to you? Arrive very early for a parking space.
Bottom Creek Gorge Preserve in Shawsville is home to one of Virginia's tallest waterfalls – 200-foot-tall Bent Mountain Falls.
Cobble together several trails for an easy 4.0-mile loop, including down to Bottom Creek to see a spectacular stair-step series of waterfalls.
Continue on to reach the Malcolm and Jimmie Black Overlook. You can't get up close to the falls, but it's a nice view of one of the tallest falls in the state.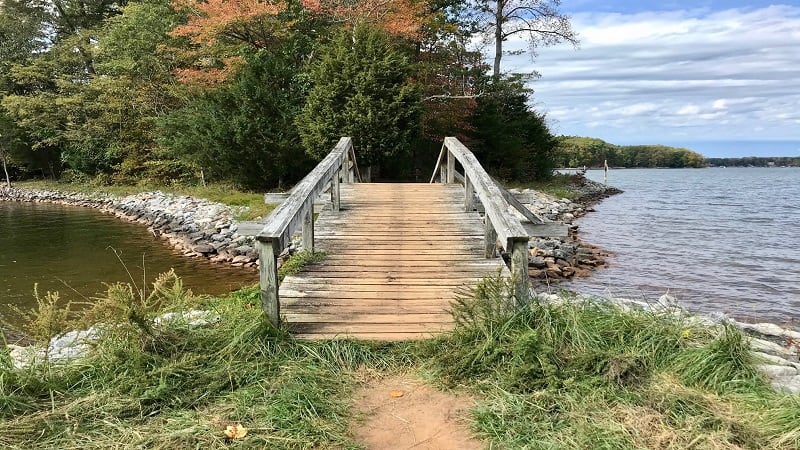 Smith Mountain Lake State Park may be a go-to destination for water sports, but there's a lot to love on dry land too, like the Turtle Island Trail.
This 1.4-mile loop hike leads to a small island and a path that runs along the perimeter. A small beach area precedes the wooden footbridge to the island.
Placards early in the hike educate park-goers on how abandoned fields at the state park transformed into a wooded forest over the course of 125 years.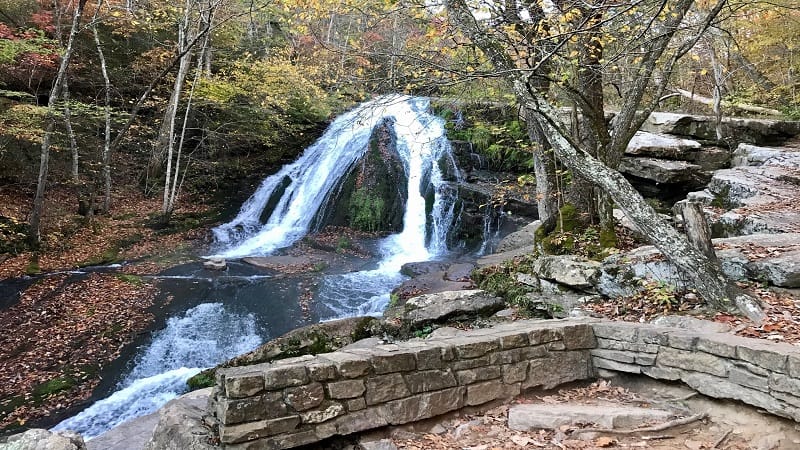 This 1.7-mile waterfall hike near Roanoke is located at Roaring Run Furnace Day Use Area in Jefferson National Forest. It can be completed by all levels of hikers.
Take the Streamside Trail to the falls to revel in cascading Roaring Run. On the return, walk the forested Woodland Trail for a delightful loop hike.
Plan to cross bridges, ascend steps, stroll across wooden boardwalk, even enjoy a history lesson at the historic iron furnace that dates to the 1800s.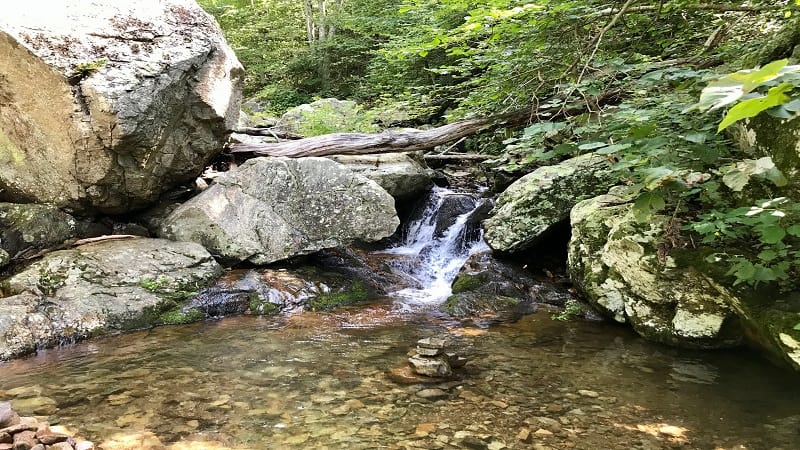 The 1.2-mile out-and-back hike to Fallingwater Cascades begins just across the Blue Ridge Parkway from the small parking area.
This easy hike along a forested trail to a gently cascading waterfall is a nice break from a casual drive on the parkway. Take off your shoes for a splash.
The waterfall is small, but it's refreshing on a warm day. For more of a challenge, Apple Orchard Falls is 10 minutes further along the Blue Ridge Parkway.
Moderate Hikes
For more mileage and elevation, as well as more far-reaching views, here are hikes near Roanoke that awe with mountain vistas and cascading waterfalls.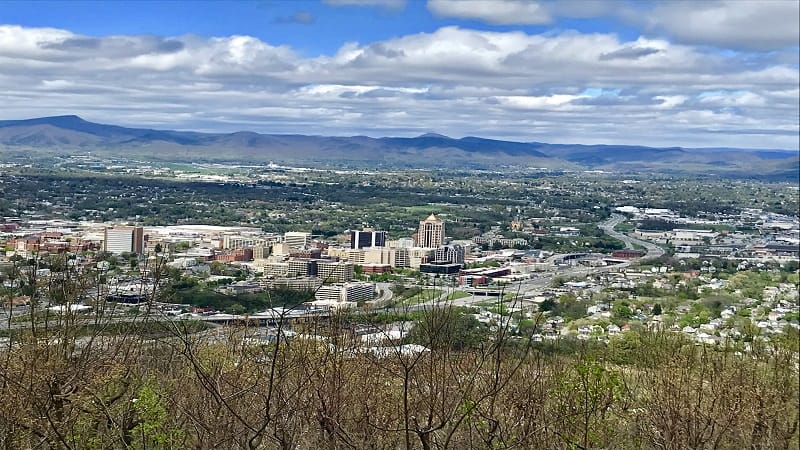 At 100 feet tall, the Mill Mountain Star earned the distinction of the largest man-made star. The iconic steel star has been welcoming visitors since late-1949.
A 3.3-mile out-and-back hike at Mill Mountain Park allows you to see the star up close. Some call this steel star the Hollywood Sign of the East Coast.
This wooded hike is well-shaded all the way until you reach the stunning overlook at the top of the mountain when you reach what's also called the Roanoke Star.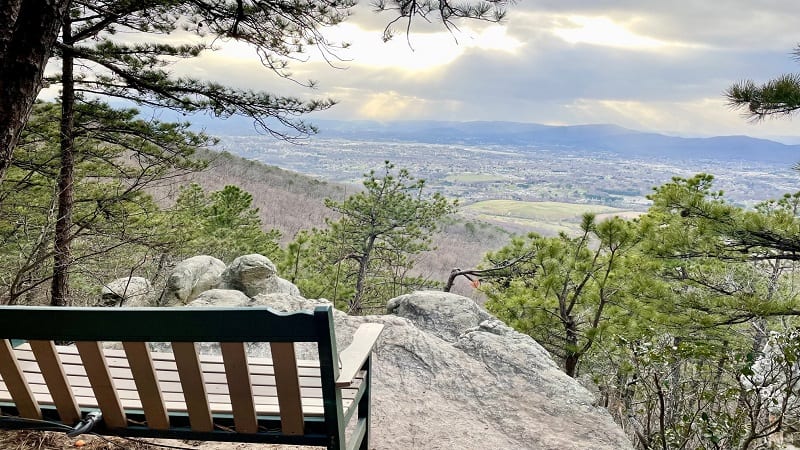 At 243 acres, Read Mountain Preserve is one of the largest recreation areas in Roanoke County. It's home to five hiking trails, including the Buzzards Rock Trail.
The blue-blazed Buzzards Rock Trail is the longest and most popular of the five hiking trails. Naturally, it leads to an epic overlook called Buzzards Rock.
At the summit, you'll find a wooden bench that's just right for savoring the views across the mountains and downtown Roanoke. Take it all in.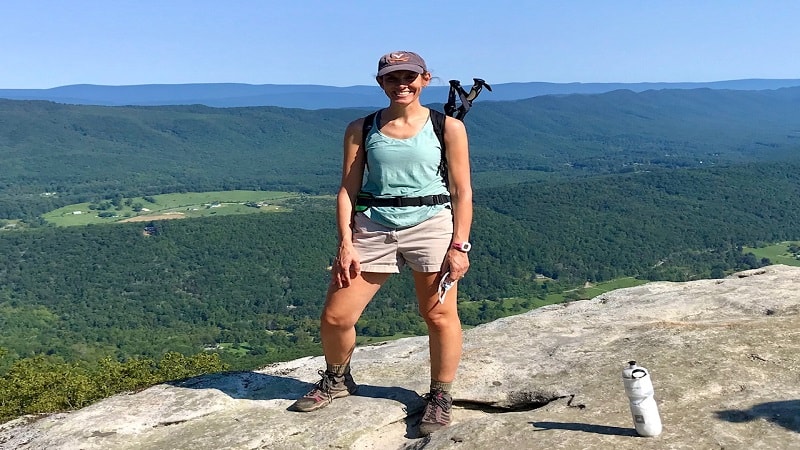 It's a steady climb over 4.0 miles to reach McAfee Knob. However, you will be wowed by views of Catawba Valley, Roanoke Valley and North Mountain.
Take the Appalachian Trail all the way to McAfee Knob. Or, start on the AT, then hook up with a wide fire road for a 2.2-mile section of the hike.
The fire road is a good option if you're in a group or with kids. It's definitely the easier option. Once at McAfee Knob, take a seat and savor the vistas.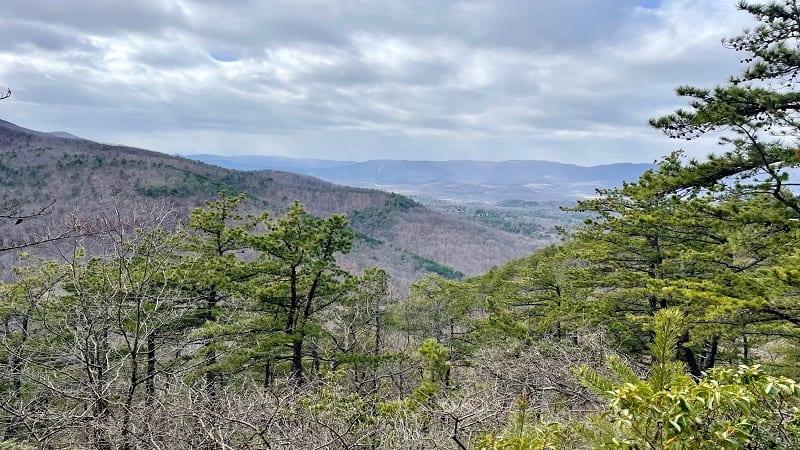 Poor Mountain Natural Area Preserve is a 1,326-acre preserve in the Blue Ridge Mountains. It's also home to the piratebush, a globally rare shrub.
There are three marked hiking trails, including the red-blazed Piratebush Trail, the orange-blazed Overlook Spur and the blue-blazed Canyon Trail.
This loop hike features scenic views, cascading waters, a small waterfall and benches here and there when you're ready to take a break on the trail.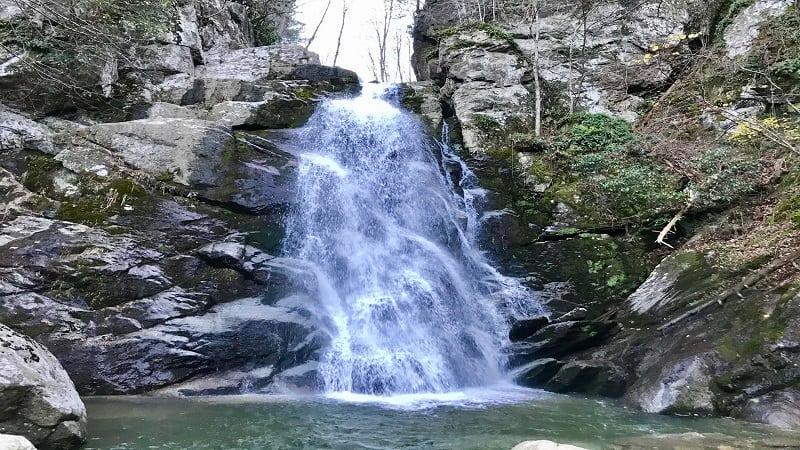 You'll find the wooded trail to tumbling 40-foot-tall Stiles Falls on the grounds of Alta Mons, an outdoor ministry and faith-based summer camp in Shawsville.
The trail is on private property, but the 3.3-mile out-and-back hike to Stiles Falls is open to anyone and everyone, according to the Alta Mons website.
You'll cross over rolling Purgatory Creek three times before reaching a small rock scramble. Then, it's all about peaceful and refreshing Stiles Falls.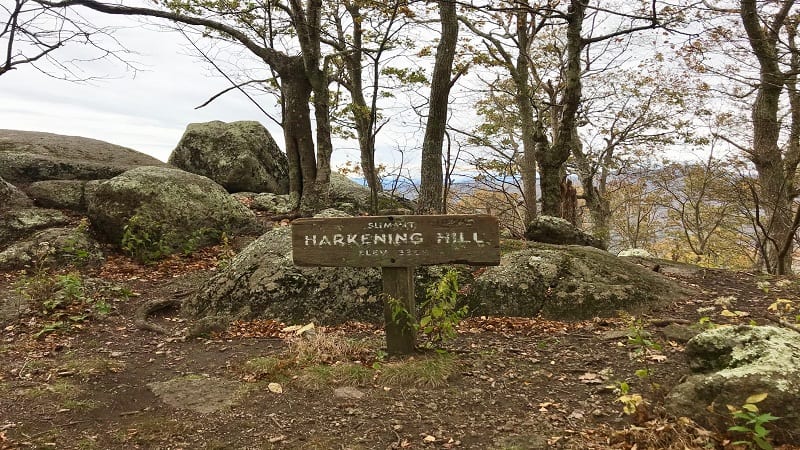 Harkening Hill stands in the shadow of Sharp Top, the most popular of the three Peaks of Otter, but the views from the top are no less breathtaking.
You can complete this hike as a 2.8-mile out-and-back hike or a 3.2-mile loop hike, traipsing along leafy and serene stretches of trail.
A short spur trail before the summit leads you to Balance Rock. A second "balance rock" wows just past the summit on a counter-clockwise hike.
Strenuous Hikes
For a real challenge, as well as gorgeous panoramas, add these strenuous hikes near Roanoke to your must-do list for this year. Bring lots of water, too.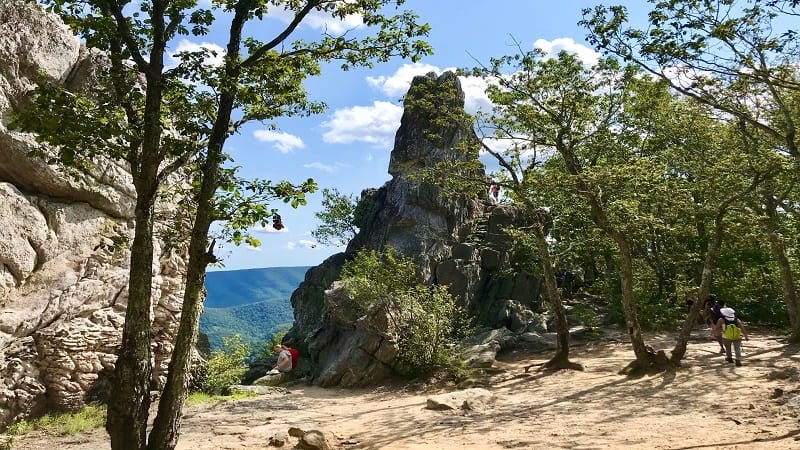 For Dragon's Tooth, you must complete a mild, forested hike on the Dragon's Tooth Trail, then manage a strenuous .8-mile section of the Appalachian Trail.
You will use hands, feet, elbows, toes, fingers and knees to reach the summit. Then, get ready to climb to the top of the 35-foot-tall rock spire for views.
Embrace steep rocky steps and areas where you feel like you are scaling the side of a mountain, even iron bars to climb rock faces.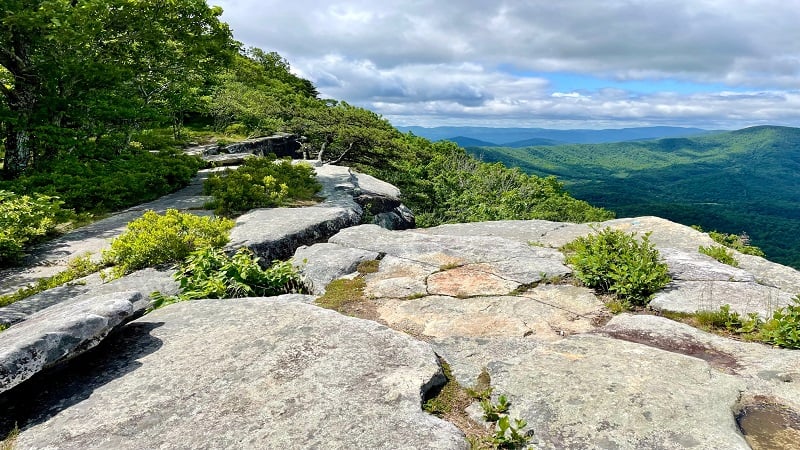 There are two ways to hike to Tinker Cliffs in Catawba for views across the Catawba Valley and Roanoke Valley.
You can tackle this as an 8.1-mile out-and-back hike on the Andy Layne Trail and Appalachian Trail, including lots and lots of steps to gain elevation.
Alternatively, you can pair this strenuous hike with McAfee Knob for a 13.4-mile point-to-point hike. Just make sure to park cars at both trailheads.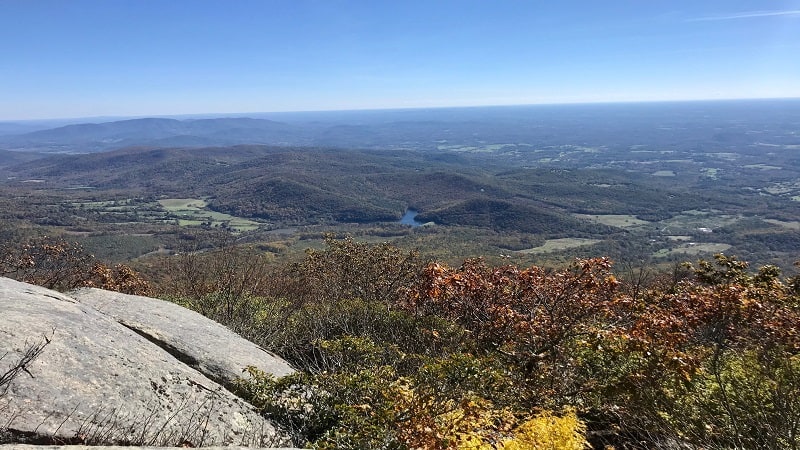 This strenuous 5.7-mile out-and-back hike sees an elevation gain of nearly 1,800 feet, but it's a small price to pay for outrageously beautiful views.
Take a break at the false summit at the 2.1-mile mark. This rocky outcrop wows with scenic vistas. Skip Cross Rock. The spur is steep and it's very meh.
There's not one single viewpoint at the very top of Flat Top, so hop around to different rocky outcrops to savor the panoramic views in various directions.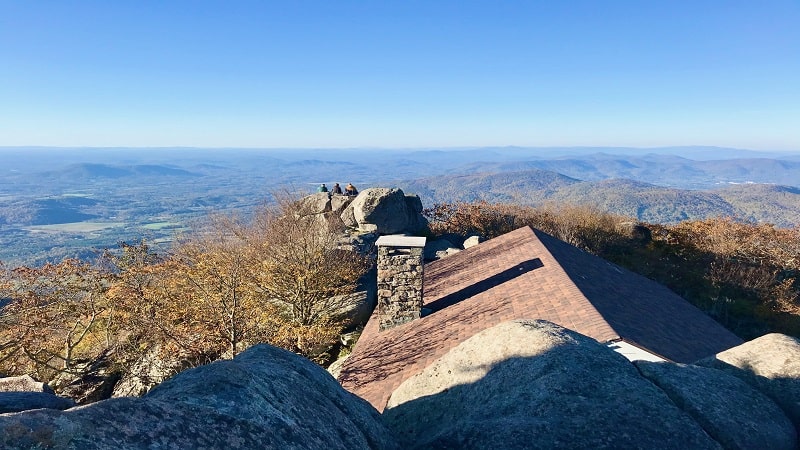 The 3.3-mile out-and-back hike wows with 360-degree panoramas from atop Sharp Top. There are stone walkways, stairs and terraces at the summit.
There's even a stone shelter that was a restaurant in the 1950s and 1960s at the top of what was once thought to be Virginia's highest peak.
On the way down, a short spur trail leads out to Buzzard's Roost. Climb the massive rock for sensational views across the Blue Ridge Mountains.