Poor Mountain: A Forested Loop Hike in Roanoke County, Virginia
Not long ago, I checked out Poor Mountain Natural Area Preserve in Roanoke County, Virginia. I was eager to hike the preserve's three wooded hiking trails.
Interestingly, this 1,326-acre mountain preserve in the Blue Ridge Mountains is home to the world's largest population of piratebush, a globally rare shrub.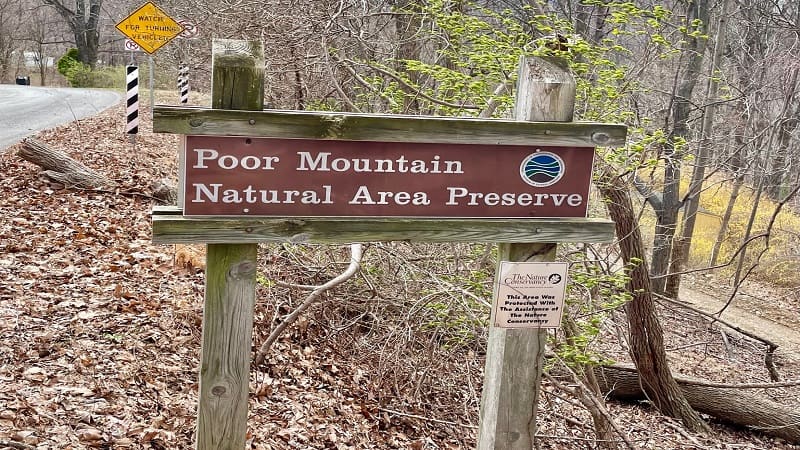 This heavily-branched shrub can only be found on a few select mountains in Virginia, North Carolina and Tennessee.
In spring, the piratebush produces small green flowers, and by late-summer, oval-shaped yellow-green fruits appear on this parasitic shrub.
| Trail Stats | |
| --- | --- |
| Length | 3.9 miles |
| Difficulty | Moderate |
| Trail Type | Loop |
| Elevation Gain | 873 feet |
| Duration | 2-3 hours |
| Terrain | Mostly dirt & rock trails |
| Dog-Friendly | Yes |
| Fee | Free |
| Driving Directions | Click Here |
Poor Mountain Natural Area Preserve
Poor Mountain Natural Area Preserve overlooks the Roanoke Valley and is located at 4451 Twelve Oclock Knob Road. A small parking area greets visitors.
There are just 10 parking spaces at the natural area preserve. When the lot is full, it's full. You'll need to find another hike. There is nowhere else to park.
At the back of the parking area, there is a porta-potty, as well as the trailhead for the red-blazed Piratebush Trail.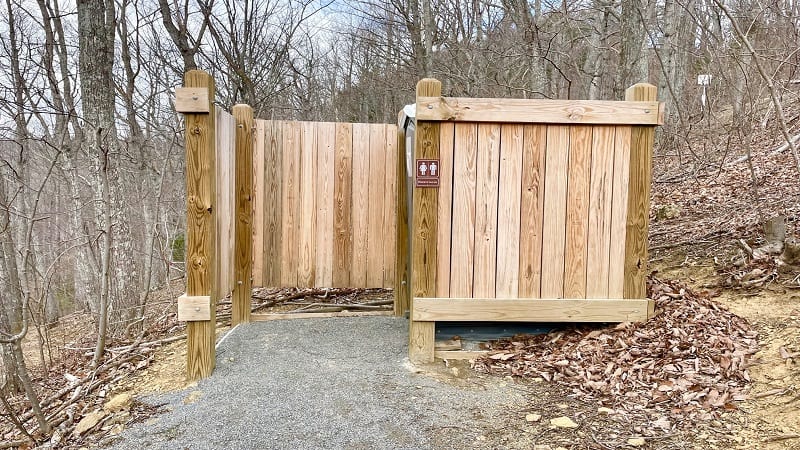 Dogs are allowed at this nature preserve, but they must be on a leash at all times. Biking, camping and horseback riding are not allowed at Poor Mountain.
Piratebush Trail
From the start of the Piratebush Trail, there is a minimal descent for the first 0.3 miles, until you reach a large trail kiosk and a bench.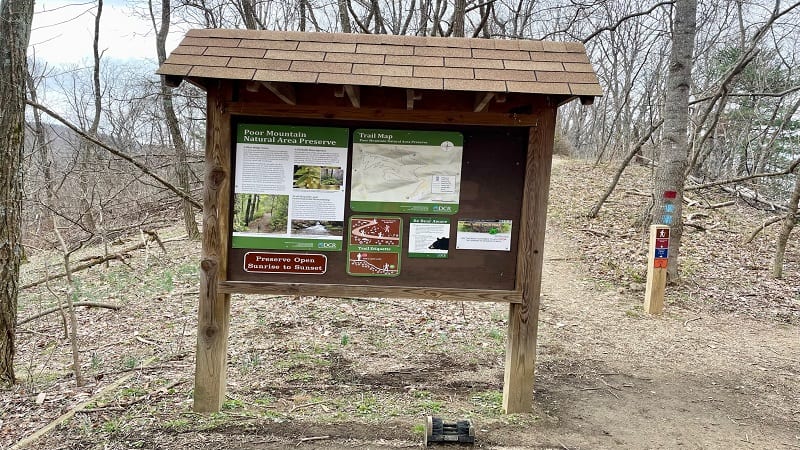 At this point, you will reach a fork in the trail. For this hike, I turned right to connect with the blue-blazed Canyon Trail.
This allows you to create an easy to moderate counter-clockwise loop hike across the preserve's pine-oak woodlands habitat.
As you walk, particularly in winter and early-spring, you can catch delightful west-facing views through the leafless trees and across the Roanoke Valley.
Overlook Views
At the 0.7-mile mark, stay right for the orange-blazed Overlook Spur. It's just 0.1 mile to a bench and a big view across the nature preserve.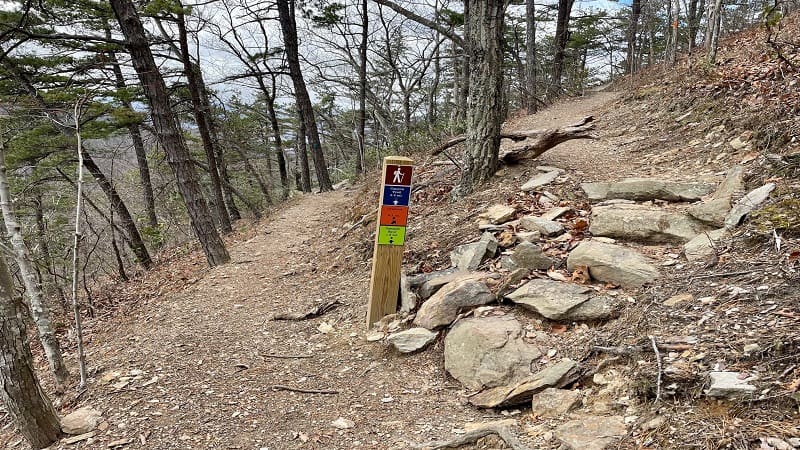 Honestly, I always have to stop and investigate overlook trails. I can't help myself. They don't always pan out, but this one does lead to very nice views.
From here, re-trace your steps back to the Canyon Trail. Turn right to continue on this forested loop hike.
Canyon Trail
As you continue along, you'll see another park bench at the 1.1-mile mark. Then, you'll cross a small stream at the 1.6-mile mark.
I could see from the park's trail map that another scenic view was coming up a bit further along the trail. However, it wasn't as I expected.
At the 2.1-mile mark, a trail sign urges hikers to bear right for the Cascade Overlook. It's just 0.1 mile up the trail. It's the Cascade Spur, to be exact.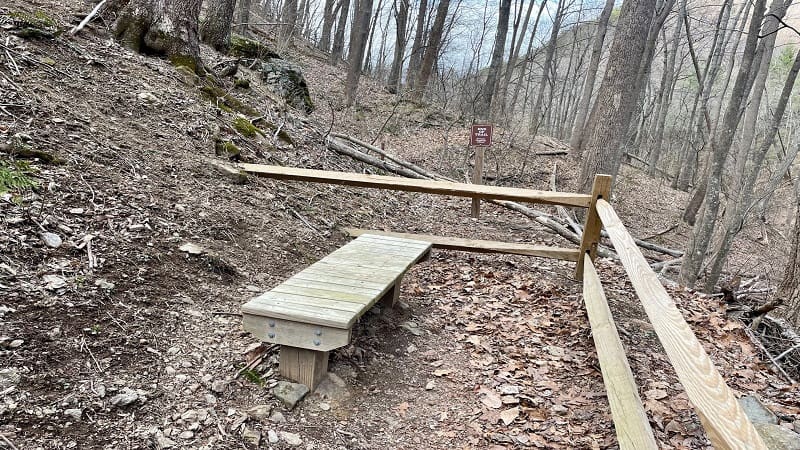 I hopscotched across a small stream, then followed the green blazes to a bench at the end. It was a short walk alongside a gently-flowing stream.
Along the way, you'll see a small cascading waterfall. I was expecting a mountain view, but the small waterfall and watering holes were quite a treat.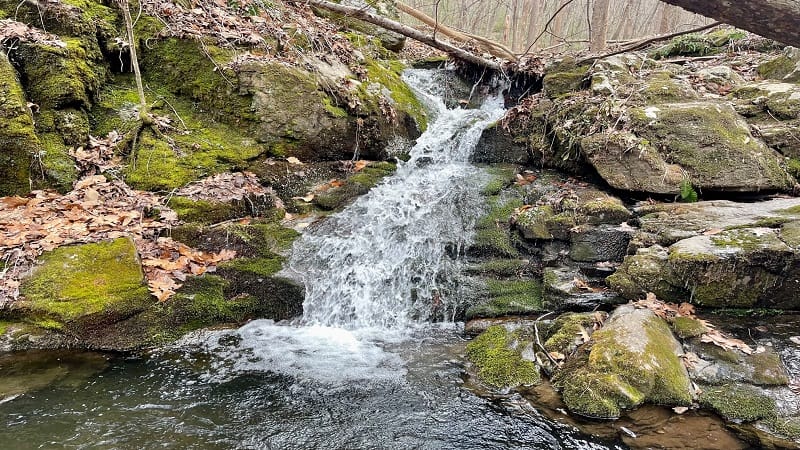 This is the lowest point in the hike elevation-wise. From here, re-trace your steps and turn right to ascend on the blue-blazed Canyon Trail.
As you rise on the trail to re-gain 800 feet in elevation, you'll encounter several switchbacks that make the rise more manageable.
Piratebush Trail (Again)
At the 3.3-mile mark, you will again reach the red-blazed Piratebush Trail. Here you can veer left or right. Both paths lead to the parking lot.
The Piratebush Trail is essentially a lollipop trail and at this point you're at the top of the lollipop. Keep your eyes open as walk by the rare shrubs.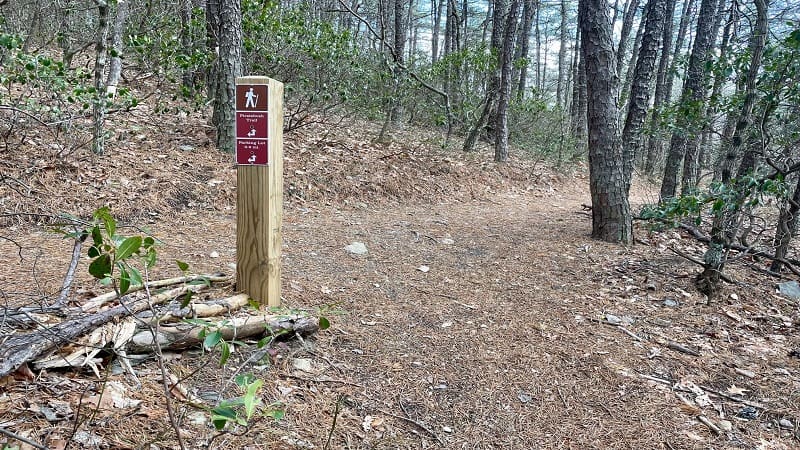 I opted to stay right to return to the parking area. The left path may be a teensy bit shorter, but not by much.
At the 3.6-mile mark, you'll return to the large trail kiosk. Continue following the red blazes to return to the parking area at the 3.9-mile mark.
Wrap-Up Notes
This loop hike took me nearly 90 minutes to complete, including time spent taking in the views of mountains and cascades.
Poor Mountain is one of 66 natural area preserves that protect nearly 60,000 acres across Virginia. The preserve is open from sunrise to sunset.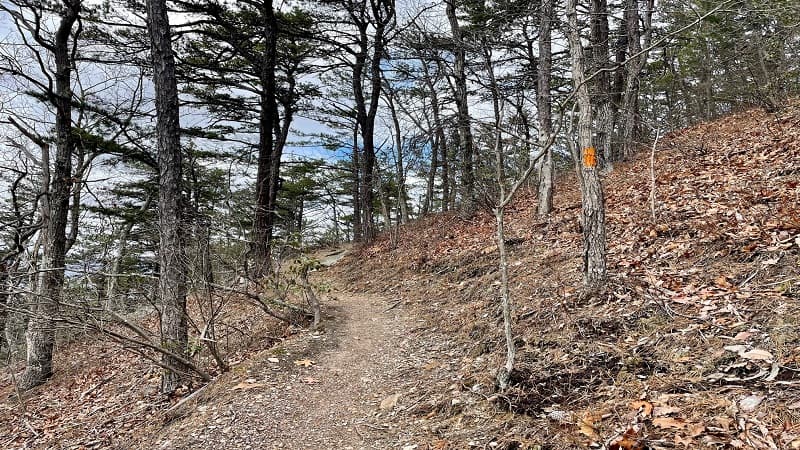 Interestingly, Poor Mountain got its name because its soils are poor. The mountain is largely infertile due to acidic soils derived from bedrock.
Poor Mountain Natural Area Preserve is close to the Blue Ridge Parkway, as well as Bottom Creek Gorge Preserve, which is home to Bent Mountain Falls.
For more hikes near Roanoke, check out the Star Trail, McAfee Knob and Dragon's Tooth. All three are less than a 30-minute drive from Poor Mountain.