Flat Top: Hike an Iconic Peak in Virginia's Blue Ridge
I recently hiked the three Peaks of Otter in Bedford, Virginia: Sharp Top, Harkening Hill and Flat Top. All three met and exceeded my expectations, wowing with sweeping views.
I began my journey to hike all three peaks at the Peaks of Otter visitor center at milepost 86 on the Blue Ridge Parkway. Here I learned that Flat Top has no summit.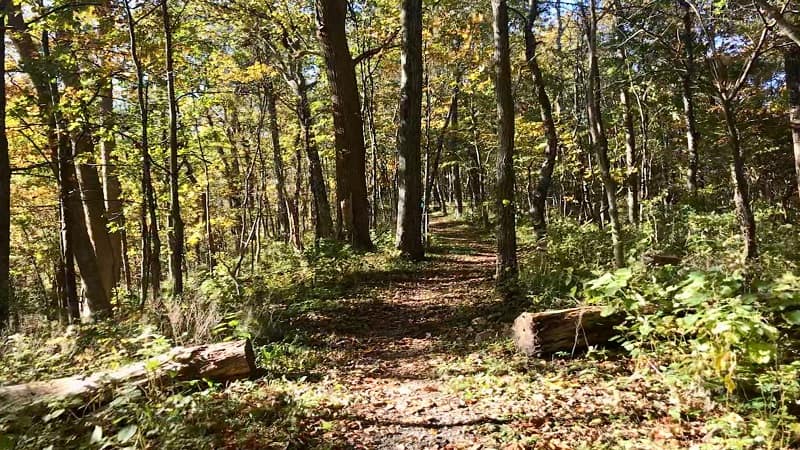 Maybe it should have been obvious. I mean, it is called Flat Top. But, it's a peak. How could a peak not have a summit? I was confused, feeling somewhat deflated.
Thankfully, I also learned that there are several rocky outcrops atop Flat Top to scramble to take in the panoramic views across the Blue Ridge Mountains. Phew. Day saved.
There are two ways to reach Flat Top (4,001 feet), including a 4.7-mile out-and-back hike that originates near Abbott Lake (Abbott Lake route).
There is also a 5.7-mile out-and-back hike that begins from a small parking area at milepost 83 on the Blue Ridge Parkway (Pinnacle route).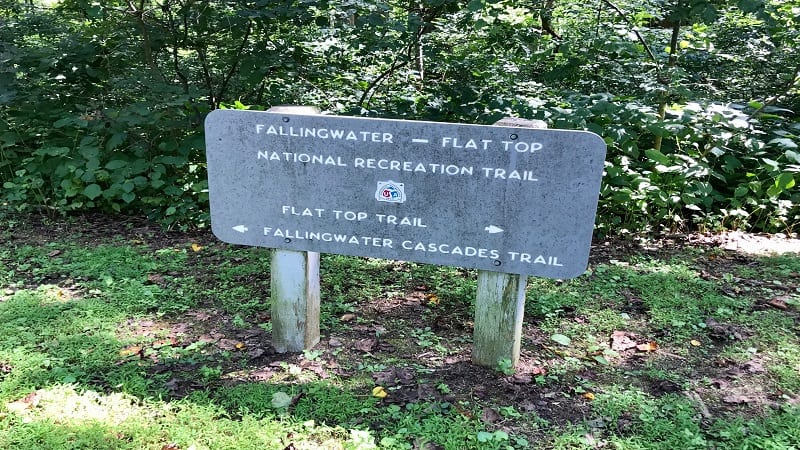 I opted for the latter route. This parking area is shared with those hiking the easy Fallingwater Cascades Trail on the other side of the two-lane parkway, so it fills up quickly.
Interestingly, the elevation gain here is 500 feet more than that of the Sharp Top hike. However, it's spread out over nearly twice the mileage (5.7 vs. 3.3 miles).
| Trail Stats | |
| --- | --- |
| Length | 5.7 miles |
| Difficulty | Strenuous |
| Trail Type | Out-and-Back |
| Elevation Gain | 1,752 feet |
| Duration | 3-4 hours |
| Terrain | Dirt & rock trails |
| Dog-Friendly | Yes |
| Fee | Free |
| Driving Directions | Click Here |
Arriving at the Trailhead
The parking area at milepost 83 has parking spaces for maybe a dozen cars. It's also possible to (legally) park parallel on either side of the parkway.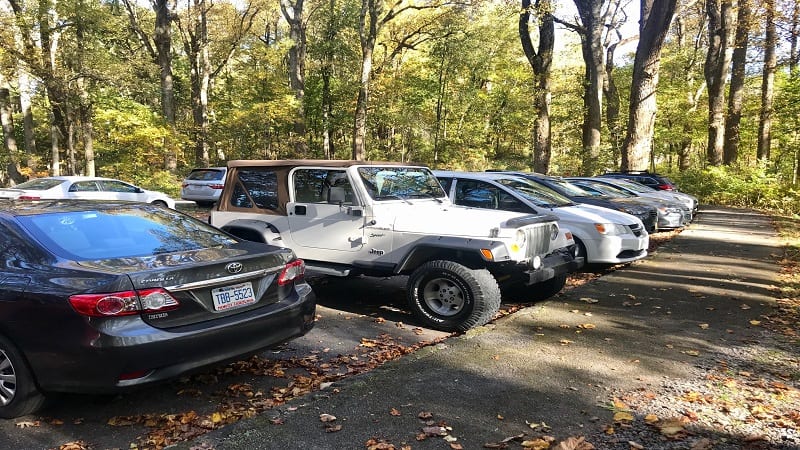 That noted, there's really not a lot of parking, especially since the lot is shared with the easy waterfall hike. Arrive early if you can as not to get shut out on parking.
The First Steps
The trailhead is easy to find at the back of the parking area. From here, the hike along the Flat Top Trail begins with a mild ascent on a delightful forested trail.
The trail runs near parallel to the Blue Ridge Parkway, so you'll be able to hear cars motoring along the byway for at least the first .5-mile of the hike.
At the .7-mile mark, you may be ready for a break after climbing 250 feet. Thankfully, there is a rustic wooden bench at a switchback. Then, the trail sharply turns left.
From here, you'll encounter several more switchbacks as you ascend Flat Top Mountain. Then, another bench, and a really cool big rock, at the 1.5-mile mark.
At the 2.1-mile mark, you have a decision to make when you approach a trail sign noting that Cross Rock is in .1-mile on a spur trail. You may ask, what's Cross Rock?
Cross Rock is as you might expect. It's a balanced rock formation that's (kind of) in the shape of a cross. The trail may only be .1-mile, but it's very steep.
Honestly, I thought it was mediocre. If I was a rockhound, I may have enjoyed it more. Certainly, go check it out for yourself, but do so only after you enjoy Flat Rock.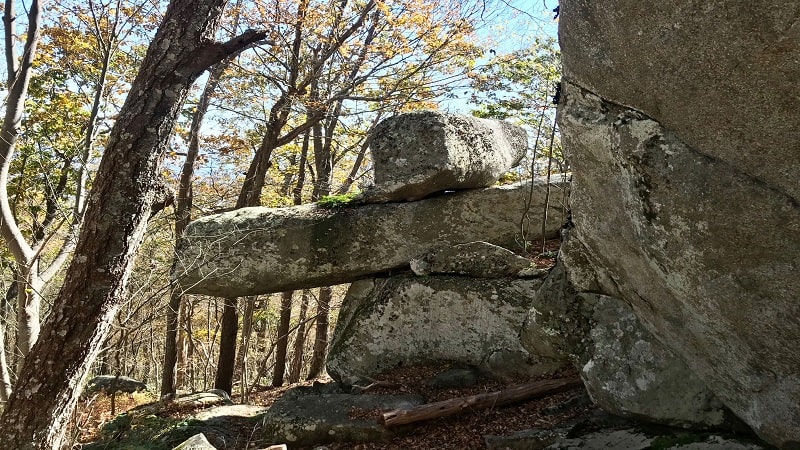 Lest I forget, at this same junction, there is a false summit to the left of the spur trail. It's a large rock that's just right for sitting and snacking before continuing on.
One more thing, The Pinnacle. It's on the trail map. Allegedly, it's past the spur trail for Cross Rock. There is no trail sign. I may have seen it, but it wasn't obvious.
You may have better luck, but honestly, my cup was full after taking in the spectacularly scenic views from both the top of Flat Top and the false summit.
But, back to the hike. The switchbacks end at the 2.1-mile mark. From here, it's a .6-mile slog to the top of Flat Top Mountain. Be sure to snap a photo of the sign.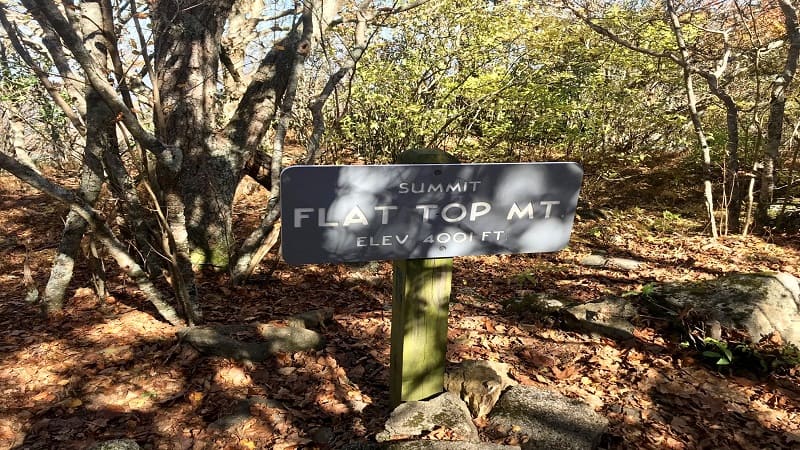 There are multiple lookout points atop Flat Top, but you need to poke around to find them. You can even enjoy near 360-degree views, but not all from one spot.
There is a really nice lookout to the left, maybe 20 feet before the sign. Here you can see views roughly east to south (from left to right).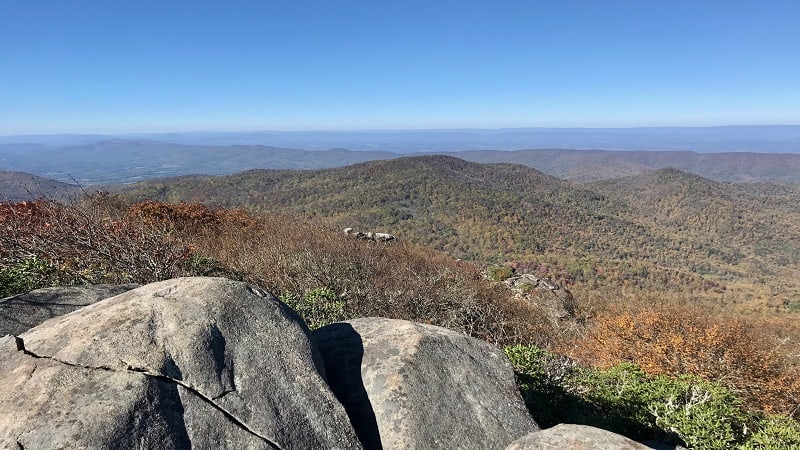 You'll also find another nice rocky outcrop roughly 20 feet past the sign on the right. These views are west to north (from left to right).
From here, it looks like the trail continues, but it does not. As I noted up top, there are two ways to reach Flat Top.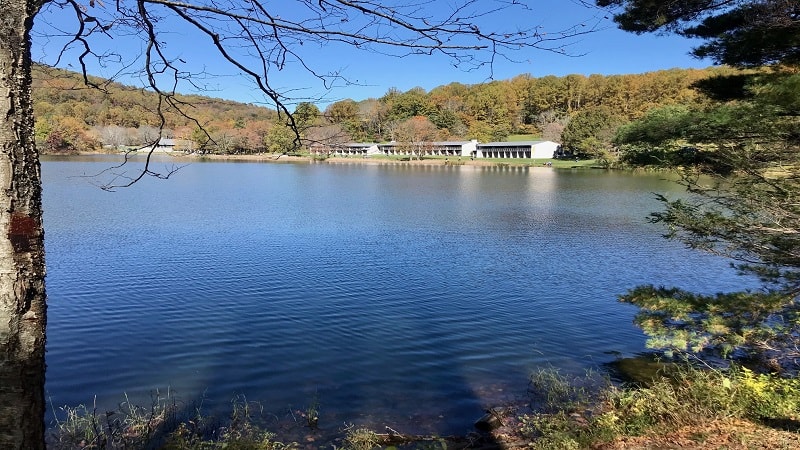 If you continue on, you will eventually reach the Abbott Lake trailhead (very far from your car). Avoid that, though you will find a picnic area in another 1.8 miles.
Since this is an out-and-back hike, simply re-trace your steps to return to your car.
Hike Options
If you have more energy once you finish this hike, walk across the parkway to hike the 1.2-mile out-and-back Fallingwater Cascades Trail.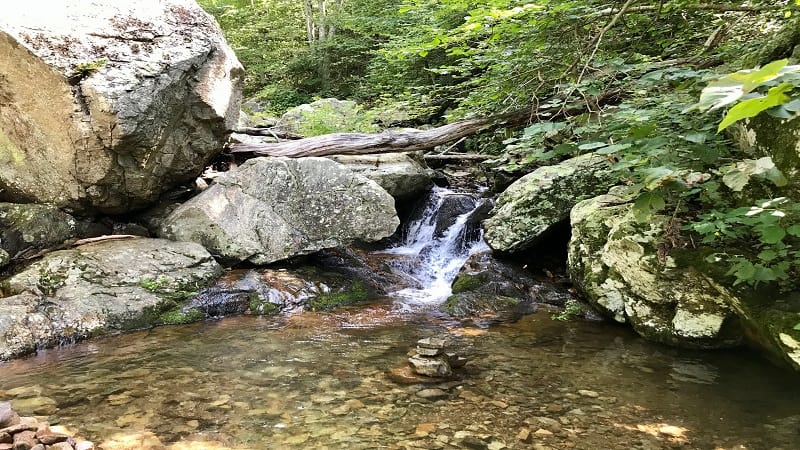 Another idea is the 2.8-mile out-and-back Apple Orchard Falls Trail. This hike is less than 10 minutes away at the Sunset Fields Overlook at milepost 78.
Wrap-Up Notes
From the parking area, the Flat Top hike took me nearly three hours, including time spent ogling the views from Flat Top and trudging to Cross Rock on the short spur trail.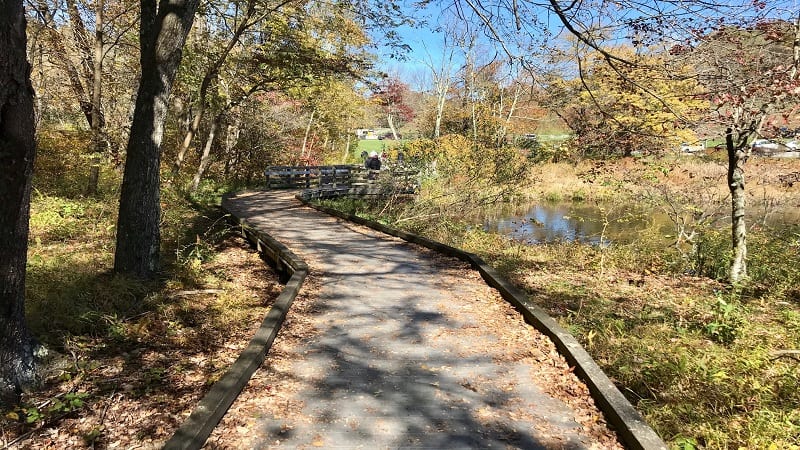 For post-hike snacks, motor on over to Bedford, which is 20 minutes away by car. Here you'll find everything from fast food at Wendy's to fine dining at Crystal Room.
Walk the streets post-meal to take in quaint Main Street vibes. If you have more time, stroll the .9-mile loop around Abbott Lake at Peaks of Otter Lodge.
Eager for steps on area hiking trails? Check out my favorite hikes near Roanoke, Virginia.