Peaks of Otter: How to Complete All Three Hikes in Bedford in One Day
Are the three Peaks of Otter hikes in Bedford, Virginia on your must-hike list? They should be. I completed this hiking trail trifecta last fall and would love to do it again.
The three Peaks of Otter hikes are Sharp Top, Flat Top and Harkening Hill. While Sharp Top is easily the most popular of the three, all three are worthy of your time.
The trails are located at or near the Peaks of Otter Visitor Center at milepost 85.6 on the Blue Ridge Parkway in Virginia. There you'll also find restrooms and maps.
Many visitors tackle one hike at a time, or only one of the three hikes ever, but it is possible to tame all three trails in one day. But first, why is it called Peaks of Otter?
Why is it Called Peaks of Otter?
I asked the ranger with the National Park Service this question. Unfortunately, there is no set answer. One theory ties back to European settlers that arrived in the 1700s.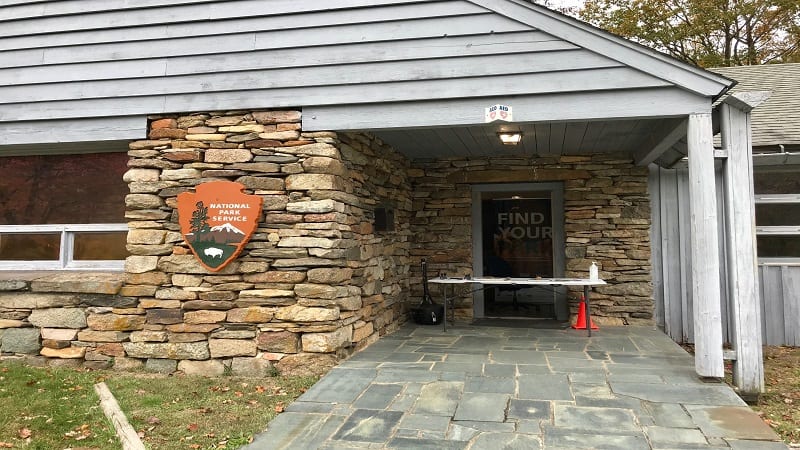 Some think that brothers Charles and Robert Ewing named the Peaks after their surname as pronounced in Scottish Gaelic and translated as "Clan Ewing of Otter."
Another theory relates to the anglicizing of "Otari," a Cherokee word that means "high places." The Peaks may have also been named after the nearby Otter River.
We may never know, but we do know that the Peaks of Otter have become noted for their far-reaching views that are well-worth the drive.
Peaks of Otter Hikes (in One Day)
It is very possible to reach the tops of all three Peaks in one day, or at the very least, in one weekend. I took two days, but if you have one day, you can check off all three.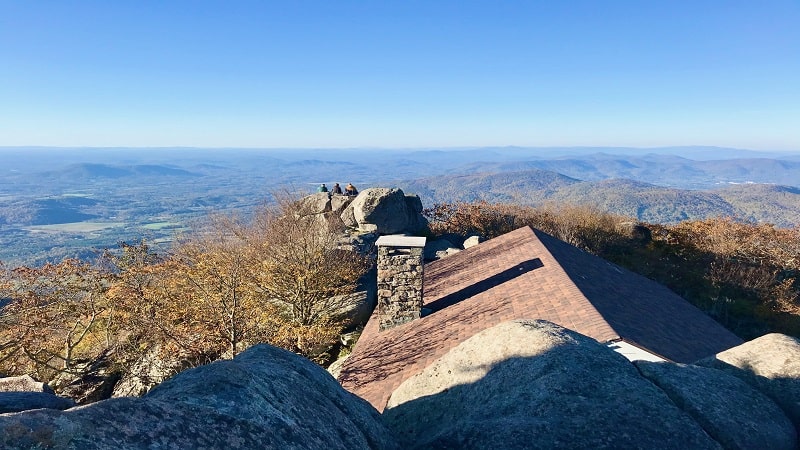 Start with Sharp Top and plan to get there early. The parking lot across from the visitor center fills up quickly. By mid-afternoon cars will be parked in the grass.
I arrived before 8 am and I was not alone, though many cars were those of sunrise-seekers who had already been there a couple of hours.
Budget at least 2.5 hours for the out-and-back Sharp Top hike, which is 3.3 miles. Post-hike, stop in the Sharp Top Store at the trailhead for snacks and drinks.
From here, walk across the Blue Ridge Parkway. The trailhead for the Harkening Hill hike is east of the visitor center, across the byway from the Peaks of Otter Lodge.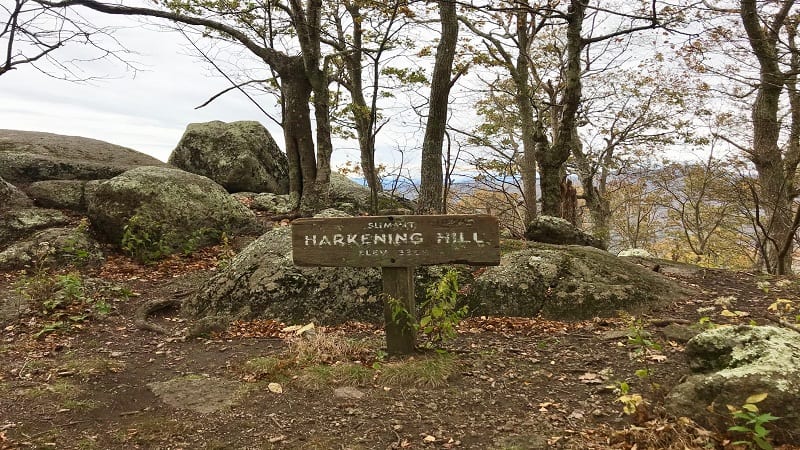 This 3.2-mile loop leads to views from Harkening Hill, as well as Balance Rock, a large boulder perched on a small rock. It's cool enough that it's worthy of park signage.
This hike ends just behind the visitor center. At this point, return to the starting point and walk through the tunnel that runs under the Blue Ridge Parkway.
For lunch, eat at the Lake View Restaurant inside the historic 63-room Peaks of Otter Lodge. Note that this restaurant is open seasonally, from early-May to early-November.
Alternatively, bring your lunch. There are 58 picnic tables scattered alongside Little Stony Creek at the Peaks of Otter Picnic Area at milepost 85.9.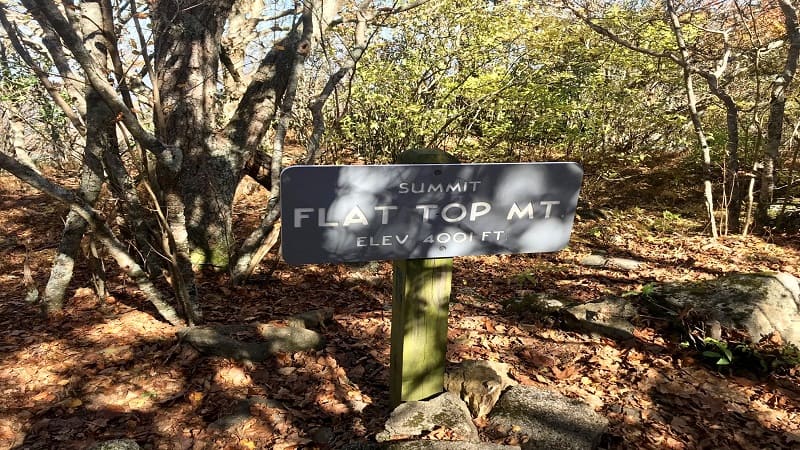 After lunch, make the short drive to the parking area at milepost 83 for the 5.7-mile out-and-back Flat Top hike.
The parking area is small, but by mid-afternoon, I anticipate you will have a very good chance of securing a parking space.
More on this below, but note that there are two ways to reach Flat Top. The first is noted above. The second is a shorter hike that originates near Abbott Lake.
You should be finished up near dinner time. At this point, you can return to the Lake View Restaurant or skedaddle to nearby Bedford or Roanoke to celebrate your hikes.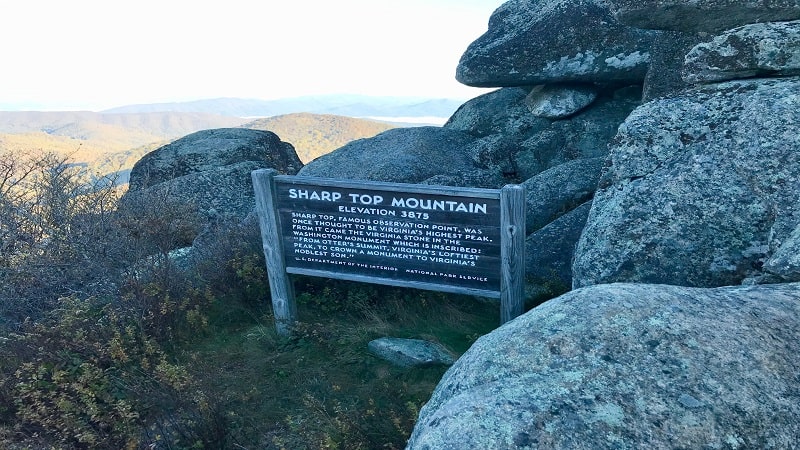 The 3.3-mile out-and-back hike on the Sharp Top Trail leads visitors to the top of what was once thought to be the tallest peak in Virginia, standing proud at 3,875 feet.
With an elevation gain of 1,253 feet, this peak hike is not easy, but it's also not as challenging as it might seem thanks to stone steps and hand rails at various points.
Interestingly, stone from Sharp Top was placed inside the Washington Monument in Washington, DC. The stone was inscribed to honor George Washington.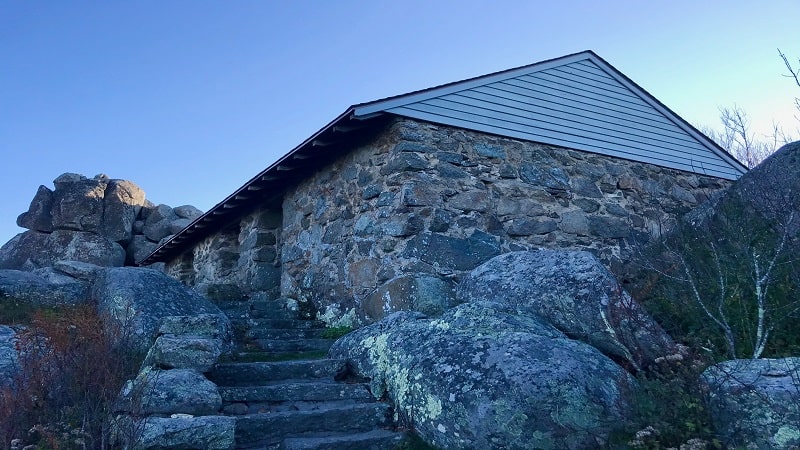 At the summit of Sharp Top, you'll find stone terraces, walkways and steps. There's even a stone shelter that was a restaurant in the 1950s and 1960s.
Savor 360-degree views across the Blue Ridge Mountains. On the way down, make a short detour to check out the views from Buzzard's Roost.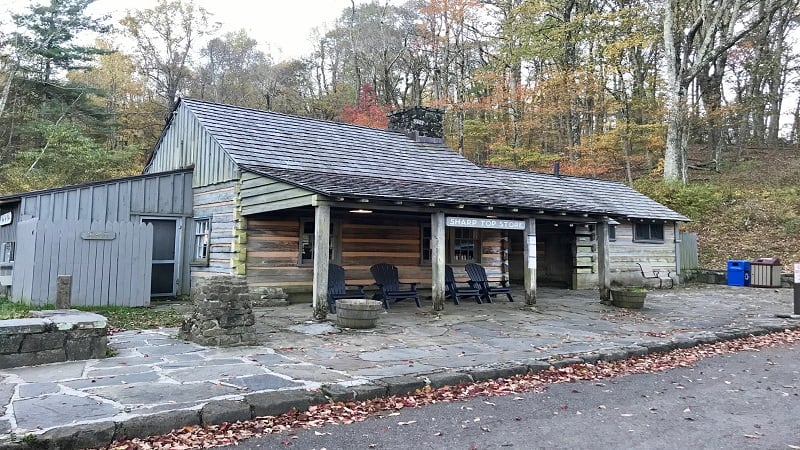 For those who don't want to hike all the way up, the Sharp Top Store at the back of the parking area sells shuttle tickets to take visitors within .25-mile of the summit.
The shuttle is seasonal and runs up the mountain on the hour between 10 am and 4 pm. A spur trail at the top guides visitors the final steps to the scenic views.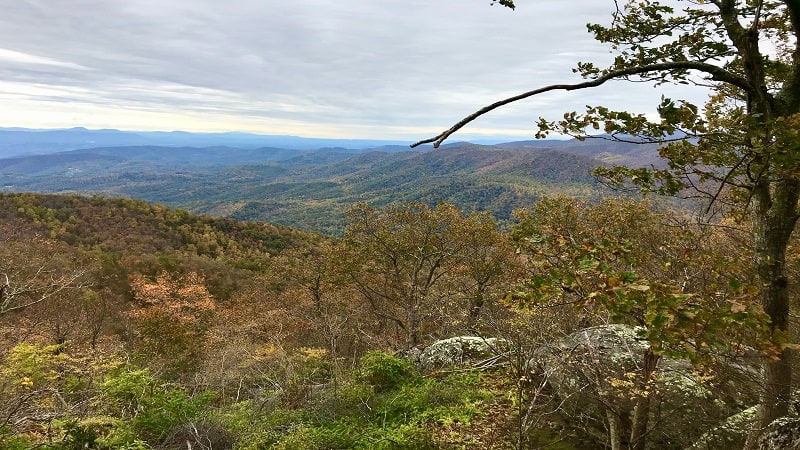 Harkening Hill may stand in the shadow of Sharp Top, but the views from this summit are no less breathtaking. You may even have the views all to yourself.
There are several hike options, but I prefer one of two loop hikes. The shorter of the two is a 3.2-mile loop that begins east of the Peaks of Otter visitor center.
A short .3-mile walking path leads to a directional sign for Harkening Hill. Then, a mild ascent on the way to Balance Rock, a large boulder set atop a small rock.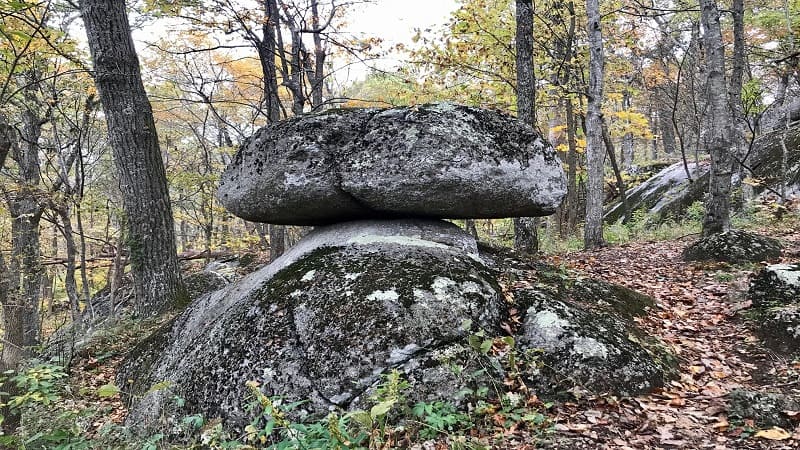 Harkening Hill comes into view at the 1.4-mile mark. A beautiful rocky outcrop urges visitors to sit and stay awhile to enjoy the sweeping northwest-facing views.
This hike finishes up behind the visitor center. Alternatively, you can start here for a 2.8-mile out-and-back hike to Harkening Hill. Allow at least two hours for either hike.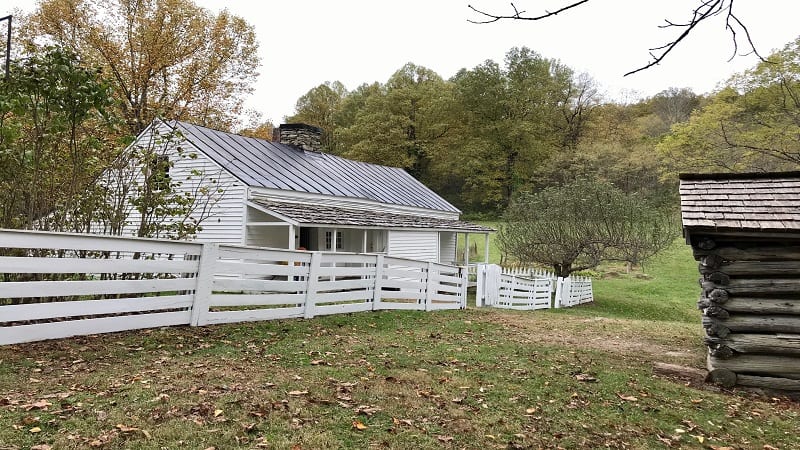 One more loop option includes the Johnson Farm Trail, which passes a family farmhouse that was built in 1854. It's been restored and includes an apple house and weaving shed.
On this 3.6-mile hike, you'll also pass the former Hotel Mons, a popular mountain resort complex that closed in the 1930s. Today, all that remains is a large clearing.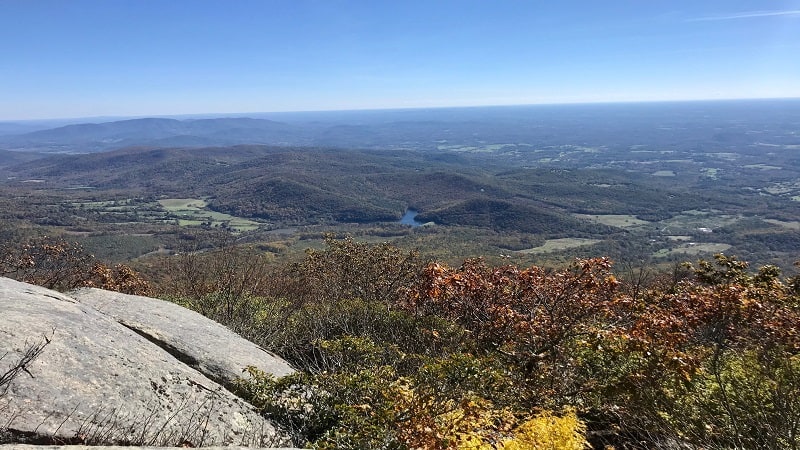 This 5.7-mile out-and-back hike sees an elevation gain of 1,752 feet, but it's a small price to pay for outrageously beautiful views. Plan on at least 3-4 hours for this hike.
While there are gorgeous vistas, there is no real summit. I didn't realize this until I got there, though I guess it should have been obvious. It is Flat Top, you know.
Thankfully, there are several rocky outcrops atop Flat Top for hikers to scramble to savor the spectacular views across the Blue Ridge Mountains. Phew.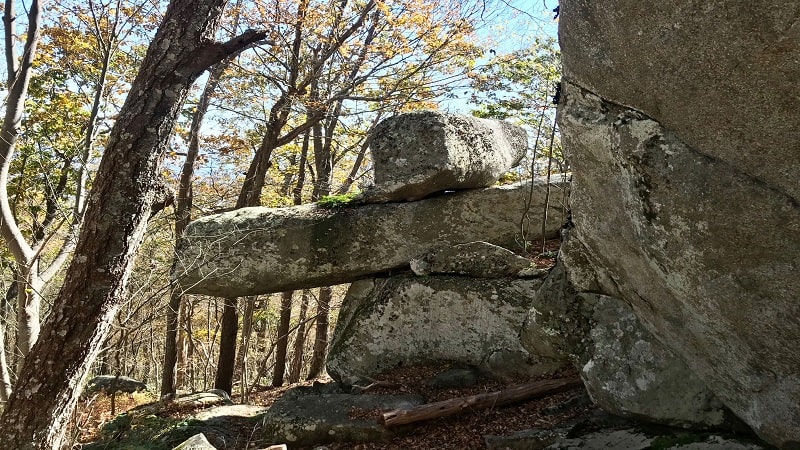 On the way up, a false summit stuns with mountain views at the 2.1-mile mark. Here you can also take a side trail to see Cross Rock. It's steep and it's really just okay.
There's no primary viewpoint at the very top, so jump around to different outcrops to take in the panoramas from various directions.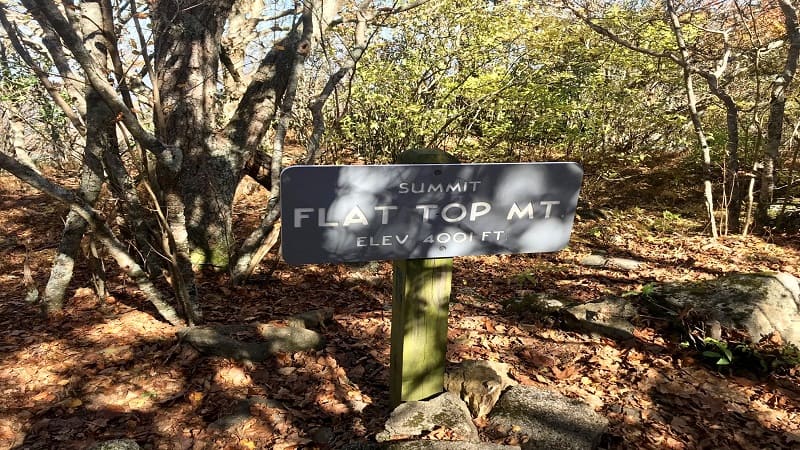 This southbound hike is listed as the Pinnacle route since you will pass a rock formation called the Pinnacle on your way up (somehow I missed this completely).
Alternatively, the Abbott Lake route begins near Peaks of Otter Lodge and clocks in at 4.7 miles. This eastbound hike leads to Flat Top, first alongside Little Stony Creek.
Bonus Hikes
If you've got it in you, or if you are planning to spend two days in the area, allow me to suggest three bonus trails, including two waterfall hikes near Peaks of Otter.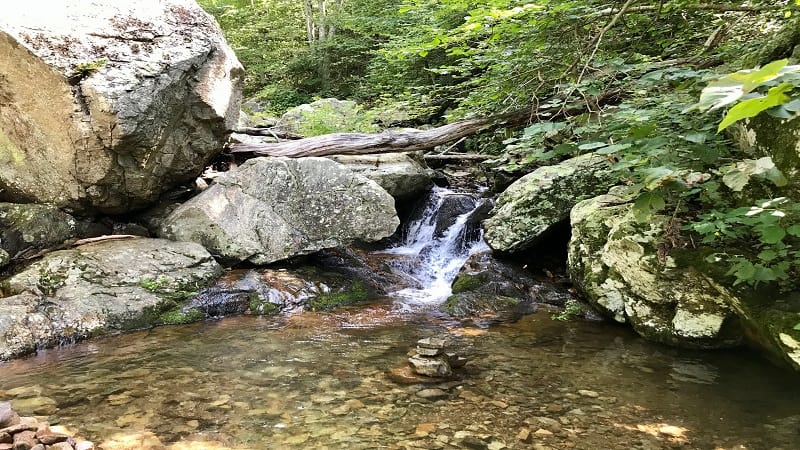 The Fallingwater Cascades Trail at milepost 83.1 shares a parking area with Flat Top (Pinnacle route). This easy 1.2-mile out-and-back hike is a favorite with children.
The hike along a forested trail leads to a gently cascading waterfall. It's a nice break from an afternoon drive along the parkway. Remove your shoes for a splish-splash.
The waterfall is small, but it offers a refreshing respite on a warm summer day. This hike can also be done as a loop hike if you continue the trail just past the falls.
Abbott Lake Trail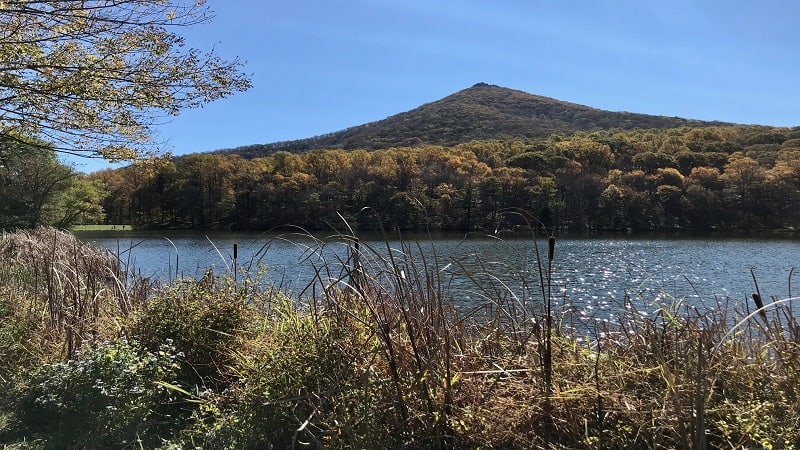 For an easy, scenic loop hike, look to the paved .9-mile loop around 24-acre Abbott Lake, which sits behind the Peaks of Otter Lodge.
This fully-accessible trail leads visitors through wooded forest and open fields as you circumnavigate the pristine lake and savor views of Sharp Top.
On this kid-friendly trail, you'll also walk across stretches of boardwalk and out onto a couple of wooden overlooks around Abbott Lake.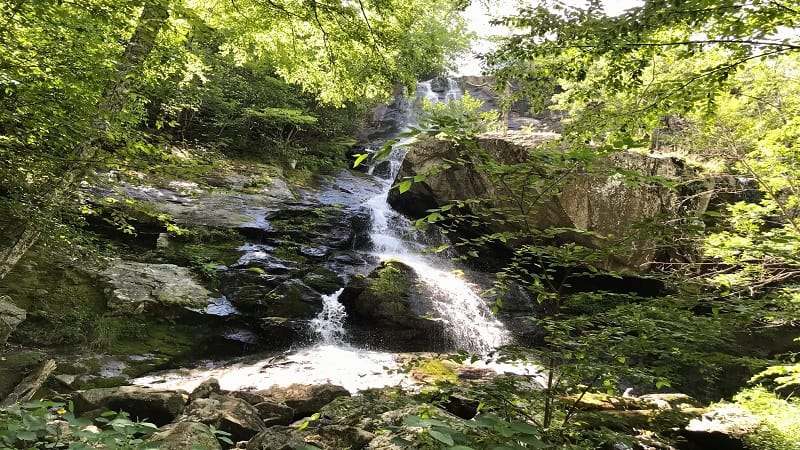 Further along the Blue Ridge Parkway at milepost 78 is the trailhead for the hike to 200-foot-tall Apple Orchard Falls. This hike begins at the Sunset Field Overlook.
With the first few steps of this 2.9-mile out-and-back hike, you'll become enveloped by the lush forest. You'll cross streams and wooden bridges on the way to the falls.
At the 1.1-mile mark, you'll notice an inviting waterfall. Take a break for a snack or a sip of water, but press on. Apple Orchard Falls nears.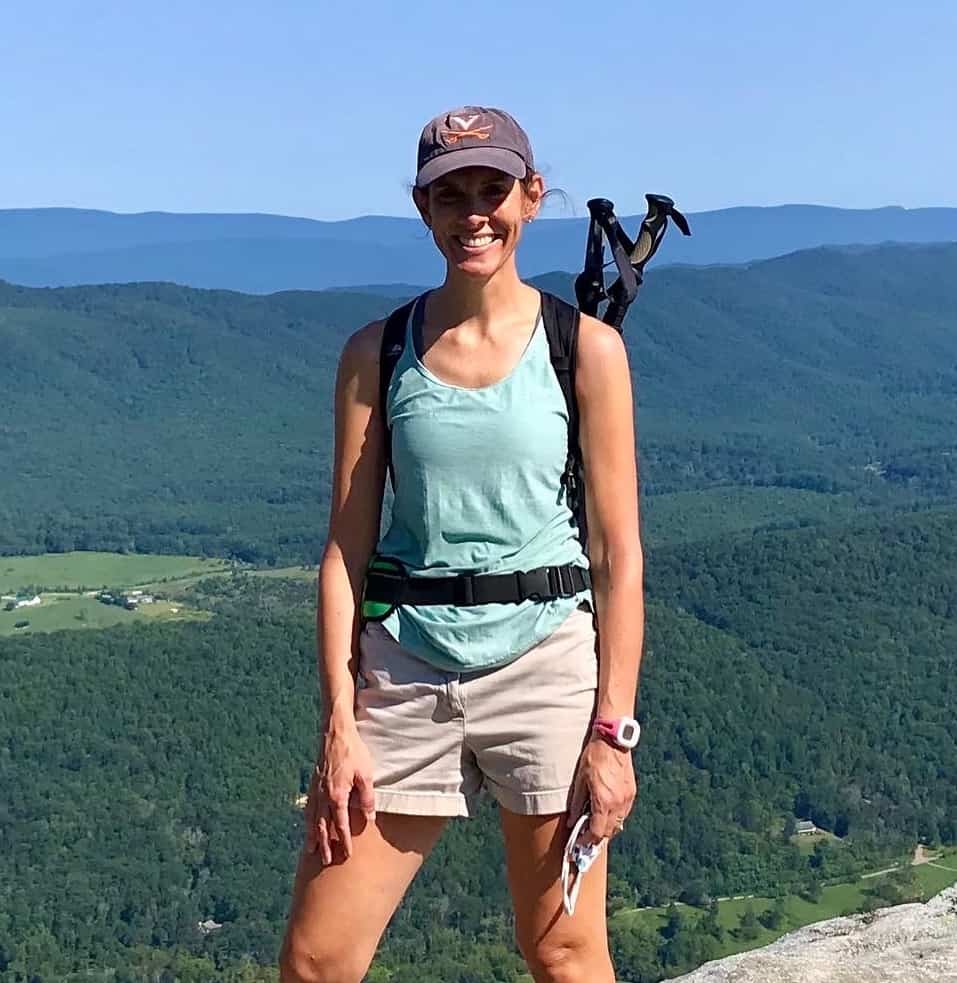 Erin Gifford is the editor of Go Hike Virginia. She has completed more than 300 hikes in Virginia. She is also the author of three hiking guidebooks from Falcon Guides. Need help finding a hike? Check out the Trail Finder feature or send Erin a message.