15 Best Hikes & Hiking Trails Near Ashburn, Virginia
Ashburn may be a suburb of Washington, DC, as well as a stone's throw from Washington-Dulles International Airport, but there are nice hiking trails, too.
From Ashburn, it's a mere 30-minute drive west to the Appalachian Trail. To the east, it's 30 minutes to the tempestuous falls of Great Falls Park.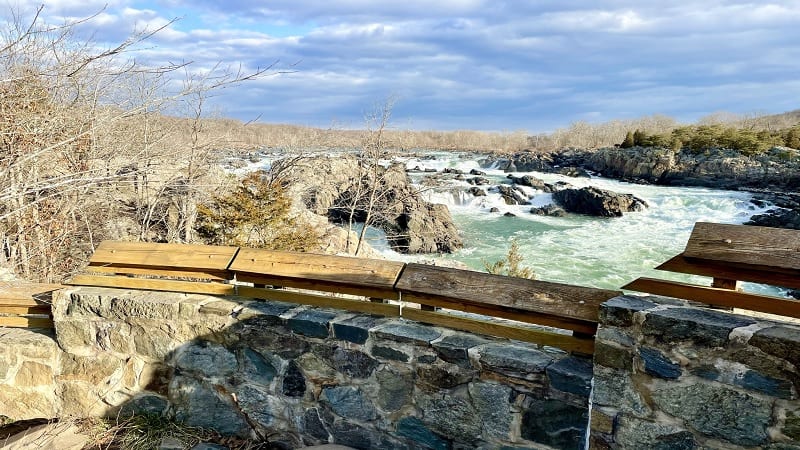 The 45-mile Washington & Old Dominion Trail, a popular paved path, also runs right through Ashburn.
When you're ready for the fresh air of Ashburn you'll find green spaces, wooded areas, water access and some of the most popular trails in Northern Virginia.
Hikes Near Ashburn, Virginia
To make it easy to navigate, I've organized hikes by skill levels, so you can maximize your chances of a great hike. Maybe even one of your best hikes.
For each of the hikes below, I also share what's to love and how far each one is from Ashburn. From Carolina Brothers in Old Ashburn, to be exact.
Easy Hikes
For an easy-going walk in the woods, alongside a river or to a tumbling waterfall, these easy hikes in and near Ashburn do not disappoint.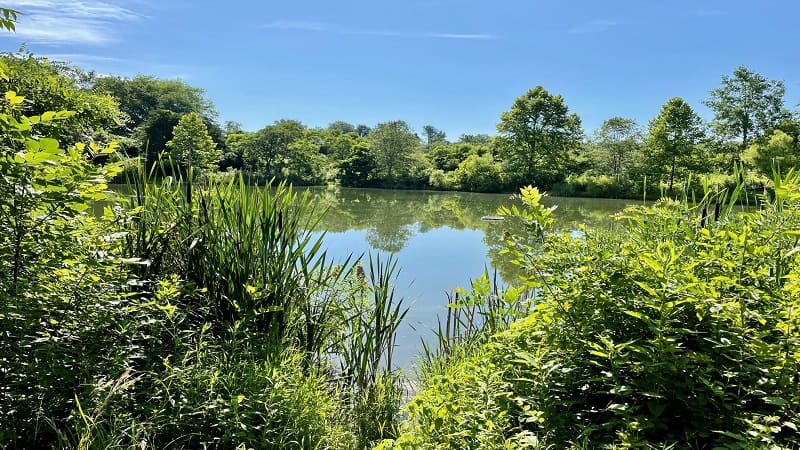 More than 20 miles of easy trails criss-cross 695-acre Banshee Reeks Nature Preserve, which includes forests, fields, streams and ponds.
Create-your-own easy hike by cobbling together several hiking trails. You could hike here every day and not complete the same hike twice.
This natural area is closed on Mondays and Fridays, as well as on public holidays. The park opens at 8 am; closing time varies by season.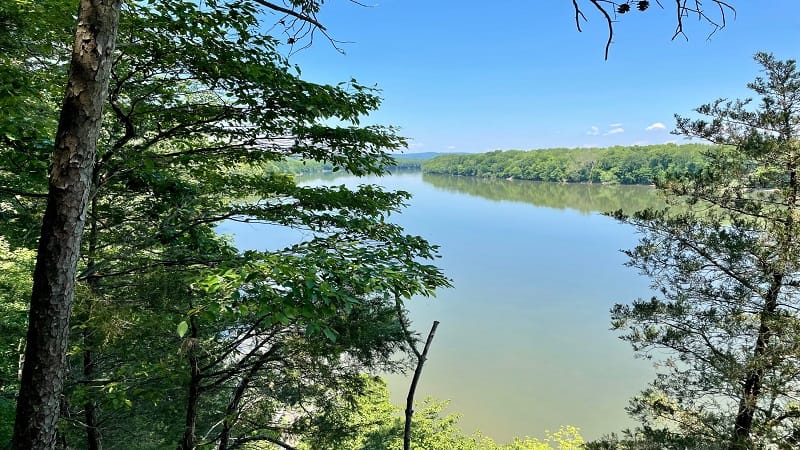 At Red Rock Wilderness Overlook Regional Park, the 1.2-mile loop around this 67-acre park is a must for Potomac River views and forested trails.
At this small park, there are wooded nature trails, as well as historic structures from the 1880s, including a Carriage House and an Ice House.
The Loudoun County property dates to 1869 when a wealthy industrialist purchased 2,000 acres. In 1978, this section was donated for use as park land.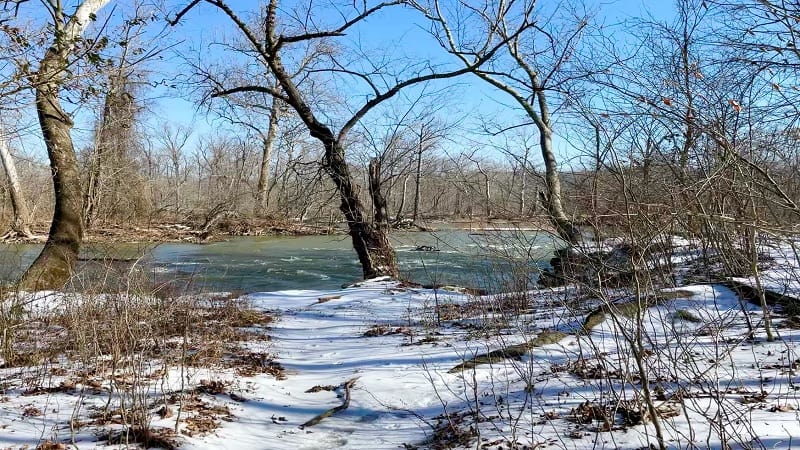 Seneca Regional Park is a hidden gem. In fact, some locals don't even know about this forested wilderness area that sits on the banks of the Potomac River.
Several hiking trails criss-cross this park, including the Potomac Heritage Trail, a national scenic trail that spans nearly 900 miles across four states.
Savor river views, even check out a beaver's dam, and cross several wooden bridges before the end of this easy-going loop hike through the woods.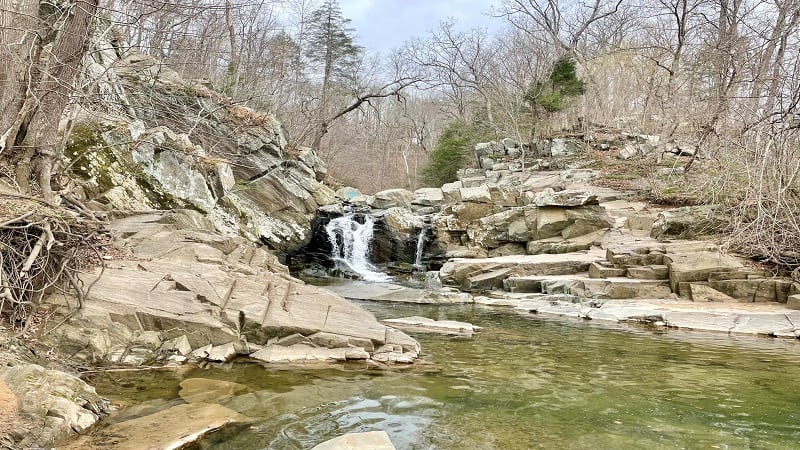 Scott's Run Nature Preserve has long been known for a trail system that wows with a beautiful, tumbling waterfall that effortlessly flows into the Potomac River.
The falls are a short and scenic 0.7-mile hike from the parking lot, but there's more to this forested gem in the suburbs than its watery oasis.
A lot of trails, including the Oak Trail and Laurel Ridge Trail, allow visitors to explore the river, wildflowers, water crossings and mature trees.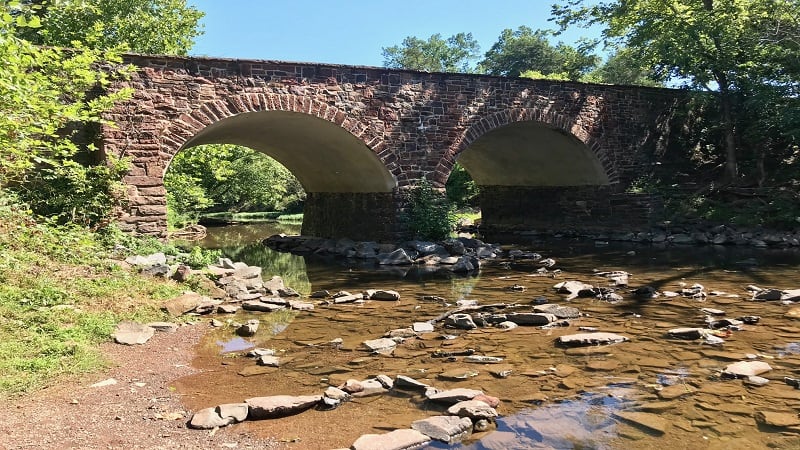 For a historic hike that goes beyond the forest and trees, look to the 5.5-mile First Battle of Manassas Trail at Manassas National Battlefield Park.
Wander open fields where Union and Confederate armies engaged in combat on July 21, 1861 as cannons fired and troops clashed during the Civil War.
This trail also includes wooded miles that balance out time spent in full sun exploring field artillery. For a shorter hike, try the 2.6-mile Matthews Hill Loop.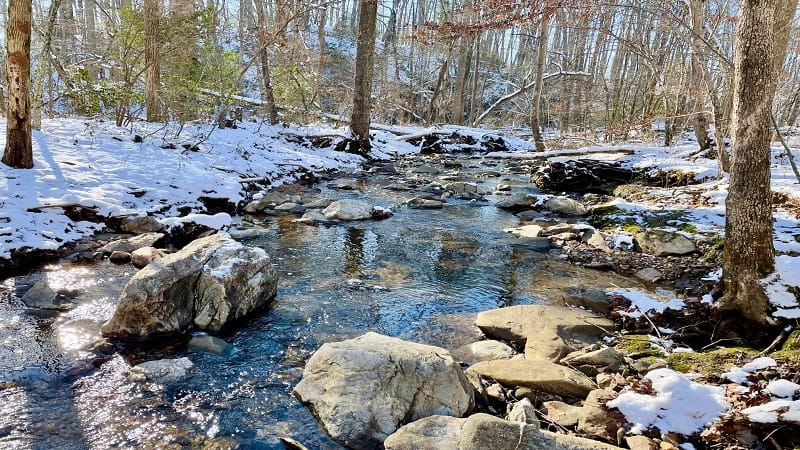 The 2.5-mile loop hike on the Wolf Trap Trail in Vienna is truly a gem. Tops with dog walkers, the trail circumnavigates the popular suburban concert venue.
Despite its location next to the Dulles Toll Road, this trail surprises with quiet and stillness at times, especially as you near Wolf Trap Creek.
Take a seat on a bench at Wolf Trap Farm Pond. Relish the refreshing views before continuing on to pass picnic tables and performance venues.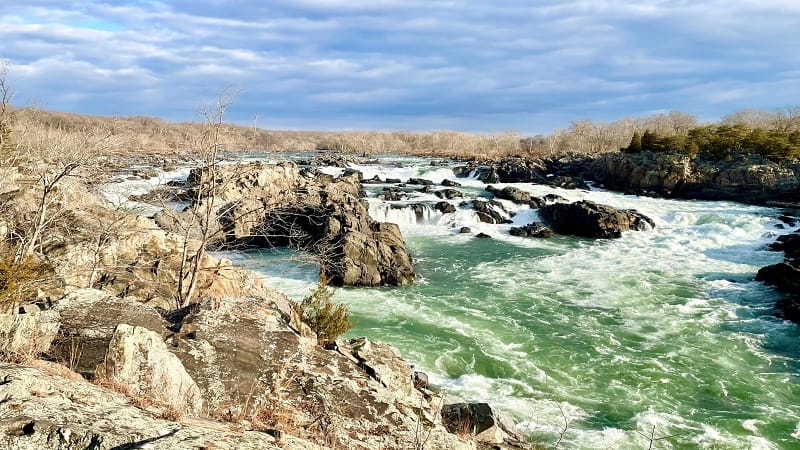 There are a number of family friendly hiking routes at Great Falls Park in McLean, but one of the most popular is the River Trail.
The River Trail skirts along the edge of Mather Gorge, boasting fantastic views across the free-flowing Potomac River. Keep your eyes peeled for kayakers.
At the start, stop at the three overlooks to savor views of the falls. There is also a visitor center, a snack bar and a large picnic area at Great Falls Park.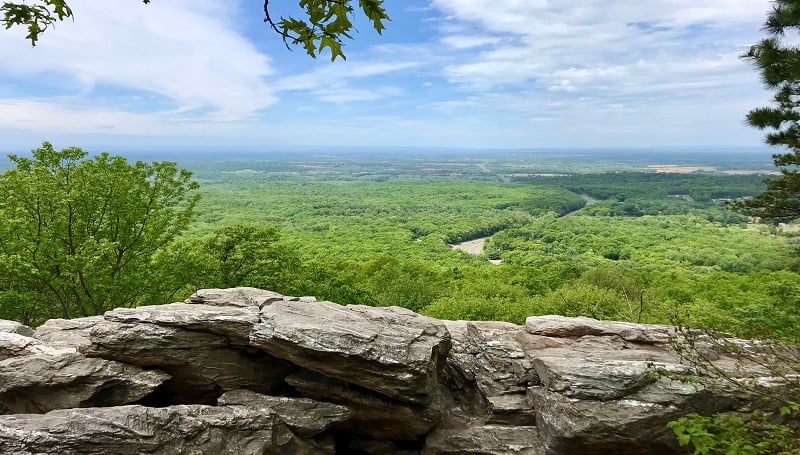 The hike to Bears Den Overlook guides visitors along a shady stretch of the iconic, white-blazed Appalachian Trail to an outcrop with spectacular views.
But first, plan to walk along a 0.3-mile blue-blazed spur trail from the large parking area to connect with the Appalachian Trail for the Bears Den hike.
Tack on miles and elevation by continuing on the notoriously challenging Appalachian Trail Roller Coaster to reach the Sam Moore Shelter.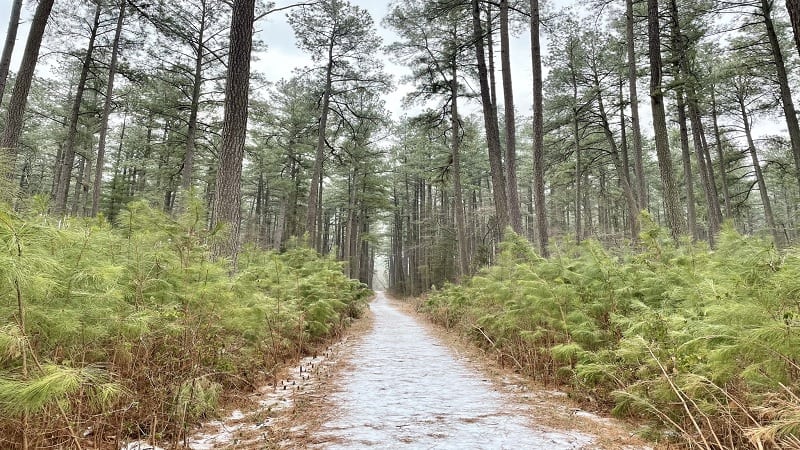 Piece together a loop hike filled with beautiful scenery across four marked trails (blue, yellow, red and orange) at 444-acre Conway Robinson State Forest.
Alternatively, stay on the blue trail for a 3.3-mile wooded hike through a grove of old growth hardwood trees and over a couple of small water crossings.
Late in this hike, loblolly pines and white pines intermix with old hardwoods. It's dreamy to walk through this wildly picturesque tunnel of towering pines.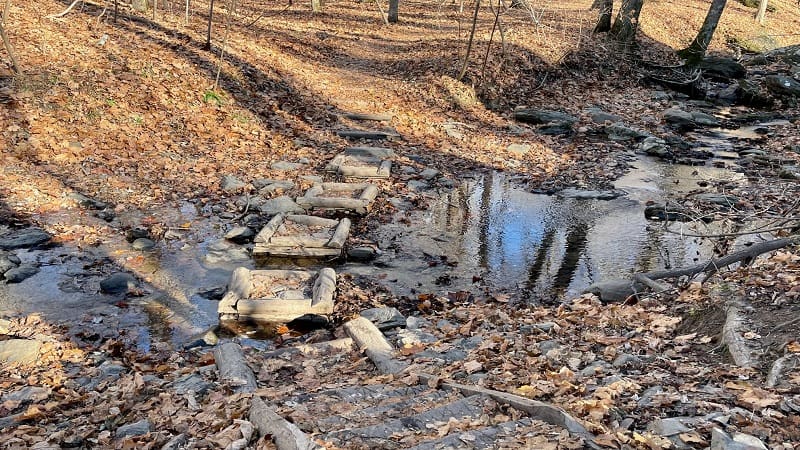 It's not often you get to hike across land that was once a golf course and a Civil War battlefield. To boot, there's even a small waterfall on this hike.
At Shenandoah University's Shenandoah River Campus at Cool Spring Battlefield in Bluemont, two paved loops lure in visitors for quiet reflection.
The loops are actually golf cart paths from the one-time Virginia National Golf Course. The scenic 18-hole golf course closed up and was abandoned in 2012.
Moderate Hikes
These moderate hikes near Ashburn are between two and eight miles. There's more elevation, but also waterfalls, beautiful views and rock scrambles.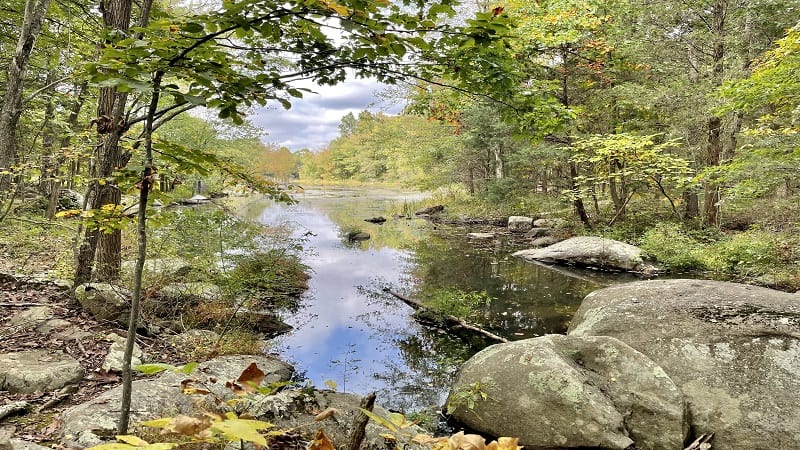 Blue blazes lead the way on this 8.3-mile nature trail that loops around 350-acre dam-fed Beaverdam Reservoir in Ashburn.
This hike starts from the parking lot of the National Recreation & Park Association. From here, a counter-clockwise loop affords the very best views.
A rock scramble completes this lake loop. Swimming is not allowed in the reservoir, but this is a great place to fish for bass and catfish.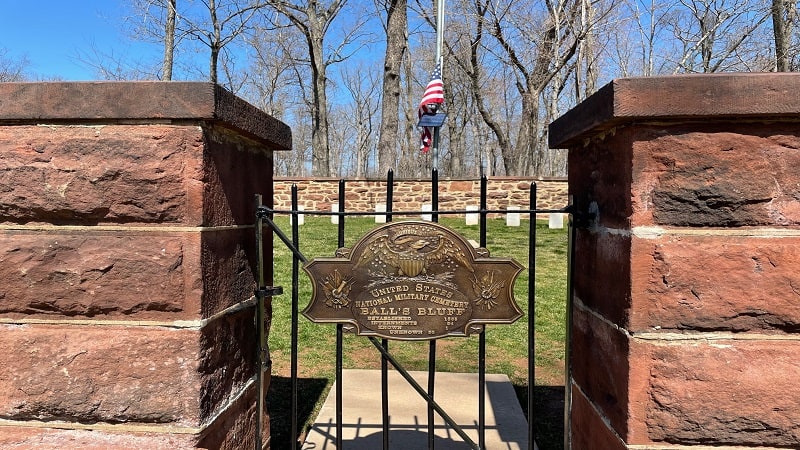 There are seven hiking trails at Ball's Bluff Battlefield Regional Park, including a section of the 710-mile Potomac Heritage National Scenic Trail.
This regional park sits on the site of the Battle of Ball's Bluff, a Civil War clash on a bluff overlooking the Potomac River that took place on October 21, 1861.
Battlefield interpreters lead tours that range from introductory (45 mins) to in-depth (90 mins) on the history of this battle between North and South.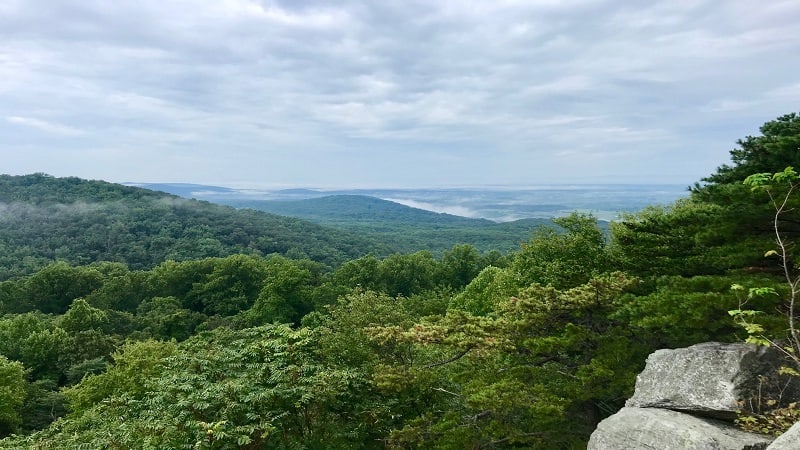 One of the most popular hikes in Loudoun County for panoramic views is the 5.1-mile round trip trek to Raven Rocks along the rugged Appalachian Trail.
It's a rocky climb with an elevation change of more than 1,500 feet that rewards your efforts with sweeping valley and mountain views.
The Raven Rocks hike meanders along a rock-strewn section of trail. Keep your eyes open for an ambitious thru-hiker or two, depending on the time of year.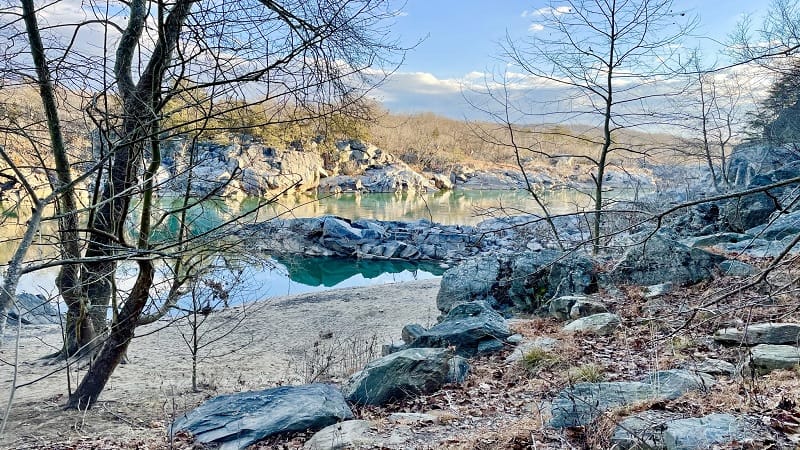 This loop hike begins at Difficult Run in Stream Valley Park and slowly makes its way to Great Falls Park. It's a wonderful hike and one of my favorites.
Early on, the trail sidles up to cascading Difficult Run. It's easy to get close to the water, which wavers between blissfully calm and feverishly rushing.
Stop at each of the three Great Falls overlooks, including the first one, which offers the very best views of kayakers navigating the raging river waters.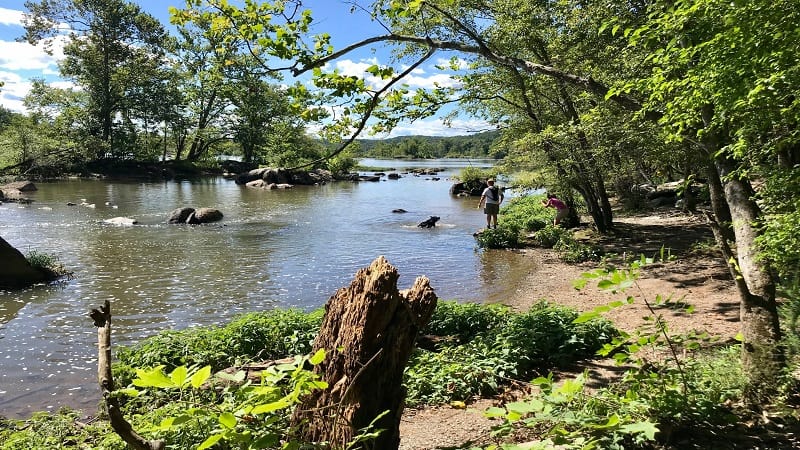 Another dreamy way to reach the Great Falls overlooks (aside from motoring directly to Great Falls Park) is by way of Riverbend Park.
The hike begins along the Potomac River on the Potomac Heritage Trail. Plan on small rock scrambles and wooden bridges as you hike on to the falls.
But first, stop for the waterfalls of the Washington Aqueduct Dam, which is just up-river from Great Falls. Scramble onto the large rocks for better views.