10 Best Hikes Near Abingdon, Virginia
There's a lot to love about Abingdon, Virginia. In particular, the town's proximity to beautiful green spaces and hiking trails.
Within an hour's drive, you can reach the starting point of trails that guide you to mountain summits, cascading waterfalls, even refreshing swimming holes.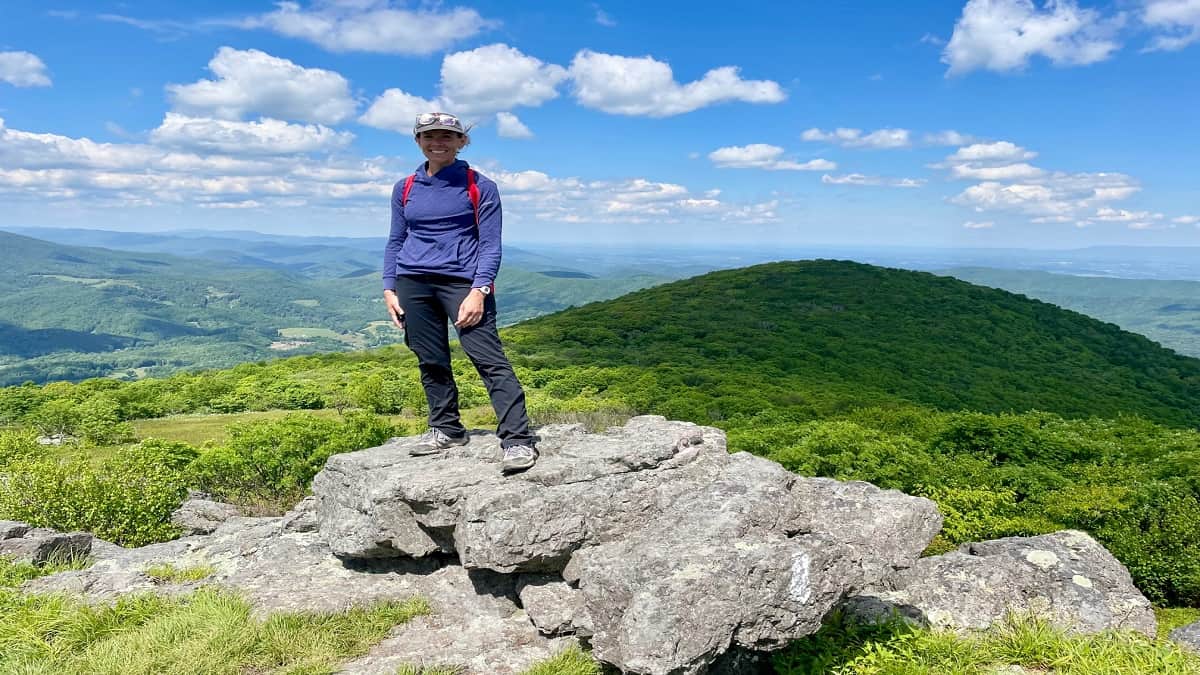 Abingdon is near the Appalachian Trail, as well as Hungry Mother State Park and Grayson Highlands State Park. This is a great place for outdoor lovers.
Hikes Near Abingdon
To make it easy to navigate, I've organized Abingdon area hikes by skill levels so you have a good idea what to expect before stepping foot on the trails.
For each day hike, I share what's to love and how far each is from downtown Abingdon (from the famous Barter Theatre on Main Street, to be precise).
Easy Hikes
It's not hard to fall for easy-going hikes that feature flowing rivers and cascading waterfalls. These hikes in and near Abingdon fit the bill.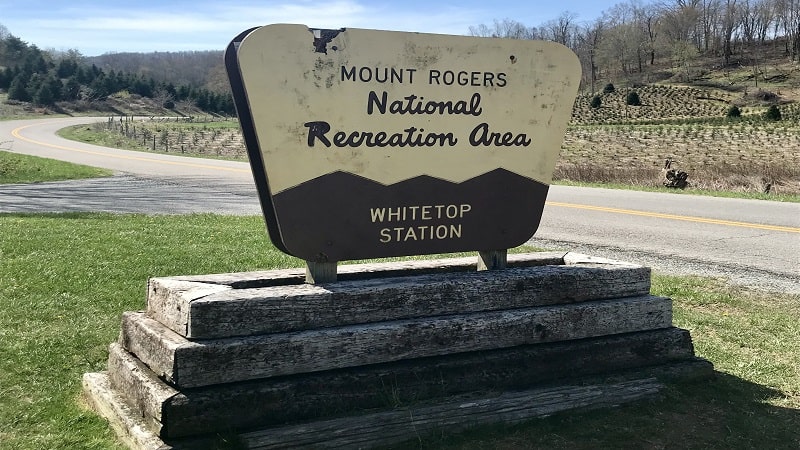 The Virginia Creeper Trail is a 34-mile multi-purpose trail that runs from Abingdon to Whitetop Station, passing through the trail town of Damascus on the way.
This rail-trail is popular with walkers, hikers and bikers. It's a beautiful, shaded trail that wows in fall with fiery orange and golden amber foliage.
In the town of Abingdon, the Virginia Creeper Trail Bike Shop offers bike rentals and shuttle services if you bring your own bikes.
Of note, the historic Martha Washington Inn also offers a shuttle service to Whitetop Station to access the Virginia Creeper National Recreation Trail.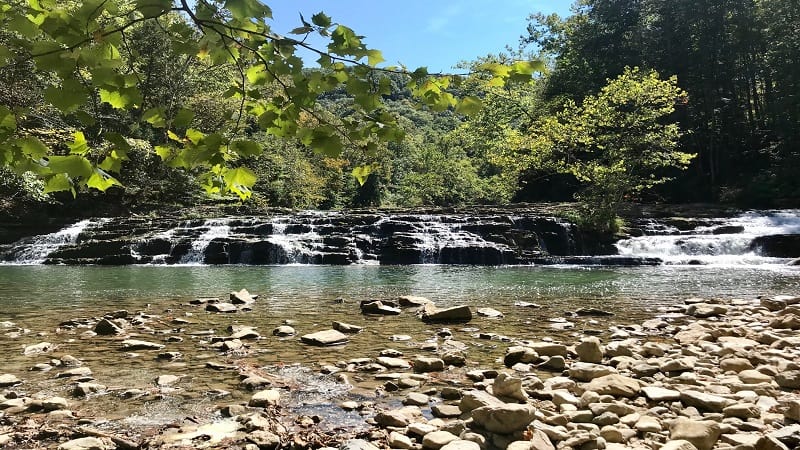 At Pinnacle Natural Area Preserve, a refreshingly easy hike leads to Big Cedar Creek Falls (aka Big Falls). Three different types of falls are ready to impress.
Lay out your towel on the stone-covered beach before you plunge into the basin for a rewarding splash on this 3.1-mile out-and-back hike.
Stroll the Pinnacle View Trail for a look at the park's namesake, The Pinnacle. This dolomite and sandstone formation towers 600 feet over Big Cedar Creek.
Moderate Hikes
When you want to hike in the Abingdon area, but you desire more mileage and elevation, these hikes are for you. Get ready for views and falls, too.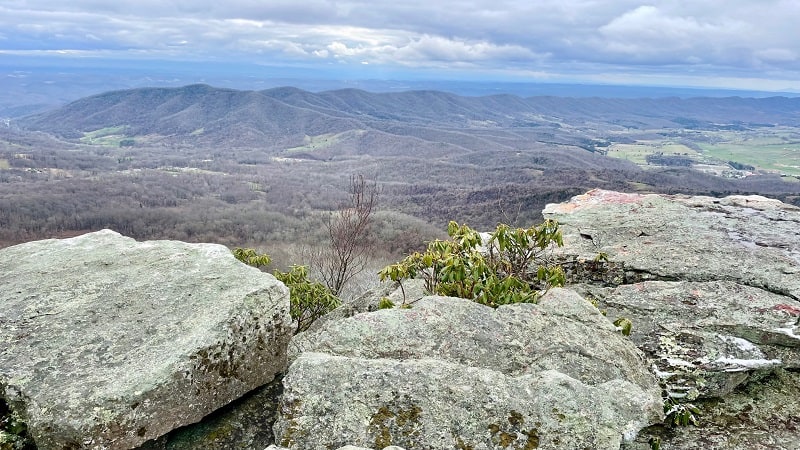 The 3.0-mile out-and-back hike on the Brumley Mountain Trail at Hidden Valley Wildlife Management Area is a quiet trek that leads to rocky outcroppings.
Plan to follow this beautiful trail for 1.1 miles, but then, stay alert. You'll reach a fork in the trail and you'll want to stay left to reach the overlook.
From here, there are no more mile markers, but it's easy to follow to a small rock scramble and then big views that are a huge reward for your efforts.
The 6.6-mile out-and-back hike through Hayters Gap leads to a curious maze of sandstone crevices and rock formations called the Great Channels.
Get ready to duck, climb and crawl with child-like enthusiasm as you explore this 20-acre labyrinth atop Clinch Mountain in Channels Natural Area Preserve.
This other-worldly sandstone maze purportedly was formed by ice wedging and permafrost 10,000 years ago, much to the delight of present-day visitors.
Hiking to Molly's Knob at Hungry Mother State Park is bucket list-worthy, but be prepared to dig deep. There's a climb of 200+ feet in the last .2-miles.
You need to earn the payoff views. When you reach Molly's Knob, two wooden benches welcome worthy and weary hikers who have made it to the top.
The south- and west-facing mountain are sensational. Plan to sit awhile to re-hydrate and re-fuel before the relatively easy descent back to the parking lot.
There are more than a few people who wish to reach the highpoint of every U.S. state, which includes Mount Rogers, the state's highest peak.
At an elevation of 5,730 feet, it's far from the highest point in the United States, but it's much higher than Britton Hill, the 345-foot-tall highpoint in Florida.
A 9.0-mile out-and-back hike from Elk Garden on the Appalachian Trail leads to the state's highpoint at Mount Rogers National Recreation Area.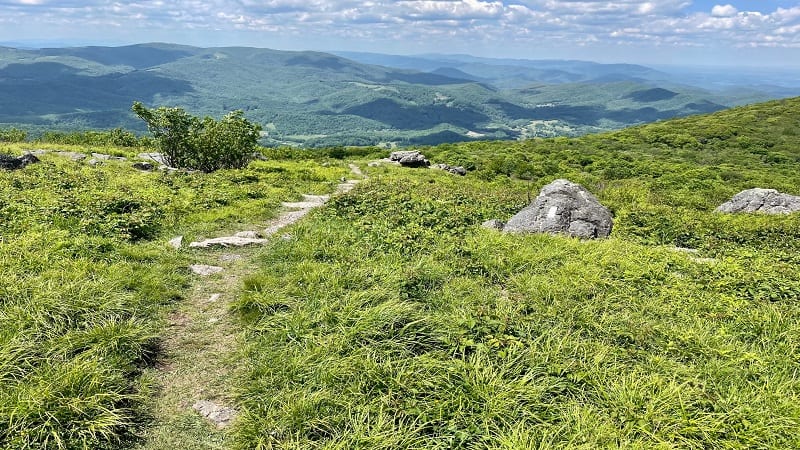 Many people know Buzzard Rock near Front Royal. This particular hike along the Buzzard Rock Trail wows with commanding west-facing views.
Drive a few hours southwest along I-81 and you'll reach another Buzzard Rock. This one is a stone's throw from Whitetop Mountain and Damascus, Virginia.
This 4.8-mile forested hike leads visitors along a section of the white-blazed Appalachian Trail, across open balds with far-reaching vistas. Spectacular.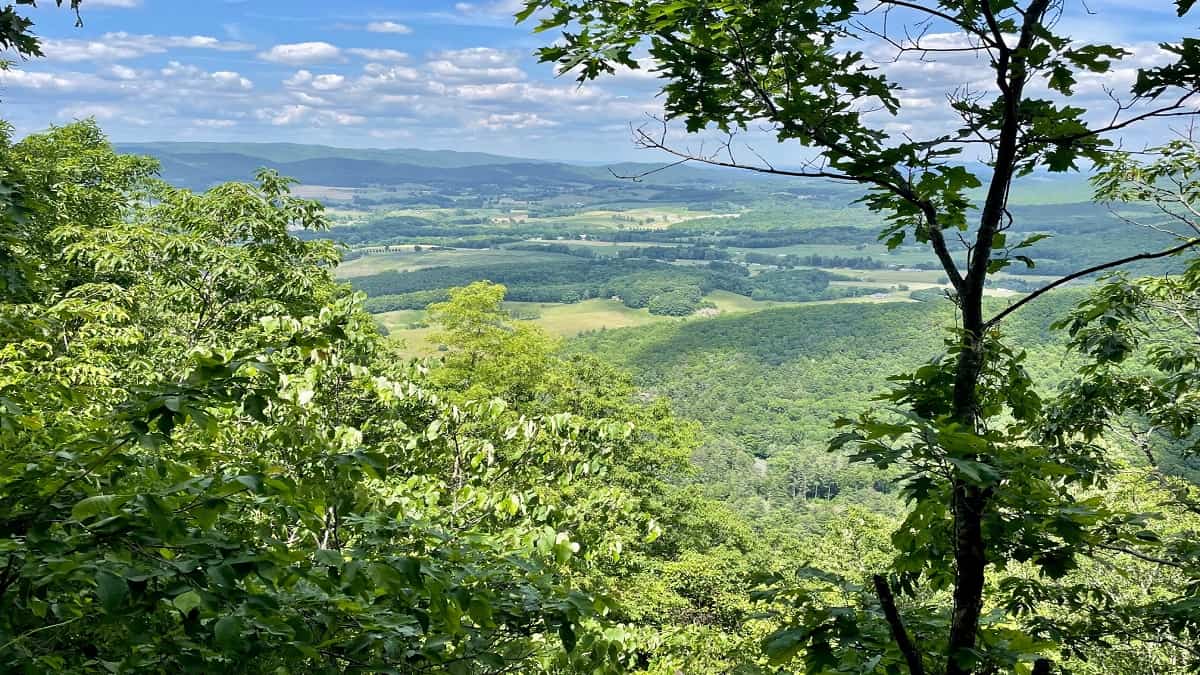 Stop at the Raccoon Branch Campground near Sugar Grove for a 4.8-mile out-and-back hike that includes the top of Dickey Knob.
The Dickey Knob Trail leads to the remains of a former fire tower, as well as northeast-facing vistas across the Rye Valley and Sugar Grove.
This forested hiking trail within the Raccoon Branch Wilderness in Smyth County is unmarked, but it's relatively easy to follow up to the top.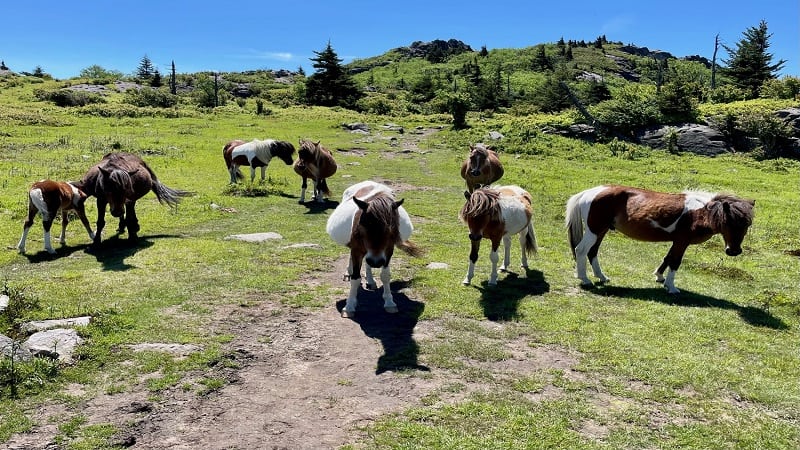 You can't go to Grayson Highlands State Park and not hike to see free-roaming wild ponies, at least not on your first visit to this beautiful state park.
From the Massie Gap parking area, your first steps are on the Rhododendron Trail to Wilburn Ridge, a landscape of grassy balds and alpine meadows.
From here, hike north on the Appalachian Trail to Wilburn Ridge or south to Lower Wilburn Ridge. You'll see plenty of wild ponies on both scenic routes.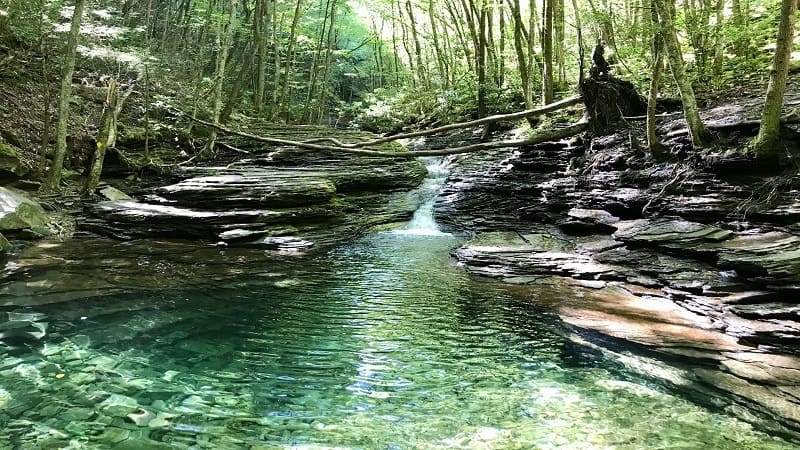 The Devil's Bathtub hike is well-known, even beyond state lines. With a name like Devil's Bathtub, it's hard not to inspire curiosity.
A waterfall and a crystal-clear basin lure hikers into this scenic area for a splash. There are two rope swings, as well the bathtub. Well, a bathtub-shaped basin.
Curious about the name? Explore Scott County maintains it's called Devil's Bathtub because it's the "only water cold enough to squelch the fires of hell."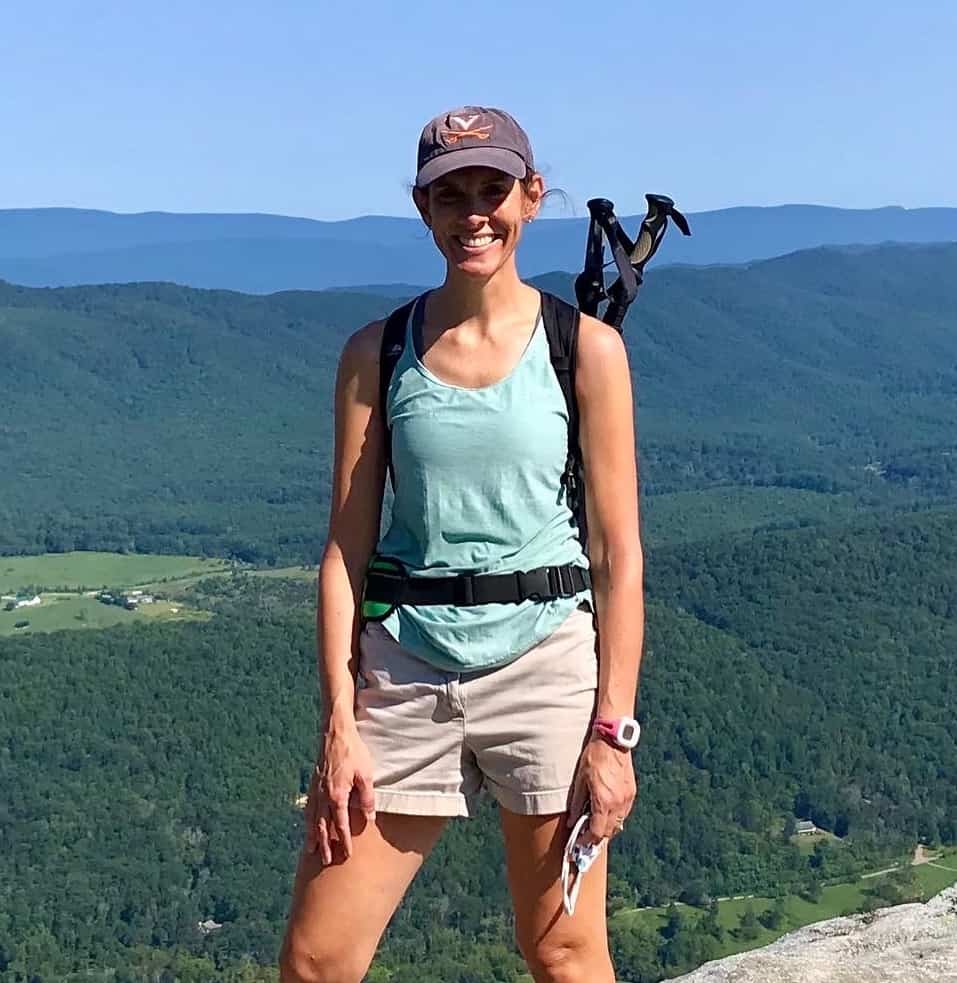 Erin Gifford is the editor of Go Hike Virginia. She has completed more than 300 hikes in Virginia. She is also the author of three hiking guidebooks from Falcon Guides. Need help finding a hike? Check out the Trail Finder feature or send Erin a message.