Scott's Run Nature Preserve: Go for More Than a Waterfall Hike
Last Updated on August 22, 2021 by Erin Gifford
Scott's Run Nature Preserve has long been known for its beautiful, cascading waterfall in Northern Virginia that effortlessly flows into the Potomac River.
The falls are a short and scenic .7-mile hike from the parking lot, but there's far more to this wooded gem than its watery oasis.
Just 20 minutes from Washington, DC, you may feel a world away at Scott's Run as you immerse yourself within the hardwood forest.
At times, you'll only hear rustling leaves and pecking woodpeckers. You'll hardly detect cars motoring along busy two-lane Georgetown Pike that abuts the nature preserve.
Arriving at the Trailhead
You'll find seven hiking trails, as well as several connectors to guide hikers from one trail to the next. There is no single loop trail.
Rather, there are multiple options to explore the river, wildflowers, stream crossings and mature trees.
The parking lot is mid-size, with room for 20-30 cars, but it can fill up well before noon, even on weekdays (summer weekdays).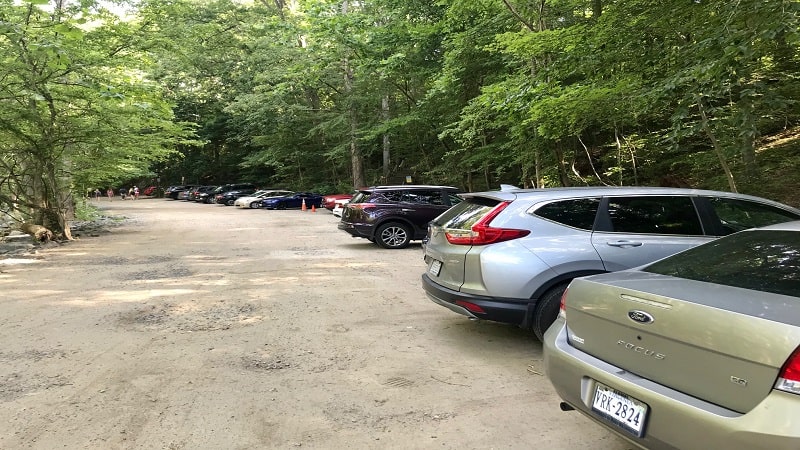 The vast majority of visitors come to the nature preserve for the gorgeous namesake waterfall.
However, it would be a shame to hike to Scott's Run Waterfall then return to the parking lot to depart the preserve. If you do, I think you'll be sadly disappointed, too.
Since the pandemic began, the waterfall area and the trail leading up to the waterfall have been completely disrespected by visitors.
By this I mean, trash. Lots of trash. Few who visit seem to know how to take their trash with them. It's beyond disheartening.
I visited Scott's Run on a recent Thursday morning only to find single-use water bottles, empty chip bags and fast food take-out containers.
There were even dirty diapers littered around the shores of the waterfall basin. How can anyone in good conscience leave their trash behind like this?
I first learned of Scott's Run a few years ago. The waterfall area was not the makeshift dumpster that it is today. Thankfully, there are plenty more waterfall hikes in Virginia.
As I was finishing up my most recent hike, I was approached by two older women who asked which way to go.
I suggested skipping the waterfall entirely to enjoy the more natural, wooded areas of the park that are not savagely littered up.
The First Steps
There are two trailheads attached to the main parking lot. The first runs along the Potomac Heritage Trail, which begins at the end of the lot and leads directly to Scott's Run Waterfall.
This wide trail guides hikers alongside a small stream, taking visitors across the stream in two places before a steep ascent and descent to reach the waterfall.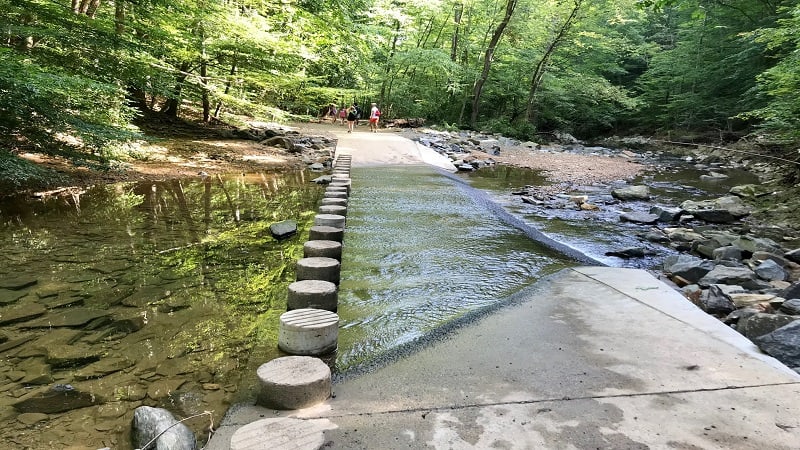 There is no swimming or wading allowed in the waterfall or river areas. There's even a large sign steps from the waterfall noting the $250 fine for violators.
Sadly, this does not seem to deter anyone. Nearly everyone I spotted on my recent hike was carrying a beach towel on their way to the waterfall. Sigh.
The second trailhead begins near the middle of the parking lot.
Climb the large set of wooden stairs to enter a calm and quiet tree-filled escape, which by the way, is absolutely stunning in late-fall when the leaves are at peak.
This purple-blazed trail is actually a connector trail to a satellite parking lot, but it's incredibly scenic on its own.
There are eight trail maps like the one below placed across Scott's Run Nature Preserve. The one here can be found at the bottom of the wooden steps in the parking lot.
It's absolutely worth snapping a photo to have on your phone since, as you can see, the trails seem to go every which way and it can be a challenge to follow any one trail.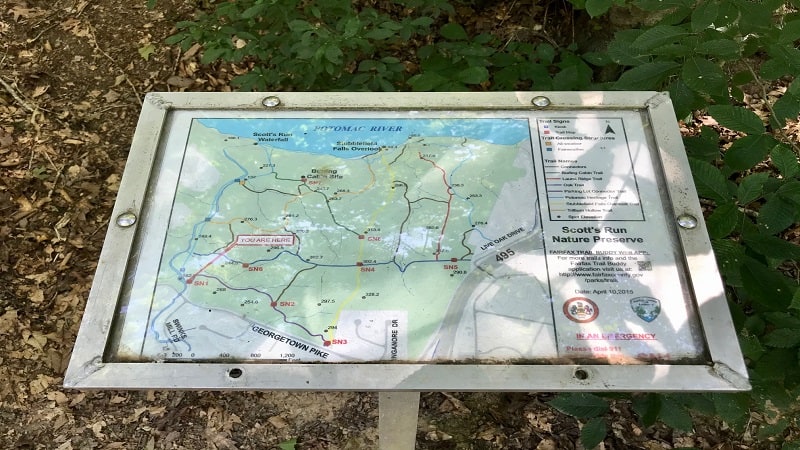 When I went to Scott's Run for a hike, my plan was to tackle the 2.9-mile Woodland and River Trail Loop.
I spotted this hike on AllTrails, but it was not exactly as I thought it would be. I really had to follow the trail map in the AllTrails app to the letter in order to stay on course.
From the parking lot, I slowly made my way to Scott's Run Waterfall along the Potomac Heritage Trail. From here, I followed blue-blazed trail along the banks of the Potomac River.
Then, this trail diverged from a connector trail and continued up a steep path through the forest to the Stubblefield Falls Overlook.
There's a span of .3- to .5-mile that's quite narrow and tricky to navigate. You may feel as though you're walking along a ledge at a few points.
Short rock scrambles make the hike interesting, but then you'll find yourself on a wide forested path once again. The path is wide enough to pass another person comfortably.
You'll also find you only encounter either locals walking their dogs or those who've come to hike and enjoy nature. You won't find any waterfall-seekers in this section.
You go from purple blazes to blue blazes. This trail soon links you to the Laurel Ridge Trail (red blazes), Stubblefield Falls Overlook Trail (yellow blazes) and Oak Trail (dark blue blazes).
Then, you'll settle back on the Parking Lot Connector Trail (purple blazes) for the return to your car. All are connected by mostly unmarked connector trails.
Many times I reached three- or four-way intersections and was thankful to have the AllTrails map to help guide me onto the right path.
There may be eight trail maps interspersed through the park, but there aren't any near the river or along the more narrow sections of trail.
I returned to my car just past 11 am on this weekday morning. Already the lot was full and closed to more cars by police officers.
I'd say that 90% of visitors come for the waterfall alone, while 5% are local dog walkers and 5% are nature-seekers like you and me.
This is a very beautiful suburban park that is best enjoyed early and on weekdays, at least during the busy summer months.
There are no bathrooms on-site. Please, respect the preserve and take your trash home with you. There is one trash can in the parking lot, but it's always overflowing.
Hike Options
Given there are so many criss-crossing trails at Scott's Run Nature Preserve, it's easy to hike as many or as few steps as you like and have an enjoyable nature experience.
If you wish to see only the river and waterfall, it's a 1.4-mile round-trip hike.
The hike I did – the Woodland and River Trail Loop – clocked it at just over three miles. This is largely because I did get lost on the trail here and there.
Wrap-Up Notes
This terrain-filled hike with ups and downs took me 90 minutes to complete. Again, there are multiple trails and options to enable you to spend the time you have in this park.
Though I am down on the waterfall, the rest of the park is quite a delight and trash-free.
From Scott's Run, it's a 10-minute drive to Great Falls Creamery, which is a welcome stop on a hot day for ice cream scoops and sundaes. They even sell pies, cheeses, eggs and milk.
The nature preserve is also a short hop to Great Falls Park and Riverbend Park. Both offer a lot of nice hiking and picnic options, as well as green space and restrooms.