Scott's Run Nature Preserve: An Easy Waterfall Hike in McLean, Virginia
Scott's Run Nature Preserve in McLean is a beautiful destination to revel in nature. It's also a popular destination given its proximity to Washington, DC.
Like really, really popular. Too popular. It's impossible to find a parking space on weekends, it's so popular. Everyone wants to spend time at Scott's Run.
* Before I go on, watch a short video I made when I hiked at Scott's Run. *
Scott's Run is a 25-minute drive from my house. I hadn't visited in nearly two years, but it wasn't entirely because I only wanted to hike new-to-me trails.
It was because visitors had so disrespected the park, leaving behind single-use water bottles, empty chip bags and fast food take-out containers.
There were even dirty diapers littered along the shores of the waterfall basin. Seriously, who in good conscience can leave behind their trash like that?
It was so disheartening. Thankfully, my visit this morning was quite the opposite experience. It was nearly trash-free, too.
| Trail Stats | |
| --- | --- |
| Length | 3.3 miles |
| Difficulty | Easy |
| Trail Type | Loop |
| Elevation Gain | 420 feet |
| Duration | 2-2.5 hours |
| Terrain | Mostly dirt & rock trails |
| Dog-Friendly | Yes |
| Fee | Free |
| Driving Directions | Click Here |
Scott's Run Nature Preserve
I saw only a handful of people, including a plein air painter, several people taking photos of wildflowers, and a couple of local dog walkers.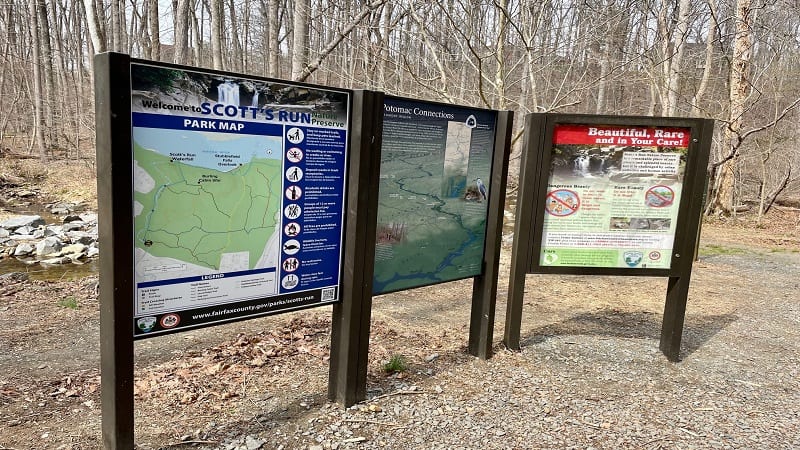 There are six named trails at Scott's Run Nature Preserve, which is one of 420 parks managed by the Fairfax County Park Authority.
A short segment of the Potomac Heritage National Scenic Trail runs through this park. There are also several unnamed connector trails.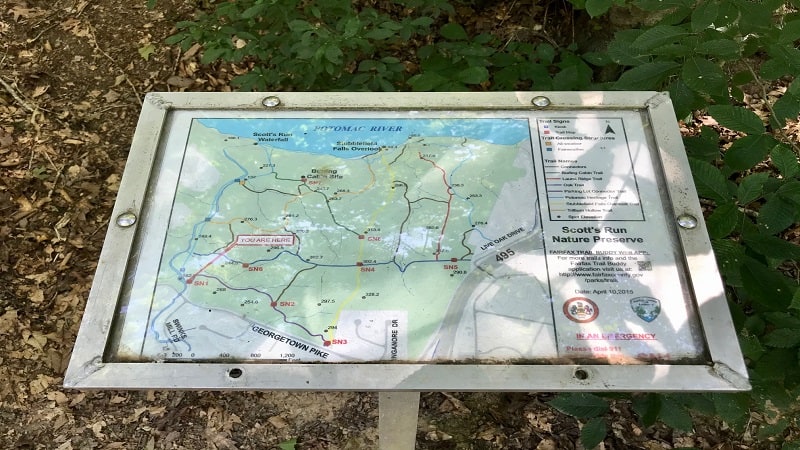 The un-blazed connector trails make a hike confusing at times, so I suggest that you print out the trail map or snap a photo of the map when you arrive.
I had to pull up the map on my phone a few times when I reached forks in the trail and wasn't entirely sure which way to go.
Waterfall Hike
It's easy to create a 3.3-mile loop hike that goes all the way around the perimeter of Scott's Run Nature Preserve.
It doesn't matter which way you start on the loop, but I opted for a clockwise hike in order to enjoy the waterfall early and the quiet of the forest late.
From the nature preserve parking area on Georgetown Pike, begin the hike from the back of the lot where you see a barrier to keep out vehicles.
You'll pass a kiosk on the left with a park map (snap a photo) and a map that shows segments of the light blue-blazed Potomac Heritage Trail.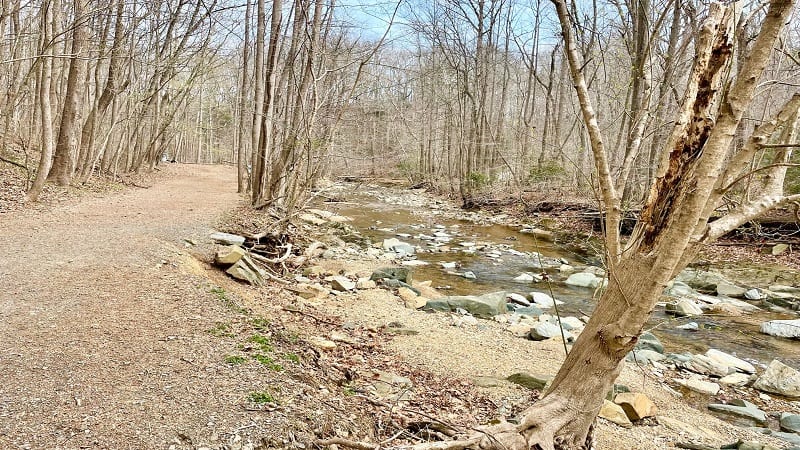 The hike begins on the Potomac Heritage Trail, guiding you alongside and across Scott's Run on a wide gravel hiking trail.
You'll cross over Scott's Run twice before a short, but steep, ascent, then descent that leads to a beautiful waterfall at the 0.7-mile mark.
Scott's Run Waterfall
There are signs that clearly prohibit swimming and wading. In fact, the water may be contaminated by sewage, pesticides and vehicular leaks. Umm, yuck.
Another sign – just a few steps from the waterfall – notes that violators are subject to a $250 fine. Sadly, the signs typically deter very few people.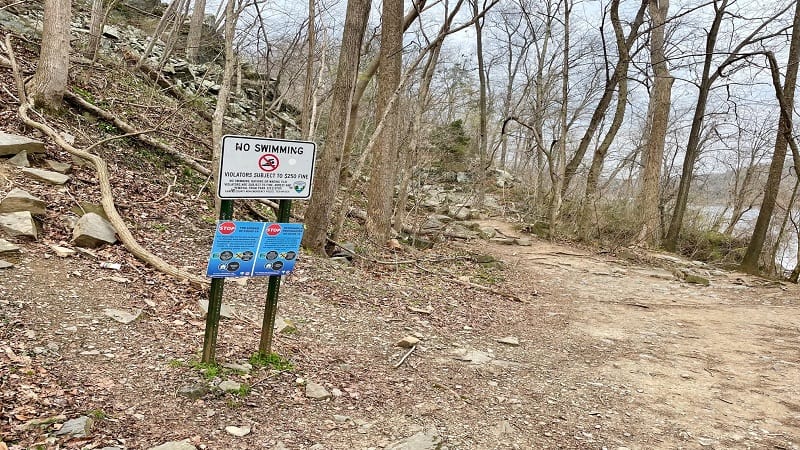 I was the only one at the waterfall this day, so maybe the signs are working. Who knows, really. I was just happy to have the delightful falls all to myself.
Unfortunately, I could now see graffiti at the top of the waterfall. Again, who does this? Frustrating. Oh well, still beautiful.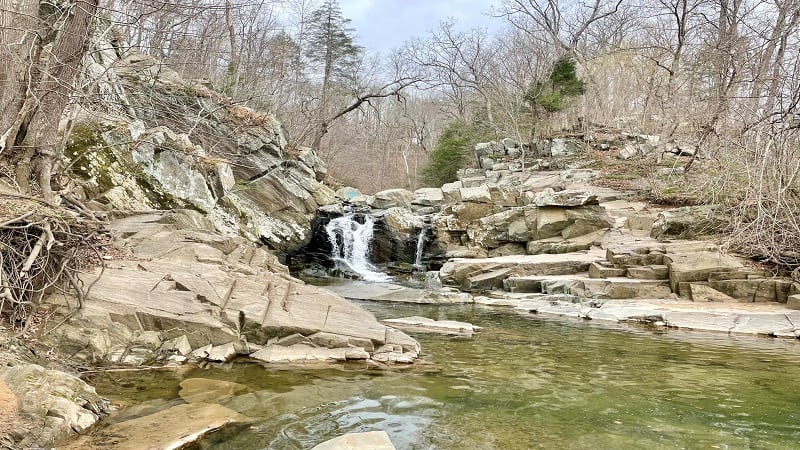 Once you've taken in all the waterfall views, re-trace your steps, then hop back on the Potomac Heritage Trail, which now skirts along the Potomac River.
Stubblefield Falls Overlook
Continue following the blue-blazed Potomac Heritage Trail. Interestingly, this trail seems to parallel an unmarked trail that's close to the Potomac River.
In one or two spots, the unmarked trail meets up with the Potomac Heritage Trail, but be sure to ascend to the right at the 1.1-mile mark.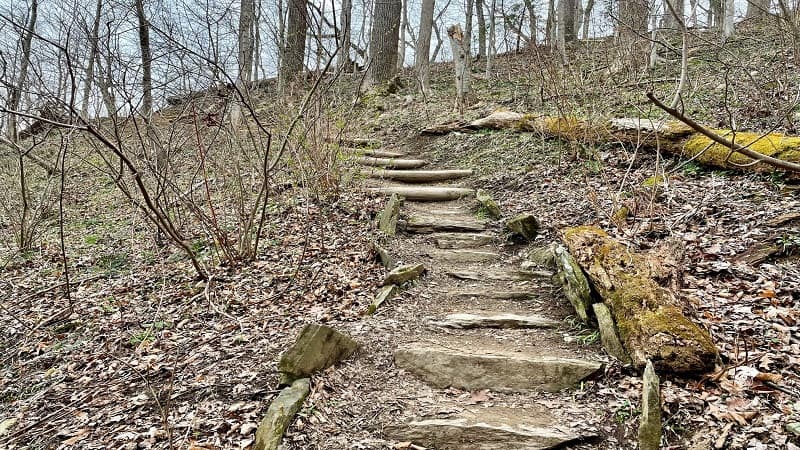 Then, keep your eyes wide open. In a few steps, you will need to cross over a ravine on the left and ascend steps on your way to an overlook.
If all of a sudden you begin to see orange blazes, you missed the turn. I did and had to back-track to find the blue blazes.
You will reach a rocky overlook at the 1.2-mile mark. This is Stubblefield Falls Overlook. It looks out at cascades on the Potomac River.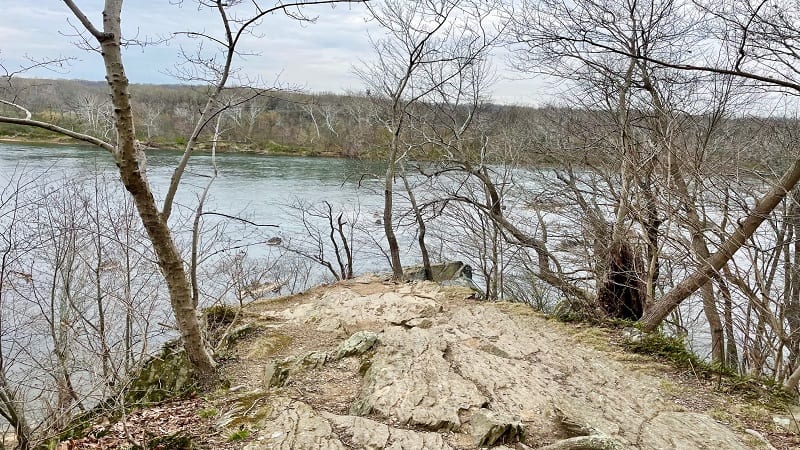 It's quite scenic, though the overlook is partially-obscured. In early-spring. With no leaves. This means that in summer, there will be almost no views.
Still, it was rather nice. Back-track to the trail. You'll then reach a second rocky overlook, but no better views, in a few more steps.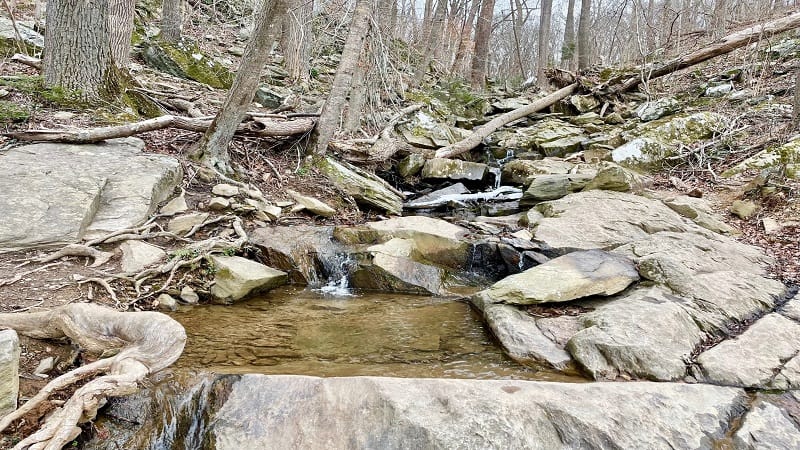 Then, modest cascades and a rocky water crossing at the 1.3-mile mark. Note that much of the hike along the river is on narrow trail with a steep drop-off.
Back Into the Forest
I was never worried, but you will want to pay attention as you walk. At the 1.5-mile mark, ascend on a wide path as you move away from the river.
Stay right at the 1.9-mile mark, as the path leads off to the Langley Swim and Tennis Club. You're now on a connector trail that leads to the Oak Trail.
Interestingly, despite the fact that Scott's Run is 0.5 miles from I-495, you will only hear the highway at this point (when the park abuts the beltway).
The Oak Trail is also blue-blazed, but it's more of a cobalt blue. Stay to the left as you approach two forks in the trail. You'll also cross two footbridges.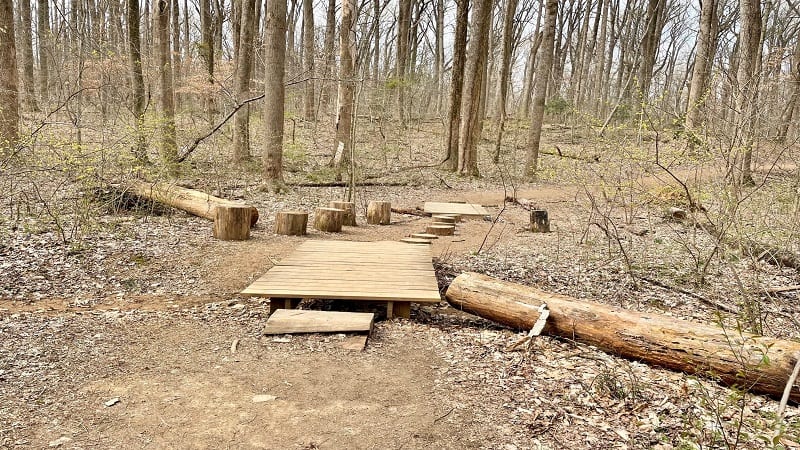 At the third fork, stay left for the yellow-blazed Trillium Hollow Trail. This is at the 2.5-mile mark. You'll soon reach a small parking lot for Scott's Run.
This is not the main parking lot (there are two parking lots). Here you'll want to turn right for the purple-blazed Parking Lot Connector Trail.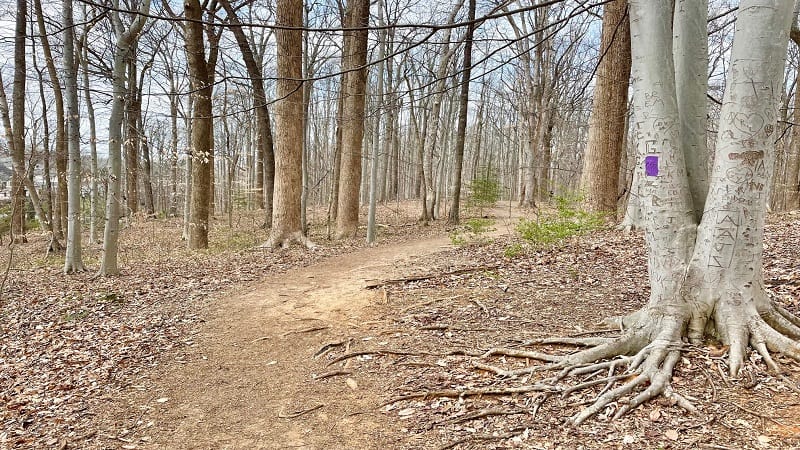 You'll reach a tall set of wooden steps at the 3.3-mile mark. Descend the staircase and you will reach the parking lot to complete your hike.
Wrap-Up Notes
From the main parking area, this forested hike in Northern Virginia took me around 90 minutes, including time spent enjoying the falls and leaves.
Scott's Run Nature Preserve is located at 7400 Georgetown Pike in Mclean. The park's hours are from sunrise to sunset.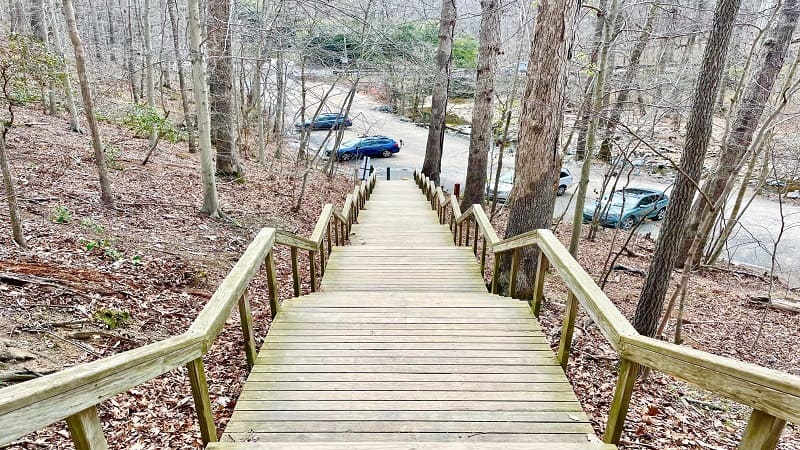 As noted above, you cannot swim, wade or bathe at Scott's Run. You also cannot bring in alcohol or glass containers.
Given the popularity of this park (the waterfall, in particular), your best bet is to visit early in the day and on weekdays, if at all possible.
There are no bathrooms on-site, but there are several trash cans. However, if the trash cans are overflowing, please take home your own trash.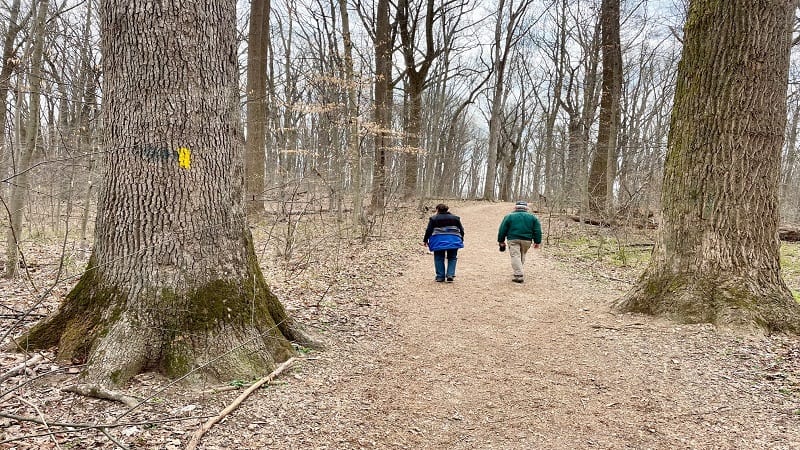 The Fairfax County Park Authority holds nature programs at Scott's Run, including wildflower walks and geology talks, as well as volunteer programs.
The nature preserve is a short hop to Great Falls Park and Riverbend Park. Both offer hiking and picnic options, as well as green space and restrooms.