Copernicus Ridge: A Scenic Hike on the Massanutten Trail in Shenandoah County, Virginia
Plenty of hikers like to step foot on the white-blazed Appalachian Trail. Yet, there's something quite special about the orange-blazed Massanutten Trail.
Located within the George Washington National Forest, the rugged 71-mile Massanutten Trail encircles Fort Valley in Shenandoah County, Virginia.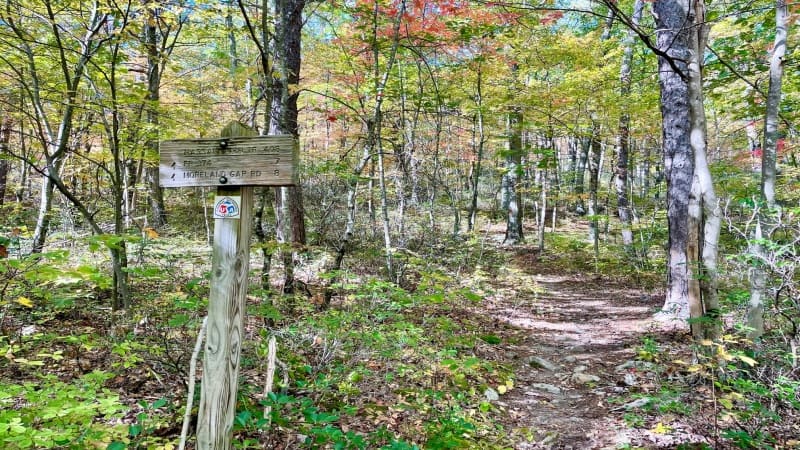 I've completed several scenic hikes that include stretches of the Massanutten Trail, which loops along the northern ridges of Massanutten Mountain.
Among my faves are Signal Knob, Kennedy Peak and Emerald Pond. Today, I stumbled on a new favorite in Edinburg called Copernicus Ridge.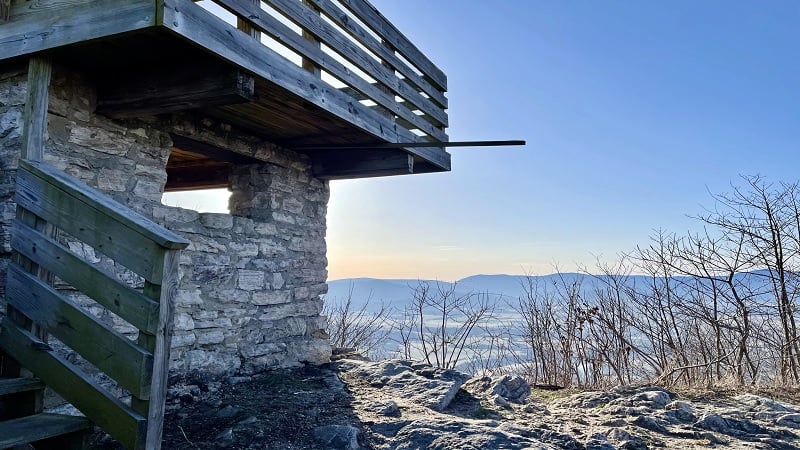 Aside from reading about "Copernicus Ridge" on Hiking Upward and AllTrails, I have not seen Copernicus Ridge on a topographic map or trail sign.
However, if you type Copernicus Ridge into Google Maps on your phone, it will take you to the trailhead. Apple Maps, on the other hand, has no clue.
| Trail Stats | |
| --- | --- |
| Length | 2.6 miles |
| Difficulty | Moderate |
| Trail Type | Out-and-Back |
| Elevation Gain | 683 feet |
| Duration | 2-3 hours |
| Terrain | Mostly dirt & rock trails, some rock scramble |
| Dog-Friendly | Yes |
| Fee | Free |
| Driving Directions | Click Here |
Copernicus Ridge Parking
The Google Maps driving directions guide you to Forest Road 374 where the Massanutten Trail re-enters the forest. They are happily quite accurate.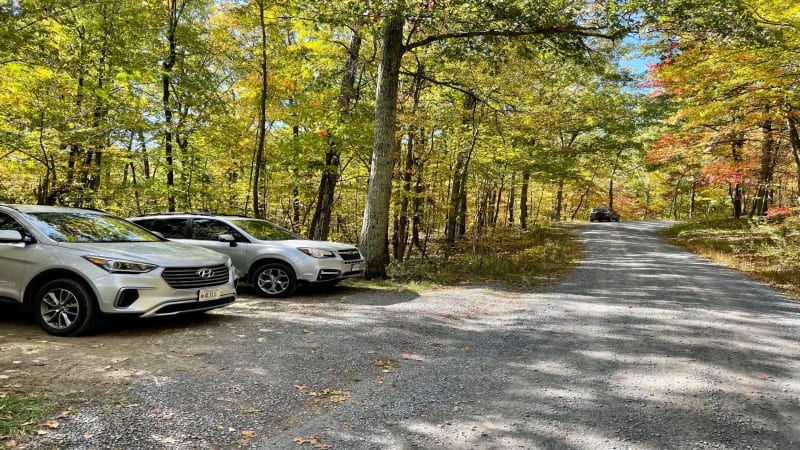 When you arrive you will see room for up to five or so cars to park on the left-hand side of this gravel service road.
If all of the spots are taken, not to worry. There are a couple of pull-outs on the way up Forest Road 374 to the trailhead to start this hike.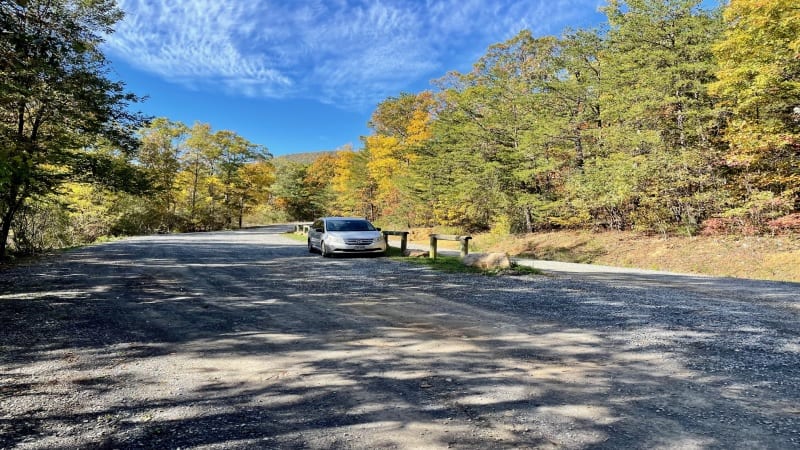 There is also a parking area at Edinburg Gap. It's a 0.5-mile walk from the trailhead. It's a mild ascent, but it will do in a pinch.
When you turn onto Forest Road 374 from State Route 675, the forest road bears right and to the left is the gravel road to the parking lot.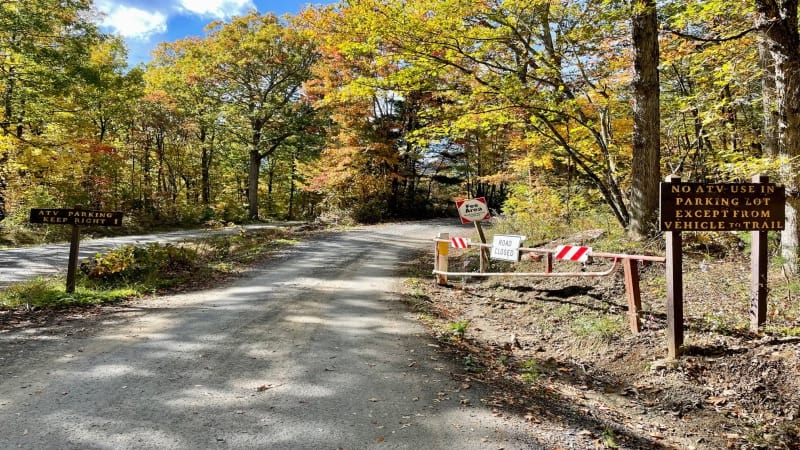 You will see a sign that reads "Fee Area," but this only applies to OHV and ATV users planning to use the Peters Mill Run and Taskers Gap OHV trails.
Massanutten Trail
It's very easy to miss the Massanutten Trail for the start of this hike. Your best bet is Google Maps since the start is truly where the driving directions end.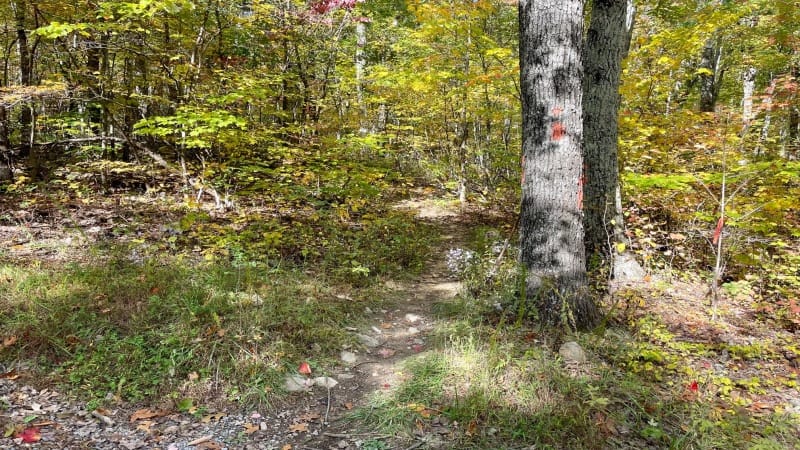 You will see orange blazes on the right-hand side of the trail. The hike begins right there and you'll be on the Massanutten Trail for 1.2 miles.
The trail is well-marked and well-maintained. It's a fairly narrow and rocky trail. Of note, this trail is not for ATVs. It's just for hikers.
It's a slow and winding ascent up the mountain and along a ridgeline. You'll get a little bit of a break at the 0.6-mile mark, but then it's a climb once more.
Thankfully, every now and then, you'll get to enjoy peeks of the mountains across the gap. Once the leaves fall, the views will be all the better.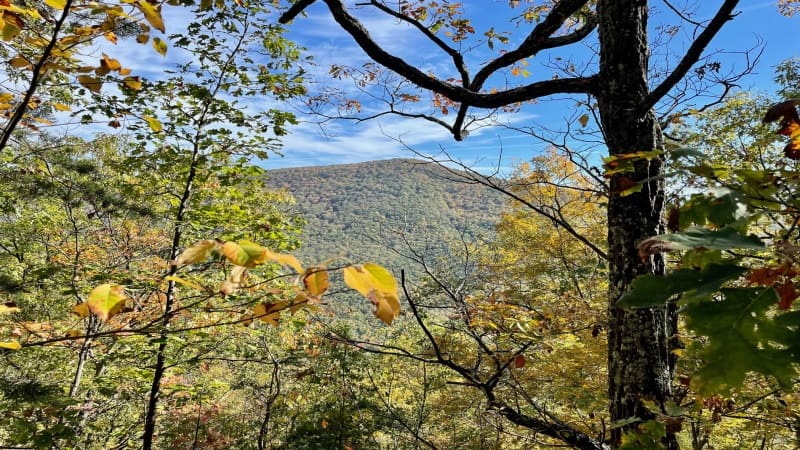 It's really not bad. Just take it slow and steady. Watch your footing too since the forested Massanutten Trail is also strewn with rocks.
Copernicus Ridge
As you near the 1.2-mile mark, pay attention. The spur trail that leads to the ridge and to the overlook views is seriously easy to miss.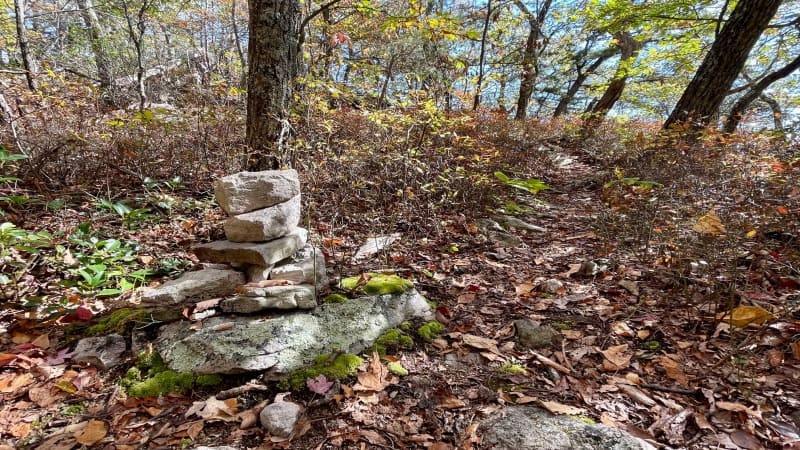 You'll see a rock cairn on the left side of the trail. I can't say that I advocate rock cairns, but in this case, I was thankful to see this one-foot-tall marker.
Turn left here to make your way along the 0.1-mile ridgeline path that requires some very minor rock scrambling. There is no official signage and no blazes.
Overlook Views
There are four overlooks. The first is just okay. You can see across Edinburg Gap to Powell Mountain and Kennedy Peak, but the views are largely obscured.
The second overlook has granite rocks to sit on, but the views are also partially hidden. Plus, there are better views a bit further up the narrow trail.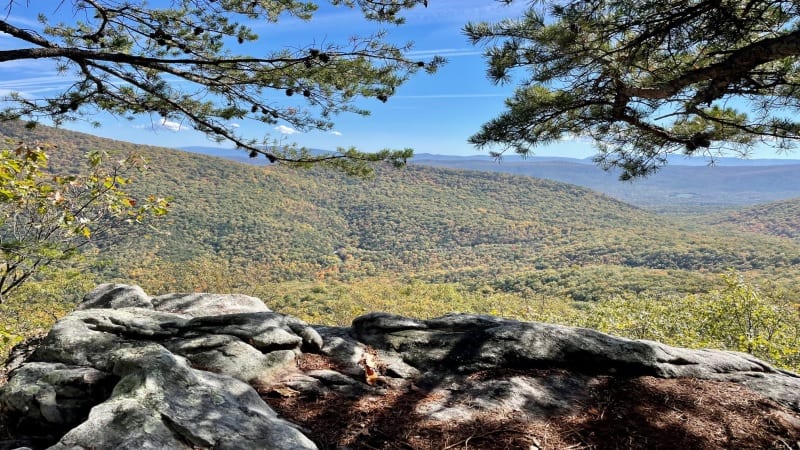 In a few more steps, up and over a rock scramble, there's a path that leads to near 180-views from atop a rocky outcrop.
However, getting to the furthest outcropping – with the very best views – can be a bit unnerving. But, it's also very much worth the effort on a beautiful day.
The fourth overlook offers the second best views. This outcrop is much easier to manage and settle in on than the outcrop at the third overlook.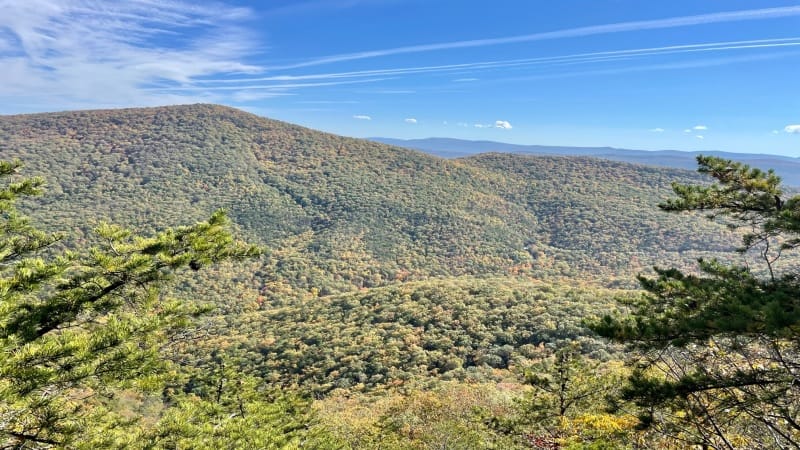 The vistas are gorgeous and relatively easy to reach given you need only hike 1.3 miles to reap your rewards.
From here, simply re-trace your steps to return to your vehicle. Celebrate!
Wrap-Up Notes
I parked at the Edinburg Gap parking area, so from there, it took me 1 hour, 45 minutes, including time spent savoring the great views from each overlook.
This out and back hike clocked in at 2.6 miles. Of course, I also tacked on an extra mile (0.5 mile, each way) since I parked at the far parking area.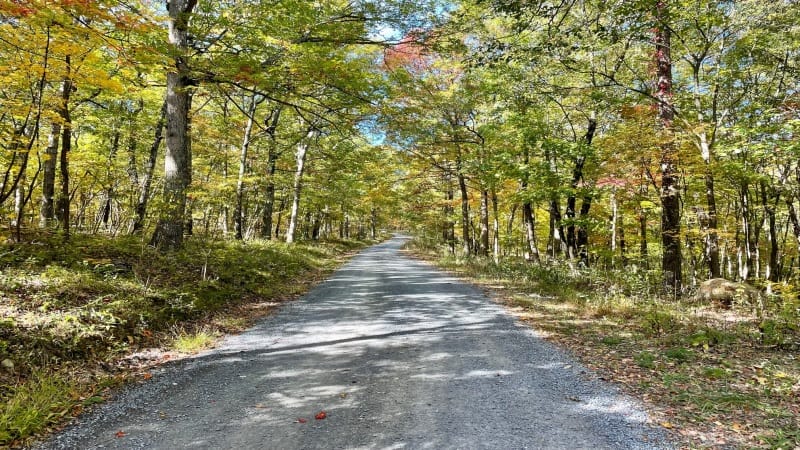 If you can snag one of the spots adjacent to the trailhead, that's the way to go for this hike. At the very least, you'll spend less time on the forest road.
I would definitely consider Copernicus Ridge to be a hidden gem. It's not a lot of mileage, you're rewarded quickly and the views are sensational.
If you want to see what Copernicus Ridge looks like before you go, take a look at this short video I created when I completed this hike.