Great Channels of Virginia: Hike to a Mysterious 20-Acre Sandstone Maze Atop Clinch Mountain
I hate to admit this, but I spent 30 minutes wandering the Great Channels of Virginia, the sandstone maze atop Clinch Mountain in Southwest Virginia.
Turned around inside this 20-acre maze near Abingdon, I had no idea where I entered this other-worldly labyrinth. Certainly, there were no enter or exit signs.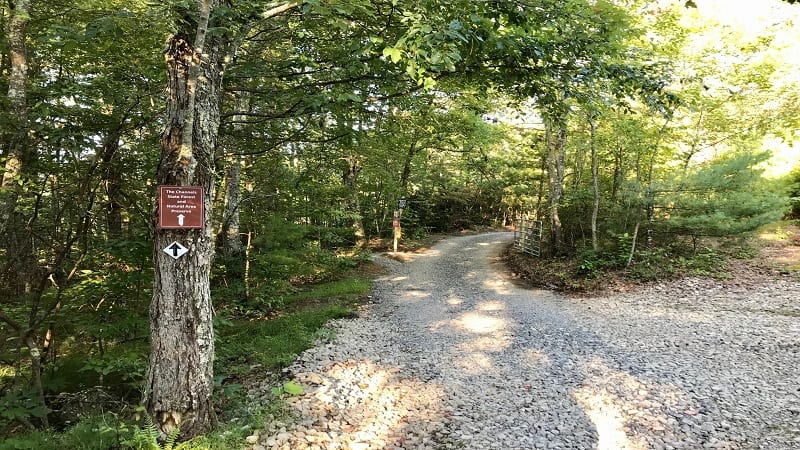 The narrow passages, the rocky overhangs, the climbing sandstone formations, they all looked the same. I was doomed. Then, a helping hand.
I was inside the Great Channels with a couple that had set off on this 6.6-mile hike (round-trip) at the same time as me. I soon learned a trick I quickly paid forward.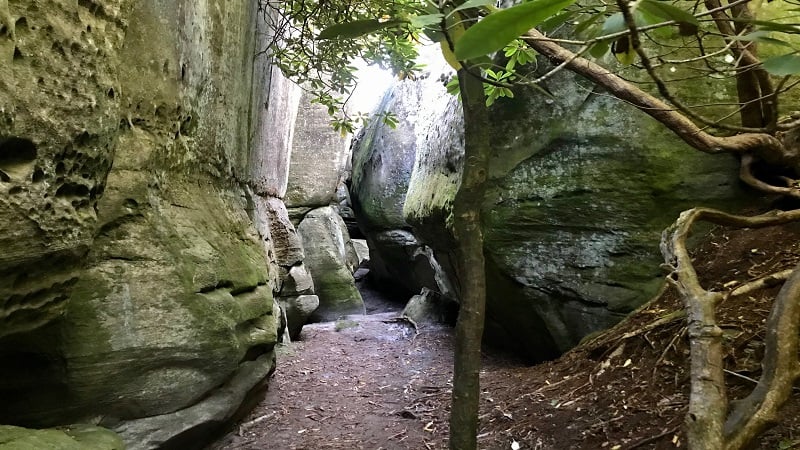 The gentleman had set his backpack inside a small crevice where he entered the slot canyon-like maze. Together, we re-located the backpack and I was set free.
I had enjoyed a mere 10 minutes of freedom outside the labyrinth when I saw a group of hikers. I barely said hello before I passed along this crucial bit of advice.
| Trail Stats | |
| --- | --- |
| Length | 6.6 miles |
| Difficulty | Moderate |
| Trail Type | Out-and-Back |
| Elevation Gain | 1,555 feet |
| Duration | 4-5 hours |
| Terrain | Mostly dirt & gravel trails |
| Dog-Friendly | Yes |
| Fee | Free |
| Driving Directions | Click Here |
Great Channels of Virginia
The hike to the Great Channels of Virginia along the Brumley Mountain Trail in Russell County is a popular one, despite the mostly uphill slog the first three miles.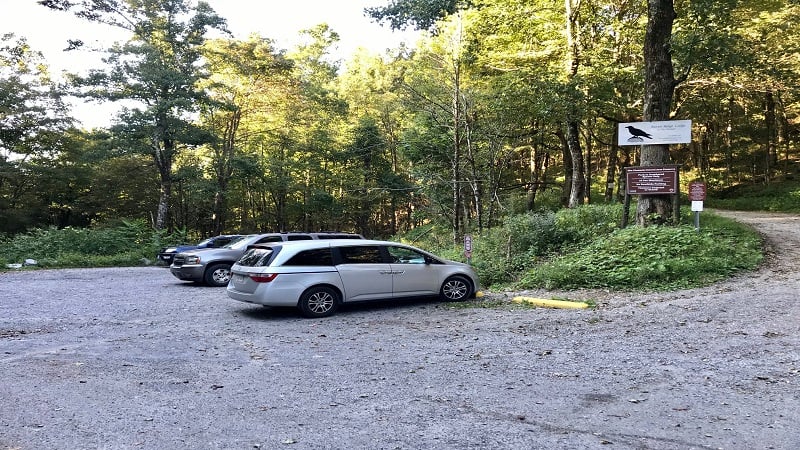 Even on a weekday, arrive at the parking lot early. It's located off State Route 80 in Saltville. You'll round a bend along this two-lane road, then there it is.
There are only 10 parking spaces for the Channels Natural Area Preserve. There is no legal street-side parking.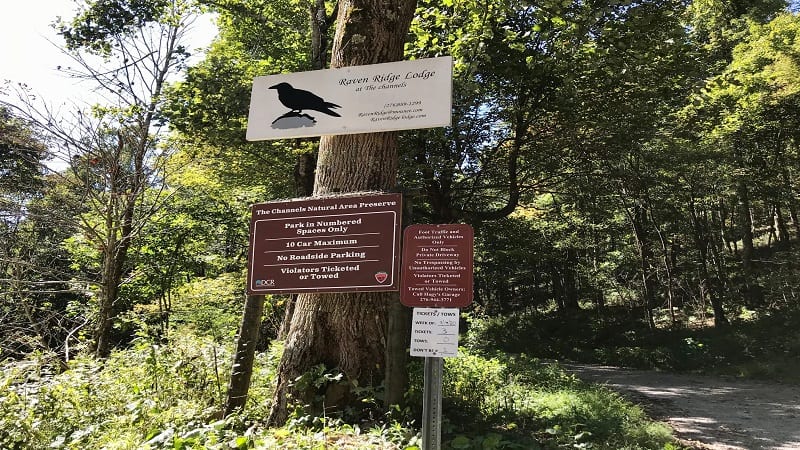 Local authorities are more than happy to ticket and tow, too. I arrived at 8:30 am on a Monday. Even then, I was the third or fourth car in the parking lot.
By the time I departed at 11:30 am, every parking spot was taken. Yes, on a Monday. Plan ahead, friends.
Brumley Mountain Trail
The hike along the Brumley Mountain Trail through the Channels State Forest begins on easy gravel terrain, which crosses private property (the first mile).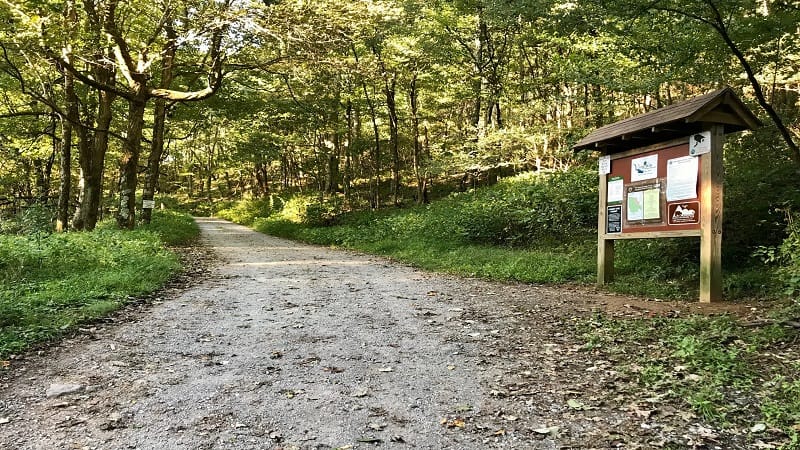 At the .25-mile mark, you'll see a turn off for a cabin. This is Raven Ridge Lodge in Hayters Gap. There is a sign for this mountain retreat at the trailhead.
Just stick to the left and press on. At the .5-mile mark, a relatively scenic powerline vista is on the left.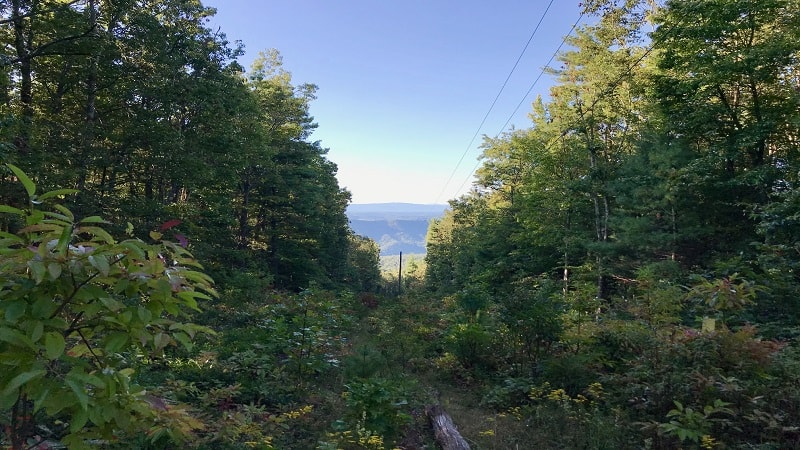 The trail splits again at the .65-mile mark. Bear left to access more of a foot trail than a gravel fire road.
Near the one-mile mark, a couple of private cabins appear on the right. Just past these cabins, the trail changes from mostly gravel to mostly dirt terrain.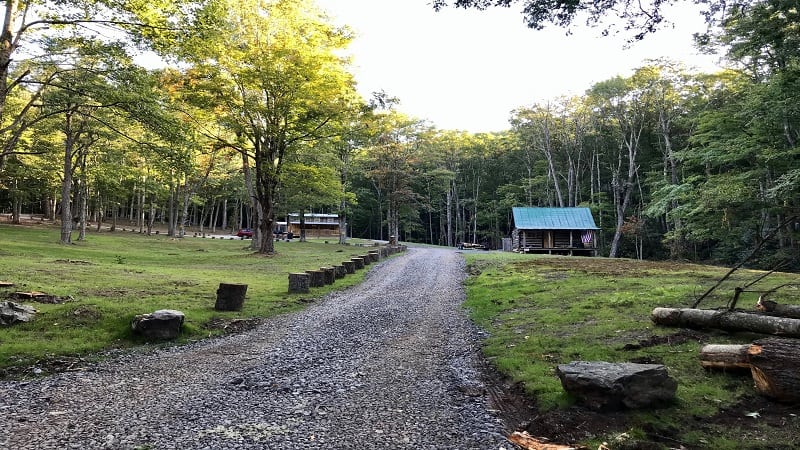 Veer left when you see the sign for The Channels. In a few more steps, you'll see a trail kiosk on the right and then an iron gate to walk around (legally).
Clinch Mountain
From this point, the trail gets narrower, darker, steeper and rockier as you continue hiking to the top of Clinch Mountain.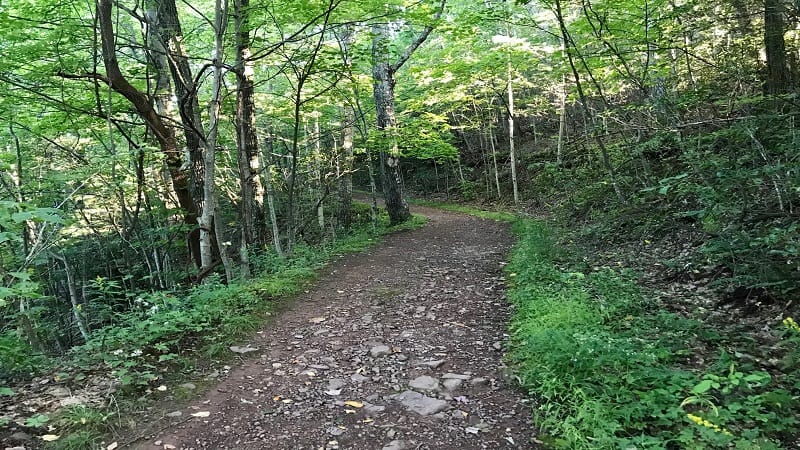 At the 2.9-mile mark, you will veer left for the Channels Spur Trail to the summit. But first, a surprise. An Easter egg, if you will.
In .1 miles you will reach a bit of an intersection. You'll see a rock scramble and an old fire tower on the right. On the left, an enticing lightly-trafficked trail. Hmmm…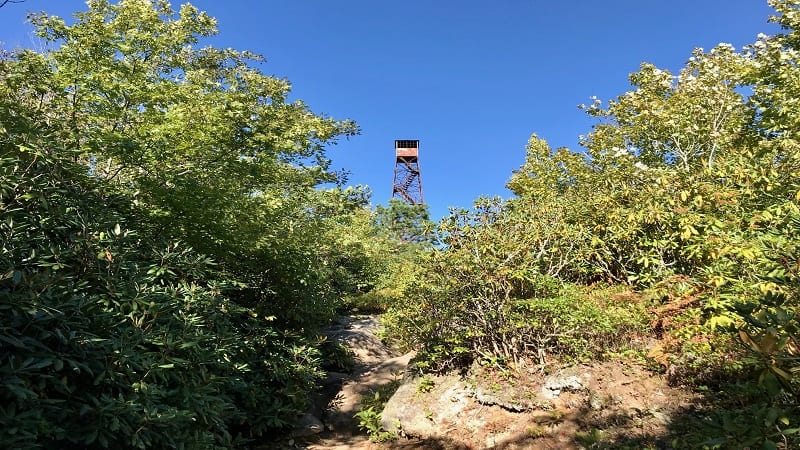 Turn left and walk as far as you can (you won't need to go far). You'll see a stack of rocks. Step up onto the rocks, push some brush out of the way, then wow.
You will be awed by the most fantastic south-facing views. You may be the only person there (I was), standing on these gigantic rocks with wide-open views.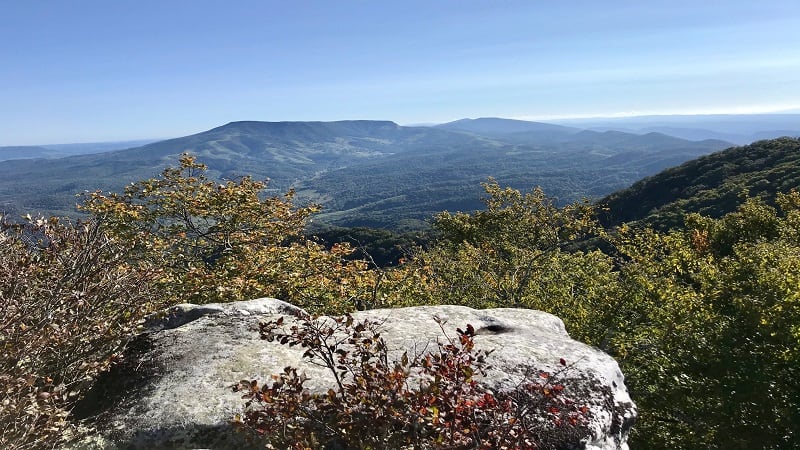 Once you soak in the views, including vistas of Mount Rogers (5,728′) and Whitetop Mountain (5,520′), Virginia's two tallest peaks, navigate back to the main trail.
Middle Knob
Walk across a massive rock field on Middle Knob. Go under or around the tallest fire tower I've ever seen (you cannot climb this fire tower).
The trail picks up on the other side, then envelops you in dense foliage.
In a few more steps, you will reach the maze reminiscent of sandstone slot canyons. Plan to duck, squeeze, climb and crawl as you explore with curiosity.
Spend time navigating and snapping photos throughout this sand-floored labyrinth. It was created 10,000 years ago by permafrost and ice wedging.
Since this is an out-and-back hike, re-trace your steps to the parking area. Dogs are allowed on this scenic hike, but be sure your pet is on a leash.
My hope is that you take my early advice and leave a marker, like a backpack, at the entrance. This will help you find your way out and back to the trail.
Wrap-Up Notes
From the parking area, this hike took me nearly 3.5 hours to complete, including more time than I expected lost in – er, exploring – the mysterious sandstone maze.
Lots of people get lost on their way to the Great Channels hike, so use 4250 Hayters Gap Road in Saltville as the address for Google Maps or Apple Maps.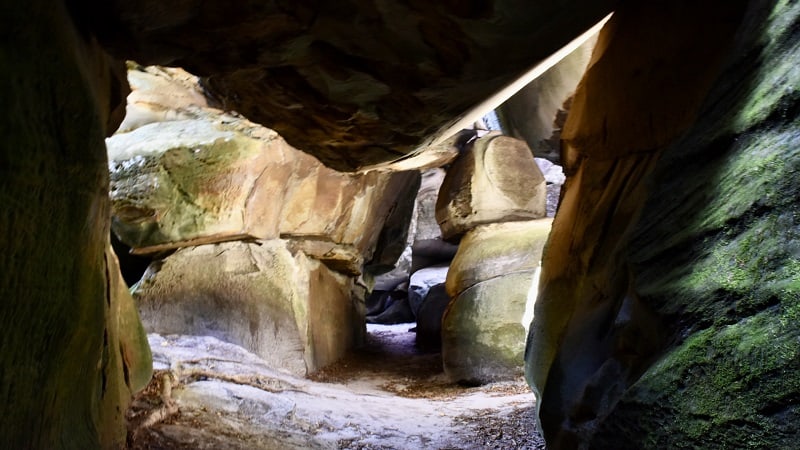 This address is for the parking area. Just to reiterate, this is a very popular hike so get there early to get a parking space. Illegally parked cars do get towed.
This is definitely a bucket list hike in Virginia, so take your time and enjoy every moment inside the unique maze of sandstone crevices on top of Clinch Mountain.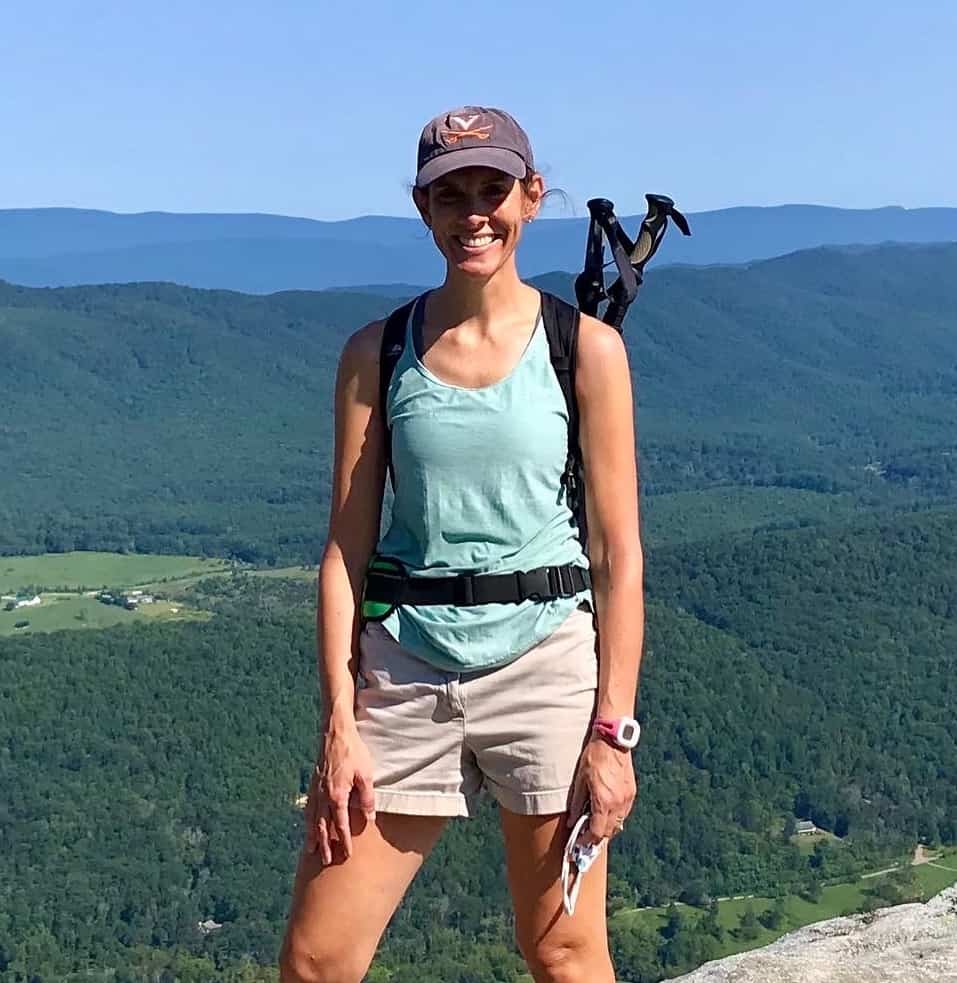 Erin Gifford is the editor of Go Hike Virginia. She has completed more than 300 hikes in Virginia. She is also the author of three hiking guidebooks from Falcon Guides. Need help finding a hike? Check out the Trail Finder feature or send Erin a message.