Buzzard Rock: An Appalachian Trail Hike to Wide-Open Grassy Balds in Southwest Virginia
Many people are familiar with the Buzzard Rock near Front Royal. This hike along the Buzzard Rock Trail wows with commanding west-facing views. Gorgeous.
Recently, I discovered another Buzzard Rock hike. This one is several hours southwest along I-81. It's a stone's throw from Damascus, Virginia.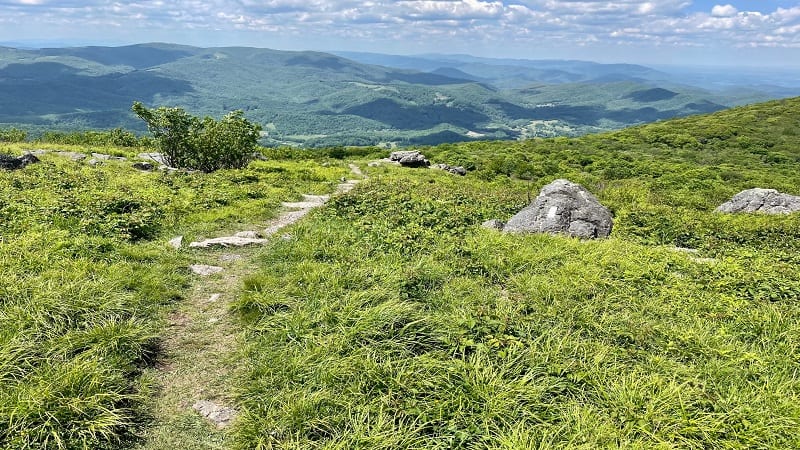 As an Amazon Associate I earn from qualifying purchases. If you click and purchase, I receive a commission at no cost to you.
This forested hike guides visitors along a section of the white-blazed Appalachian Trail, leading to open balds with far-reaching vistas. Incredible.
One look at the map may lead you to believe that Whitetop, Virginia's second highest mountain, is close and worth the extra steps. I've got more to share.
| Trail Stats | |
| --- | --- |
| Length | 4.8 miles |
| Difficulty | Moderate |
| Trail Type | Out-and-Back |
| Elevation Gain | 1,581 feet |
| Duration | 3-4 hours |
| Terrain | Mostly dirt & rock trails |
| Dog-Friendly | Yes |
| Fee | Free |
| Driving Directions | Click Here |
Beech Mountain Road
There are a couple of different ways you can approach Buzzard Rock on the Appalachian Trail. I opted for a northbound trek of 2.4-miles (one-way).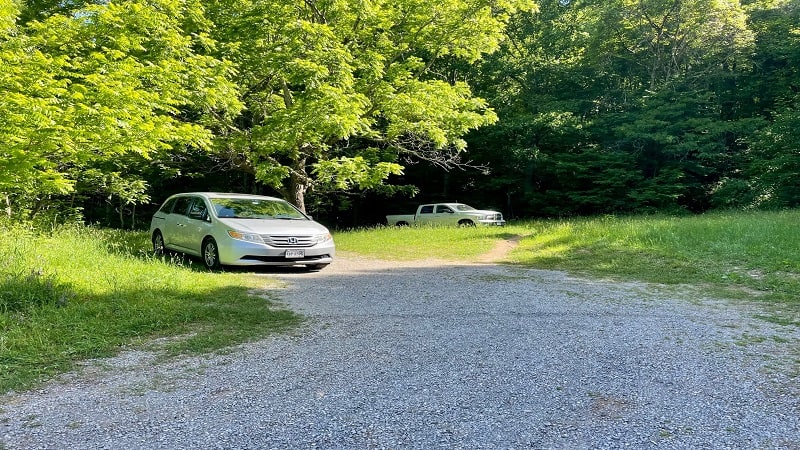 This option starts from a small parking area on Beech Mountain Road. Like, really small. You can only fit maybe three or four cars in this small lot.
It's worth noting too (AT&T users, listen up) that there is no cell signal in the parking lot or at the trailhead. You'll get a couple of bars on the way up.
The second option is a southbound trek along the Appalachian Trail from Elk Garden. The parking area is larger, with room for at least a dozen or so cars.
This hike is longer, but not by much. It's 3.2-miles one-way to reach the grassy balds and Buzzard Rock, the high outcrop below Whitetop Mountain.
Also, of note, you're more likely to get a cell signal at Elk Garden, which is also a starting point for the hike to Mount Rogers on the Appalachian Trail.
Appalachian Trail
Once you've parked in the lot on Beech Mountain Road, note that the trailhead for this hike is on the same side of the street as the parking area.
I say this because once you get out of your car you'll see a large Appalachian Trail sign on the opposite side of the road. It's inviting, but this is not for you.
The hike to Buzzard Rock sets off into the dense forest that leads off just past the parking area. The gradual ascent begins on this shady trail.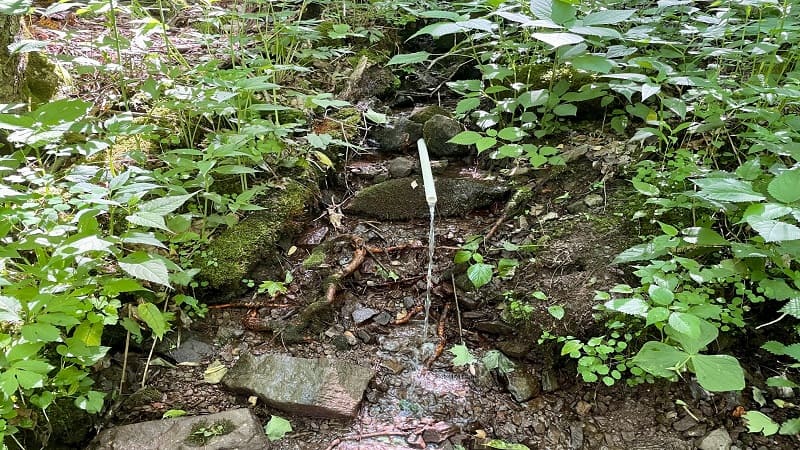 Thirsty? You'll approach a spring alongside the trail at the 0.4-mile mark. Fill up your bottle, but be sure to clean your water with a water filtration system.
I recently bought the Sawyer Squeeze Water Filtration System. This is not an ad, but I will tell you that it could not have been easier or faster to filter water.
You'll reach a switchback and a few wooden steps built into the trail at the 0.5-mile mark. Then, a few more steps at the 1.3-mile mark. Keep climbing.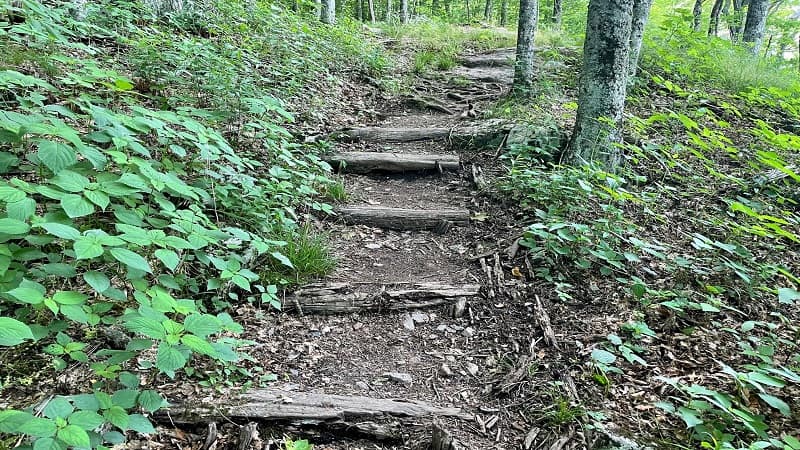 There's another switchback and a few more steps at the 1.9-mile mark. You're still deep in the forest at this point, but the woods soon open up to a clearing.
Buzzard Rock
You will see the sun again at the 2.2-mile mark (make sure you've slathered on sunblock). Then, dig deep to climb 79 stone steps to the false summit.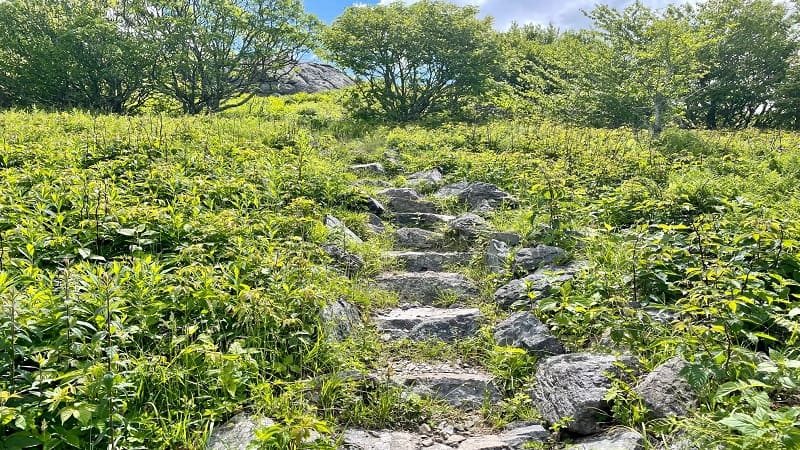 It's so worth it. Honestly, I thought this first rocky viewpoint at the 2.3-mile mark was Buzzard Rock at first. The views are so incredible.
I stopped here and took in the views before continuing on – up another 21 or so steps to a wide-open grassy bald and Buzzard Rock at the 2.4-mile mark.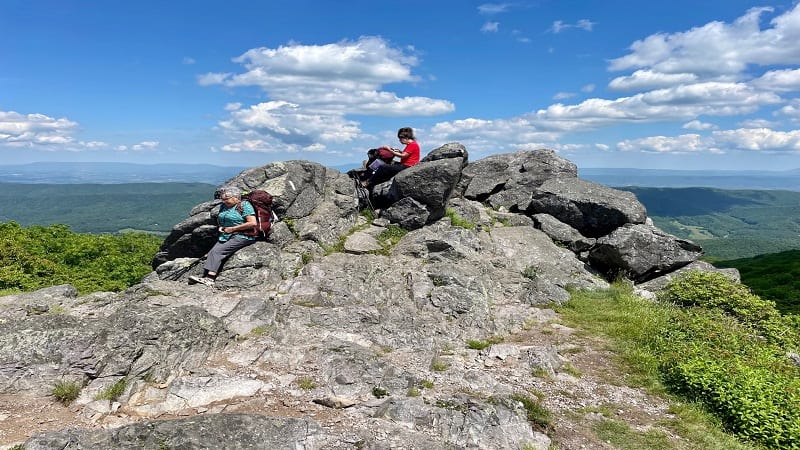 Buzzard Rock is much larger than the first rocky overlook and is fun for a good scramble up to the top for big views across to Beech Mountain.
From here, you'll re-trace your steps to the parking area for a 4.8-mile mark. I made the mistake of continuing on to Whitetop Mountain. Eesh.
Whitetop Mountain
When I was in the parking lot, I told a fellow hiker that I was heading up to Buzzard Rock. At which point, she told me I could continue on to Whitetop.
What she did not tell me was that there was nothing to see from the top of Whitetop Mountain, the second highest mountain in Virginia.
Even though I couldn't find any hikes to Whitetop, she gave me hope like maybe there was an overlook. Friends, there is no overlook.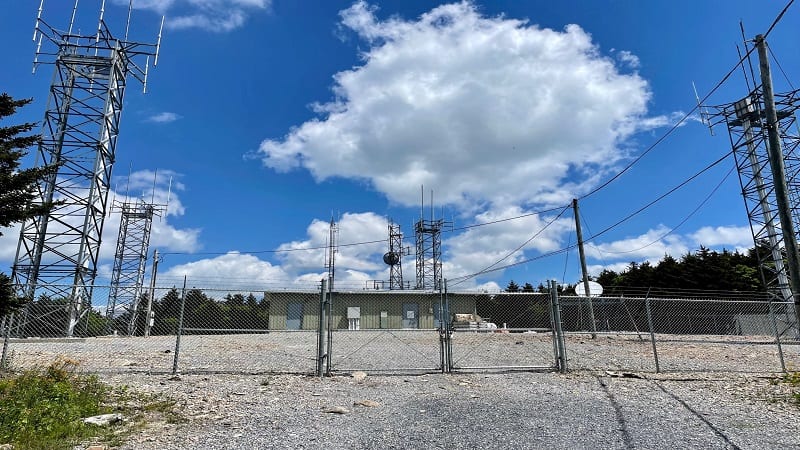 You will only find satellite towers and a fenced off, heavily restricted area. As in, do not proceed and there is no overlook here. Sigh.
I hiked an extra mile – across the grassy bald and along a gravel service road – to reach this disappointment. However, there was a silver lining.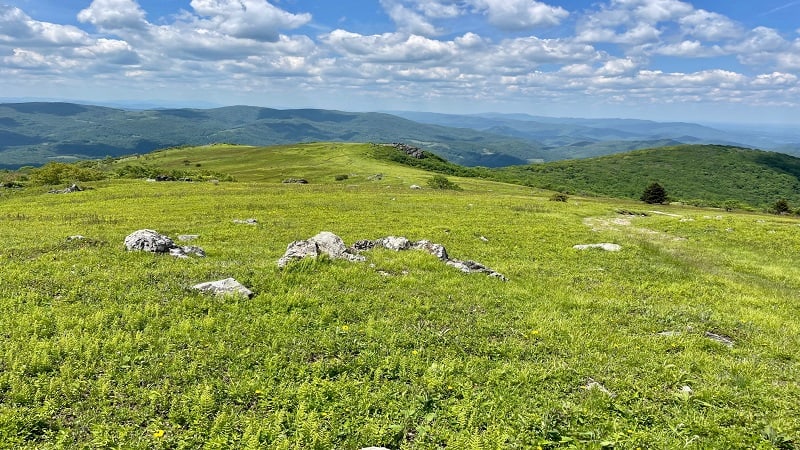 On the way down, you're so high up that the views across the open balds and mountains seem exponentially magnified. They are pretty amazing.
Wrap-Up Notes
From the parking area, this hike took me nearly three hours, but of course, this includes my side adventure to the top of Whitetop Mountain.
This is a great hike, especially for the grassy balds. The grass is just so lush too. It was absolutely beautiful.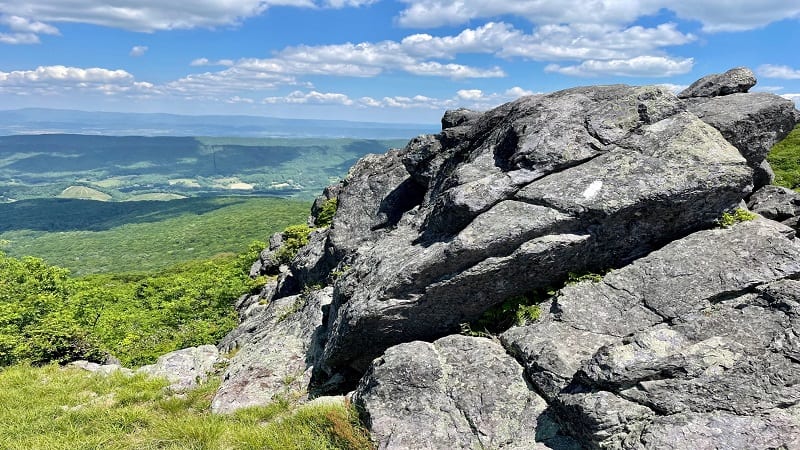 If you're eager to see wild ponies, this hike is a stone's throw from Grayson Highlands State Park. Hike up to Wilburn Ridge to ogle ponies aplenty.
It's also a short drive to the trailhead for Mount Rogers, the highest point in Virginia. Though, do note, there are no views, just a survey marker.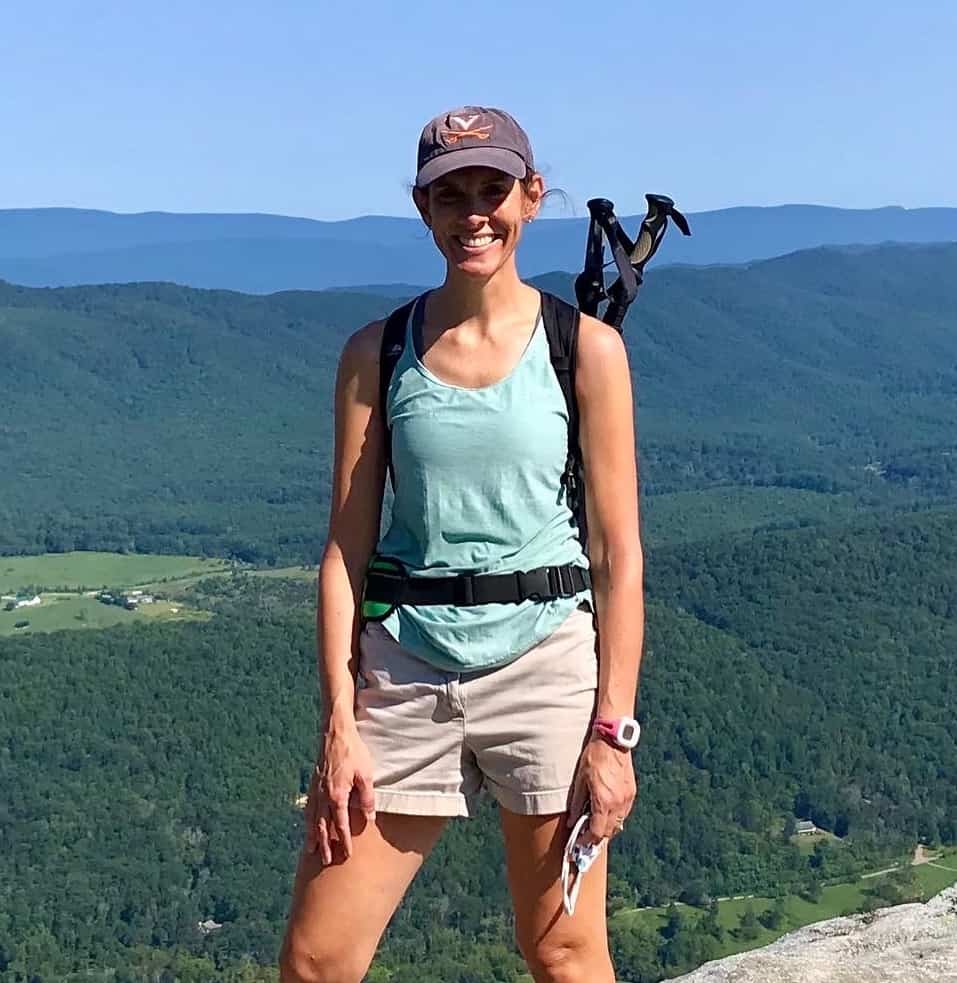 Erin Gifford is the editor of Go Hike Virginia. She has completed more than 300 hikes in Virginia. She is also the author of three hiking guidebooks from Falcon Guides. Need help finding a hike? Check out the Trail Finder feature or send Erin a message.