Chestnut Knob Shelter: An Appalachian Trail Hike Near Burke's Garden, Virginia
There are 62 Appalachian Trail shelters in Virginia, including the Chestnut Knob Shelter near Burke's Garden in Southwest Virginia.
This stone shelter for hikers is unique in that it has four walls and a door. Most hiker shelters are lean-to shelters with three walls and a roof overhang.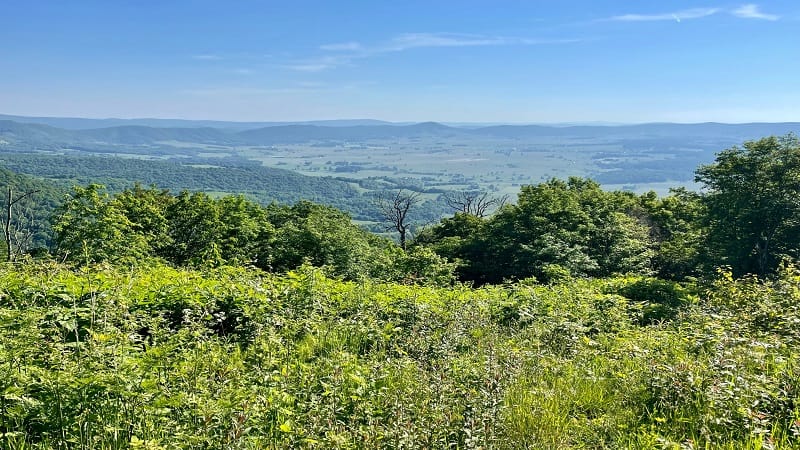 The Chestnut Knob Shelter sits high atop Chestnut Knob (elevation 4,409 feet). A grassy overlook allows for panoramic views across all of Burke's Garden.
This Appalachian Trail hike is short – just 2.8-miles round-trip – but it delivers a good climb at times. The vistas, however, are seriously monumental.
| Trail Stats | |
| --- | --- |
| Length | 2.8 miles |
| Difficulty | Moderate |
| Trail Type | Out-and-Back |
| Elevation Gain | 778 feet |
| Duration | 1.5-2 hours |
| Terrain | Mostly dirt trails |
| Dog-Friendly | Yes |
| Fee | Free |
| Driving Directions | Click Here |
Appalachian Trail
This hike runs entirely along a southbound section of the white-blazed Appalachian Trail. It starts just a few miles from Burke's Garden.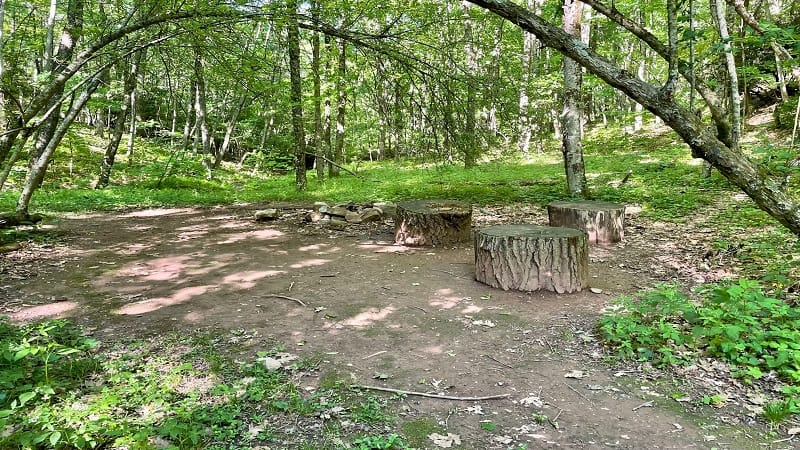 At the trailhead, there is a small parking area, as well as a camp site with a fire ring and three log stumps that can serve as small tables or chairs.
The hike starts with a handful of steps up to the trail and the climb begins immediately. The grade vacillates, sometimes it's more, sometimes it's less.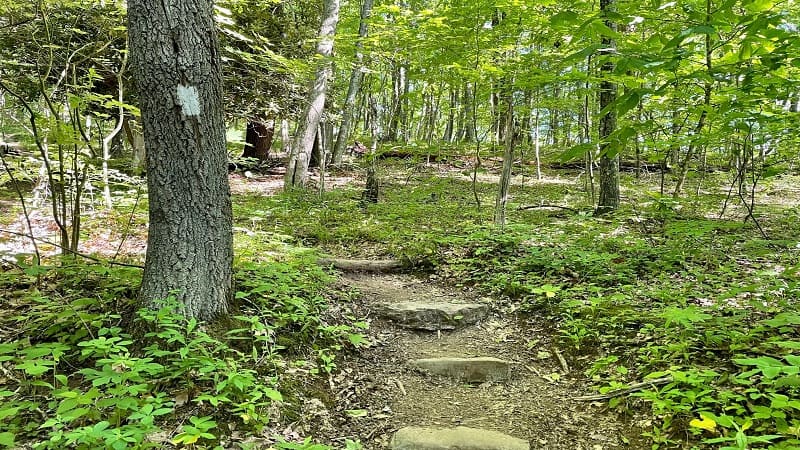 It's all forest, all deciduous trees, all shade. It's not a super interesting climb, but again, it's a short hike and the rewards are big for not too many steps.
After the first set of stairs, you'll encounter a couple more sets, both built into easy switchbacks on the hiking trail.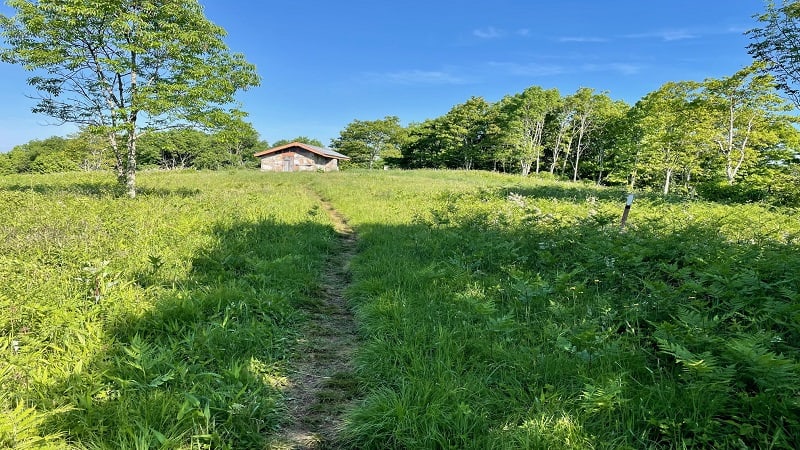 The forest opens up at the 1.3-mile mark as the Chestnut Knob Shelter comes into view. There is an open grassy field with wide-open northeast-facing views.
Burke's Garden
From here, you can see all of Burke's Garden, which is entirely encircled by Garden Mountain. This bowl-like valley is considered the highest valley in Virginia.
Given such unique topographical features, this area is often referred to as "God's Thumbprint" and even resembles a large volcanic crater from above.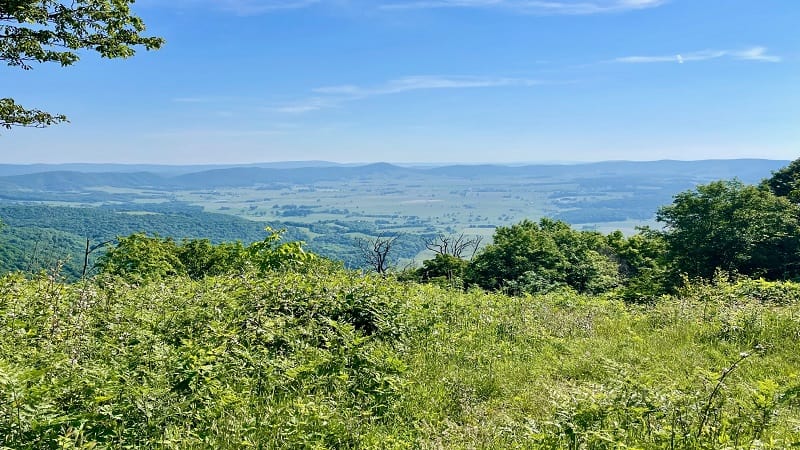 I arrived at 9:30 am, but by many accounts, the sunrise from atop Chestnut Knob is wildly spectacular. I wish I had time to come back the next day.
The view of Burke's Garden from Chestnut Knob is truly the money shot. From here, you can see the entire valley. You'd need a drone to get a better view.
Chestnut Knob Shelter
Just steps away from the overlook is the Chestnut Knob Shelter, which according to Greenbelly, can sleep up to eight people on wooden bunks.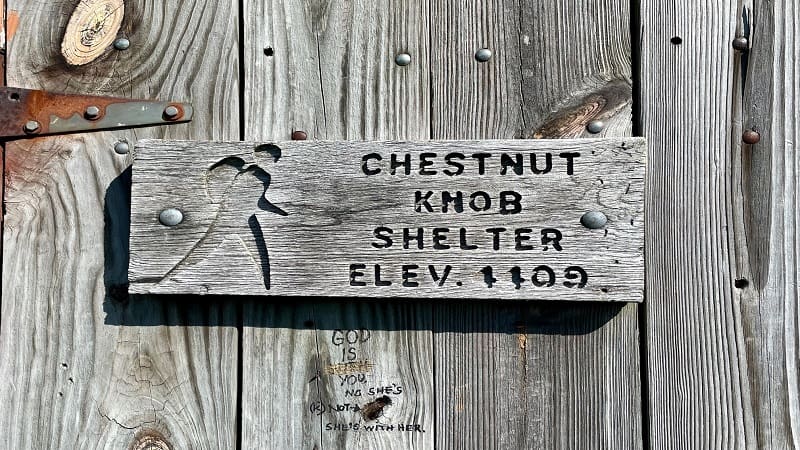 I entered the shelter, but my time there was brief, so I can't say for certain that eight hikers can sleep in the shelter, though that sounds right.
On my visit, there were two hikers inside, including one that was recovering from a possible bout with food poisoning. Eek, how terrible.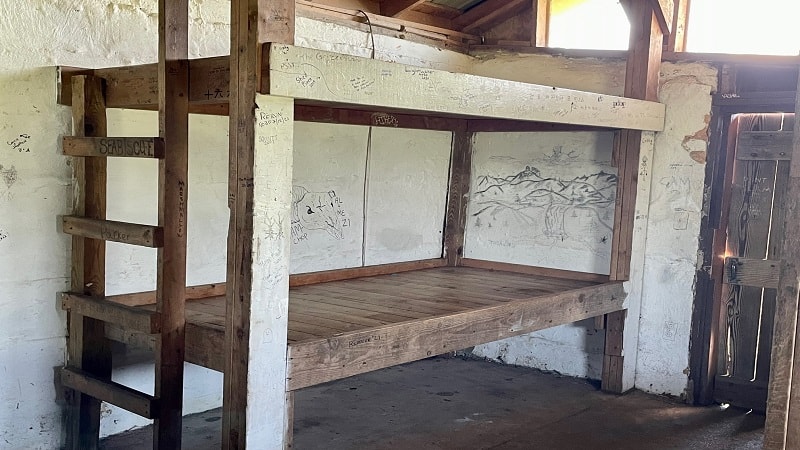 That noted, I did not want to spend too much time in their space. It's no fun to be stomach sick, and I'm sure it's so much worse when out on the trail.
Inside the shelter, there's plenty of "graffiti" on the walls. You know, hikers leaving their marks – trail names, drawings, number of days on the trail.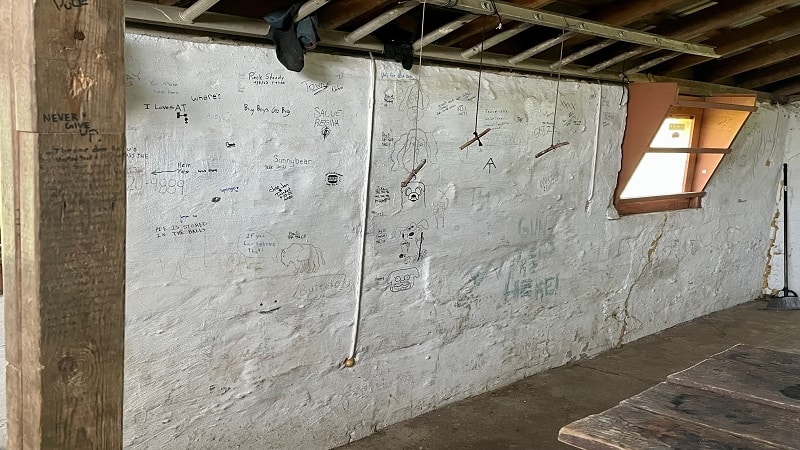 There's also the scoop on the location of springs for drinking water (reliable and unreliable) and the Burke's Garden Hostel, which touts hot waffle breakfasts.
Outside the shelter, there's a large fire pit, but most of the surrounding grass is quite tall and not especially fit for setting up backpacking tents.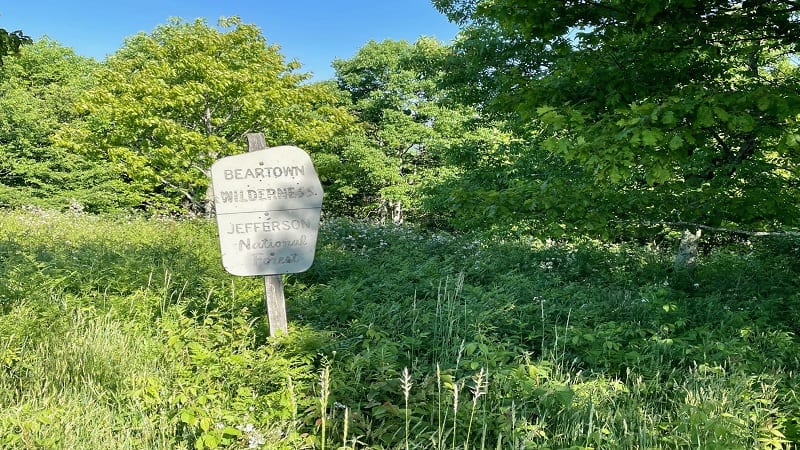 Behind the shelter, there's a sign indicating that you are in the Beartown Wilderness, a rural wilderness area within the Jefferson National Forest.
Once you've taken in the views and explored the shelter, simply re-trace your steps to the parking area to complete this Appalachian Trail hike.
Wrap-Up Notes
From the parking area, this hike took me about 75 minutes, including time spent snapping photos of the shelter and the overlook views.
Before you set off on this hike, I have a couple of key notes. First, wear long pants. The trail is well-maintained, but there are a few sections with tall grass.
I was wearing shorts the day of my hike and I could practically feel the ticks leaning way out on the grasses to try to make a jump onto my legs.
My second note has to do with the last 0.4 miles of the drive to the parking area. I wouldn't make this uphill drive again unless I was in a 4×4 vehicle.
Once I passed the End State Maintenance sign, the gravel road was seriously dicey. Potholes, ravine-like splits in the middle of the road. It was horrible.
There is some room to park at the bottom of the hill. Then, walk up to the trailhead. It's just an extra 0.8 miles (round-trip). It's a short hike anyway.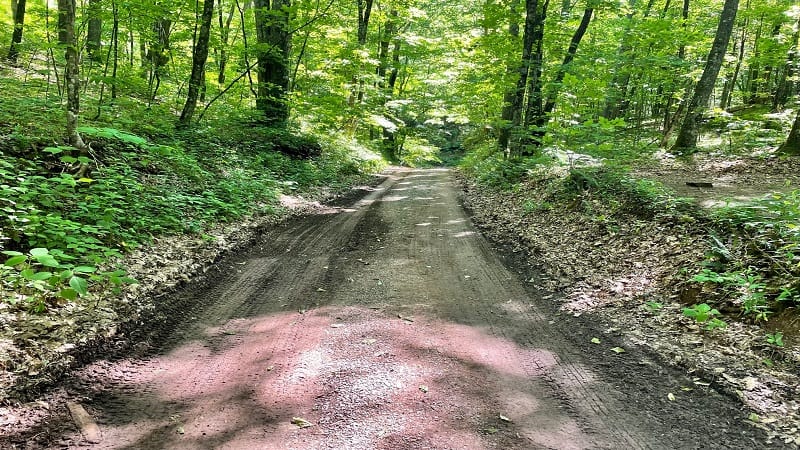 I was driving a minivan. If I was driving a car that was any lower to the ground, like a sedan, I would have lost my mind. No way.
Anyway, this is a great hike. It's worthwhile, especially if you can do this as a sunrise hike. But seriously, do yourself a favor, park at the bottom of the hill.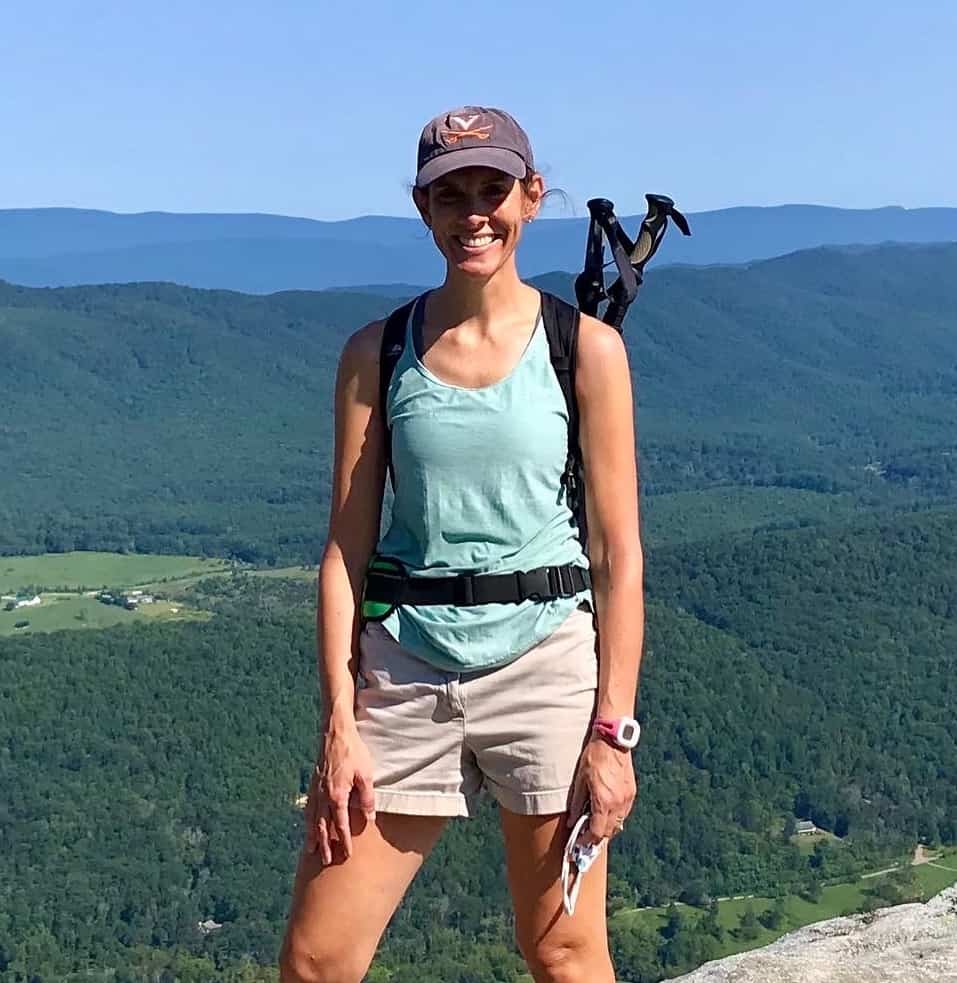 Erin Gifford is the editor of Go Hike Virginia. She has completed more than 300 hikes in Virginia. She is also the author of three hiking guidebooks from Falcon Guides. Need help finding a hike? Check out the Trail Finder feature or send Erin a message.