Sand Cave: Hike to a Geological Wonder in Southwest Virginia
There are some hikes and trails that you read about – maybe you find them in a database of trails, like AllTrails – and you absolutely cannot wait to complete them.
Then, they miss the mark. They fall flat. They don't live up to expectations. Let me tell you, the hike to Sand Cave near Ewing, Virginia is not one of those hikes.
This hike lives up to its majority five-star ratings on AllTrails. As I like to say, this hike is absolutely "as advertised." You will not be disappointed.
Sand Cave had simple beginnings. It was once a massive rock. Over many years, wind eroded the sandstone to create the 250-foot-wide half-dome Sand Cave.
Inside, an acre of soft, beach-like sand awaits the driven few that have chosen to hike to Sand Cave.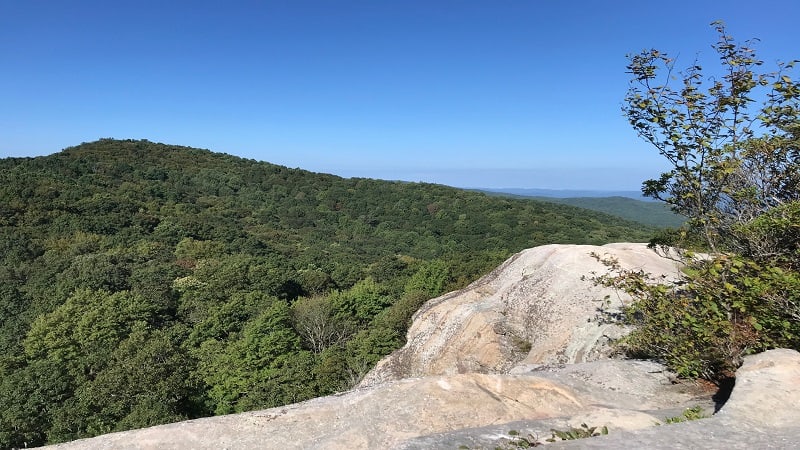 But wait, there's more. While Sand Cave is the main attraction, the White Rocks overlook that is part of this 8.1-mile lollipop hike is beautiful in its own right.
| Trail Stats | |
| --- | --- |
| Length | 8.1 miles |
| Difficulty | Moderate |
| Trail Type | Lollipop |
| Elevation Gain | 2,277 feet |
| Duration | 4.5-5.5 hours |
| Terrain | Mostly dirt & gravel trails |
| Dog-Friendly | Yes |
| Fee | Free |
| Driving Directions | Click Here |
Sand Cave
The journey on foot (or horseback) to Sand Cave begins at the parking area for Civic Park. There are a dozen parking spaces, vault toilets and a picnic shelter.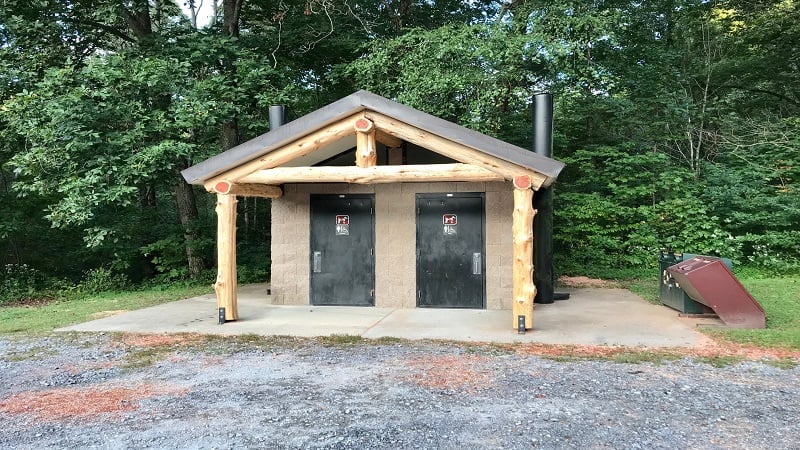 Civic Park is set in the far eastern corner of Cumberland Gap National Historical Park. Arrive early for one of the most popular hikes in Southwest Virginia.
I pulled into the lot at Civic Park at 7:45 am on a Sunday. There were already five cars in the lot. At least one had been there overnight.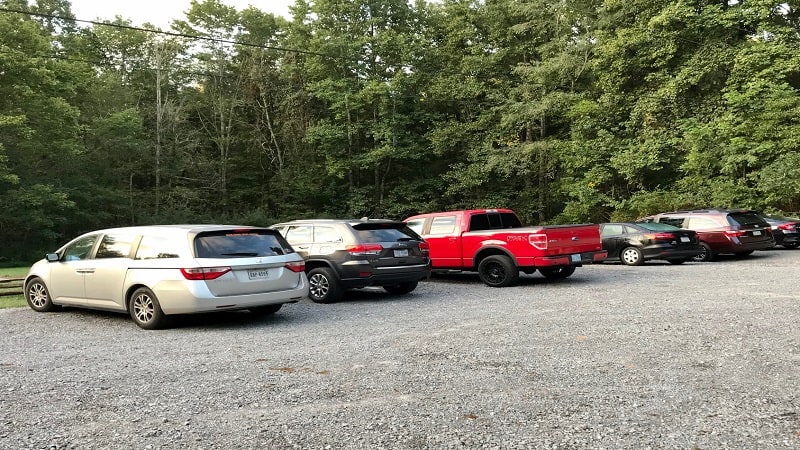 Toward the back of the parking area, you will see three colorful signs highlighting notable aspects of Cumberland Gap, including White Rocks.
This guiding beacon was critical for early west-bound settlers, as was Sand Cave, the curious rock shelter the size of a football field.
The hiking trail originates just steps beyond the signs, starting as paved trail. Shortly, the terrain becomes mostly dirt and rocks for the duration of the hike.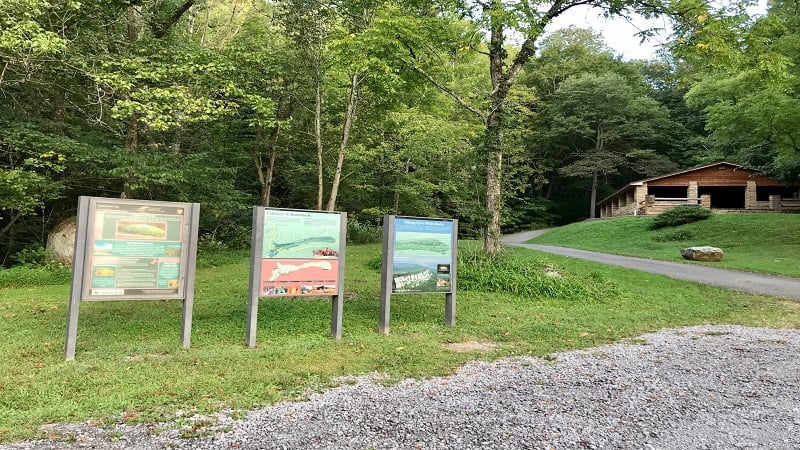 At the .5-mile mark, turn left for the Ewing Trail, a multi-use trail that's shared with horseback riders (that noted, watch your step).
From here, the hike is primarily a slow uphill climb through the fragrant, leafy forest. Once you've hiked 2.3 miles, you will see a trail sign for White Rocks.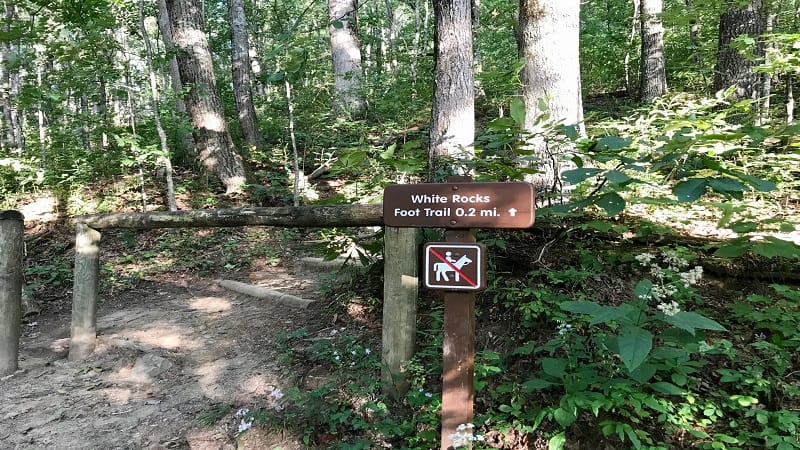 Walk past this sign. You will hike to the White Rocks overlook on the other side of this lollipop hike. As in, once you've stopped to explore Sand Cave.
Near the 3.4-mile mark, a wilderness area sign makes it clear that there is no access for motor vehicles, bicycles, and interestingly, hang gliders.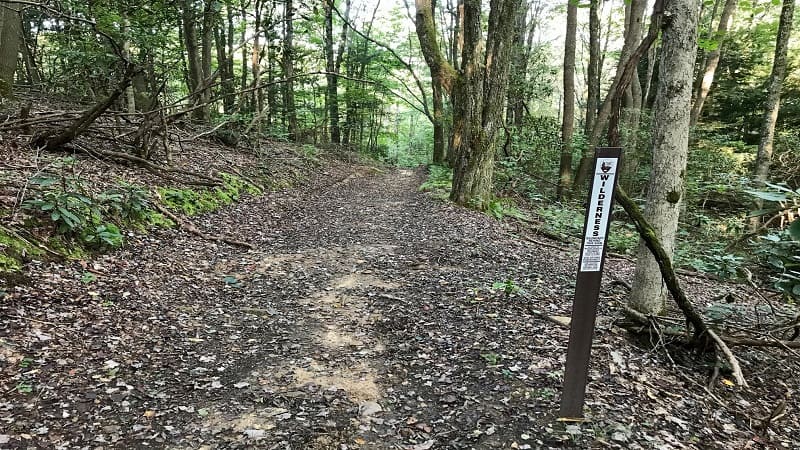 At the T-junction, turn right for the Ridge Trail, a lightly-trafficked trail that runs nearly 20 miles from east to west along the Cumberland Mountain Ridge.
At the 3.7-mile mark, a trail sign notes that Sand Cave is .2 miles from this spot. Horses are not allowed from here to Sand Cave. You'll see hitching posts.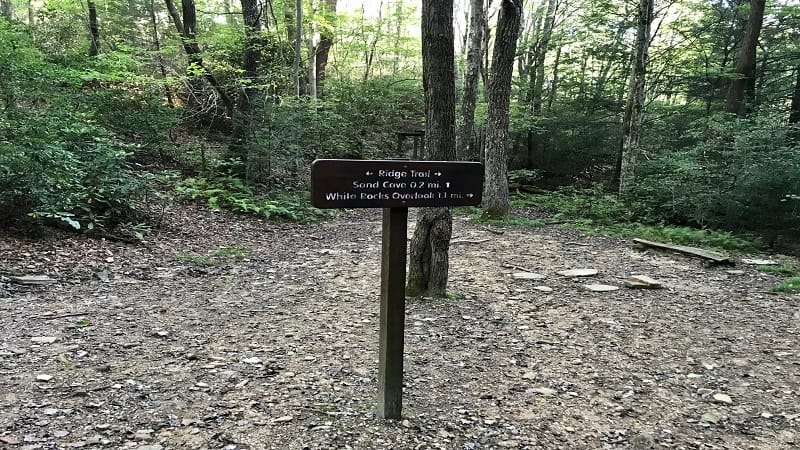 In the final steps, you will descend more than 100 feet, including down a ladder, before being greeted by a trickling waterfall to the left of the cave.
After a good rain, this waterfall can be decidedly more than a trickle.
At last, following a 1,500-foot climb over four miles, you have reached Sand Cave. It's massive and I hope you are as awed and inspired as I was upon arrival.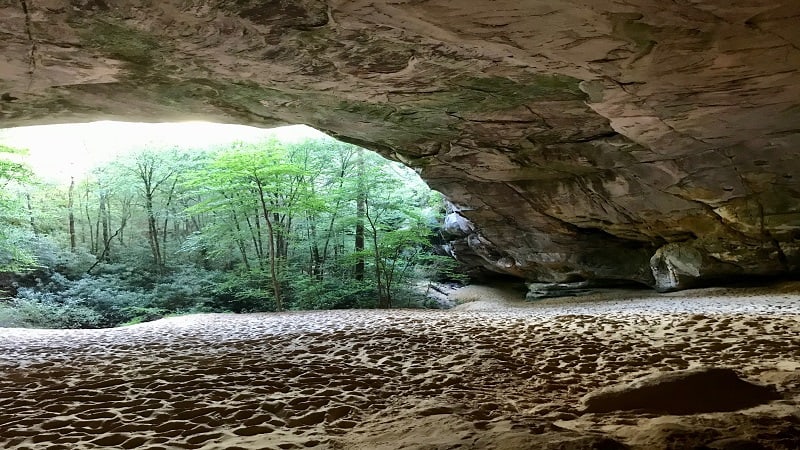 It's a steep climb up what is basically a sand dune, but be sure to get to the very back of the cave in order to snap a photo of the entire cave opening. So amazing.
While the hiking trail is almost entirely in Virginia, the actual Sand Cave is just barely (like inches) over the border in Kentucky.
So basically, both states claim this gorgeous geological wonder as their own.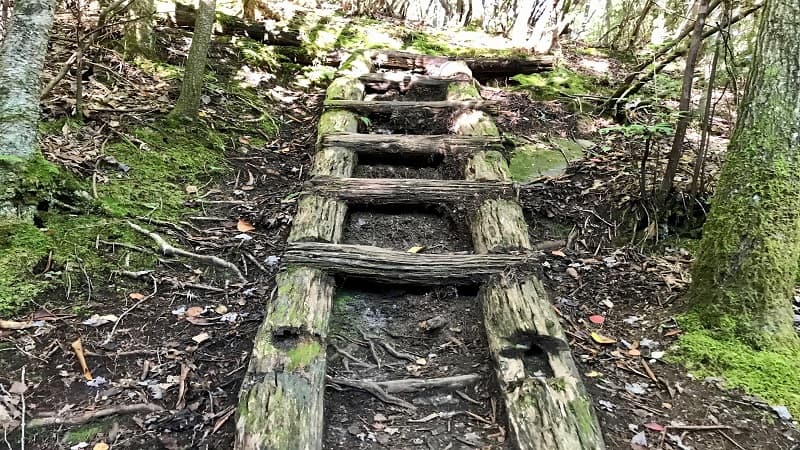 Once you've been fully awed by Sand Cave, re-trace your steps to the hitching posts. From here, turn left to get back onto the Ridge Trail.
White Rocks
At the 5.0-mile mark, you will see a trail sign for White Rocks. You'll again see hitching posts. Horses are not allowed on the .3-mile stretch to the overlook.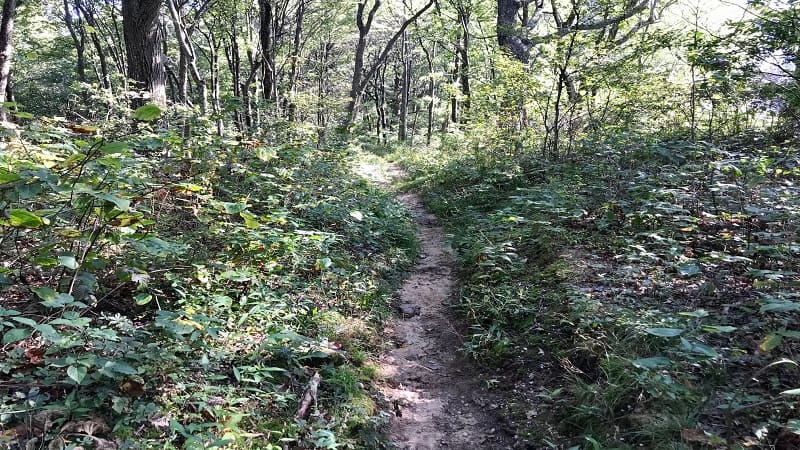 Be warned. The last .05-mile to the overlook is very steep. The gorgeous south-facing mountain views, however, are every bit worth the climb.
From here, re-trace your steps, then turn left onto a spur trail when you see a trail sign indicating a return to the parking area.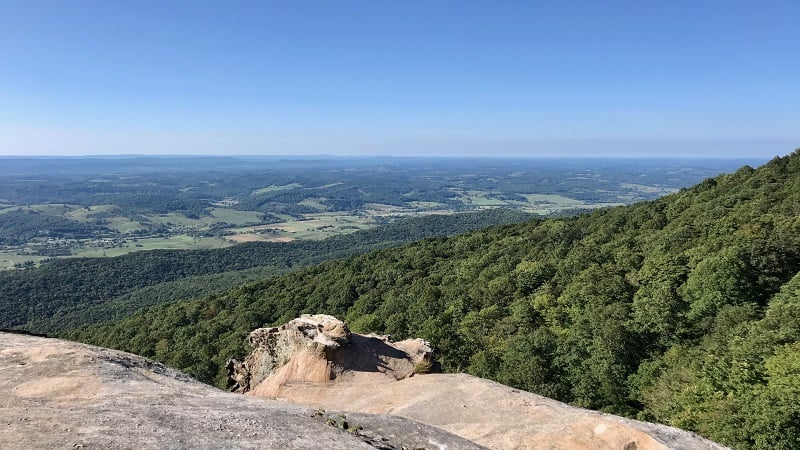 At the 5.8-mile mark, turn left onto the Ewing Trail. Continue on for 2.3 miles to return to the parking lot at Civic Park.
Hike Options
If you don't wan to see both wonders, it's okay. An out-and-back hike to Sand Cave is 8 miles, while an out-and-back hike to White Rocks is 5.8 miles.
The overall elevation gain for this hike was 2,277 feet. It could feel like a slog at times, but it's over several miles in length and the payoff is huge.
I had a people ask me on the way down how much more climbing until the cave. Some were with dogs, some were alone, all were eager to reach Sand Cave.
Wrap-Up Notes
From the parking area, this hike took me 3.5 hours, including time spent exploring Sand Cave and savoring the views at White Rocks.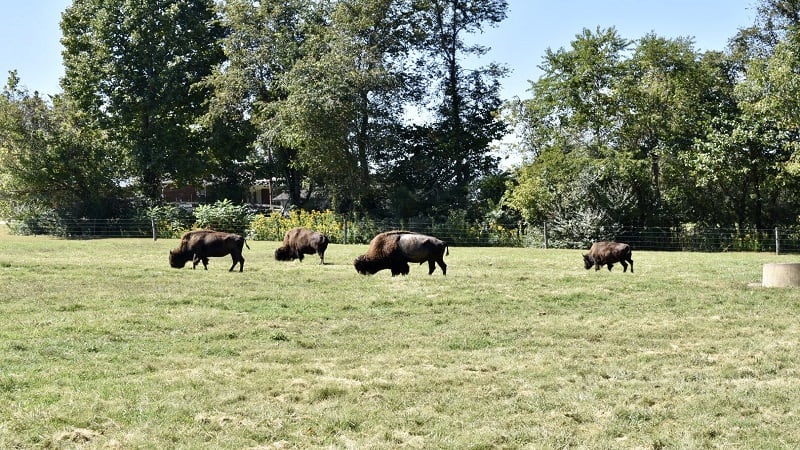 Civic Park is a 10-minute drive from Wilderness Road State Park. Here you can see a small herd of buffalo on-property.
You can also learn about Daniel Boone's work to blaze a trail through the Cumberland Gap for thousands of westward-bound settlers.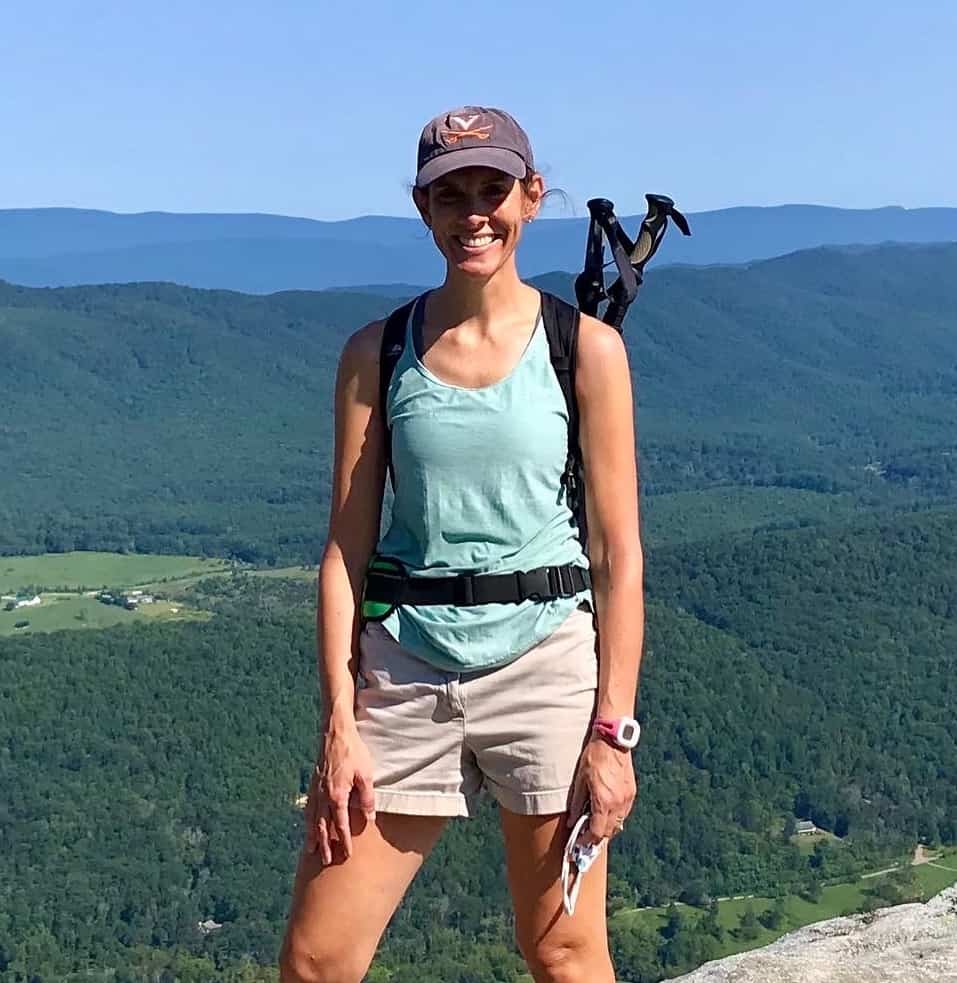 Erin Gifford is the editor of Go Hike Virginia. She has completed more than 300 hikes in Virginia. She is also the author of three hiking guidebooks from Falcon Guides. Need help finding a hike? Check out the Trail Finder feature or send Erin a message.