Mount Rogers: Hike the Appalachian Trail to Virginia's Highpoint
There are more than a few people who aspire to reach the highpoint of every U.S. state, which includes Mount Rogers, the highest point in Virginia.
At an elevation of 5,730 feet, it's far from the tallest highpoint in America, but it's still much higher than Britton Hill, the 345-foot-tall highpoint in Florida.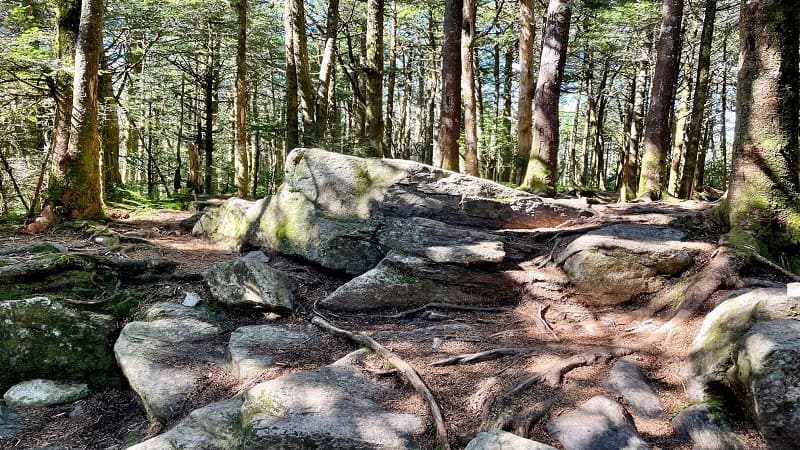 Many highpoints are breathtakingly scenic, including Black Elk Peak in South Dakota and Mount Katahdin in Maine.
Mount Rogers is not one of them. In fact, there are no views. It's an entirely forested summit, but at least it's a pretty easy highpoint to check off the list.
| Trail Stats | |
| --- | --- |
| Length | 9.0 miles |
| Difficulty | Moderate |
| Trail Type | Out-and-Back |
| Elevation Gain | 1,785 feet |
| Duration | 4-5 hours |
| Terrain | Mostly dirt & rock trails |
| Dog-Friendly | Yes |
| Fee | Free |
| Driving Directions | Click Here |
Mount Rogers Hike
There are two ways to reach Mount Rogers by way of the Appalachian Trail. I reached the top by way of the northbound section of trail from Elk Garden.
This makes for a 9.0-mile out-and-back hike, which includes the blue-blazed Mount Rogers Trail for the final approach to the state's high point.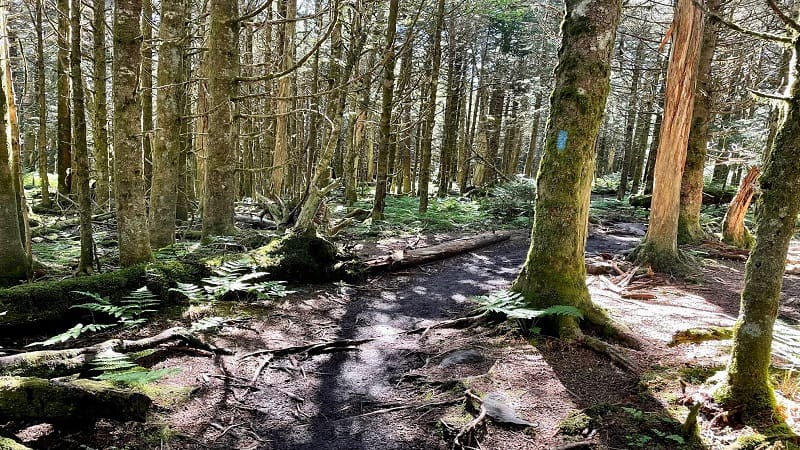 Alternatively, you can start from the Massie Gap parking area at Grayson Highlands State Park. Your first steps are on the Rhododendron Gap Trail.
You'll then connect with the southbound Appalachian Trail. This leads to the Mount Rogers Trail. This out-and-back hike is also around 9.0 miles.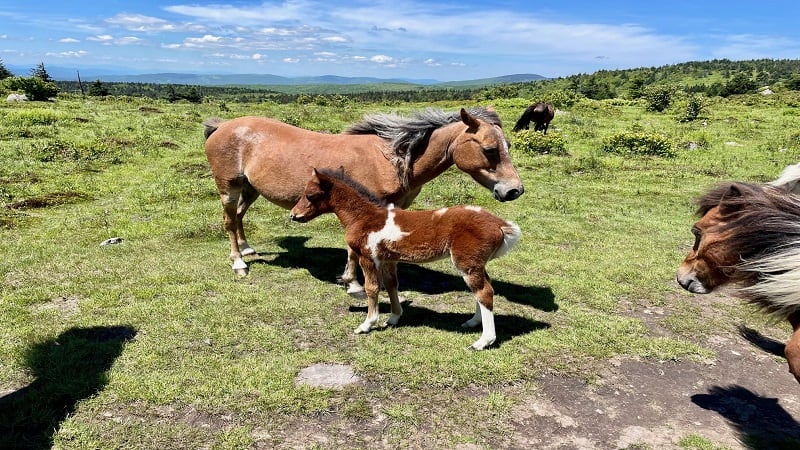 There are pros and cons to both routes. The northbound route is well-shaded and begins from a good-size free parking lot at Elk Garden.
The southbound route includes a trek across Wilburn Ridge, where wild ponies are plentiful. However, you'll need to pay $7-$10 to park at Grayson Highlands.
The Wilburn Ridge route is also nearly full sun. It rarely gets very hot in this area, but this is worth taking into consideration since it's a fairly long hike.
Elk Garden
I began this hike at the Elk Garden parking area on State Route 600 (Whitetop Road). It's easy to find and there is room for more than a dozen cars to park.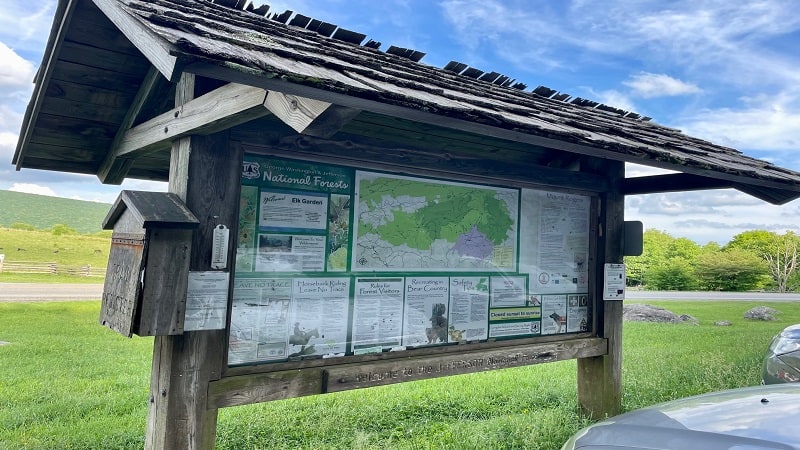 There is also a vault toilet on the right-hand corner when you drive in. Always a plus. However, there is no lock on the door. Definitely not a plus.
There is a large trail kiosk with a Mount Rogers trail map if you want to snap a photo before you set off on this hike, which begins across Whitetop Road.
Open and close the gate that keeps in the cows (yes, you will see lots of cows), then continue along the Appalachian Trail. A trail sign nudges you to the left.
It's a mild ascent across open grassland, but you'll soon enter the shade of the forest at the 0.5-mile mark. Then a sign for Lewis Fork Wilderness.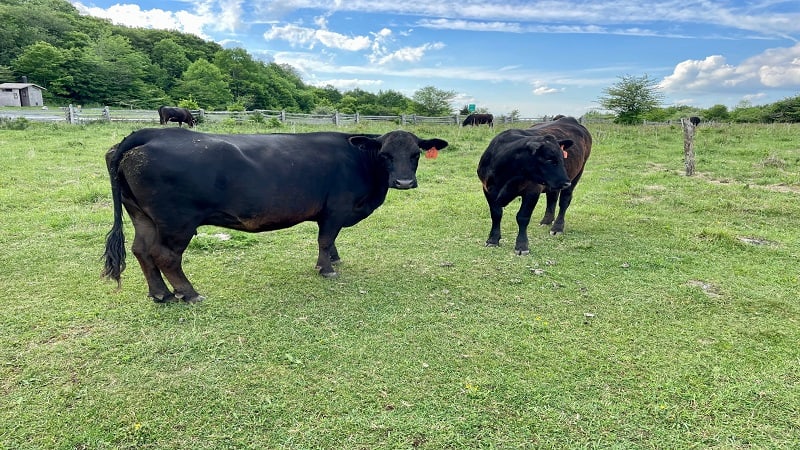 So there is no confusion, you will be in the Jefferson National Forest, Lewis Fork Wilderness and Mount Rogers National Recreation Area all at the same time.
Appalachian Trail
From here, it's a lot of hardwood forest. It's quiet and relaxing. The southbound route by way of Grayson Highlands is much more bustling with pony-seekers.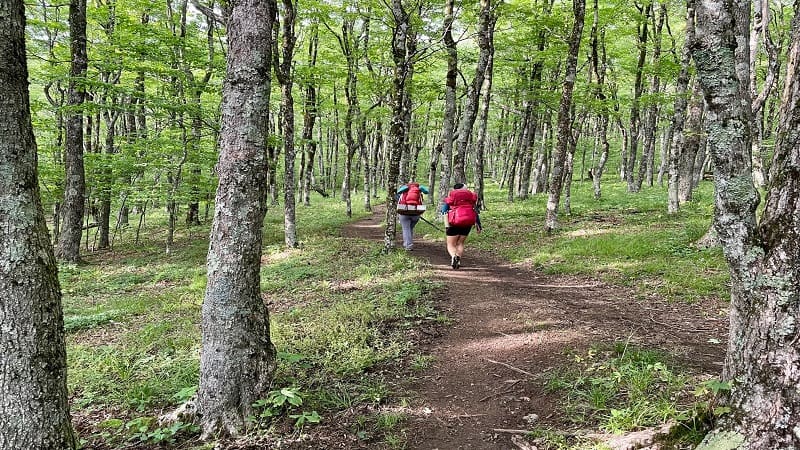 At the 2.0-mile mark, a sign lets you know you're going in the right direction and that Mount Rogers is just 2.5 miles up ahead on the trail.
Here you can also turn right for a spur trail to a spring or to connect with the Virginia Highlands Horse Trail.
You'll reach a switchback and a trail junction at the 2.1-mile mark. Make a hard right to continue on the white-blazed Appalachian Trail to Mount Rogers.
As you ascend, you'll encounter a couple of sets of stone steps built into the trail to help manage the climb. At the 3.0-mile mark, get ready for a reward.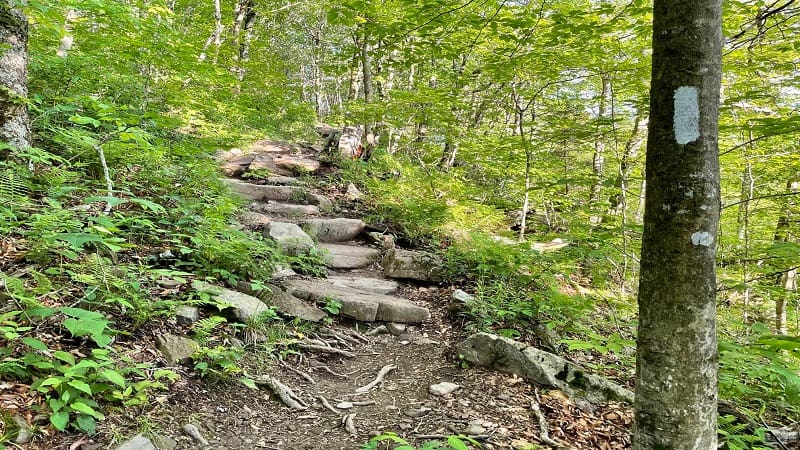 Just steps off the trail you'll revel in wide-open views across the grassy highlands. It's seriously so beautiful and a nice reward for getting to this point.
Take in the lush meadows and open balds, then keeping moving through the forest. There's a primitive camp site at the 3.3-mile mark.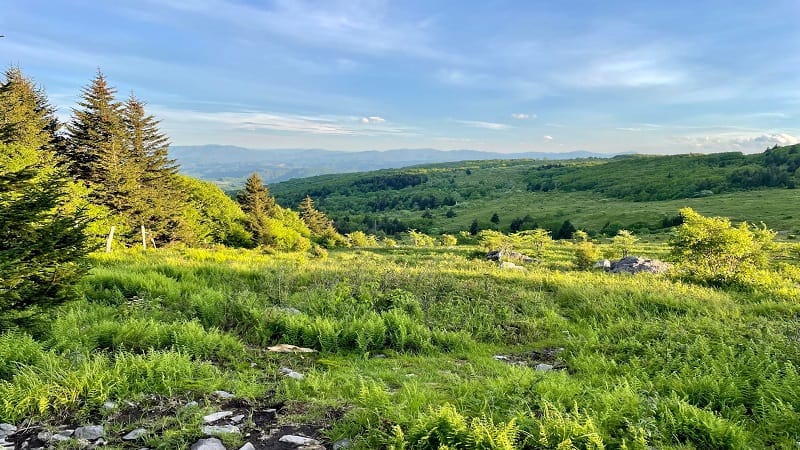 Once you get to the 3.7-mile mark, you're out of the woods for the next 0.2-miles, able to savor views that extend for miles. Then, one more camp site.
Mount Rogers Trail
At the 3.9-mile mark, you'll arrive at the blue-blazed Mount Rogers Trail. Turn left here. You're back in the forest, but there are a few surprises.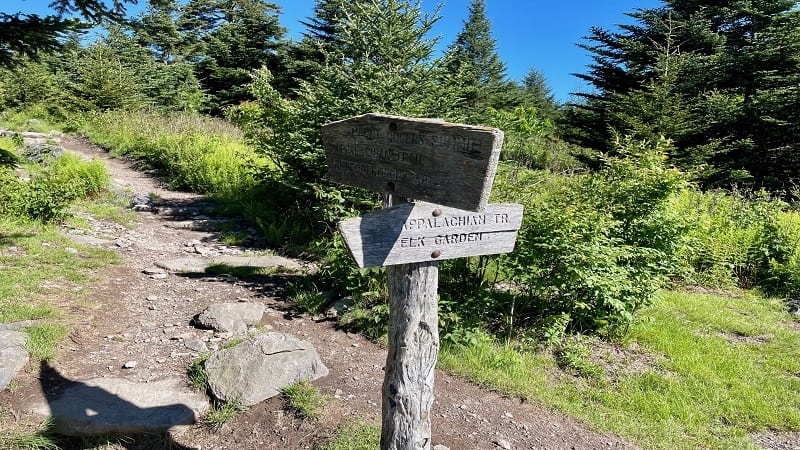 You're still climbing and it seems like a typical walk in the woods, until it becomes very Jurassic Park-like. It's very mossy, like a temperate rain forest.
You have left the hardwood forest and entered a spruce-fir ecosystem. Notice the dense, dark evergreens that begin to populate the trail.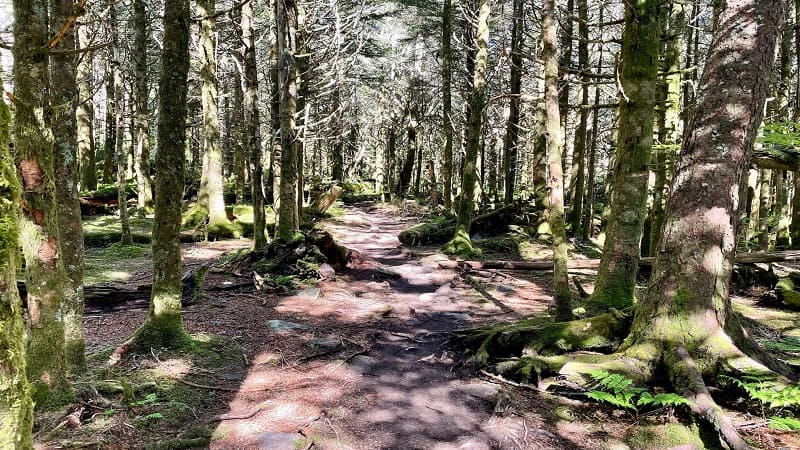 This spruce-fir growth increases with elevation as you hike up to Mount Rogers. Moss covers fallen logs, while ferns carpet areas of the forest floor.
You will arrive at the summit of Mount Rogers at the 4.5-mile mark. As I noted above, there is nothing to see. It is completely closed in.
There are a couple of large rocks that appear to mark the summit, as well as a survey marker to mark the precise point of highest elevation.
From here, simply re-trace your steps to the trailhead to complete your hike. However, I would encourage you to continue north for more views.
Thomas Knob Shelter
If you continue north on the Appalachian Trail for less than 0.3 miles you will reach the Thomas Knob Shelter on the right.
Unlike most shelters, which can be reached by way of a short walk down a spur trail, this shelter is literally alongside the trail. You can't miss this one.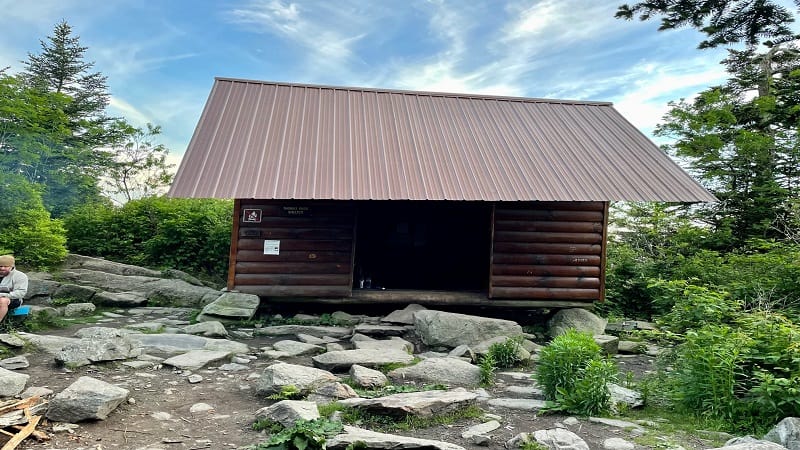 You will also pass camp site after camp site. Backpacking and camping along this scenic ridge is very popular and good spots are plentiful.
If you did not bring a tent and sleeping bag, you will most certainly wish that you had. Or at least you will make a note that you will be back another day.
Wrap-Up Notes
From the parking area, this hike takes most hikers about 3 to 4 hours to hike to the top of the tallest mountain in Virginia. The ascent is very manageable.
If you opt to visit Grayson Highlands State Park after Mount Rogers, it's a must to say hello to (but do not feed or touch) the free-roaming ponies.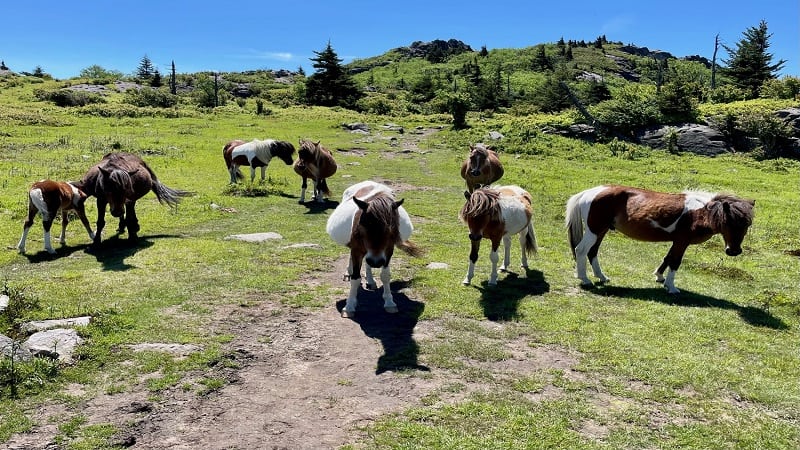 The ponies are not native, but were introduced to the region to maintain the grassy balds and control the spread of thorny brush on this one-time farmland.
You may also see steer roaming about Grayson Highlands and Mount Rogers National Recreation Area. They mostly mind their own business, eating grass.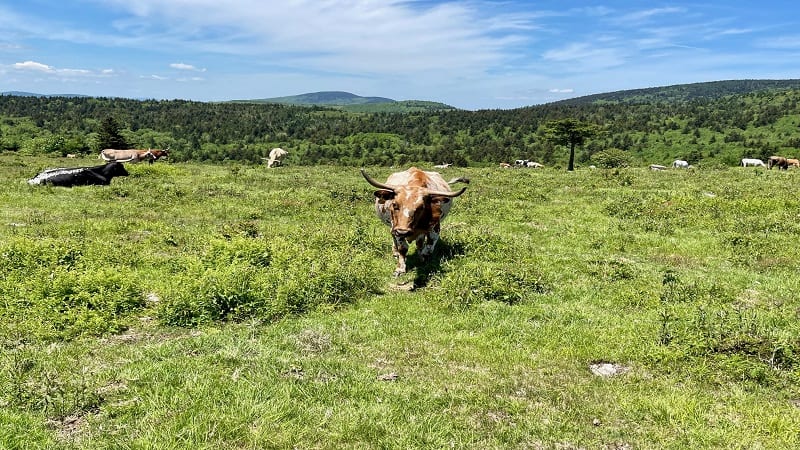 Another great hike at Grayson Highlands is Twin Pinnacles, which allows you to see the views from Big Pinnacle and Little Pinnacle. Simply gorgeous.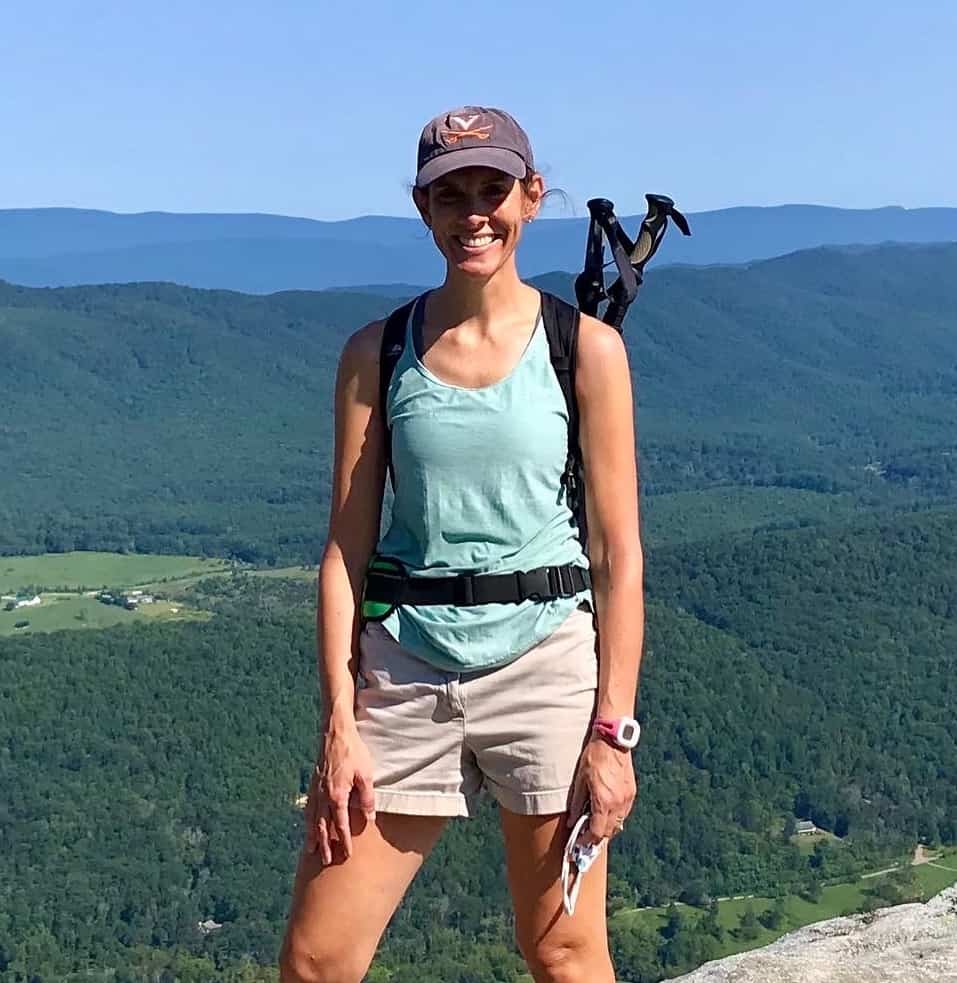 Erin Gifford is the editor of Go Hike Virginia. She has completed more than 300 hikes in Virginia. She is also the author of three hiking guidebooks from Falcon Guides. Need help finding a hike? Check out the Trail Finder feature or send Erin a message.