15 Fantastic Hikes in Virginia for Kids & Families
So many of us picked up new projects and hobbies during the pandemic. I started this blog and I wrote a book, Hiking with Kids Virginia: 52 Great Hikes for Families.
My book won't be available until March 2022, but you can always pre-order (hint, hint). It was an incredible journey and one that led to a second book on coastal hiking trails.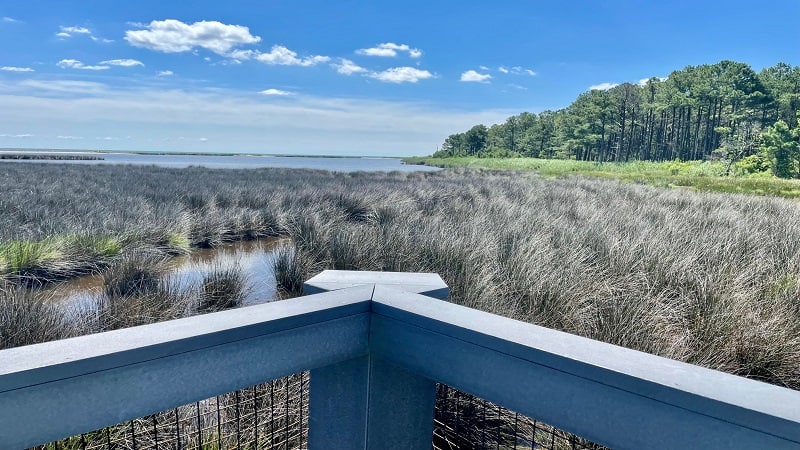 I had a great time tackling hiking trails all across the state to find the best ones for kids to include in the book. Ahead of the book release, I wanted to share my faves.
Below are 15 first-rate hikes for kids in Virginia. Before you hit the hiking trails, you may also want to check out my post on hiking gear for kids .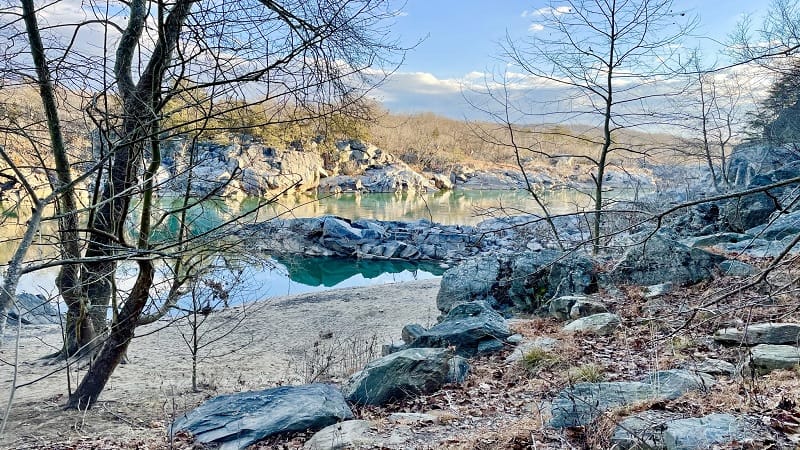 The loop hike that begins at Difficult Run in Stream Valley Park and slowly makes its way to Great Falls Park truly is impossibly perfect. This may be my favorite hike.
Early in the hike, the trail sidles up to cascading Difficult Run. It's now easy to get close to the water, which alternates between blissfully calm and furiously rushing.
Kids will love stopping for each of the three Great Falls overlooks, including the first one, which offers the very best views of kayakers navigating the raging river waters.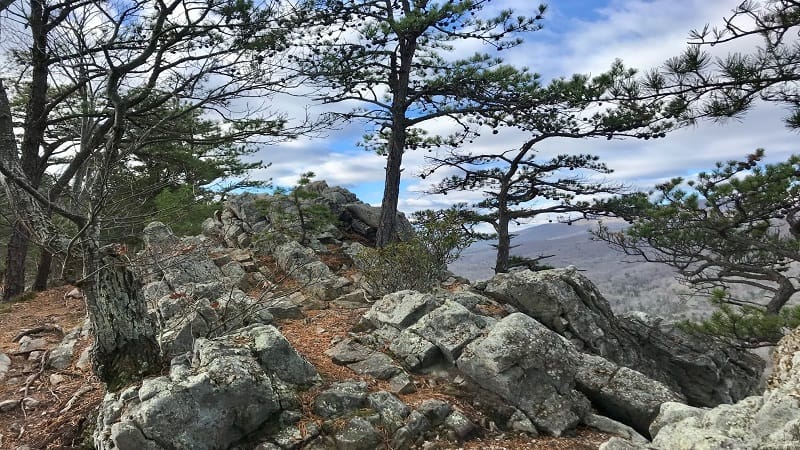 The 6.2-mile out-and-back hike on the Buzzard Rock Trail in the George Washington National Forest is a stunning hike with kid-friendly rock scrambles and ridgeline views.
There are lots of rocky outcrops with far-reaching vistas, as well as stone fire pits and cleared tent camping areas alongside the trail.
For a shorter hike, take the Buzzard Rock Trail to the first overlook for scenic views across the valley. This out-and-back hike clocks in at just 2.9-miles.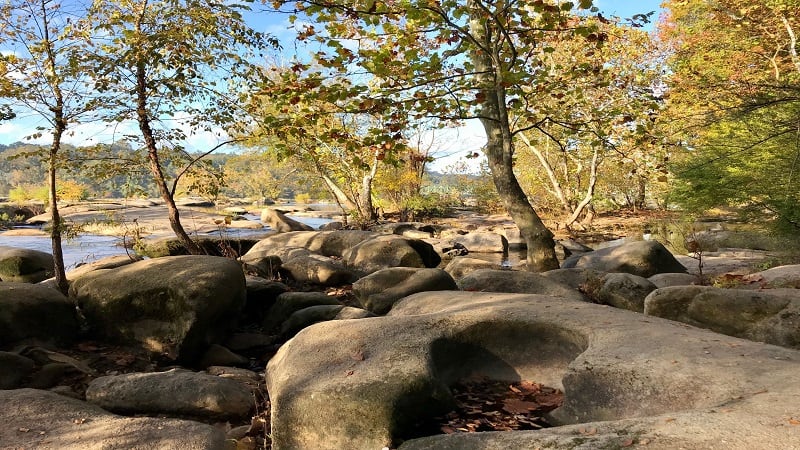 This leafy urban hike begins at the North Bank Entrance of James River Park, casually guiding hikers, including adventurous children, to and along the flowing James River.
But first, get ready to be wowed by the colorful Texas Beach Murals that first appeared in 2014 as a way to cover up graffiti in the stairwell that crosses over the train tracks.
Nature- and wildlife-themed murals delight day hikers. Continue on for footbridges and dam-created waterfalls before reaching the sandy path alongside the James River.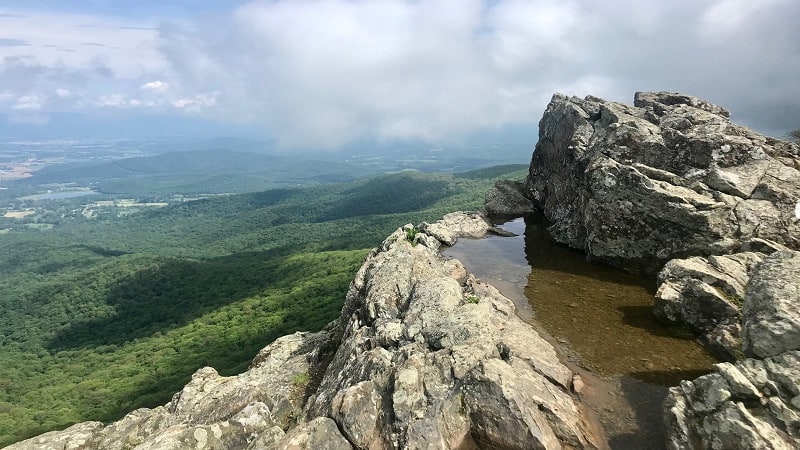 While scenic views abound across Shenandoah National Park, it's hard to beat the two-for-one deal you get on this 3.0-mile out-and-back hike.
Within the first mile, you'll climb 190 feet to reach Little Stony Man Cliffs. It's hard not to be awe-struck by the sweeping views from the rocky outcrops.
At Stony Man Summit, you'll encounter more breathtaking vistas. The rocky outcrops are not challenging to navigate, but you will want to watch your step and stay fleet of feet.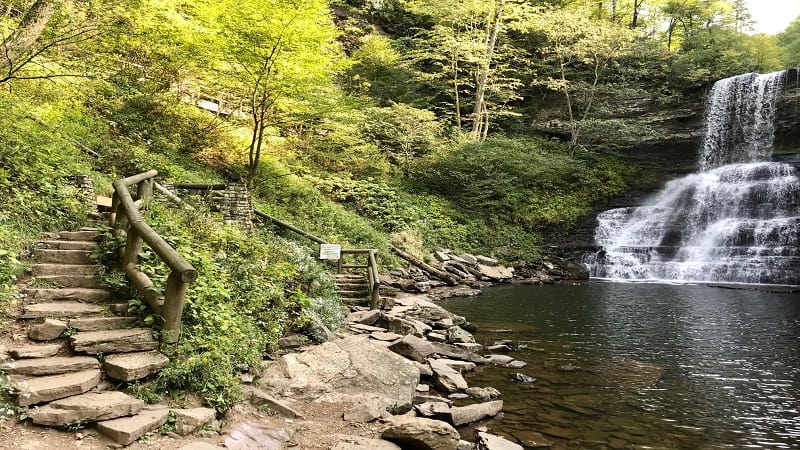 The 4.0-mile out-and-back hike to 66-foot-tall Cascades Falls in Pembroke is one to put high on your list of must-do hikes. If time permits, continue on to Barney's Wall.
There is a kid-friendly wooden viewing platform a few steps above the waterfall basin. There's also a second-level viewing area that gets you very close to Cascades Falls.
The Cascades National Recreational Trail is a short drive from Mountain Lake Lodge (the stately lodge from Dirty Dancing). Take in a sunset from Bald Knob.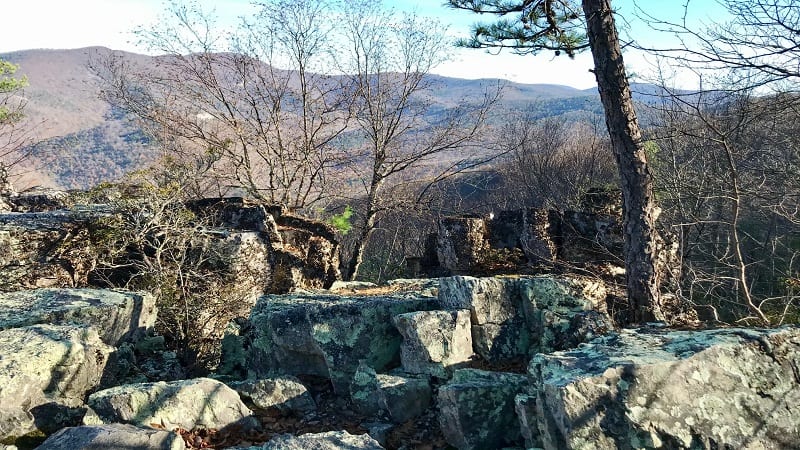 This 3.2-mile out-and-back hike in Shenandoah National Park's South District is a two-fer when it comes to rocks, exposing hikers to both Calvary and Chimney Rocks.
Actually, it's kind of a three-fer given all the mid-size and large rocks you'll see as you pass through a talus slope at the mid-way point on this hike.
Calvary Rocks is like a mysterious wonderland of gigantic rocks kids can scramble for wide-open views, while Chimney Rock is a scenic overlook teeming with flat top rocks.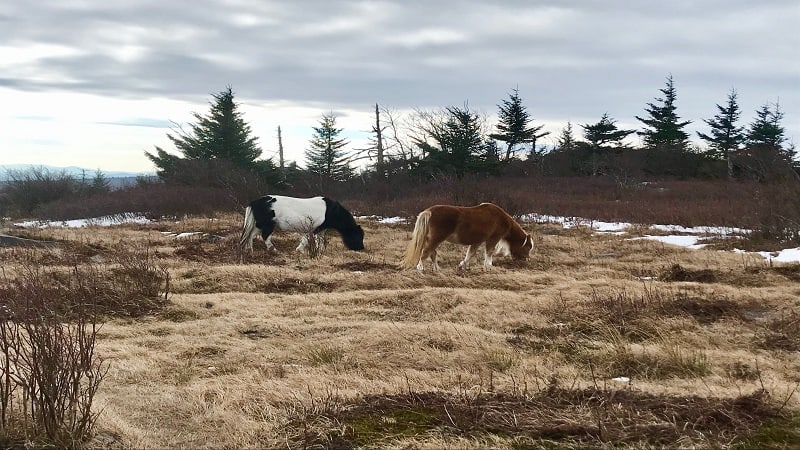 You can't go to Grayson Highlands State Park and not hike to see the free-roaming wild ponies, at least not on your first visit to this state park in Southwest Virginia.
Plan to park at Massie Gap. Your first steps will be on the Rhododendron Trail on your way to Wilburn Ridge, a gorgeous landscape of grassy balds and alpine meadows.
From here, you can hike north on the Appalachian Trail to Wilburn Ridge or south to Lower Wilburn Ridge. You and your kids will see plenty of wild ponies on both scenic routes.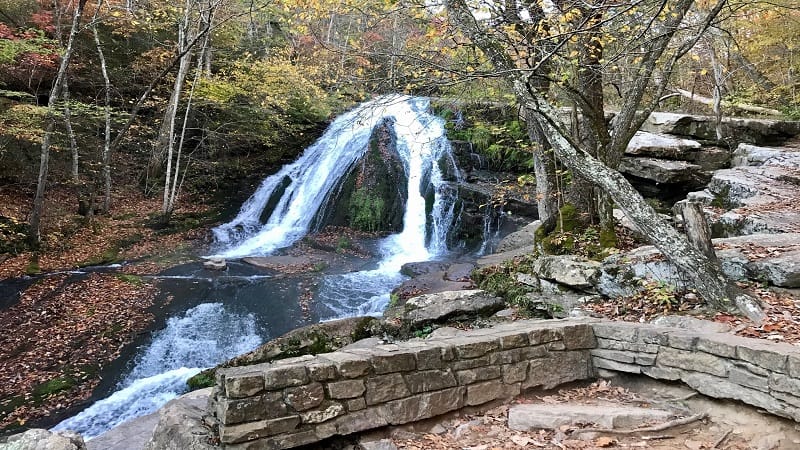 This short and sweet 1.7-mile waterfall hike at Roaring Run Furnace Day Use Area in Jefferson National Forest is a rewarding hike that can be completed by all levels of hikers.
The trail guides visitors alongside cascading Roaring Run to the falls by the way of the Streamside Trail. On the return, take the Woodland Trail for a delightful loop hike.
Kids will love to cross bridges, ascend steps, stroll across wooden boardwalk, even take in a history lesson at the historic iron furnace that dates back to the 1800's.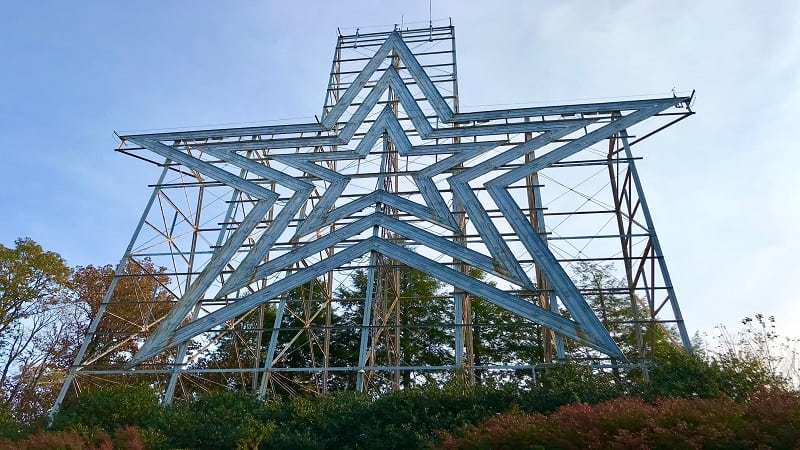 At 100 feet tall, the Roanoke Star earned the distinction of the largest man-made star. The iconic steel star has been welcoming visitors since late-1949.
This 3.3-mile out-and-back hike at Mill Mountain Park allows you to see the star up close in all its glory. Some call the Roanoke Star the Hollywood Sign of the East Coast.
This hike through the leafy forest at Mill Mountain Park keeps this hike well-shaded all the way until you reach the stunning overlook at the top of the mountain.
Many hikers rave about Blue Suck Falls at Douthat State Park, at least on AllTrails. I'll be honest, I was not impressed, largely because it was barely a trickle on my visit.
The real winner is the Tobacco House Ridge Trail, which sets off from the back of the White Oak Campground. From here, it's a short hike to the scenic lake overlook.
Continue on to reach a dam-created waterfall at Wilson Creek. Here you'll find several large flat rocks to relax on, as well as a fishing pond for children.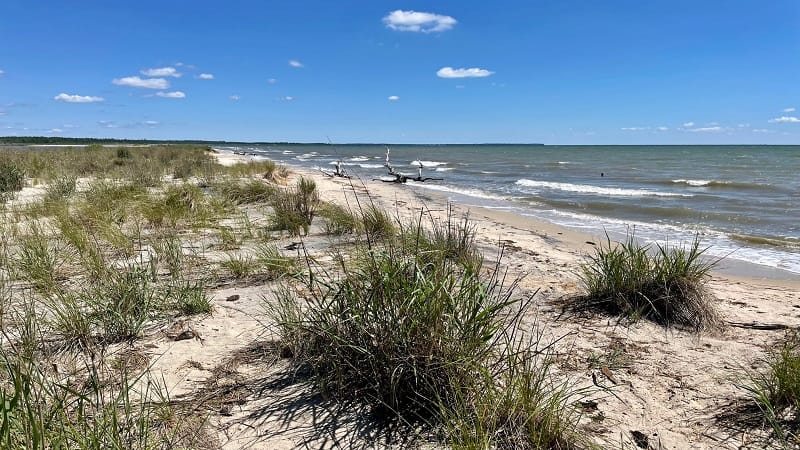 This 1.8-mile loop hike did not make my guidebook, but only because I hiked this one nearly four months after my book deadline (but it will be in my second book).
Let me tell you, Hughlett Point Natural Area Preserve is a hidden gem. You'll drive by corn and soybean fields to reach the parking area. Then, a coastal oasis.
Kids will love skipping along boardwalk trail, then walking out onto the observation decks for views across the salt marsh. This hike finishes with a walk on the beach.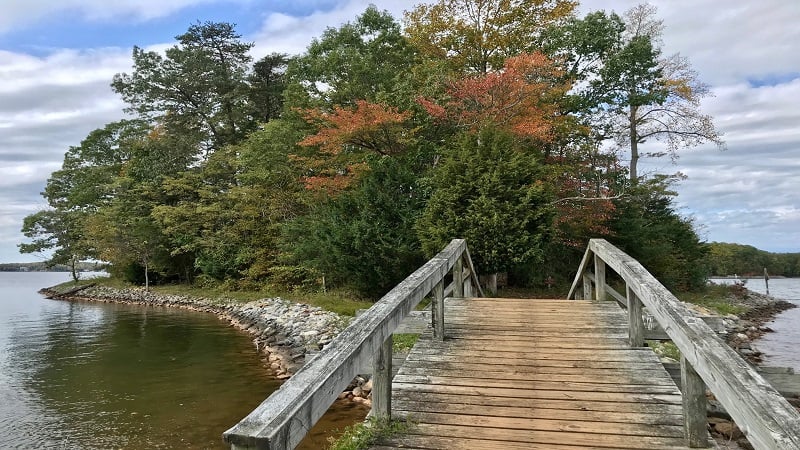 Smith Mountain Lake State Park may be better known as a go-to destination for water sports, but there's a lot to love on dry land too, like the Turtle Island Trail.
This popular 1.4-mile loop hike leads to a small island and a path that outlines the perimeter of the island. A small beach area precedes the footbridge to the island.
Look for placards early in this hike that educate park-goers on how abandoned fields at the state park transformed into a wooded forest over the course of 125 years.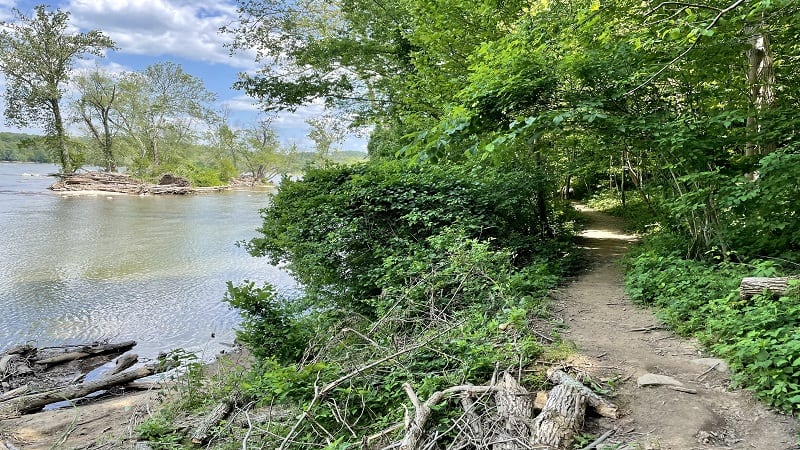 The 3.9-mile loop hike at Turkey Run Park in Northern Virginia is one of my favorite hikes. Kids will love this one too thanks to water crossings, rock scrambles and massive boulders.
This hike begins with a descent of nearly 170 feet, down at least 100 steps. Then, savor spectacular views across the Potomac River before hop-scotching over Turkey Run.
Follow the yellow blazes to cross a ravine on a three-inch-wide wooden board, scramble alongside Dead Run and take in more waterfalls before the end of this hike.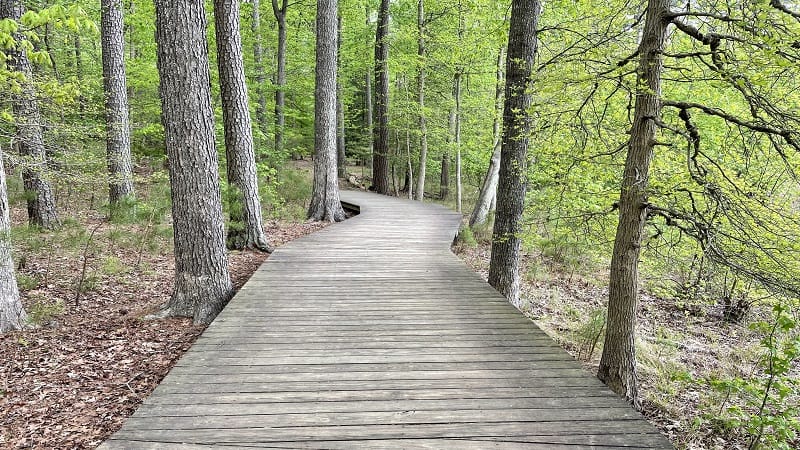 At Newport News Park, this delightful wooded nature trail crosses the Lee Hall Reservoir twice, offering views of coastal wetlands and cypress swamps.
It's well-shaded, too. In fact, the only time you may see much of the sun is when you cross over the reservoir on the wooden boardwalk.
Take in the views of the bald cypress trees and tidal wetlands as you hike along this trail. Keep your eyes open for swimming turtles that frequent the reservoir's waters.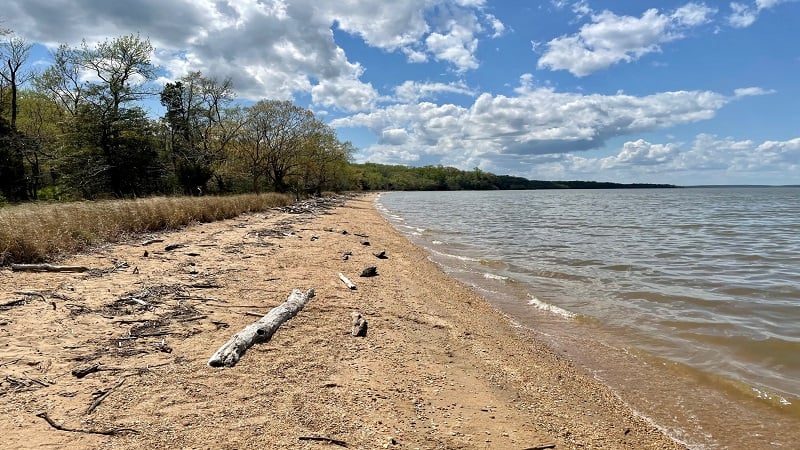 At Caledon State Park in King George, the Boyd's Hole Trail guides visitors along a well-shaded trail across old growth forest and on to a relaxing sandy beach.
Keep your eyes open. This state park is a National Natural Landmark known for its majestic bald eagles. The Boyd's Hole Trail is one of the best trails for spotting bald eagles.
Bring a hammock to set up in the shaded picnic area alongside the natural shoreline on the gently lapping Potomac River. It's easy to laze the day away here.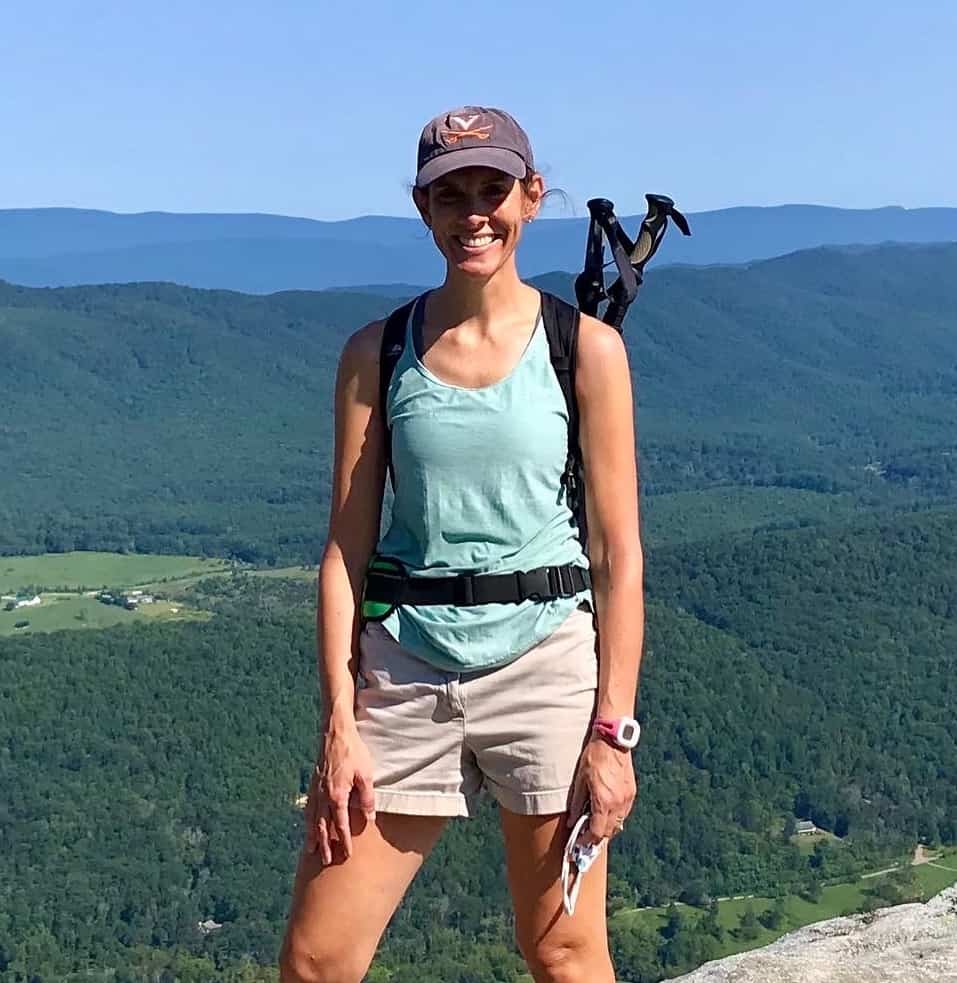 Erin Gifford is the editor of Go Hike Virginia. She has completed more than 300 hikes in Virginia. She is also the author of three hiking guidebooks from Falcon Guides. Need help finding a hike? Check out the Trail Finder feature or send Erin a message.