Apple Orchard Mountain: Hike the Appalachian Trail to Wide-Open Vistas Near Bedford, Virginia
A hike doesn't need to be long or have a big elevation gain to reward with views. A case in point is the hike to Apple Orchard Mountain near Bedford, Virginia.
Even better, this hike has wide-open views for miles on both sides of this 5.3-mile out-and-back hike, which starts at milepost 74.7 on the Blue Ridge Parkway.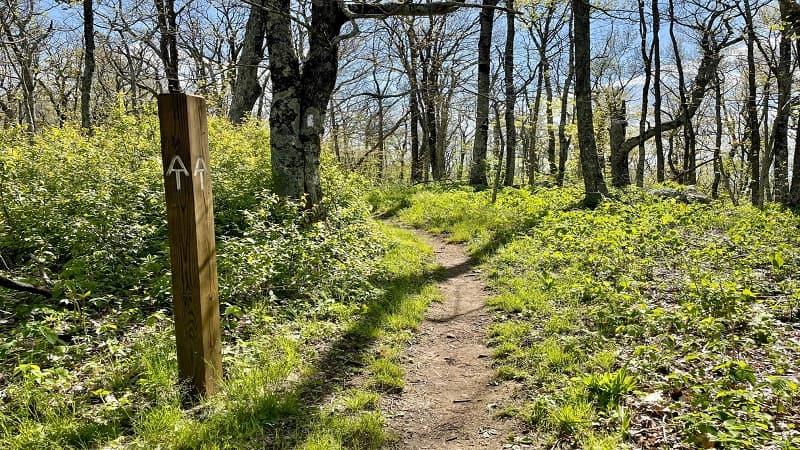 From the parking area, you're steps from the Thunder Ridge Overlook, a stone viewing deck with 180-degree views across the Arnold Valley.
An easy, forested hike along a southbound stretch of the Appalachian Trail leads to a rocky outcrop at the summit of Apple Orchard Mountain.
| Trail Stats | |
| --- | --- |
| Length | 5.3 miles |
| Difficulty | Easy |
| Trail Type | Out-and-Back |
| Elevation Gain | 925 feet |
| Duration | 3-4 hours |
| Terrain | Mostly dirt & rock trails |
| Dog-Friendly | Yes |
| Fee | Free |
| Driving Directions | Click Here |
Thunder Ridge Overlook
The parking area for the Thunder Ridge Overlook at milepost 74.7 is rather large, with room enough for a dozen or so cars.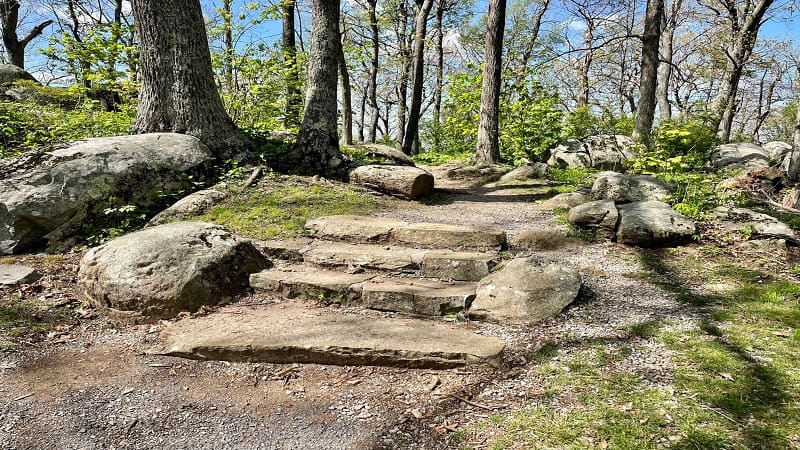 At the front of the lot, you'll see a small concrete picnic table that's just right for a picnic lunch before or after your hiking adventure.
To the left you'll see four steps that lead up to a connector trail that links up with the Appalachian Trail. From here, it's only 50 or so steps to the overlook.
The views across the Blue Ridge Mountains are out-of-this-world, too. It can get windy at that spot, so be sure to hold onto your hat.
Appalachian Trail
Once you've soaked in the views, continue south along the Appalachian Trail through Jefferson National Forest. There's a mild ascent, but it's reasonable.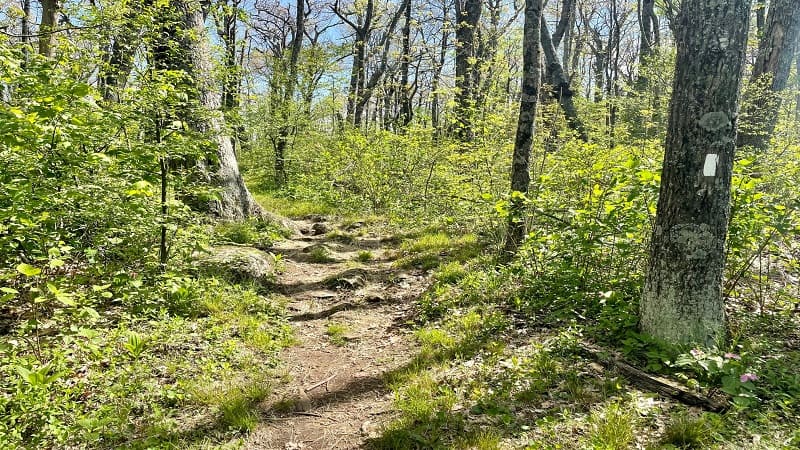 Enjoy the forested walk, which thankfully, is not rife with many rocks. At the 0.4-mile mark, look both ways, then cross over the Blue Ridge Parkway.
A sign for the Thunder Hill Shelter turns up at the 1.4-mile mark. Turn left here to see the lean-to shelter. There is also has a wooden picnic table and stone fire pit.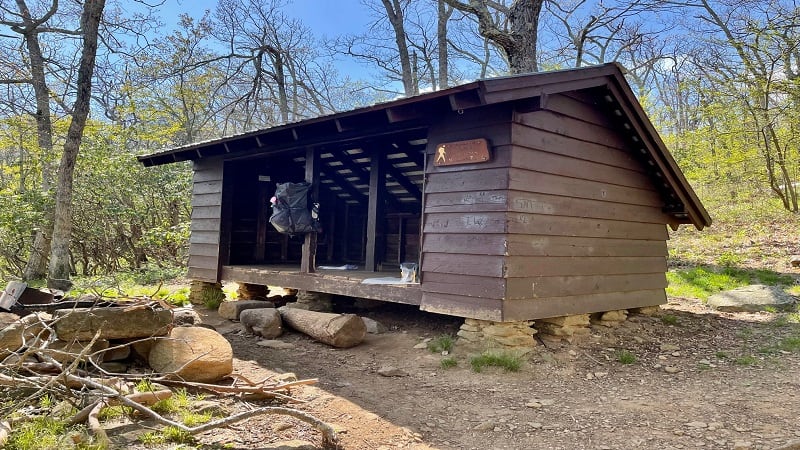 Hiker shelters often have a bear pole for safely putting smell-ables (food, lotion, deodorant) out of reach from bears. This shelter has a bear box.
There's a small area for tents, too. It's a nice shelter space, and very close to the Appalachian Trail. I met a chatty thru-hiker there from England.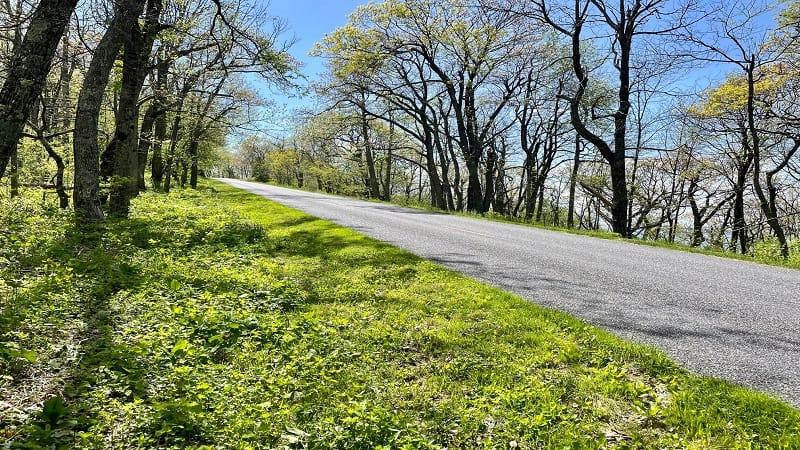 Continue on and you'll cross over the Blue Ridge Parkway again at the 1.8-mile mark. The trail starts to get more rocky at the 2.4-mile mark.
You'll even see a large rock wedged between two square-like boulders. Stone steps lead you up and through this gateway to Apple Orchard Mountain.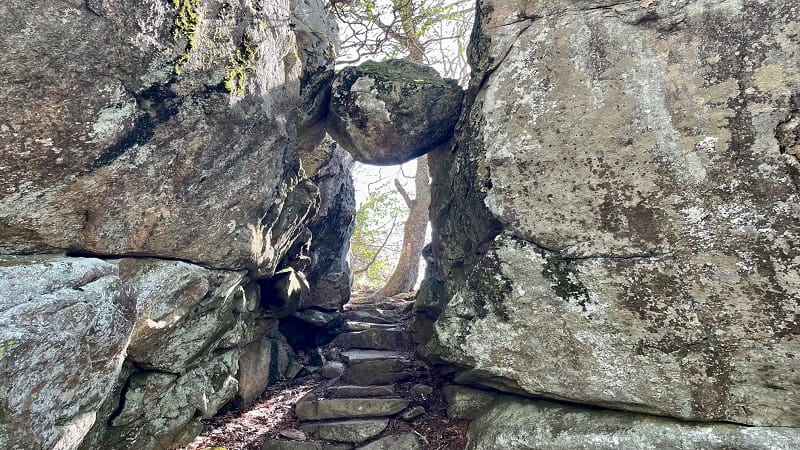 As you proceed, there are more stone steps built into the trail. Then, a clearing at the 2.6-mile mark. You'll also see a large soccer ball-like radar tower.
I learned it was an FAA long-range radar tower upon reading a local news article. Up until 1975, this dome tower was Bedford Air Force Station.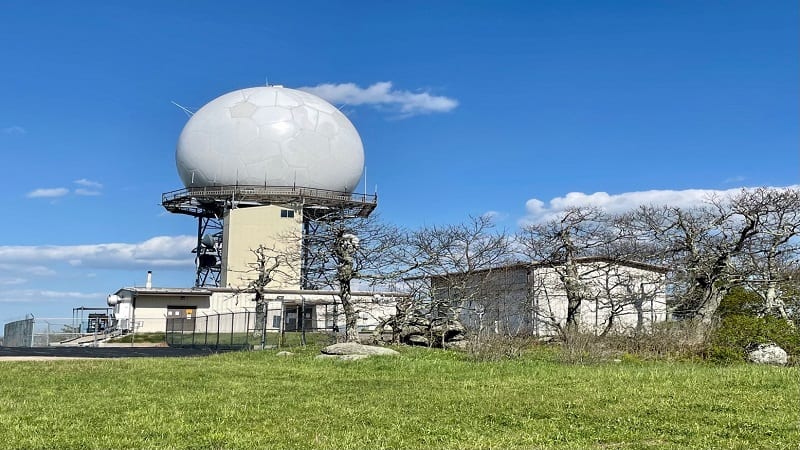 Apple Orchard Mountain
From this clearing, you can catch some views, but they are partially obscured. You may think, there must be more. I did, so I wandered about for a little bit.
Eventually, I stumbled on a small grove of evergreens on the south side of the trail (at this point, the trail is tracking east-west for a bit of time).
There's an opening in the grove. You'll then see a rocky outcrop (thank goodness) and some fantastic south-facing vistas.
Once you've taken in all the views, you may also see a weathered wooden sign for Apple Orchard Mountain (elevation 4,225 feet) as you exit the grove.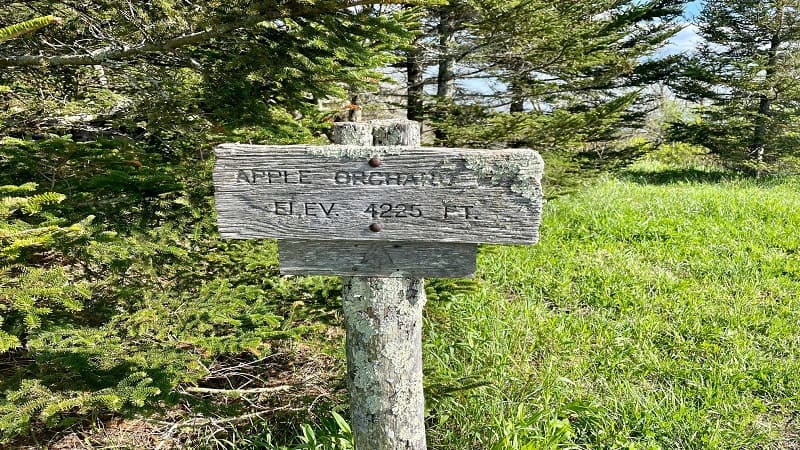 From here, simply re-trace your steps to the parking area at Thunder Ridge Overlook. You may want to stop at the overlook one more time for the views.
Wrap-Up Notes
From the parking lot, this hike took me nearly 2.5 hours, including time spent ogling the views at Apple Orchard Mountain and Thunder Ridge Overlook.
It's a nice, relaxing hike. It's nothing strenuous, though there are a few ups and downs along the way to make this hike engaging and enjoyable.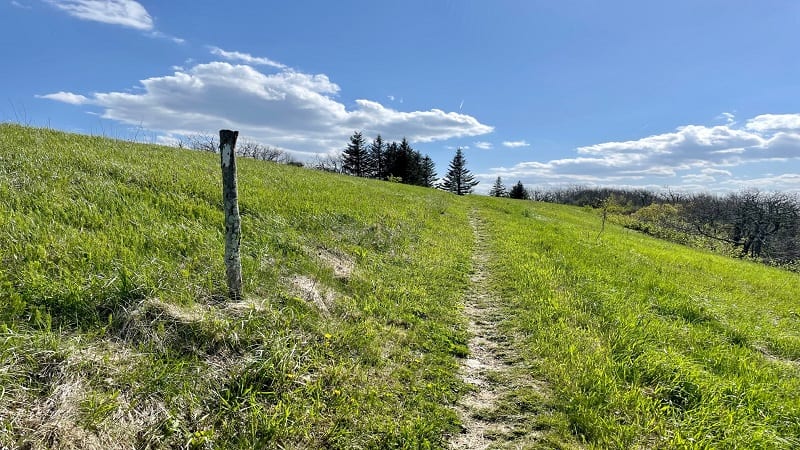 If you have time for a second hike, I recommend Apple Orchard Falls. This 2.9-mile out-and-back hike is just a few miles south on the Blue Ridge Parkway.
The hike to the 200-foot-tall waterfall by way of the blue-blazed Apple Orchard Falls Trail starts at the Sunset Field Overlook at milepost 78.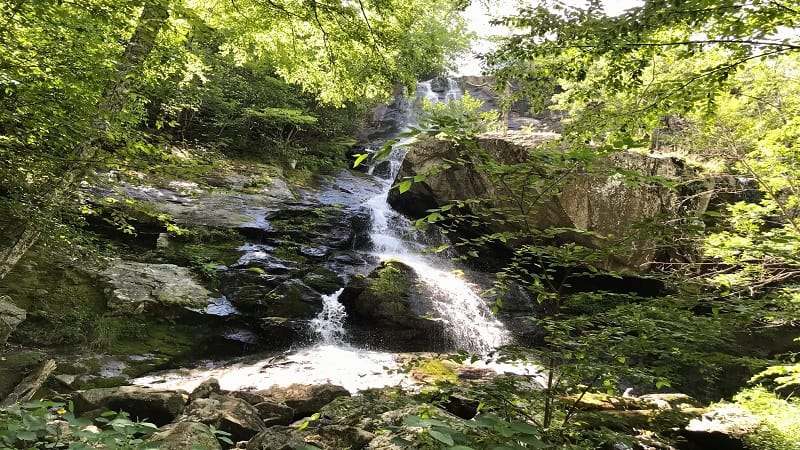 On the way, take time to splash around in Cornelius Creek. You'll also want to pause when you reach an opening for big views across to Floyd Mountain.