Best Hiking Sock Liners for Blister Prevention (2023)
Sock liners are thin socks that are meant to be worn under your hiking socks. According to several trusted hikers, liners have many helpful benefits.
Do sock liners really work? More importantly… are they worth it for day hikes? In this article I'm taking a closer look at sock liners.
There may be affiliate links in this post. If you make a purchase, I earn a small commission at no extra cost to you. Thank you.
I'll address the benefits, how they work and what to consider when buying a pair of liner socks. I'll also share top-rated hiking liner socks.
Quick Picks: Hiking Liner Socks
What are Sock Liners?
Sock liners are worn with a thicker pair of socks while hiking. These thinner socks have benefits, including blister prevention and sweat-wicking.
Sock liners act as a base layer, but you can wear them alone. They wick moisture to keep feet cool and dry. They also help prevent painful blisters.
Sock liners should be thin and fit well. These types of socks are meant to conform tightly to your feet when worn with your hiking boots or trail runners.
You can even find sock liners in toe-sock styles for efficient skin coverage, even between your toes.
What Materials are Best for Liner Socks?
Look for moisture-wicking and quick drying materials. Most sock liners are made from wool, nylon or acrylic, polypropylene and/or polyester blends.
These fabrics are ideal for sweaty feet. They pull moisture away from your feet and redirect it onto your outer pair of socks or your hiking shoes.
Synthetic materials, in particular, can help keep your feet dry which keeps them cool. It also makes your feet more resistant to blisters.
When your feet are wet from sweat, your skin is softer. Soft, moist skin is more susceptible to blisters than dry feet.
Do Sock Liners Really Work?
Yes, sock liners do really work. Whether you choose to wear them alone or with an outer sock, sock liners are great for hiking in any weather.
In hot weather, your feet sweat more. Wearing sock liners helps keep your feet dry and cool, even if it seems counter-intuitive.
In cool weather, sock liners have the added benefit of helping to keep your feet warmer. Wet feet are cold feet, and your feet still sweat in cold weather.
Hiking liner socks worn in cold weather pull sweat and moisture away from your skin and also provide an extra layer of insulation for warmth.
Alternatively, you can wear hiking liner socks by themselves in warmer weather. They still have moisture-wicking properties when worn alone.
Instead of directing moisture and sweat to your outer layer of socks, it will go to your shoes instead.
How to Choose Hiking Liner Socks
Since liner socks are meant to be lightweight, moisture wicking and conforming to your feet, there are a few factors to look for in liner socks.
Different liner socks appeal to different people, and I've got a great selection of liners in this article.
* Weight: Liner socks should be thin, lightweight socks. Some liner socks can be thicker, but weight ultimately is a matter of personal preference.
* Cushion: Hiking liner socks should not have any cushion. They are meant to be a thinner sock worn in tandem with thicker, cushioned socks.
* Length: Sock liners for hiking should be as long or longer than your regular socks. This prevents them from slipping down and causing discomfort.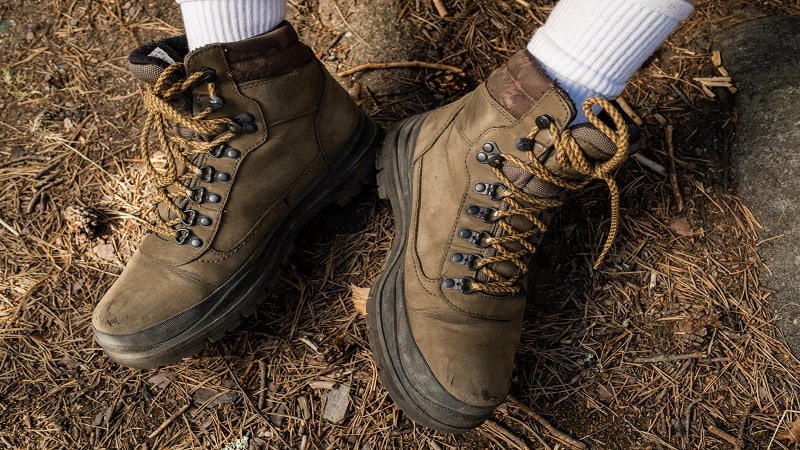 * Materials: Liners should be made from moisture-wicking and quick drying materials. A liner sock should be comfortable and stay in place without extra bulk.
* Style: Believe it or not, this is an important consideration. If you can't stand toe socks, you're not going to enjoy them as toe sock-style liners.
* Durability/Warranty: Since liner socks are usually pretty thin and lightweight, be sure to choose a good brand with a good warranty.
Due to their thin nature, liner socks may wear out faster than traditional socks. You still want them to last. Look for brands that offer guarantees on their socks.
Best Hiking Sock Liners
I've shared the most important things to look for in hiking liner socks from material to style, comfort and more.
Below are the top-rated hiking liner socks in a variety of styles and materials. You're sure to find the perfect pair for you.
Wigwam Coolmax liner socks come in three sizes – small, medium, large. These socks stay secure on your calf with a low-profile toe seam for extra comfort.
The Coolmax crew-style socks are made with a proprietary Coolmax polyester fabric, which is a blend of polyester, nylon and spandex.
These materials comes together for efficient moisture-wicking, comfort and stretch to create the perfect liner socks for your next hiking trip.
The Wigwam socks are thin, lightweight, and lack any cushion that would make them uncomfortable under your main hiking socks.
The Fox River Alturas liner socks are crew length, lightweight and have a virtually non-existent toe seam for comfort.
You can get these socks in three colors to go with any hiking boot or sock combo. Alturas liner socks are made with a blend of polypropylene, nylon and spandex.
These socks keep your feet dry and cool and are surprisingly soft. The smooth, flat toe seam prevents irritation during long hikes.
These socks tend to run a little large, so be sure to check the size chart and read reviews before selecting your size.
The Injinji Liner Socks are among the most popular hiking liner socks on the market today. These liners are toe socks with a five-toe design.
The toe sock styling is designed specifically for runners and hikers to provide maximum skin coverage and sweat wicking.
The Injinji socks help pull moisture away from your feet to keep them dry. They also prevent blister problems when hiking and running.
Injinji toe sock liners are made with Merino wool with a wool, nylon, and lycra fabric blend. They are odor-resistant thanks to Merino wool.
The Smartwool Classic hiking liner socks are perfect for the trails. These liners come in black and white and are made with a Merino wool and nylon blend.
They're naturally odor-resistant, sweat wicking, and so soft and comfortable. They have an elasticized arch brace and a flat toe seam for comfort and support.
These Smartwool socks have zero cushion so you almost don't even know you're wearing them under your regular hiking socks.
Pair these wool liner socks with a pair of thicker Smartwool hiking socks for sweat wicking, odor resistant, natural wool foot coverage.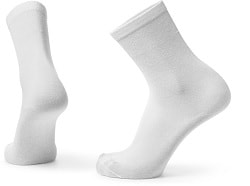 Last but not least, the REI Coolmax liner socks are perfect as a barrier against chafing, blisters, and to pull sweat away from your skin.
These socks are made with the Coolmax EcoMade polyester, nylon and spandex blend. The eco-friendly polyester yarn is made from recycled water bottles.
They are crew length and won't slip down your calf. These socks have a soft feel and flat toe seams that won't irritate your toes on your next hike.
The REI Coolmax socks have zero cushioning making them appropriate for layering under any kind of exterior hiking sock.
Wrap-Up: Best Hiking Liner Socks
When shopping for hiking liner socks, you may have to test out a pair or two to find the best sock liners for you.
Thankfully, hiking liner socks are relatively inexpensive. It also never hurts to have a few extra pairs of socks on hand.
The best liner socks for hiking are made from moisture-wicking materials like polyester, polypropylene, nylon, spandex, and/or acrylic.
Socks made from wool are naturally odor-resistant, so if you have problems with foot odor, stick with wool. These are a great choice even in warm weather.
Look for arch support and a flat toe seam for support and to prevent rubbing or hot spots. Hiking liner socks are great for winter and summer hiking.
A good pair of hiking liner socks is perfect for keeping your feet dry, preventing blisters, and adding a bit of extra insulation while hiking.