15 Best Hikes Near Blacksburg, Virginia
Blacksburg may be best known for Virginia Tech, but there are so many fabulous hikes near Blacksburg, Virginia. You'll want to hit the trails every single weekend.
Among my favorite hikes are Tinker Cliffs for wide-open views and Cascades Falls for a gorgeous waterfall. Bald Knob is a must for brilliant sunsets.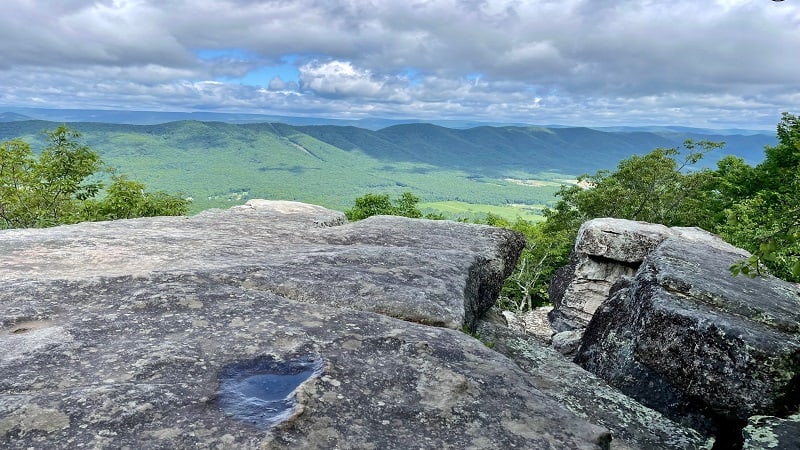 Blacksburg is 45 minutes or less from more than a few fantastic hikes, so whether you want to see waterfalls, wetlands or summit views, it's no problem.
Hikes Near Blacksburg, Virginia
To make it easy to navigate, I've organized Blacksburg hiking trails by difficulty level so you have a good idea what to expect before stepping foot on the trails.
For the hikes below, I share what's to love and how far each trailhead is from Blacksburg (from Virginia Tech, to be precise). Get ready to get hiking, friends.
Easy Hikes
It's a cinch to fall for easy-going hikes alongside lakes and ponds, even to big mountain views. These hikes near Blacksburg fit the bill.
Pandapas Pond Day Use Area is a wooded area located just outside Blacksburg. Plan to stroll the accessible 1.0-mile loop trail around Pandapas Pond.
A wooden boardwalk allows visitors to revel in a scenic wetland area that's home to turtles, dragonflies and migratory birds.
For a longer loop hike, it's a cinch to tack on the Horse Nettle Trail and Joe Pye Trail for extra steps. It's ideal for a morning walk to start the day.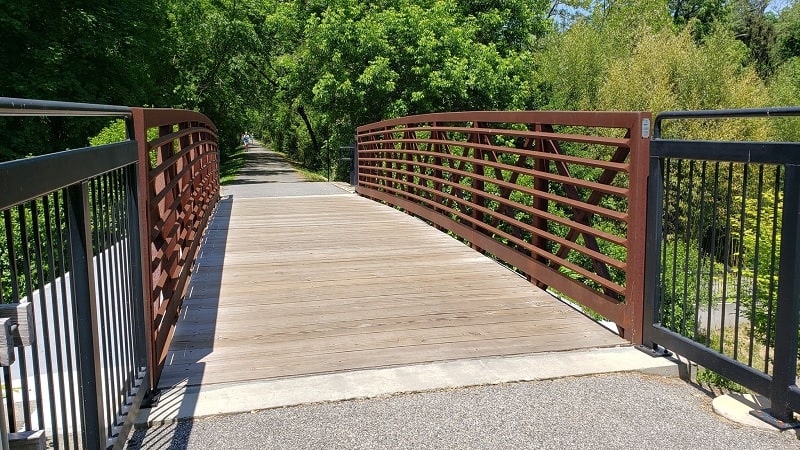 The Huckleberry Trail is a 15-mile paved trail that runs between Blacksburg and Christiansburg. It's open to walkers, cyclists and, of course, dogs.
There are three connecting segments, including the original Huckleberry Trail (8.3 miles), Huckleberry North (5+ miles) and Huckleberry South (1+ miles).
The trail was designed to serve as a spine to connect area trail systems, including Coal Mining Heritage Park and Poverty Creek.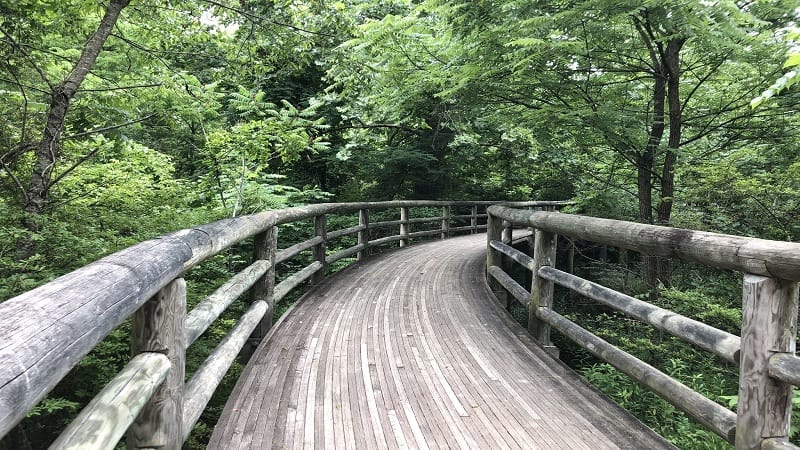 Coal Mining Heritage Park is located at Mile 5 of the Huckleberry Trail, which provides easy access to the park's scenic and historic 1.5-mile loop trail.
Along the Coal Mining Loop Trail, you'll see artifacts from the former Merrimac mining community, as well as historical markers and educational placards.
This trail was designed for walkers, runners and cyclists. A .25-mile section of the trail is accessible for wheelchairs and strollers.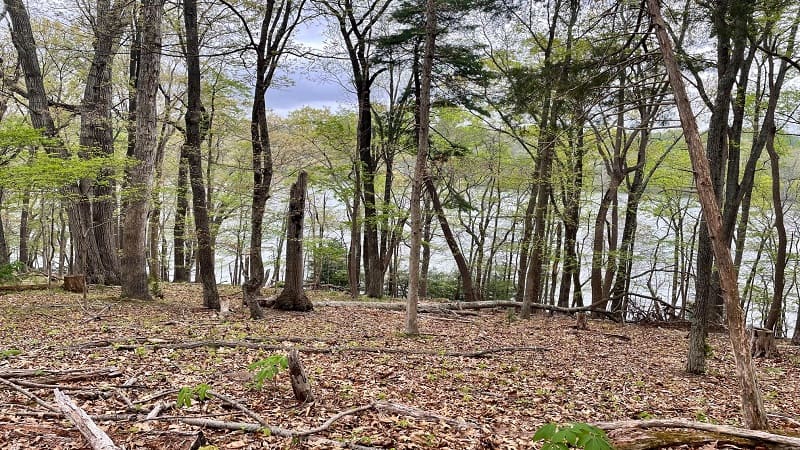 Claytor Lake State Park in Pulaski County, Virginia has nearly eight miles of trails that wind across the park and alongside three miles of Claytor Lake.
All park trails can be used by both hikers and bikers. All trails are marked as easy, except the Hidden Valley Trail, which is considered moderate.
A good hike is the 2.6-mile loop that includes the Claytor Lake Trail and Lakeview Trail. In summer, settle in at the relaxing swimming beach after your hike.

For those eager to hike the Virginia Triple Crown – including Dragon's Tooth, Tinker Cliffs and McAfee Knob – a good place to start is Sawtooth Ridge.
This 1.9-mile out-and-back hike in Catawba guides hikers on a southbound stretch of the Appalachian Trail with sensational views and a rock scramble.
The Sawtooth Ridge hike shares a parking lot with the uber-popular McAfee Knob hike. This means that you should plan to arrive very early for a parking space.
Moderate Hikes
When you want to go hiking near Virginia Tech, but you crave more mileage and elevation, these hikes fit the bill. Get ready for vistas and waterfalls, too.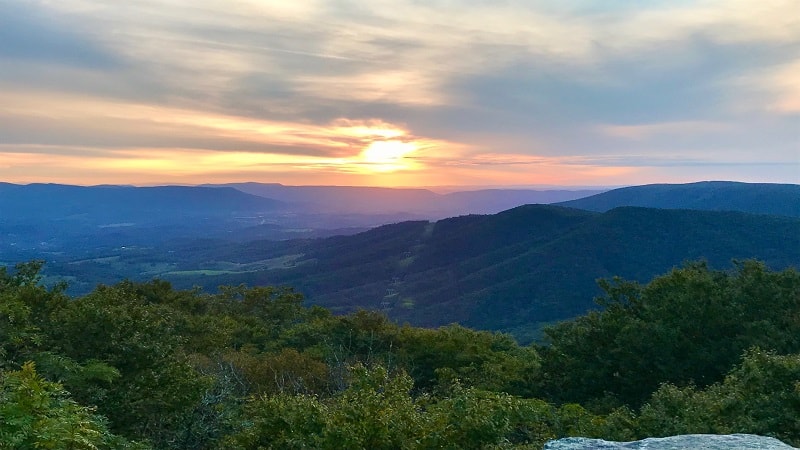 The 1.0-mile out-and-back Bald Knob Trail is a steep trail. There's a 400+ foot elevation gain over the span of just .5 miles. You'll need to dig deep, friends.
Dirty Dancing fans, the Bald Knob hike begins just behind Kellerman's. Er, Mountain Lake Lodge. It's a fabulous choice for a vibrantly-hued sunset, too.
There are multiple rock outcrops atop Bald Knob (elevation 4,354 feet) to sit and savor exquisite west-facing views. There's room for everyone.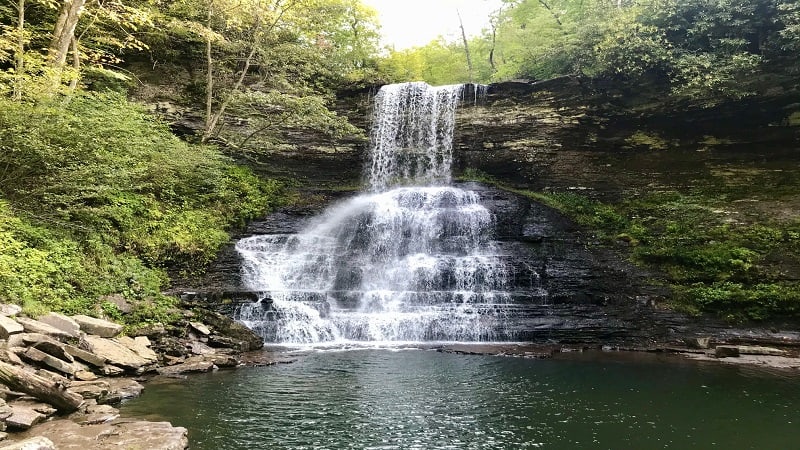 The 4.0-mile out-and-back hike to 66-foot-tall Cascades Falls is one to put on your list of must-do hikes. If time permits, press on to Barney's Wall.
There is a wooden viewing platform mere steps above the waterfall basin. A second-level viewing area allows visitors to get very close to Cascades Falls.
The Cascades National Recreational Trail is a short drive from Mountain Lake Lodge (the lodge from Dirty Dancing). Here, take in a sunset from Bald Knob.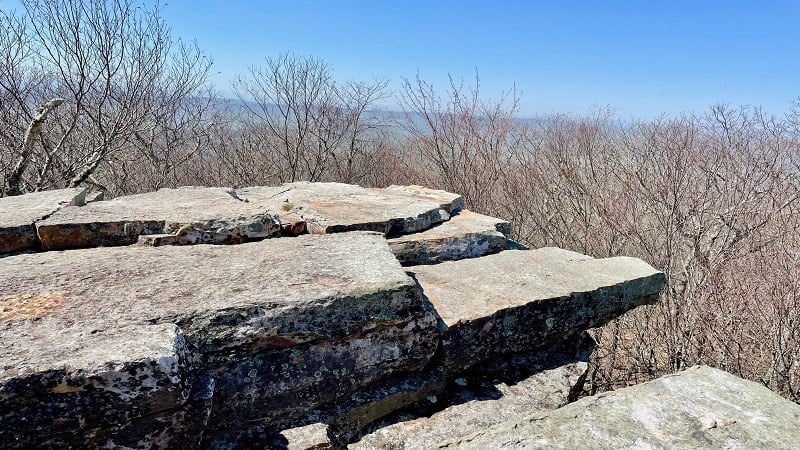 Many miles of the Appalachian Trail cut across Southwest Virginia. This means that there are a lot of great day hikes across the region, including Kelly Knob.
This 4.0-mile out-and-back hike in the Jefferson National Forest allows hikers to savor the views from a small rocky outcrop called Kelly Knob.
As you close in on the rocky outcrop, you'll see a primitive camp site, a fire ring and a couple of logs as benches. It's a great spot to re-fuel and re-hydrate.
Mill Creek Nature Park is between the Town of Narrows and Jefferson National Forest. There are 10 multi-use trails with names like Catwalk and Wheezer.
A moderate 3.1-mile hike leads along Mill Creek to two tumbling waterfalls. It's a steep ascent to reach Upper Falls and Middle Falls, but well worth your efforts.
For a short, easy hike, walk alongside Mill Creek to the dam spillway at the .5-mile mark. Settle in on a wooden bench to revel in the refreshing cascades.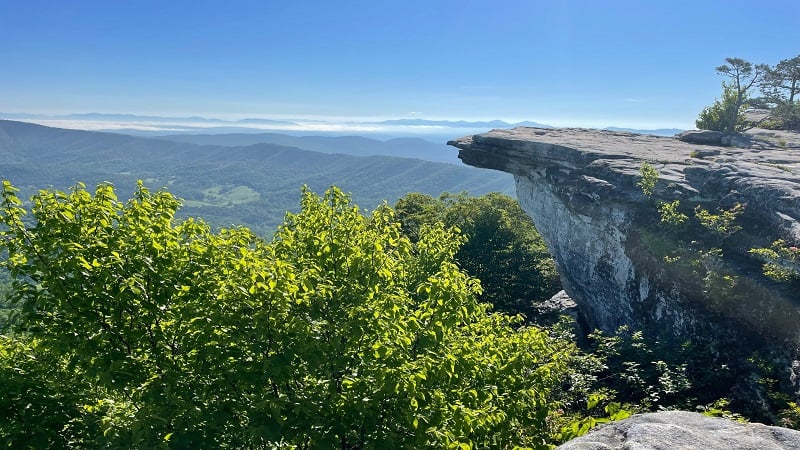 It's a steady climb over 4.0 miles to reach McAfee Knob. However, you will be wowed by views of Catawba Valley, Roanoke Valley and North Mountain.
Take the Appalachian Trail all the way to McAfee Knob. Alternatively, start on the AT, then hook up with a wide fire road for a 2.2-mile section of the hike.
The fire road is a good option if you're hiking as a group or with kids. It's definitely the easier option. Once at McAfee Knob, take a seat and savor the vistas.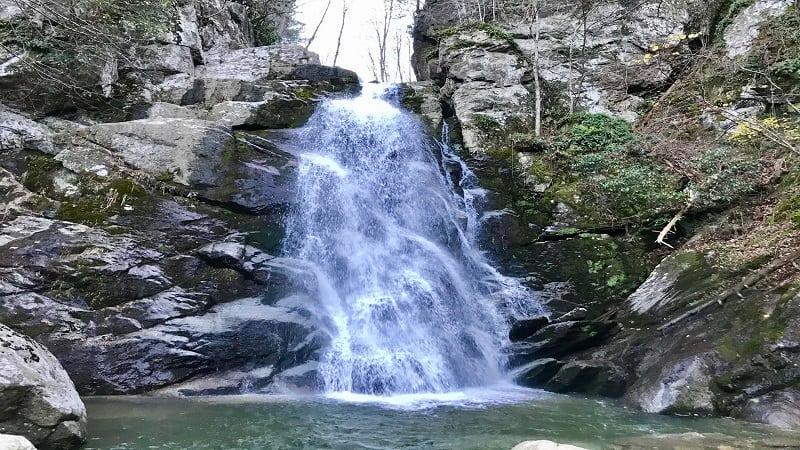 A wooded trail to tumbling 40-foot-tall Stiles Falls is located on the grounds of Alta Mons, an outdoor ministry and faith-based summer camp in Shawsville.
The trail is on private property, but the 3.3-mile out-and-back hike to Stiles Falls is open to anyone and everyone, according to the Alta Mons website.
Plan to cross over rolling Purgatory Creek three times before reaching a small rock scramble. Then, it's all about refreshing and peaceful Stiles Falls.
At 100 feet tall, the Mill Mountain Star earned the distinction of the largest man-made star. The famous steel star has been welcoming visitors since late-1949.
A 3.3-mile out-and-back hike at Mill Mountain Park allows you to see the star up close. Some call this steel star the Hollywood Sign of the East Coast.
This forested hike is well-shaded until you reach the dramatic overlook at the top of the mountain when you reach what's also called the Roanoke Star.
Strenuous Hikes
For a challenge in Virginia's New River Valley, as well as gorgeous panoramas, add these strenuous hikes near Blacksburg to your hiking bucket list.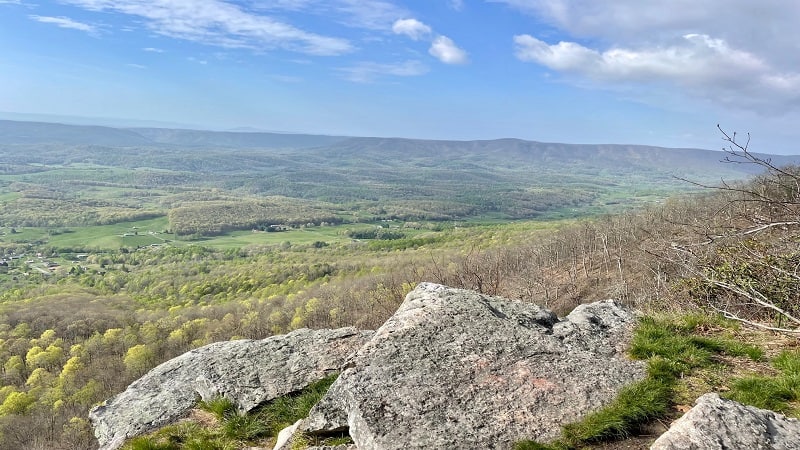 This southbound hike to Angel's Rest, and on to the Wilburn Valley overlook, is one of several Appalachian Trail hikes that start near Blacksburg.
This 5.0-mile hike is far from easy, but the double dose of big views makes this hike an absolute must-do when in this mountainous section of Virginia.
Get ready for more than a dozen switchbacks. Steps built into the trail at some of the switchbacks are a welcome sight on this climb up Pearis Mountain.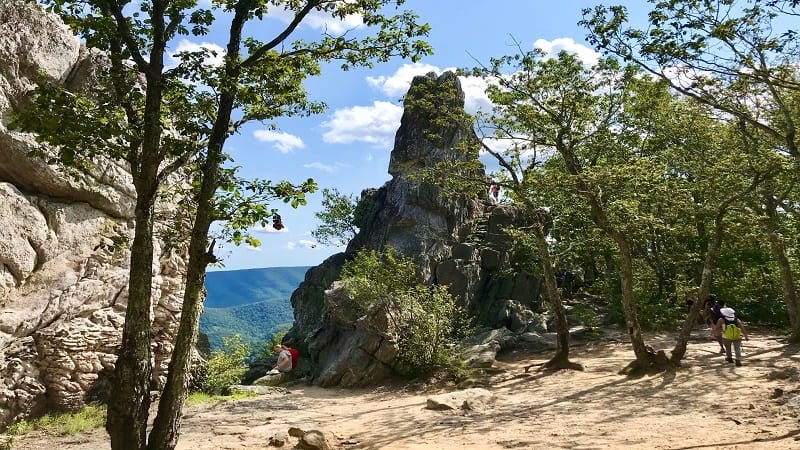 The Dragon's Tooth hike involves a mild, forested hike on the Dragon's Tooth Trail, then a strenuous .8-mile section of the white-blazed Appalachian Trail.
You will use hands, feet, elbows, toes, fingers and knees to reach the summit. At the top, you can climb the 35-foot-tall rock spire for even bigger views.
Embrace steep rocky steps and areas where you feel like you are scaling the side of a mountain, even iron bars to climb rock faces.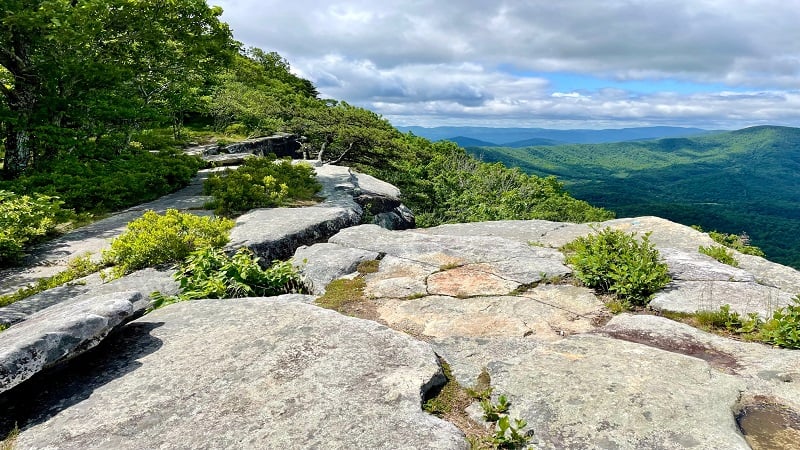 There are two ways to hike to Tinker Cliffs in Catawba for outstanding views across the Catawba Valley and Roanoke Valley.
You can tackle this as an 8.1-mile out-and-back hike on the Andy Layne Trail and Appalachian Trail, including lots and lots of steps to gain elevation.
Alternatively, you can pair this strenuous hike with McAfee Knob for a 13.4-mile point-to-point hike. Just make sure to park cars at both trailheads.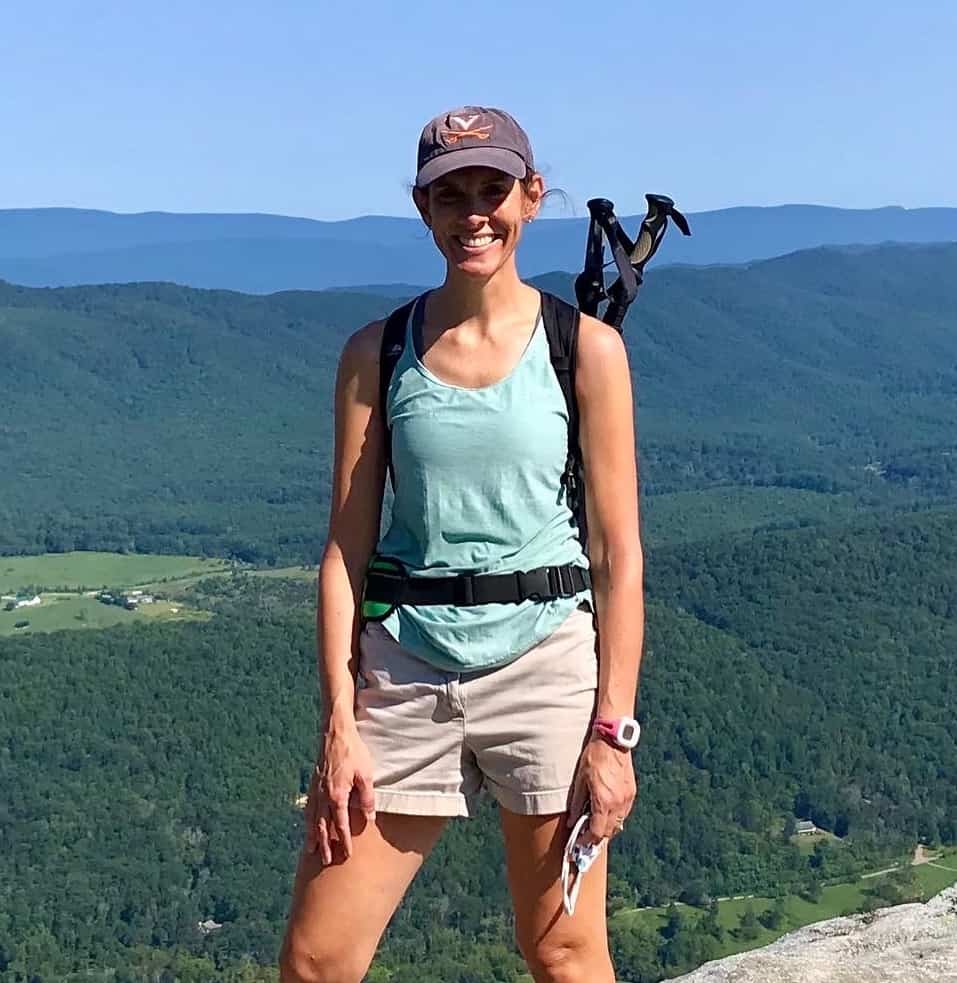 Erin Gifford is the editor of Go Hike Virginia. She has completed more than 300 hikes in Virginia. She is also the author of three hiking guidebooks from Falcon Guides. Need help finding a hike? Check out the Trail Finder feature or send Erin a message.