Mill Creek Nature Park: Hike to Gorgeous Waterfalls in Narrows, Virginia
Mill Creek Nature Park in Narrows, Virginia is a hidden gem. Seriously. It's such a gem that I kind of hesitate to share what's to love about this park.
I had time for a short hike after I tackled the Kelly Knob hike last week, so I made the 40-minute drive west to this beautiful 145-acre nature park.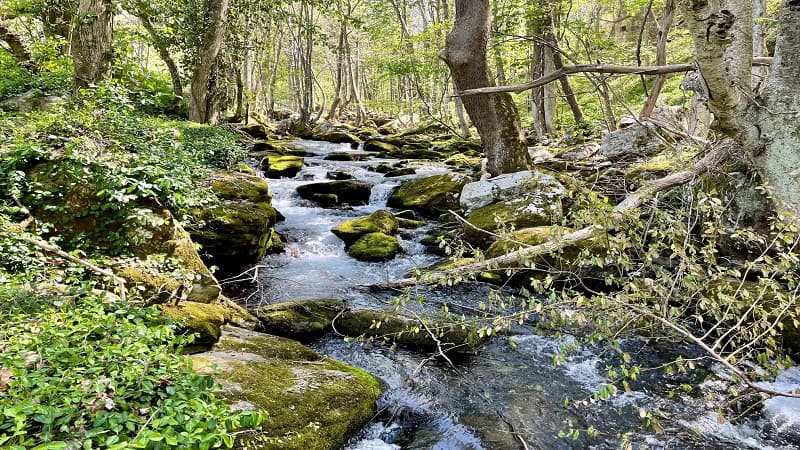 Mill Creek Nature Park sits between the Town of Narrows and Jefferson National Forest. There are 10 trails with names like Catwalk and Wheezer.
Interestingly, the trails (the trail names, at least) seem to be promoted to mountain bikers, but I only saw families and day hikers on my recent visit.
| Trail Stats | |
| --- | --- |
| Length | 3.1 miles |
| Difficulty | Moderate |
| Trail Type | Out-and-Back |
| Elevation Gain | 843 feet |
| Duration | 2-2.5 hours |
| Terrain | Mostly grass, dirt & rock trails, some rock scramble |
| Dog-Friendly | Yes |
| Fee | Free |
| Driving Directions | Click Here |
Mill Creek Nature Park
As you drive in to the parking area, it feels like you are exiting town as Northview Street becomes a gravel road, but then a lot appears on the left.
I don't recall any signage welcoming visitors to Mill Creek Nature Park. However, a small picnic table and a trail kiosk indicate that this is the place.
The parking area is large. There is enough room for a couple dozen cars. The trails are well-maintained, but not well-marked. Still, I found my way to the waterfalls.
The waterfalls were the primary reason for my visit. I saw on a map that there were two falls, but apparently, up to four can be seen, especially after a rain.
I took in Upper Falls and Middle Falls. Both were spectacular. I later read that Lower Falls is off-trail and sometimes splits in two after a hard rain.
Waterfall Hike
The hike begins across the gravel road from the parking area. Walk past the trail kiosk at the south end of the lot, then through a red iron gate.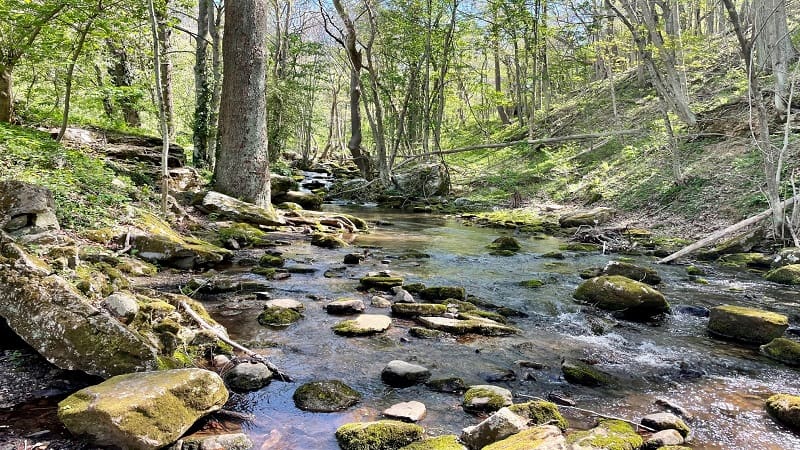 The trail starts as grass as you parallel Mill Creek. In the first steps, you can walk out to the creek. Settle in on the bench, but do not cross over the bridge.
Mill Creek will stay on your right (west) as you climb this trail to see the two waterfalls. Yes, climb. It's quite a steep ascent, but it's so beautiful.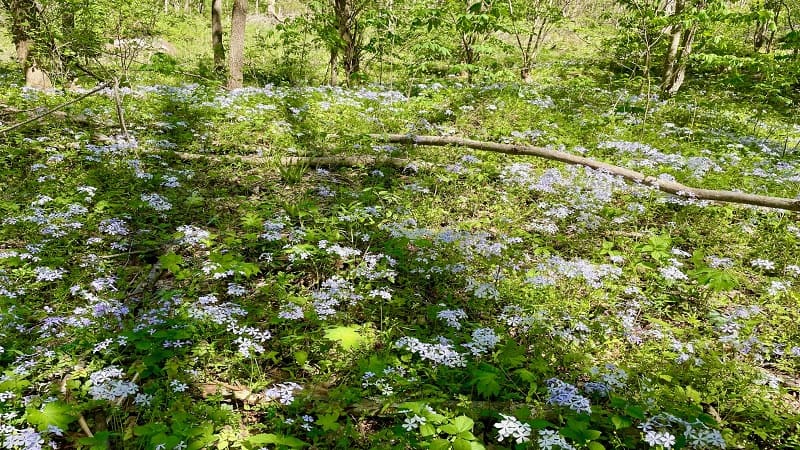 From the start, I did not know the name of the trail I was on. I still don't, even after looking at the map. AllTrails doesn't even know.
The hike has "Mill Creek Falls Trail" in the title, but you won't see any signage with that trail name. It's okay, just stay left of the creek and begin to ascend.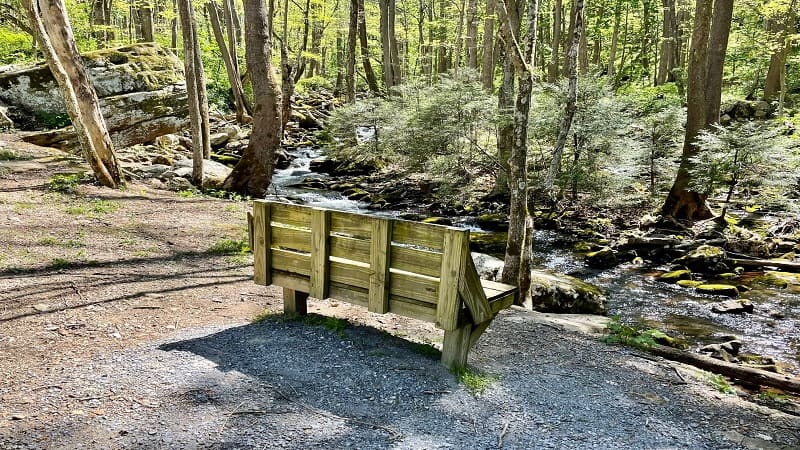 At the .2-mile mark, you'll see a wooden bench with fabulous views of cascading Mill Creek. It's such a relaxing spot to stop and revel in nature.
As you continue on, lavender-colored phlox graces both sides of the hiking trail. You'll reach another bench and a dam spillway at the .5-mile mark.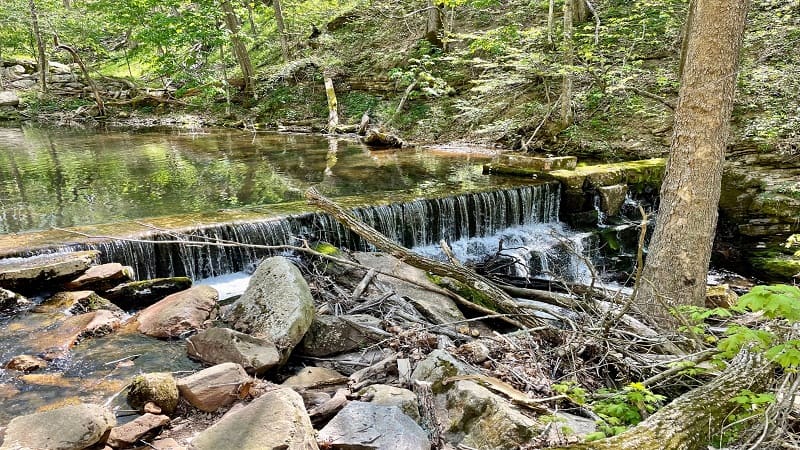 Mill Creek Reservoir served as a source of drinking water for the Town of Narrows up until the 1970s. The dam dates back to the 1780s.
There is also a small wooden shelter adjacent to the spillway. It's a nice place to stop for a picnic alongside Mill Creek.
Waterfall Trail
By the .7-mile mark, the trail becomes steeper and much rockier. A sign at the 1.1-mark indicates you are on the right path to the falls.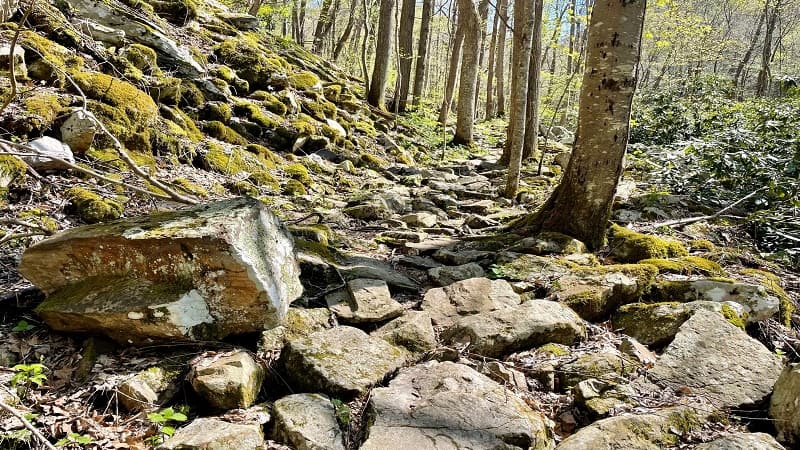 You may also be on the "Waterfall Trail," which is not marked on the trail map, so who knows. Get ready for two fun water crossings at the 1.2-mile mark.
Then, heads up. A spur trail on the right leads to Middle Falls, but there is no signage. Note that it's a short but steep descent to the waterfall.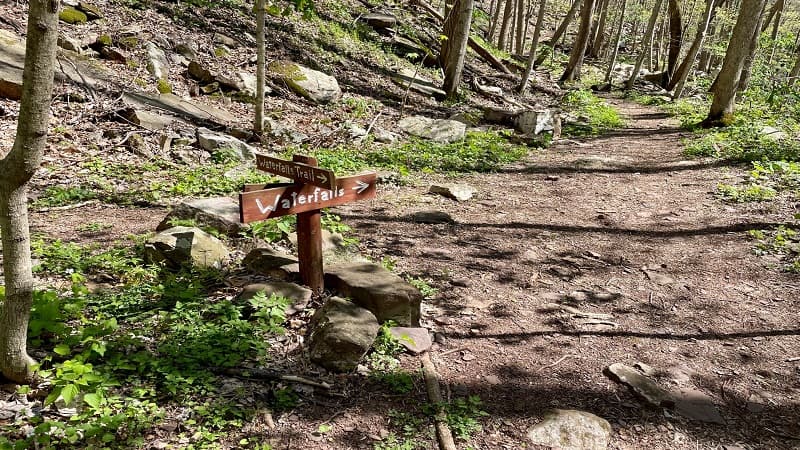 Re-trace your steps back to the Waterfall Trail, then turn right to continue ascending. At the 1.5-mile mark, you'll see a sign to turn right for the falls.
In a few more steps, a sign directs you to the left for the falls. At the 1.6-mile mark, you have arrived at Upper Falls. Another scenic view of flowing waters.
From here, re-trace your steps to the main trail, then turn left to descend back to the parking area. There are no more water views further up the trail.
I had honestly wanted to continue on to Sentinel Point, but I just ran out of time on this day and had to get back. Next time, for sure.
Wrap-Up Notes
From the parking area, this hike took me 90 minutes, including time spent stopping to ogle the roaring waterfalls and the gently-flowing creek.
I would definitely return to step foot on more hiking trails at this nature preserve in mountainous Giles County.
For a second hike, I highly recommend Angel's Rest. This nearby Appalachian Trail hike wows with big views of the Blue Ridge Mountains and New River Valley.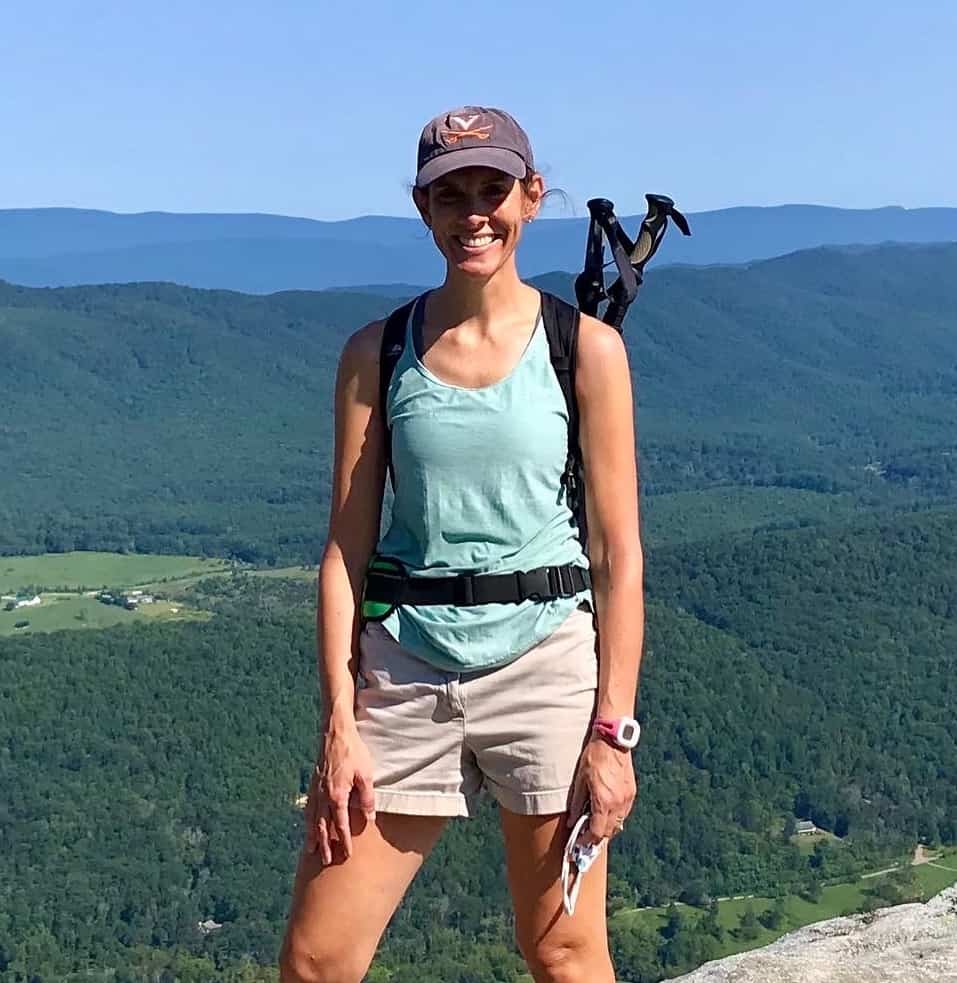 Erin Gifford is the editor of Go Hike Virginia. She has completed more than 300 hikes in Virginia. She is also the author of three hiking guidebooks from Falcon Guides. Need help finding a hike? Check out the Trail Finder feature or send Erin a message.