Kelly Knob: A Scenic Appalachian Trail Hike Near Blacksburg, Virginia
Many miles of the Appalachian Trail cut across mountainous Southwest Virginia. Naturally, this means that there are a lot of great day hikes across the region.
I recently spent three days exploring Pearisburg – overnighting at the Lilly Valley Inn. I checked off three AT hikes, including an out-and-back to Kelly Knob.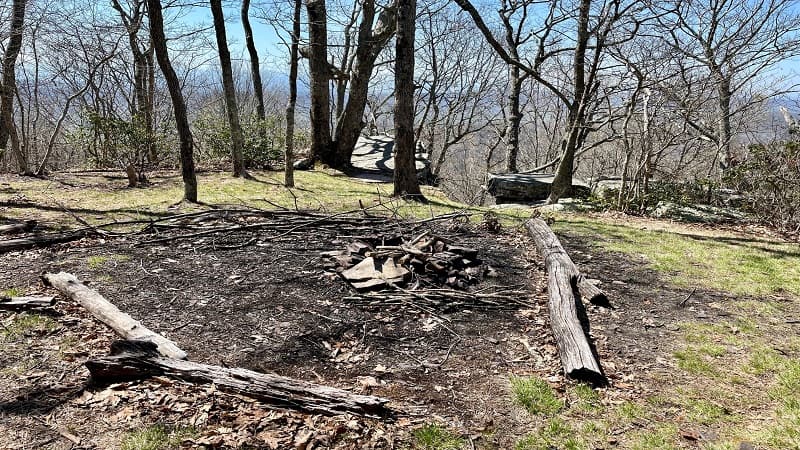 There's good news and bad news to this hike. The good news is that you'll complete most of the elevation gain in the first .5 miles. That's also the bad news.
The first .5-mile of this southbound hike is steep and there are no switchbacks to manage the ascent. Eesh. Then, it levels out and all is good once more.
| Trail Stats | |
| --- | --- |
| Length | 4.0 miles |
| Difficulty | Moderate |
| Trail Type | Out-and-Back |
| Elevation Gain | 932 feet |
| Duration | 2.5-3.5 hours |
| Terrain | Mostly dirt & rock trails |
| Dog-Friendly | Yes |
| Fee | Free |
| Driving Directions | Click Here |
Kelly Knob Hike
This 4.0-mile out-and-back hike in the Jefferson National Forest in Craig County starts across from a parking area on Rocky Gap Trail (State Route 601).
There is room for just two cars to pull in to park, but then there's space for another two or three cars to park parallel along the gravel road.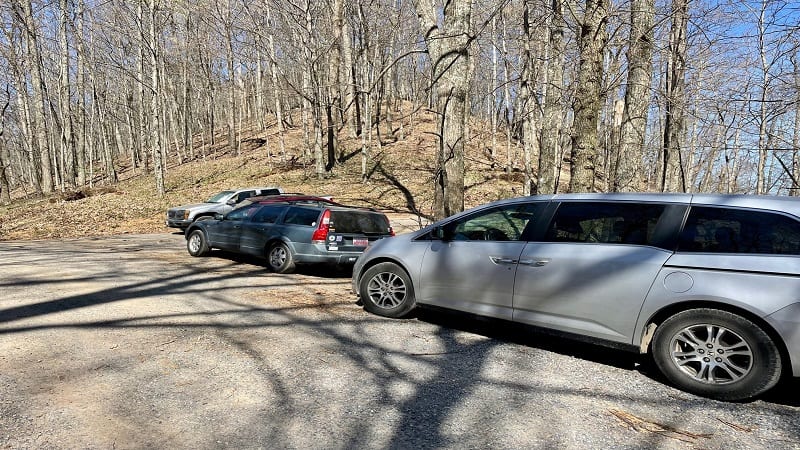 Cross over the gravel road to the trailhead to begin your ascent, first on a few wooden steps, then on a more rocky section of hiking trail.
From late-fall to early-spring, take in the views of neighboring mountains through leafless trees. If only to distract yourself from the unrelenting climb.
At the .5-mile mark, at the top of the climb, you will pass the Johns Creek Mountain Trail. Then, in a few more steps, a primitive camp site turns up on the left.
Appalachian Trail
I can only imagine northbound hikers stopping here, just before the descent to the gravel road and on to the next section of the Appalachian Trail in Virginia.
As you continue on, you'll note that the trail is much more flat with a few minor ups and downs until you reach the sign for Kelly Knob.
At the 1.9-mile mark, look for a blue-blazed trail that sets off to the right. A sign nailed to a tree reads "Kelly Knob – 120 Yards."
As you close in on the rocky outcrop, you'll see another primitive camp site on the left with a fire ring and a couple of logs as benches.
In just a few more steps, get ready for big rocks and mountain views. The overlook is not huge. There's only enough room for maybe a half-dozen people.
It was also surprisingly buggy for late-April. The view was somewhat obstructed, too. This is definitely a hike to tackle when the leaves are off the trees.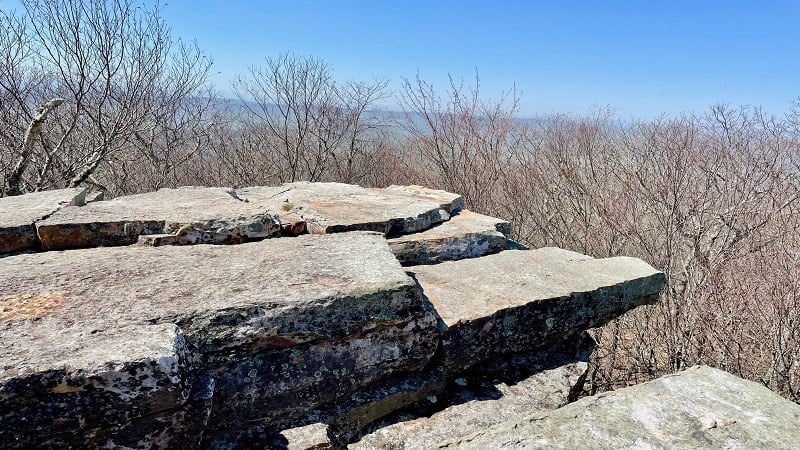 The views are nice, especially to the right, but you may feel like you need to stand on tippy-toes for the vistas. You won't see much if you sit on the rocks.
From here, re-trace your steps to the parking area. Mind your footing in the last .5-mile, especially if there are leaves on the trail.
Wrap-Up Notes
From the parking area, this hike took just under two hours, including time spent taking in the semi-obstructed southwest-facing vistas across the New River Valley.
All in all, this was a good hike. It's especially good if you like quiet hikes. You won't see many day hikers here, especially given the size of the parking area.
When hiking southbound to Kelly Knob, you should pass the Clover Hollow Covered Bridge over Sinking Creek. It's worth a stop to snap a few photos.
There's a bench just outside the covered bridge, as well as a register inside the bridge for visitors to enter their names and hometowns.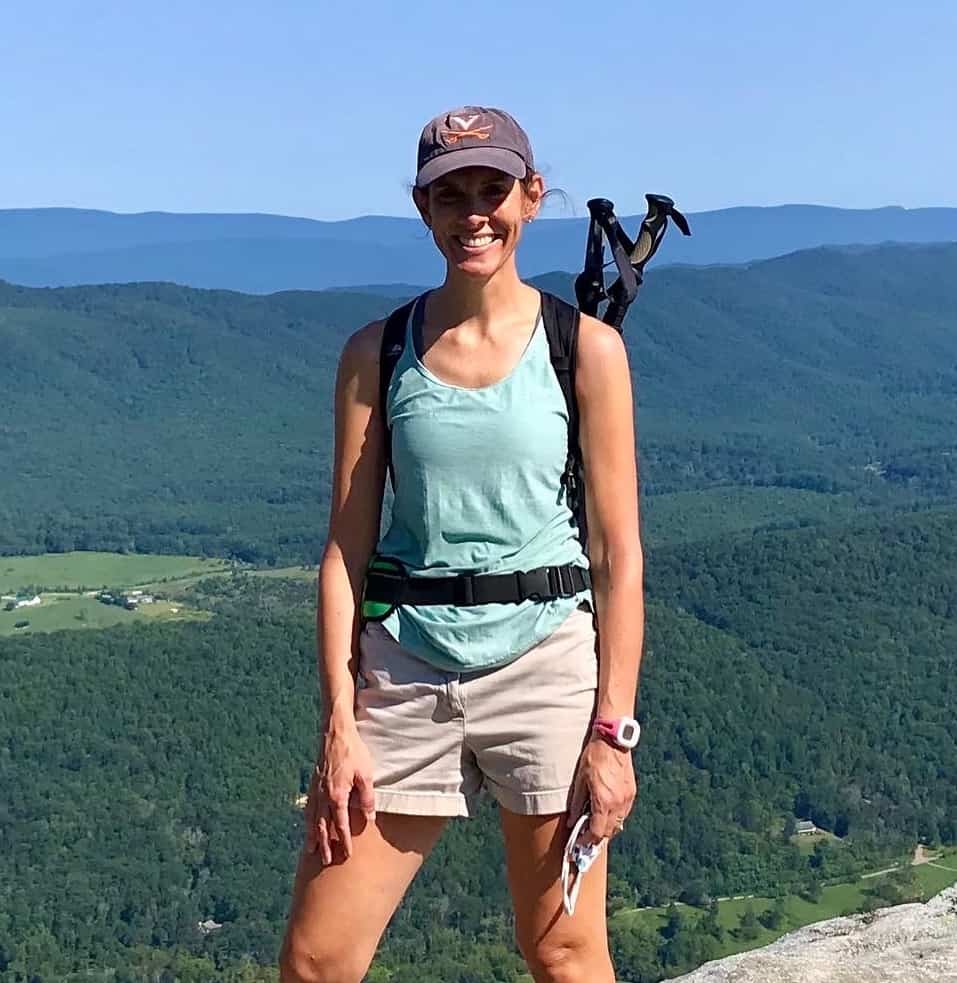 Erin Gifford is the editor of Go Hike Virginia. She has completed more than 300 hikes in Virginia. She is also the author of three hiking guidebooks from Falcon Guides. Need help finding a hike? Check out the Trail Finder feature or send Erin a message.