Pandapas Pond Day Use Area: A Beautiful Green Space in Blacksburg, Virginia
It's easy to feel a million miles away at Pandapas Pond Day Use Area, a recreation area within the Jefferson National Forest in Blacksburg, Virginia.
The centerpiece is Pandapas Pond, a man-made 8-acre pond surrounded by a forest of hardwoods, rhododendron thickets, even a wetlands area.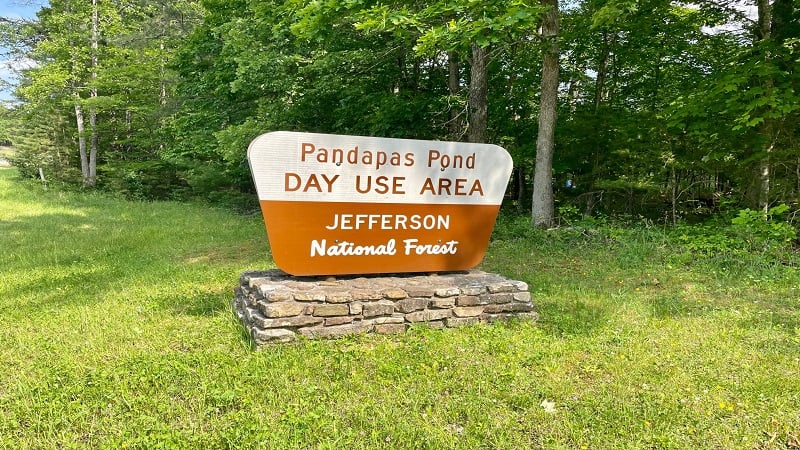 This day use area was created by Jim Pandapas, a local businessman who bought the land in 1948 and built out the green space for his employees.
He later sold the land to the U.S. Forest Service in 1983 for what it cost him in 1948, plus what he spent on pond and road improvements.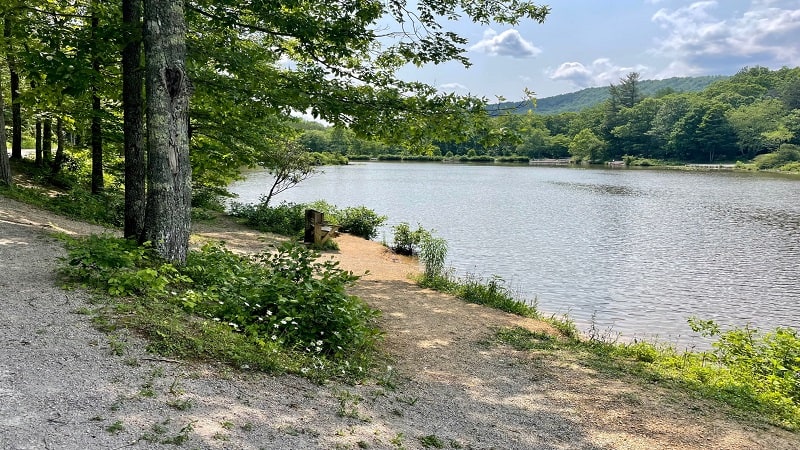 Today, Pandapas Pond, which was originally called Poverty Pond, is the only federal day use area for public recreation in Montgomery County, Virginia.
In addition to the pond, the day use area includes the Poverty Creek Trail System, a network of multi-use trails for hiking, biking and horseback riding.
Pandapas Pond Parking
First things first, let's talk about parking. At Pandapas Pond Day Use Area, there are two parking lots. There is an upper lot and a lower lot.
As you enter the day use area from Pandapas Pond Road, the first parking lot on the left is the upper lot. A sign reads "Bike and Horse Trailer Parking."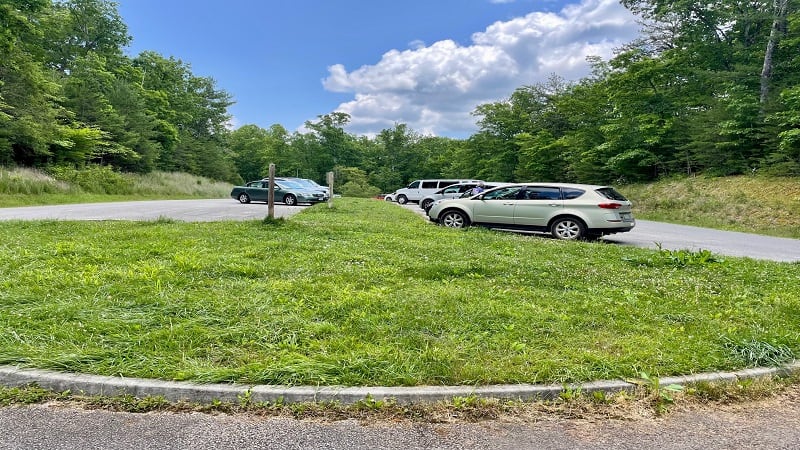 For the lower lot, continue along Forest Service Road 808 all the way to the parking lot at the end of the road. You'll see a large trail kiosk with a map.
Two of the three suggested hikes begin from lower lot, including the 1.0-mile Pandapas Pond loop and a 1.6-mile loop that starts on the Woods & Field Trail.
Hike #1: Pandapas Pond Loop
The short hike around Pandapas Pond begins to the left of the trail kiosk at the back of the lower parking area, on the Pond & Wetlands Trail.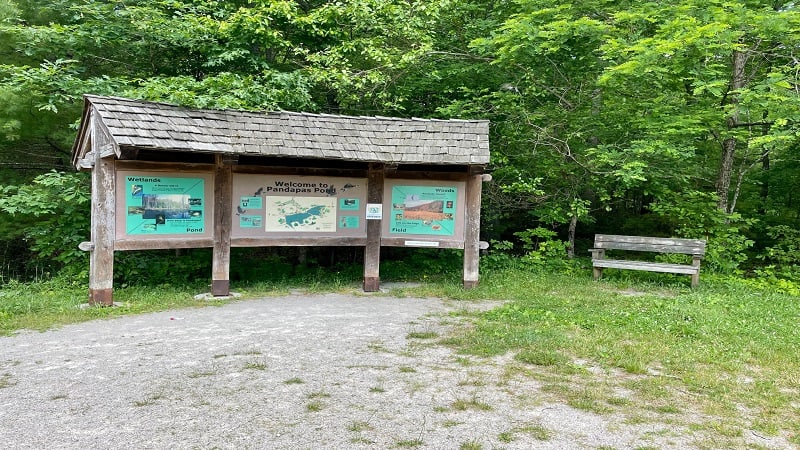 This accessible trail is made of crushed gravel. It is not paved. If you come with a wheelchair or stroller, you will want to have all-terrain tires.
As you descend, keep your eyes open for a large rock with a plaque that reads "Inspiration Point" in memory of Jim Pandapas, who died in 2003.
Near the bottom of the small hill, there are vault toilets. At this point, you can either turn right or left to begin the loop around the pond.
I opted to go right, largely because I spied a picnic table and I had brought my lunch to eat beside the pond. Keep your eyes open for geese, too.
Walking counter-clockwise, you'll soon see another picnic table, a bench or two, and several spots to drop in a fishing line along water's edge.
Once you're more than halfway around the pond, you'll duck over into the forest then return on the far end of the pond, in a small wetland area.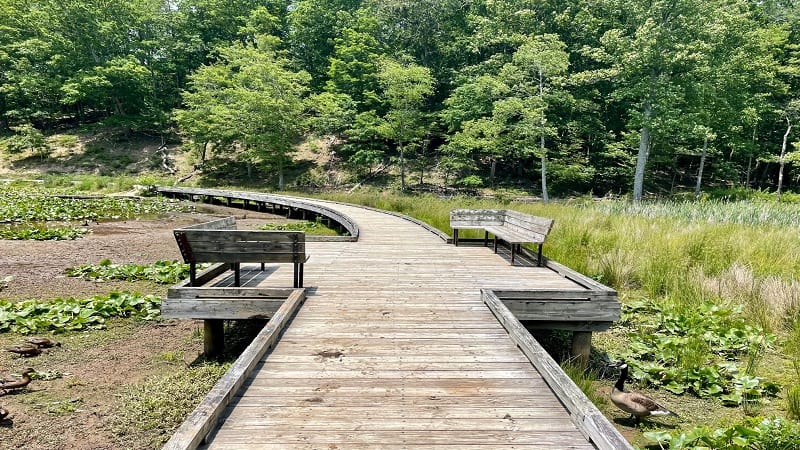 There's a lovely wooden boardwalk along this lily pad-strewn section of Pandapas Pond. Keep your eyes open for painted turtles sunning themselves.
Continue on and you'll see wooden steps leading to an old tree with a large horizontal branch. Perfect for photo ops, I suppose.
Then, a curious wooden shed that may have been large enough to serve as a cabin. It's hard to tell, but it's not in use now.
You'll then close the loop at the vault toilets. Walk back up the hill and you will reach the parking lot to end your 1.0-mile circuit hike at Pandapas Pond.
Note that there are no markers or trail blazes to guide you on this trail. However, it is a very straightforward trail. It would be hard to lose your way.
Hike #2: Woods & Field Loop
There's a second easy hike that originates from the lower lot at the Pandapas Pond Day Use Area. This 1.6-mile loop starts to the right of the trail kiosk.
Look for the wooden sign marked Woods & Field Trail. A separate sign notes that a Pollinator Garden is just 0.4 miles ahead on this gravel trail.
Follow the white diamonds for this trail until you reach the Pollinator Garden. At the 0.3-mile mark, you will arrive at a log cabin-style observation blind.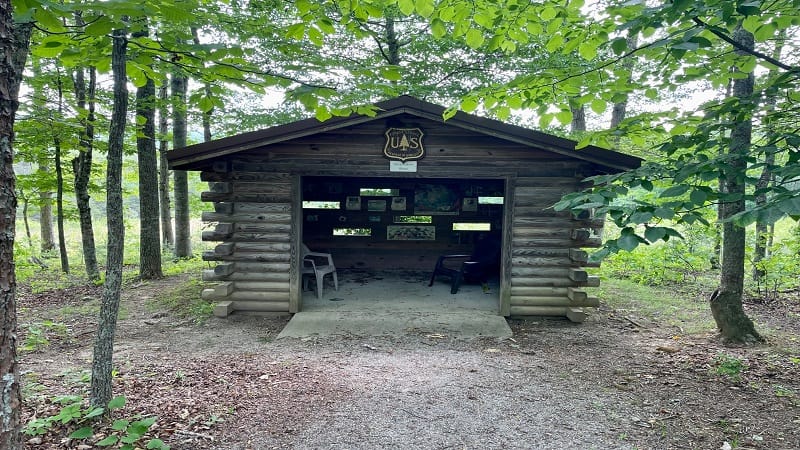 Inside, there are a couple of plastic chairs and lots of posters on the walls that educate on birds, bees and blooms you may see along this walking path.
In a few more steps, you'll reach the Pollinator Garden, including a Rain Garden, which catches rain water to help prevent soil erosion.
You'll find a variety of plants, shrubs and flowers in the Pollinator Garden, including wild petunias, partridge peas, black-eyed susans and star tickseeds.
Continue past the garden area on the Woods & Field Trail until you reach a dead-end. There is no signage, but this is the blue-blazed Royale Trail.
Turn left at this junction. At the 1.0-mile mark, the Royale Trail ends at the red-blazed Poverty Creek Trail. Turn left here to continue on this hike.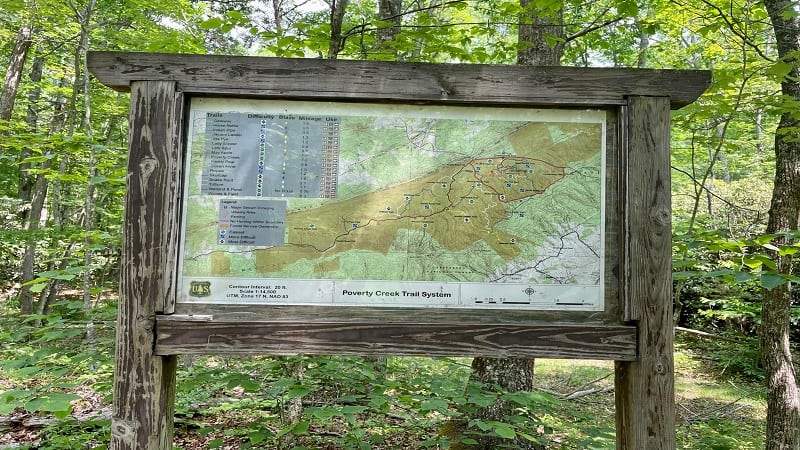 You'll soon arrive at a large trail kiosk, but stay on the Poverty Creek Trail. Then, bear right for the Poverty Creek Connector Trail.
This trail is for pedestrians only. It leads to Pandapas Pond and the lower lot. At the 1.5-mile mark, turn left for the lower parking lot to complete this loop.
Note that the Poverty Creek Trail and Royale Trail are for equestrians, bikers and hikers. However, both are wide with few blind corners.
Horseback riders and mountain bikers are prohibited from the Woods & Field Trail and the Poverty Creek Connector Trail.
Hike #3: Lady Slipper & Lark Spur Loop
I prefer to stick to hiking trails that disallow mountain bikers, and there was one more hike I could tackle at Pandapas Pond Day Use Area.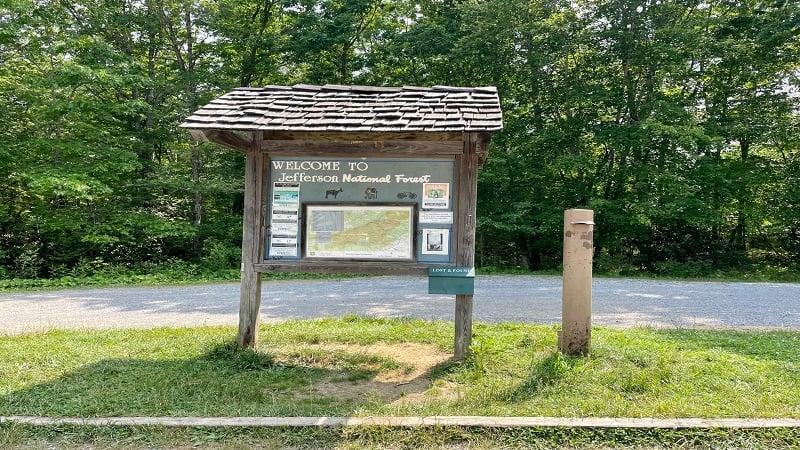 This 2.9-mile loop includes the Lady Slipper Trail and the Lark Spur Trail. Both are for hikers only and both are labeled as "easiest" on the park trail map.
Take heed, friends. While fairly well-maintained, these trails were not easy and were more challenging than billed on the trail system map.
For this hike, you'll want to begin on the blue-blazed Horse Nettle Trail, which starts at the back of the upper parking lot. The terrain is mostly dirt and rocks.
It's down, then up, to reach the start of the red-blazed Lady Slipper Trail at the 0.9-mile mark. From here, it's a descent all the way to Pandapas Pond.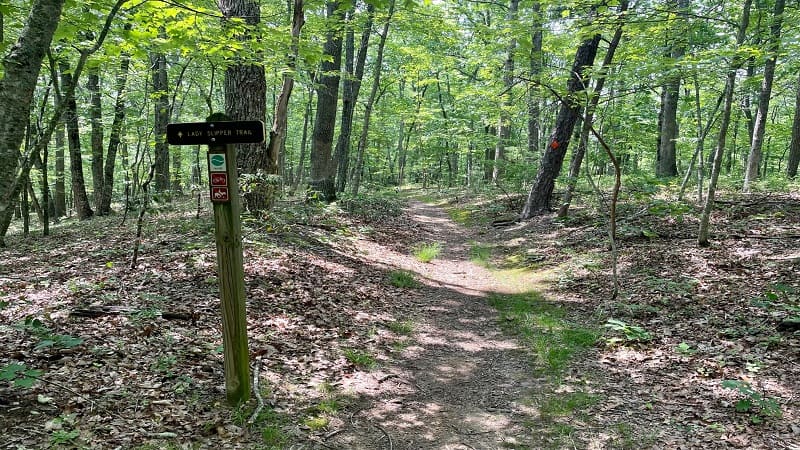 At times, this trail is very narrow as dense rhododendron thickets encroach on the trail on both sides. At Pandapas Pond, turn left to walk alongside the water.
From here, you'll connect with the yellow-blazed Lark Spur Trail. There is no trail sign. Look for a picnic table at the 1.5-mile mark.
Walk past the picnic table on the hiking trail. Then, climb until you reach a trail junction. There is a sign on the left for the Lark Spur Trail.
This trail dead-ends at the Lady Slipper Trail. At which point, you'll turn right, then turn left on the Horse Nettle Trail to return to the upper parking lot.
To be honest, I did not love this hike. In my opinion, the two hiker-only trails – Lady Slipper and Lark Spur – are only hiker-only due to the rhododendrons.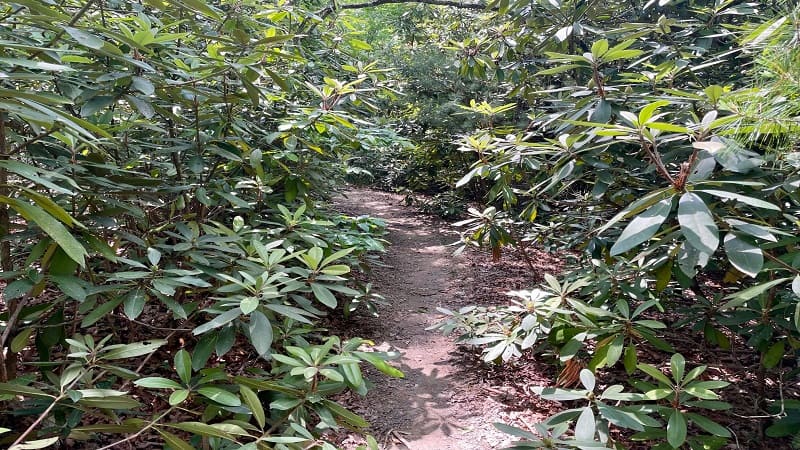 In some spots, the trails are so narrow and the rhododendrons hang so low that you've got to duck. Mountain bikers and horse riders cannot safely pass.
If you're looking for more of a challenging hike that sticks to mostly hiker-only trails, this is a good choice. However, I would not consider this an easy hike.
Poverty Creek Trail System
If mountain biking is more your jam, the Poverty Creek Trail System is a great place for mountain bikers of all skill levels.
There are 13 trails for mountain bikers that range in length from the 0.5-mile blue-blazed Indian Pipe Trail to the 7.2-mile red-blazed Poverty Creek Trail.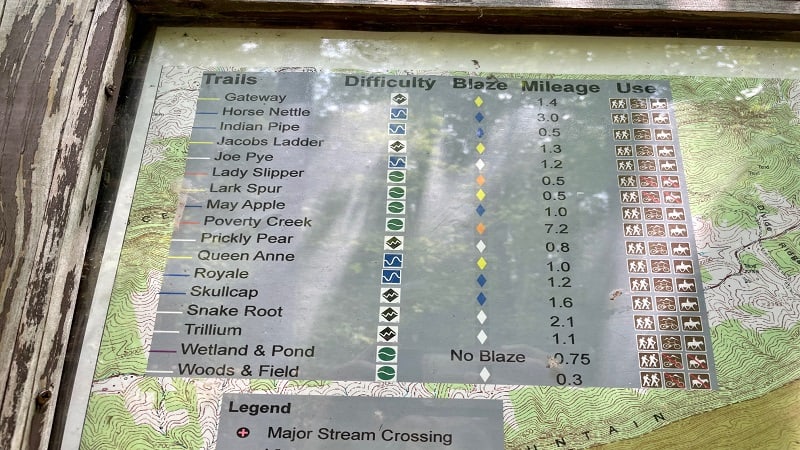 There are two trails marked as "easiest," five trails marked as "more difficult" and six trails marked as "most difficult."
Note that while these trails can be used for mountain biking, they are also allowed for horseback riding and hiking.
For new and novice bikers, the 7.2-mile Poverty Creek Trail is an excellent choice. This easy trail is wide and long. It also connects with many other trails.
You'll encounter the least elevation change if you turn around after 4.0 miles for a pleasant 8.0 mile round-trip bike ride.
Note that the trailhead is across Forest Service Road 808 from the upper parking lot. There's a large sign, so it's easy to spot the start of the trail.
Wrap-Up Notes
The Pandapas Pond Day Use Area in the New River Valley is a true gem. As a bonus, it's a very short drive from downtown Blacksburg and Virginia Tech.
It's a wonderful destination to enjoy miles of trails in Southwest Virginia, as well as picnicking opportunities at picnic tables around Pandapas Pond.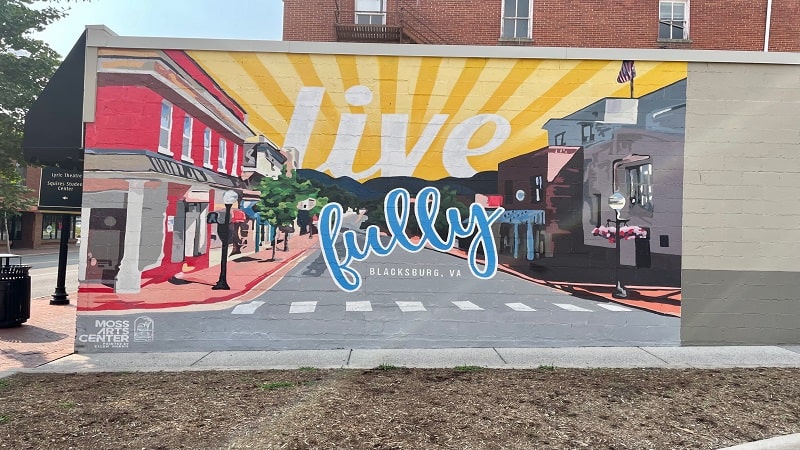 The Town of Blacksburg is an easy 10-minute drive, too. In town, you'll find food faves, like Cabo Fish Taco for lemon grilled shrimp tacos.
Another favorite – certainly a personal favorite – is Benny's, which is known for absolutely massive slices of pizza (just $5 for a super-size slice of cheese pizza).
Disclosure: This post was sponsored by Blacksburg-Christiansburg-Montgomery County Regional Tourism. However, all views and opinions expressed here are my own.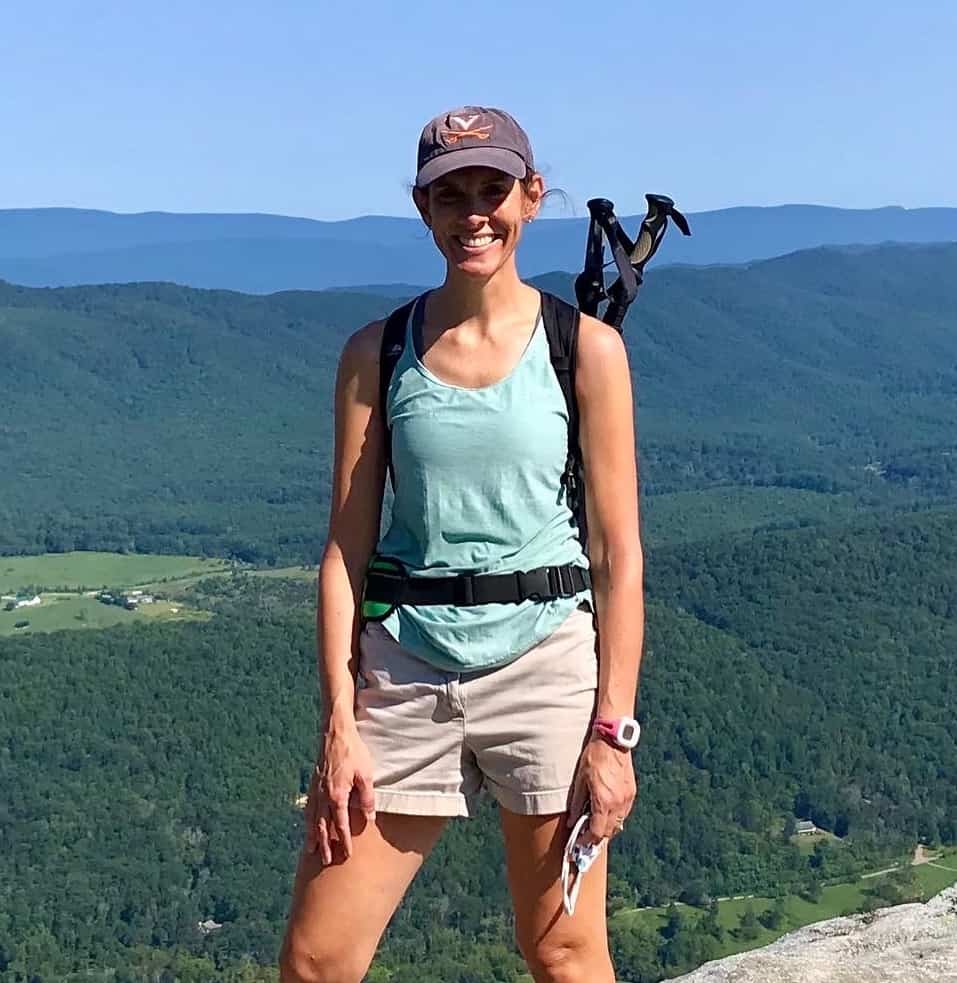 Erin Gifford is the editor of Go Hike Virginia. She has completed more than 300 hikes in Virginia. She is also the author of three hiking guidebooks from Falcon Guides. Need help finding a hike? Check out the Trail Finder feature or send Erin a message.