Claytor Lake State Park: An Easy Lake Loop Hike in Pulaski County, Virginia
Claytor Lake State Park in Pulaski County, Virginia has nearly eight miles of trails that wind across the park and alongside three miles of Claytor Lake.
The multi-use park trails can be used by both hikers and bikers. All are marked as easy, except the Hidden Valley Trail, which is considered moderate.
I recently hiked at the park since I was eager to visit for the first time and purchase an iron-on patch. I almost got in a hike before a rain, too.
A good 2.6-mile loop hike cobbles together a couple of trails, including the Claytor Lake and Lakeview Trails, as well as a short stretch of park road.
| Trail Stats | |
| --- | --- |
| Length | 2.6 miles |
| Difficulty | Easy |
| Trail Type | Loop |
| Elevation Gain | 253 feet |
| Duration | 60-75 minutes |
| Terrain | Mostly dirt & sand trails |
| Dog-Friendly | Yes |
| Fee | $7 per vehicle |
| Driving Directions | Click Here |
Claytor Lake Trail
You can pick up the blue-blazed Claytor Lake Trail adjacent to the small gravel lot on the left as you turn in for Campground C.
A trail kiosk as well as a blue trail marker herald the start of the Claytor Lake Trail. Within the first 0.2 miles, you'll see a trail sign, but stay to the right.
The forested trail has some modest elevation changes, but nothing especially challenging. Then, another trail sign at the 0.6-mile mark. Again, stay right.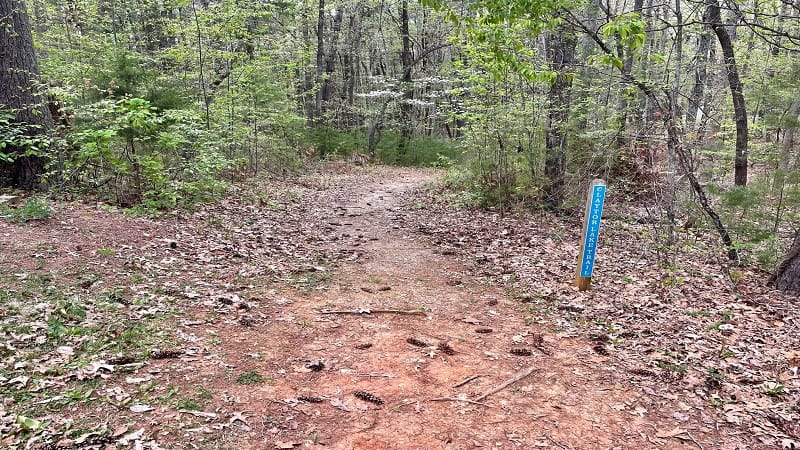 Just keep following the markers toward the Claytor Lake Overlook, which you will reach at the 0.9-mile mark. At the overlook, there's a small wooden bench.
Sit and stay awhile to revel in the refreshing views across Claytor Lake. It's very relaxing. Unfortunately, it was gray on my visit, so not especially scenic.

Lakeview Trail
The Claytor Lake Trail ends at the 1.7-mile mark. At this point, you will turn left onto the yellow-blazed Lakeview Trail. This paved trail is fully accessible.
The trail parallels Ben H. Bolen Drive as the path meanders north alongside the forest. You can enjoy peeks of the water every now and again.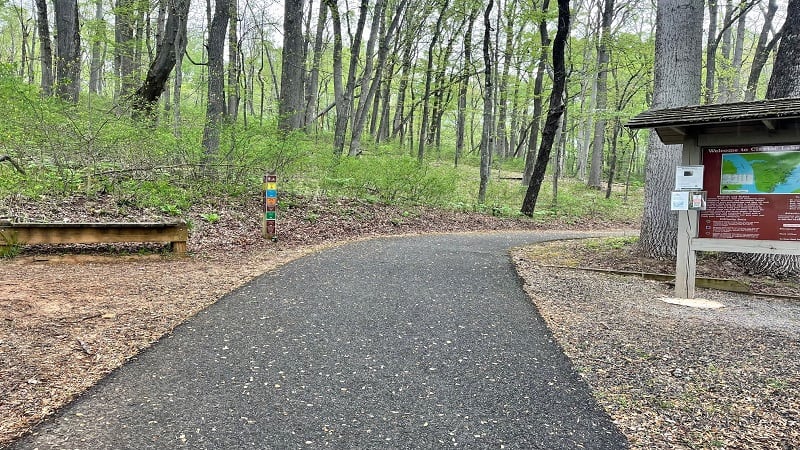 At the 2.1-mile mark, the Lakeview Trail crosses over Ben H. Bolen Drive and picks up on the opposite side of this park road. Continue moving north.
For a loop hike, you'll need to step off the trail and turn left to ascend State Park Road. It's 0.2 miles to the lot at Campground C. There is no sidewalk.
As an alternative, you can turn left onto the orange-blazed Poplar Leaf Trail. This trail will dead-end onto a small campground road after 0.4 miles.
When it does, turn left, then right, then right again. In 0.2 miles, you'll see the lot at Campground C come into view on the right-hand side of the road.
Wrap-Up Notes
From the parking area, this lake hike in Virginia took me nearly 60 minutes, including time spent enjoying the lake views from the Claytor Lake Overlook.
As I noted above, there aren't a lot of hiking miles at Claytor Lake State Park, but there are enough for a quick break from the lake beach or water sports.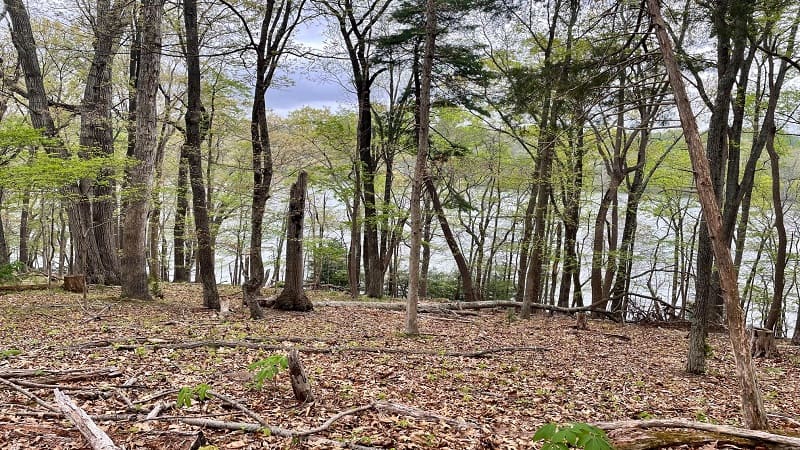 This park has a lot to offer, including playgrounds, boat rentals, bike rentals, a fishing pier, camping, cabins and an unguarded swimming beach.
You'll also want to check out historic Howe House, which features hands-on exhibits describing the ecology of Claytor Lake in Dublin, Virginia.