A Leisurely Hike Across Tidal Marshes at Windsor Castle Park in Smithfield
There's just something about a town park called Windsor Castle Park. So regal. The name alone begs a visit to this idyllic 208-acre riverside park in Smithfield, Virginia.
I had never visited (or even heard of) Smithfield until a month or two ago. I quickly learned that this is, in fact, the same Smithfield of Smithfield Foods.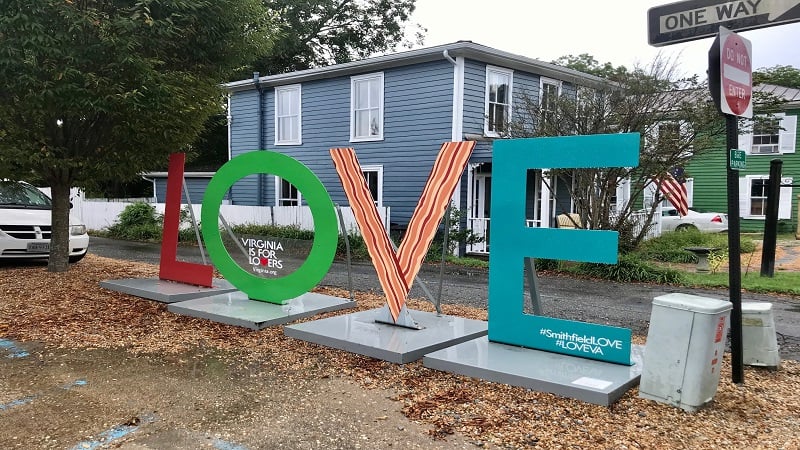 As in, the world's largest pork producer. I literally buy Smithfield Bacon nearly every week. I had no idea. Not a clue. In the dark.
Situated mid-way between Williamsburg and Virginia Beach (one hour by car to either city), Smithfield is a charming village set on the banks of the historic James River.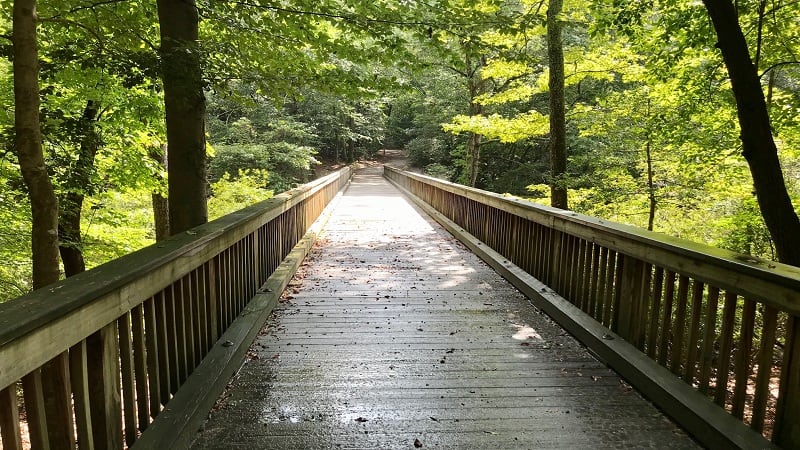 It's also home to Windsor Castle Park, an exquisite park with miles of family-friendly hiking trails that make this small town worth the drive.
The Windsor Castle Park Trail encircles this delightful green space, forming two connected loops (or a figure eight). There is also a dedicated mountain bike trail.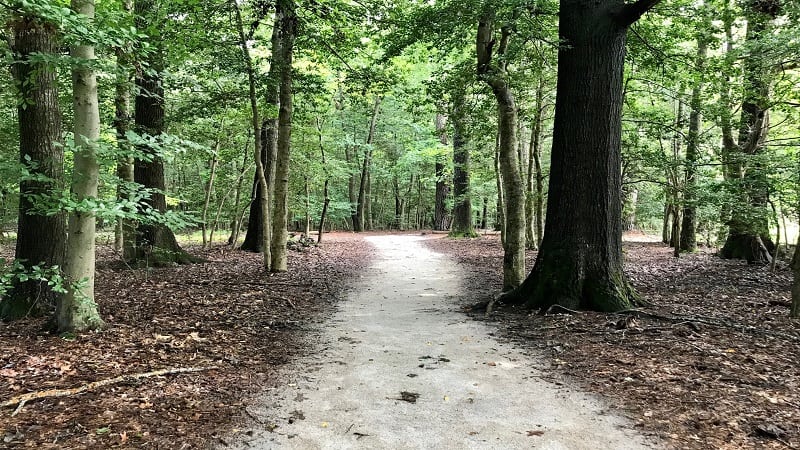 I hiked 2.7 miles on this easy trail, but it's a snap to get in more or fewer steps along this scenic path that features tidal marshes, wooden bridges and vernal pools.
| Trail Stats | |
| --- | --- |
| Length | 2.7 miles |
| Difficulty | Easy |
| Trail Type | Lollipop |
| Elevation Gain | 125 feet |
| Duration | 1.5-2 hours |
| Terrain | Mostly dirt & crushed gravel trails |
| Dog-Friendly | Yes |
| Fee | Free |
| Driving Directions | Click Here |
Arriving at the Trailhead
You can pick up this trail in different locations. If you have a car, start inside the park or at the back of a dedicated parking lot across the street from Smithfield Station.
There is quite a bit of parking at either location. I began across from Smithfield Station, a quaint waterfront inn with specialty shops, fine dining and a marina.
The First Steps
From the Smithfield Station parking area, this Coastal Virginia hike begins by crossing the Station Bridge over a tidal saltwater marsh (which later switches to freshwater marsh).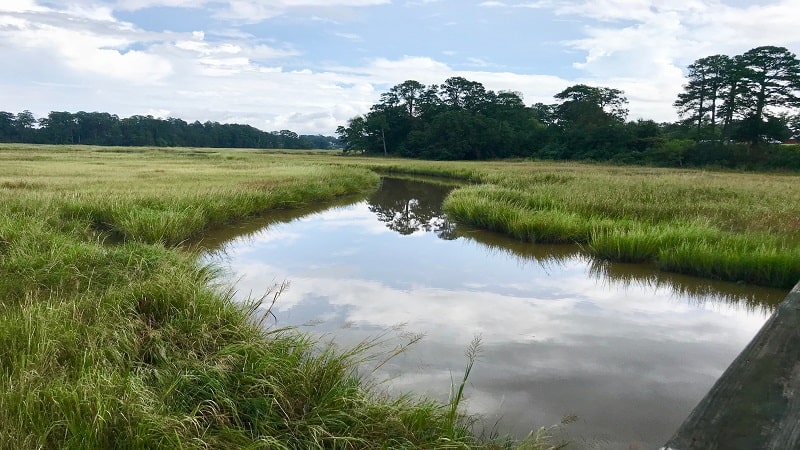 At the .1-mile mark, turn right onto a trail made of sand and crushed gravel. At the .2-mile mark, cross a second pedestrian bridge, Jericho Bridge, over the marsh.
In a few more steps, cross over Jericho Road. The marsh is now on your right. Keep your eyes open for teeny-tiny fiddler crabs scurrying about on the flat, sandy trail.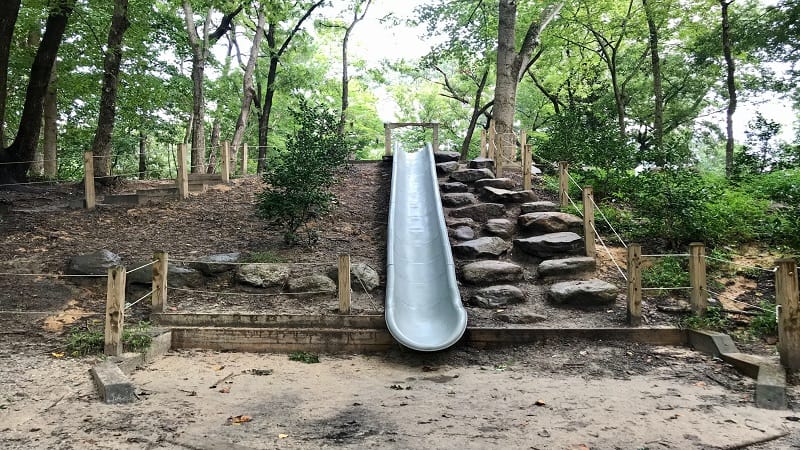 At the .4-mile mark, turn right onto the second park loop. Then, a set of stairs and a slide appear on the left. This was an unexpected surprise along the hiking trail.
You'll see the first of several benches overlooking the coastal marsh at the .75-mile mark. These benches are ideal for taking a quick break or re-hydrating on the trail.
In a few more steps, you'll see a boardwalk trail lead off on the right. This leads to the Mason Street park entrance. Do not turn right, but continue straight on the path.
At the 1.4-mile mark, you'll see curious vernal pools. It's as if trees are growing out of the watery basins. These are best seen in months with more precipitation.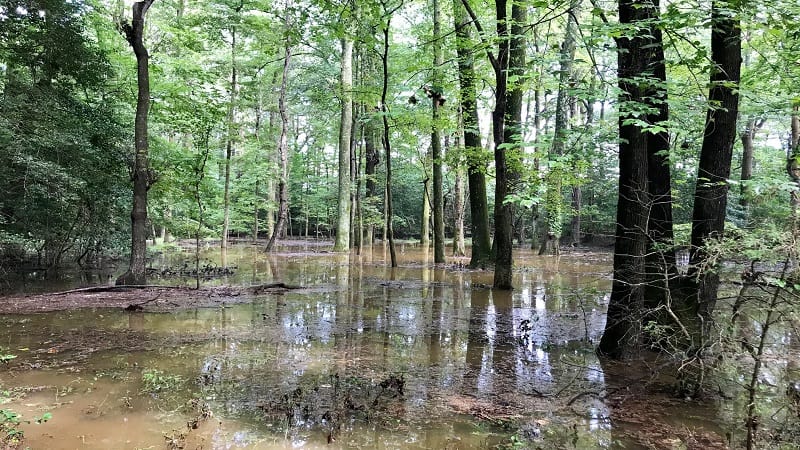 Vernal pools are fantastic ecosystems for reptiles. These unique seasonal wetland habitats are just right for salamanders, frogs, newts and box turtles.
At the 1.5-mile mark, you will have a decision to make (at the #12 sign). You can turn left for a shaded trail or continue straight for full sun around the edge of the park.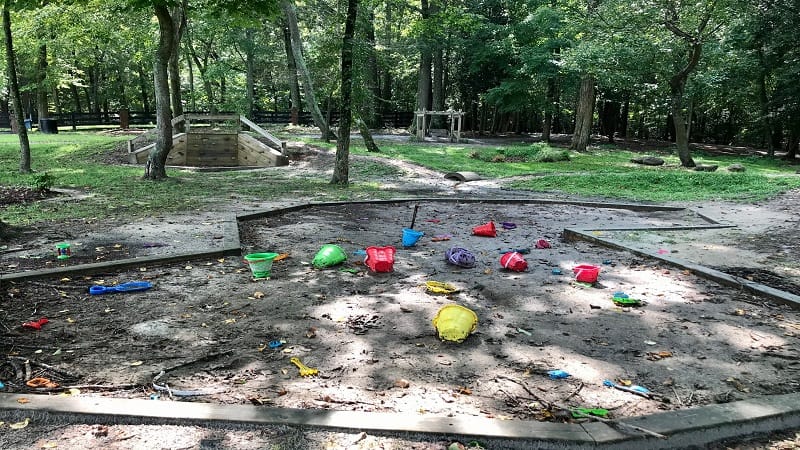 Both paths meet up in the main park area near the 2-mile mark. Here you'll see a colorful playscape with a sandbox, sand toys, a small slide and swinging benches.
There are porta-pottys, as well as a water bowl and a water pump for doggos. Here also is a dog park and the main parking area for Windsor Castle Park in Isle of Wight County.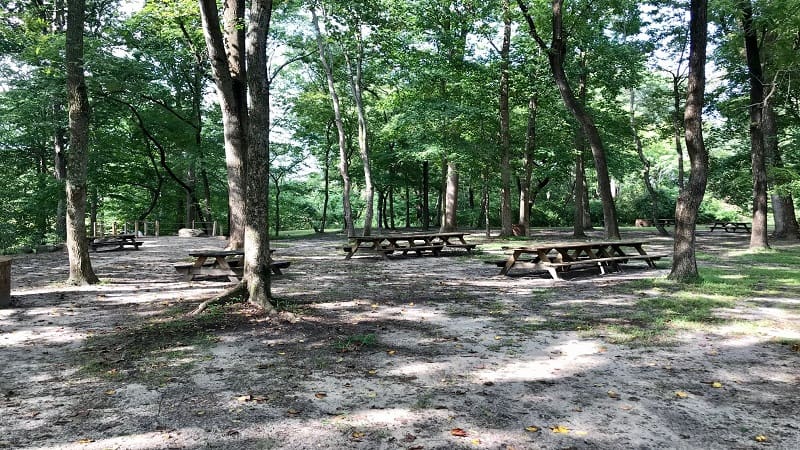 As you continue on the wooded path, you will see a picnic area on the left. Interestingly, this is the upper level where we saw the trail slide (on the lower level).
Near the 2.3-mile mark, turn right to re-trace your steps to the parking lot. Be sure to turn left to cross back over Station Bridge.
Hike Options
If you take a look at the park map for Windsor Castle Park, you'll notice that there are various routes to take to make this hike longer or shorter as you please.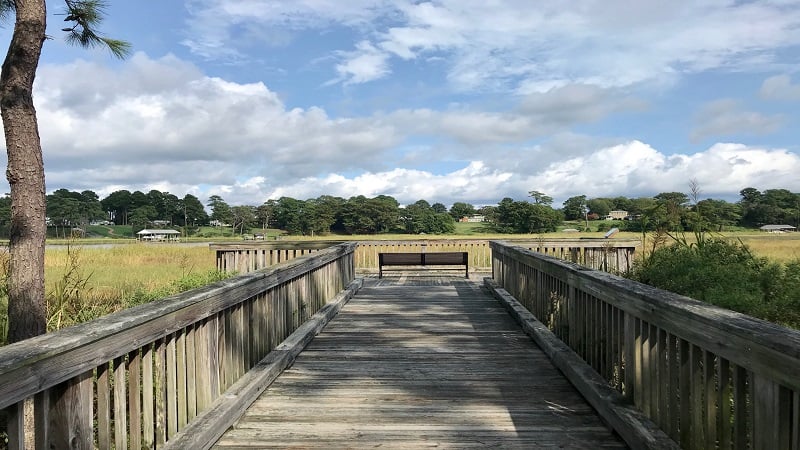 If time allows, turn left when you cross over Station Bridge from the parking area. You'll see a Manor House that dates back to 1725 on the right, as well as its 11 custom outbuildings.
Continue along to reach a fishing pier, a kayak launch and a scenic overlook that juts out over the wetlands. It's a .8-mile walk from the parking area to the overlook.
Wrap-Up Notes
Post-hike, walk across South Church Street to Smithfield Station. The small waterfront marina is especially delightful for a breezy stroll.
Keep your eyes open for life-size piggies around downtown Smithfield in the Porcine Parade. There are up to eight statues, including "Swine and Roses" (above).
Sit at an old-fashioned counter for a scoop of ice cream at Smithfield Ice Cream Parlor. Walk a block or two further along Main Street to snap a photo with the LOVEwork sculpture.
Eager for more scenic hiking trails? Check out my favorite hikes near Williamsburg, Virginia.