Taskinas Creek Trail: An Easy Wetlands Hike at York River State Park
In summer, my kids and I hiked to Fossil Beach at York River State Park in Williamsburg. It's a nice hike for fossil hunters and fiddler crab watchers.
I recently made a return trip to York River State Park, this time to hike the Taskinas Creek Trail for sweeping views across this small tributary of the York River.
This easy hike in Williamsburg includes forested views, wooden bridges, boardwalk sections and overlooks for views of the Taskinas Creek watershed.
The wetlands were still fairly brown at the end of March, but in a few more weeks, I'm certain the entire state park will green up quite nicely. I will definitely be back.
| Trail Stats | |
| --- | --- |
| Length | 2.9 miles |
| Difficulty | Easy |
| Trail Type | Lollipop |
| Elevation Gain | 243 feet |
| Duration | 1.5-2 hours |
| Terrain | Mostly dirt & sand trails, some boardwalk |
| Dog-Friendly | Yes |
| Fee | $5 per vehicle |
| Driving Directions | Click Here |
York River State Park
You'll find a very large central parking lot at York River State Park. There are plenty of parking spaces. Even on weekends, parking should not be a problem.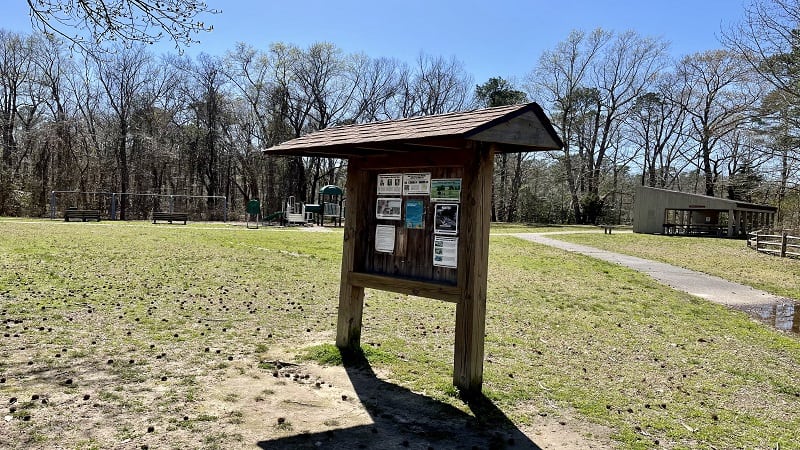 As you drive in, park on the left side of the parking area, near a picnic shelter and a nice-size playground. You'll also see a large trail kiosk.
A paved trail runs south until you reach a sign for the Taskinas Creek Trail. The surrounding coastal forests and freshwater swamps are critical habitats.
Taskinas Creek Trail
The red-blazed trail begins as paved surface, but quickly guides past an equestrian parking area and descends into the forest along a mostly dirt and sand trail.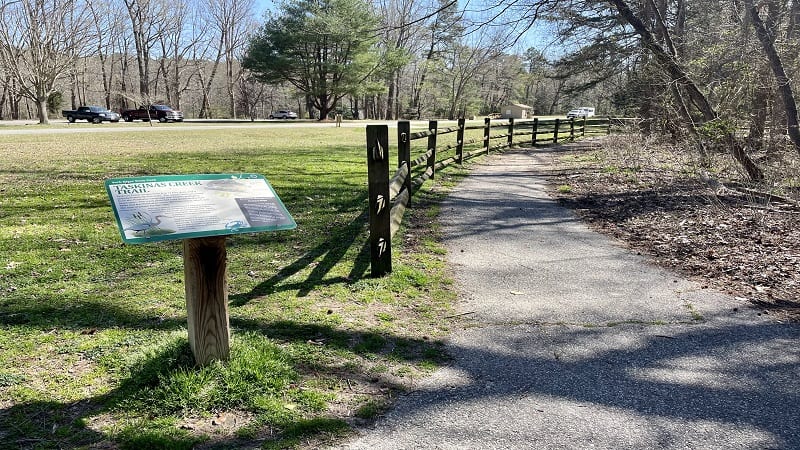 At the .3-mile mark, you will climb, then reach a trail sign. Here, the Taskinas Creek Trail becomes a loop. We turned left for a more direct route to the main overlook.
As you proceed, you'll arrive at a spur trail to the main overlook for Taskinas Creek at the .8-mile mark. From here, it's a .3-mile walk downhill to the overlook.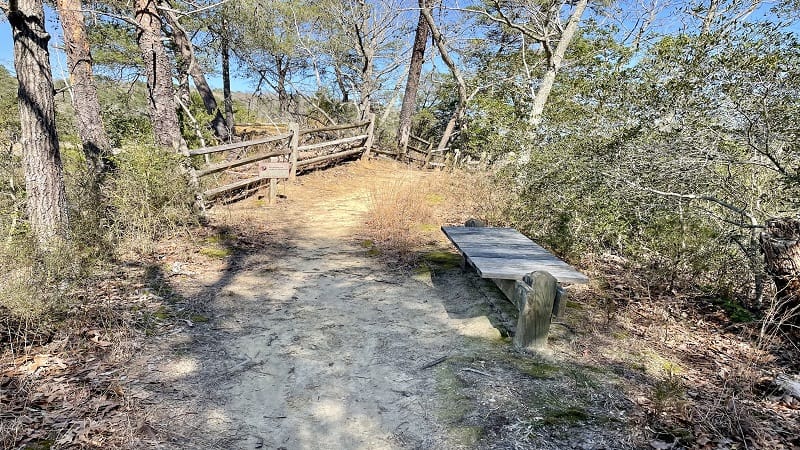 You'll find a nice bench there too, so it's the perfect place to stop to re-hydrate and take in the views, especially since it's an uphill walk to return to the main loop.
Once you return to the main trail, turn left for the loop. From here, you'll cross over several bridges and boardwalk sections, as well as ascend steps.
You will also reach three more wooden overlooks for bonus views across Taskinas Creek. One or two even have benches for relaxing and wildlife-watching.
At the 2.7-mile mark, the loop closes. Turn left here for the final steps back to the trailhead and parking area. Your hike is complete at the 2.9-mile mark. Celebrate.
Wrap-Up Notes
From the parking area, this hike took me 80 minutes, including time spent taking in the views from each of the scenic overlooks.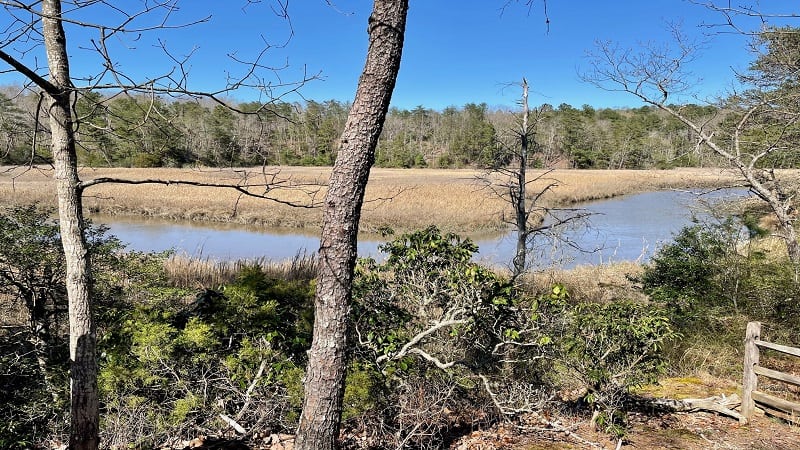 If you have time, stop in the visitor center to check into ranger programs or spend time at the two large playgrounds. There is one on each side of the parking area.
Eager to complete a second hike? The easy 2.3-mile hike to Fossil Beach by way of the Woodstock Pond Trail and Mattaponi Trail is a real winner. Enjoy.