10 Best Hikes Near Wintergreen Resort in Virginia
The ski lifts and snow tubing lanes are open at Wintergreen Resort. But, what if you don't ski? No worries. There are amazing hikes near Wintergreen, too.
From easy nature walks to more strenuous day hikes, there are plenty of hikes to tackle within a 30-minute drive of Wintergreen Resort in Central Virginia.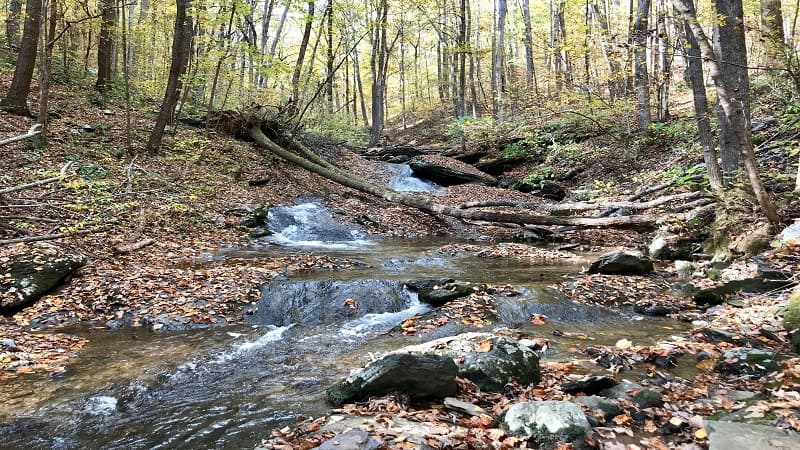 You can even hike on-property thanks to The Nature Foundation at Wintergreen, which maintains more than 30 miles of marked hiking trails.
Many of Wintergreen's hiking trails are located within Shamokin Springs Nature Preserve, a protected 13-acre section of hardwood forest.
To make it easy, I've organized hikes by those that are on-property and those that are a short drive from Wintergreen Resort.
Wintergreen Hiking Trails (On-Property)
The Nature Foundation at Wintergreen has created a trail system with hiking trails for all levels, from easy hikes for families to more difficult forest treks.
All hikes can be completed year-round, even during ski season when the slopes and tubing lanes are open.
You may see signage indicating otherwise, but these Wintergreen trails are open to the public, not just guests, thanks to The Nature Foundation at Wintergreen.
Pick up a Wintergreen hiking trail map at Trillium House on Wintergreen Drive. You can also print out a paper copy of the Wintergreen Resort hiking trail map.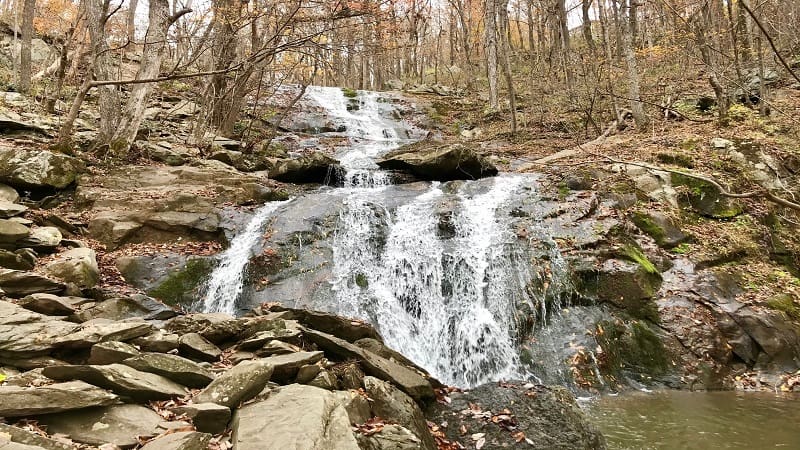 A moderate 2.9-mile out-and-back hike to cascading Upper Shamokin Falls begins from a trailhead on Laurel Springs Drive near Ravens Roost Lane.
There are plenty of rocks to scramble at the base of the falls and on either side of Stoney Creek as it tumbles along to Lower Shamokin Falls.
This hike begins on the Old Appalachian Trail, but a shorter .8-mile hike to the falls also originates on Laurel Springs Drive, just past Weeping Rock Lane.
The Nature Preserve Loop is an easy .3-mile loop at Wintergreen Resort. This is a great hiking trails for families and those who just want to get in nature.
Along this hike you'll walk alongside a stream and plenty of native plants. Many trees, like the White Oak, are marked to make the hike educational, too.
This nature trail engages with wooden planks at water crossings and plenty of forested scenery, which is even more beautiful covered in snow.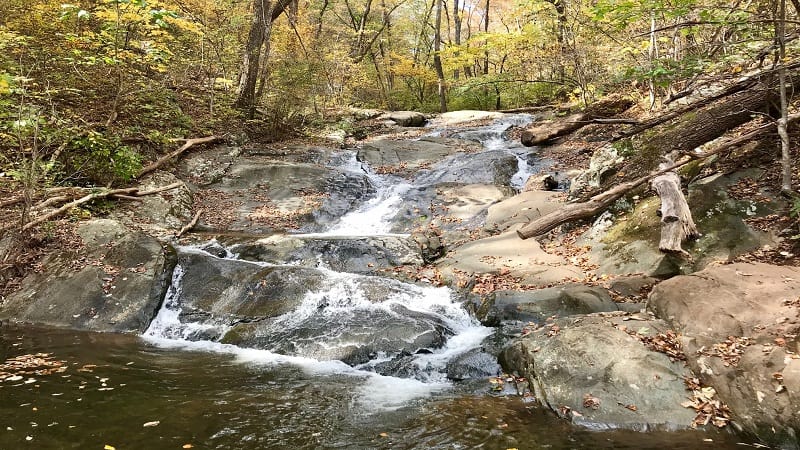 The Paul's Creek Trail is on the far end of Wintergreen Resort. It's peaceful and you may feel like you're the only one who knows about this 1.2-mile hike.
It's a delightful walk through the trees before you need to hopscotch across rocks over a burbling creek. Then, a cascading waterfall. Ah, serenity.
This hike begins at the end of Paul's Creek Court. Take time to savor the natural water slides as they stream into the cold basin of creek water.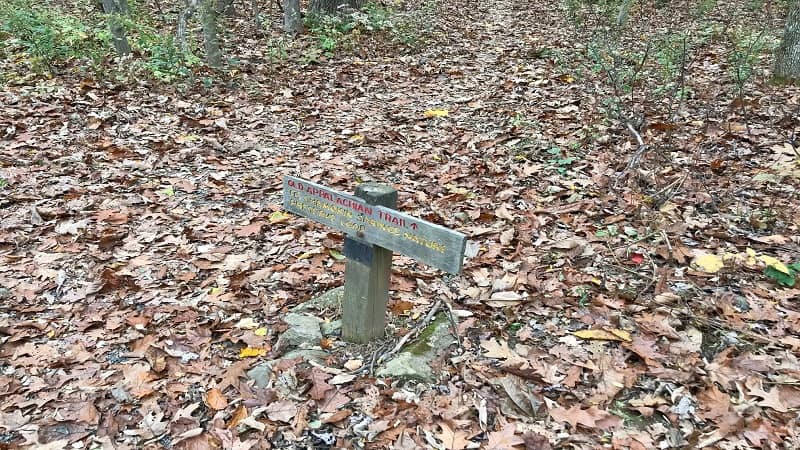 There are several spots at Wintergreen Resort where you can pick up the Old Appalachian Trail, including the end of Hemlock Drive.
From here, the Old Appalachian Trail will cross over Laurel Springs Drive twice before terminating at the Appalachian Trail near the Blue Ridge Parkway.
This forested out-and-back hike is close to 5.0-miles. On the way, you can also make a side trip to tumbling Upper Shamokin Falls.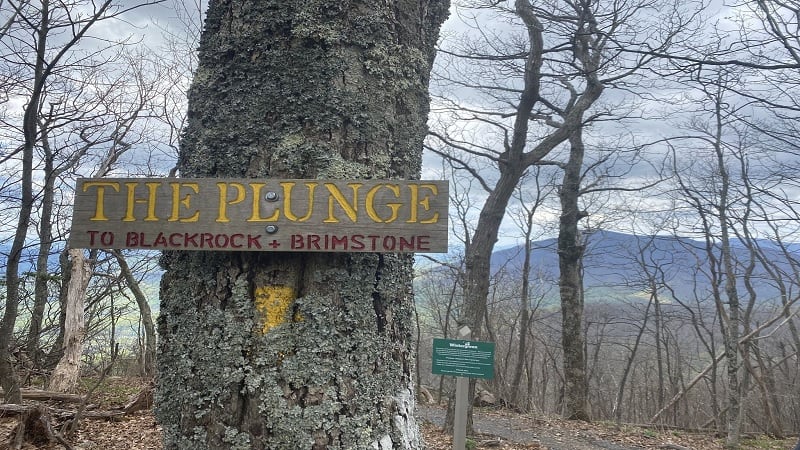 The Plunge is a short but challenging yellow-blazed trail hike to wildly scenic mountain vistas. Rock formations here were formed millions of years ago.
On a clear day, it's said that you can see as far as Lynchburg, which is 45 miles southwest of the overlook on this hike at Wintergreen Resort.
Note that this .2-mile hiking trail should not be mistaken for the snow tubing park at Wintergreen Resort, which bears the same name.
Hikes Near Wintergreen (Off-Property)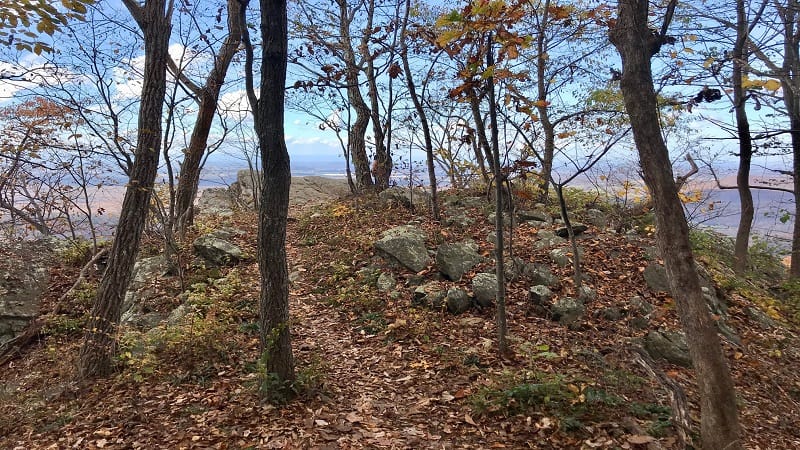 For those eager to get off-property, maybe to take a day off from skiing or snow tubing, there are trails a short drive from Wintergreen Resort, too.
In winter, toss a pair of microspikes for hiking into your daypack. They will help keep you from slipping on any uphills or downhills.
All of these Blue Ridge Parkway hikes near Wintergreen are a short 15 to 30 minute drive from this four-season resort destination.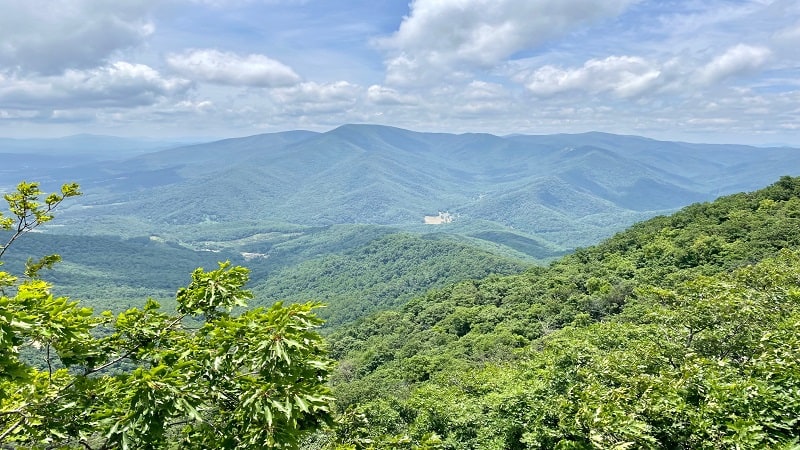 The 15.0-mile loop hike across Three Ridges Wilderness is both extraordinary, and at times, extraordinarily challenging.
If you're not exactly in the mood for a 15-mile hike, there are several scenic options. From the trailhead at Reeds Gap, it's just .8-miles to an overlook.
Alternatively, the best viewpoint of this hike is at the 3.8-mile mark. Enjoy a picnic lunch, then re-trace your steps for a 7.6-mile out-and-back hike.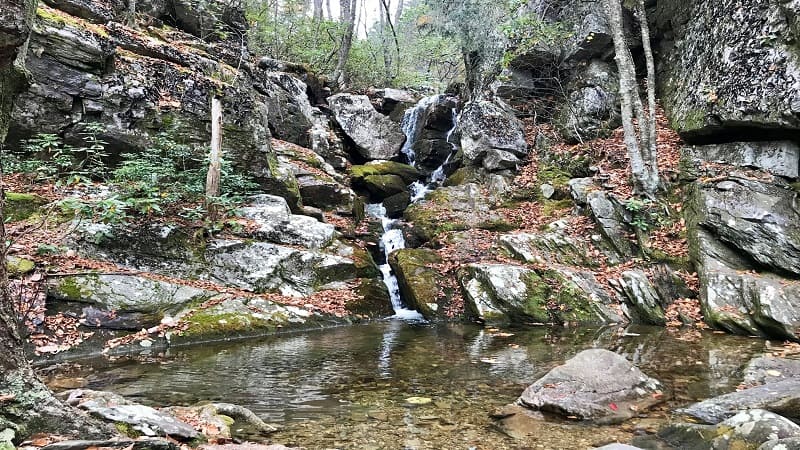 There's much to love about this 4.4-mile loop hike to and beyond White Rock Falls, including rock scrambles, a waterfall and scenic overlooks.
Get up close to the 30-foot-tall tumbling falls, then take your boots off to revel in the gloriously refreshing waterfall basin. Ah, delightful.
Less than .5-miles past the falls, a rocky overlook wows with panoramic views. At the 2.7-mile mark, the Slacks Overlook awaits with far-reaching vistas.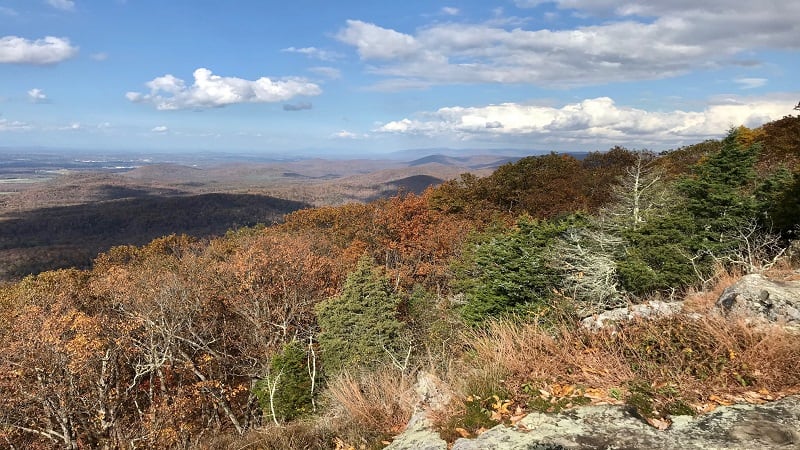 The Dripping Rock South hike originates across the Blue Ridge Parkway from the Dripping Rock parking area (more a pull-out than a parking lot).
The 2.8-mile out-and-back hike guides hikers along a wooded southbound section of the Appalachian Trail. Plan to be wowed by two scenic overlooks.
The Cedar Cliffs overlook appears at the .5-mile mark. A second overlook arrives at the 1.4-mile mark and serves as the turn-around point for this hike.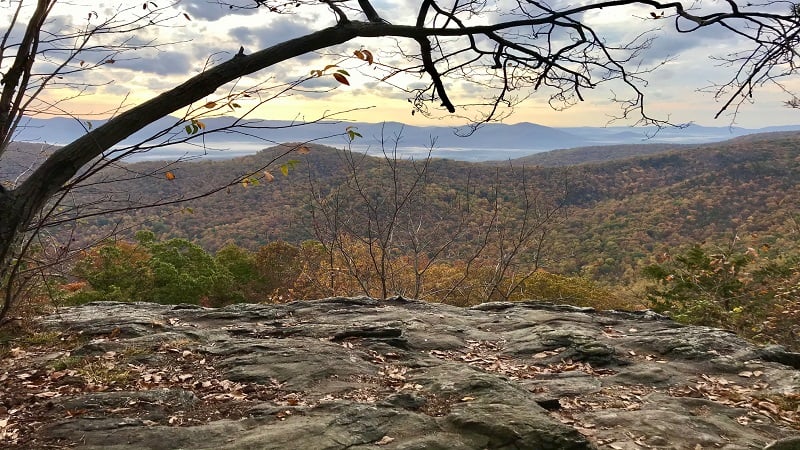 The 3.8-mile hike on the Jack Albright Loop (also known as Dobie Mountain) shares a parking lot with the Humpback Rocks hike. Plan to arrive early.
The Glass Hollow Overlook at the 1.0-mile mark (counter-clockwise route) inspires with panoramas across the Blue Ridge Mountains and Rockfish Valley.
Look out for the remains of a 1960s plane crash – a Beechcraft Bonanza. What's left of the wreckage is on an unmarked spur trail at the 2.5-mile mark.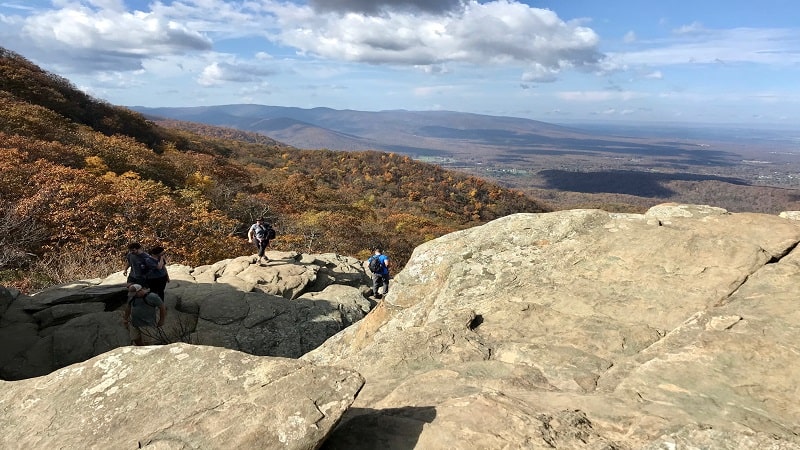 Whether you take on Humpback Rocks as a 4.3-mile loop or a 2.0-mile out-and-back hike, you're guaranteed to be stunned by 360-degree summit views.
The ascent is not for the faint of heart. Thankfully, a handful of benches and a wooden staircase ease the climb to the very top where vistas are plentiful.
On the way down, re-trace your steps or follow a leafy stretch of white-blazed Appalachian Trail on your return to the Humpback Gap Overlook parking area.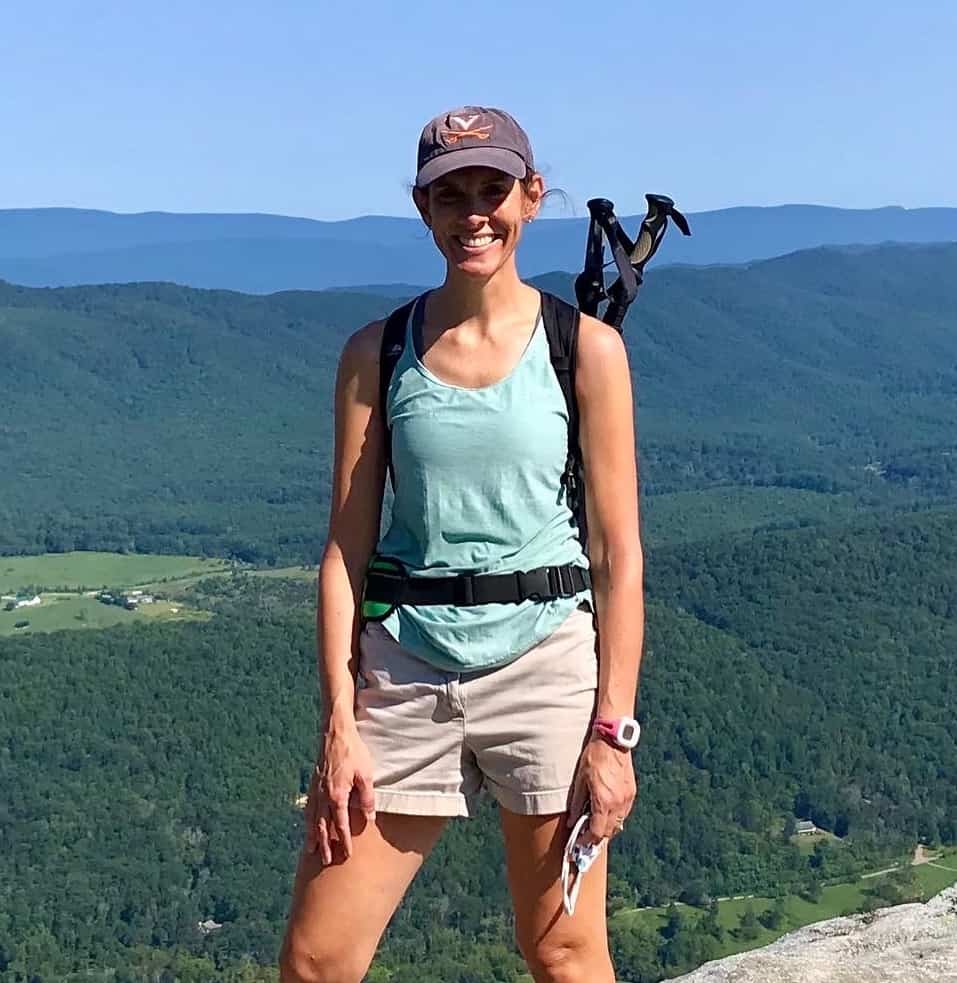 Erin Gifford is the editor of Go Hike Virginia. She has completed more than 300 hikes in Virginia. She is also the author of three hiking guidebooks from Falcon Guides. Need help finding a hike? Check out the Trail Finder feature or send Erin a message.