Virginia's Northern Neck: Hike-In Camping at Caledon State Park
I recently completed my first mostly solo backpacking trip at Caledon State Park in King George. I say "mostly" solo because my 16 y.o. son was with me.
This was, however, my first time backpacking without the safety net of a more experienced group. My first two outings (in January & March) were with MeetUp groups.
If I couldn't figure out how to work my portable stove or set up my son's new two-person backpacking tent, I was on my own. Well, mostly.
Thankfully, everything went to plan. Even better, we had the entire hike-in primitive campground at Caledon State Park to ourselves. Ah, serenity.
The Campground
The primitive campground is located on the northeast side of Caledon State Park. It's set on the Potomac River. There's even a small beach area and a picnic gazebo.
There is no family campground with amenities, like restrooms and showers. There is only a small primitive campground with two porta-potties and for-purchase firewood.
There are six wood-framed, sand-filled pads for tents only. They are large too – maybe 20′ x 20′ – with a picnic table, fire ring and lantern post. We had lots of space.
This is a hike-in or paddle-in campground, so you either need to hike in three miles or paddle in from outside the state park.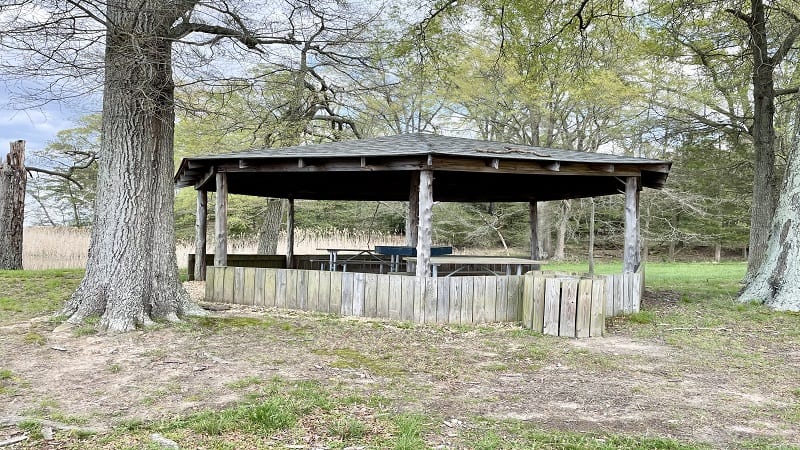 There is lots of room to walk around too. We were able to walk to the beach and set up our folding camping chairs in order to savor a delightful sunset.
We set up our hammocks, too. We arrived at the campground by 4 pm, so it was truly the perfect way to enjoy the afternoon.
It's a 2.8-mile hike from the parking area at Caledon State Park to the campground, mostly along the flat, gravel Hampstead Road Trail through old growth forest.
There is no electricity or potable water. There is also no wi-fi (obviously), but the AT&T cell signal is quite strong and reliable from the primitive campground.
To book a camp site, you need to make a reservation by phone by calling 800-933-7275. The tent pad fee is $15/night for state residents and $18/night for non-residents.
Settling In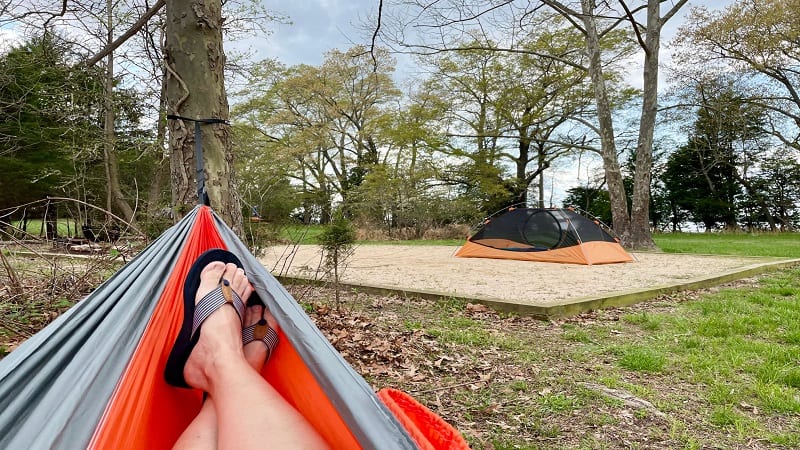 It took us about an hour to walk from the parking area to the campground. On arrival, we chose our tent pad and began to set up our space.
We chose tent pad #2, which in my opinion, is the best. It's steps from the porta-potties and for-purchase wood, and has delightful views of the Potomac River.
We set up our tent, tossed in our sleeping pads and down sleeping bags, organized our camping chairs, then set up our hammocks. We were ready to relax.
We still had a few hours left of daylight, but we wanted to get our work done first under the sun, then enjoy the rewards.
Evening Falls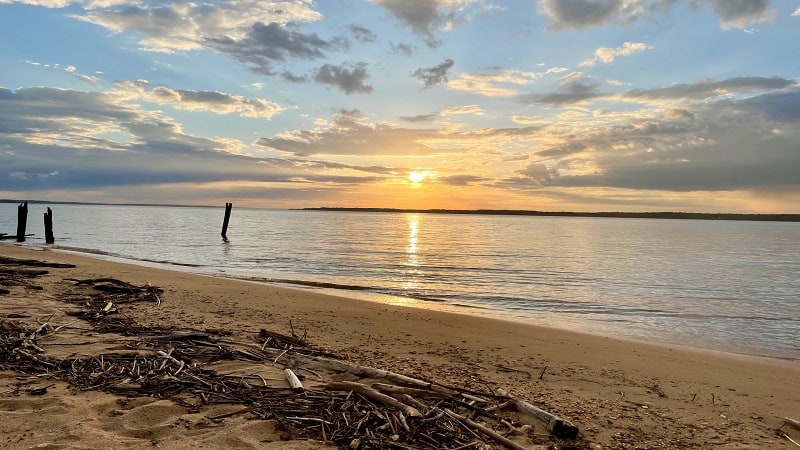 For the next couple of hours, we relaxed in our hammocks, enjoying the gentle breezes at the nearly deserted campground.
I say nearly deserted because every now and again some park visitors would roll in on their bikes or paddle up to the shore to explore and use the porta-potty.
No one that entered the campground stayed more than five minutes. On a Sunday, it was just us. The day before, the local Boy Scouts troop had the entire campground.
By 6 pm, we were cooking up our dehydrated meals (pasta primavera, for the win) and an hour later we staked out our spots on the driftwood-littered beach for sunset.
Post-sunset, my son set up a fire in the fire ring. Of course, a campfire is a must. As a side note, a bundle of wood is $4. Pay cash on-site (honor system).
Sleepy Time
During the day, the temperature had gotten into the upper-70's. By evening, it was only in the 60's, so it was quite comfortable weather for sleeping outside.
Even better, we were able to fall asleep to the sounds of the Potomac River gently lapping against the shore. Ah, perfection.
Before we hiked in to the campground, we hiked the Boyd's Hole Trail, a 3.3-mile loop, so we were tired and ready for a good night's sleep.
I still have not mastered the art of sleeping well on the ground in a sleeping bag, but maybe it will come with time. Even with an inflatable pillow, it was a struggle.
Headed Home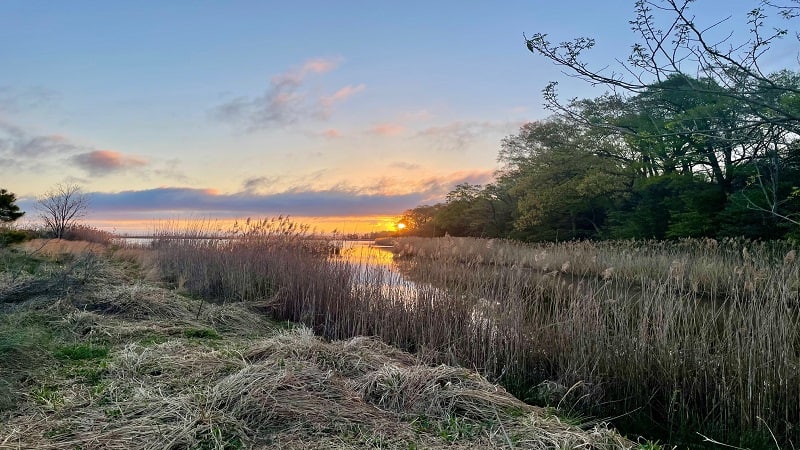 We were up early the next day, by 6:30 am. I was eager to see if we could savor a colorful sunrise. We could. Even better, we had company for sunrise.
We wandered over to the edge of Jones Pond, which is a few steps from the driftwood-covered beach. Here, there are lots of reeds at water's edge. And, a river otter.
I can honestly say I'd never seen a river otter in the wild before, so it was quite a treat. My son and I watched as the river otter enjoyed a casual morning swim.
We then spent a few minutes enjoying the vibrant sunrise before heading back to our tent to take it down and pack it up.
Packed up and ready to go, we re-traced our steps along the Hampstead Road Trail back to our car. I couldn't have asked for a better backpacking experience.
Wrap-Up Notes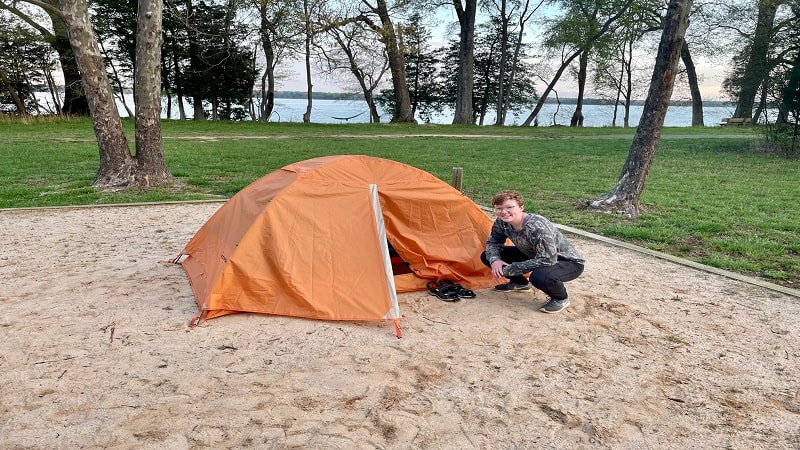 If you're considering your very first backpacking adventure, I highly recommend Caledon State Park on Virginia's Northern Neck. It's absolutely perfect for first-timers.
Another good pick is Belle Isle State Park in Lancaster. It's about 90 minutes from Caledon State Park in King George County.
I completed my very first backpacking trip at Belle Isle State Park with Virginia Backpacking, an outdoor-focused MeetUp group that organizes beginner-level trips.
The hike in to the campground at Belle Isle State Park is shorter, only about 1.5 miles. The campground is smaller too, but still fantastic for a first experience.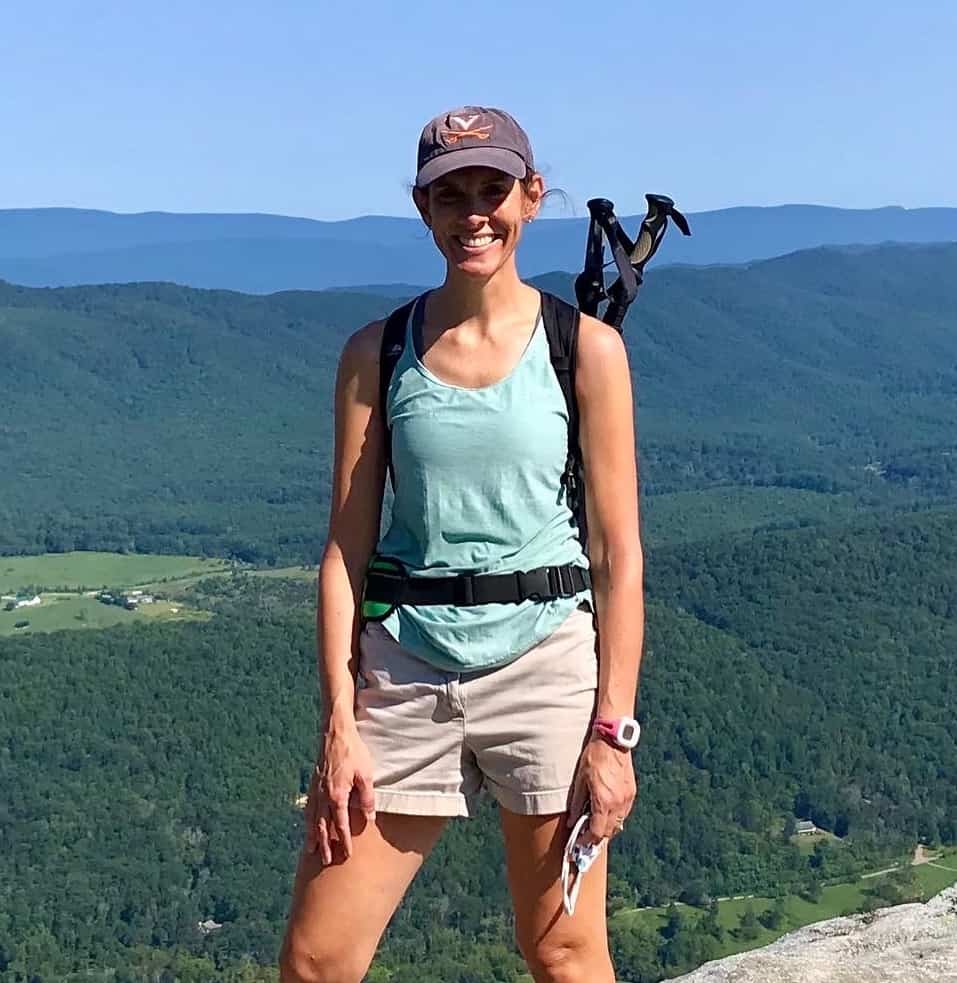 Erin Gifford is the editor of Go Hike Virginia. She has completed more than 300 hikes in Virginia. She is also the author of three hiking guidebooks from Falcon Guides. Need help finding a hike? Check out the Trail Finder feature or send Erin a message.