15 Incredibly Scenic 1-Mile Hikes in Virginia
Hikes don't have to be long or strenuous to wow with wildly scenic views. In fact, Virginia has more than a few spectacular hikes that clock in at only one-mile.
If I'm being completely honest, there are a few hikes here that are 1.2 or 1.3 miles in length. I wanted to provide a few more options on this list of must-do short hikes.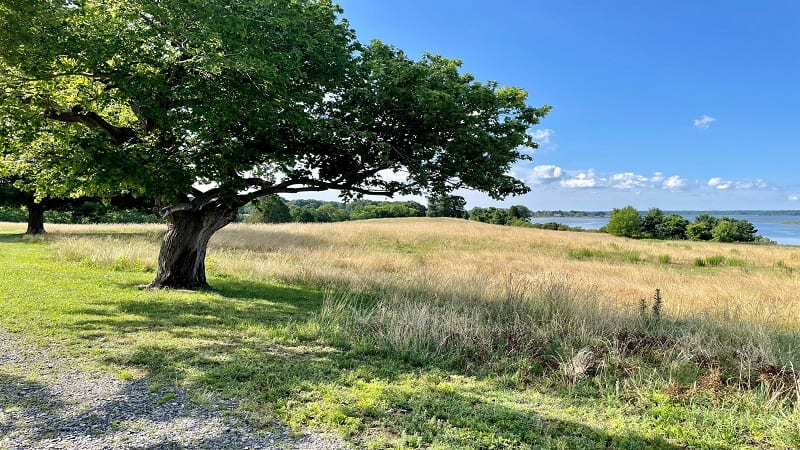 Still, I can assure you that every one of the hikes on this list is worthy of your day, especially if you don't have a lot of time and do want to fill up on scenic views.
Here are 15 of my favorite short hikes across Virginia, including hikes with sandy beaches, tumbling waterfalls, rock scrambles and far-reaching vistas. Have fun.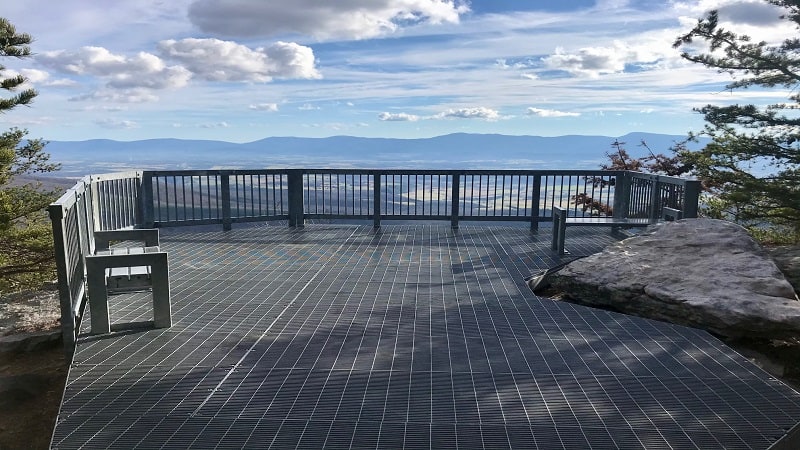 The paved Storybook Trail is an accessible, easy-going hike within the George Washington and Jefferson National Forests.
The out-and-back hike may be just .7-mile, but this trail delights with off-trail rock scrambles and breathtakingly beautiful views from the sizeable observation deck.
A whimsical curving wooden footbridge welcomes visitors to the trail, while a large overlook awaits at the end of the trail with far-reaching east-facing views.
The scenic 1.2-mile loop hike on the Fox Hollow Trail in Shenandoah National Park's North District begins directly across Skyline Drive from the Dickey Ridge Visitor Center.
You'll walk across land once owned by the Fox family before the park was established in 1935. The family cleared stones on either side of the trail to farm the land.
The Fox family cemetery is one of more than 100 across the park. Take a look at a few tombstones to consider what life was like in the park's hollows and ridges.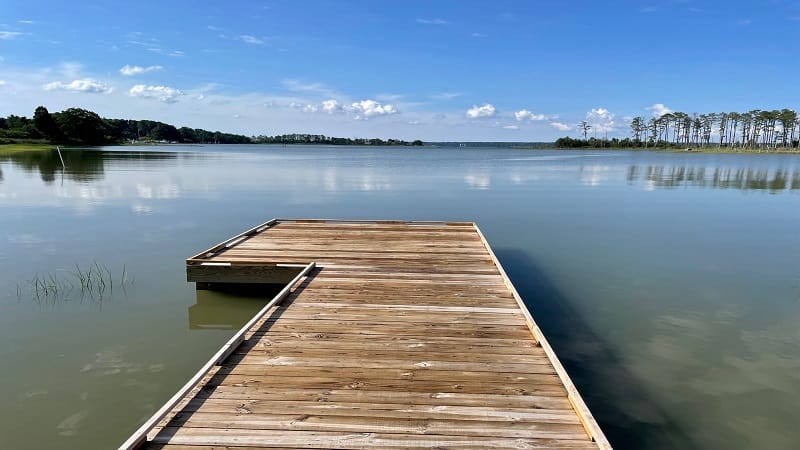 Our 40th state park, Machicomoco State Park, is set on Virginia's Middle Peninsula. The park is new, but already has a campground, three hiking trails and a boat launch.
Just 10 miles down the York River from Werowocomoco, a village that was once home to Chief Powhatan (father to Pocahontas), the park is rich in Native American history.
A celebration of this Native American heritage can be seen across Machicomoco State Park, most notably on the scenic .9-mile Interpretive Trail.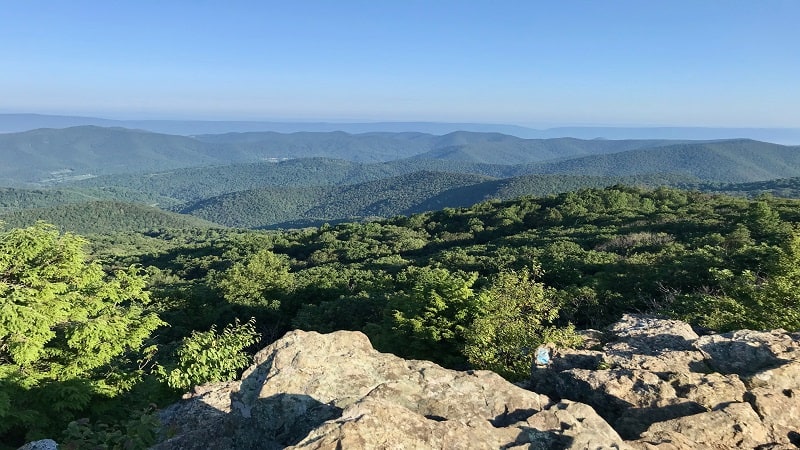 Reaching the summit of Bearfence Mountain (3,485 feet) by way of the Bearfence Loop Trail at Shenandoah National Park is a feat worthy of a spot on any hiker's bucket list.
On a clear day, the mountains seem to go on forever (and ever). The far-reaching 360-degree payoff views after a hike of less than .45-mile are beyond tremendous.
The short distance of this .9-mile rocky loop hike can be deceptive. Prepare to use your hands, feet and arms, even knees to reach the top. However, it's well worth the effort.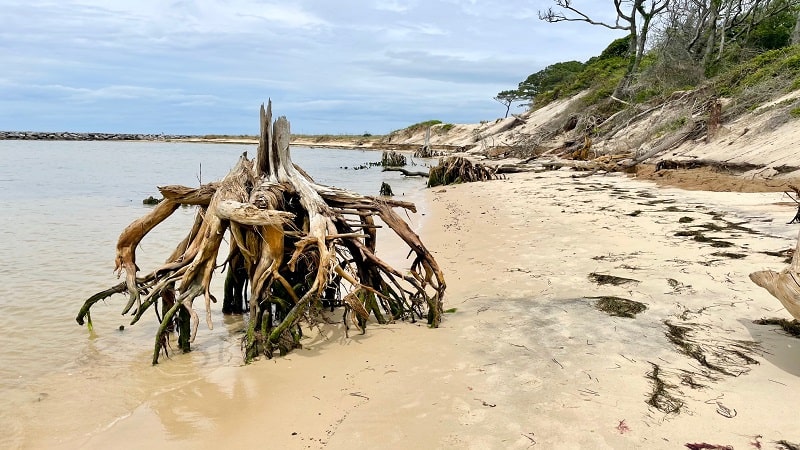 For a delightful coastal hike through a migratory songbird habitat, look to the Beach Trail at Savage Neck Dunes Natural Area Preserve in Cape Charles.
This 1.3-mile out-and-back hike on Virginia's Eastern Shore highlights three restoration zones: coastal grassland, coastal shrub and maritime forest.
The turn-around point is at a relaxing white sand beach on the Chesapeake Bay that is littered with weathered driftwood. Take time to enjoy calmly lapping waves.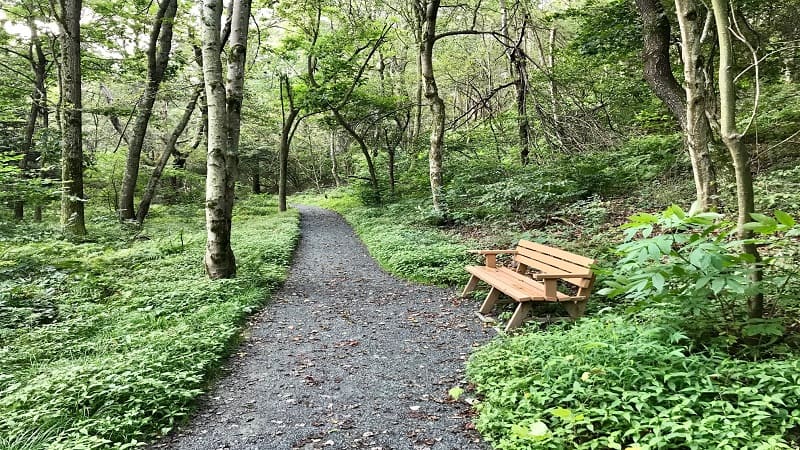 The fully-accessible Limberlost Trail is located within Shenandoah National Park at milepost 43. This 1.3-mile loop is one of the most popular easy hikes in the park.
This mostly flat, crushed greenstone walkway is stroller-friendly and wheelchair-accessible. With the exception of service animals, this trail does not allow pets.
More than 15 wooden benches dot the Limberlost Trail. You'll also cross over a couple of bridges and boardwalk sections. At the .8-mile mark, you'll see a columnar jointing.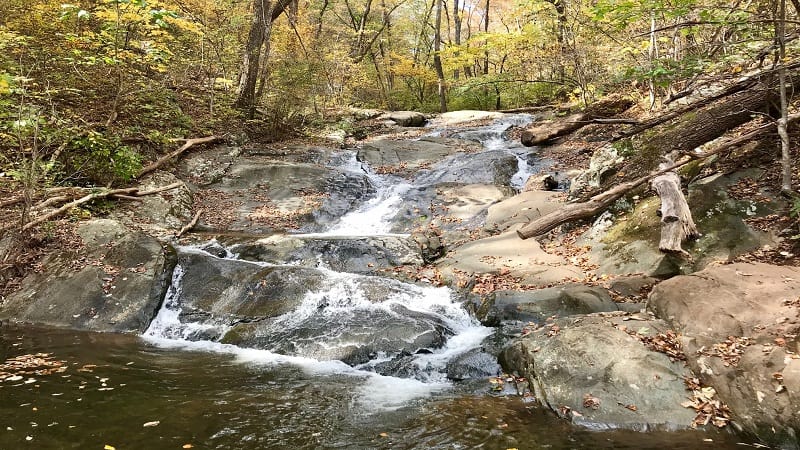 The Paul's Creek Trail is a stone's throw from Wintergreen Resort. It's quiet, peaceful and you may feel like you're the only one who knows about this 1.2-mile hike.
It's a delightful walk through the trees before you need to hopscotch across rocks over a burbling creek. Then, a refreshing waterfall. Ah, serenity.
As a side note, The Nature Foundation at Wintergreen maintains the hiking trails at Wintergreen Resort. The trails are open to the public, not just property owners and guests.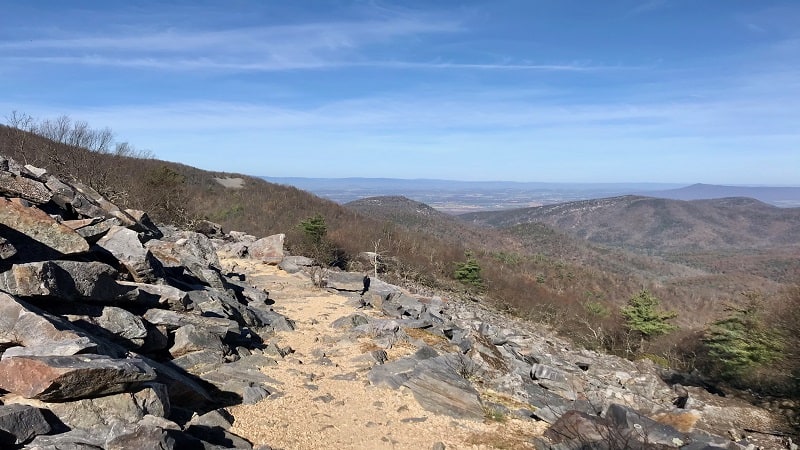 Blackrock Summit at Shenandoah National Park is an easy hike to love. It's also a plain easy hike, and one that wows with a massive field of – yes, black rocks.
This 1.0-mile loop hike follows along a southbound stretch of the iconic Appalachian Trail and the Blackrock Hut Road-Trayfoot Mountain Trail.
Get ready to be bowled over by seriously spectacular views across the Shenadoah Valley at the .6-mile mark. There's something special about a hike that rewards early on.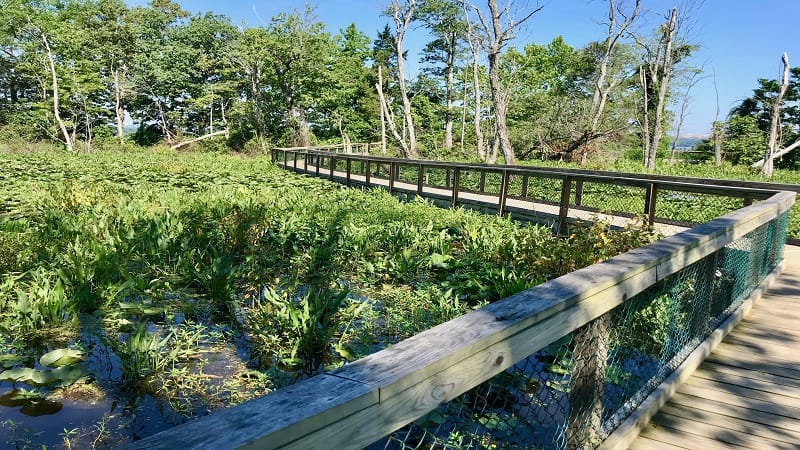 The flat, shady Bay View Trail at Mason Neck State Park may clock in at just 1.0-mile, but it's a nice loop hike that wows with dramatic views across Belmont Bay.
Take in the eclectic mix of wooded forest, sandy coastline and verdant wetlands. A wooden boardwalk guides visitors across a lily pad-strewn freshwater marsh.
Post-hike, enjoy lunch in the large picnic area, burn off energy on the playground or settle in under a shady tree on the small sandy beach at Belmont Bay.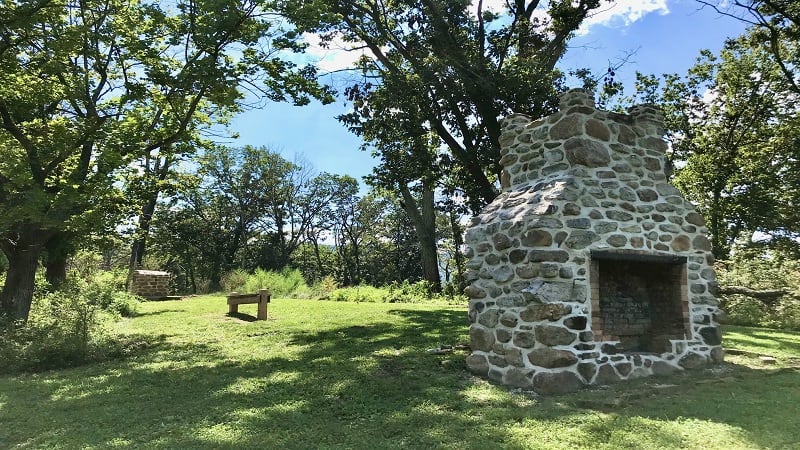 It's an easy 1.0-mile hike along the Eagles Edge Trail at Seven Bends State Park. Access this corn stalk-filled hike by way of the park's Lupton Road entrance.
Early on this hike, at the .1-mile mark, you will see the most gram-worthy suspension bridge over the Shenandoah River. Sadly, a gate restricts access and warns not to cross.
Snap photos of the gram-worthy suspension bridge over the Shenandoah River, the remains of a river stone fireplace, a working apiary and a LOVEworks sculpture.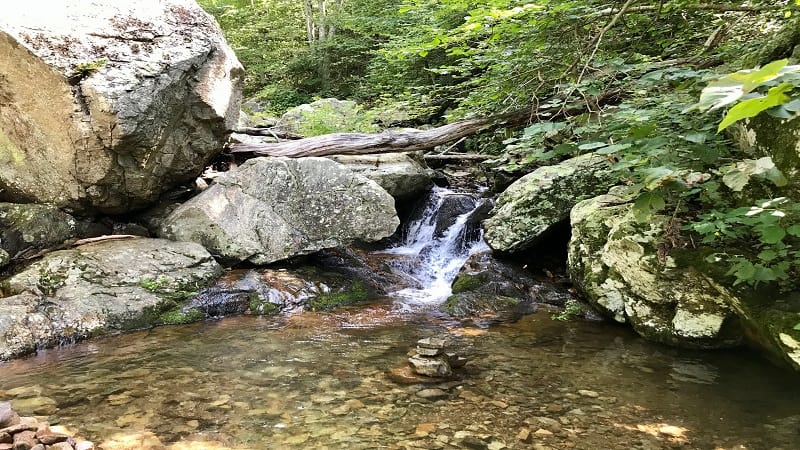 The 1.2-mile out-and-back hike to Fallingwater Cascades begins just across the Blue Ridge Parkway from the small parking area.
This easy hike along a forested trail to a gently cascading waterfall is a nice break from an afternoon drive along the parkway. Take off your shoes for a splash.
The waterfall is small, but it does offer a refreshing respite on a warm summer day. This hike can also be done as a loop hike if you continue the trail just past the falls.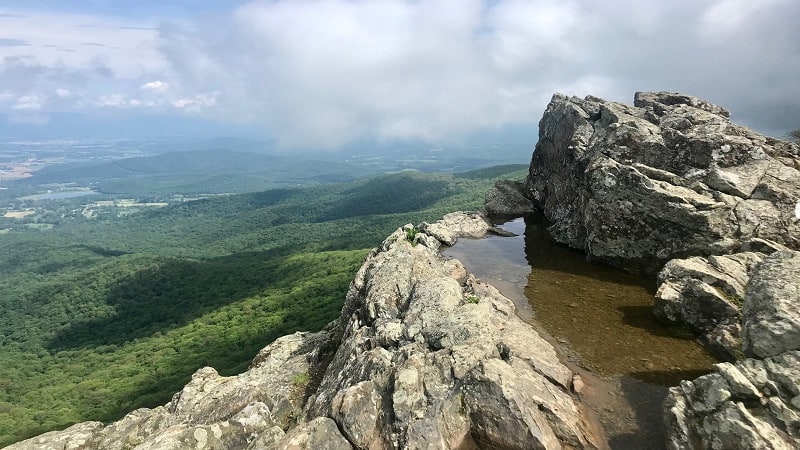 While scenic views abound across Shenandoah National Park, it's hard to beat the quick views you get from the 1.3-mile out-and-back hike to Little Stony Man Cliffs.
It's an easy climb of just 190 feet of elevation to reach Little Stony Man Cliffs. The sweeping views are beyond awe-inspiring.
The rocky outcroppings are plentiful, so take a seat and savor the scenery. You'll also find several shallow pools that fill with rainwater that are just right for a splash.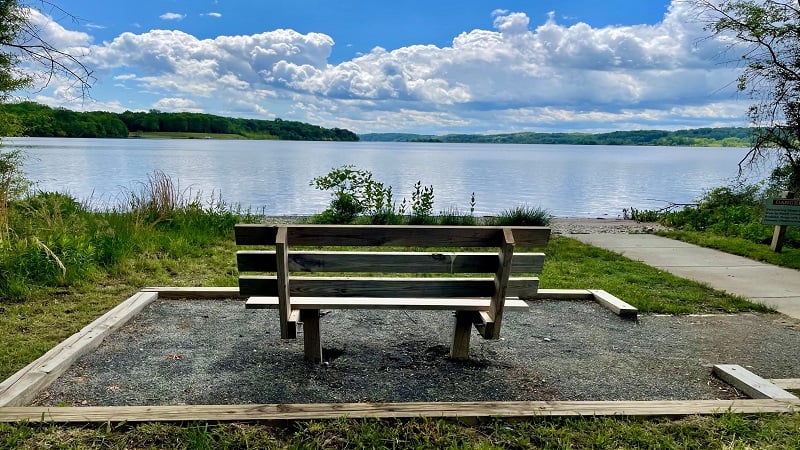 At Widewater State Park in Stafford, the primary hiking trail sets off just behind the visitor center. It's the .8-mile red-blazed Long Pond Trail.
This easy trail begins along a dirt path toward Aquia Creek. Several well-placed wooden benches allow hikers to savor far-reaching views across the water.
As you continue on, you'll pass a small beach, a canoe launch and Long Pond, as well as a few more benches. The forested trail then loops back to the visitor center.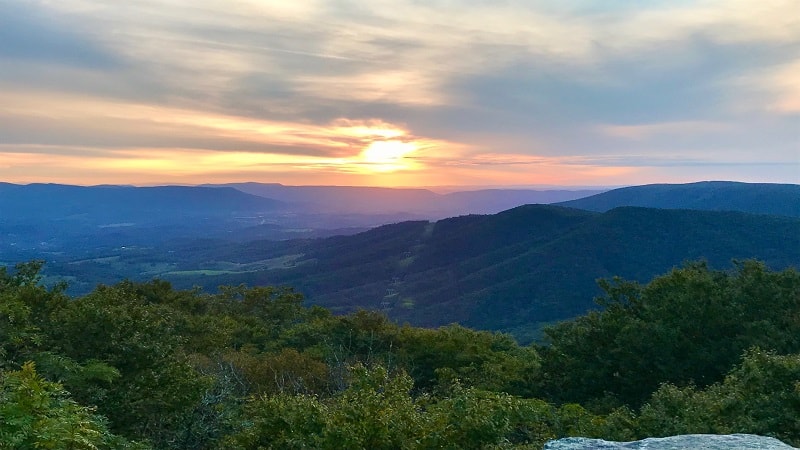 The 1.0-mile out-and-back Bald Knob Trail is a fairly steep trail. There's a 400+ foot elevation gain over the span of just .5-mile. You'll need to dig deep friends.
Dirty Dancing fans, the Bald Knob hike begins just behind Kellerman's. Er, Mountain Lake Lodge. It's a fantastic choice for a vibrantly-hued sunset, too.
There are multiple rock outcrops atop Bald Knob (elevation 4,354 feet) to sit and savor perfect west-facing views. There's room for everyone.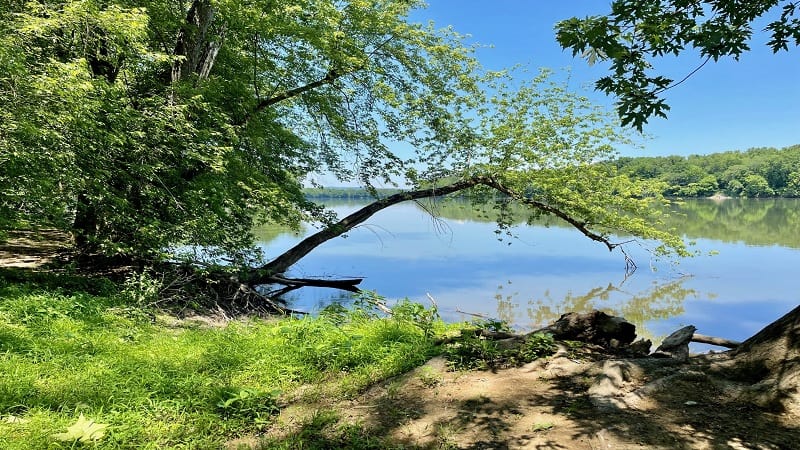 At Red Rock Wilderness Overlook Regional Park in Leesburg, you'll find a mostly shaded 1.2-mile hike around the perimeter of this 67-acre park on the Potomac River.
This small wooded park features winding nature trails, as well as several historic buildings from the 1880's, including an Ice House and Carriage House.
The property dates back to 1869 when a wealthy industrialist purchased 2,000 acres of land in Loudoun County. This section was donated for use as park land in 1978.