Perfect Pairings: 3 Scenic Shenandoah Winery Hikes
There's something special about a glass of wine after a hike. Thankfully, there are some very good wineries near Shenandoah National Park.
One Shenandoah winery to check out is DuCard Vineyards, which is a stone's throw from popular boundary hikes, like Old Rag and Whiteoak Canyon.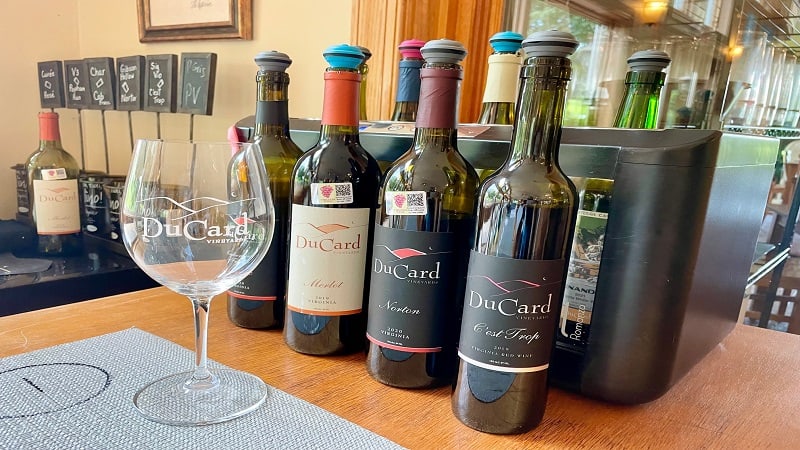 Whether you want to climb to summit views or splash in waterfalls, you are covered. With a glass of Petit Verdot or Cabernet Franc, too.
Here are three hikes that pair perfectly with a glass of wine. Even better, with each scenic hike you'll find a suggested wine.
All of these hikes are 15 minutes or less from the tasting room and outdoor patio at DuCard Vineyards in Etlan. Cheers, friends.
EASY: Lower Whiteoak Falls
For an easy hike with a sizeable reward – as in, a tumbling waterfall with a refreshing swimming hole – make a beeline for the White Oak Canyon Trail.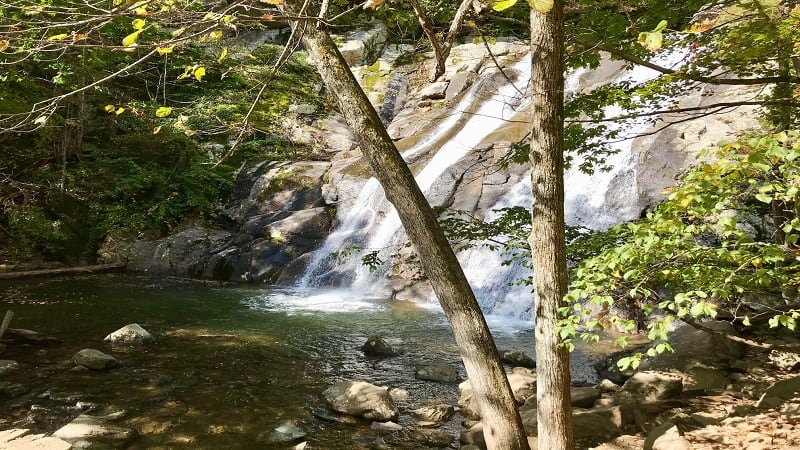 This popular hike starts at the front of a large parking area on Weakley Hollow Road in Syria. The trail sets off to the right of the ranger station.
Follow the blue blazes for the White Oak Canyon Trail. Stay alert and keep right when you reach a fork early in this dog- and kid-friendly hike.
For much of the hike, you'll walk along the gently-flowing Robinson River. You'll encounter a couple of easy water crossings on your way to the falls.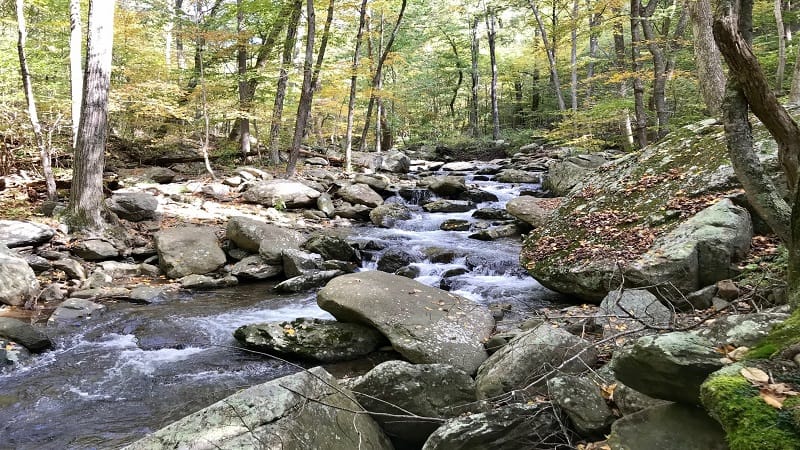 There's a mild elevation gain, but you may hardly notice. You'll reach Lower Whiteoak Falls at the 1.4-mile mark.
Take your shoes off for a splash or settle in on a rock for a snack. From here, the trail continues on to Upper Whiteoak Falls.
However, the trail also becomes more challenging. From Lower Whiteoak Falls, re-trace your steps to the trailhead for a 2.8-mile out-and-back hike.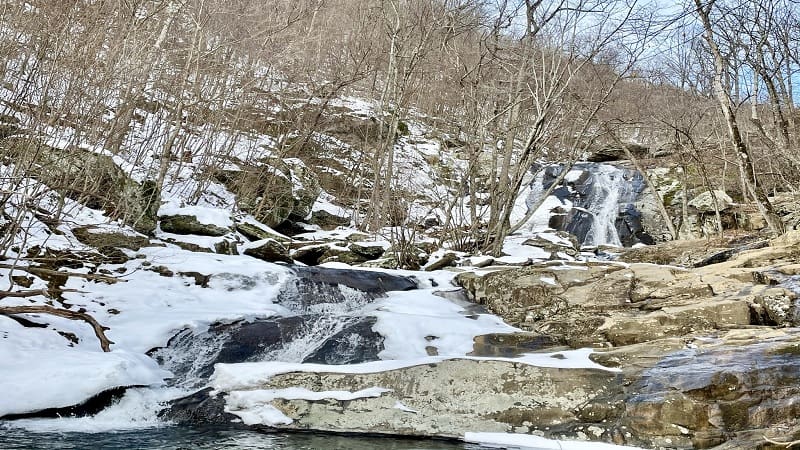 In winter, you may see frozen icicles dangling from exposed rocks. Once back in the car, it's a 13-minute drive to DuCard Vineyards.
Wine Pairing: Shenandoah
This hike pairs well with a glass of Shenandoah, a refreshing and sweet white wine. Much like the hike to Lower Whiteoak Falls, this wine is exceedingly popular.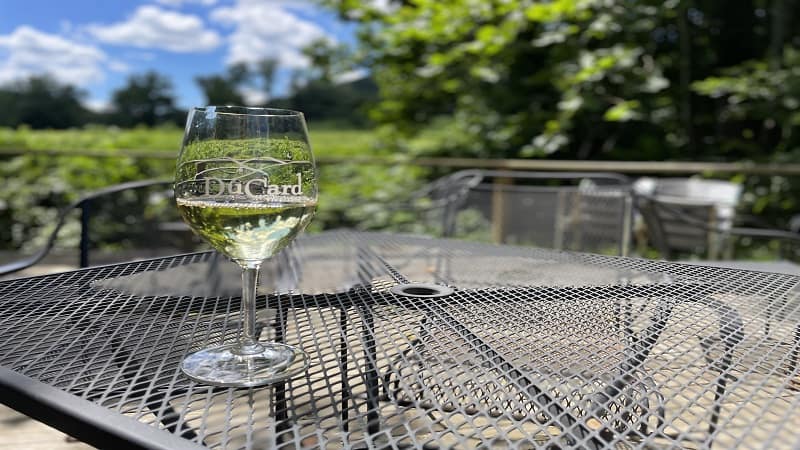 It's so popular that this white wine often sells out, even though DuCard Vineyards typically limits purchase. Note the label illustration of Lower Whiteoak Falls.
Even better, a portion of sales is donated to the Shenandoah National Park Trust. Perfection. A good back-up is the Gibson Hollow, a crisp, delightful white.
MODERATE: Corbin Cabin
The 4.2-mile hike (one-way) to Corbin Cabin by way of the blue-blazed Nicholson Hollow Trail is a quiet, forested hike through the woods.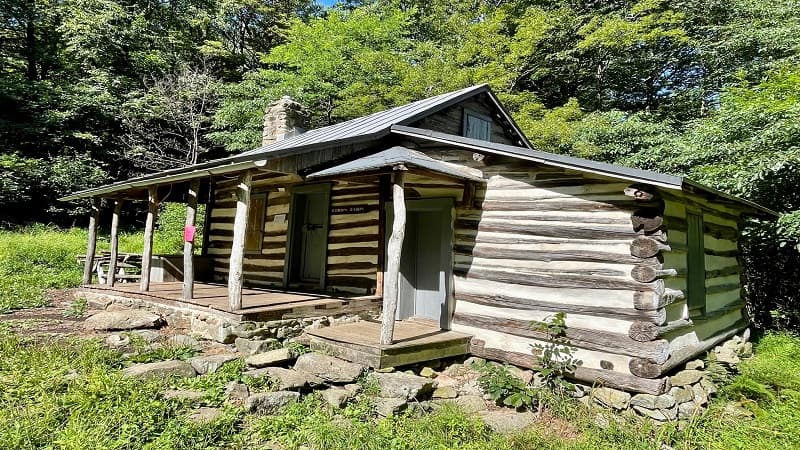 For this hike, you'll park in the Old Rag parking area (lot two is closest to the trailhead) on Nethers Road in Etlan.
Early in this dog-friendly hike, you'll encounter two water crossings. You'll step on large rocks to cross over Brokenback Run.
In a few more steps, hop-scotch across the Hughes River. From here, you'll hike parallel to the Hughes River for nearly the entire way to Corbin Cabin.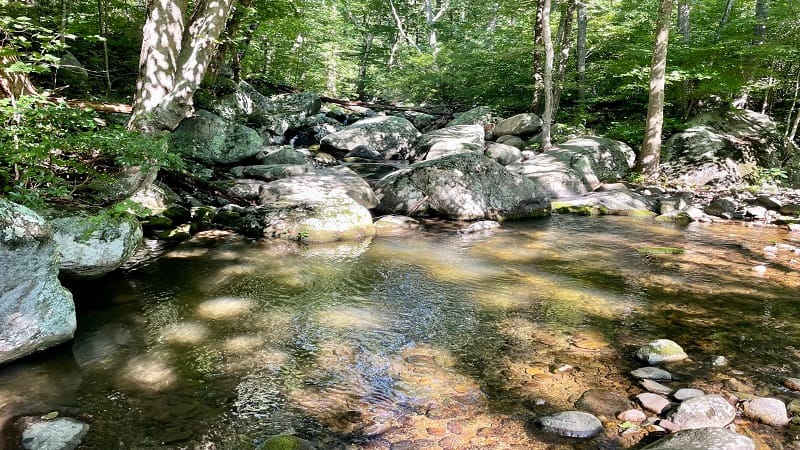 At the 2.7-mile mark, you will arrive at a swimming hole. It's a fantastic spot to take a break to re-fuel or re-hydrate before the final push to Corbin Cabin.
Up to this point, the trail has been relatively flat, but it's mostly uphill from here to the historic chestnut log cabin.
Corbin Cabin is one of six primitive cabins within Shenandoah National Park that are owned and managed by the Potomac Appalachian Trail Club (PATC).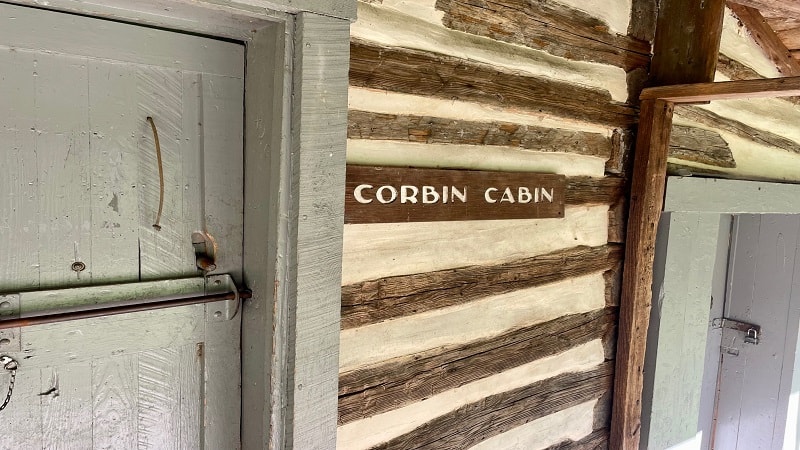 The four-room cabin can be rented out from the PATC for $35 per night during the week or for $50 per night on weekends.
Wine Pairing: Norton
This hike pairs well with a glass of Norton, a red made with Virginia's native wine grape. Norton is also the oldest wine grape in the U.S., dating to the 1820's.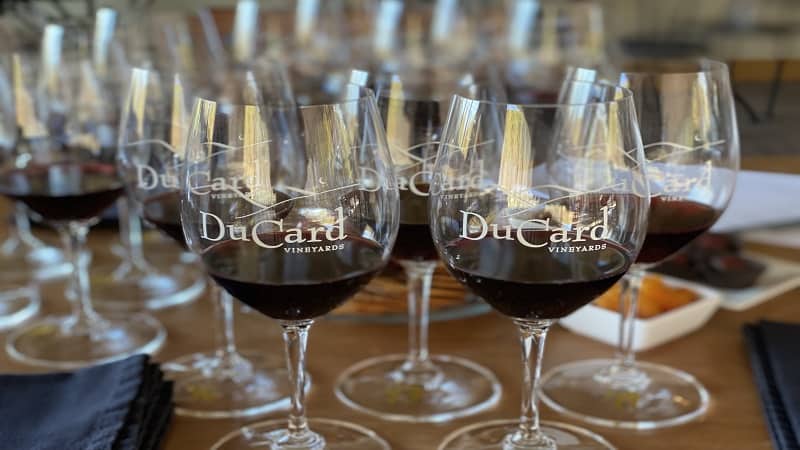 Just as Corbin Cabin is a piece of state history, so too is the robust and hardy Norton grape, which figures prominently in DuCard's Norton wine.
This complex wine has a strong personality too, like George Corbin, the cabin's namesake who lived deep in Nicholson Hollow with other mountain families.
STRENUOUS: Old Rag
The exhilarating 9.8-mile Old Rag hike is a crowd-pleaser, but it's not for all hikers, so you'll want to be honest about your hiking abilities.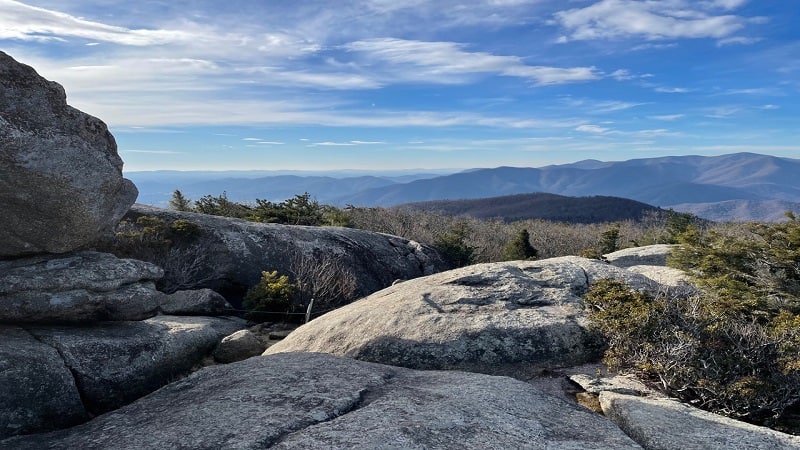 One mile of this loop hike is a rock scramble that requires hikers to navigate cramped spaces and shimmy down granite surfaces.
Thankfully, spectacular 360-degree panoramas await from atop Old Rag. There's plenty of space to sit and revel in the views of surrounding mountains.
From here, the trail descends to Byrd's Nest Shelter, a day-use shelter with a picnic table. Near the end of the hike, enjoy the burbles of Brokenback Run.
For this hike, park in lot one in the Old Rag parking area on Nethers Road in Etlan. The hike begins to the left of the ranger station.
You may need to plan ahead for this wildly popular hike. A new pilot day hiking ticket program went into effect this year and runs through November 30.
All hikers must purchase a day-use ticket to hike Old Rag for $1 at www.recreation.gov. No day-use tickets are sold on-site.
Given cell service is largely non-existent in the Old Rag parking area, plan to buy your pass ahead of time. Note that dogs are not allowed on this hike.
Wine Pairing: Triskele
Triskele is DuCard's top Bordeaux blend. It's also a wine to choose to reward yourself for a job well done. As in, after climbing to the top of Old Rag.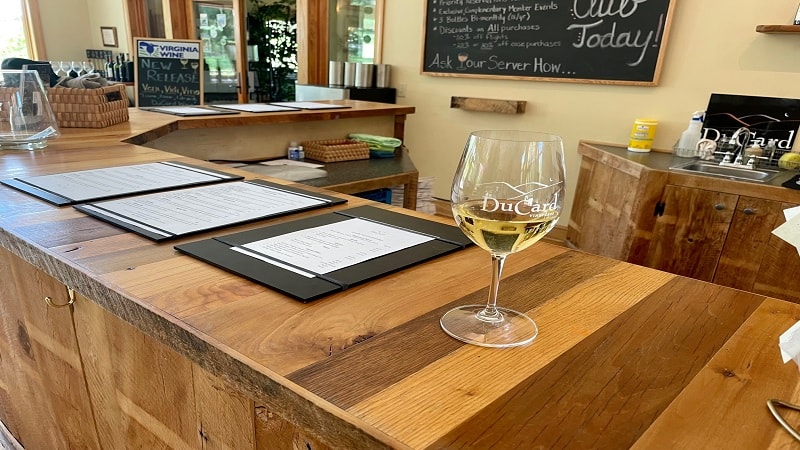 A second pick is XOXO, the winery's sparkling wine. It's ideal for any celebration or just because. There's no need to climb Old Rag to reward yourself with XOXO.
Both wines are refreshing and feel just right in your hand as you clink glasses to a successful hike and settle in to enjoy an afternoon at the vineyard.
Tasting Notes
Before you set off on any of the above hikes, a few words of note. First, the cell service for these hikes ranges from spotty to completely non-existent.
If you plan to hike Old Rag, take a screenshot of your day-use ticket for the ranger. Also, screenshot or print out directions to your post-hike destination.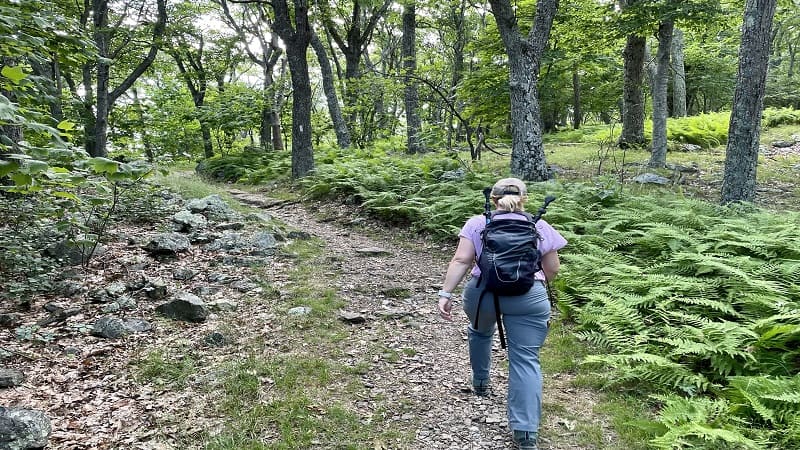 Finally, be prepared for your hike. Know your limitations. Wear proper footwear (closed-toe shoes) and bring the essentials.
This means, bring lots of water, snacks, a first-aid kit and a flashlight. Depending on the time of year, you may also need sunblock and bug spray.
Disclosure: This post was sponsored by DuCard Vineyards. All views and opinions expressed here are my own.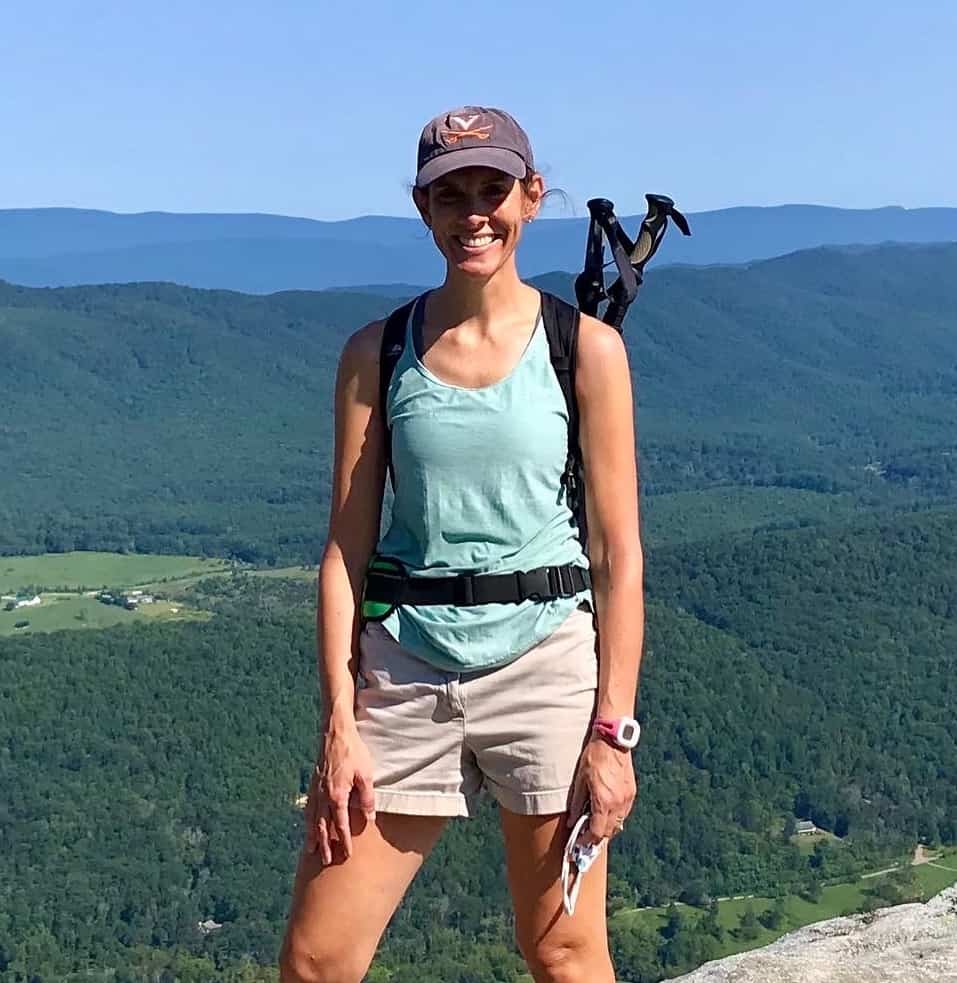 Erin Gifford is the editor of Go Hike Virginia. She has completed more than 300 hikes in Virginia. She is also the author of three hiking guidebooks from Falcon Guides. Need help finding a hike? Check out the Trail Finder feature or send Erin a message.