Crabtree Meadows: Two Easy Hikes Awe With Wide-Open Mountain Views
I recently hiked to Spy Rock (ah-mazing) in Central Virginia. Eager for a second area hike, I motored along gravelly Meadows Lane to the Crabtree Meadows parking area.
Crabtree Meadows is .6 miles beyond the trailhead for Spy Rock. Since trailhead parking is very limited, many hikers park at Crabtree Meadows for the Spy Rock hike.
The Crabtree Meadows parking area is suitable for at least 15-20 vehicles. There is also a vault toilet. From here, there are two delightful hikes (aside from Spy Rock).
Both hikes are relatively easy, not too long and begin at the parking lot. If Spy Rock isn't a good fit for you, these two hikes would be well worth your time.
Hike #1: North to Crabtree Falls
At the back of the Crabtree Meadows parking area, you will see a large trail kiosk as well as a forested trail that gently descends away from the parking area.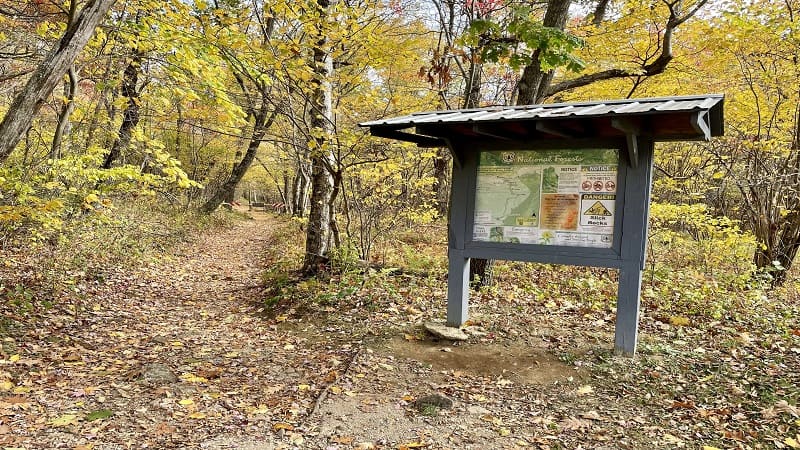 This is the Crabtree Falls Trail. I hiked to Crabtree Falls last fall. It's a beautiful 3.3-mile out-and-back hike that ends at a wildly scenic observation platform.
This hike also ends at the observation platform, but approaches the mountain views from the south. This hike is shorter, too. It's just 2.5-miles round-trip.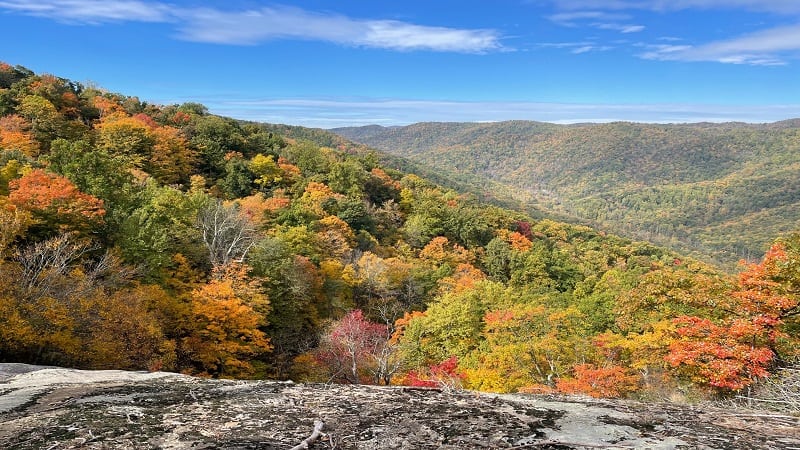 Walk past the trail kiosk for the George Washington National Forest. In a few steps, you will reach a "Foot Travel Welcome" gate. Walk around the gate and you're good to go.
This leafy hike parallels burbling Crabtree Creek, but the very best creek views aren't until the end as you approach the viewing platform.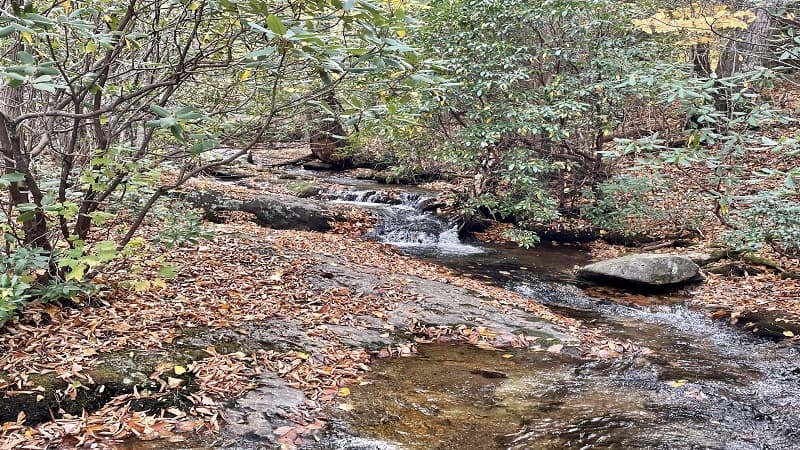 A wooden footbridge passes over the very top of the falls. This leads to a wooden platform, as well as a stone overlook with a bench and steps as seats.
Settle in to enjoy the views across the Tye River Valley and Blue Ridge Mountains. From here, re-trace your steps to the Crabtree Meadows parking area.
Hike #2: Northeast to Pinnacle Rocks
For this 3.7-mile out-and-back hike, you will begin from the front of the Crabtree Meadows parking area. Walk past the restroom and turn left onto Meadows Lane.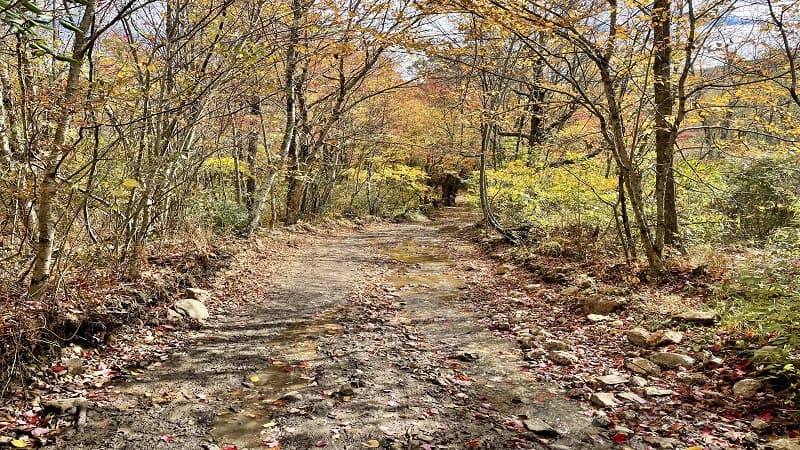 At the .2-mile mark, note the large primitive camp sites with stone fire rings on the right and left side of the gravel road. This hike begins on the left side of the road.
Walk through the camp site and look for three large rocks. The forested trail starts on the other side of the rocks.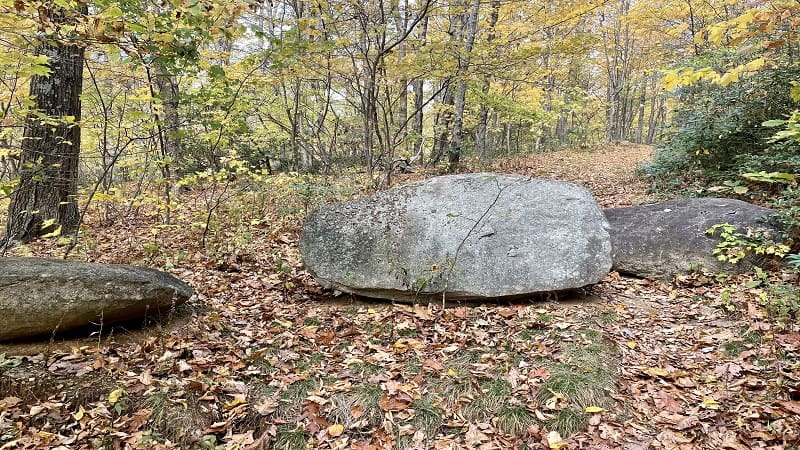 For this hike, I highly suggest downloading AllTrails directions to your cell phone. This trail does not have a name and it is not marked. I relied on the AllTrails map.
I also relied on crushed leaves along the trail to assure me that other hikers had come through to reach the same scenic views I was eager to take in.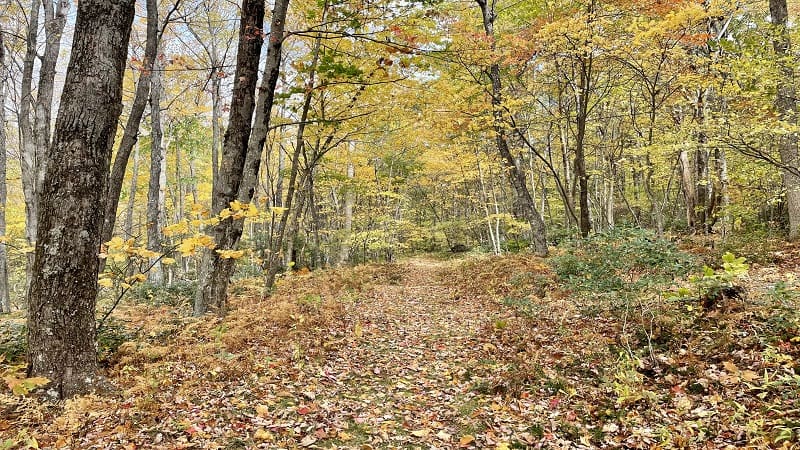 Honestly, I felt like the trail was easy to follow, but I probably would not have set out on this hike without the AllTrails map. It definitely provided me with peace of mind.
There were some points where I wasn't sure where AllTrails was taking me, but I was glad that I stayed with this trail. If you do, you'll be rewarded not once, but twice.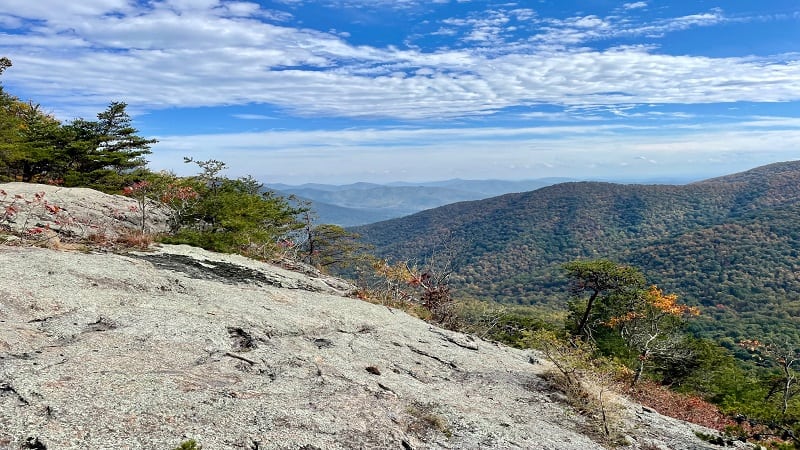 The first wide-open views come at the 1.6-mile mark. Here you'll reach a rock face that's just right for a snack and water break. The views are incredible.
But wait, there's more. At least AllTrails says there's more. Keep going and at the 1.8-mile mark you'll arrive at a second set of impressive mountain views.
I'll admit, the walk from the first views to the second views is hairy in some places. As in, fairly narrow. You can tell not as many people make it to the second views.
At the second set of views, I noted a primitive fire ring as well as at least one camp site. It's an amazing place to sit and reflect. I was so glad I stuck with the trail.
Getting to Crabtree Meadows
Before you set off for Crabtree Meadows, you'll want to keep in mind that it's a 3.8-mile drive on a bumpy, gravelly road to the parking area. The road is also quite narrow.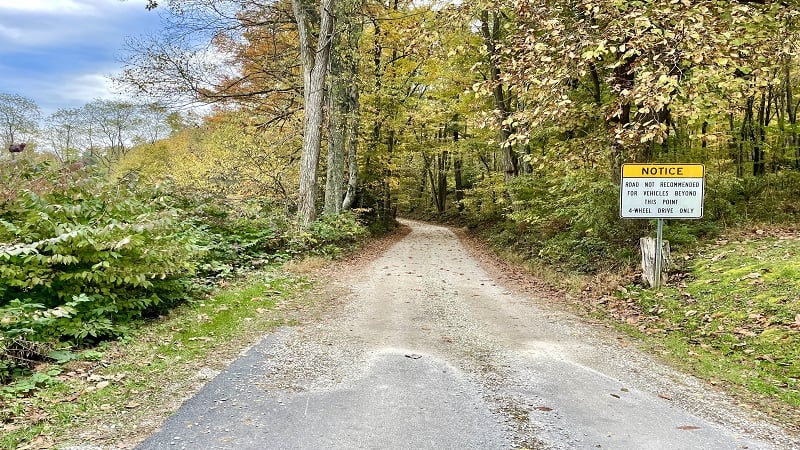 There are no potholes to navigate, but there are two small stream crossings. As you turn onto this road (Meadows Lane), a sign warns that this road is not for all cars.
Specifically, the sign recommends that only four-wheel drive vehicles proceed on Meadows Lane. I have a minivan and had no problems. Just take it slow.
Camping at Crabtree Meadows
You can camp at Crabtree Meadows, but to be clear, there is no campground with picnic tables, potable water and a camp store. That's in North Carolina.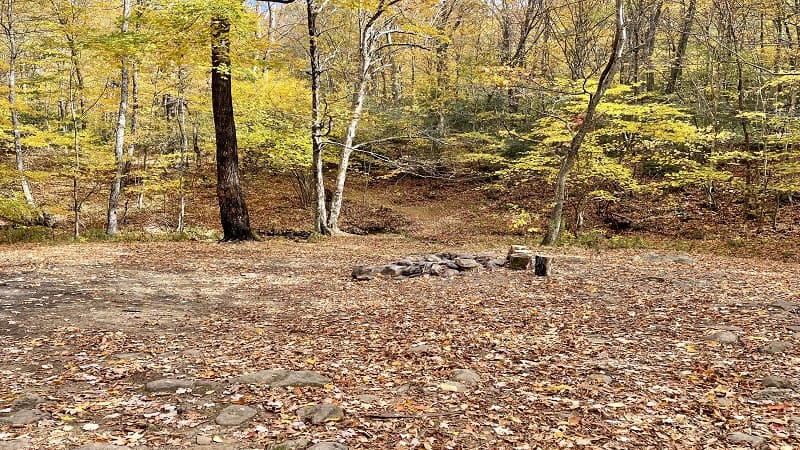 I know, confusing. In fact, there is another Crabtree Falls on the Blue Ridge Parkway. It's at milepost 339.5, north of Asheville, North Carolina
There you'll find the Crabtree Meadows Campground, which can accommodate tents and trailers. I don't think trailers could make it to Crabtree Meadows in Virginia.
Crabtree Falls in Virginia is located near milepost 27.2 on the Blue Ridge Parkway. At the Crabtree Falls Day Use Area, you'll find picnic tables, but camping is not allowed.
As I noted above, there are a couple of large primitive camp sites just .2 miles east of the Crabtree Meadows parking area (which has a vault toilet).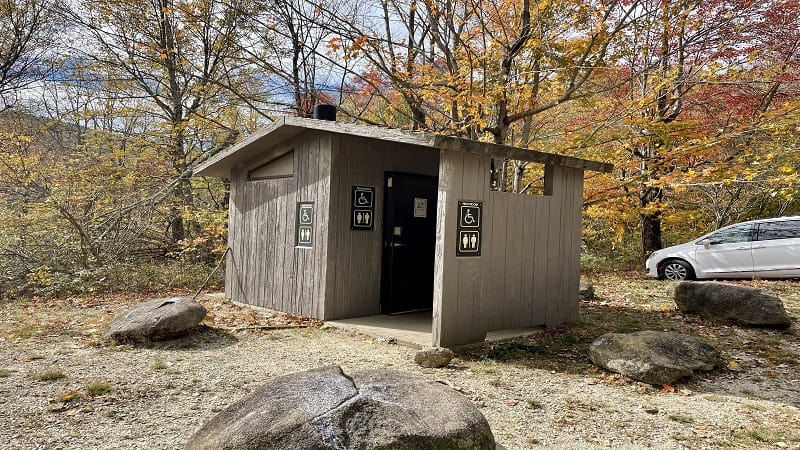 Driving in on Meadows Lane, there are several spots set off the road with parking spaces that would work well for car campers.
There are also a couple of primitive camp sites near the trailhead for the Spy Rock hike (.6 miles from the Crabtree Meadows parking area).
It's free to camp near Crabtree Meadows and Spy Rock. All primitive camp sites are first-come, first-served.
Wrap-Up Notes
I really enjoyed both hikes near Tyro and Montebello in Virginia. The foliage views were spectacular. Each hike took me 60-90 minutes to complete.
Interestingly, the elevation gain for both hikes was exactly 505 feet, which was very manageable. It's also much less than the 1,270 foot gain on the Spy Rock hike.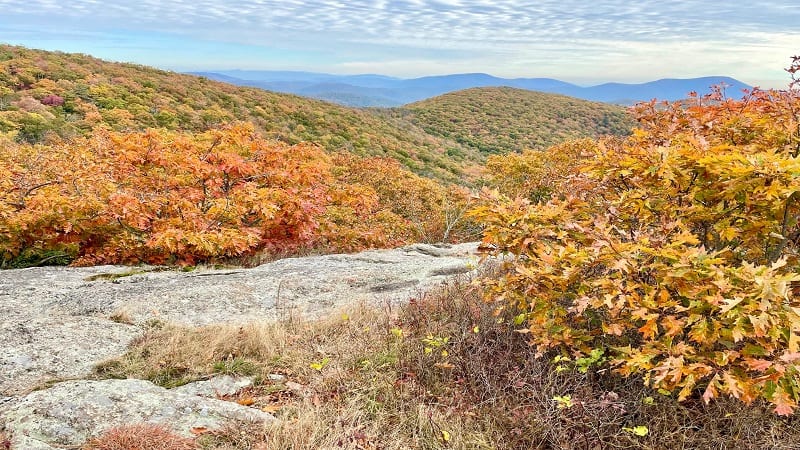 If you have the time, make it a weekend by tacking on an extra hike or two, like Spy Rock (5.9 miles), The Priest (9.0 miles) or Crabtree Falls (3.3 miles).
I did just that, opting to stay in nearby Lexington, Virginia (less than one hour away) for one night so I could tackle four hikes over two days.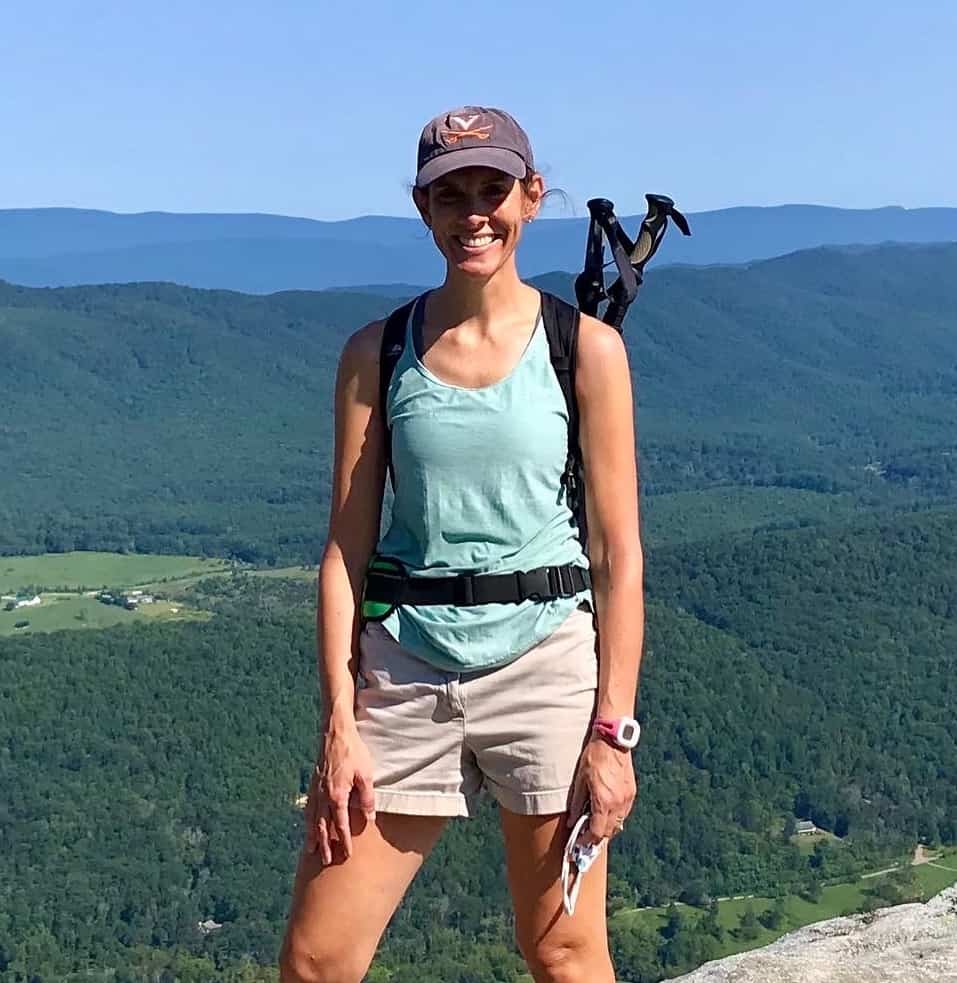 Erin Gifford is the editor of Go Hike Virginia. She has completed more than 300 hikes in Virginia. She is also the author of three hiking guidebooks from Falcon Guides. Need help finding a hike? Check out the Trail Finder feature or send Erin a message.