Sandy Bottom Nature Park: Enjoy Miles of Scenic Kid-Friendly Trails in Hampton, Virginia
Over the weekend, I took advantage of the unseasonably warm temps and explored Sandy Bottom Nature Park in Hampton, Virginia.
It's hard to believe, but this 456-acre park was once a mess of borrow pits and garbage dumps. Today, this area has been reclaimed by nature.
* But first, watch a video I made when I hiked at Sandy Bottom Nature Park. *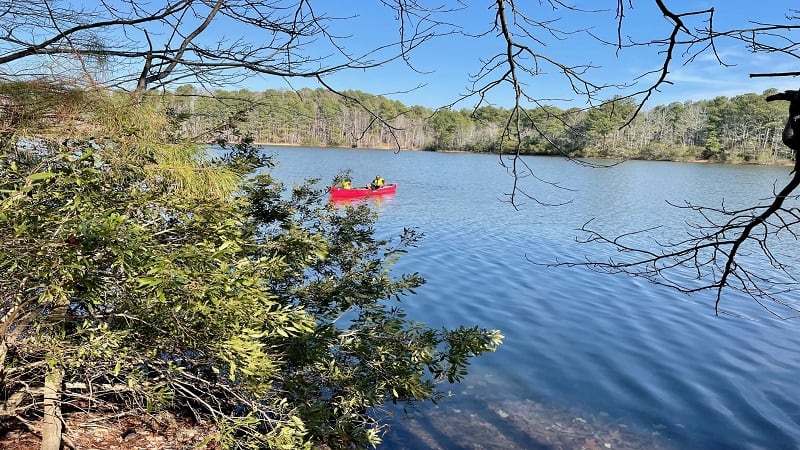 An incredible transformation has taken place. This beautiful park now has two sparkling lakes, scenic wetlands, boat rentals, a fishing pier and camp sites.
Of course, there are hiking trails, too. There are 11 named trails that allow visitors to explore this forested park in the Hampton Roads area of Virginia.
| Trail Stats | |
| --- | --- |
| Length | 4.3 miles |
| Difficulty | Easy |
| Trail Type | Loop |
| Elevation Gain | 30 feet |
| Duration | 1.5-2.5 hours |
| Terrain | Mostly dirt & gravel trails |
| Dog-Friendly | Yes |
| Fee | Free |
| Driving Directions | Click Here |
Hiking Trails
As you enter Sandy Bottom Nature Park from Hampton Roads Center Parkway, you'll have easy access to two trails: Trillium Trail and Fallen Oak Trail.
You'll also have quick access to flush toilets and a fantastic children's playground that is immediately behind the restrooms.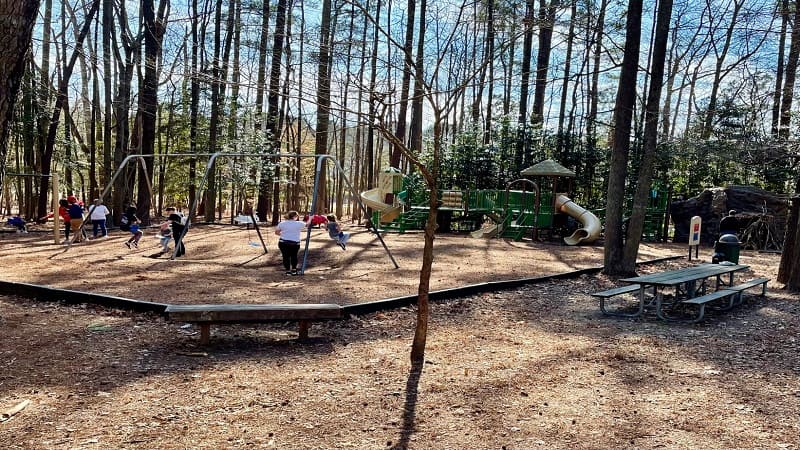 The Trillium Trail is a 3.3-mile loop trail that nearly encircles the park. The Fallen Oak Trail is a smaller 1.0-mile loop that sidles up against Crystal Lake.
As is the norm, I opted to cobble together several different trails so I could see as much of Sandy Bottom Nature Park as I could on this beautiful day.
Trillium Trail
I began on the green-blazed Trillium Trail. You'll find the trailhead just west of the main parking area. It's on the left as you drive in from the parkway.
The trail is nicely forested, but given it runs nearly parallel to the Hampton Roads Center Parkway, it can get noisy as cars motor along this main road.
Still, it was quite serene. The forest is a mix of coastal pines and hardwood deciduous trees. I imagine in spring there is more foliage to muffle the noise.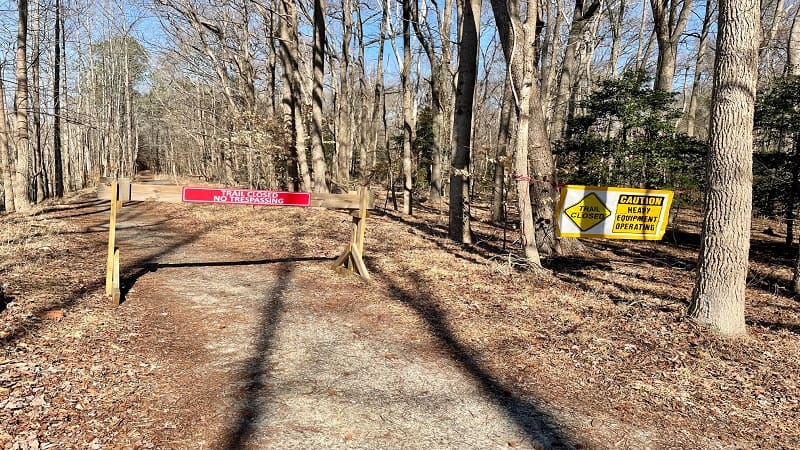 At the 1.0-mile mark, the trail turns north, continuing along the perimeter of this nature park. Then, a hard stop at the 1.2-mile mark.
The Trillium Trail is closed from this point. A sign noted, "Heavy Equipment Operating." Honestly, it may have only been on the day I was at the park.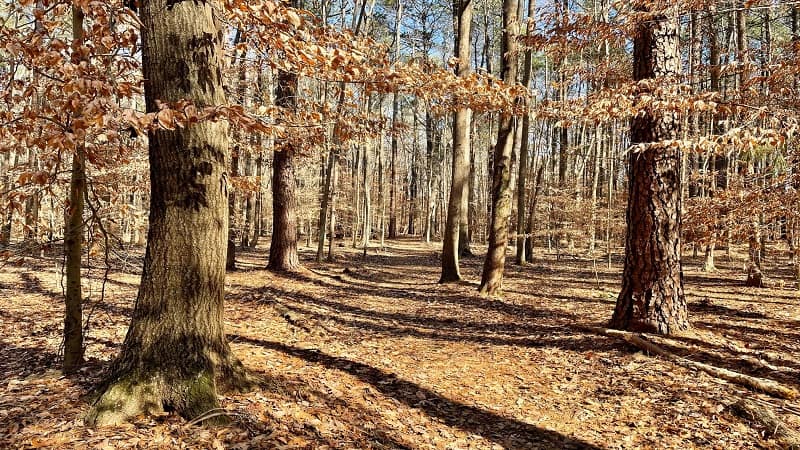 It's possible that fallen limbs were being cleared from recent storms. Honestly, I appreciated the diversion onto the yellow-blazed Otey Shelton Trail.
Sandy Bottom Nature Park is adjacent to I-64. The Trillium Trail runs adjacent to this highway for at least one mile, so it can get fairly loud with car noise.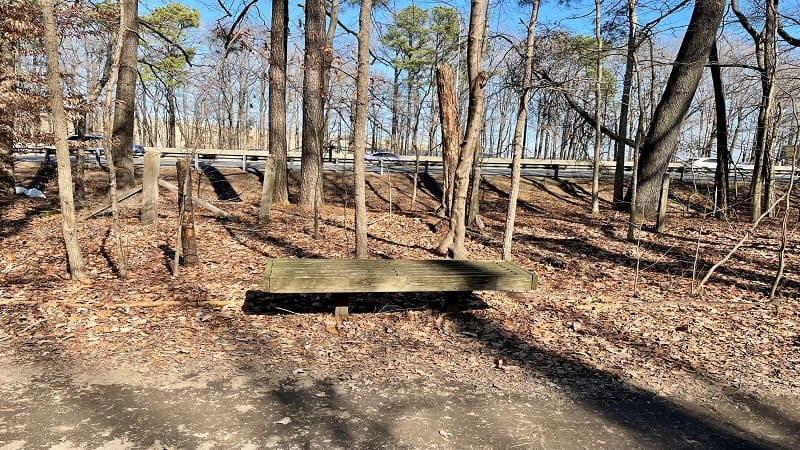 By turning right onto the Otey Shelton Trail, I was able to bypass some of this noisy stretch. I re-connected with the Trillium Trail at the 1.9-mile mark.
I was only on the Trillium Trail for a few moments. In a few steps, I turned right onto the gray-blazed Wetlands Trail.
Wetlands Trail
This wide gravel trail quiets down as you walk away from I-64. You'll soon enjoy scenic wetlands views on the left.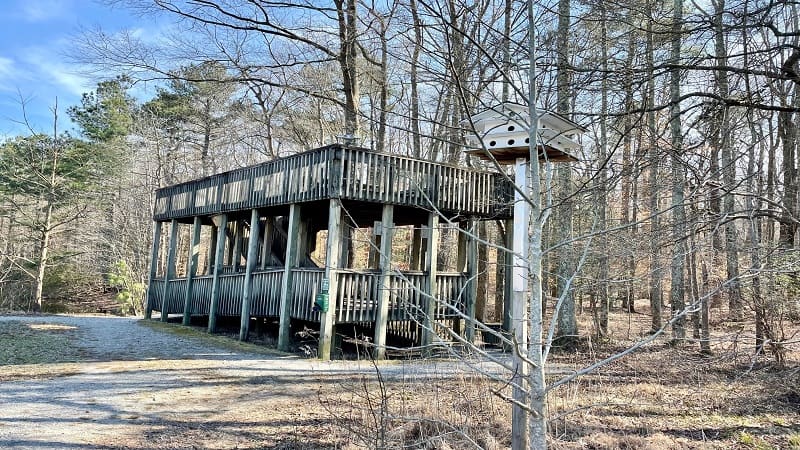 At the 2.5-mile mark, you will arrive at a two-story wooden observation tower. On the second level, there is a picnic table and a metal view finder.
On the first level, a placard educates on how the 52 acres of wetlands at this park were created. It also explains, "what is a wetland?"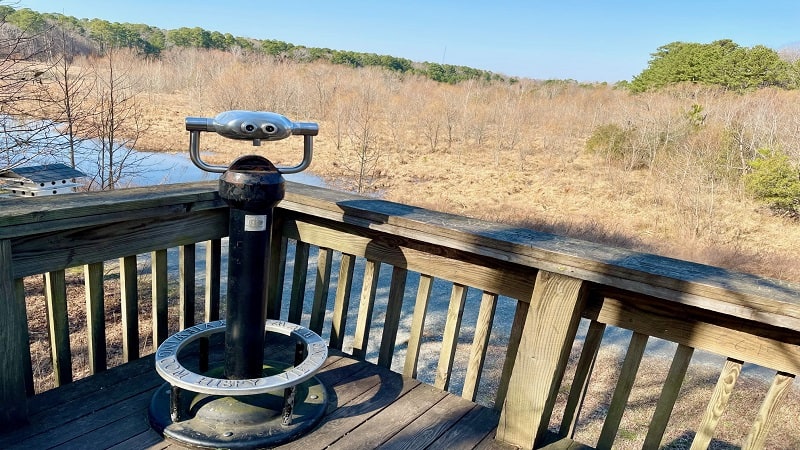 There are two posters with photos of water birds you may see at the park, like wood ducks, ruddy ducks, red-breasted mergansers and ring-necked ducks.
Fallen Oak Trail
From here, you'll want to pick up the blue-blazed Fallen Oak Trail. This part gets a bit tricky as the Fallen Oak Trail is behind the observation tower.
The trail begins along narrow channel (you may see kayakers or canoers), then reaches Crystal Lake. In-season, you may see even more boats here.
The views across 17-acre Crystal Lake are fantastic. At the 3.1-mile mark, you'll reach nine family camp sites and two group camp sites.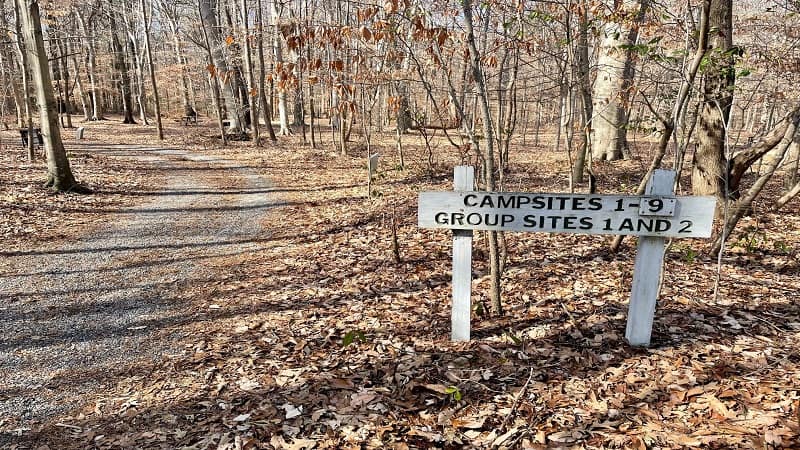 As you continue along, you'll see pedal boats and kayaks. Both are available for rent from the nature center, as are jon boats.
At the 3.3-mile mark, check out the four yurts on the lake that can be reserved for overnight stays. Each has a picnic table and a grill, as well as a deck.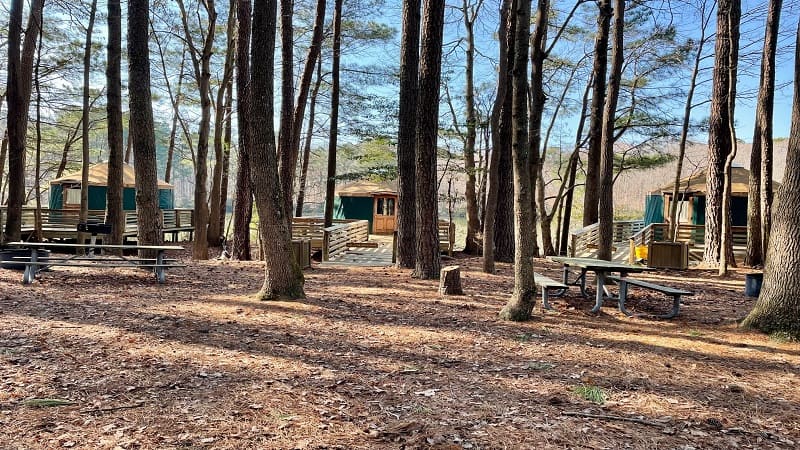 Adjacent to the fourth yurt is the start of the .2-mile Osprey Point Trail, which straddles Crystal Lake and a verdant wetlands area.
Lake Trail
At the end of the Osprey Point Trail, turn right onto the Trillium Trail, but only for a few steps. Turn left onto the yellow-blazed Lake Trail.
You're going to get close to I-64 again, but only for a few moments as you walk along the north end of 12-acre Sandy Bottom Lake.
You'll soon reach a wooden overlook with a picnic table at the 3.8-mile mark. Then, a children's garden and some wooden benches.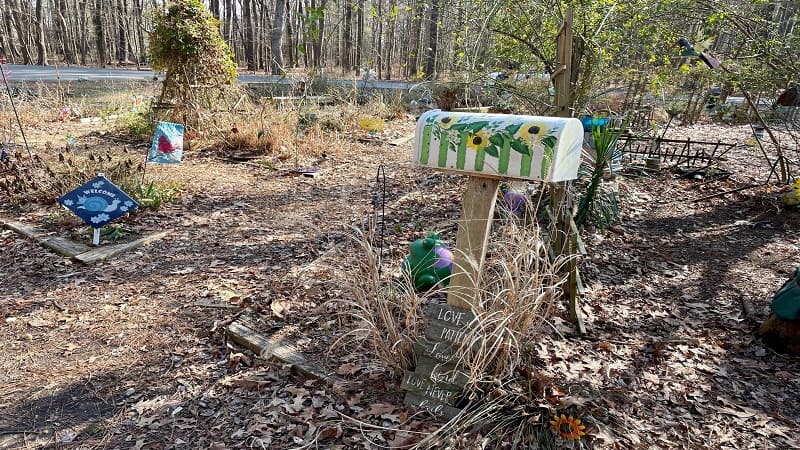 Turn right for the fishing pier at the 4.1-mile mark. Of the two lakes, Sandy Bottom Lake is the only one that allows fishing.
Re-trace your steps from the pier, then walk along the right side of the Nature Center. Rent a boat or take a look at animal and environmental exhibits.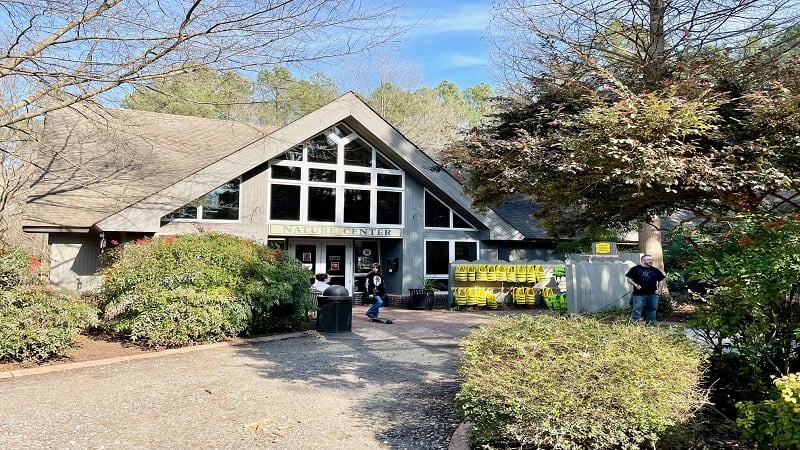 As you continue on, you'll pass the yurts again and reach the parking area and the trailhead for the Trillium Trail at the 4.3-mile mark.
Wrap-Up Notes
From the start of the Trillium Trail, this hike took me 90 minutes, including time spent ogling the yurts and lakes.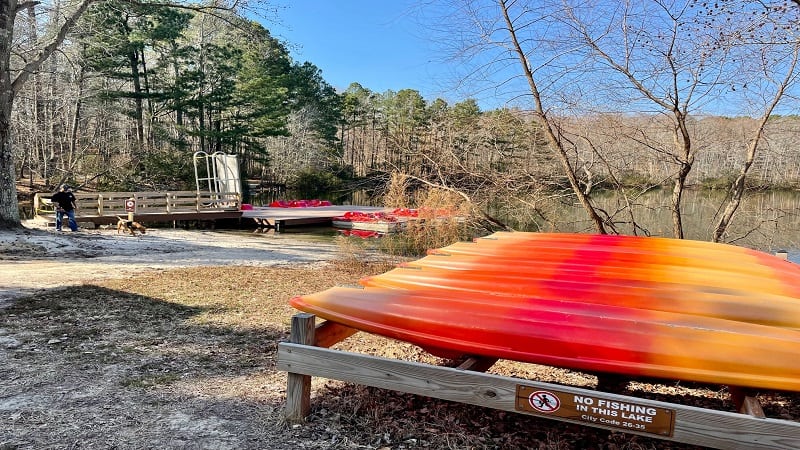 Let me tell you, this is a beautiful park and if I lived closer to the Hampton Roads region I would be back again very soon.
The trails in this park are very kid-friendly, especially since you can mix and match trails to create longer and shorter hikes. Here's a trail map.
Bring a picnic lunch and your pup. There are picnic tables across the park and a dog park where playful doggos can get some exercise.
A couple of other good hikes in the area are the White Oak Nature Trail and the Noland Trail in Newport News. Both enjoy plenty of water views, too.