House Mountain: A Big Hike to Very Big Views Near Lexington, Virginia
Not long ago, I hiked and lived to tell about House Mountain near Lexington. I honestly believe this hike tops the list of the most strenuous hikes in Virginia.
Having checked off The Priest, Three Ridges, Old Rag and Elliott Knob, I feel uniquely qualified to make this claim about House Mountain. It was tough.
I can also say that all three rocky overlooks (yes, three) are spectacular. You'll want to stop to re-hydrate and catch your breath at each one. Trust me.
This hike is long – I clocked 10.7 miles – but you'll be proud when you can tell fellow hikers that you tackled this challenging and scenic hike.
| Trail Stats | |
| --- | --- |
| Length | 10.7 miles |
| Difficulty | Strenuous |
| Trail Type | Out-and-Back |
| Elevation Gain | 3,219 feet |
| Duration | 6-7 hours |
| Terrain | Mostly dirt, rock & gravel trails |
| Dog-Friendly | Yes |
| Fee | Free |
| Driving Directions | Click Here |
House Mountain Hike
First things first, the House Mountain hike is made up of two out-and-back hikes that share an approach hike to the saddle between two mountains.
The two mountains are Big House Mountain (elevation 3,645 feet) and Little House Mountain (elevation 3,386 feet).
It's a rocky and gravelly 2.4 mile ascent to the saddle. Once at the saddle, hike west for Big House Mountain or hike east for Little House Mountain.
Another word of note, AllTrails lists this hike as 9.1 miles. Hiking Upward lists this hike as 8.9 miles. Both are lies. I clocked 10.7 miles. It was a long hike.
House Mountain Reserve
Big House Mountain and Little House Mountain are located within the 968-acre House Mountain Reserve.
Once owned by White's Truck Stop, the Virginia Outdoors Foundation acquired the acreage to further recreational use when it was put up for sale in 1989.
In the late 19th century, the mountainous slopes were settled with homesteads. The saddle is now a meadow but was once a fruit orchard.
Several springs originate on the reserve due to its geological composition, but there are no water crossings. There is only a spring near the hikers' shelter.
There is a designated parking area for House Mountain Reserve on Saddle Ridge Road. There is also a wooden trail kiosk with a large trail map.
From the lot, turn left to walk up gravelly Saddle Ridge Road. The hike – and the ascent – begins now.
Trail Head Lane
Once you walk up the hill – about 0.1 miles – you'll reach what's called Trail Head Lane. Essentially, it's still Saddle Ridge Road.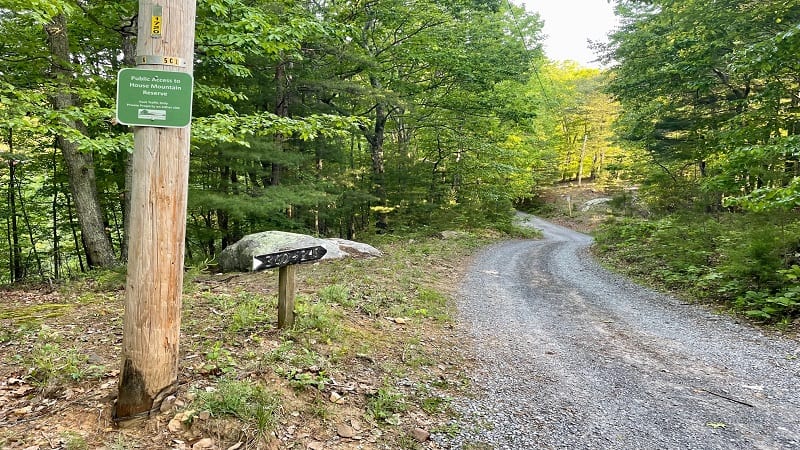 You'll also see a green sign noting public access to House Mountain Reserve and discouraging vehicles past this point. Foot Traffic Only, you know.
In a few more steps, stay right at the next green sign. You'll then pass a half-dozen or so private homes tucked off on either side of the gravel road.
The "Foot Traffic Only" signage is only for visitors. Homeowners are allowed to drive on this road, so you may see one or two along this gravel stretch.
House Mountain Trail
At the 0.7-mile mark, you'll reach the last two private homes as you approach a gate. At this point, the trail becomes House Mountain Trail.
Walk around the gate to stay on the trail. There are no blazes on this rocky stretch to the saddle. For most hikers, it's a manageable forested ascent.
You'll arrive at the saddle at the 2.4-mile mark. Keep in mind, the meadow grasses may be tall (read: potentially full of ticks). I was glad I wore pants.
On my hike, the grasses were exceptionally tall and unavoidable. You'll need to walk through them to reach the blazed trails to the top of both mountains.
Big House Mountain
From the saddle, I started with the red-blazed Big House Mountain Trail. Both hikes are strenuous, and both are roughly three miles.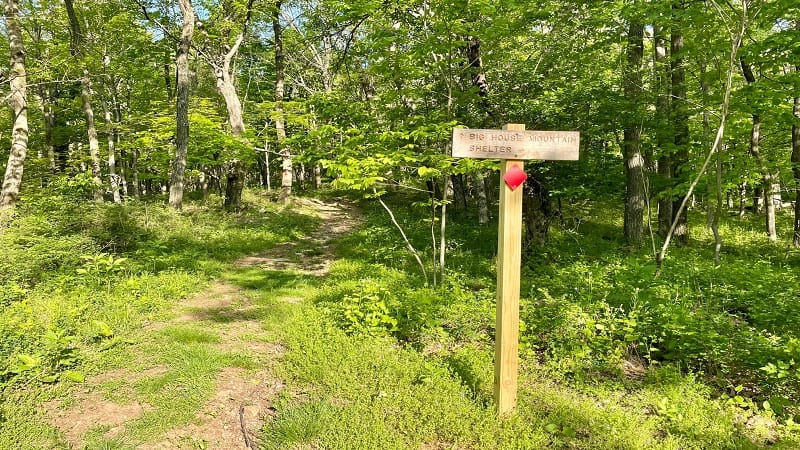 Big House Mountain is nearly 300 feet taller than Little House Mountain, but otherwise, I felt like they were more or less the same challenge-wise.
From the saddle, continue east and at the 2.5-mile mark you will reach the wooden hikers' shelter with a fire pit and a privy. It's nice for a quick stop.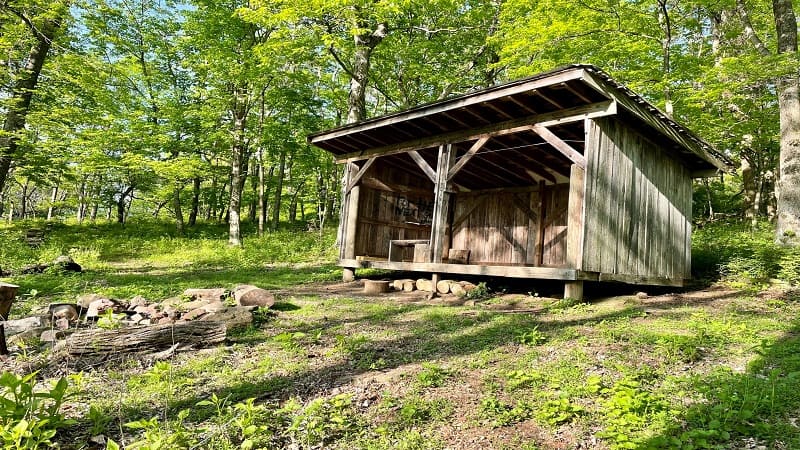 Keep climbing, following the large red diamonds. Honestly, it is very, very steep in some sections. Thankfully, it's also mostly shaded on this hike.
Table Rock
At the 3.1-mile mark, you'll reach a sign for Table Rock. Follow the orange blazes. Be prepared for some rock scrambles. You'll need full access to hands.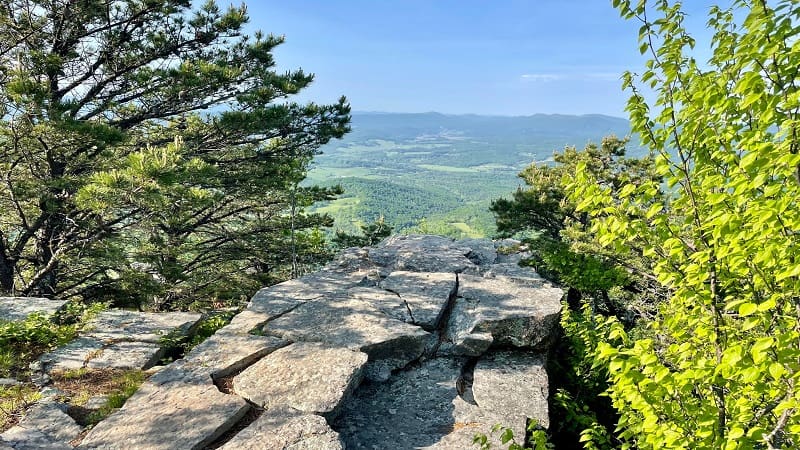 In less than 0.1-mile you'll reach a trail sign. Turn left for the overlook, which you'll reach at the 3.3-mile mark. It's just steps past a small stone fire pit.
The west-facing vistas are simply fantastic. Some call this spot Goat Point Overlook. Of the three overlooks, this one was my favorite.
Once you've soaked in all the views, re-trace your steps to the trail sign then follow the orange diamonds to Table Rock at the 3.4-mile mark.
Table Rock is a rock formation set atop a small boulder field that looks kind of like a lopsided table. I definitely thought it was kind of cool.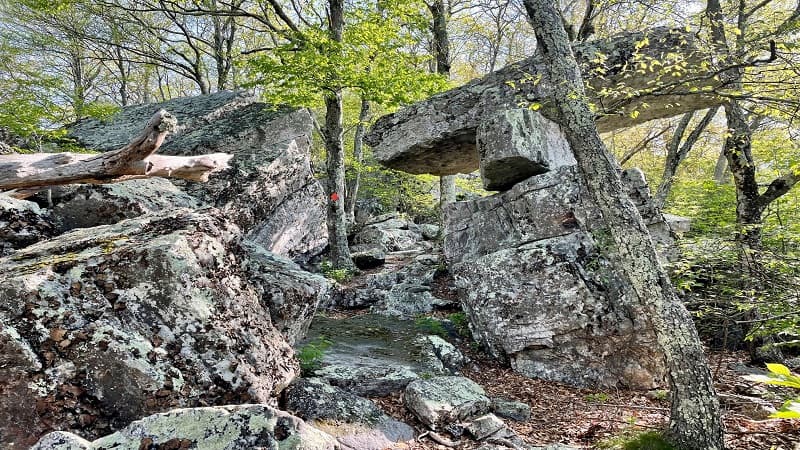 Big House Mountain Overlook
At the 3.6-mile mark, you will be back on the Big House Mountain Trail. A sign indicates the trail goes left and right. Turn left to proceed to the overlook.
In a few steps, you'll reach a small abandoned building made of cinder blocks. There are some shelves inside, but I really don't know the building's purpose.
Then, a sign that reads "Overlook." When I see such a sign, I assume that an overlook is close at hand. Not this time. The overlook is 0.4 miles up the trail.
I kept walking and walking, faithfully following the red diamonds. At last, the trail dead-ends at a small rocky outcrop with big east-facing mountain views.
I wanted to turn around many times. I really wasn't sure the trail was leading anywhere, despite the presence of the red diamonds.
From here, re-trace your steps on the Big House Mountain Trail to the trail sign at the 4.5-mile mark. Then, continue on to the Table Rock junction.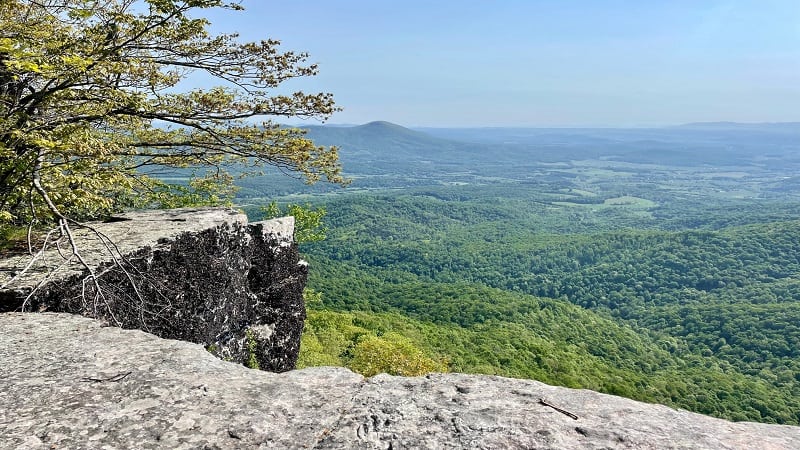 Turn left at the 4.7-mile mark. Watch your feet as you cautiously make your way down the steep, rocky trail. You'll reach the saddle at the 5.3-mile mark.
Little House Mountain
As you re-approach the saddle, you'll see a trail sign for the blue-blazed Little House Mountain Trail. Walk across, and as usual, the ascent begins now.
The hike up this trail starts out pretty mellow, but then you need to dig deep again in order to make it to the top (which seems to take forever).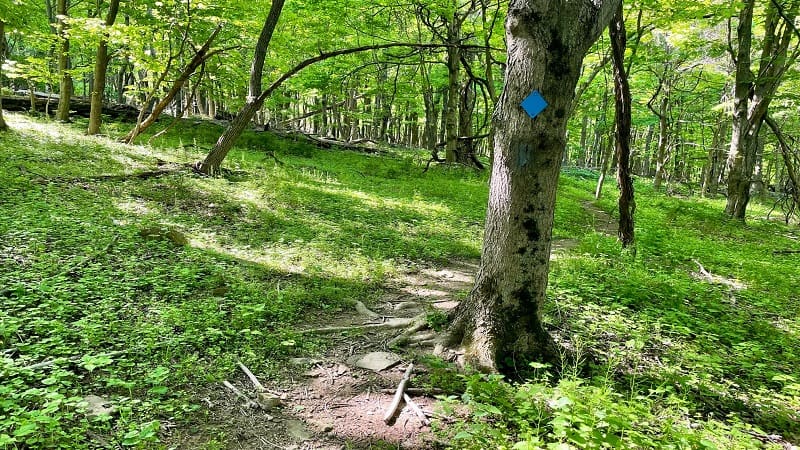 At the 5.6-mile mark, you'll reach a nice wide-open view to the south. There is no outcrop or place to sit down. It's basically a big window on the trail.
You'll then reach an outcrop at the 5.8-mile mark. It's easy to miss, too. I did miss this on the way up, but caught the big views on the way down.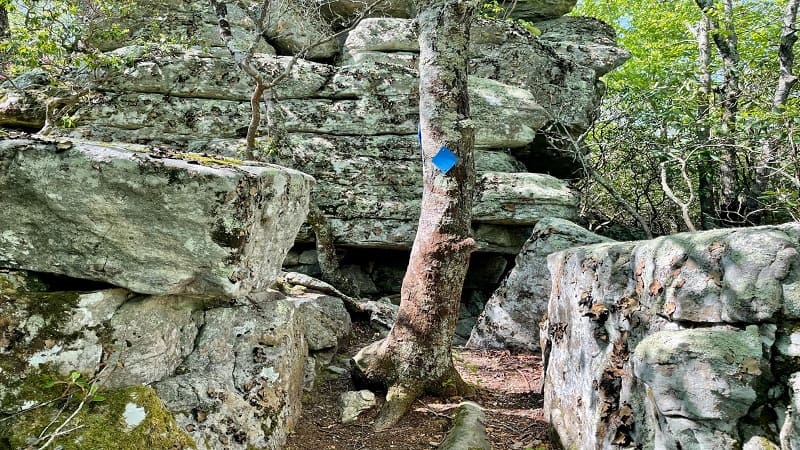 A lot of this trail is fairly narrow, but at least you can enjoy some relatively flat sections near the top, as well as a fun rock scramble.
Little House Mountain Overlook
At the 6.8-mile mark, you have arrived. You are at the overlook on Little House Mountain. Take in all the views of mountains and working farms down below.
I was not eager to make the hike back to the parking area anytime soon because I knew it was going to be a long, rocky descent. Eesh.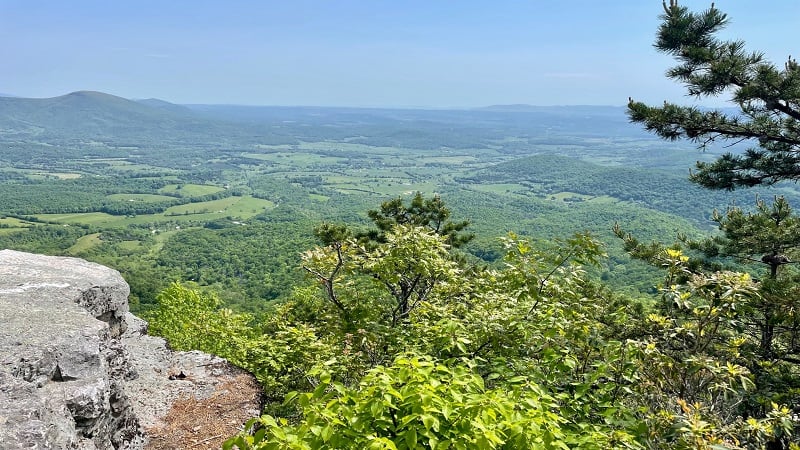 In fact, it's nearly four miles from the rocky outcrop on Little House Mountain to the parking area. Honestly, it felt like it just went on and on and on.
Your hike is complete at the 10.7-mile mark. Pop open a bottle of chilled champagne and celebrate. You deserve it for checking off this hike.
Wrap-Up Notes
From the parking area, this hike took me nearly 5.5 hours, including time spent taking in the views from the various outcrops and overlooks.
In comparing my hike to AllTrails, I can tell you that AllTrails does not include the 0.9 miles to and from the rocky overlook at Big House Mountain.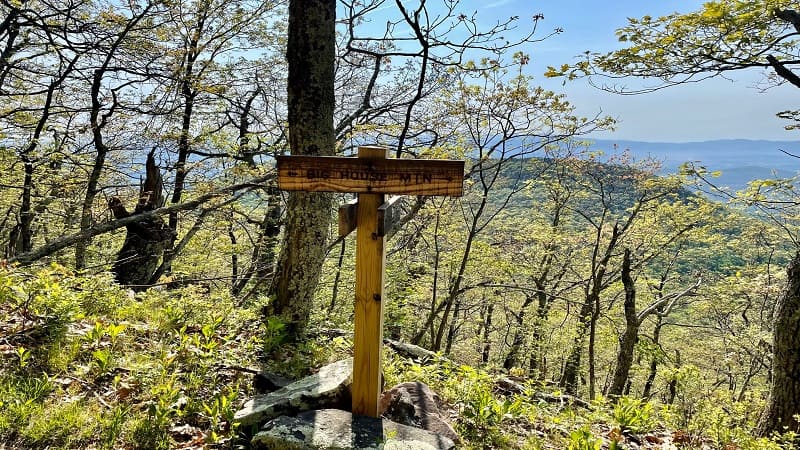 Their hike also starts from Trail Head Lane and does not include the extra mileage from the approach hike that starts at the parking area.
As an option, you can do either Big House Mountain or Little House Mountain. Both out-and-back hikes on their own are in the range of 7.7 to 7.8 miles.
All in all, the views were fantastic, and I got in a huge work-out for the day. Bring lots of water and high-energy snacks. You will definitely need them.
Eager to step foot on more scenic hiking trails? Check out my favorite hikes near Lexington, Virginia.