Need to Know: What is the Difference Between Hiking and Walking?
Have you ever been curious about the difference between hiking and walking? It could be speed, terrain, environs, elevation. It could be all of these things.
I've asked myself the same question on numerous occasions, especially when I'm out in nature on a paved path. Am I hiking or am I walking?
Sometimes if I'm on a paved path and I'm relatively close to a downtown area, like Washington, DC, I may call my adventure an urban hike.
For example, the Mount Vernon Trail in Alexandria is a paved 18-mile multi-use trail that runs from Theodore Roosevelt Island to Mount Vernon.
This paved path along the Potomac River is mostly flat and attracts a lot of dog walkers and casual cyclists. Also, hikers and walkers.
I decided to ponder a few questions to see if I could really dig into the differences between hiking and walking. Let's go.
Is Hiking the Same as Walking?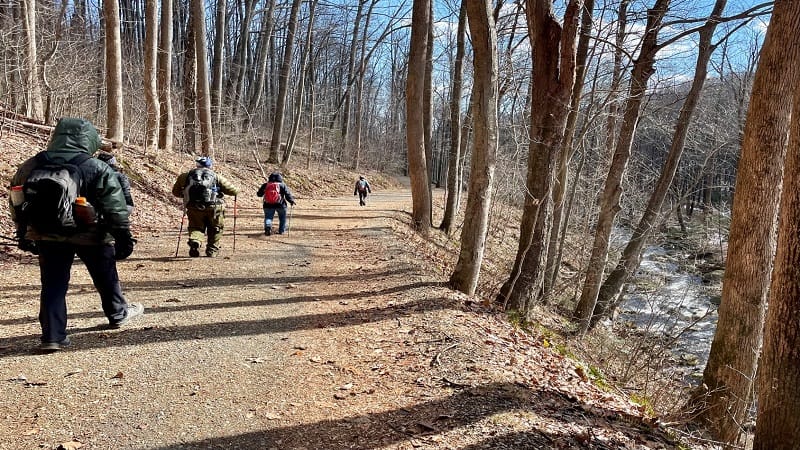 To start, I headed to Dictionary.com for the definitions of "hiking" and "walking." Honestly, I was very curious. So, here you go.
As a verb, hike is defined as "to walk or march a great distance, especially through rural areas, for pleasure, exercise, military training, or the like."
Walk as a verb means "to advance or travel on foot at a moderate speed or pace." Also, "to move about or travel on foot for exercise or pleasure."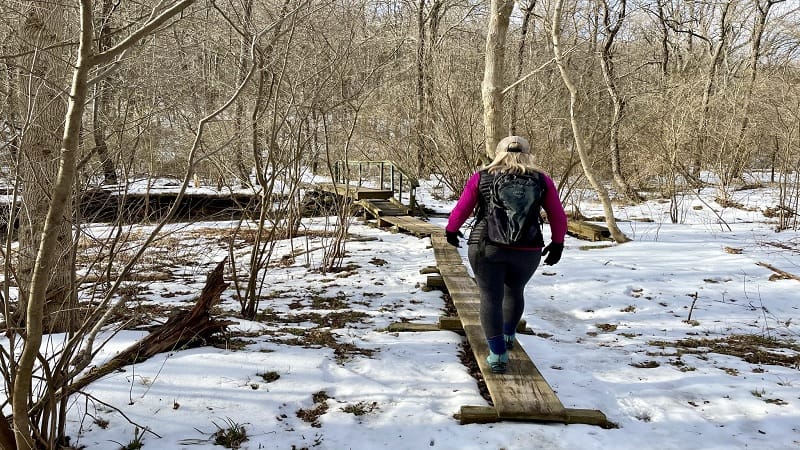 It seems, at least according to Dictionary.com, that distance appears to be the difference between hiking and walking.
If you are traveling on foot a "great distance," then you are hiking. If you are not moving a foot a great distance, then you are walking.
This distinction of course inspires my next question. As in, how many miles is considered to be a "great distance?" And therefore, to be considered a hike.
What Distance is Considered a Hike?
Curious minds want to know. So, I took to Google. Maybe Google would enlighten me as to what distance is considered to be a hike.
I quickly learned that the 52 Hike Challenge deems a hike to be a walk that is at least one mile. They actually include this in their FAQs section.
If you're not familiar with the 52 Hike Challenge, it's a virtual challenge designed to encourage all of us to complete one hike each week for one year.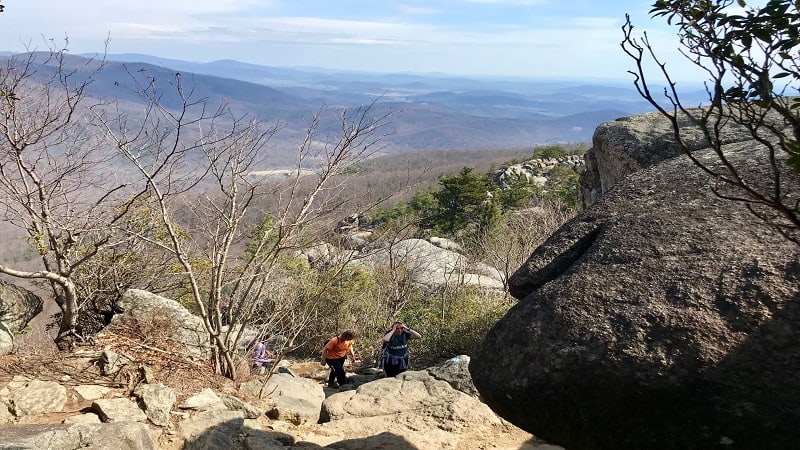 You can sign up to earn a medal or a patch. Or, you can unofficially sign up and simply complete 52 hikes in a year. I did the latter in 2019.
Honestly, every hiker is different and can define a hike length in their own way. If a one-mile hike is your jam, I've got 15 one-mile hikes you will love.
Some of the hikes on the list are less than one mile, like the Storybook Trail in New Market. It's just .7-miles, but I would still consider this to be a hike.
Is it Better to Walk or Hike?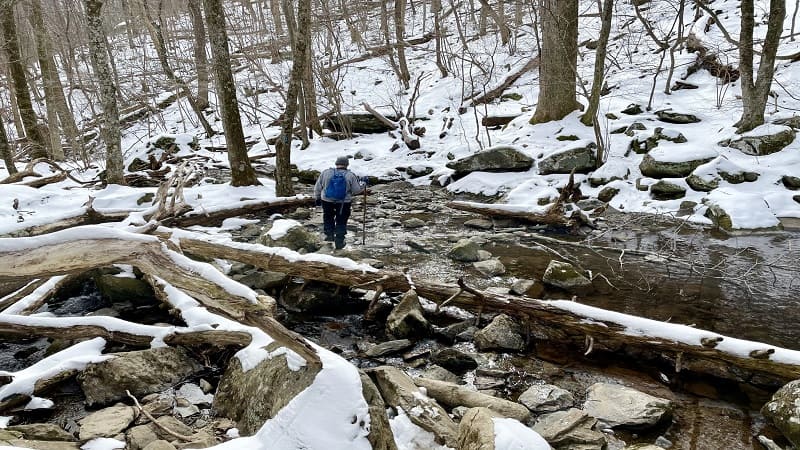 I'll admit, this is kind of broad question, but research has shown that walking is better than hiking in terms of weight loss and mental health.
According to Statista, 111 million people (aged 6 and older) walked for fitness in 2018. UK media also showed huge jumps in walking during the pandemic.
Interestingly, those who opted for a hike tended to burn more calories, due largely to factors like trail terrain and grade, as well as daypack weight.
On a hike, we're typically carrying a daypack on our backs with water bottles, snacks, first aid kits and the like. This extra weight carried can torch calories.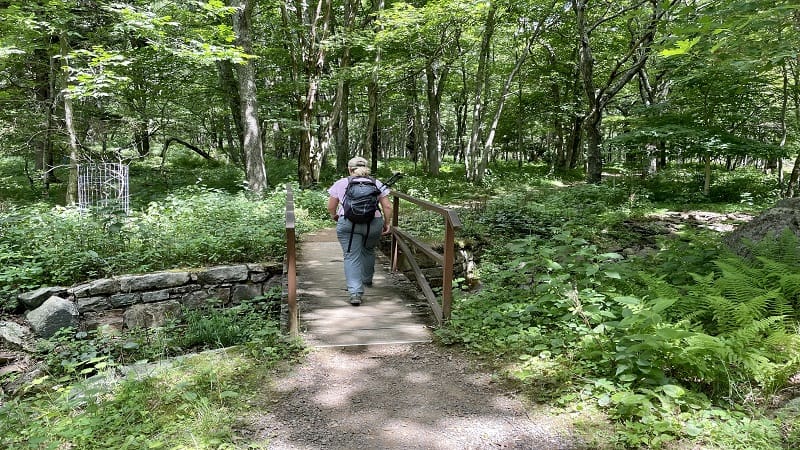 You can burn 100 calories per mile on a walk, but you can double the number of calories burned when hiking.
In fact, walking uphill, like on steep hiking trails, can significantly increase calorie burn. A weighted backpack can nearly double the calorie burn, too.
As for the mental benefits of hiking, of course there are many, but research studies point to scientifically-backed benefits of hiking in nature for the win.
One study engaged participants in either an urban walk or a nature hike. Those on a nature hike showed less activity in the prefrontal cortex.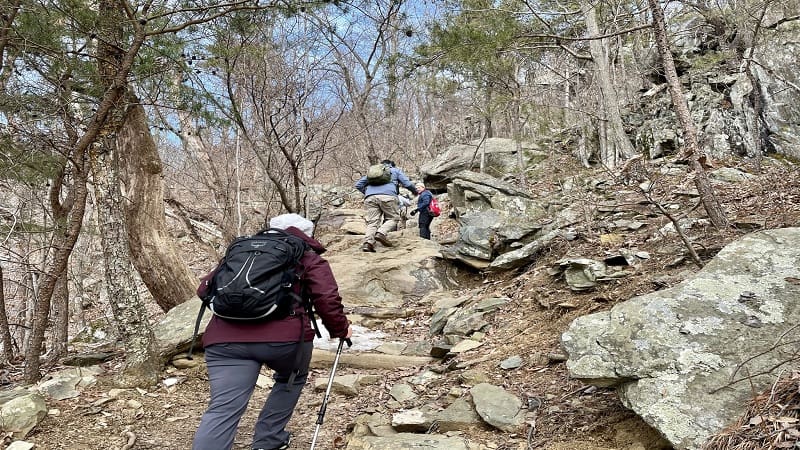 This part of the brain is associated with stress, depression and negative thoughts. Specifically, this study cited rumination.
Hiking on nature trails has also been shown to increase energy, reduce risk of heart disease and stroke, reduce insomnia and increase creativity.
Is Hiking Harder Than Walking?
Of course, hiking can be harder than walking. There are so many factors, like grade, terrain, weather, temperature and speed of movement.
A steep hike, like The Priest, with an elevation gain of 3,169 feet over 4.5 miles to the summit is certainly more challenging than a walk on a flat path.
That's not to say that it's only more challenging if you're hiking or walking on uneven terrain that includes rocks, dirt, mulch, tree roots or water crossings.
An urban hike on the sidewalks of Seattle or San Francisco would include a lot of paved uphill and downhill sections that can be tough on your body.
So, for this one, there's really no right answer. Depending on where you are, there are too many outside factors at play that can impact a walk or hike.
How Do I Get Started Hiking?
If you've been walking and are eager to get started hiking on nature trails for all the benefits, then you've come to the right place.
Check out my guide to hiking for beginners that will help you find hiking buddies and routes, as well as what to wear and what to bring on a day hike.
For starters, make sure you have essential hiking gear, which includes:
* Daypack: A quality daypack is perfect for carrying all your hiking essentials.
* First Aid Kit: Pack a basic first aid kit with bandages, alcohol pads, gauze and antibiotic ointment.
* Water Bottle: Always bring a full water bottle.
* Trail Food: Lightweight and nutrient-dense snacks are critical. Bring more than you think you'll need.
* Flashlight: A flashlight or headlamp is key for emergencies. Your cell phone flashlight is not enough.
* Whistle: Always pack a whistle for emergency use.
* Sun Protection: Sunscreen and sun hats will help protect your skin from harmful UV rays, even in winter.
Proper footwear is also key when on hiking trails. Always wear comfortable, durable closed-toed hiking shoes or hiking boots for balance and stability.
What are Some Easy Hikes in Virginia?
I'm so glad you asked. There are loads of incredible hikes for all levels in Virginia. For starters, check out the Trail Finder feature on Go Hike Virginia.
Here you can zoom in on your area and find hikes near you or near where you would like to go, like Shenandoah National Park or Roanoke, Virginia.
The Trail Finder map is color-coded, too. Just like skiing, the greens are easy, the blues are moderate and the blacks are strenuous.
From each green, blue or black marker, you can click through to the hike to see length, elevation and terrain at a glance.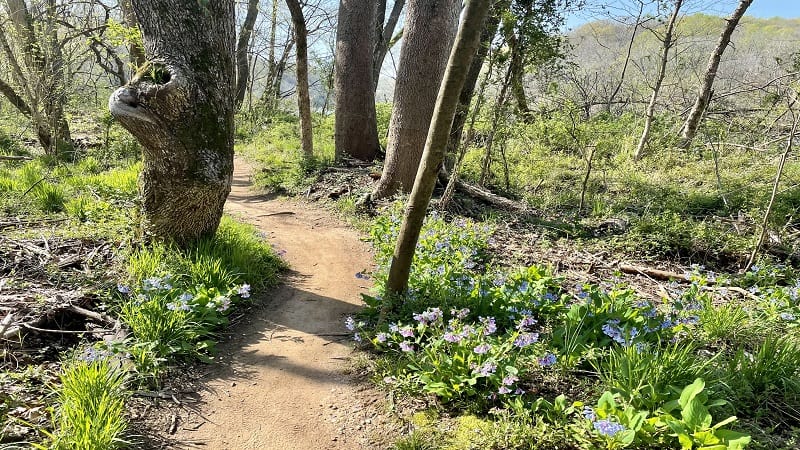 You can also read about each hike in a turn-by-turn fashion. I included lots of photos too so you know whether the scenery and natural settings are for you.
On the navigation bar, there is also a "Hikes by Region" drop-down to find hikes in your area. Another good option is the "Best Of Hikes" category.
This category includes lots of round-ups, like the best hikes in Lexington and the best hikes near Wintergreen Resort in Virginia.
Whether you decide to get out for a walk or a hike, I hope you enjoy your time outdoors. It's always a win anytime you can move your body. Have fun.