5 Best Hiking Knee Braces (2023)
Hiking can be hard on your knees, no matter how physically fit you are. However, you can support your knees by using a brace, sleeve or strap.
In this article I'm covering some top questions about hiking knee braces and how to alleviate any related knee pain while out on the trails.
There may be affiliate links in this post. If you make a purchase, I earn a small commission at no extra cost to you. Thank you.
I'll also address some do's and don'ts for addressing your knee pain while hiking, as well as five knee braces you may want to consider for hiking.
Do Knee Braces Help When Hiking?
A hiking knee brace can provide additional support and stability for your knees when hiking over rugged terrain.
If you're someone who experiences knee pain when hiking, then a brace could be just what you need, especially for long hikes and more rigorous day hikes.
Knee pain is typically experienced during or after downhill hikes. This is because hiking downhill puts a lot of pressure directly on your kneecap.
A hiking knee brace helps support your knee and kneecap by adding stability and support where you need it most.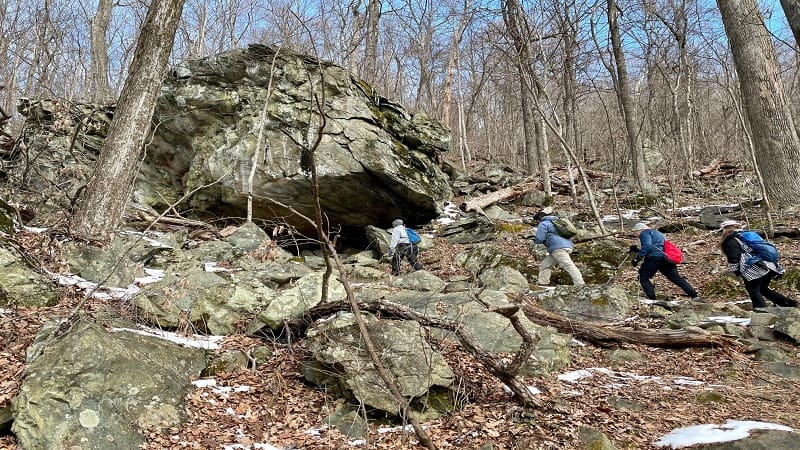 There are different kinds of knee braces. If you plan to use one for hiking, be sure to find a brace that is specifically for this outdoor activity.
Some knee braces for hiking provide support in the form of compression, while others provide total support in the form of a hinged stabilizing brace.
The best knee brace for you will depend on your specific needs. If you just want a little support, a compression brace might be just fine.
However, if you experience more pain or are recovering from a knee injury, you may want to consider a beefier brace to provide extra support to your knees.
Does Hiking Strengthen Your Knees?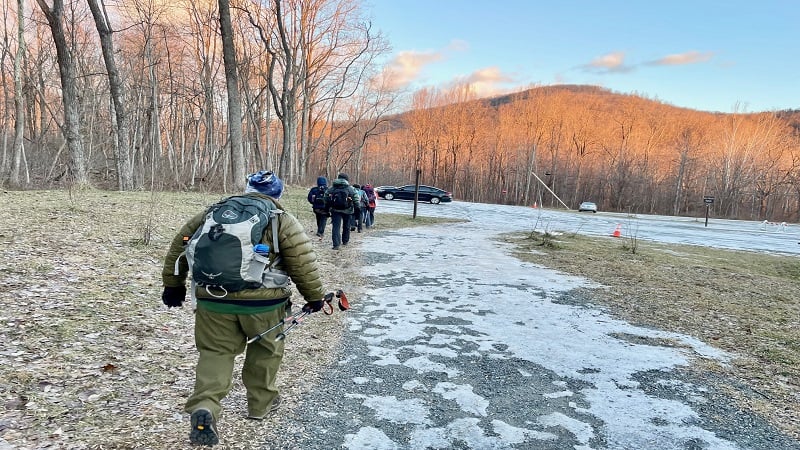 Hiking is ultimately good for your knees, whether short or long distances. It can help strengthen them, and it helps strengthen your legs, too.
However, if you don't give your knees the proper amount of support when hiking in the great outdoors, it can actually do more harm than good.
Knees that are already weak may need additional support on more challenging hikes or when hiking lengthy downhill sections.
Although hiking can strengthen your knees, you can't dive right in without providing weak knees with the proper support.
There are plenty of exercises you can do off-trail in your everyday routine to help strengthen your knees, too.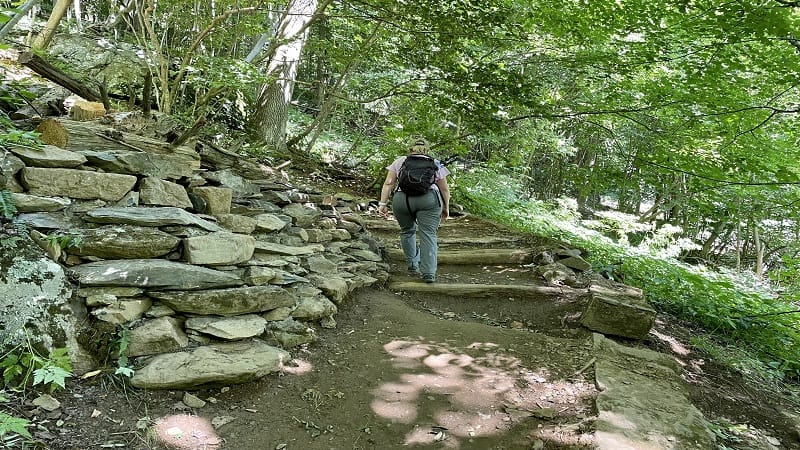 If weak knees are something you struggle with, don't rely on hiking alone to strengthen them.
Don't know whether or not you have weak knees? If you experience any kind of twinge or pain when hiking, chances are you do. Good knee support can help.
If this is you, consider investing in a knee brace for hiking and do some knee-strengthening exercises off the trail. This is good even for avid hikers.
According to the American Academy of Orthopaedic Surgeons, there are exercises you can do to help build knee strength. Here are a few ideas:
* Leg raises while laying flat
* Side leg raises
* Forearm plank with heel lift
* Standing hamstring curls
* Step exercises
* Wall squats
Knee strengthening exercises do not strengthen your knee joint specifically. Rather, they strengthen the muscles around your knee to help support it.
It's important to always stretch before and after exercising and after hiking. Stretching your legs will help improve flexibility and reduce pain and injury.
How Can I Hike Downhill Without Hurting My Knees?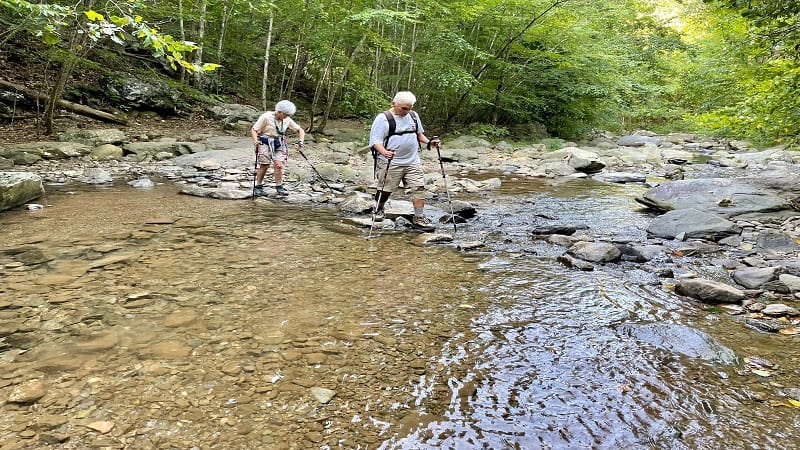 As noted above, downhill hiking can cause knee pain during and after hiking.
When you hike downhill, all of your body weight and backpack are concentrated on your knee joint.
This can do much more than just cause pain. Without proper treatment or preparation, it can actually cause serious injuries.
Here are some essential tips for hiking downhill without hurting your knees.
1. Use a hiking knee brace. Provide your knee with additional support to help avoid knee injuries and further knee problems.
2. Hike downhill in a zig-zag pattern. Going diagonally places less pressure on your knees and ankles than hiking downhill in a straight line.
3. Use trekking poles. Trekking poles can help absorb some of the shock and take pressure off your knees.
4. Avoid leaning back. The further back you lean, the more weight and pressure you place on your knees.
5. Take it slow. Pay attention to your body and how it feels. Take it slowly and tune in so you can stop at the first sign of pain or injury.
6. Don't lock your knees. When hiking downhill, keep your knees slightly bent with every step to help ensure good knee health.
How Do I Stop Knee Pain When Hiking?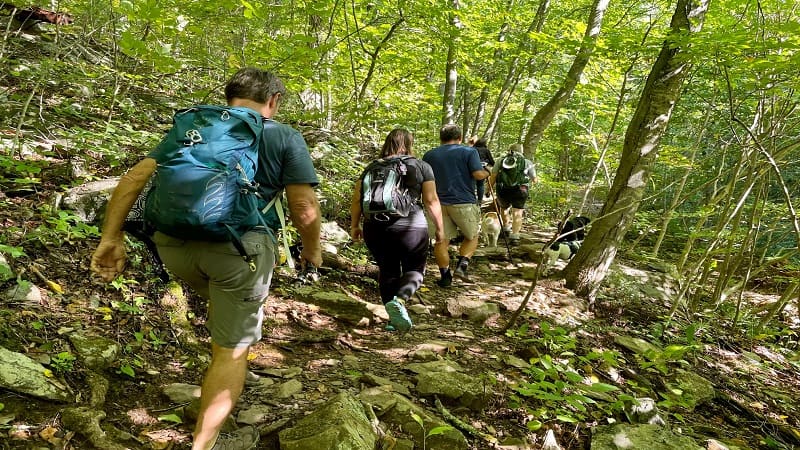 If you experience knee pain when hiking, stop and assess the situation.
First, what were you doing when the knee pain started? If hiking downhill, the tips in the above section can help you prevent further pain and injury.
If you experience knee pain while hiking that isn't alleviated with the methods mentioned above, you should end the hike ASAP.
If you continue hiking while you're experiencing pain, you could end up with an injury. Nobody wants that!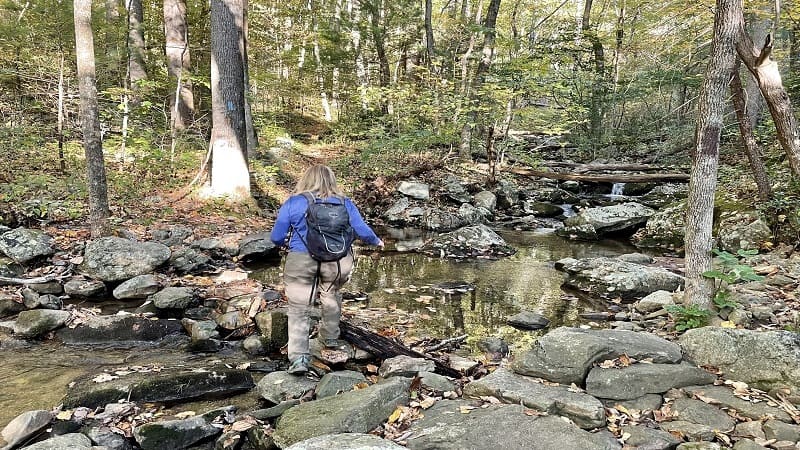 Here are some additional tips for preventing knee pain while hiking.
* Wear the right shoes. Be sure your shoes have the proper support and shock absorption to help take some of the impact off of your knees.
* Don't overload your backpack. Only carry the essentials for a day hike.
* Bring along a good knee brace. Even if you don't wear a brace the whole time, bring one along in case you start to experience pain on the trail.
* Carry carry hiking poles. They're good to have, even if you don't use your hiking poles the entire time.
What Should I Look for in a Knee Brace for Hiking?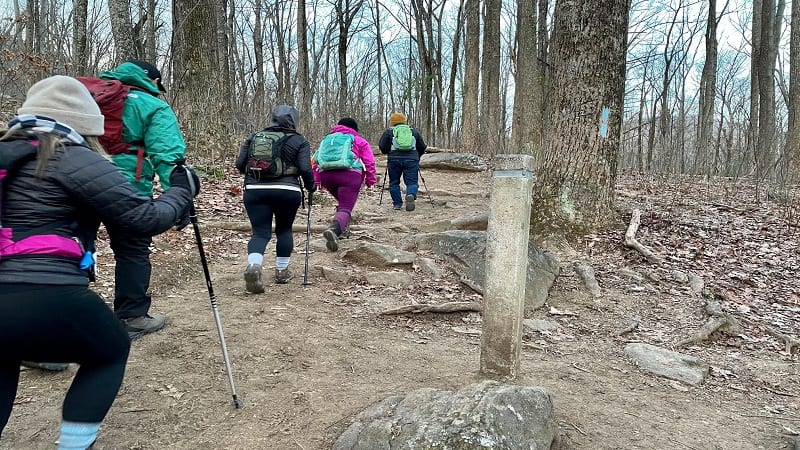 Knee braces for hiking are different from everyday knee braces. Hiking knee braces should provide great support and be made for physical activity.
When looking for a hiking knee brace, you should consider a few things:
* How much support you need
* Brace style: slip-on or wrap-around
* Right size: there are many different sizes
* High-quality material: a breathable fabric is key
Support Ranges and Styles
Hiking knee braces and straps range from providing a little to a lot of support.
Hiking knee straps put pressure on your tendons to take pressure off of them and provide little support.
On the other hand, hinged and stabilizer knee braces provide a ton of support and are great for those recovering from injury or surgery.
Brace Size
Of course, you always want to make sure your knee brace will actually fit you.
While wrap-around knee braces and straps are adjustable, slip-ons are not.
Buying a brace only to receive the wrong size right before a big hike would be a major headache, so be sure to keep this in mind.
Material
Believe it or not, the material your brace is made out of matters a lot. Aggravating velcro straps can cause chafing that can make a hike miserable.
Non-breathable fabrics can be just as miserable. With some braces, you will sweat no matter what, but a breathable material is a good idea.
Best Hiking Knee Braces
The following section is all about today's hiking knee braces. We scoured the web to bring you the top-rated choices.
Take a look at each hiking knee brace. You're sure to find one that will work for the amount of support you need on the trails.
This 2-pack of knee strap braces takes stress and pain off of your knee tendons. These small straps provide a surprisingly great deal of support.
Knee straps are great for runner's knee and patella tendonitis. They can be placed either above or below the knee, depending on where you need support.
A patella knee strap is worn below the kneecap. Hitting the right pressure point is key to getting relief and support with this type of knee brace.
These types of knee braces are great for relieving occasional pain and providing additional support while hiking.
If you don't need total support and stabilizing, this lightweight and small brace that allows for knee pain relief might be perfect for you.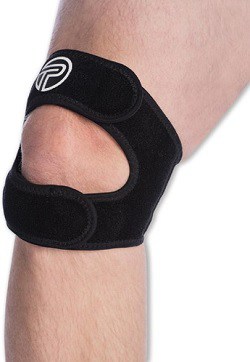 This REI knee brace combines the support of a full knee brace and a knee strap in one. This brace sits above and below the kneecap to add support to your tendon.
The Pro-Tec knee support brace comes in three sizes from SM to LG and has adjustable straps for comfort and compression.
This brace is designed to provide compression to both your patellar and quadriceps tendon to support your knee and keep pain at bay.
It also adds stability and is designed for physical activity, like hiking. The compression pads on the front of the brace help to stabilize your knee cap.
This brace is a good pick if you experience pain around or behind the kneecap. This brace is lightweight and low-profile, weighing only 4.3 ounces.
The Modvel Compression Brace has over 35,000 5-star ratings on Amazon. This comfortable hiking knee brace is perfect for supporting weak knees.
This brace set helps stabilize and support your knee joint through compression. It's designed specifically for outdoor activities, like hiking and biking.
Since this brace is a compression sleeve, it is non-adjustable. However, the Modvel brace is available in sizes from SM to 3XL and comes in 7 colors and styles.
What we love about this brace set is that it comes in a two-pack, so it's great for someone who needs extra support in both knees.
Knee compression sleeves help increase blood flow and reduce the movement of your kneecap. This allows for extra support and less knee pain while hiking.
For maximum knee support , look to the Shock Doctor knee brace. This hinged knee brace also uses compression to help stabilize and protect your knee.
If you are recovering from an injury, this may be the brace for you. This brace comes in sizes from SM to 3XL and is made of spandex and aluminum hinges.
This brace is made specifically for healing and protecting unstable knees and kneecaps and for supporting sprains and injuries.
The hinges on either side of the brace help provide support while allowing for range of movement. This brace has adjustable straps but also has a slip-on design.
This brace supports joint alignment and soft tissues. It also helps boost heat retention to improve blood circulation and help heal muscles and tendons.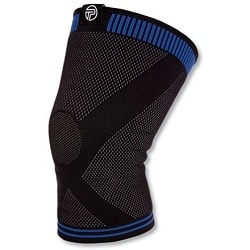 The Pro-Tec Athletics knee sleeve is a great compression sleeve choice from REI. This brace is available in sizes from SM to XL and comes in a single-brace pack.
The 3D Flat compression sleeve contours your knee joint to provide kneecap stability and increased blood flow for pain relief and support.
Because this is a compression sleeve, you'll get support while still having a full range of motion.
The inside of the sleeve has a non-slip gel lining at the edges to keep the brace from slipping, even if your skin gets a little sweaty.
It's designed for use during many physical activities from hiking to running and even active sports.
Wrap-Up: Hiking Knee Braces
If you're experiencing knee pain while hiking, remember to take it slow and alleviate pressure on your knees.
Only carry the hiking essentials and keep your load light, and take extra care when hiking downhill on your next hike.
When choosing the right knee brace or knee sleeve for hiking, consider the level of support you need, the size and the material. A comfortable fit is also key.
Whether you're looking for a full knee brace, a strap or compression sleeve, there is an option that will provide knee support for hiking.
All of the braces in this article are designed to help with pain and support, making them perfect for those who love hiking and being active outdoors.
So, if you're experiencing any pain or instability in your knees, don't hesitate to try any of these different types of knee braces.
Disclaimer: The words in this blog, and in any linked materials, are not intended as medical advice. Always seek the guidance of your doctor with any questions regarding your health or a medical condition.