Brumley Mountain Trail: Hike to Big Views Near Abingdon, Virginia
A few weeks ago, I hiked the Brumley Mountain Trail at Hidden Valley Wildlife Management Area near Abingdon, Virginia.
Interestingly, this is the same Brumley Mountain Trail that leads to the Great Channels. From this starting point, however, it would be a lot more miles.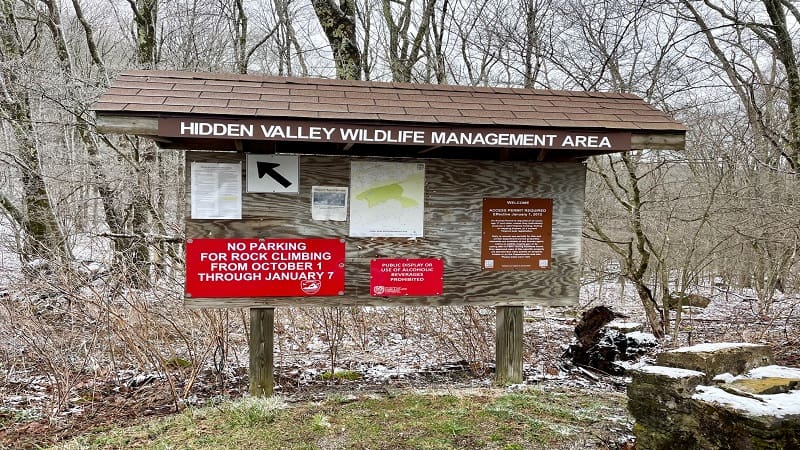 A sign at the trailhead notes that Hayters Gap, which marks the start of the Great Channels hike, is 14 miles away on this hiking trail.
This means that the Great Channels is 11 miles from this end of the Brumley Mountain Trail. The hike from here would make for a very long day.
My hike started at Low Gap, then proceeded 1.5 miles to a rocky overlook, by way of a side trail. This is an easy to moderate 3.0-mile out-and-back hike.
| Trail Stats | |
| --- | --- |
| Length | 3.0 miles |
| Difficulty | Moderate |
| Trail Type | Out-and-Back |
| Elevation Gain | 620 feet |
| Duration | 1.5-2.5 hours |
| Terrain | Mostly dirt trails, some rock scramble |
| Dog-Friendly | Yes |
| Fee | Free |
| Driving Directions | Click Here |
Trail Parking
As you ascend along Hidden Valley Road, you'll see a large parking area on your right. This is not the parking lot for you. This is an overflow lot.
If you do park here, you'll have a fairly steep climb to the actual parking lot, which is also where you'll find the trailhead for this hike.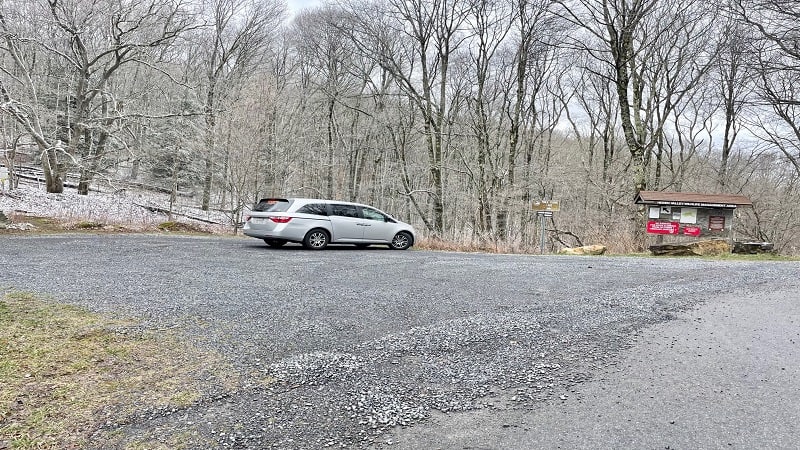 Continue on up the hill. The parking lot appears shortly, on the left side. There is a large trail kiosk with a small map of the wildlife management area.
This parking lot is much smaller, but I was the only one hiking this day, so it was big enough for me.
Brumley Mountain Trail
You'll see the start of the Brumley Mountain Trail at the back of the parking area. The trail is well marked with arrows and mile markers.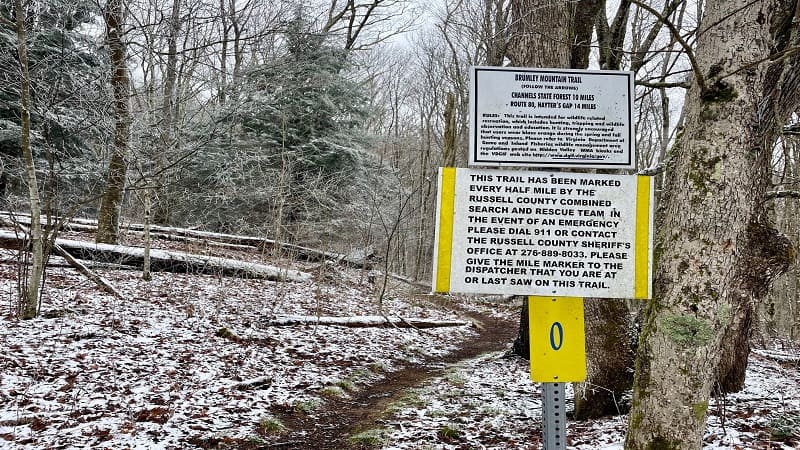 Every 0.5 miles, there is a yellow mileage marker. At the trailhead, a sign informs that Russell County placed mileage markers for search and rescue purposes.
If anything happens to you on this trail, Russell County asks that you make note of the mileage marker you last saw on the hiking trail.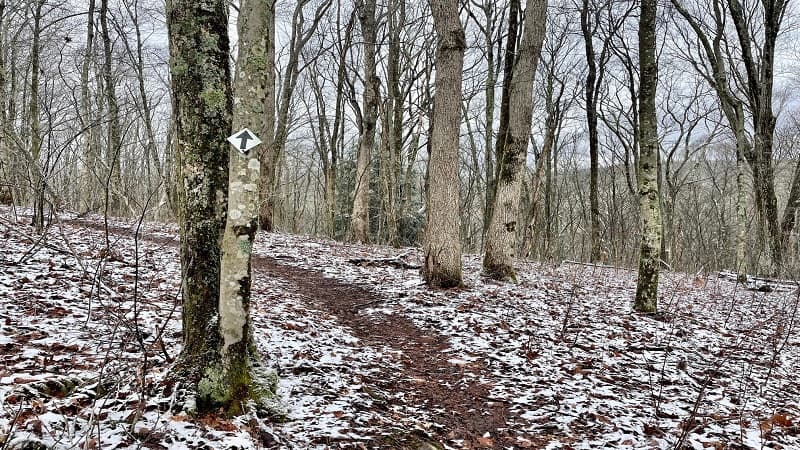 You will also see arrows all along the well-maintained trail across a mixed hardwood forest. As you approach the 1.1-mile mark, stay alert.
You will reach a fork in the trail. Because the trail is so well-marked with arrows and mileage markers, it can be very easy to hike on auto-pilot.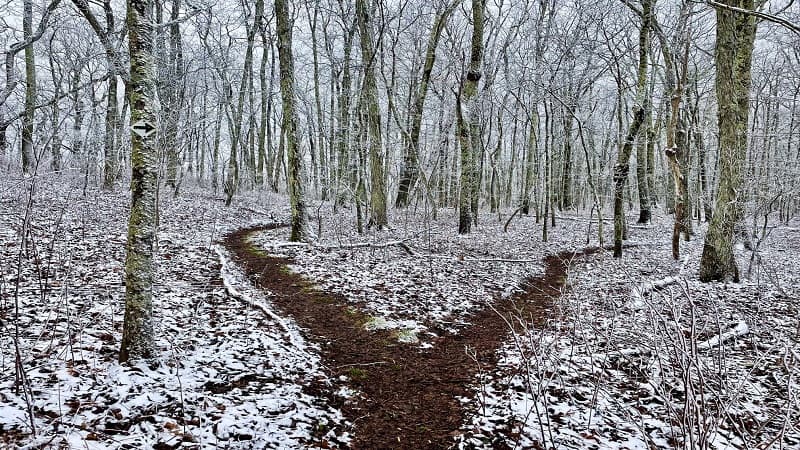 If you do this, you'll walk past the spur trail to the overlook. I did and proceeded about .25-mile off track before I realized my error and returned to the fork.
At the fork, stay left on the unmarked trail. At about the 1.4-mile mark, you'll encounter a rock scramble as you continue on to the overlook.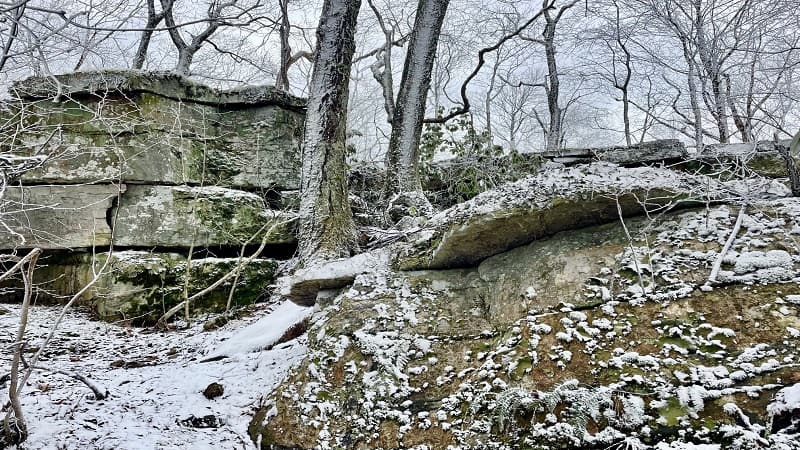 Since there are no trail markers on this stretch of trail, my best advice is to keep hiking west to the end of the rocks until you reach the overlook.
You'll see fantastic mountain and valley views. It's a manageable scramble and will definitely be worth your efforts.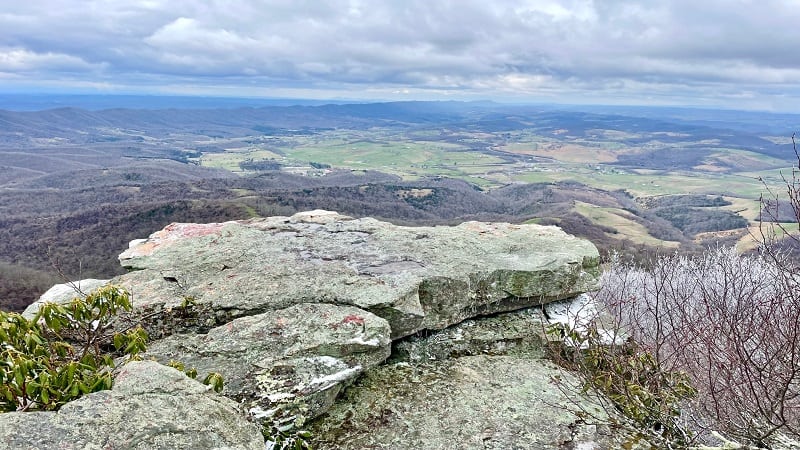 Once you've finished soaking in the views, re-trace your steps to the parking area to complete your hike.
Wrap-Up Notes
From the parking area, this hike took me nearly 90 minutes to complete, including time spent re-tracing my steps when I went down the wrong path.
It's a lovely hike and the overlook views were fantastic, though it was very cloudy on the day I was able to tackle this hike.
The trailhead for this hike is an easy 20-minute drive from Abingdon, yet you will feel like you are worlds away. It feels very serene and remote.
For more nearby hikes, check out Big Cedar Creek Falls, as well as Buzzard Rock and Mount Rogers.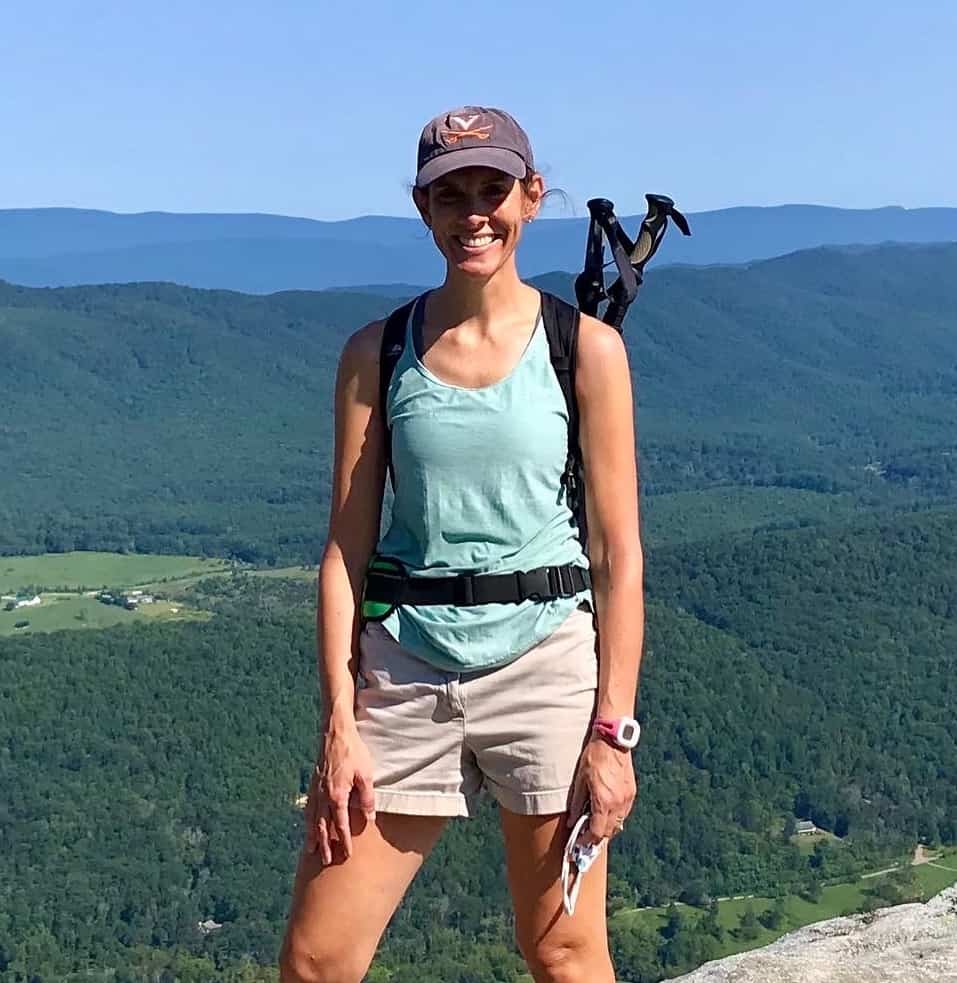 Erin Gifford is the editor of Go Hike Virginia. She has completed more than 300 hikes in Virginia. She is also the author of three hiking guidebooks from Falcon Guides. Need help finding a hike? Check out the Trail Finder feature or send Erin a message.