Where to Camp: Luray RV Resort & Campground on Shenandoah River in Luray, Virginia
Fall camping is literally around the corner. Have you booked a camp site to make the most of fall foliage season in Virginia? The time is now, friends.
Recently, I checked out Luray RV Resort & Campground on Shenandoah River. This is the former Outlanders River Camp in Page County and it is ah-mazing.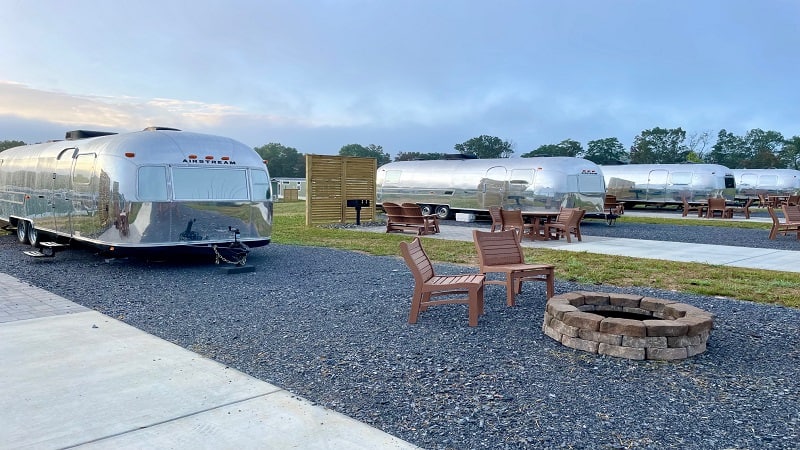 Luray RV Resort sits on Lee Highway, but you'll hardly notice the cars. It's also less than 10 minutes from Luray Caverns, Luray Zoo and the Luray Singing Tower.
Of course, it's close to hiking, too. It's a short drive to the Storybook Trail, as well as other hikes near Luray, like Strickler Knob and Duncan Knob.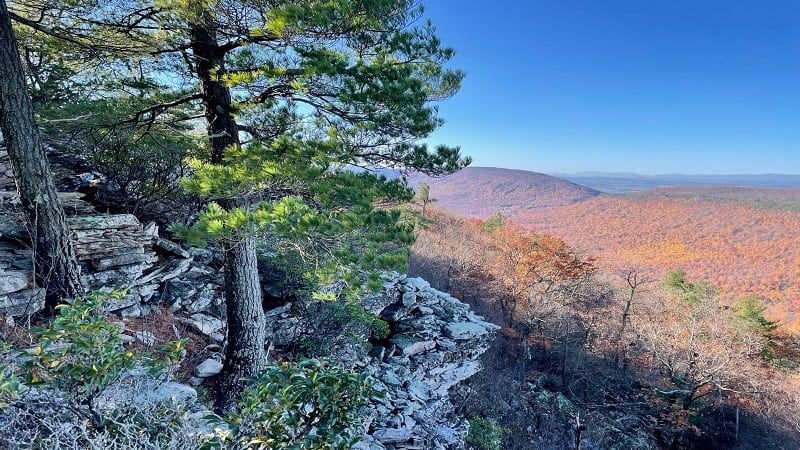 Here's the scoop on the new Luray RV Resort. But first, a bit of background on how this new luxe camping resort in Luray came to be.
Acquisition & Expansion
In February 2022, Blue Water Development announced the acquisition of Outlanders River Camp, along with big plans for the future of the campground.
At the time, Outlanders had just three deluxe cabins, 42 RV sites and 15 platforms for tent camping on this waterfront property with river frontage.
The campground re-opened in early-August 2023 with a new name, a lot more camp sites and big amenities, like a pickleball courts, a bike park and cornhole.
That's not to mention the resort-style pool that has cabanas, two twisty water slides and kid-friendly features, like zero-entry and dumping buckets.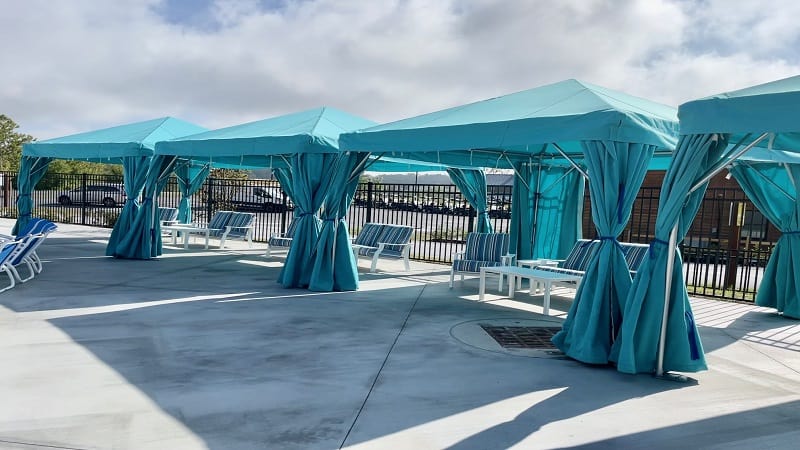 There are lots of new ways for the whole family to stay too, including cottages, Airstream trailers and glamping tents. Plus, mountain views from every angle.
All the Ways to Stay
Now, let me dig into the lodging and site options you can book now at Luray RV Resort. There are almost too many options, and some are quite luxe.
For those who typically opt for climate-controlled cabins and cottages, you will be pleased. They are a seriously posh way to spend time in the great outdoors.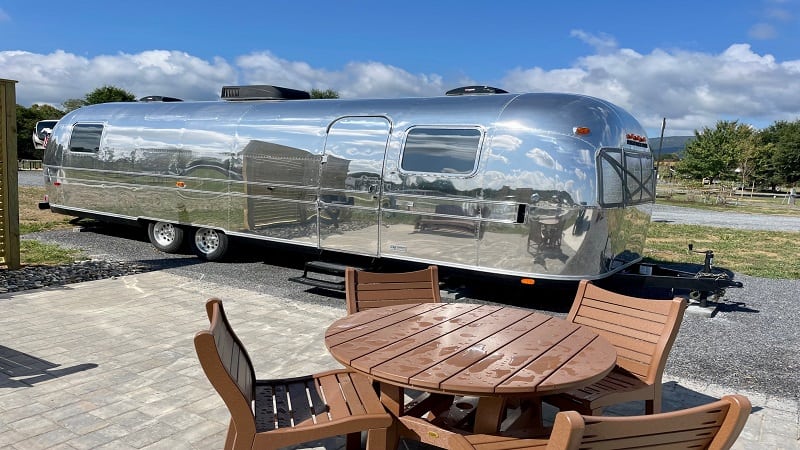 The Airstream trailers are especially nice. Very luxurious. The glamping tents are also nice. They are on the rustic side, but they are climate-controlled.
Then there are a handful of tent sites, as well as many, many RV sites. In fact, well over 100 new RV sites were added to the spruced up campground.
Cabin Rentals
There are three cabin rentals at Luray RV Resort, including Deer Cabin, Owl Cabin and Oar Cabin. The cabins are from the former Outlanders River Camp.
Cabins have full kitchens, including a stove, an oven, a microwave, a full-size refrigerator, a toaster and a coffee maker.
Each cabin also has a dining room, a flat-screen television, a full bathroom and an indoor fireplace. The cabins are non-smoking; pets are not allowed.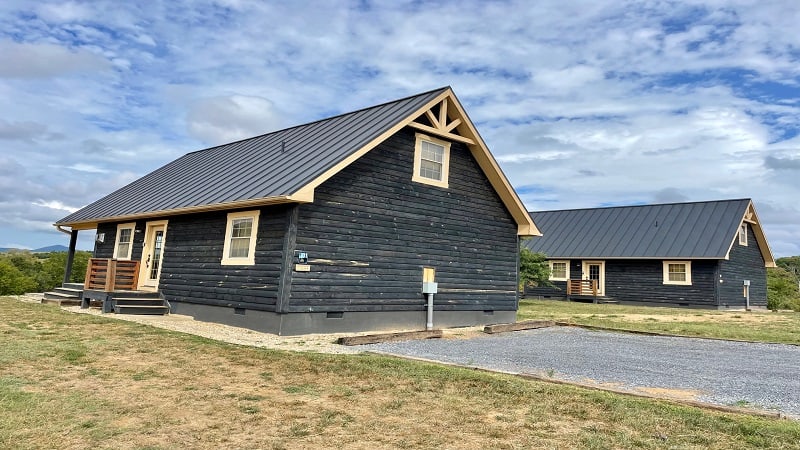 Deer Cabin and Oar Cabin sleep up to eight people. They both have two bedrooms with queen-size beds. A loft space features four twin-size beds.
Owl Cabin sleeps up to six people by way of two bedrooms with queen-size beds, and a queen-size sleeper sofa.
Linens are provided, including sheets, pillow cases and bath towels. There are pillows, too. Note that blankets are not included. Nor is bath soap.
It's been awhile since I've stayed at a campground, so I kind of forgot to bring both. Oops. Also, bring trash bags, as well as extra paper towels and toilet paper.
Outside, there is a covered porch, a charcoal grill, a fire pit and a picnic table.
Cottage Rentals
At Luray RV Resort, there are 44 brand-new cottages, which are broken up into deluxe cottages and premier cottages.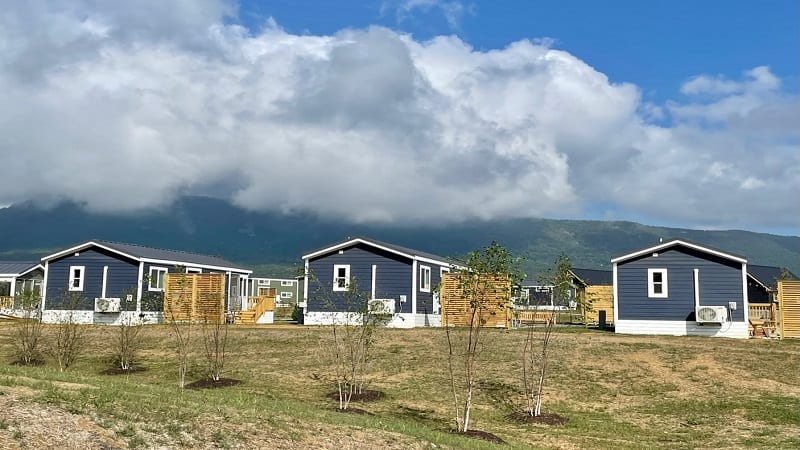 Deluxe cottages have two bedrooms. They feature one queen bed and a set of twin bunks. Premier cottages have one queen bed and a twin over full bunk.
Some deluxe cottages also have a loft, which has a full-size mattress. Both deluxe and premier cottages have a full-size sleeper sofa.
All cottages have a kitchen, which includes a full-size refrigerator, a two-burner stove, a microwave oven, a sink, a coffee maker and a toaster.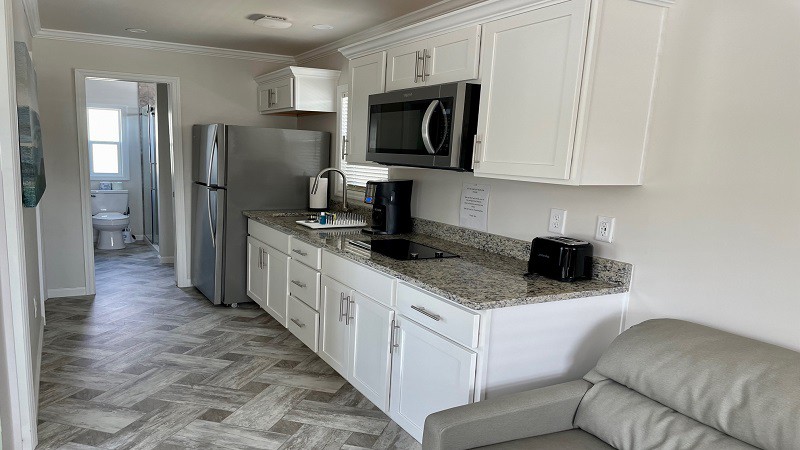 Cottages sleep up to six people. Linens are provided, including sheets, pillow cases and bath towels. There are pillows, too.
The full bathrooms are very nice, and feature a handheld shower head, a rain shower head and marble countertops.
Outside, there is a picnic table, a fire pit, a charcoal grill, Adirondack chairs and a screened-in porch.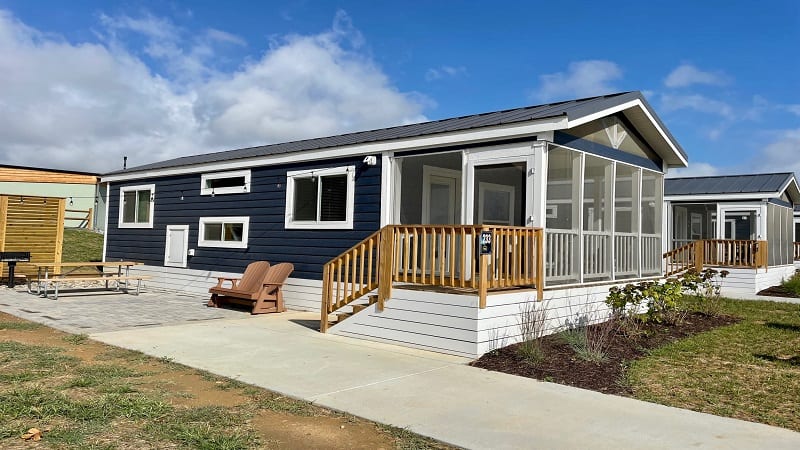 All cottages are non-smoking. Most cottages at Luray RV Resort are pet-friendly, but four do not allow pets. Some cottages are also ramp accessible.
Airstream Rentals
There are brand-new Airstream rentals at Luray RV Resort. They are both vintage and luxe. All Airstreams are non-smoking and pet-friendly.
These rentals feature a queen-size bed and full-size sofa sleeper, as well as a kitchenette with a mini-fridge, a coffee maker, a microwave oven and a sink.
Airstreams sleep up to four people. Linens are provided, including sheets, pillow cases and bath towels. There are pillows, too.
Full bathrooms feature a handheld shower head, a rain shower head and ceramic vessel sinks. Outside, there is a picnic table, a grill, Adirondack chairs and a fire pit.
Glamping Tents
At Luray RV Resort, there are 32 glamping tents. These are the most rustic stays, but the canvas tents are climate-controlled.
Glamping tents (or, glampers) have a queen bed and twin-size bunk beds. There is also a futon sofa. Interiors are essentially canvas and wooden slats.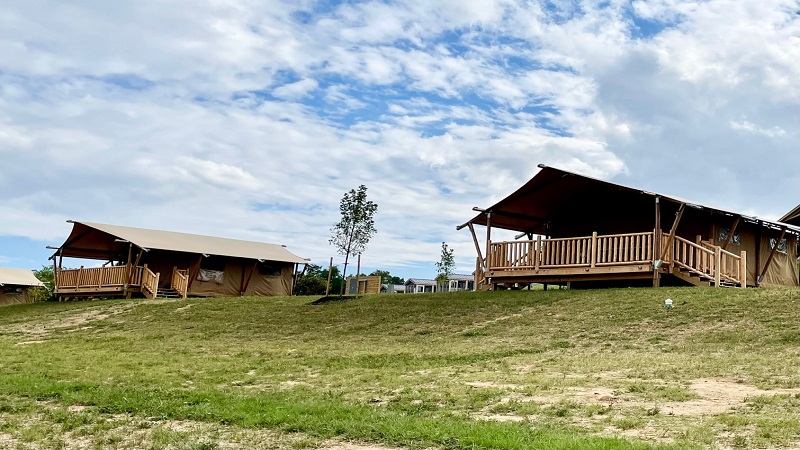 A kitchenette has a sink, a coffee maker, a microwave, a mini-fridge and a two-burner stove. The full bathroom has a vessel sink and a rain shower head.
Linens are provided, including sheets, pillow cases and bath towels. There are pillows, too. Don't forget to bring warm blankets, bath soap and trash bags.
A covered porch has a picnic table and two comfy cushioned chairs. Outside, there is also a fire pit and a charcoal grill.
Glamping tents sit on large sites and sleep up to six people. These canvas glamping tents are non-smoking and pet-friendly.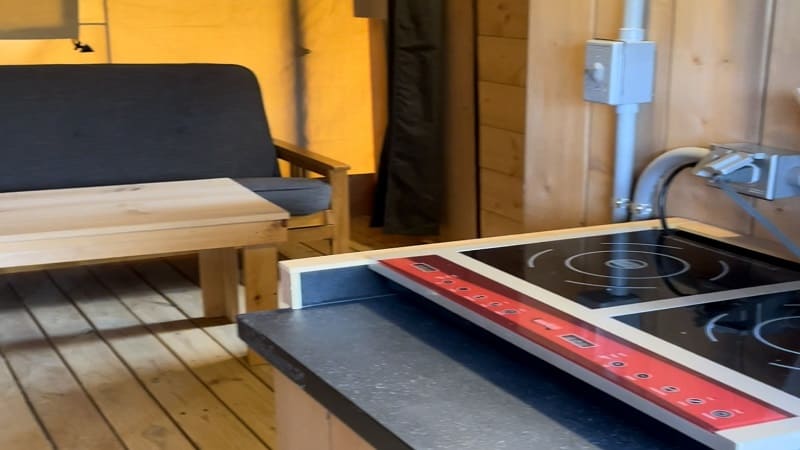 Of note, the glamping tents are not accessible to vehicles. You cannot park in front of any glamping tents. You either need to walk or rent a golf cart.
It's not a far walk from the parking lot, but it's a gravel path. If you have a lot of gear, like duffels and groceries, this may not be the most optimal accommodation.
RV & Van Camping
At Luray RV Resort, there are well over 200 sites for RVs in this picturesque setting, including travel trailers, motorhomes and Class B camper vans.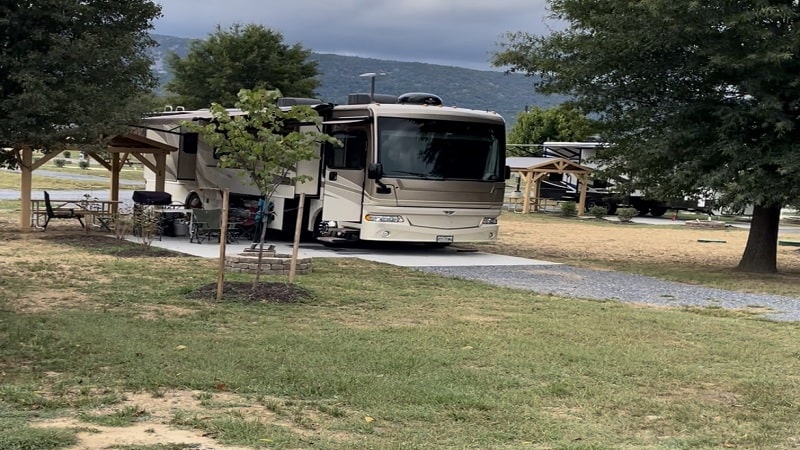 There are both pull-thru sites and back-in sites in the RV park. All RV sites have full hook-ups, including water, sewer and electric (30- and 50-amp).
RV sites have concrete patios, picnic tables and fire rings. Some RV sites are accessible. All sites are pet-friendly. Some sites can fit a rig up to 50 feet long.
Tent Camping
There are nine wooded tent sites. Note that these site pads are close to the water, but there is no river access from the primitive tent camping area.
All camping sites are walk-in only. There is no vehicle access, and there is a fairly steep downhill walk to the tent sites. There is also a set of wooden stairs.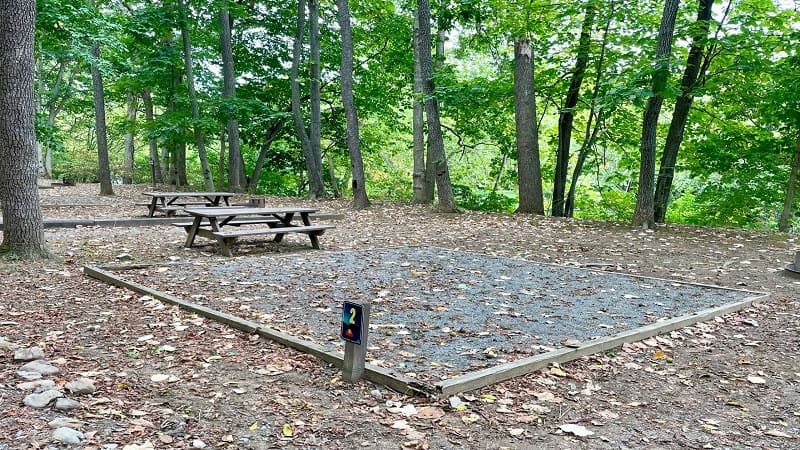 The wooded campsites are accessible by golf cart. Tent campers, you may also want to bring a wagon to cart your gear to your tent site.
Tent pads have a fire ring and a picnic table. There is no restroom in the tent camping area. It is an uphill walk or stair climb to the closest restroom.
Campground Amenities
Let me tell you, this campground is chock full of amenities. There is a lot to do at this camping resort. If you want, you can be busy from morning to night.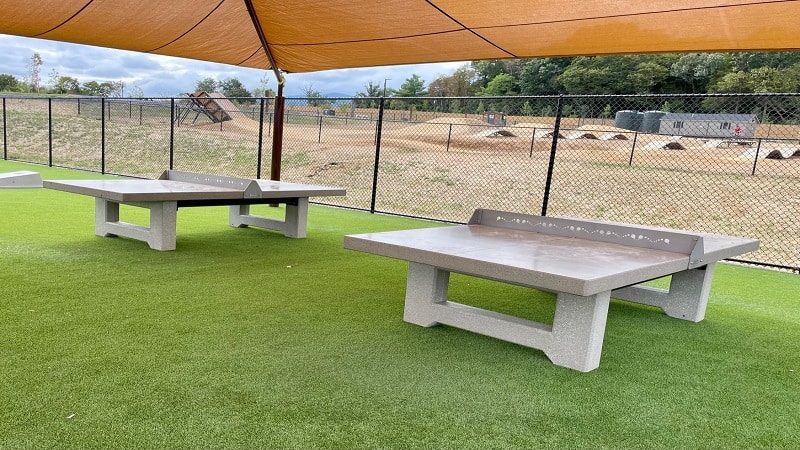 Of course, if you want to just relax at your camp site, that's on the table, too. The mountain views are all around, so it's easy to simply laze and read a book.
When you want to be busy, here's what's in store for you at Luray RV Resort & Campground on Shenandoah River.
Resort-Style Pool
The swimming pool is only open seasonally, but it is fantastic. It rivals the family-friendly pools at any resort. The splash pad alone is ah-mazing.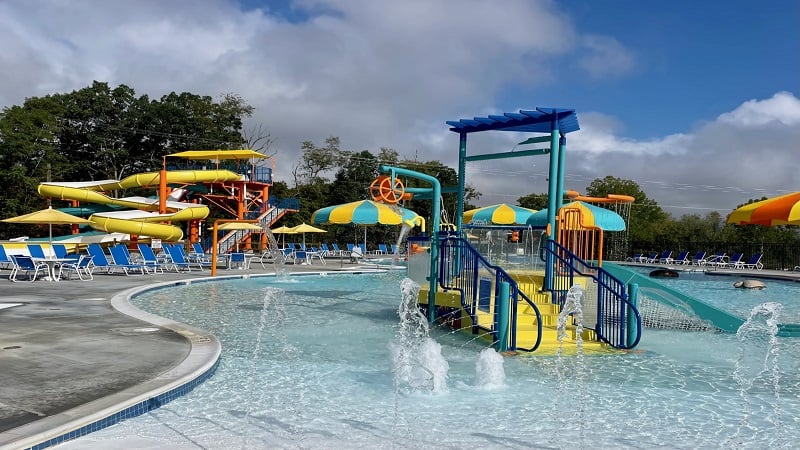 There are two twisty water slides, as well as dumping buckets, zero-entry, burbling fountains and a water play structure with two small slides.
Several cabanas allow for shade. There are also lots of chairs so you can watch as your kids keep busy swimming. Look for very clean restrooms, too.
Bike Skills Park
Got a mountain bike or a kid with a mountain bike? Bring it along to test your skills at the brand-new bike skills park.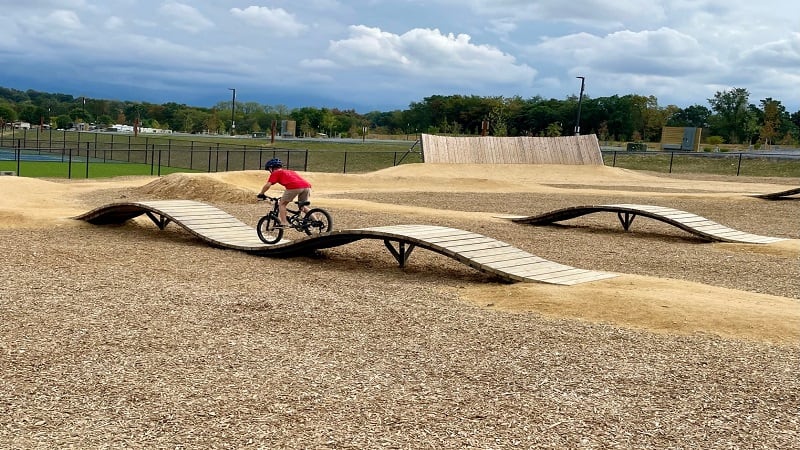 The mountain bike track boasts cool wooden features, like jumps, ramps and bridges. It's beginner-friendly, too.
Tennis & Pickleball Courts
There are three courts that are marked with lines for both pickleball and tennis. Bring pickleball paddles, or check them out for free at the front desk.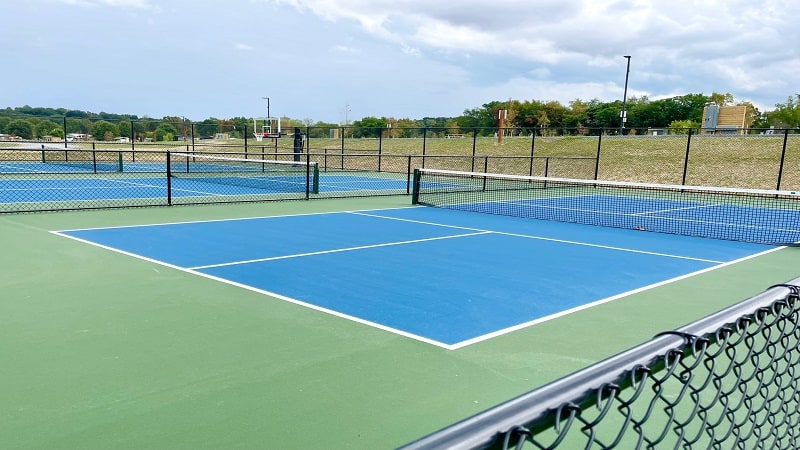 All courts are first-come, first served. One court also has a basketball hoop for a half-court game. You can check out a free basketball in the welcome center.
Ping Pong & Cornhole
Adjacent to the racket / paddle courts, there is a shaded area with two ping pong tables. You'll also see two sets of cornhole boards.
In the welcome center, you can check out bean bags as well as ping pong paddles and balls for free when you're ready to get in a game.
Children's Playground
A colorful children's playground draws in little kids and big kids eager to burn off energy while at the campground. Enjoy beautiful views as your kids play.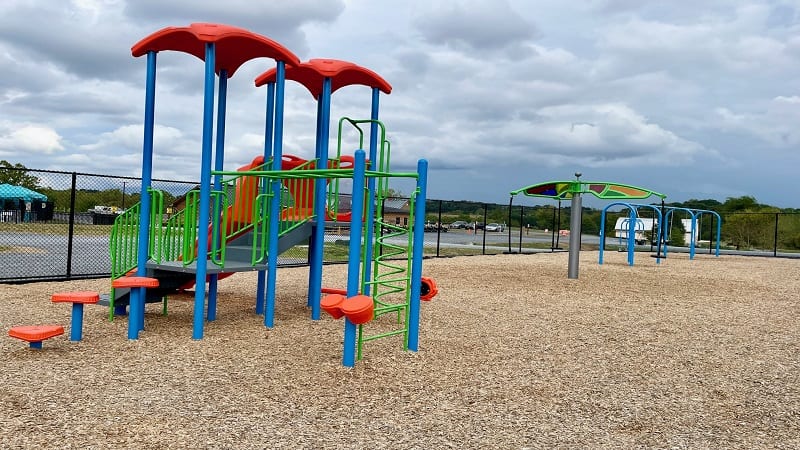 There are several structures that allow for climbing, jumping, running, swinging and sliding. They are right next to the pickleball courts.
Remote Control Car Track
Got remote control cars? Bring them along. There's a fantastic dirt track at the back of the campground designed for racing remote control cars.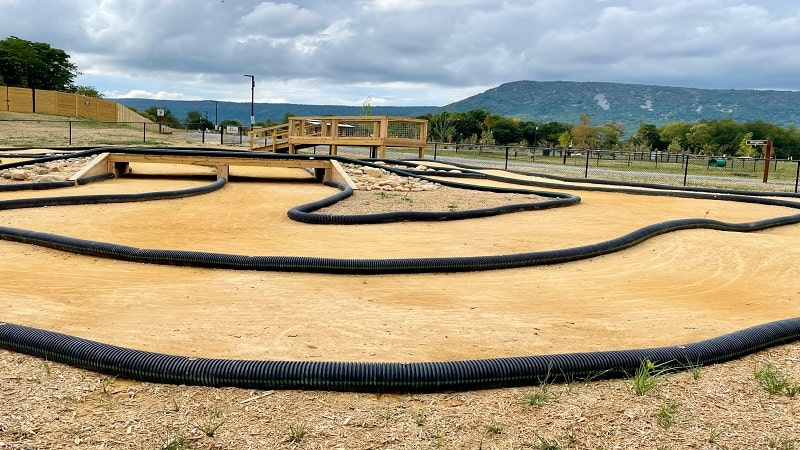 An elevated platform near the middle of the track makes it easy to see your remote control car as you maneuver gentle curves and hair pin turns.
Camp Store
There is a camp store within the check-in center that sells drinks, souvenirs, snacks and camp supplies, like charcoal, trash bags, fire starters and sponges.
A scoop shop within the camp store sells nearly a dozen flavors of ice cream, including butter pecan, strawberry, cookie dough and mint chocolate chip.
River Access
The campground sits on the banks of the legendary Shenandoah River. A path that leads to the water's edge for a splash is just past the glamping tents.
Bring your own tubes to get out on the water or purchase a tube at the camp store. There is also a short walking path alongside the easy-flowing river.
Fishing Pond
There is a small fishing pond just past the check-in center. It's a catch and release pond for guests of the campground.
Bring your own fishing gear or purchase fishing poles and artificial bait at the camp store. There is no live bait for sale.
Golf Cart Rentals
Luray RV Resort is a large campground, so you may benefit from a golf cart rental. Golf cart rentals are available for daily rentals.
Note that golf carts can only be used from 8 am to 10 pm. Golf cart use is not allowed during quiet hours, which are from 10 pm to 8 am.
To rent and operate a golf cart, you must be at least 18 years old and have a valid driver's license.
You can also bring your own golf cart, if you have one. Guests with golf carts must be 18, and show a valid driver's license and proof of insurance.
Events & Entertainment
Weekenders, there is even more for you, like live concerts that take place on Saturday nights from 6-9 pm at the outdoor stage set up near the barn.
Among the talent on the line-up are Cooter's Garage Band, the New West Band and the Tiki Bar Band.
Things to Do in Luray, Virginia
If you're looking for more things to do – beyond all of the above recreational amenities – you are covered. There's a lot to do in Luray.
Luray Caverns
Of course, Luray Caverns is among the most popular local activities. The awe-inspiring underground caverns are one of the natural wonders of Virginia.
It's also the largest cavern on the east coast. More than one-mile of paved walkway leads visitors to geological wonders and natural formations.
Beyond the actual caverns, there's a lot more to do at Luray Caverns, including a garden maze, a classic toy museum and a ropes course.
There's also a transportation museum with more than 75 historic vehicles on display, and the three-acre Shenandoah Heritage Village.
Snap a photo with the LOVE sign that's at the front of the property as you drive in to popular Luray Caverns. It's adjacent to the picnic tables.
Luray Singing Tower
Across Lee Highway from Luray Caverns is the historic Luray Singing Tower. This 117-foot-tall "singing" tower features a carillon of 47 bells.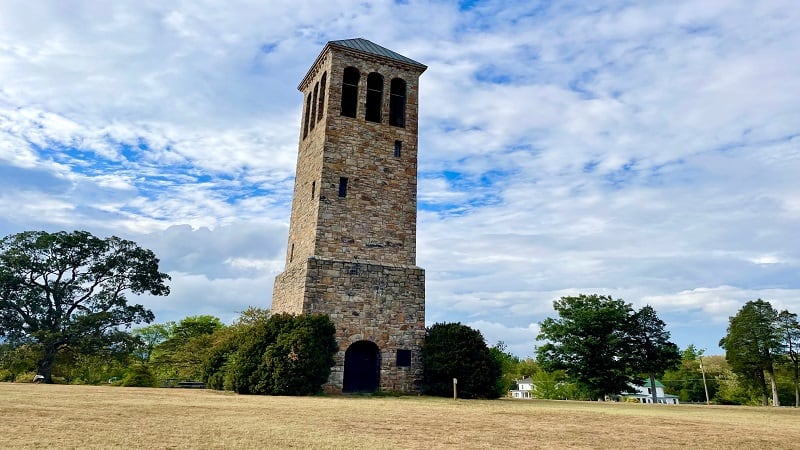 The stone tower was built in 1937 and holds free bell recitals from June through August. Recitals take place on Saturdays at 7 pm and Sundays at 3 pm.
Cooter's Place
Just up the road from Luray RV Resort is Cooter's Place. It's a museum, gift shop and music venue created by Ben Jones of Dukes of Hazzard fame.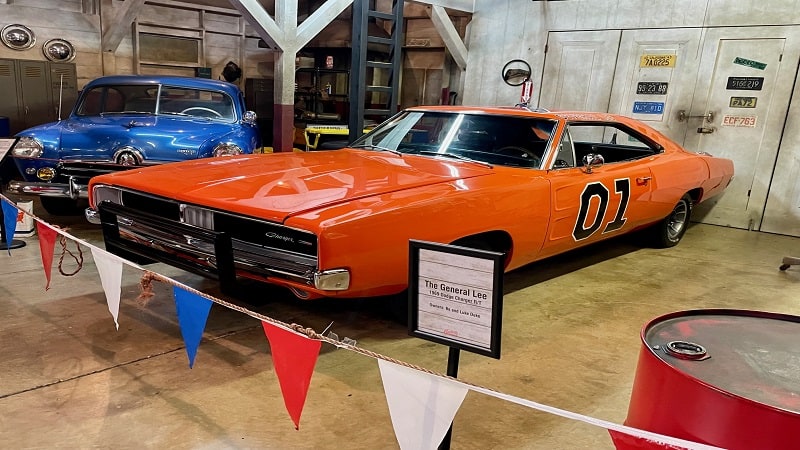 All the cars from the television series are on display, including the General Lee and Daisy's Jeep Wrangler. Look for live music on Saturdays and Sundays.
Luray Zoo
The Luray Zoo is a five-minute drive from Luray RV Resort. It's a rescue zoo that provides a home to animals that cannot be released back into the wild.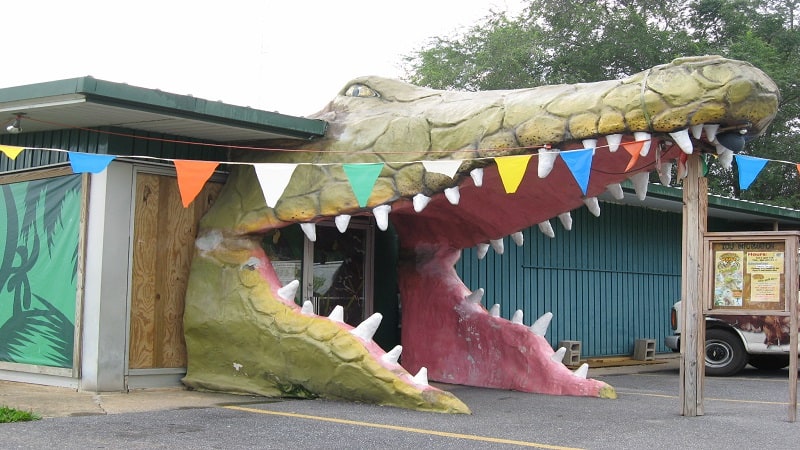 It's a small zoo – just three acres – but you'll find more than 80 exhibits featuring primates, snakes, big cats and wild birds. There is also a petting zoo.
Hiking Trails
Of course, there is plenty of good hiking in Luray, too. It's a 20 minute drive or less to a number of nature trails near Luray RV Resort. Among my faves:
Storybook Trail: This easy hike is paved, accessible and less than one-mile. The breathtaking vistas from the observation deck are seriously gram-worthy.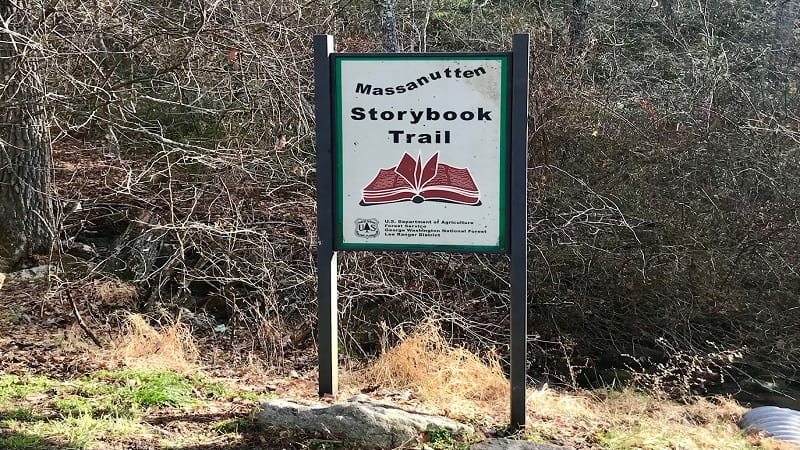 Kennedy Peak: This five-mile out-and-back hike leads to a two-story overlook that rewards hikers with 360-degree views across the mountains.
Emerald Pond: This hike is eight miles, but you'll be won over with a scenic overlook at Bird Knob and a swimming hole when you reach Emerald Pond.
Mary's Rock: The hike to the top of Mary's Rock at Shenandoah National Park is less than three miles round-trip. You will love the near 360-degree views.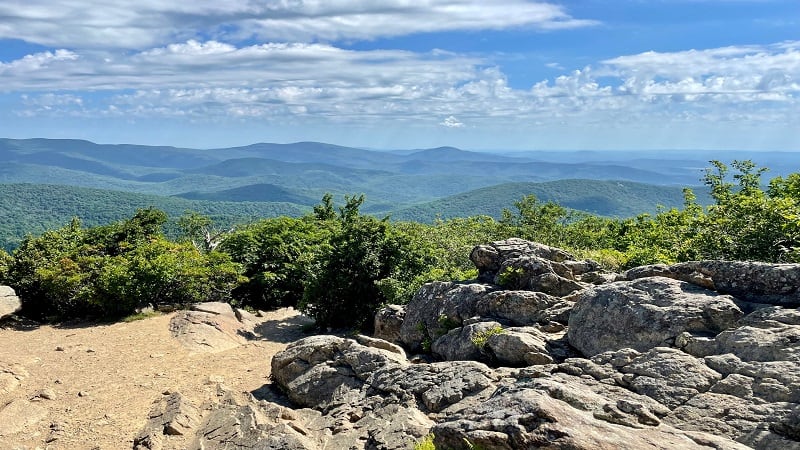 Hazel Falls: For a waterfall, check out Hazel Falls on famed Skyline Drive. It's a five-mile hike, but the refreshing splash when you reach the falls is fantastic.
Wrap-Up Notes
If you're eager to camp in the heart of the Shenandoah Valley, consider Luray RV Resort & Campground. This renovated Virginia campground is a gem.
There's a lot to do at the campground, as well as lots of day trip options in Luray, like Luray Caverns and Luray Zoo. Also, plenty of hiking trails for all levels.
In addition to the all the sports facilities, you'll also find free wi-fi, a dog park, laundry facilities and extra-clean bath houses with hot showers.
Get ready for the leaves to change, friends. The views are amazing from the Luray RV Resort, too.
Disclosure: This post was sponsored by Luray RV Resort & Campground on Shenandoah River. However, all views and opinions expressed here are my own.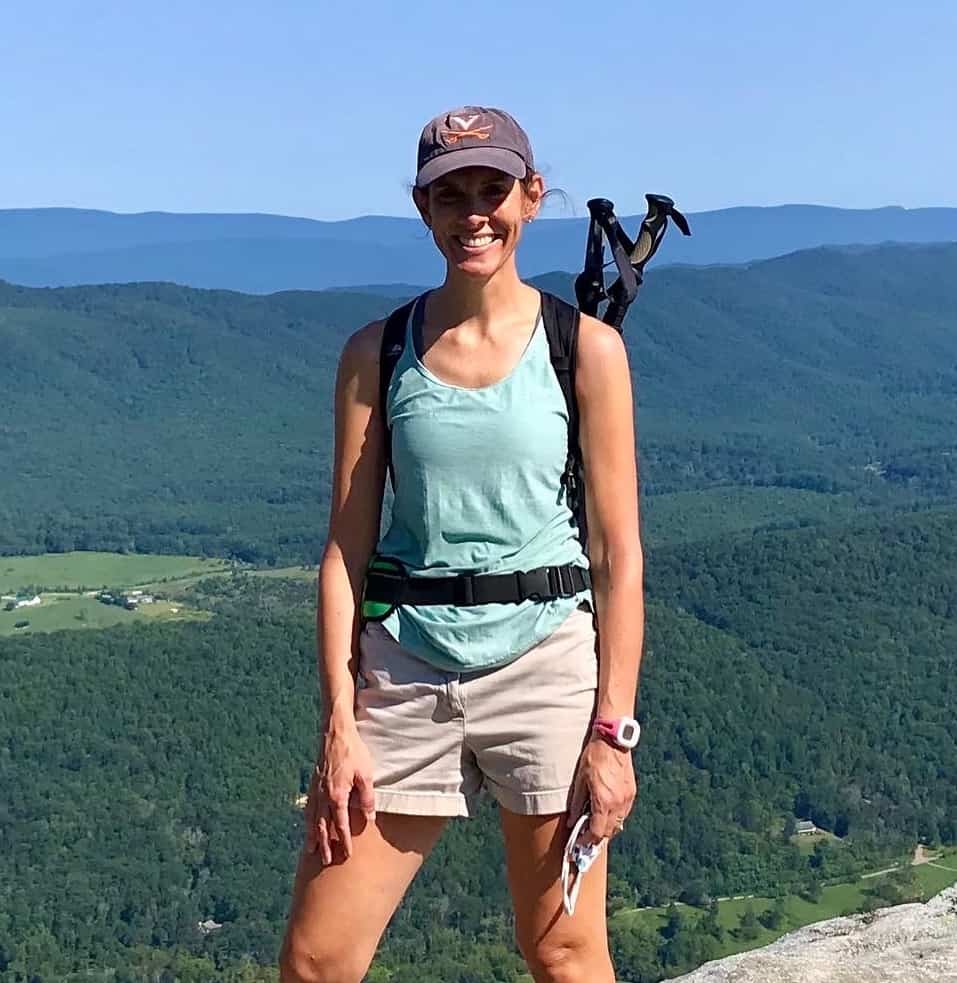 Erin Gifford is the editor of Go Hike Virginia. She has completed more than 300 hikes in Virginia. She is also the author of three hiking guidebooks from Falcon Guides. Need help finding a hike? Check out the Trail Finder feature or send Erin a message.