Need to Know: What is Scrambling in Hiking?
Scrambling in hiking might sound intimidating, but it's not as intense as rock climbing. While it can be challenging, it can also be rewarding and fun.
Scrambling requires strength, agility, stamina, and mental toughness. It also requires you to know your own limits and to not push past them.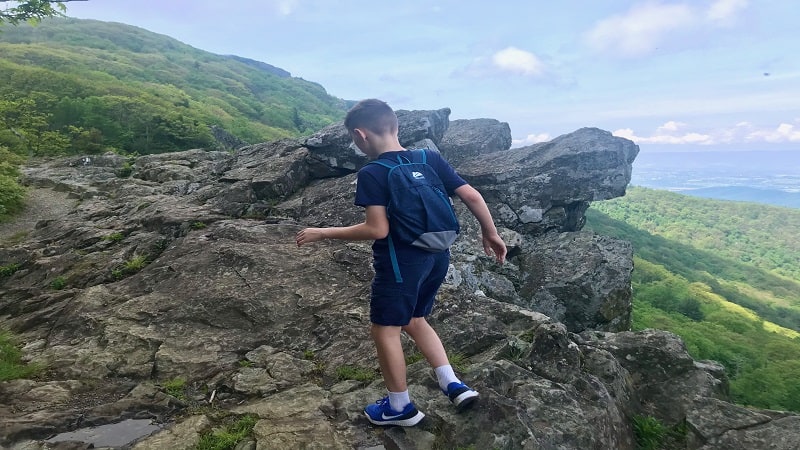 Let's take a closer look at scrambling while hiking, including the different classes of scrambles and how to scramble safely while on a hike.
As a bonus, you'll find the best scramble hikes in Virginia, including five awesome rock scrambles at Shenandoah National Park.
What is Scrambling in Hiking?
Rock scrambling – or simply, scrambling – is when you're hiking in rough and rocky terrain that involves using your hands and feet to safely navigate.
Scrambling can be more like crawling than walking. You'll need to use your hands for balance, sometimes elbows and knees too, while hiking rough terrain.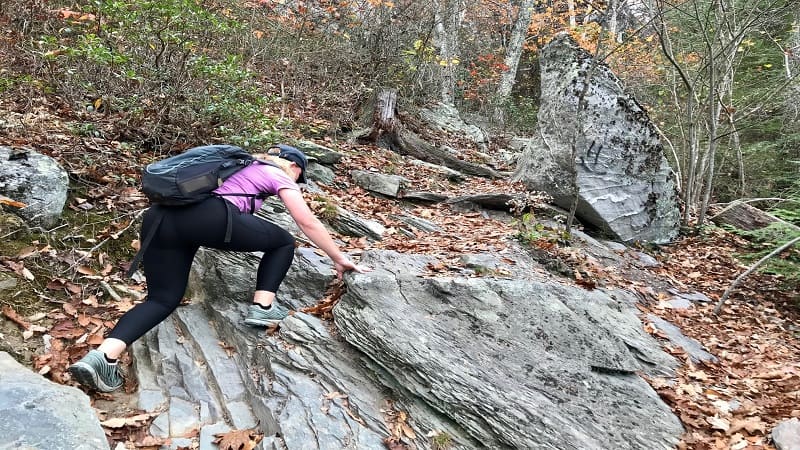 There are different classes of scrambles, which tell you how steep or difficult the scramble along the trail will be.
Class 1 is the lowest and easiest rating. Class 5 scrambles are the most difficult and should only be done by experienced scramblers or climbers.
How is Rock Scrambling Different from Rock Climbing?
Rock scrambling and rock climbing might not seem different, but they are. Scrambling is considered the middle ground between hiking and climbing.
Rock climbing involves climbing rock faces or boulders. Rock climbing requires you to pull yourself up with your arms. You're typically wearing a safety harness.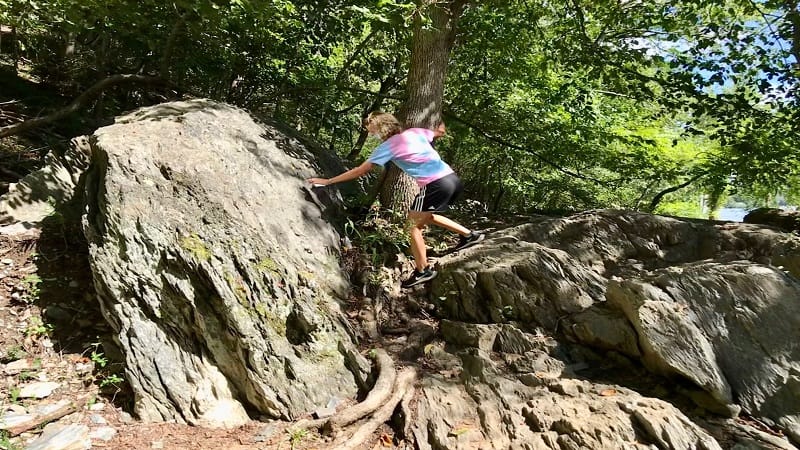 Scrambling doesn't require much upper arm strength to pull yourself up rocks. With rock scrambling, your hands are mostly for balance and support.
Class 5 scrambles are the closest to rock climbs and should only be attempted by those who are already experienced climbers.
Do I Need Special Gear for Scrambling?
If you want to tackle a trail that requires some scrambling, you don't need a ton of gear. Hiking boots or shoes with great grip are a must, of course.
Since you'll be using your hands part (or most) of the time, a good pair of gloves with grip can help you grasp rocks and protect your hands from injury.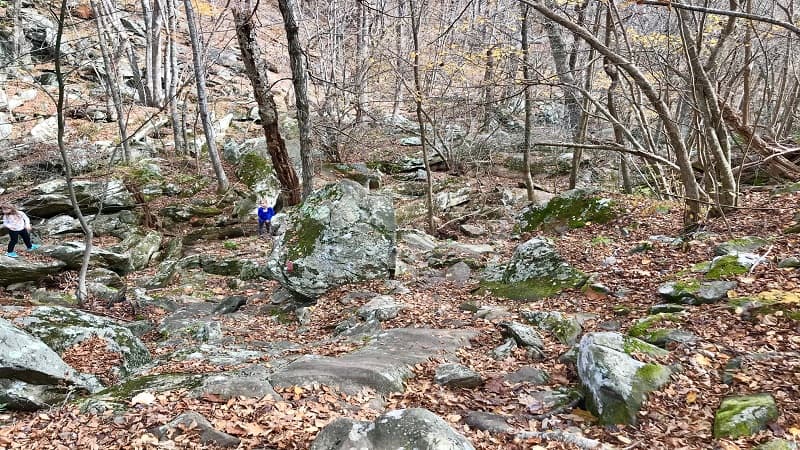 There are really no intense rock scramble hikes in Virginia that would require the use of more serious equipment, like a helmet or climbing gear.
However, if you plan to do intense scrambles elsewhere, look into putting together a scrambling gear kit with a helmet and climbing gear.
What are the Classes of Rock Scrambles?
The US grading system has 5 classes of scrambling. The US uses the Yosemite Decimal System, or YDS, to classify different types.
A Class 1 designation means an easy to moderate hike with no use of hands required. Class 1 hikes in the US do not have any rock scrambles.
A trail that's designated as a Class 2 will have some steep inclines and some portions of scrambling along the way, but there will be regular walking, too.
A Class 3 trail in the YDS system is a trail with a steeper incline and a lot of scrambling, and potentially even some climbing or rock holding will be required.
Favorite Rock Scramble Hikes in Virginia
There are some really good rock scrambles in Virginia, and many of these are perfect for beginners because they're not especially intense or strenuous.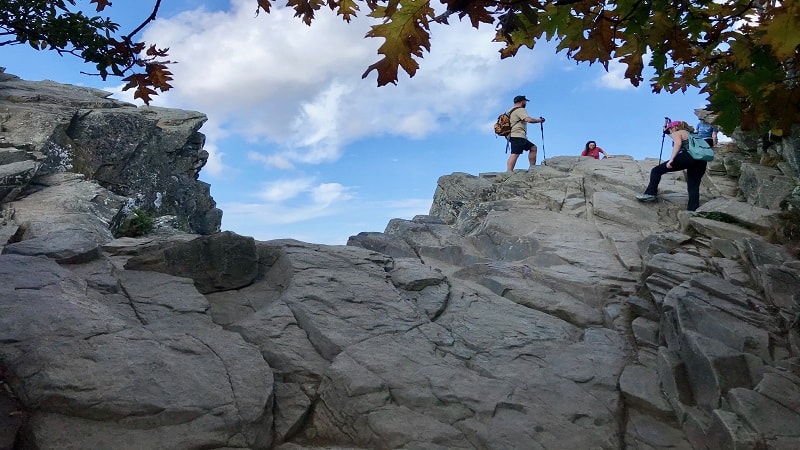 The Humpback Rocks hike near Waynesboro features an easy rock scramble at the jagged summit that lets you position yourself for the best views.
The ascent is not for the faint of heart, but thankfully a handful of benches and a wooden staircase ease the trek to the the top for 360-degree vistas.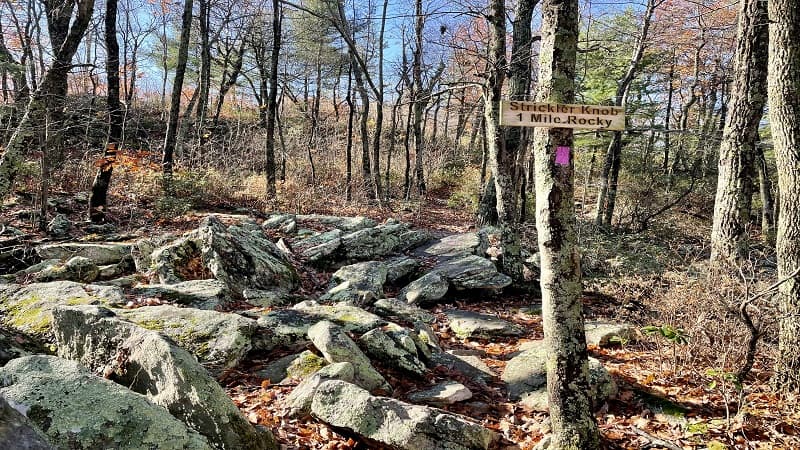 The Strickler Knob hike near Luray wows with big mountain and valley views. The last mile on the pink-blazed Stickler Knob Trail includes a lot of rocky terrain.
This trail requires some scrambling to reach the overlook, but the west-facing vistas across the Appalachian Mountains are your reward.
The Little Schloss Trail near Woodstock is a steep hike with a large rock scramble – basically a 30-foot-tall rock wall – that leads you to spectacular views.
The rock scramble to reach the payoff views from the summit are fairly intense. You will definitely need full access to hands, arms, knees and feet for this one.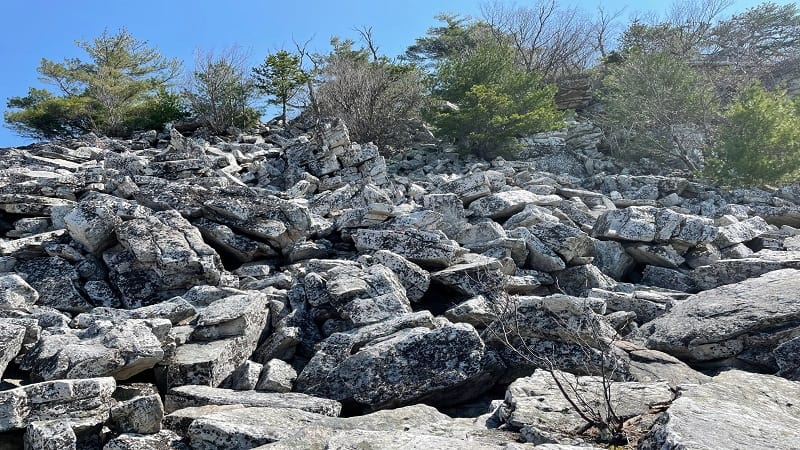 The Duncan Knob hike has plenty of rock scrambling and is rated as strenuous. In the last 0.1 mile of this hike, you are all in at the massive rock scramble.
A huge field of rocks is all that stands between you and sensational panoramas across the Luray area. Just be sure to watch your footing on the climb to the top.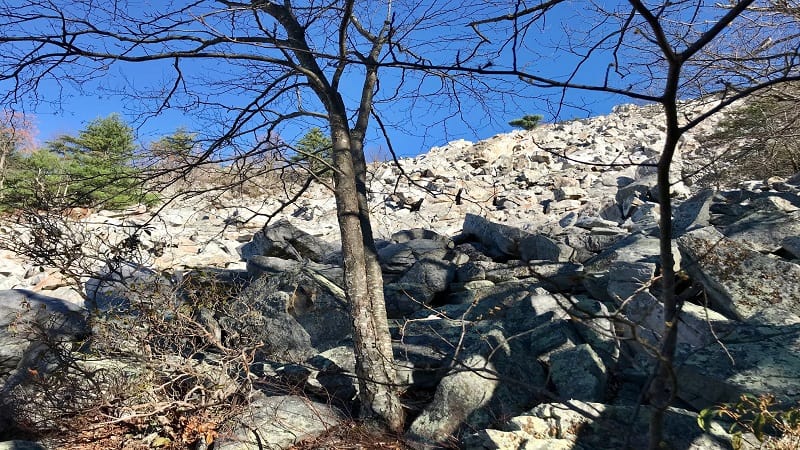 Devil's Marbleyard is truly the grand-daddy of all rock scramble hikes in Virginia. As you approach the top, you'll need to scramble up a massive 8-acre rock pile.
Honestly, some of the boulders are the size of cars. It's a total bucket list hike though. There are just so many super-size rocks and boulders to navigate.
Shenandoah National Park Scrambles
If you're looking for a good rock scramble hike at Shenandoah National Park, I've got you covered there, too. Here are five to add to your must-hike list.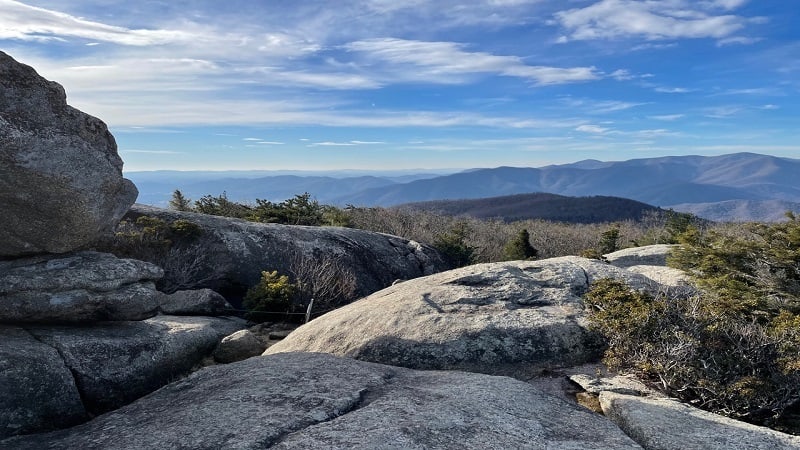 The Old Rag hike is super-scenic and highly rated. It also has a strenuous rock scramble section that includes more than one mile of scrambling.
Get ready to navigate tight spaces, strategize rocky passages, slide down granite surfaces and use all your strength to pull yourself up onto rocks and boulders.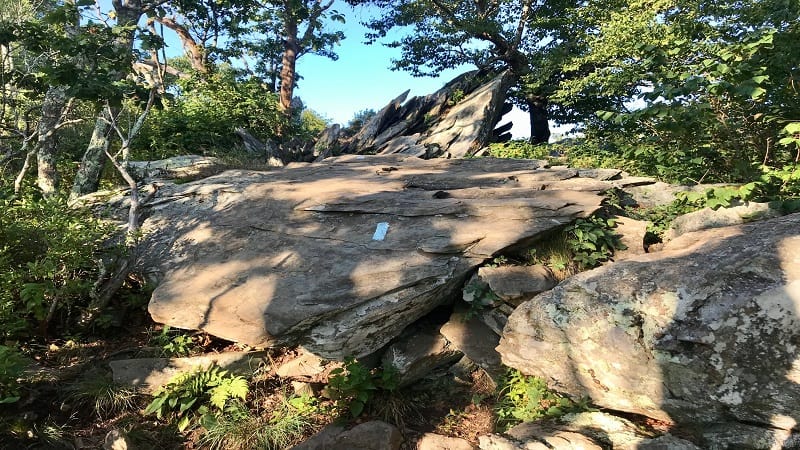 The hike to the top of Bearfence Mountain is a short hike, but it also requires some real scrambling as you approach the summit for 360-degree views.
The short distance is deceptive. Prepare to use your hands, feet, arms, even knees to navigate the rocky summit. It's well worth every ounce of effort.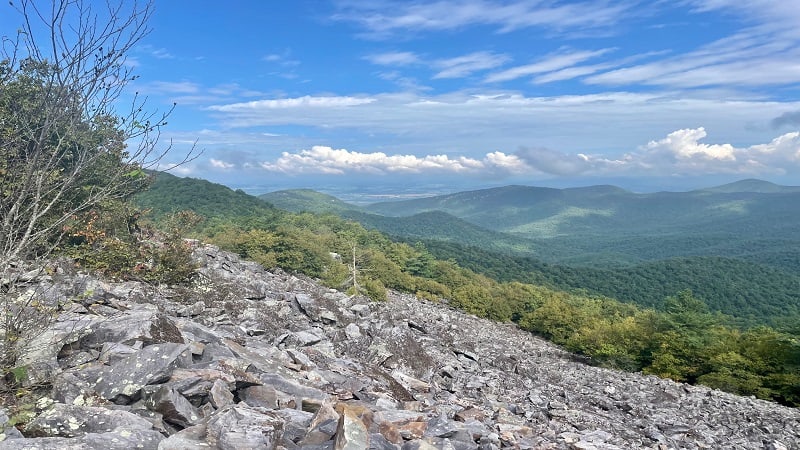 The Blackrock Summit hike is a cool hike because you can scramble rocks or not scramble rocks, it's up to you. The rocks are like an added bonus.
You can walk an easy trail for views from the summit, or climb a sloping field of large rocks and scramble to the top for even more incredible panoramas.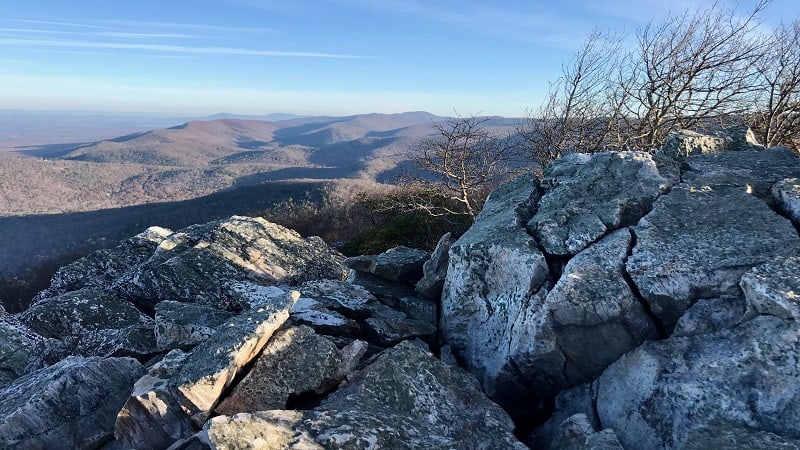 The Turk Mountain Trail hike wows with rock scrambles, sweeping views, a talus slope (essentially, a large rock slide) and wooded trail to the rocky summit.
There are lots of large rocks on Turk Mountain to scramble out onto in order to savor the wide-open northwest-facing views across the Shenandoah Valley.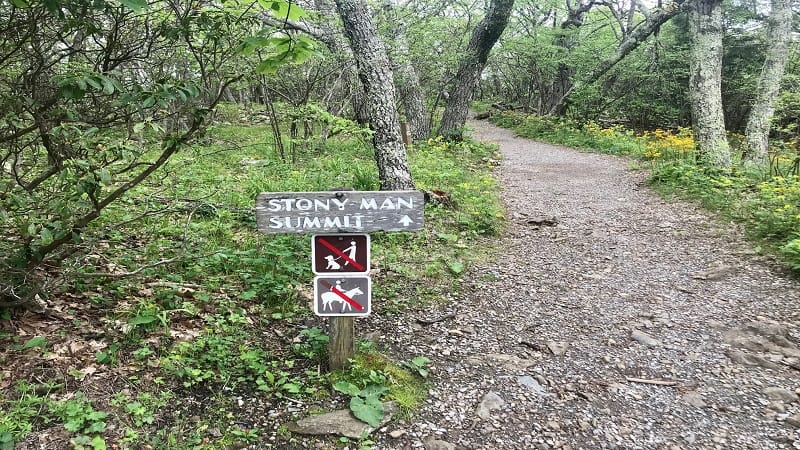 The Stony Man hike is awesome, but first things first, dogs are not allowed at the summit. There you'll encounter a rock scramble out to big vistas.
Tack the hike to Little Stony Man Cliffs on to the Stony Man hike for more rock scrambles and more big views. As a bonus, this 3.0-mile hike is on the easy side.
Rock Scrambling Safety Tips
Rock scrambling doesn't require any previous experience, but it can still be dangerous. Keep these tips in mind to avoid injury on the hiking trails.
1. Take It Slow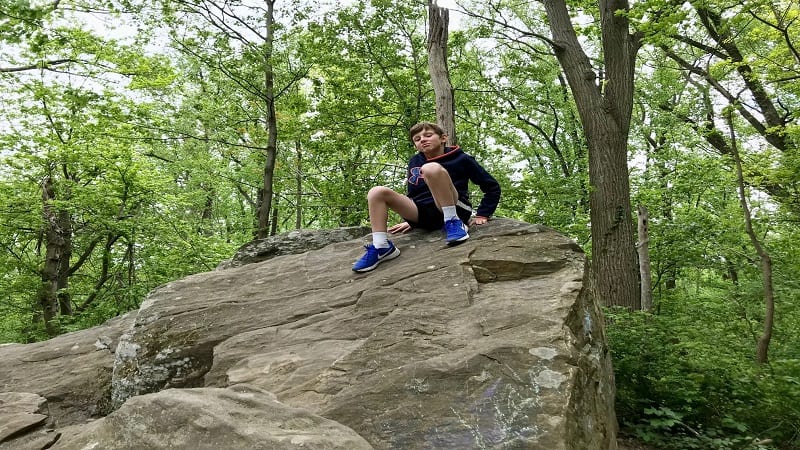 First and foremost, take it slow. Slow scrambling is safe scrambling. Going slow allows you to safely plan your next move and keep your balance.
2. Watch Your Footing
Most rock scrambles are over fields of rocks of varying size. The rock fields are sloped and the rocks are jagged and sloped.
One misstep and your foot could slide in a crevice and strain or break your ankle. Always take it slow and be mindful of your footing.
3. Look Out for Snakes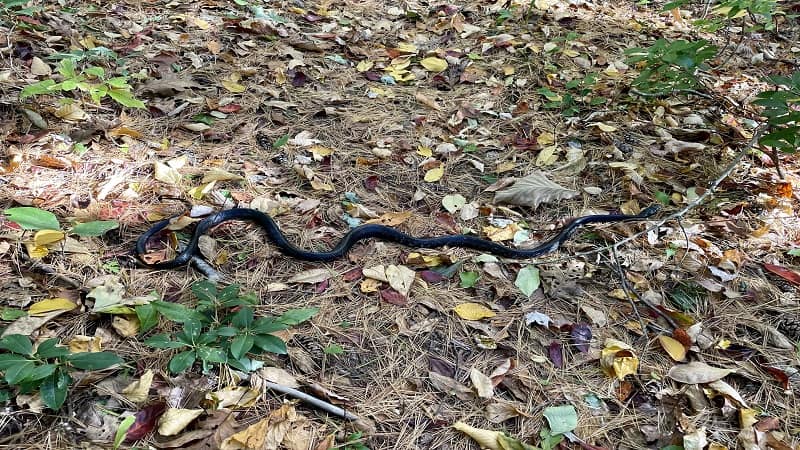 As the weather starts to warm up in spring and summer, rocky outcroppings and rocky fields are perfect places to find snakes. Stay alert.
4. Don't Push Your Limits
A large number of wilderness rescue missions are because someone pushed past their physical limits. If a hike feels too challenging, don't be ashamed to turn back.
5. Avoid Winter Scrambling
Avoid scrambling in the winter. Scrambling is challenging enough on its own without the added ice, wind, and snow.
6. Wear Gloves
Wearing gloves while rock scrambling will protect your hands from injury and they can also provide you with more grip on challenging terrain.
How Can I Improve My Scrambling Skills?
The first way to improve your rock scrambling skills is to practice. Head out on scrambling hikes as often as you can, but know your limits.
Switch up the trails that you do to keep it challenging and help your body build the muscle and the balance required for scrambling.
When you're not hiking, cross-training at the gym is a great way to keep your muscles ready and strong for rock scramble hikes.
You use your entire body when scrambling, so workouts should target the legs, core, arms, and your hands, too.
Wrap-Up Notes
Scrambling in hiking is a challenging yet rewarding activity that can get you to some of the most beautiful summits and views.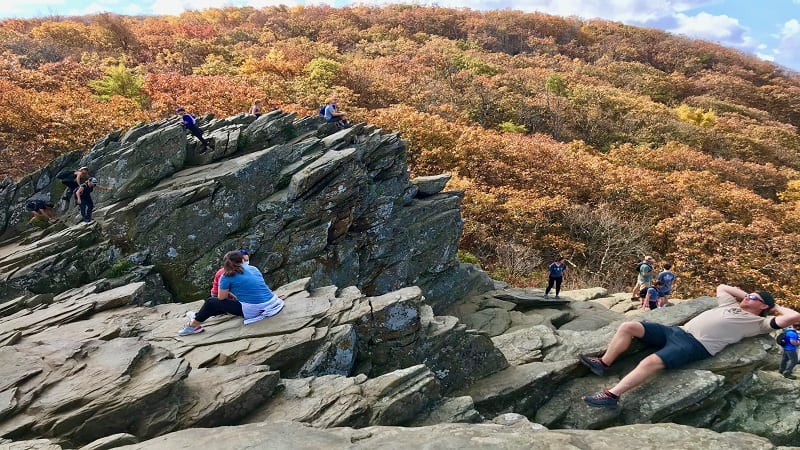 However, scrambling isn't for everyone, and that's okay. It can be challenging, and sometimes dangerous. Never push your limits on a trail.
If you start out trying a scramble and realize halfway through that it's too hard, turn around. There are plenty of easier hikes with amazing views.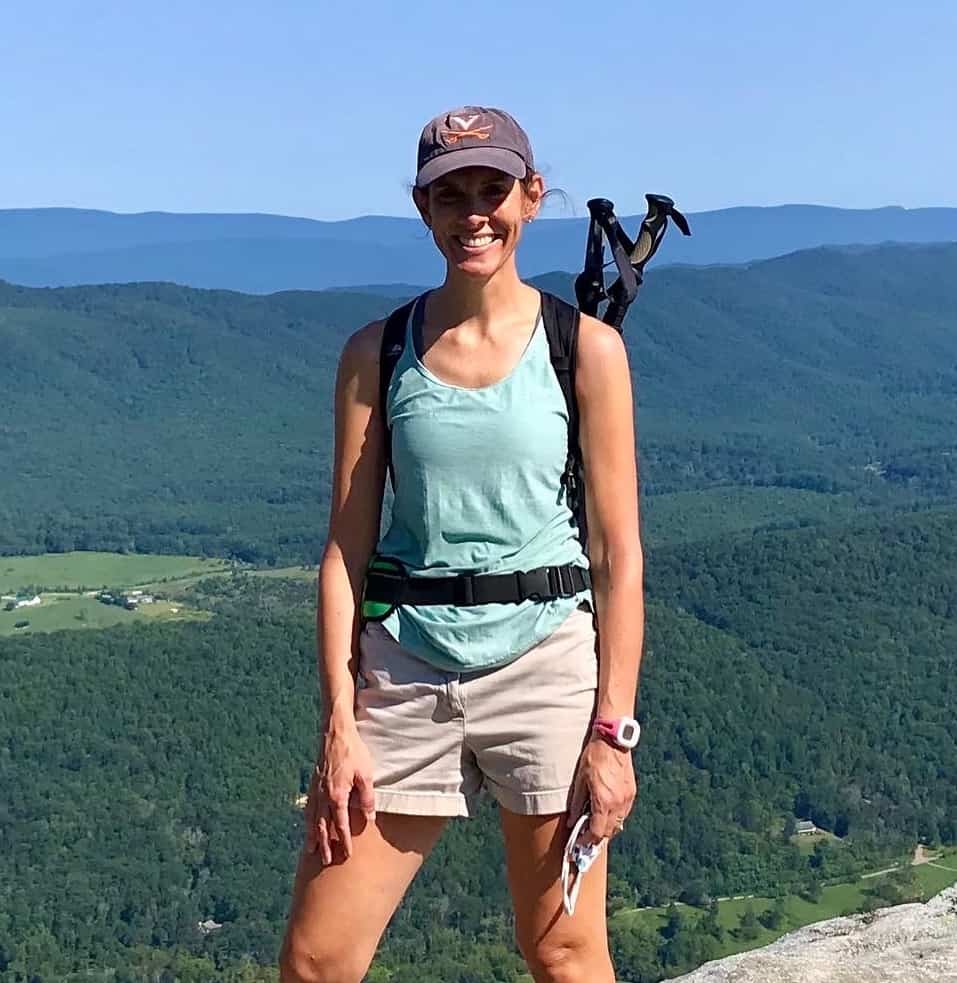 Erin Gifford is the editor of Go Hike Virginia. She has completed more than 300 hikes in Virginia. She is also the author of three hiking guidebooks from Falcon Guides. Need help finding a hike? Check out the Trail Finder feature or send Erin a message.