Hiking the Little Schloss Trail in George Washington National Forest
Earlier this week, I hiked the 3.4-mile out-and-back Little Schloss Trail (aka Little Sluice Mountain Trail) in the George Washington National Forest near Woodstock, Virginia.
I enjoyed this solo hike, but I've got a lot to say about this wooded trail. But first, the need to know stats.
| Trail Stats | |
| --- | --- |
| Length | 3.5 miles |
| Difficulty | Moderate |
| Trail Type | Out-and-Back |
| Elevation Gain | 1,168 feet |
| Duration | 2-3 hours |
| Terrain | Rocks & rock scrambles |
| Dog-Friendly | Dogs are allowed, but the final rock scramble will be a real challenge with a dog. |
| Fee | Free |
| Driving Directions | Click Here |
For starters, do not hike this trail with small children or dogs. No way.
I also would not go alone (next time), and definitely don't hike this trail if you have a fear of heights or are not up for a fairly intense rock scramble to reach the payoff summit.
Arriving at the Trailhead
It's easy to reach this trailhead and the AllTrails directions to reach the parking area are spot on (which isn't always the case).
I used Apple Maps to get there and had no problems. It's worth noting, however, that the parking area is very small. Maybe 10 cars can park there.
So if you're keen to hike the Little Schloss Trail (purple blazes), plan to arrive early to get a parking space.
It didn't appear as though there was any other nearby parking. The trailhead for this rocky trail is just across the road from the parking area.
The First Steps
As you begin along the trail, you'll notice a lot of charred trees. The path is void of flora and fauna due to a "controlled burn" recently conducted by the U.S. Forest Service.
It was unusual to not hear leaves rustling in the wind and birds chirping their springtime songs. You can smell the burned trees here and there, too.
One benefit to the burn is that you gain mostly unobstructed views of neighboring mountains and hillsides on the way up and down.
New life has already begun to bud, so look for wildflowers along the edges of the trail.
The elevation gain on this trail is 1,187 feet. This steep trail makes you earn the views with each step. It's a steady climb along this fairly well-marked trail.
It was a very good workout, which I'm still feeling two days post-hike.
Rock Scramble
As you continue along this rugged trail, you'll realize you should be near, but then you will lose sight of the trail markers (at about the 1.6-mile mark).
There's a slight left turn that is critical, but not marked. I wandered around for a bit until I got back onto the trail.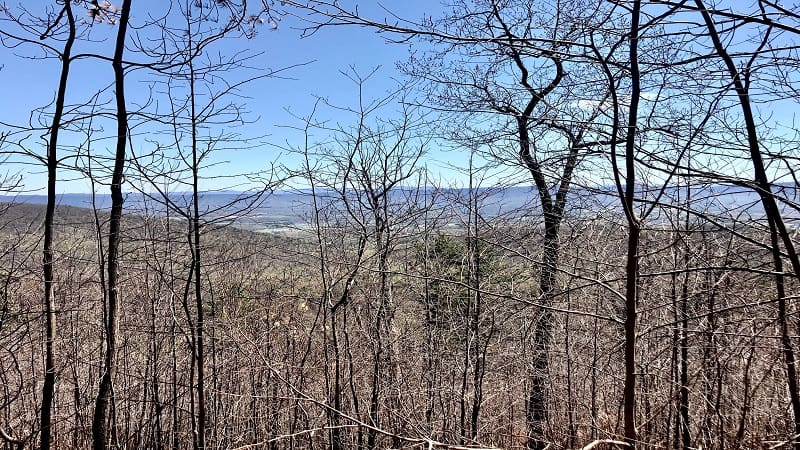 You'll then be close to 1.7 miles and realize the last bit of the hike is straight up into the sky. The only way to be rewarded with views for miles is to scramble the rocks to the top.
I thought it was a 30-foot wall of rocks, but another trail-goer considered it to be more like 70 feet high. Either way, the rock scramble is intimidating.
At first, I thought maybe I'd made an error, like I must have missed the actual path to the summit. Nope. This was it.
I hemmed and hawed for a bit, not sure whether to proceed, but so glad I had neither pups nor small kids in tow. I was also a touch nervous because I was alone.
As in, if I somehow fell off this rock wall, what would I do? Fortunately, I did not need to figure that out this week.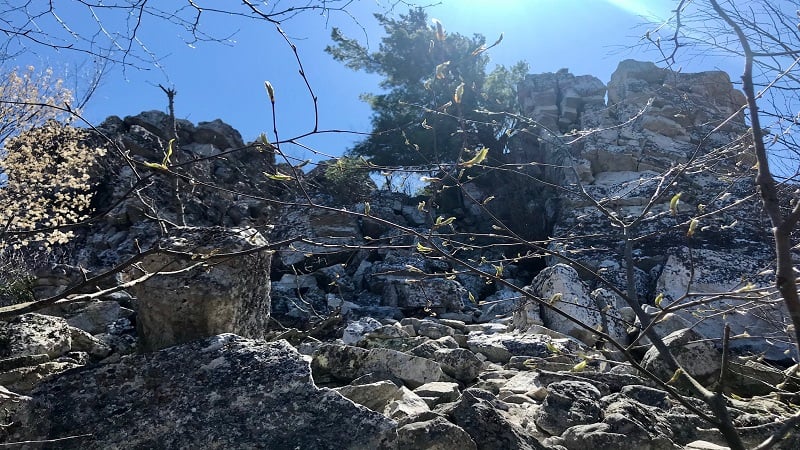 As a quick side note, the trail is technically dog-friendly. You can bring a dog on a leash.
However, I would have been hesitant about holding onto a leashed dog while also trying to ascend that rock wall. Maybe that's just me.
At the Summit
Once I scrambled the rocks to the summit, I was glad I did. The views are every bit as rewarding as you would expect. You can see for miles across the Shenandoah Valley.
This time of year, the trees had not yet greened up, so I can imagine it's even more beautiful in summer and fall.
At the top, you can either go right or climb a little bit higher on the left. I started on the right, but it was quite windy (it blew my ball cap right off).
On the left, you're shielded a bit from the wind and are able to enjoy equally spectacular views.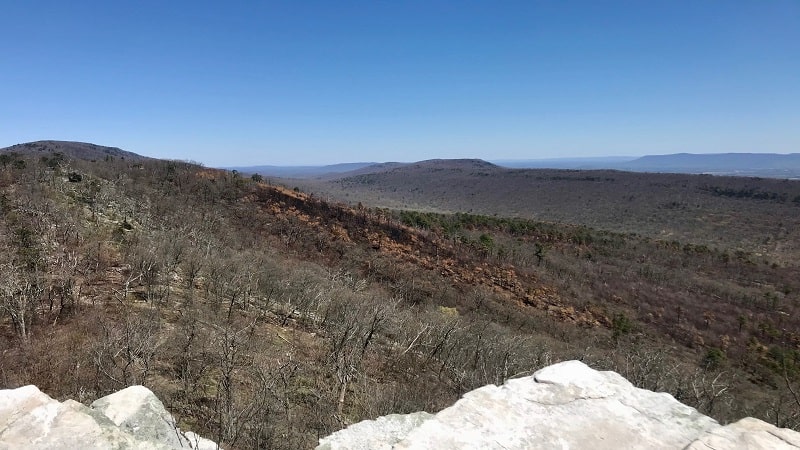 Plan to eat lunch or a snack and re-hydrate as you sit and savor the views. You will definitely deserve that reward for making it to the top of the summit.
In all honesty, I was very nervous about the descent from the summit. My advice is to take it easy and back down on your bottom.
There are lots of rocks and roots to grab onto, so I felt very safe all the way down. I breathed a sigh of relief at the bottom too. Phew.
Wrap-Up Notes
The mileage on AllTrails is correct, at least according to my pink Garmin Forerunner 10 watch. It took me roughly 55 minutes to reach the top, then 40 minutes to make it back to the parking lot.
I didn't see anyone going up, but saw two moms and two teen girls on the return. For a second hike in the area, consider the scenic 6.1-mile Kepler Overlook hike.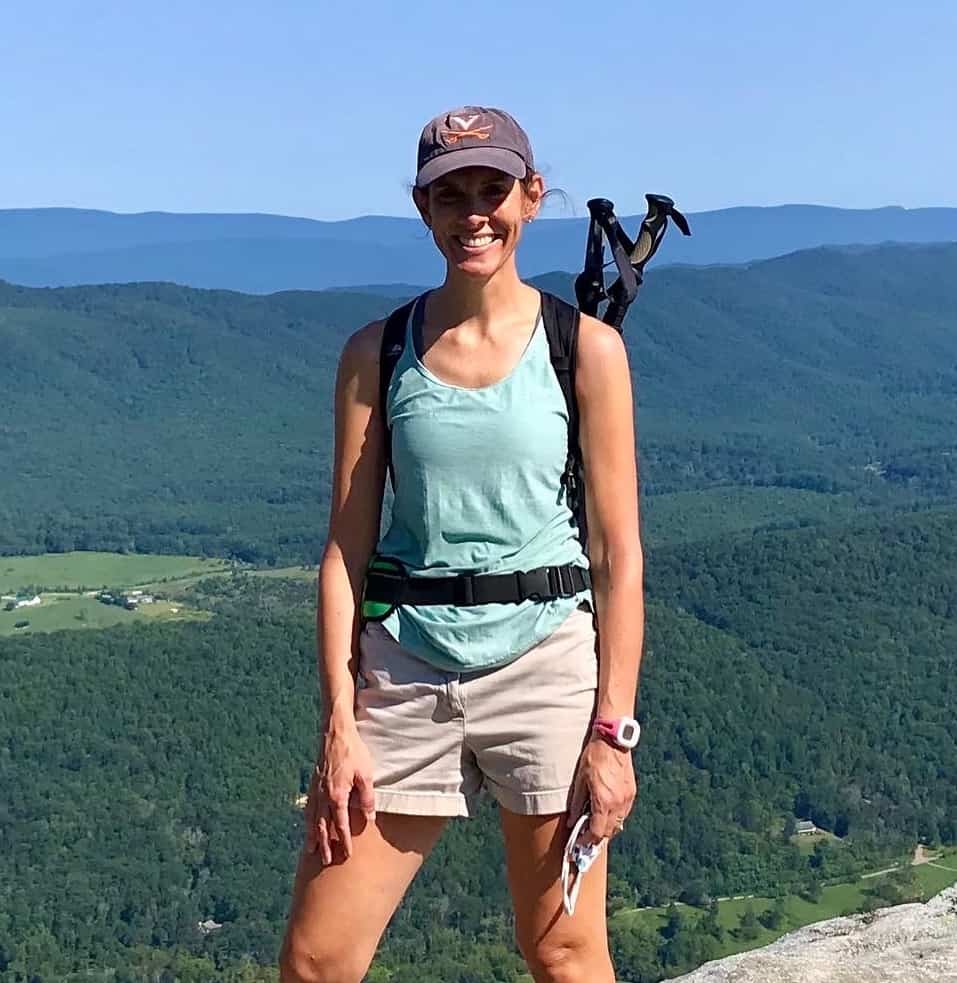 Erin Gifford is the editor of Go Hike Virginia. She has completed more than 300 hikes in Virginia. She is also the author of three hiking guidebooks from Falcon Guides. Need help finding a hike? Check out the Trail Finder feature or send Erin a message.