Redtail Ridge Trail: Scenic Overlooks Wow on This Shenandoah Valley Hike
My son, Max, and I recently explored Shenandoah River State Park. This was my third hike in this state park within two months. Something about this park keeps drawing me in.
This was Max's first time at this state park, so I wanted to make sure I found a winner of a hike. I think I did in the 3.7-mile route we took on the west side of the park.
This scenic loop cobbles together three park trails – Big Oak, Redtail Ridge and Tulip Poplar – plus a connector trail, to create a pleasing five-star walk in the woods.
After three hikes, it's hard to believe there are still more miles of trails. In fact, there are 24 miles of trails that criss-cross this state park. I'll be back, for sure.
| Trail Stats | |
| --- | --- |
| Length | 3.7 miles |
| Difficulty | Easy |
| Trail Type | Loop |
| Elevation Gain | 233 feet |
| Duration | 2.5-3 hours |
| Terrain | Mostly dirt trails |
| Dog-Friendly | Yes |
| Fee | $10 per vehicle |
| Driving Directions | Click Here |
Arriving at the Trailhead
There is no parking lot, per se, for this hike. We parked in a cul-de-sac where two cabins were located. Thankfully no one in the cabins seemed to mind our presence.
There were no other entry points to the trail beyond where we began the hike. This was literally the only place we could park.
A few steps from the cul-de-sac is the trailhead for the Cabin Connector Trail, a short spur trail that leads to the Big Oak Trail. I locked my car and we were on our way.
The First Steps
The Cabin Connector Trail is a short .3-mile trail from the park road to the Big Oak Trail. At the .3-mile mark, stay left at the trail marker for the white-blazed Big Oak Trail.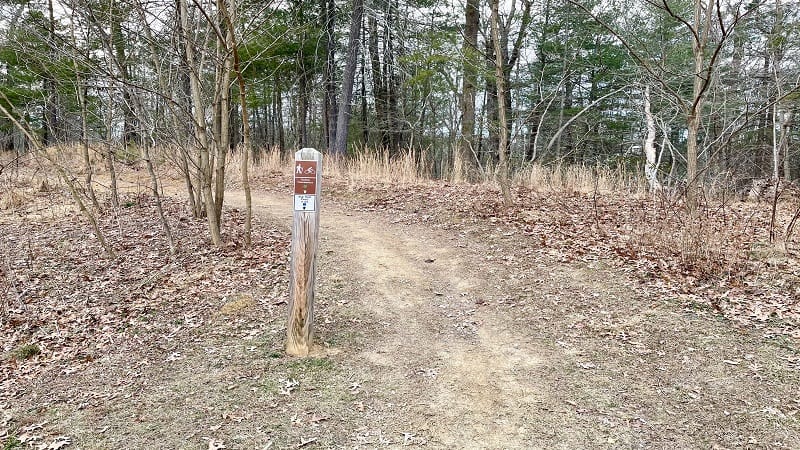 From here, it's an easy-breezy forested hike on mostly dirt trails. There were fallen leaves on the trail here and there, but nothing especially slippery or dangerous.
In .1-mile, you'll reach another colorful trail marker. This time, stay right for the red-blazed Redtail Ridge Trail. On this wooded path, you'll encounter three scenic overlooks.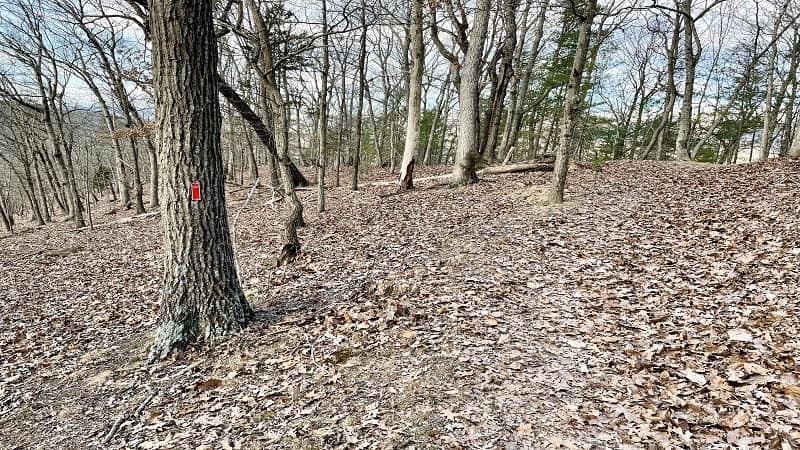 Even better, all three overlooks have comfy benches. The first is a west-facing overlook at the .7-mile mark. Here you can take in the mountains and farms below.
Continue along the Redtail Ridge Trail. In winter, with all the leaves on the ground, the views through the barren forest seem to go on forever. Truly spectacular.
The second bench turns up at an overlook at the 1.0-mile mark. The views are again west-facing of the Shenandoah River, Massanutten Mountains and farmlands below.
In .5-mile, at the 1.4-mile mark, you'll veer left onto a short spur trail that leads to a scenic overlook (and a bench) with far-reaching views. Settle in with a snack.
By this point, you will have reached all the scenic overlooks, but there is still more to love on this forested loop hike. Re-trace your steps to return to the Big Oak Trail.
Turn left onto the Big Oak Trail. In a few more steps, you will reach a trail marker. Turn left again onto the pink-blazed Tulip Poplar Trail.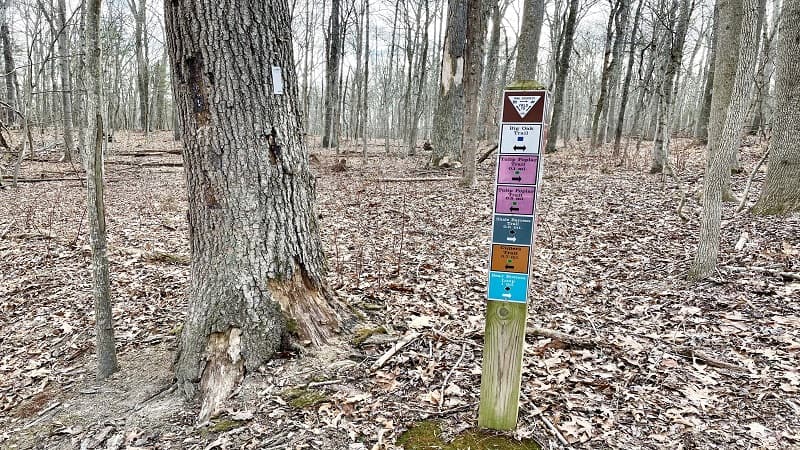 This section of trail is at its best from April to June when the Tulip Poplar's yellow flowers are in bloom. Or, in October and November for gold and amber leaves.
In winter, this trail is pure joy in a different way. It's still and quiet, making it easy to walk this woodland trail and be alone with your thoughts.
At the 2.9-mile mark, you will reach the end of the Tulip Poplar Trail. At the wooden trail marker, turn left onto the Big Oak Trail.
Proceed along the trail until you reach one last trail marker at the 3.4-mile mark. Turn left onto the Cabin Connector Trail for the final steps to complete this hike.
Hike Options
There are many ways to add or subtract steps from this wooded hike. For example, you could hike to the overlooks, then re-trace your steps for a 2.8-mile out-and-back hike.
For a longer hike, exit onto the Culler's Trail from the Tulip Poplar Trail. Link up with the Bear Bottom Loop Trail. Then, at the Big Oak Trail, turn right.
After a few more steps, turn right at the Cabin Connector Trail for the final .3-mile. It's hard to tell the length of this hike. The best advice is to print out a trail map.
Wrap-Up Notes
I goofed on timing this hike from the trailhead, so my best guess is that his hike took us two hours to complete, including time spent at the scenic overlooks.
If you have time, here are two more hikes I recommend at Shenandoah River State Park: Cottonwood Trail and Culler's Overlook. Both are 3.1-mile loops.