A Scenic Hike from Cottonwood to Wildcat Ledge in the Shenandoah Valley
I recently set out to hike at Shenandoah River State Park. I was eager to hike Point Trail to Wildcat Ledge. The hike was on AllTrails. Super simple, right?
I'm still not entirely clear why this hike did not happen, but I had trouble finding the trailhead and well, I ended up on the Cottonwood Trail.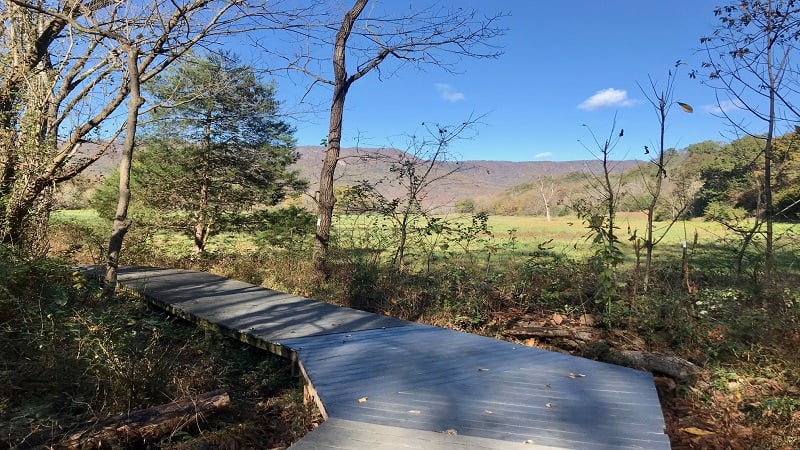 You really can't go wrong at Shenandoah River State Park, so I wasn't disappointed. It's a beautiful state park set on the South Fork of the Shenandoah River.
I had just hiked an easy loop hike in the park that included panoramic views from Culler's Overlook. I was ready for a second hike on any trail or trails in the park.
| Trail Stats | |
| --- | --- |
| Length | 3.1 miles |
| Difficulty | Moderate |
| Trail Type | Lollipop |
| Elevation Gain | 446 feet |
| Duration | 2-2.5 hours |
| Terrain | Some dirt & rock trails, plus boardwalk trails |
| Dog-Friendly | Yes |
| Fee | $10 per vehicle |
| Driving Directions | Click Here |
Arriving at the Trailhead
One reason I was confused, and why the Point Trail to Wildcat Ledge hike did not happen, is because the AllTrails instructions began on the Turkey Roost Trail. Huh?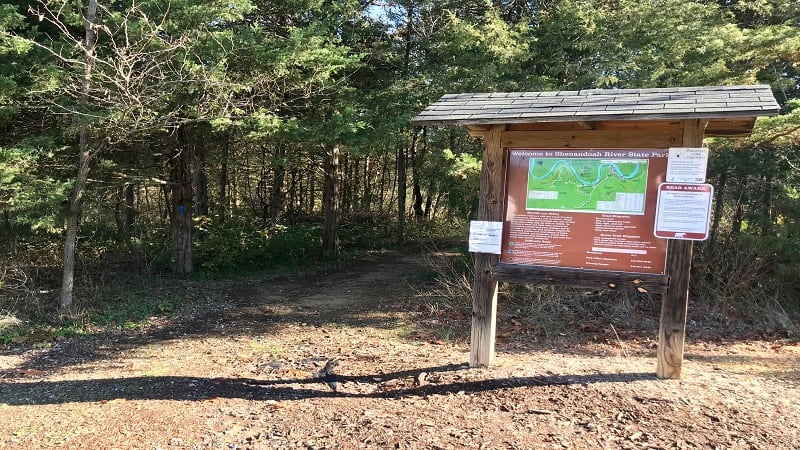 It's okay. I later realized that the Turkey Roost Trail connected with the Point Trail, but by then I was already in the parking lot for the Cottonwood Trail.
The parking lot for this trail is quite large and is a short hop to restrooms. Even better, these restrooms had flush toilets. Not just vault toilets. Heavenly.
The First Steps
You'll see a large trail kiosk at the trailhead for the Cottonwood Trail. It's more or less in the middle of this parking lot on the far east side of the state park.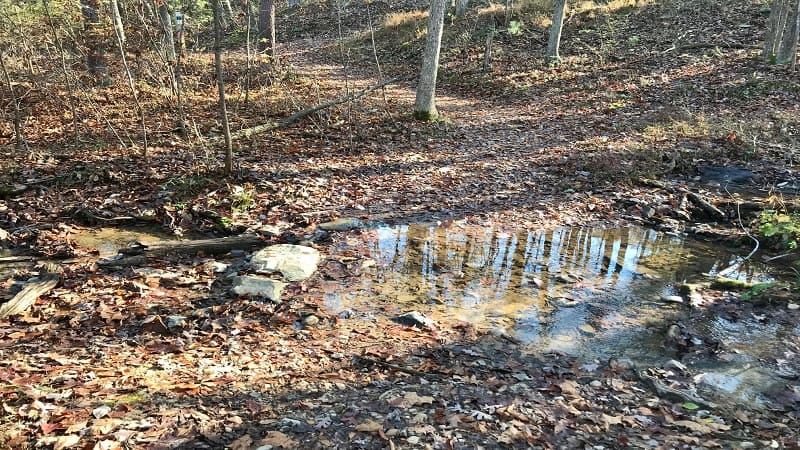 From here, proceed nearly .1-mile before veering left to stay on the Cottonwood Trail. You'll then reach a small creek to cross. Just two or three stones to hopscotch across.
Keep your eyes open for trees with small black signs indicating the types of trees, like Northern Red Oak and Black Oak.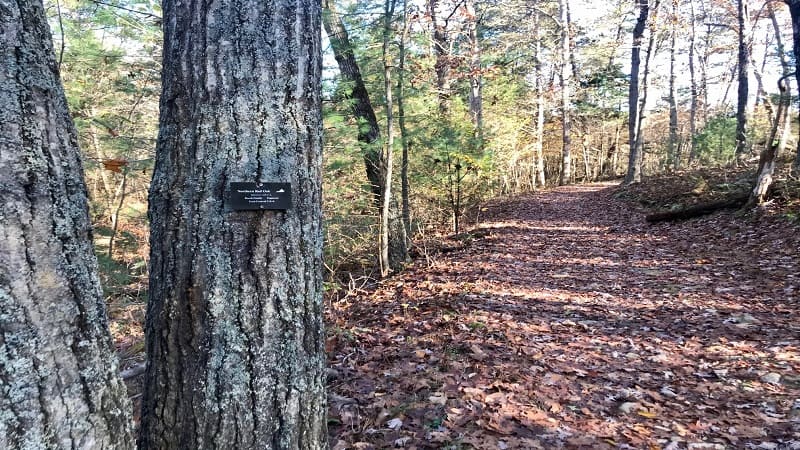 At the .15-mile mark, you'll reach a trail marker. Stay left for the Cottonwood Trail. The trails in this park are extremely well-marked. It would be hard to go off-course.
Just past the .6-mile mark, you'll reach a loop section of boardwalk trail. There are nice open clearing views, as well as northwest-facing views of Massanutten Mountain.
I chose to go right or counter-clockwise on this loop. I think this is the right decision for the mountain views at the 1.0-mile mark. It's a very peaceful walk.
As you continue along the easy loop, you'll reach the Wildcat Ledge Trail at the 1.4-mile mark as you close the loop. The hike goes from easy to moderate when you turn left.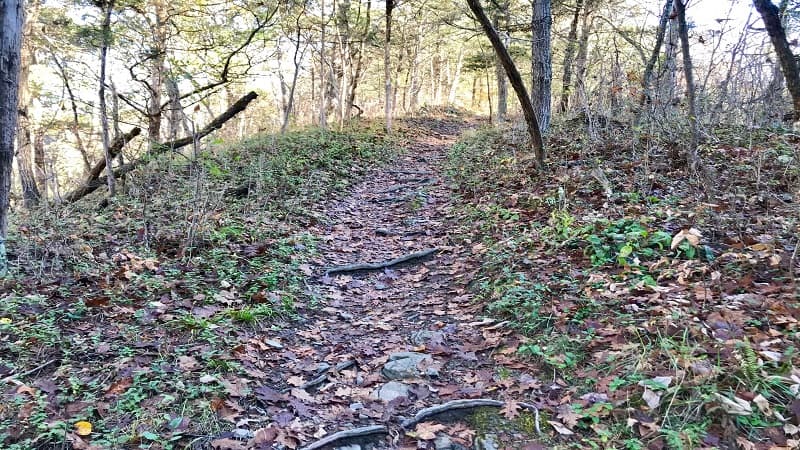 Plan to climb nearly 250 feet in the span of just .2-mile along a narrow, rocky hiking trail. It's a very good workout, so be ready.
At the 1.5-mile mark, you'll reach a nice wooden bench that's just right for a quick rest before the final ascent. In fall, savor scenic views through the barren trees.
You'll reach a rocky outcrop at the 1.7-mile mark that's ideal for a snack with a view. As in, a largely unobstructed view of the river and valley this time.
If you continue past this point, there's another small rocky outcrop, but honestly, the first one is more beautiful.
From here, simply re-trace your steps. Turn left once you reach the Cottonwood Trail to take this easy route back to your vehicle.
Hike Options
It's a snap to edit out the Wildcat Ledge Trail. This hike would only be along the Cottonwood Trail and would clock in at 2.1 miles.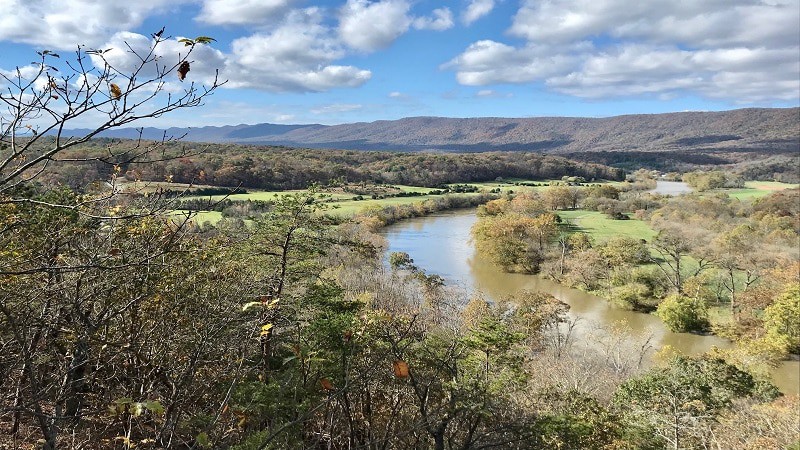 Another great hike is a 3.1-mile easy loop hike that includes the Hemlock Hollow Trail, Overlook Trail, Bluebell Trail and Culler's Overlook. I highly recommend this one.
Wrap-Up Notes
From the parking area, this hike took me just over 90 minutes. However, it's worth noting that I did get a bit off in the wrong direction on the return hike.
Yes, despite the fact that the trail signs make it nearly foolproof to stay on course at this state park, I still ended up going .3-mile in the wrong direction. Oh well.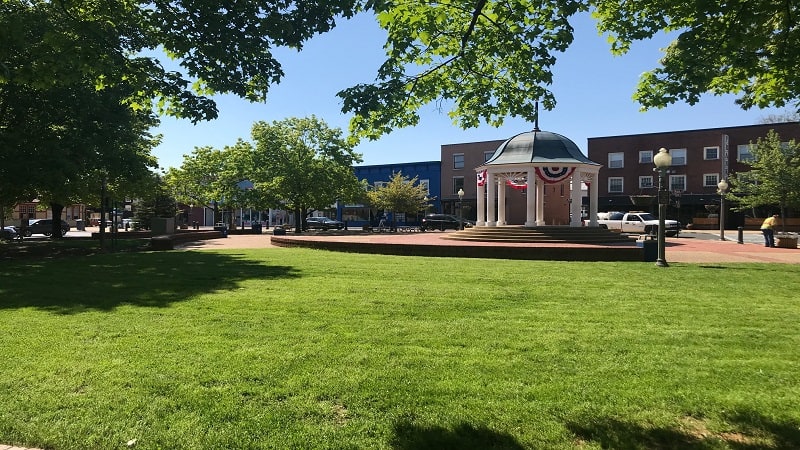 Front Royal is a 15-minute drive from Shenandoah River State Park. It's a quaint town with a historic Main Street and a village green with a gazebo.
In town, there's an outdoor clothing and equipment shop called Mountain Trails. On the wall adjacent to the shop, look for the colorful Appalachian Trail mural.
For more hiking adventures in Virginia State Parks, there are several nearby options, including Seven Bends State Park (53 mins) and Sky Meadows State Park (43 mins).