Mount Vernon Trail: An Urban Hike from Belle Haven to Morningside in Alexandria
Over the weekend, my son and I went on what you could call an urban hike in Alexandria, Virginia. We were just across the Potomac River from Maryland.
We walked on the 18-mile Mount Vernon Trail, which runs alongside the river from Theodore Roosevelt Island to Mount Vernon, affording scenic views with each step.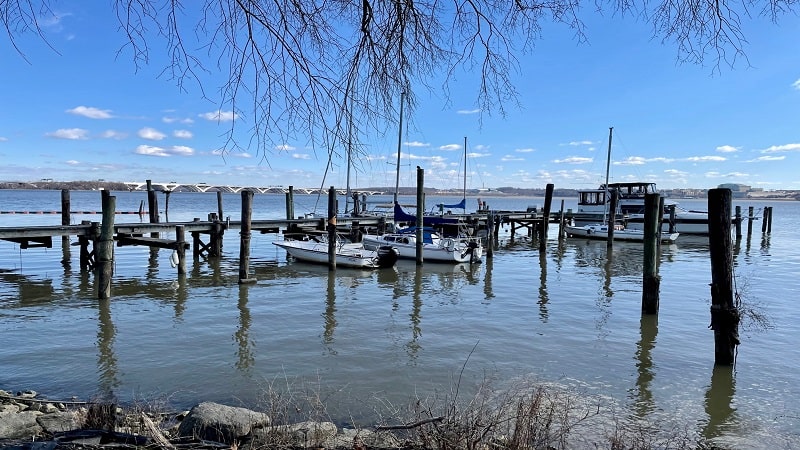 It is a paved, multi-use trail that runs parallel to the George Washington Memorial Parkway, a busy four-lane road that rarely sees a break in speedily motoring vehicles.
Still, despite the sounds of high-speed cars and trucks, walking a few miles along this mostly paved trail was an enjoyable way to spend a Saturday morning.
| Trail Stats | |
| --- | --- |
| Length | 4.4 miles |
| Difficulty | Easy |
| Trail Type | Out-and-Back |
| Elevation Gain | 82 feet |
| Duration | 2 hours |
| Terrain | Paved, some wooden boardwalk sections |
| Dog-Friendly | Yes |
| Fee | Free |
| Driving Directions | Click Here |
Arriving at the Trailhead
You can pick up the Mount Vernon Trail in multiple locations, but we opted to hop on at Belle Haven Park. This is a 16-acre riverside park with green space and picnic tables.
Belle Haven Park is adjacent to Belle Haven Marina, so I imagine on fair-weather weekends you'll see lots of small motor boats setting off on the Potomac River.
The parking area is large, with room for dozens and dozens of cars. You'll also find restrooms both at the Fairfax County-owned park and at the marina.
The First Steps
The Mount Vernon Trail runs along the east side of the parking area. You literally park and you're within a few steps of the multi-use trail. Turn right to walk south.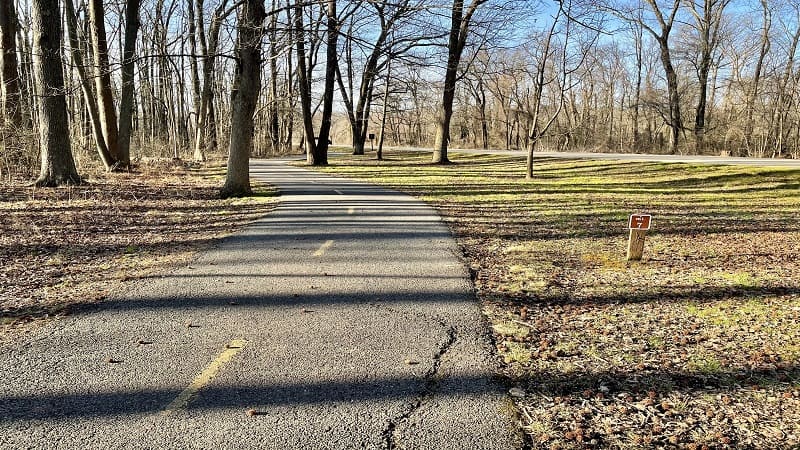 As the trail – which is also popular with bikers and joggers, by the way – continues south alongside the George Washington Memorial Parkway, you will pass the marina.
The Dyke Marsh Wildlife Preserve will now be on your left. A dirt trail to the shores of this tidal marsh can be accessed from the road that leads into the marina.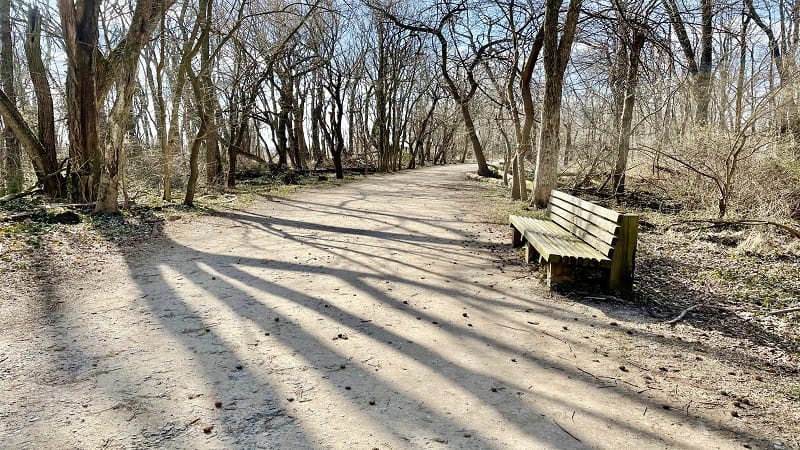 This .75-mile trail, the Haul Road Trail, guides visitors along an old mining road through each habitat of Dyke Marsh, including flood plains and swamp forest.
We continued on the paved Mount Vernon Trail, reaching a delightful wooden boardwalk with grassy views across Dyke Marsh at the .7-mile mark.
You'll shortly reach an overlook with a bench, as well as a colorful placard on Dyke Marsh, which is home to more than 300 species of native trees and wildflowers.
At the 1.0-mile mark, you'll arrive at a very small parking lot (room for two spaces) and what was once a pay phone. Sadly, the pay phone is no longer in place.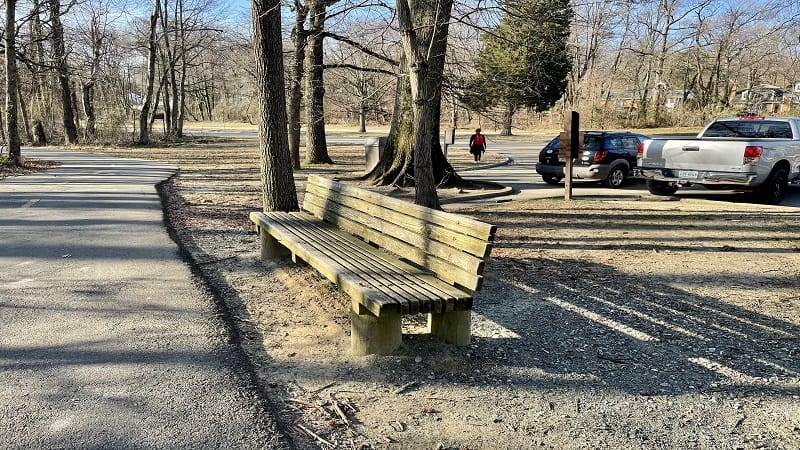 From here, the paved trail continues, with wooden bridges here and there. At the 1.5-mile mark, you'll reach a couple of wooden benches with delightful views.
To the left, you can see the mile-long Woodrow Wilson Memorial Bridge that spans the Potomac River from Alexandria, Virginia to Oxon Hill, Maryland.
You can also see National Harbor on the other side of the Potomac River, including the 180-foot tall Capital Wheel. I'd love to go back at night to see the wheel all lit up.
We proceeded on until we reached the Visitor Information kiosk at the 2.2-mile mark. There are also a handful of beautiful waterfront homes.
The trail kiosk is just past Morningside Lane, and made a perfect spot to turn around to return to Belle Haven Park. Simply re-trace your steps to complete this urban hike.
Wrap-Up Notes
From the parking area at Belle Haven Park, this hike took us just over 90 minutes, including time spent taking a snack break on one of the benches along the trail.
Though I'd prefer a peaceful hike in the woods, this urban hike that included views across the Potomac River and Dyke Marsh was rather nice on a sunny Saturday.
For a second hike in Alexandria, look to ever-scenic Huntley Meadows Park, which is less than 15 minutes by car from Belle Haven Park.