Mount Vernon Trail: Hike or Bike Along the Scenic Potomac River in Northern Virginia
The Mount Vernon Trail is an 18-mile paved trail that runs along the Potomac River from George Washington's Mount Vernon to Theodore Roosevelt Island.
This scenic multi-use trail is a great choice for walking, running and biking. From end to end you'll pass city parks, marinas, memorials, even a Starbucks.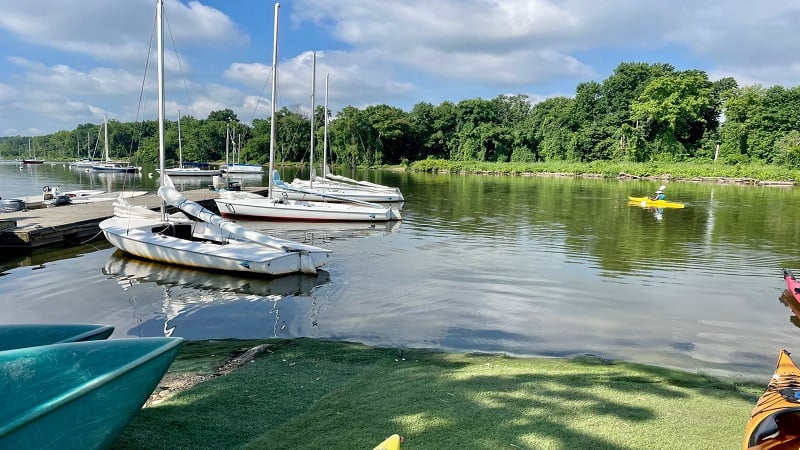 The Mount Vernon Trail starts at Mount Vernon, at mile marker 0. This is just steps from Mount Vernon. There is a trail kiosk, a bench and a water fountain.
I have biked and hiked several small sections of the trail, but a few weeks ago I opted to bike the full length, then bike all the way back to my car.
At 36 miles, it was a good distance, but I was eager to see every mile and then share with you the best stretches of the Mount Vernon Trail.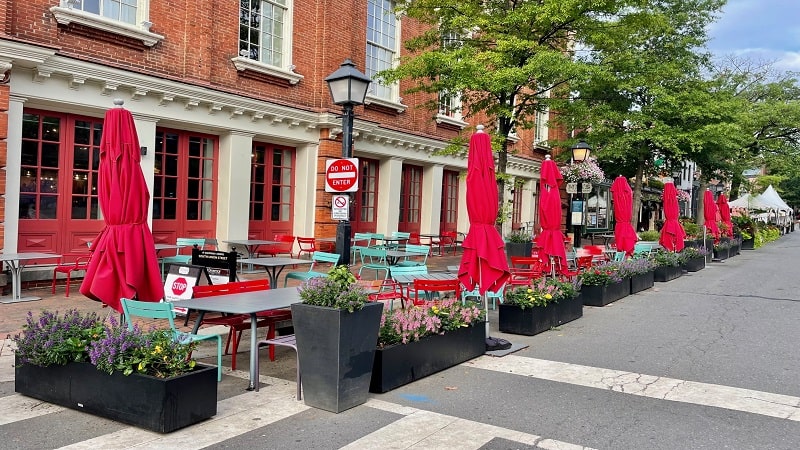 While the path technically starts in Mount Vernon, I recommend completing this trail in reverse, starting at the parking lot at Theodore Roosevelt Island.
In my opinion, the north-to-south route is better marked. This helps since there are several connections that are not completely obvious.
It's also nice to be able to break for lunch or a snack at Mount Vernon in the restaurant or food court at the mid-way point. They also have ice cream.
Theodore Roosevelt Island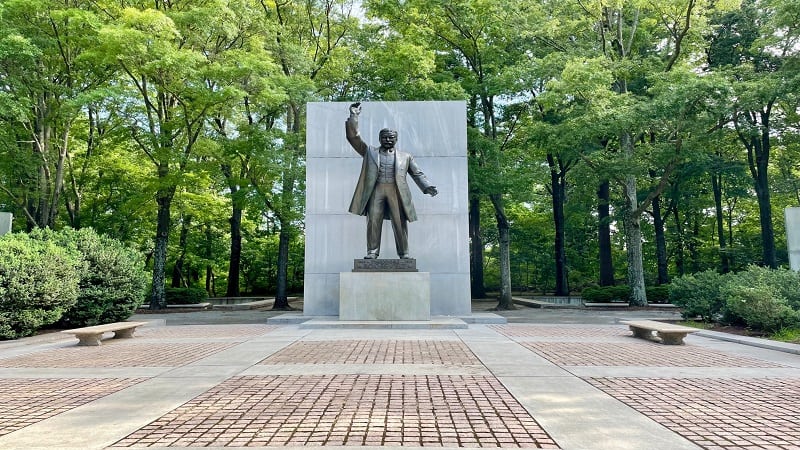 Park in the large lot for Theodore Roosevelt Island, which is located along the George Washington Memorial Parkway. The lot is southeast of the Key Bridge.
There are many, many parking spaces, but on fair-weather weekends, this parking area can quickly fill to capacity. Be sure to keep this in mind.
Before you begin, I suggest a walk around the perimeter of 89-acre Theodore Roosevelt Island. It's an easy 1.9-mile loop around the small island.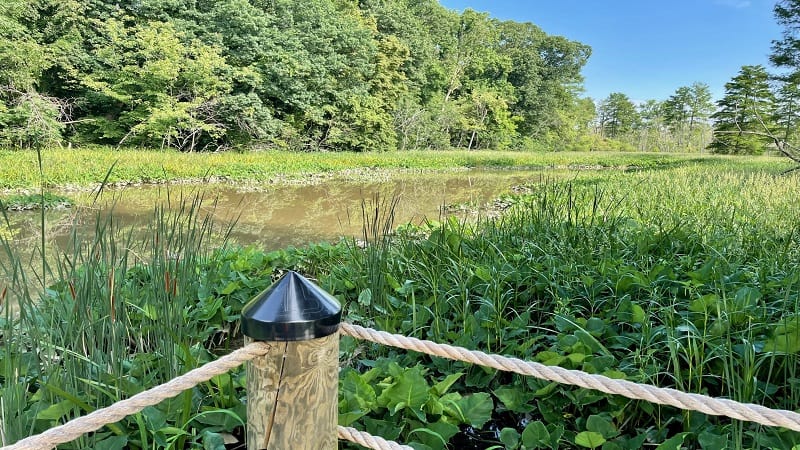 There are three short trails on the island: Swamp Trail, Woods Trail and Upland Trail. Each trail is named for a habitat present on the island.
In the center of the island is a large oval-shaped plaza and a 17-foot-tall bronze statue of Theodore Roosevelt, the 26th President of the United States.
You'll also see four 21-foot-tall granite tablets, each inscribed with Roosevelt's most famous quotations. There is a moat and fountains at the plaza, too.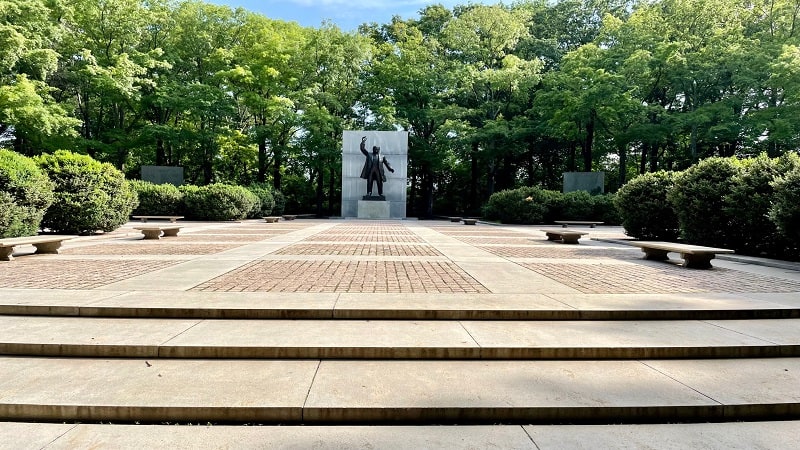 Once you've finished exploring Theodore Roosevelt Island, which is managed by the National Park Service, proceed south along the Mount Vernon Trail.
Lady Bird Johnson Park
Shortly, you'll cross a wooden boardwalk, which splits nearly right away. Stay left for National Airport, Alexandria and Mount Vernon.
Assuming Theodore Roosevelt Island is mile marker 0 (instead of 18), you'll reach the Navy Merchant Marine Memorial at the 1.9-mile mark.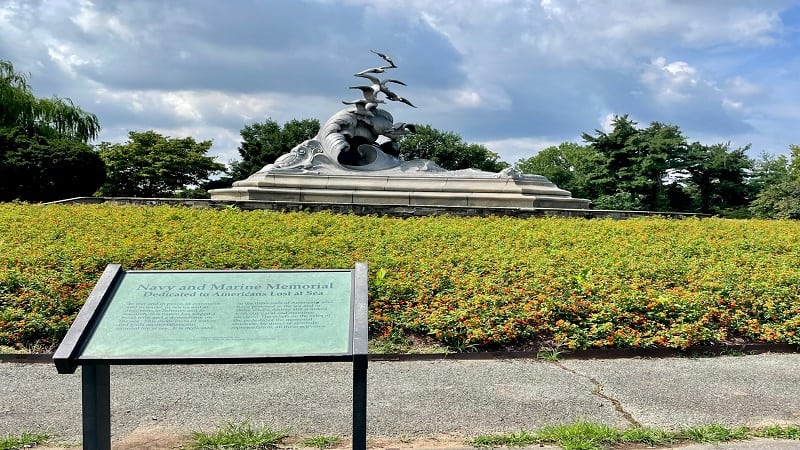 This monument honoring sailors who lost their lives at sea during World War I is located in Lady Bird Johnson Park.
The large sculpture depicts seven gulls soaring over the crest of a wave. From here, you can also enjoy views of the Jefferson Memorial across the river.
You'll then cross under I-395 and the Rochambeau Bridge. It's a narrow passage, so you may need to walk your bike if you are cycling the trail.
Gravelly Point Park
At the 2.4-mile mark, you will enter Gravelly Point Park. This is one of my favorite green spaces along the Potomac River.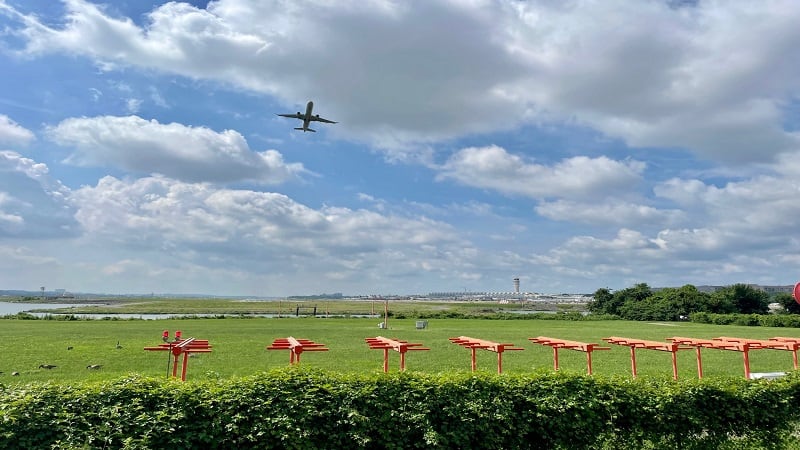 There is a wide open field that's often used for pick-up soccer games on weekends. You'll also find picnic tables and port-a-potties.
The main draw, however, is being able to watch planes take off and/or land from Reagan National Airport, which is adjacent to Gravelly Point Park.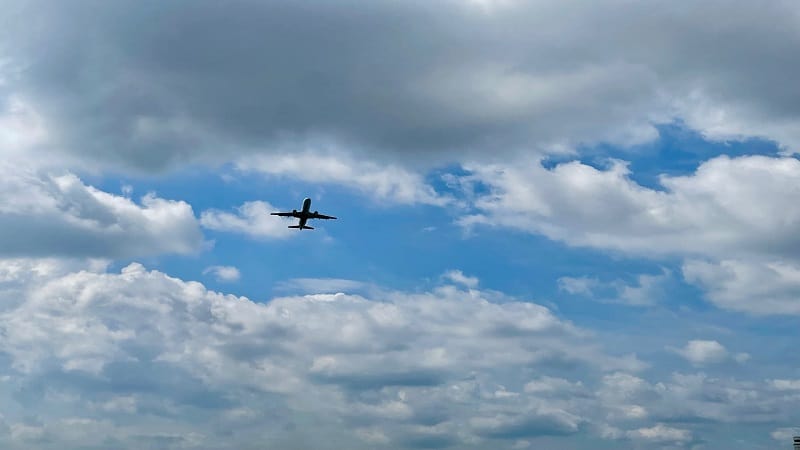 The massive planes literally fly right over your head. It's pretty amazing. I suggest you visit FlightAware to see when planes will take off or land.
At certain times of day, you may see planes take off every minute, while it can be less frequent at other times of day.
There is also a large parking lot if you want to hop on the Mount Vernon Trail from this starting point. As a bonus, it's free to park here.
From here, continue south and you'll sidle up against the airport. Some of the planes are so close. You can practically wave to those in the terminal.
Daingerfield Island
Near the end of the airport, you'll reach another split in the trail, at the 4.7-mile mark. This time, stay right for Alexandria and Mount Vernon Trail.
You'll soon be cycling along Four Mile Run. You may even see windsurfers on the water as you make your way to Daingerfield Island.
At the 5.7-mile mark, you can turn left on Marina Drive for the Washington Sailing Marina. There are lots of sailboats and power boats at the marina.
It's free to park at the marina and you'll find a seasonal grill, restrooms and a picnic area, as well as sailboat, kayak and stand-up paddleboard rentals.
The marina on Daingerfield Island (which is no longer an island) also offers guided kayak and stand-up paddleboard tours on the Potomac River.
Potomac River Route
As you continue south, you'll cross through a scenic wetlands area on a wooden boardwalk trail. Then, a fork in the trail at the 6.1-mile mark.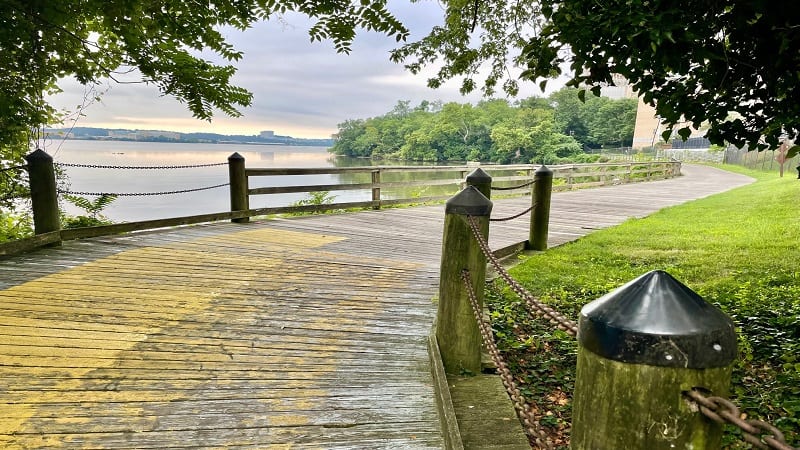 To be honest, I was not entirely sure which way to go at this point, but veering left to bike on the River Route seemed like a good idea.
If I had stayed right, the alternate path would have re-connected with the Mount Vernon Trail within a mile or so, but the left route was more scenic.
The trail continued behind Marina Towers, a high-rise apartment building. At the 6.5-mile mark, pause for a long colorful mural.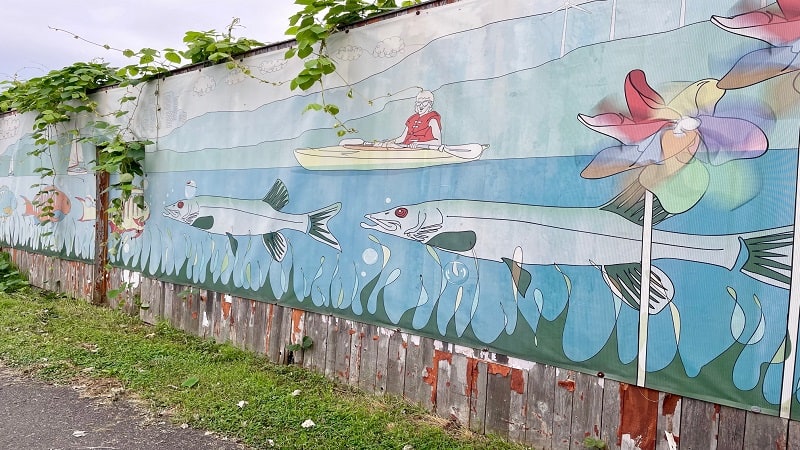 You'll reach Oronoco Bay Park, the first of several city parks in Alexandria, at the 7.1-mile mark. This 5-acre park has benches and its own walking path.
Old Town Alexandria
The trail ends, kind of, at the 7.3-mile mark at Pendleton Street. A sign notes that you have two choices to re-connect with the Mount Vernon Trail.
You can either turn right to take Royal Street or you can turn left to take Union Street. I turned left to take Union Street along the Lower Potomac River.
To be honest, I had hoped to take Royal Street on the way back, but then I didn't see any signs directing me there from the Mount Vernon Trail. Oh well.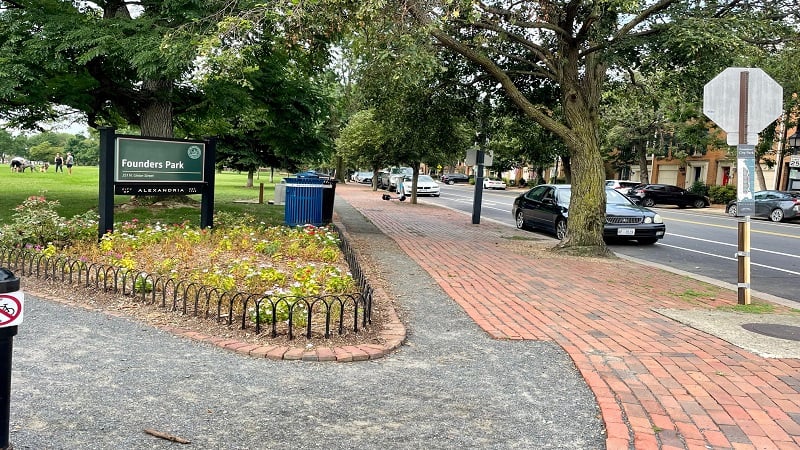 I soon reached Founders Park, which is a popular spot for dog meet-ups, then I found myself in the heart of Old Town Alexandria.
I passed the Torpedo Factory Art Center, Starbucks, Ben & Jerry's and Union Street Public House, all the while ogling the gorgeous row houses.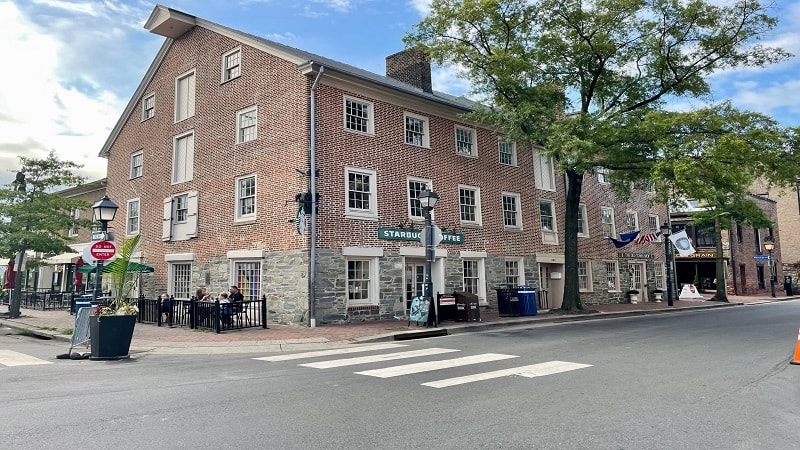 Union Street dead-ends at the Mount Vernon Trail at the 8.3-mile mark. Turn left onto the path and you will enter Jones Point Park.
Make a quick stop at the 8.5-mile mark to snap a few photos of the Woodrow Wilson Bridge before proceeding under the bridge.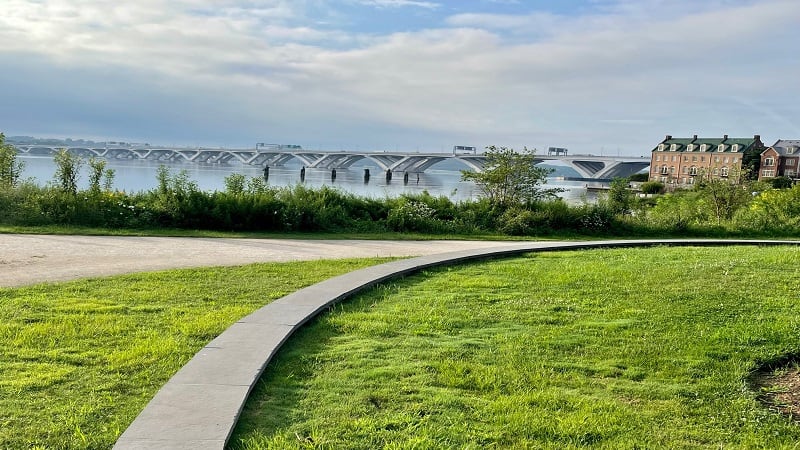 Keep your eyes open for restrooms, basketball courts, benches and water fountains. There's also a World War I-Era Rudder on display under the bridge.
Belle Haven Park
Continue on and you'll turn left at the stoplight at Washington Street. You'll cross over Cameron Run, then the trail becomes quieter with more trees.
At the 10.2-mile mark, you'll reach Belle Haven Park. There is a large parking area, as well as picnic tables, benches, restrooms and water fountains.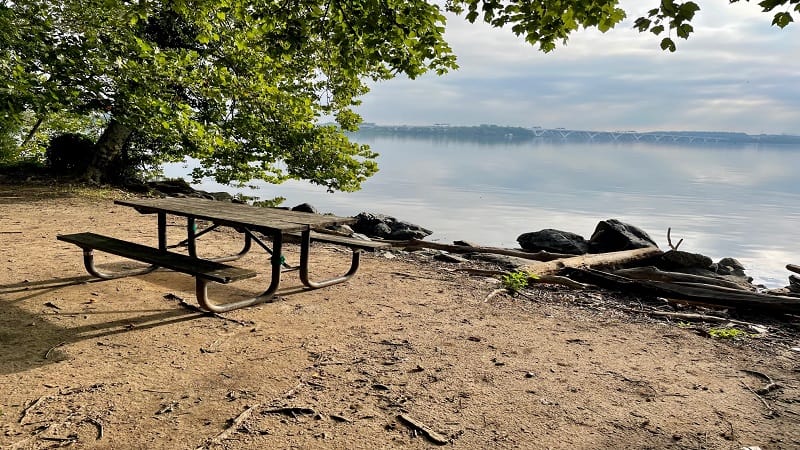 If you like, turn left at the 10.4-mile mark for Belle Haven Marina. You'll find boat launches for kayaks and canoes, as well as for power boats and sail boats.
You can rent boats for a minimum of two hours. Belle Haven Marina also offers sailing summer camps and classes for adults and youth.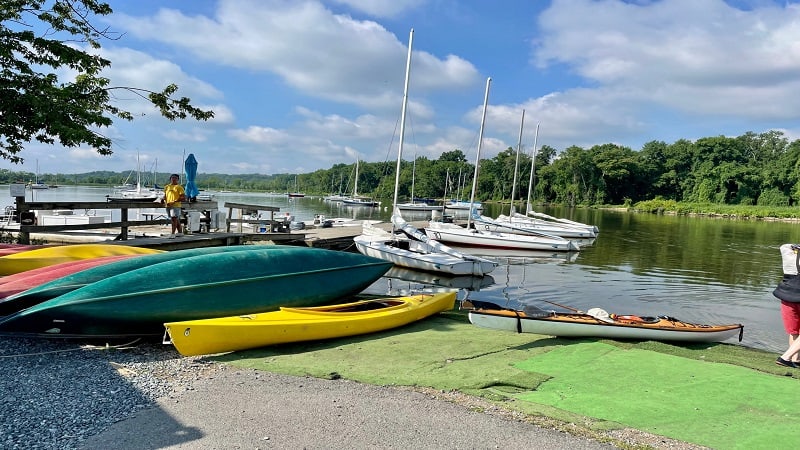 From the road that leads to the marina, you can access the Dyke Marsh Trail, a walking trail that runs along the east side of Dyke Marsh Wildlife Preserve.
As you continue south along the Mount Vernon Trail, you will proceed along a boardwalk trail across the west side of the scenic marsh habitat.
At the 11.9-mile mark, two benches await for trail-goers to savor the views across the Potomac River.
Stay mindful of the signs at the 12.5-mile mark as the trail briefly goes through a neighborhood, then under a stone bridge. Just follow the signs.
Trail Closure
You'll see a big "Trail Closed" sign at the 14.7-mile mark, but not to worry. There's an easy detour that leads around construction of a new trail bridge.
The detour is a short .3 miles. You'll hardly even notice the switcheroo as you make your way toward Fort Hunt Park.
As you continue on, you'll begin to see more single-family homes, mostly on the right side of the multi-use trail.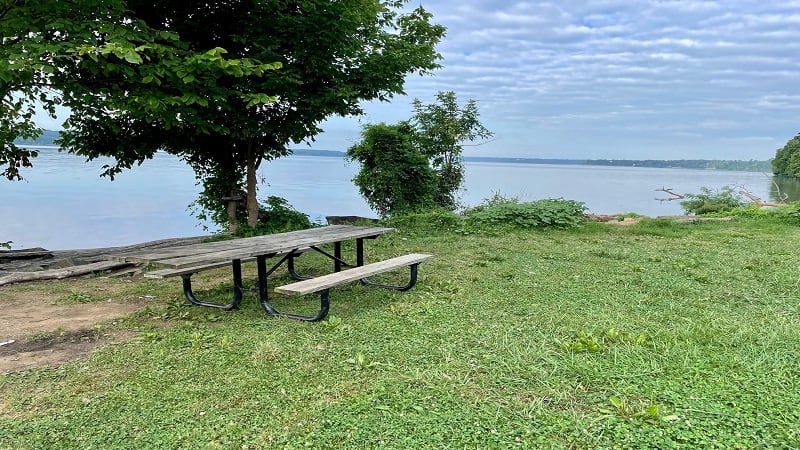 Then, you'll spy a small parking lot and a grassy area with a handful of picnic tables along the Potomac River at the 16.9-mile mark.
Mount Vernon Estate
At this point, you're so close to the end of the trail, but you'll need to dig deep to make it to the end. There's some good elevation to cap off this trail.
The Mount Vernon Trail ends (er, begins) at the north end of the east parking area. There's a trail kiosk and a bench or two, as well as mile marker 0.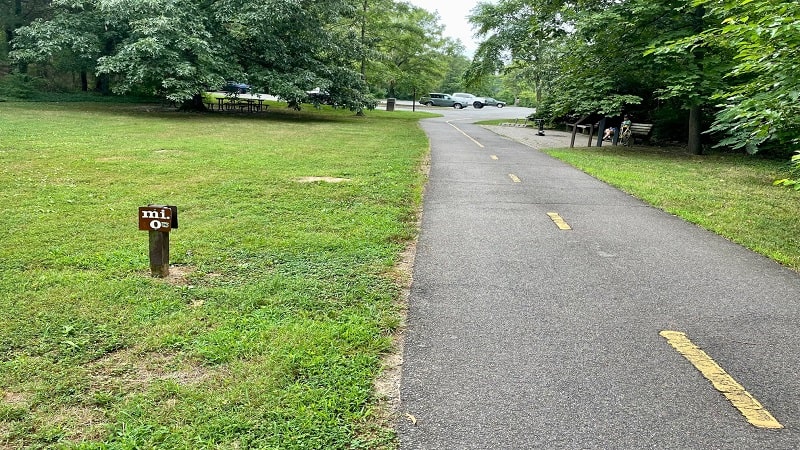 Continue on to reach George Washington's Mount Vernon. Note that there is a fee to access the grounds of the estate for a guided tour of the mansion.
However, you do not need to pay a fee to access Mount Vernon's Food Court, which is open daily from 9 am to 5 pm.
You'll find burgers, salads, pizza and wraps, as well as drinks and desserts. There are all kinds of breakfast foods too, like eggs, bacon and cereal.
Alternatively, enjoy lunch, dinner and weekend brunch at the Mount Vernon Inn Restaurant. The restaurant offers indoor dining and take-out service.
Once you've re-fueled, proceed north back to your vehicle at Theodore Roosevelt Island. Take it slow to enjoy all of the river views.
Bike Rentals
For those who want to bike to Mount Vernon (or from Mount Vernon), there are Capital Bikeshare locations at several points along the paved trail.
If you don't have a bike, you can rent a bicycle by the minute or by the day at Theodore Roosevelt Island, Gravelly Point Park and Mount Vernon.
The fee is $1 to unlock a rental bike, then $.05/min for a classic bike or $.15/min for an ebike. For a 24-hour pass, the rate is $8/day.
You can drop a bike rental off at any rental station. This way, you can easily explore areas along the Mount Vernon Trail both on foot and on two wheels.
Mount Vernon Trail Parking
There are multiple spots to park along the Mount Vernon Trail, including at Theodore Roosevelt Island and George Washington's Mount Vernon.
It's free to park at nearly all lots along the trail, unless of course you opt to park in a commercial garage in Old Town Alexandria, for example.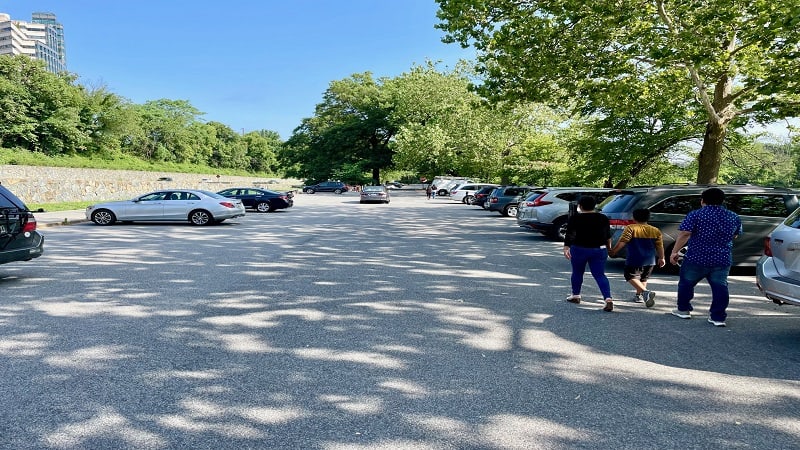 I also recommend free parking lots at Gravelly Point Park and Belle Haven Park. Both locations have large lots and offer easy access to the paved trail.
Route Recommendations
If you're not up for a 36-mile out-and-back walk or bike ride, here are a few short stretches of the Mount Vernon Trail that I recommend:
#1: Theodore Roosevelt Island to Gravelly Point
This stretch is 2.9 miles one-way if you want to reach the front of Gravelly Point with the best views of the planes taking off and landing at the airport.
Plan to bring a picnic lunch or a ball to kick around the large grassy area. You'll want to spend at least an hour here lazing away the day.
#2: Daingerfield Island to Torpedo Factory
Park in the large lot on Daingerfield Island at Washington Sailing Marina. Take in the views of the sail boats before proceeding south to Old Town Alexandria.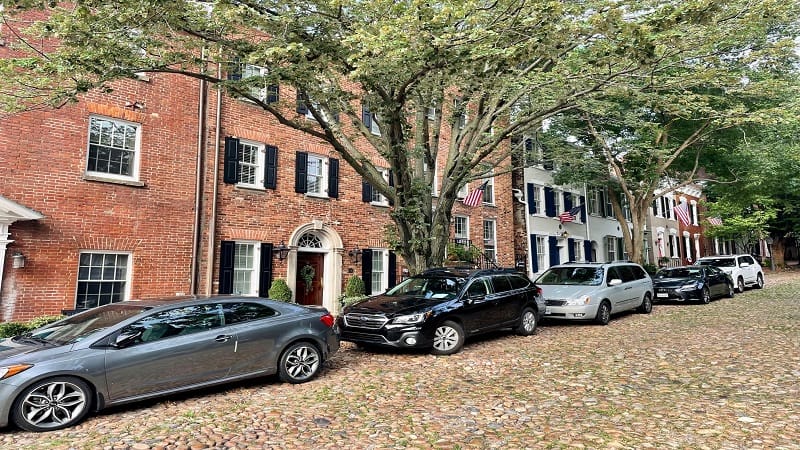 From here it's 2.1 miles one-way to reach the Torpedo Factory at the corner of Union Street and King Street, as well as plenty of shops and restaurants.
#3: Belle Haven Park to Morningside Lane
This 2.2-mile stretch one-way begins at Belle Haven Park, a large grassy area with picnic tables, restrooms, water fountains and a large parking lot.
Proceed south on the Mount Vernon Trail until you reach Morningside Lane. Along the way, enjoy the views across Dyke Marsh Wildlife Preserve.
Wrap-Up Notes
Whether you choose to bike or walk, I hope you make time for the scenic Mount Vernon Trail. It's a fantastic path and I'm glad I made it end to end.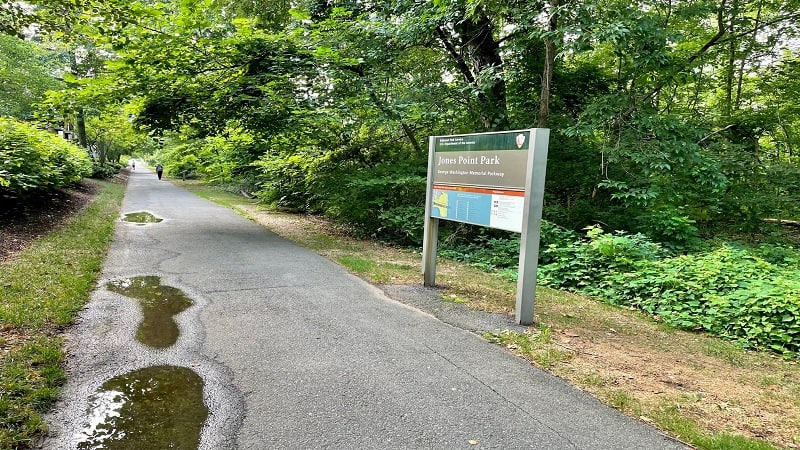 Thanks to parks, river views, monuments, bridges and picnic areas, the entire trail is eye-pleasing and far from boring or ho-hum. You will love this one.
On a bike, the entire trail (out-and-back) took me four hours to complete, including lots of stops to take photos and enjoy the day on two wheels.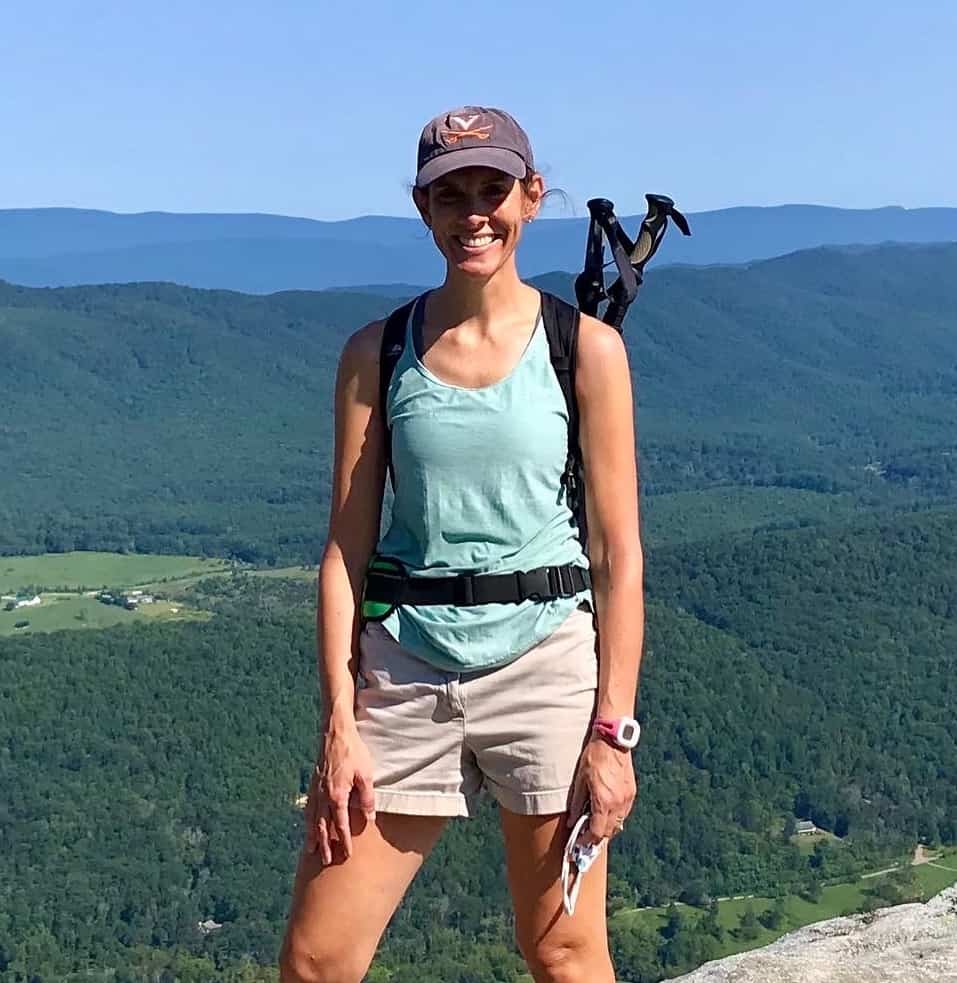 Erin Gifford is the editor of Go Hike Virginia. She has completed more than 300 hikes in Virginia. She is also the author of three hiking guidebooks from Falcon Guides. Need help finding a hike? Check out the Trail Finder feature or send Erin a message.