Lake Accotink Trail: Enjoy a Wooded Hike Around a 55-Acre Reservoir in Springfield, Virginia
Earlier this year, I set off for a family friendly hike on the Lake Accotink Trail in Springfield, Virginia. I just wanted to get outside, even in the cold.
There was snow on the ground, but more snow in the works for the overnight hours, at least here in Northern Virginia. My hiking window was small.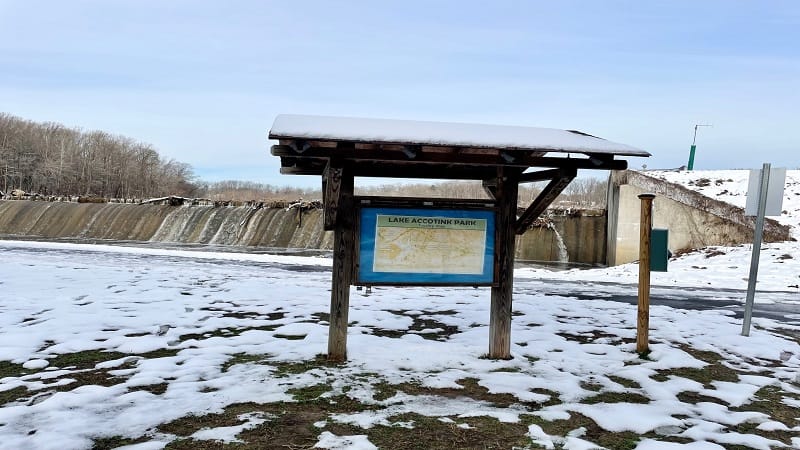 I made the drive to Lake Accotink Park in Springfield for a loop hike around the reservoir. There are some paved sections, but it was still quite nice.
This regional park is managed by the Fairfax County Park Authority, which oversees nearly 400 area parks, including Riverbend Park in Great Falls.
Lake Accotink Park is tucked away in between several neighborhoods, so you'll see single-family homes here and there, but also plenty of forest and tall trees.
| Trail Stats | |
| --- | --- |
| Length | 3.9 miles |
| Difficulty | Easy |
| Trail Type | Loop |
| Elevation Gain | 177 feet |
| Duration | 2-3 hours |
| Terrain | A mix of paved & unpaved sections |
| Dog-Friendly | Yes |
| Fee | Free |
| Driving Directions | Click Here |
Lake Accotink Trail
The Lake Accotink Loop Trail at Lake Accotink Park in Springfield is a 3.9-mile loop that includes paved and unpaved sections.
On the Lake Accotink trail map, note that this loop hike includes a section of the Gerry Connolly Cross County Trail, a 40+ mile trail that cuts across Fairfax County.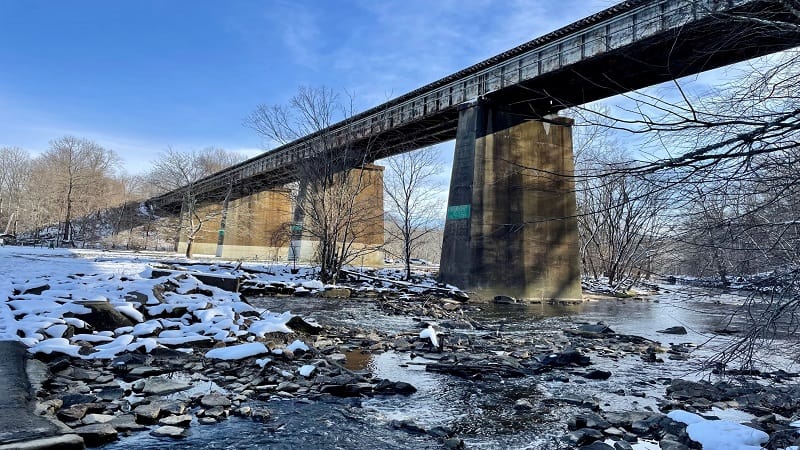 This easy-going hike begins from the large parking area at the base of the historic Orange and Alexandria Railroad Trestle, which was built in 1851.
You'll see a large trail kiosk just under the trestle bridge that runs over gently-flowing Accotink Creek. You'll also see a dam and a spillway.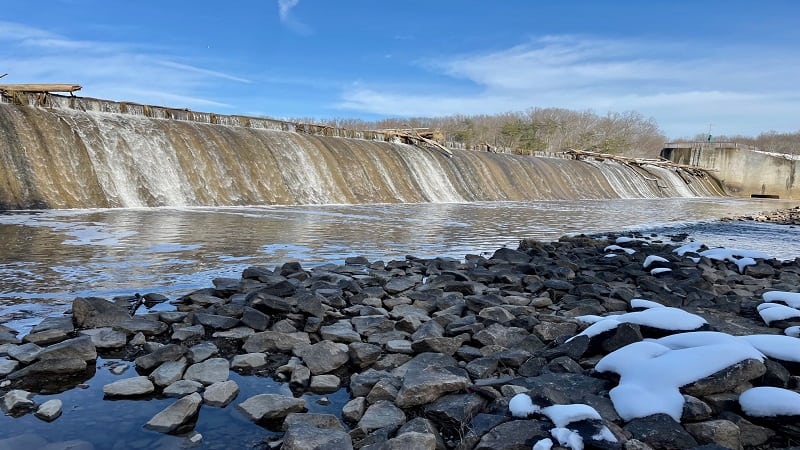 The paved path sets off in both directions. I opted to go right to make this a counter-clockwise hike around the reservoir and surrounding park land.
In this direction, the hike guides you on a paved path and sidewalk around the east side of Lake Accotink until you reach a footbridge over Flag Run.
As you walk alongside the reservoir on a now unpaved trail, note a handful of side trails that allow you to get near the lake for unobstructed views.
The first short spur trail appears at the .3-mile mark on the left. You'll then cross over a second footbridge at the .5-mile mark.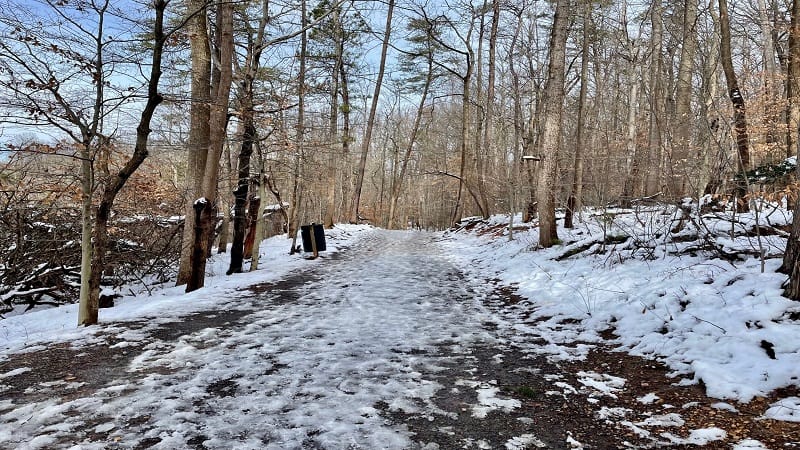 You'll also see single-family homes through the trees on the right. In summer, I'm sure the residential area is much less obvious, but it was fine.
Lake Accotink Views
At the .7-mile mark, you'll reach a lovely overlook with four benches. This is a great spot for taking in the scenic views across Lake Accotink in winter.
Re-trace your steps then continue on. In a few more steps, a spur trail sets off to the left that leads to really nice, unobstructed lake views.
As you proceed, you'll reach a fork in the trail at the .8-mile mark. Stay left for the Lake Accotink Trail. You'll see a large trail guide, too.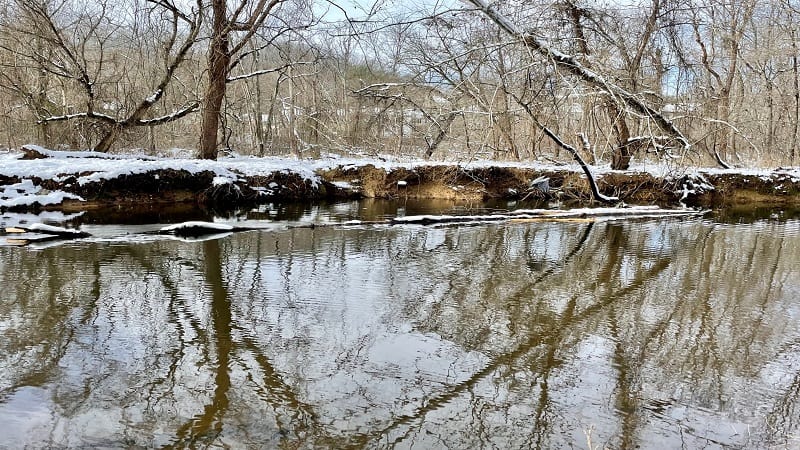 At the 1.2-mile mark, the path changes from paved to unpaved. You'll soon be walking alongside Accotink Creek in a very wooded section of the park.
Cross over Accotink Creek on a wooden footbridge one more time at the 1.9-mile mark. Once you do, you'll reach a T-intersection. Turn left at that time.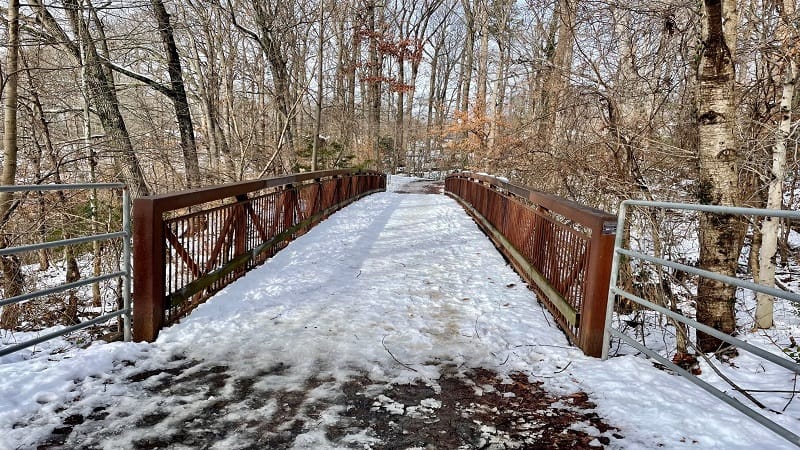 The path gets steep as you gain 80 feet of elevation. Walk a sidewalk on Danbury Forest Drive, which passes Kings Glen Elementary School.
When Danbury Forest Drive intersects with Kirkham Court, continue across the street to pick back up the Lake Accotink Trail.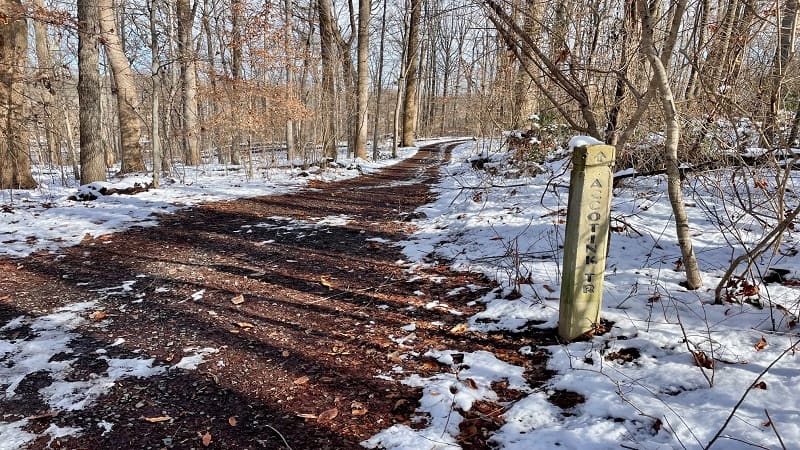 This next section of trail is very quiet and serene. There are no more single-family homes or town homes. It's just woods and very tall trees.
Every so often, you'll see a mountain bike trail set off on the right, but just continue straight ahead to stay on the main trail. It's so, so peaceful.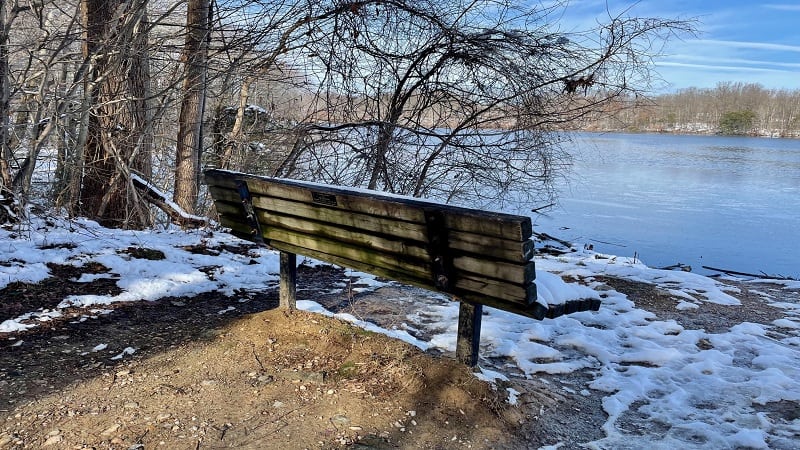 Before long, you'll see Lake Accotink again on the left. You'll then cross over Accotink Creek one more time at the 3.8-mile mark, at the scenic spillway.
As you walk by the dam and spillway, you'll see the trail kiosk where you began your hike just ahead. Your hike is complete at the 3.9-mile mark.
Trail Clean-Up Days
If you enjoyed a walk or pedal at Lake Accotink Park, consider participating in a monthly Trail Clean-Up Day.
Trail Clean-Up Days are organized by Friends of Lake Accotink Park (FLAP) and take place the second Sunday of each month between 9 and 11 am.
This opportunity is open to volunteers of all ages. Here's a flyer with the scoop on where to meet as well as how to find FLAP on Twitter and Facebook.
Wrap-Up Notes
It took me just under two hours to complete this dog-friendly hike round Lake Accotink, including time spent idling on a bench or two.
This multi-use trail can be used by both walkers and bikers. Thankfully, the trail is rather wide so it would be a cinch to share the trail.
There's a lot to do at Lake Accotink Park, so once you're finished up the trail, make time for mini golf, pedal boat and kayak rentals, and an antique carousel.
Note that fishing is allowed at Lake Accotink Park, but fishing is generally limited to bluegill and catfish. Swimming is not allowed at Lake Accotink.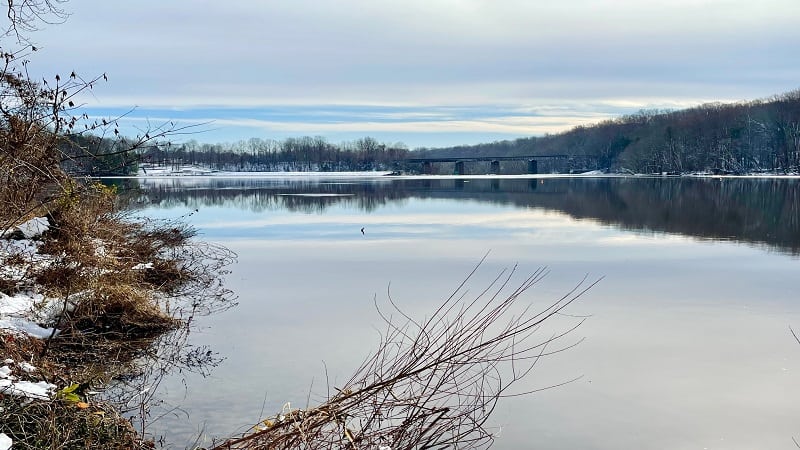 The park also offers bike rentals, but this time of year, all of the facilities are closed until spring. So, plan to BYO if you want to use the bike trails.
Lake Accotink Park is located at 7500 Accotink Park Road in Springfield. This park is open every day from sunrise to sunset for outdoor recreation.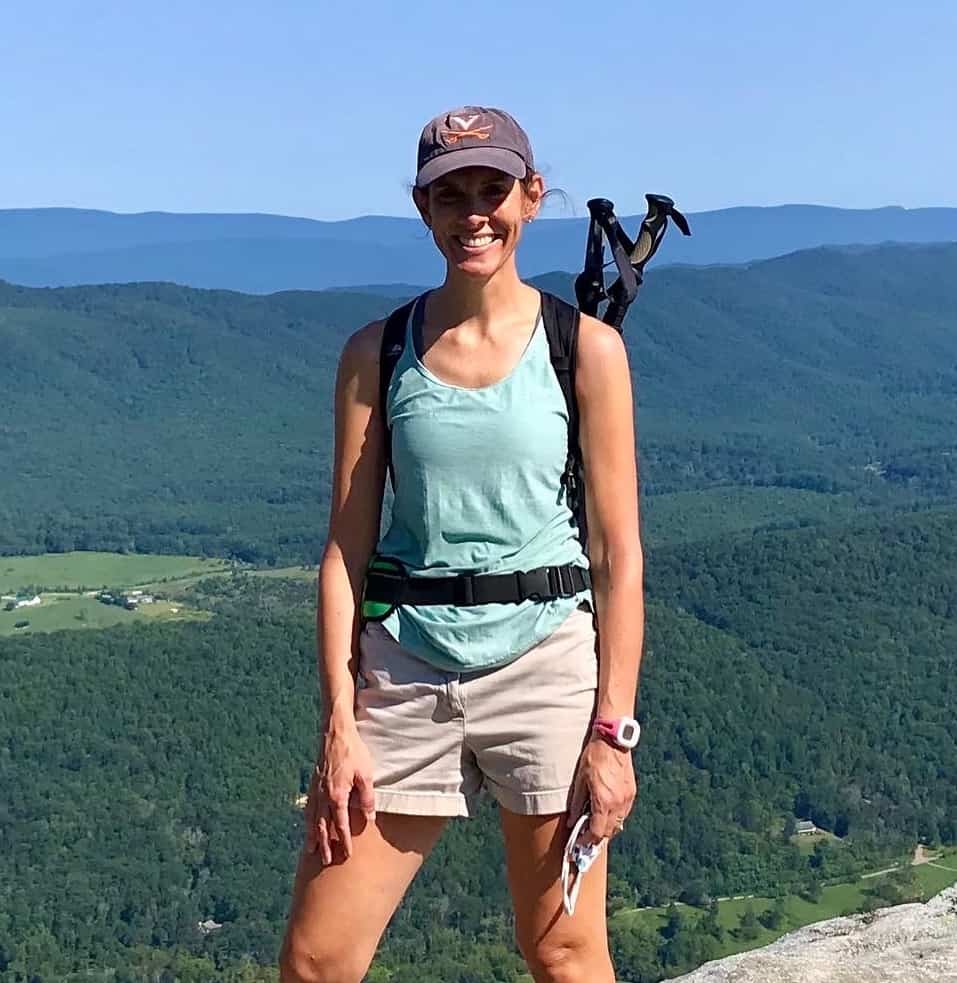 Erin Gifford is the editor of Go Hike Virginia. She has completed more than 300 hikes in Virginia. She is also the author of three hiking guidebooks from Falcon Guides. Need help finding a hike? Check out the Trail Finder feature or send Erin a message.