James Long Park: Enjoy Scenic Wooded Hiking Trails in Haymarket, Virginia
James S. Long Park in Haymarket, Virginia is a 230-acre regional park with soccer fields, basketball courts, playgrounds, picnic tables and tennis courts.
It's also home to more than four miles of wooded trails that are open to hikers and mountain bikers. There are also two miles of planned trails in the works.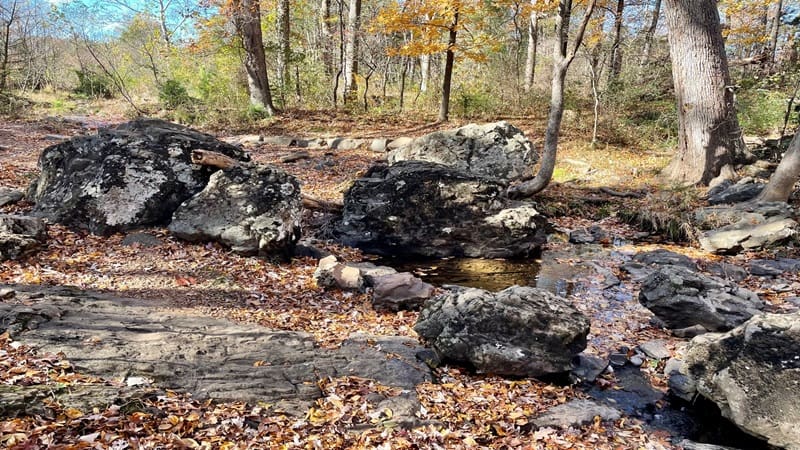 The existing trails in the park's trail system are the Salamander Trail, Homerun Trail, Ridgetop Trail and Rollercoaster Trail.
The hiking trails range from easy to strenuous, but even the more strenuous trail is only marked as such due to some up and down elevation changes.
I recently hiked a 3.2-mile loop around the park that cobbled together three of the park's four trails. It was a quiet, relaxing walk in the woods.
| Trail Stats | |
| --- | --- |
| Length | 3.2 miles |
| Difficulty | Moderate |
| Trail Type | Loop |
| Elevation Gain | 213 feet |
| Duration | 2-2.5 hours |
| Terrain | Mostly dirt & rock trails |
| Dog-Friendly | Yes |
| Fee | Free |
| Driving Directions | Click Here |
James Long Park Trails
The trails at James Long Park are not very well marked, so I would suggest using the GPS-enabled AllTrails map, which you can download to your phone.
You can also download and/or print out the trail map. You'll see some blazes here and there, but they are not always consistent in color.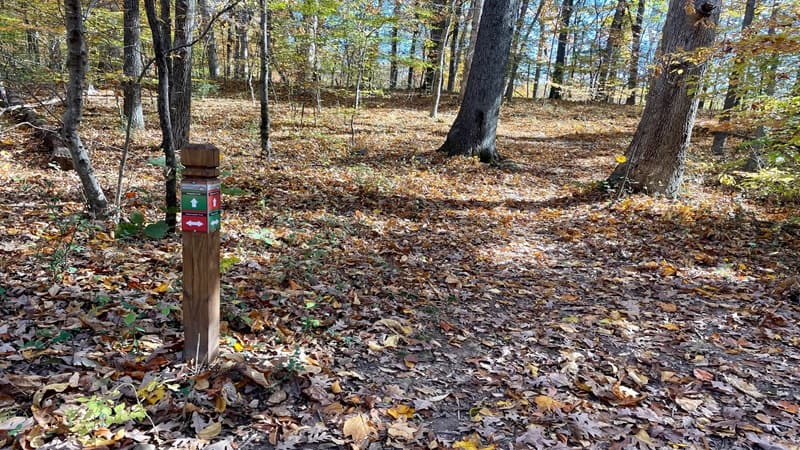 You will, however, typically see signs at trail junctions. This was the most helpful in terms of making sure I was on or was connecting with the right trail.
There are several connector or bypass trails too that can help you shorten your hike or connect with a trail from a spot other than the trailhead.
Rollercoaster Trail
I started this hike from the red-blazed Rollercoaster Trail. It's located just behind Gro, a nature-based preschool.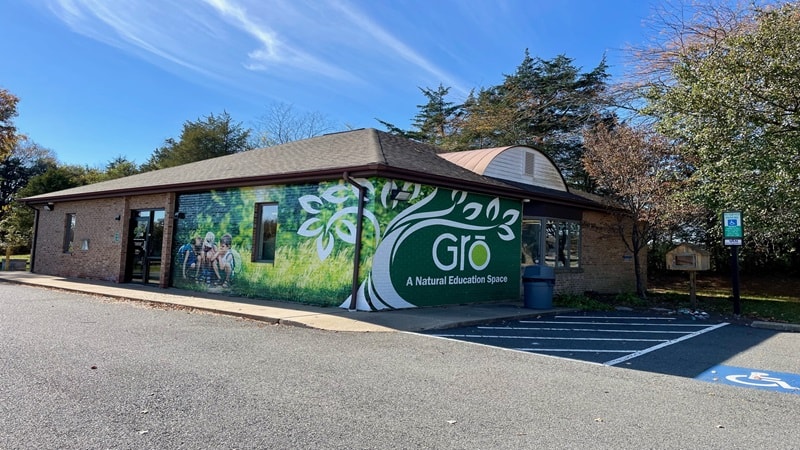 From the Gro parking lot, you'll see an opening in the fence. There are no trail signs, but this is where the hike begins.
Walk through the opening, then turn right and begin walking up an easy hill where you'll reach a variety of sensory stations for small children.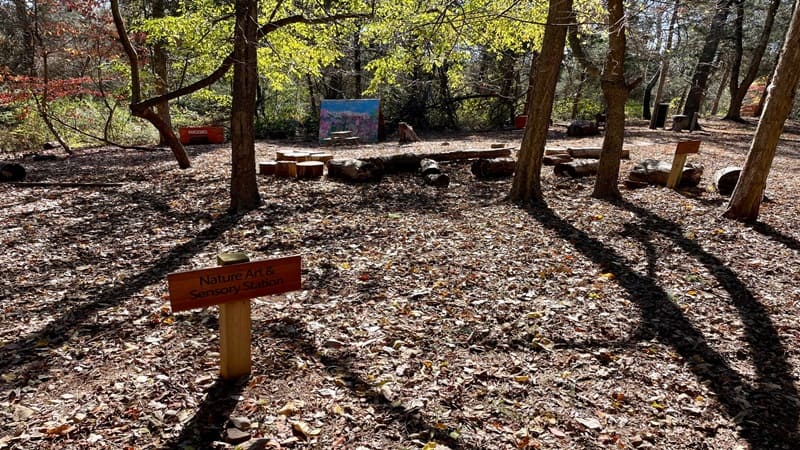 These play stations are open to any children using the trail. They include stops with names like Water Works, Gathering Place and Construction Zone.
The Rollercoaster Trail goes up and down – you know, like a roller coaster. You'll reach a four-way trail junction at the 0.6-mile mark. Turn right here.
Ridgetop Trail
You're now on the green-blazed Ridgetop Trail. At 1.5-miles, it's the longest park trail. You may see some painted green blazes, but often they are faded.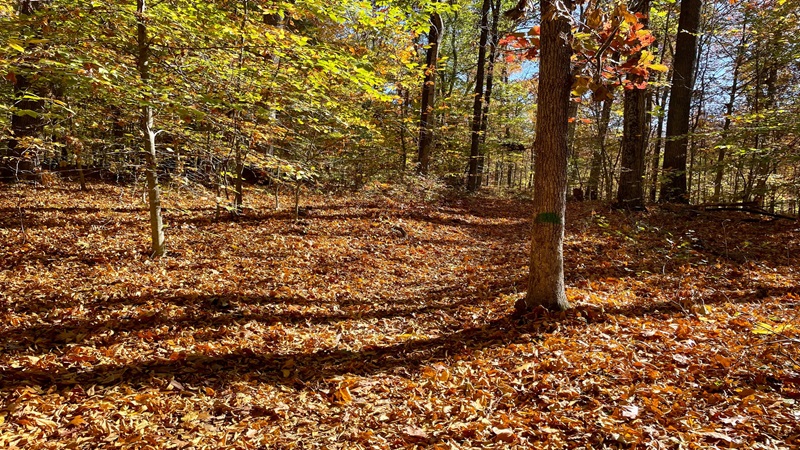 You'll reach another trail sign at the 1.0-mile mark. Here you can either turn left onto a bypass trail that re-connects with the Ridgetop Trail in 0.1-mile.
This would shave off 0.6-mile from this hike. I chose to continue on the Ridgetop Trail, which ends at the 2.0-mile mark.
At this point, you can either turn left for the pink-blazed Homerun Trail or turn right for the blue-blazed Salamander Trail.
Salamander Trail
Since I was trying to make the largest possible loop on the park trails, I turned right to proceed on this wooded hike. In a few steps, cross Catharpin Creek.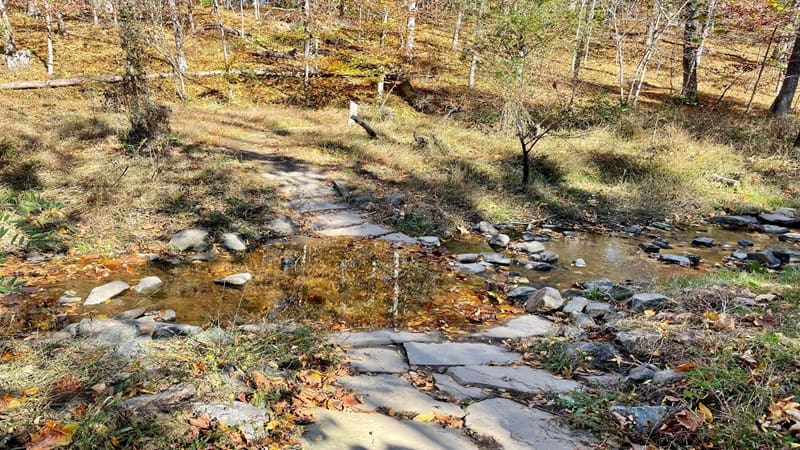 At the 2.9-mile mark, you'll cross over the creek again. This time, there are some large boulders to climb and scramble on. Kids will love these rocks.
Once you cross the creek, turn right. The trail sign is hidden. If you were to turn left, you'd walk all the way back across the park on the Homerun Trail.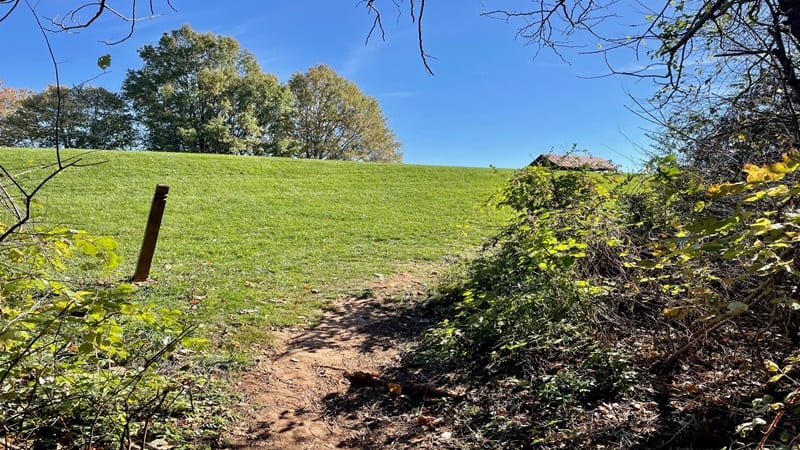 The Salamander Trail ends at the 3.0-mile mark. You'll see a trail sign as you exit the woods and walk out onto a green space, then the large parking area.
From here, it's a 0.2-mile walk back to close the loop at the start of the Rollercoaster Trail.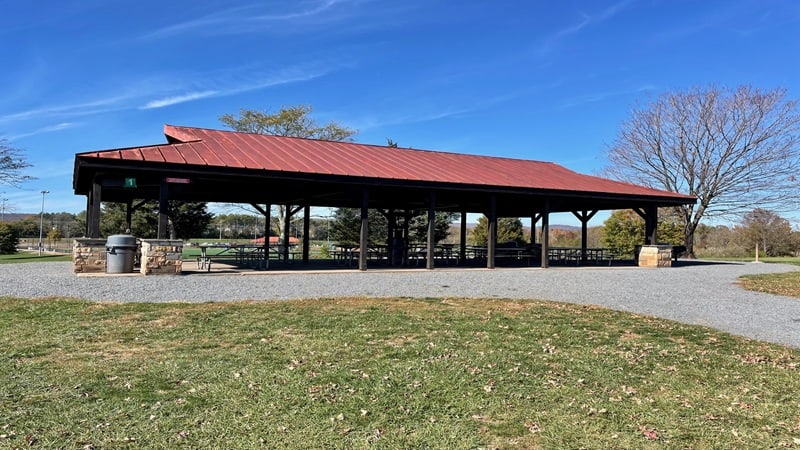 Walk through the super-size parking lot. You'll walk past a colorful children's playground on the left and a picnic pavilion on the right to complete your hike.
Wrap-Up Notes
This 3.2-mile wooded hike at James Long Park in Prince William County took me 75 minutes to complete.
I hiked on a Thursday morning, and saw just three or four others, all dog walkers. I didn't see any mountain bikes on the trails.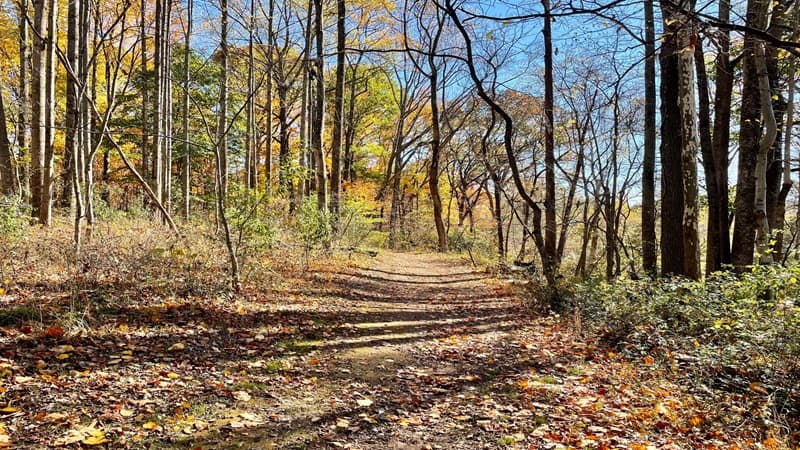 There's not a lot to see. There are no big views, no waterfalls, but this Prince William park is a quiet place to reflect in nature, maybe to walk your dog.
It's also a pleasant surprise to find such a nice trail system at James Long Park, a regional park more often used for sports events, like weekend soccer games.