Getting Started: What To Bring on a Day Hike
So you're ready to start hiking… but what do you bring? How do you know what to bring on a hike and what you should leave at home?
Being prepared, especially as a beginner hiker, comes down to more than just planning ahead, although that is essential.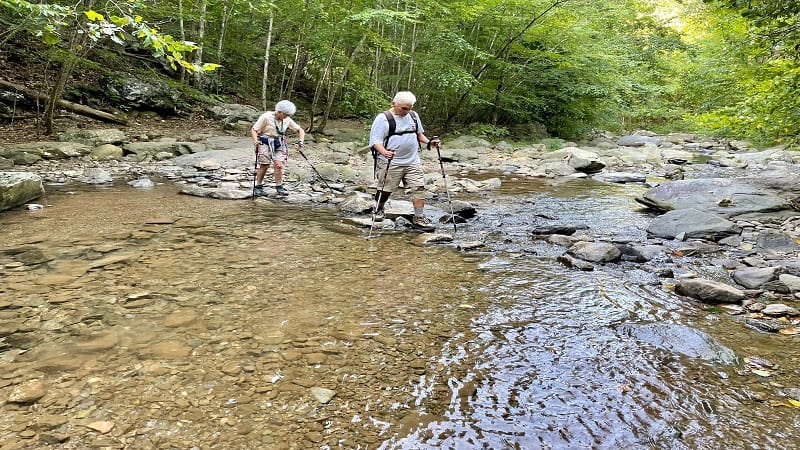 As an Amazon Associate I earn from qualifying purchases. If you click and purchase, I receive a commission at no cost to you.
You want to be sure you're bringing the right hiking gear, have all the safety and emergency day hiking essentials, and wear hike-appropriate clothing.
In addition to having the right clothing and gear, you should also assess your physical abilities as they relate to the difficulty of the trail.
Be honest with yourself to avoid overexertion or injury. And of course, have the right day hiking gear to handle anything.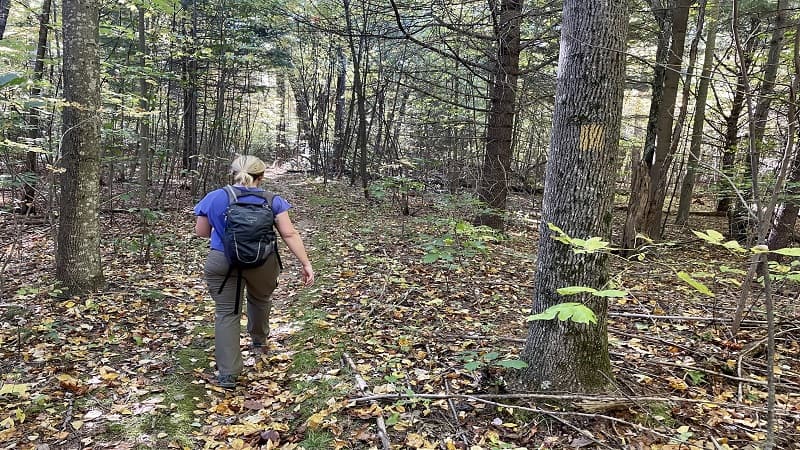 In this article, I'm covering everything you need for hiking in any conditions, including the 13 essentials that you need for every hike.
I've also share other items that are nice to have if you have the space, as well as what to wear and what not to wear. Finally, I share frequently asked hiking questions.
Day Hike Packing List
Even if you're just heading out on a short day hike, there are certain essential items you should always carry with you in a good quality daypack.
Daypacks don't have to be big, but they should fit you well and be comfortable. A quality daypack should also have space for all your hiking essentials.
From inclement weather to getting lost to injuries, you should always be prepared – even on short trails that you know super well.
The items below are considered the 13 hiking essentials by outdoor experts. With these items in your day pack, you'll be ready to get out on the trail.
#1: First Aid Kit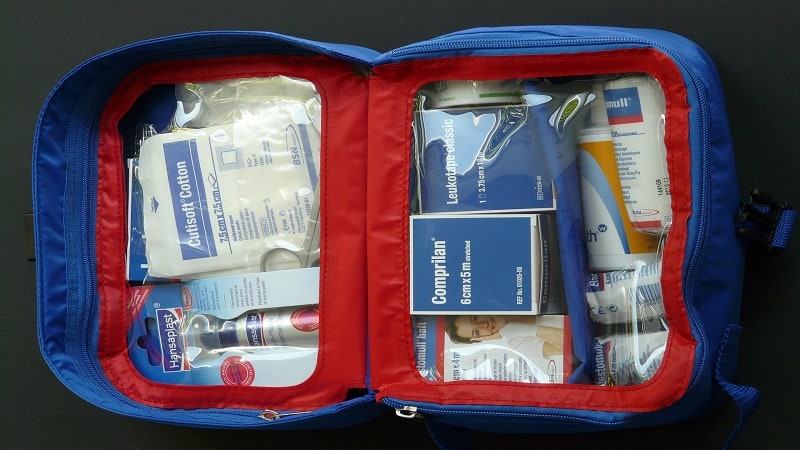 A first aid kit is an essential item for any hike. Small first aid kits fit easily into your daypack without taking up much space or adding much weight.
Choose a hiking first aid kit that has items like alcohol pads, bandages, gauze and tape, as well as antibacterial ointment.
If space allows, look for one that has extra items, like an emergency blanket, tweezers, eye wash, a tourniquet and razor blade.
#2: Headlamp
You should always have a headlamp in your backpack, even on a short day hike. Emergencies are called emergencies for a reason.
A headlamp can be used to signal for help or help you see in the darkness if you get stuck on the trail after sunset.
Before you head out, be sure that your batteries work or your headlamp has a full charge. Bringing along extra batteries or a battery pack is a good idea.
#3: Pocket Knife or Multitool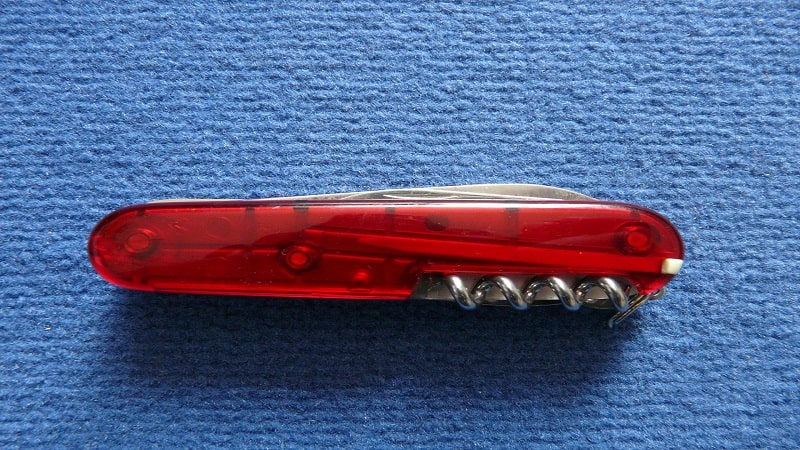 A pocket knife or multitool doesn't take up much space in your pack and it can come in handy in a variety of situations.
You can use a pocket knife or multitool for repairing your hiking gear, slicing open packages, cutting tape or gauze, and more.
These tools can also be a help when preparing food, cutting bark for kindling, creating sparks to start a fire, and even for protection in the wild.
#4: Whistle
A whistle is a key emergency item that should always have a place in your hiking backpack or hiking first aid kit.
A whistle can be used to signal for help and scare off wild animals, even reunite you with members of your hiking party.
If you have grade-school age kids, make sure each of them has their own whistle that they wear on a hike.
#5: Navigation Aids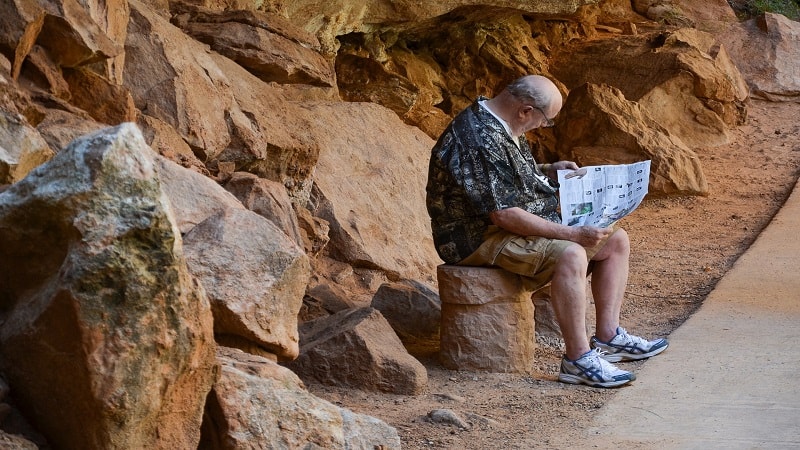 Always keep navigation aids handy while hiking, even on a short day hike. This can include a paper map and compass or downloaded phone maps from AllTrails.
It's a good idea to keep and know how to read paper maps in addition to your phone maps. Your phone can die and you will want a backup.
Consider carrying a Garmin InReach Mini, which is a satellite locator and communicator with topographical maps.
#6: Sunblock
You always need sunblock while you're hiking, even in winter. Keep face and body sunblock in your daypack, even if it's just a small travel bottle.
UV rays can be stronger in the wintertime, especially if there's snow on the ground. Be sure to check the expiration dates on your sunblock products.
#7: Fire Starter
Add fire starter to your list of hiking essentials. Carry a lighter or waterproof matches and bring along some fire starting material, such as dryer lint.
Consider carrying a couple of wax fire starters or Vaseline soaked cotton balls to start a fire quickly and easily in the event of an emergency.
#8: Extra Layers
Even if it's warm and sunny, bring along extra layers of clothing. Good ideas include a light rain jacket or fleece pullover.
You can use them to keep warm and dry or to change into if something happens to the clothes you're wearing.
#9: Water and Filtration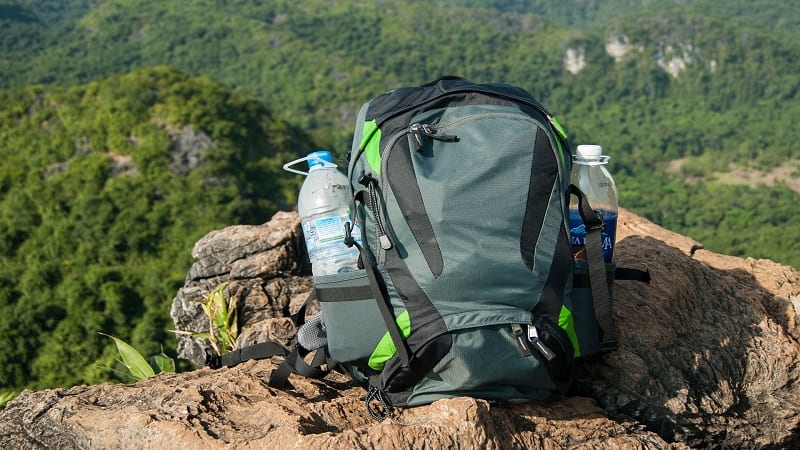 Bring along fresh water and keep a mini water filtration device handy for purifying water from a ground source, like a free-flowing creek or stream.
You can also use iodine tablets to purify groundwater and kill bacteria and parasites to make it safe for drinking.
#10: Emergency Shelter
An emergency shelter packs up easily and is lightweight enough to not notice, but it can really come in handy.
An emergency bivy can keep you dry in inclement weather and protect you from moisture and wind.
#11: Snacks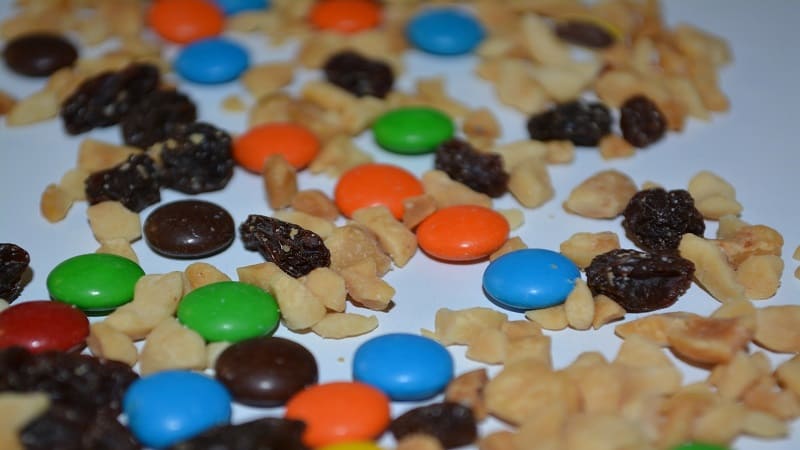 In addition to the food you plan to eat on your hike, bring along extra snacks and trail food.
Be sure that the extra snacks you pack are high-quality to help sustain you in case of emergency.
Consider dehydrated, lightweight foods that are high in nutrition and energy content. Trail mix, protein bars and beef jerky are good choices.
#12: Identifying Documents
Bring along identifying documents like your driver's license or personal ID, as well as a health insurance card.
If you have allergies to any plants or medication, be sure you make this known in an easy to find and see place. This is essential in case of emergency.
#13: Money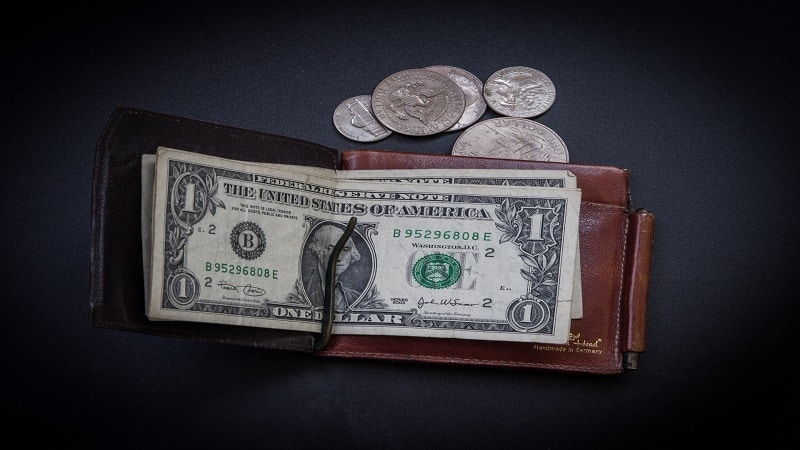 While you might not think you need money on a hike, it's always a good idea to bring along a little bit of cash or a credit or debit card.
Keep your identifying documents and money somewhere safe – like a zipper pocket that you won't access for any other reason.
What to Wear Hiking
What you wear while hiking is an important component of being prepared for anything on the trail. Certain materials are better than others.
Avoid wearing materials like denim and cotton, as well as uncomfortable or scratchy clothes. Also, avoid wearing cheaply made or flimsy footwear.
Cotton and denim might feel comfy, but they're terrible for outdoor conditions. These materials hold onto moisture from sweat and the environment.
They can become heavy when wet and don't dry fast. They can cause chafing and even lead to hypothermia when wet.
When picking out hiking clothes, look for materials that are breathable and moisture wicking. Great materials include fleece, polyester and Merino wool.
#1: Good Quality Hiking Boots
While tennis shoes can be a good choice on some trails, you should invest in a pair of good quality hiking boots if you plan to hike more often.
Good quality hiking boots are comfortable and provide plenty of foot and ankle support for various trail terrain.
#2: Moisture Wicking Base and Layers
Layering is essential to staying warm and dry when hiking in chilly weather. Choosing moisture wicking fabrics is important in any climate.
Merino wool is a great moisture wicking fabric that is naturally anti-bacterial and odor resistant.
#3: Water Resistant Shorts or Pants
Water resistant shorts or pants are a must when hiking. Look for hiking pants and shorts that are advertised as "water resistant".
Water resistant clothes will resist light moisture and dry quickly when they do get wet. A popular material is Goretex, but there are many others.
#4: Hiking Socks
Hiking socks come in different lengths and different weights for your preferences and the season you're hiking in.
Choose socks that fit well and are comfortable. Hiking socks should also wick moisture and dry quickly.
The best material for hiking socks is Merino wool. It's comfortable, moisture-wicking, dries quickly and it has natural odor-resistant properties.
#5: Light Waterproof Jacket
Even if you don't plan to wear it, you should always bring along a light rain jacket. Stuff it in the bottom of your daypack or tie it around your waist.
The weather can change in an instant, and a light hiking jacket can also help keep you warm if it gets chilly.
#6: Hat for Sun Protection
While a hat might not be a total essential, it's a great idea for both safety and comfort.
A good hiking hat provides sun protection for your scalp, neck and face. It also helps keep the sun out of your eyes so you can see better – a win-win.
How to Choose Your Hiking Outfit
Consider the season when you're picking out your hiking outfit. For winter or any chilly weather, layering is key.
For cold weather, choose a lightweight and moisture wicking base layer made out of materials like Merino wool.
In the summer, consider your skin's sun exposure and what types of insects or plants you might encounter on the trail.
Even if it's hot out, you might want to wear pants and long socks to protect from ticks and poison ivy.
Be sure that your exterior layers are water-resistant and quick-drying. Choosing the proper outfit is key to safety and comfort!
What to Wear Hiking in Winter
Hiking in winter requires a bit of extra clothing to stay warm. Here are ideas of what you should wear when hiking in colder weather.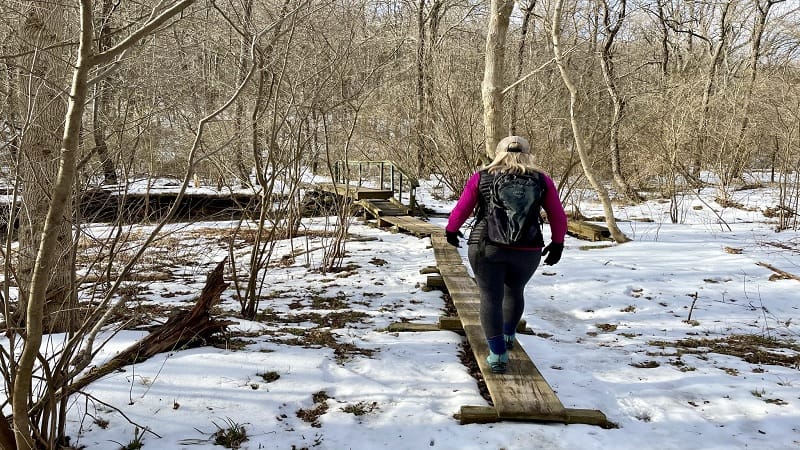 #1: Hiking Gloves
The best winter hiking gloves are warm and block wind and water while preserving dexterity.
It's a good idea to have two pairs of hiking gloves in winter in case one pair gets wet, dirty or damaged.
#2: Puffy Coat
A lightweight puffy coat makes for a great outer layer when hiking in the cold.
The puffiness of a puffy coat provides superior insulation against cold air and wind, yet these coats are lightweight and easy to move around in.
#3: Warm Hat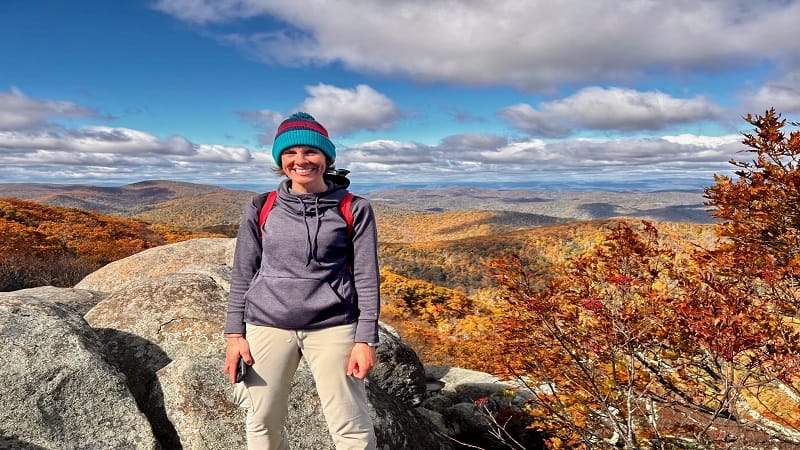 A warm beanie or toque is essential for hiking in the winter. A warm and water resistant hat made out of wool or fleece is a great choice.
Hats not only keep your head and ears warm, but they also help prevent wind-burn. As a bonus, they hide messy hiking hair.
#4: Neck Gaiter
A neck gaiter can be worn to keep your neck and shoulders warm, and it can also be worn as a mask.
Pulling your neck gaiter up over your face helps keep your face warm and prevent your cheeks from getting wind-chapped in cold weather.
#5: Thermal Layers
Thermal underwear is a great base layer to help keep you warm while hiking.
A good pair of wool or fleece thermals – a form fitting shirt and pants – will keep you warm, dry, and cozy.
What Else to Bring on a Hike
If you have extra space in your backpack, I've got some great suggestions. Here are a few items you might love to have with you.
#1: Hammock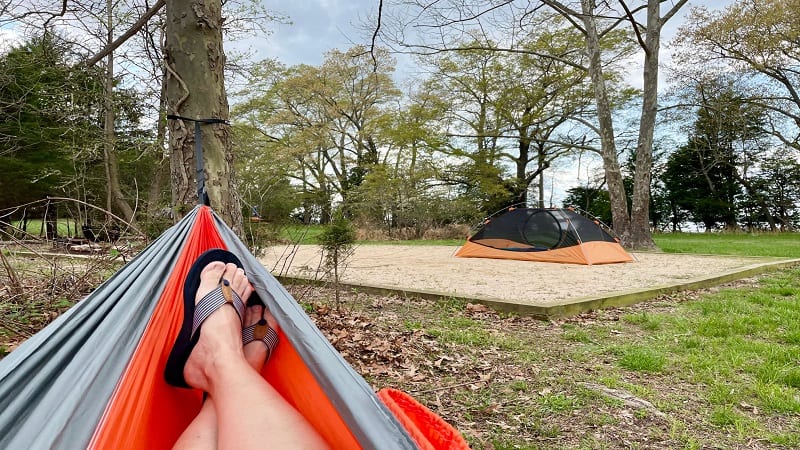 If you have extra space or room to clip to the outside of your bag, consider bringing a hammock to hang on a couple of trees.
Packable hammocks don't weigh much and they also don't take up a lot of space. They hang up fast for a comfy break or nap on the trail.
#2: Portable Charger
Consider bringing along a portable charger or solar power pack for your cell phone or other electronics.
A portable charger typically holds enough battery power for two full charges and will help keep you charged up for pictures on the trail.
#3: Extra Socks
Nobody likes sweaty socks. If you have the space, consider bringing along an extra pair of hiking socks.
This is especially handy if you know you'll have water crossings or if your feet sweat a lot.
#4: Trash Bag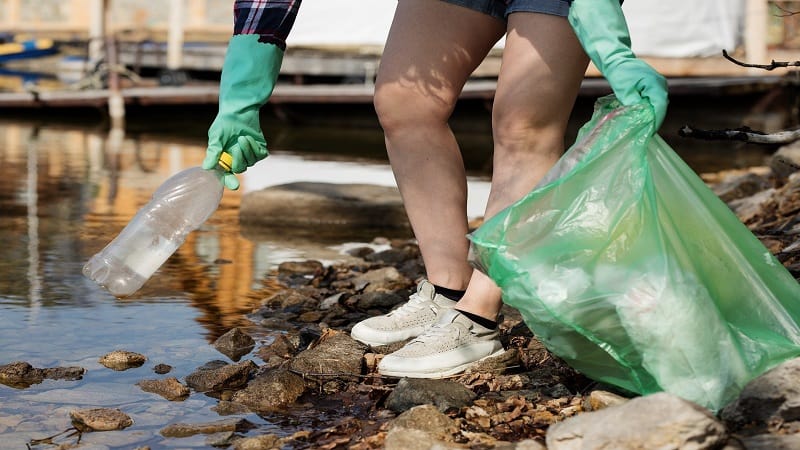 Take "leave no trace" one step further, and leave the hiking trail better than you found it.
If you've got space, bring along a trash bag for picking up any trash you see along the trail.
#4: Celebratory Beverages
If you've got the space, bring along some celebratory beverages for when you reach the summit of your hike or an epic sunset spot.
This doesn't have to mean alcohol, either. Any kind of tasty drink is a great reward for a hike well done.
#5: Hiking Poles
You can put hiking poles in your hiking backpack or affix them to the exterior. Trekking poles come in handy in many scenarios.
They can help keep your balance over rough and rocky terrain and give your hands something to do.
Hiking poles also help you keep your balance when crossing mossy or slippery streams and are helpful to use when hiking down a hill.
#7: Kindle or Book
Got a book you're super into lately? If you have extra space, why not bring it along?
Spend more time in nature, take a break while hiking, and read your favorite book.
#8: Hand Sanitizer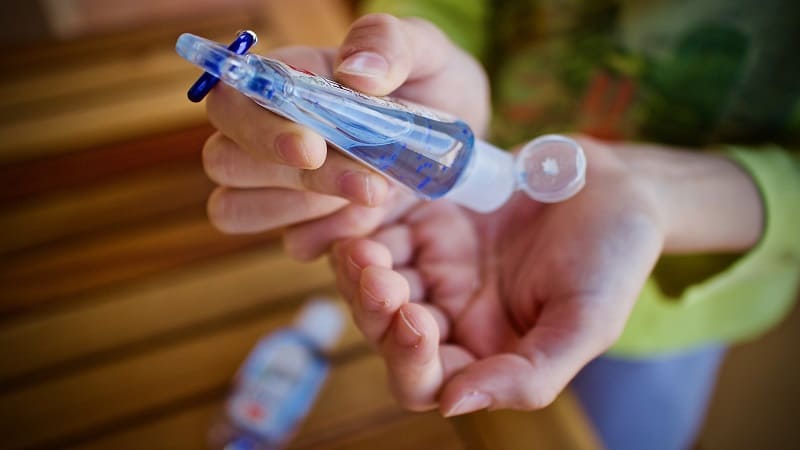 Hand sanitizer really needs no introduction or explanation.
Consider a travel-sized hand sanitizer that easily clips on the outside of your backpack for easy access.
#9: Clip-On Bluetooth Speaker
A clip-on Bluetooth speaker is an excellent choice to clip to the outside of your backpack.
I definitely don't recommend blasting tunes or podcasts on the trail. But a speaker comes in handy for music or podcasts while you're taking a break.
#10: Toilet Paper and Trowel
Nature calls, even when you're out in nature.
If you've got space, consider packing along a few squares of toilet paper and a trowel. Alternatively, bring a Kula Cloth if you may need to pee outside.
Frequently Asked Hiking Questions
Now that we've covered essential gear, proper clothing, and optional gear, let's dive into some FAQs.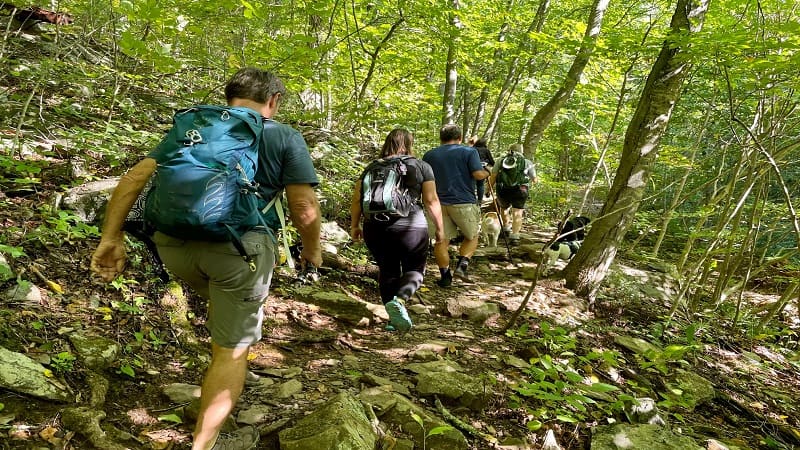 What Should I Bring on my First Hike?
On your first hike, you should bring a minimum of the 13 hiking essentials. These include:
● A first aid kit
● A headlamp
● A pocket knife or multitool
● Whistle
● Navigation aids (maps, compass, Garmin InReach)
● Sunblock
● Fire starter
● Water and filtration device
● Nutritious trail food
● Extra layers
● Emergency shelter
● Identifying documents (ID, driver's license)
● Money
And finally, you should bring along a high quality daypack to carry it all in.
What Should I Not Take on a Hike?
Here are some things you really don't need to bring on a hike.
● Large, heavy knife
● Big flashlights
● Cotton or denim clothing
● Flimsy shoes
● Jewelry or valuables
● Heavy camera lenses
● Non-biodegradable soaps, wipes or other toiletries
● Heavily scented toiletries or perfumes
● Excess packaging or trash
● Junk food
Trail food should be lightweight and highly nutritious, like beef jerky, protein bars, and trail mix.
As for everything else, be sure you're not bringing things that are too cumbersome to carry or could leave trash or attract wildlife.
Heavily scented perfumes or toiletries attract wildlife, and non-biodegradable soaps harm the natural environment.
What Food Should I Bring on a Hike?
Bring foods that are highly nutritious, easy to carry, and won't get soggy or spoil.
Consider foods like trail mix, peanut butter and banana sandwiches, beef jerky, and other high-protein and high-energy foods.
What are the Hiking Essentials for Kids?
The hiking essentials for kids include the regular hiking essentials and a few other things. Here are a few kid-specific things to include in your hiking pack.
● Kid-friendly snacks
● Kid first-aid kit items including children's medicines
● A hiking carrier for infants
● Brightly colored clothes
● Spare clothes
● Kids water bottles
● Kids sunblock
● Kids headlamps
There are other things you can bring along for kids to make the hike more enriching.
Consider things like walkie-talkies, a nature scavenger hunt, and kids hiking poles to make their experience more fun.
And be sure to have at least one change of clothes, especially for the little ones. They're going to get dirty… it's inevitable!
How Do I Avoid Getting Lost While Hiking?
Getting lost while hiking is a nightmare situation that no one ever wants to face. Here are some tips to avoid getting lost while hiking.
* Never stray from the trail. Stepping off the trail even just for a moment can cause you to get lost, so avoid this altogether.
* Bring navigation aids. Bring along (and learn to use) a paper map and compass. This can help get you reoriented if you get lost.
* Carry a Garmin InReach Mini. This device connects to a satellite network to allow you to navigate and communicate anywhere.
* Familiarize yourself with the trail beforehand. Read online reviews and trail descriptions to know what landmarks and trail markers to look for.
Being prepared, knowing how to read trail markers, and knowing how to read a map are all essential to avoid getting lost on a trail.
Final Thoughts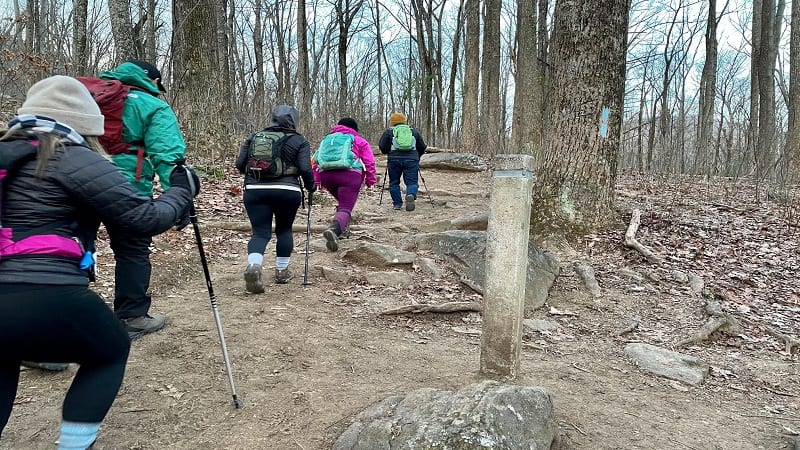 Getting started with hiking is an exciting time. And as you can see from this article, you really don't need a lot to hit the trails prepared!
Be sure to have the 13 hiking essentials no matter how short of a hike you plan to take.
These essentials will ensure you're prepared for any situation, weather event or emergency.
In addition to the hiking essentials, check the weather multiple times and be sure that you're wearing the proper clothing materials.
If you're going with a group, don't count on other members of your hiking party to prepare for you. Prepare on your own and bring your own items.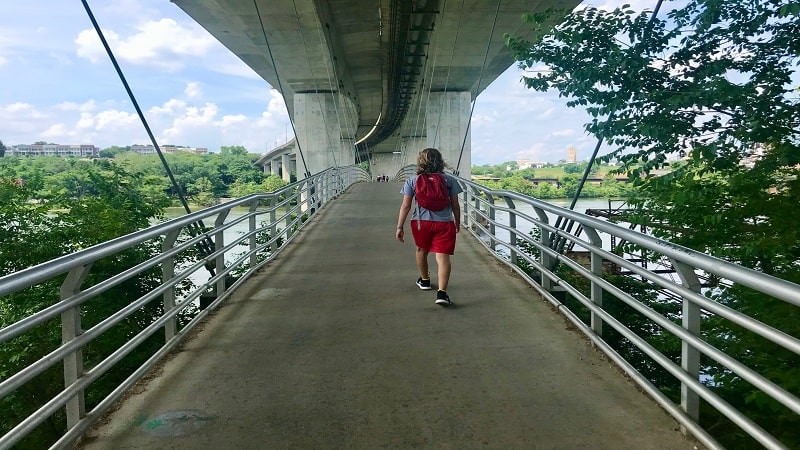 Bringing the right gear and wearing the proper clothing is important, but you should also know your limits.
Be honest with yourself and your physical fitness levels. If you're unsure, stick to an easy, short hiking trail at first and build up from there.
Hiking isn't an expensive hobby. You don't need much to get started. The most expensive essentials will likely be your shoes and backpack.
Everything else can be found, sourced or put together from stuff at home for cheap or free. Get your essentials together and hit the trails today!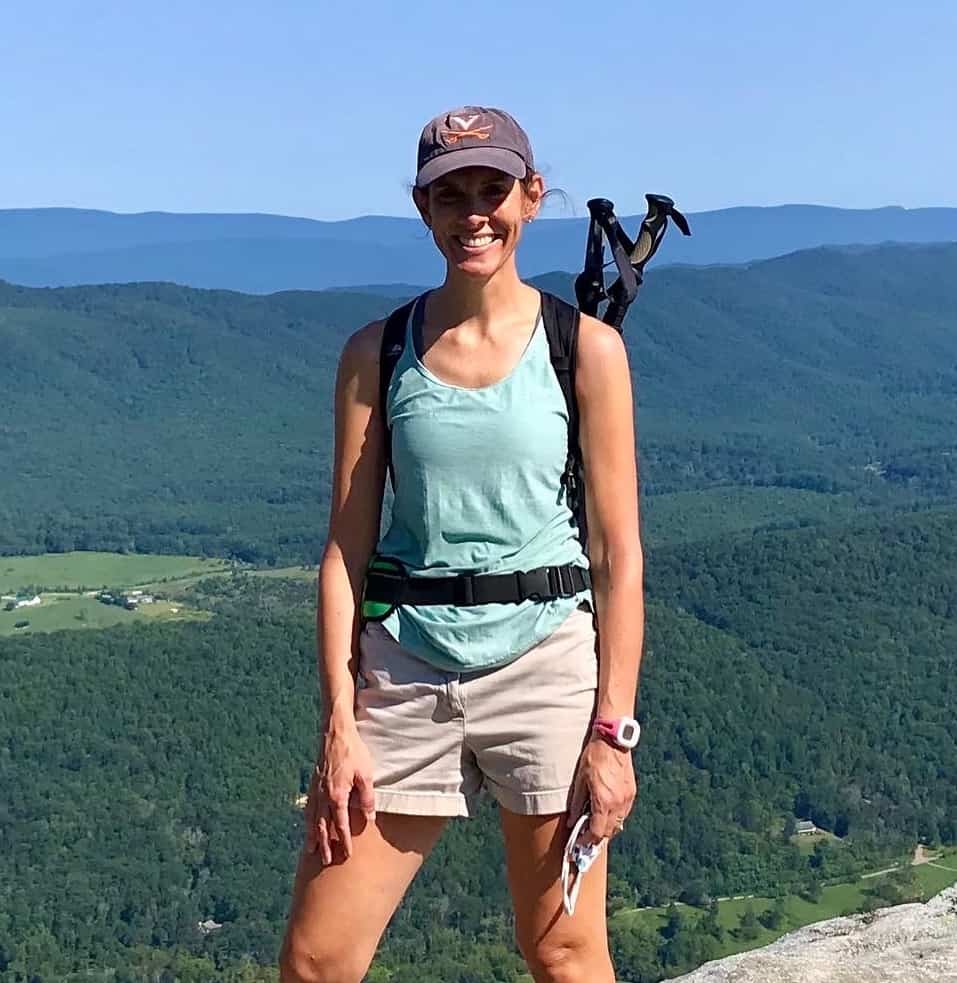 Erin Gifford is the editor of Go Hike Virginia. She has completed more than 300 hikes in Virginia. She is also the author of three hiking guidebooks from Falcon Guides. Need help finding a hike? Check out the Trail Finder feature or send Erin a message.