Warm & Toasty Toes: Best Winter Hiking Socks
There's much to love about winter hiking, like wildlife tracks and freshly-fallen snow, so it's a good idea to wear a pair of warm socks on the trails.
Leafless trees allow for far-reaching views, but the chill of winter can lead to frozen toes and uncomfortable cold-weather hikes.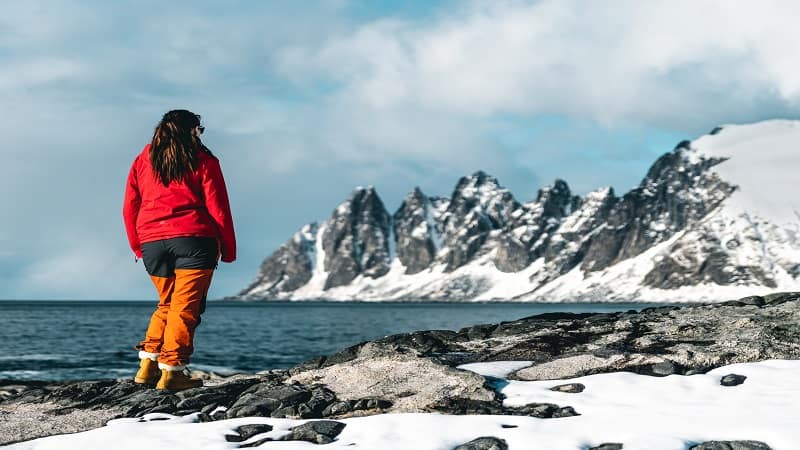 There may be affiliate links in this post. If you make a purchase, I earn a small commission at no extra cost to you. Thank you.
Some prefer warm temperatures for hiking the trails, but there's something special about hiking in the calm of nature. Especially when you have toasty toes.
You can purchase toe warmers to keep your toes warm on the trails, but proper winter hiking socks are what you need for long-lasting warmth outdoors.
In winter, you'll also want to toss a pair of microspikes for hiking into your daypack. They will help keep you from slipping on the uphill and the downhill.
Here are three top picks for the best hiking socks for cold winter days that you'll want to be wearing on the trails this season. Stay warm out there, friends.
Quick Picks: Best Winter Socks
Made in Vermont, Darn Tough socks are comfortable, durable and come in different colors. They also keep blisters, hot spots and cold feet at bay.
Darn Tough is all about socks. It's all they do. They make socks for hiking, skiing, running and hunting. They know socks. It's hard to go wrong with this brand.
For men and women, the Darn Tough Hiker Micro Crew Midweight Socks are a great choice for hiking socks. That's according to 1,800+ five-star reviews.
Made with 59% Merino wool, these breathable, quick drying socks keep feet warm and comfy. A mid-level cushion makes you feel like you're walking on air.
With regard to height, these micro crew socks work well with hiking boots and trail runners. The top of the socks peek above the top of a standard hiking boot.
I suggest you size up for the best fit. These socks have a lifetime warranty. If you get a tear or a hole, Darn Tough will replace them for free, no questions asked.
The Smartwool brand is another leading brand of hiking socks with a legion of loyal followers who love to be in the great outdoors, even in cold conditions.
Unlike Darn Tough, Smartwool makes more than durable socks. Using Merino wool, they manufacture base layers, underwear and accessories, like neck gaiters.
For winter hiking, opt for the medium crew style which has full cushioning to absorb impact with each step and keep your toes warm on cold-weather days.
Smartwool Hiking Crew Socks are beloved by hikers, including more than 170 reviewers who awarded these warm wool socks a five-star rating.
These hiking-specific socks will last a very long time. Some hikers say these socks lasted them more than 15 years before they needed a new pair.
Warm and cozy are words often used to describe Smartwool socks, which are often donned inside the house too thanks to their, well, warmth and coziness.
It gets cold in Denmark, so you can bet that the Danes know how to stay warm. It's no surprise that Danish Endurance socks are one of the best wool socks.
Their high quality Merino wool hiking socks have been awarded a five-star rating by more than 22,000 people, including a Mount Everest climber.
Unlike Darn Tough and Smartwool, Danish Endurance socks are unisex, so both men and women can wear the same hiking socks. Size down if in between sizes.
These socks are made with a blend of Merino wool and synthetic materials, but these socks are no less warm. They are a great value and do the job for your feet.
The Danish Endurance Merino Wool Hiking Socks cushion your feet. Moisture-wicking properties help keep your feet warm and blister-free on the trails.
There is no lifetime guarantee with these socks, but the company is known for its first-rate customer service. You shouldn't hesitate to reach out with any issues.
Final Notes: Winter Hiking Socks
There's nothing worse than walking mile after mile with cold toes. Long hikes in winter can quickly become not fun, especially for beginner hikers.
Merino wool is the way to go for warmth and comfort. It's also wise to choose comfortable, thermal socks you won't need to replace them year after year.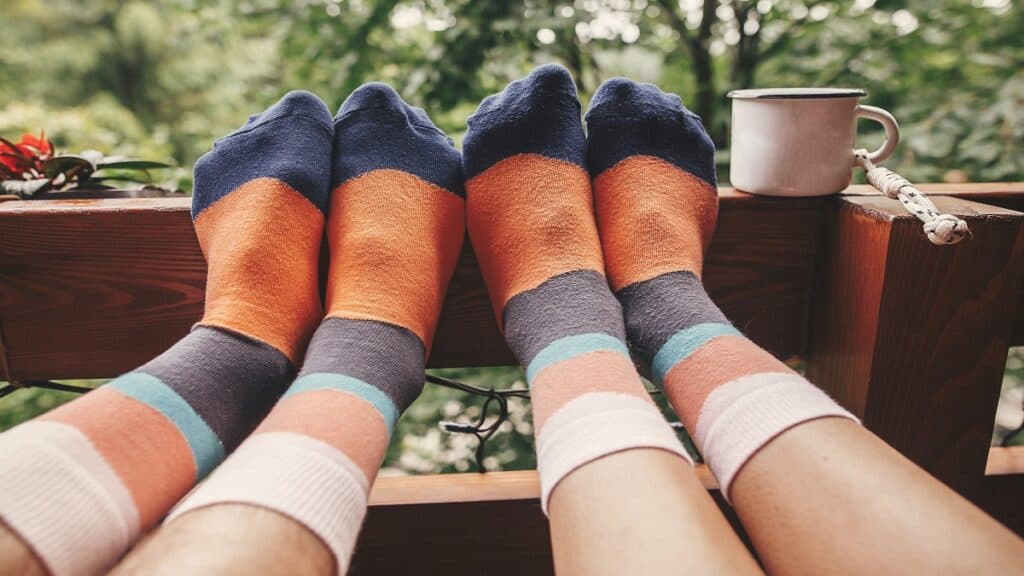 Give your winter hiking socks a power boost with liner socks, which can wick moisture to help stave off wet feet on a day hike, a long trek or a backpacking trip.
I recommend Injini Liner Crew Toesocks. Sock liners have a snug fit and are a good option as an inner layer under a good pair of socks for added warmth.
These thinner socks make great stocking stuffers for hikers, as do wool hiking socks. We all like to have warm feet when outside on winter days.
Hiking in cold weather conditions is fantastic when there are few people on the trails and you can take in nature. With the warmest socks, of course.
The best socks pair well with all kinds of outdoor activities in winter, whether your personal preference is long walks and quiet hikes, or snowshoeing and skiing.
For more gear picks for winter hiking or winter car camping (which by the way, are great gift ideas for hikers), check out my Gear Guides.