12 Best Hiking Hats for Women (One Hat for Every Month of 2023)
Hiking hats for women serve many purposes. Hats can be stylish, warm, sun-shading or provide many other uses.
With four seasons and all different kinds of weather in Virginia – sun, rain, snow, wind – one hat just won't cut it on the hiking trails.
I recommend having a great hat for each weather type, season and purpose. So, I created a list of the best hiking hats for every month of the year.
Whether you're looking for baseball caps, hats that also hold your glasses or adorable warm beanies, all the cute hiking hats are covered here.
Do I Need a Hat for Hiking?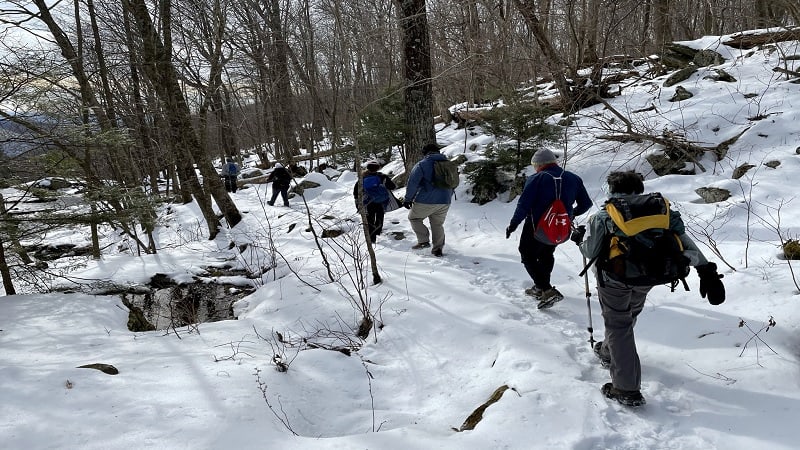 There may be affiliate links in this post. If you make a purchase, I earn a small commission at no extra cost to you. Thank you.
You should always wear a good hiking hat on winter hikes, as well as on hikes in bright and warm summer months.
In the shoulder seasons, whether or not you need to wear a hat while hiking becomes more of a personal preference than a necessity.
Always wear a warm hat that covers your ears to help you retain as much heat as possible in the cold winter months.
In summer months, a wide-brimmed hat or baseball cap can help keep the sun out of your eyes and prevent sunburn on your face and back of your neck.
What Hats are Best for Hiking?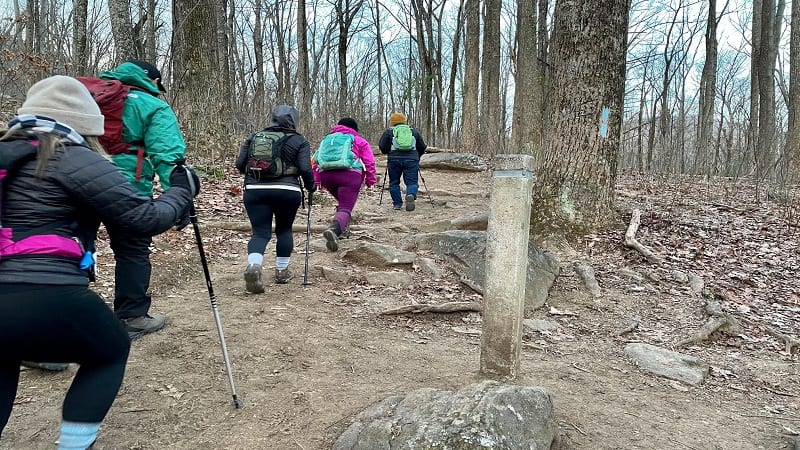 Hiking hats for women vary from warm winter hats to wide-brimmed hats for shade and sunburn prevention.
The best hats should perform well for the weather and season. Choose a high-quality hat with a comfortable fit and great protection from harmful UV rays.
In the cold months, choose a warm fleece or synthetic fiber hat that is water resistant, warm and keeps your ears warm.
On summer days, choose between ball caps and trucker hats, wide brimmed sun hats, safari style hats, bucket hats and more.
How Do I Choose a Hiking Hat?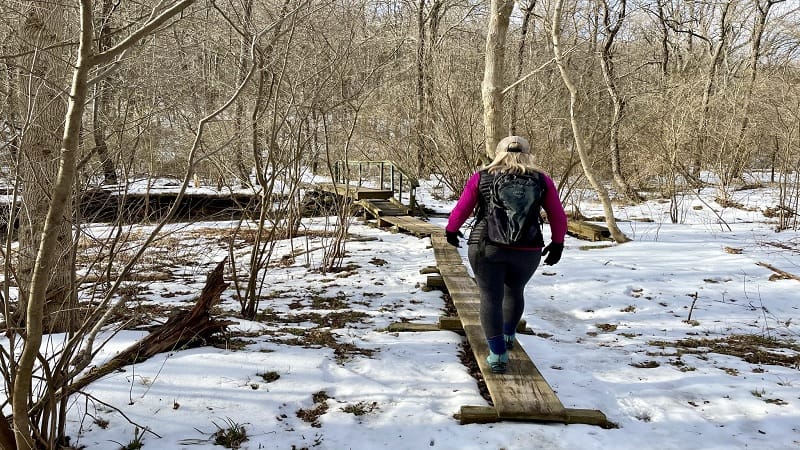 When choosing a hiking hat, be sure to take the weather and season into account as well as the hat's size and fabric.
In the summer, a hat with mesh panels and lightweight, moisture wicking material will serve you well.
Summer hats should also have a brim that will keep the sun out of your eyes and off of your face, neck, and sometimes shoulders.
For the springtime, it's best to go with a hat that's not too warm or too thin but also has water repellent materials for the rainy months.
For cold weather hiking, always choose a warm hat that will help your head and ears retain heat while resisting moisture from snow.
Best Hiking Hats for Women by Month
Here are 12 of the best outdoor hats for women eager to hit the hiking trails. You'll be stylish and protected, no matter the month of your hiking trip.
This soft and cozy Ultrawarm Bomber hat for women is the perfect hat for the cold month of January.
Available five sizes and 10 different styles and patterns, including camo, bright orange and delicate pink, you'll stay warm and stylish at the same time.
The exterior of this hat is made of waterproof nylon fabric. The interior is lined with a plush faux fur to keep your head, ears and neck warm.
This bomber hat is great for hiking, as well as all kinds of outdoor winter activities, like sledding and snowshoeing.
Honestly this hat has everything I look for in a cold weather hat: a soft, comfy lining, ear flaps, a clasp to keep it on and it's so cute.
In February, the days get brighter, but not warmer. This hat has all the personality of a warm, sunny weather hat with the insulation of a cold weather hat.
Plus, it helps shade your eyes when hiking in snow on sunny days. It's a ball cap with a stretchy fleece ear and neck warmer, as well as a ponytail flap.
This ponytail hat is perfect for long hair: you can use the ponytail flap to keep your hair out of your face, or wear it down.
The hat's material is made from 94% polyester and 6% spandex. Polyester is a great insulating material that has water-resistant properties, too.
You can choose between four colors, and yes, it's great for short hair, too.
This adorable beanie is perfect for hiking in March when it's still chilly on some hiking days, especially at higher elevations.
This fleece-lined earflap beanie hat is cute, warm and perfect for the shoulder season. It's made with durable acrylic yarn for warmth and water resistance.
This stylish, full-coverage beanie comes in 23 styles and colors, including orange/blue/yellow and purple/pink/white.
This Peruvian beanie comes in one size. Elastic allows for stretch, making this hat a perfect fit whether you have a small head or a large head.
This beanie hat wows with pom poms, too. As in, one pom pom on top and two earflap pom poms. This hat is hand wash only to preserve the fit of the hat.
April showers bring May flowers. At least, that's how the saying goes. April is a wetter month, so you'll need a waterproof hat for hiking.
This Frogg Toggs waterproof boonie hat is the perfect solution for April hiking on rainy days.
It's crushable and packable yet doesn't lose its shape. It also has a drawstring closure to keep it on your head on windy days.
The hat comes in three different colors and features a short, round brim to keep the sun or rain out of your eyes and off your skin.
As a bonus, it also has a 1" internal band for keeping it comfortably on your head while hiking.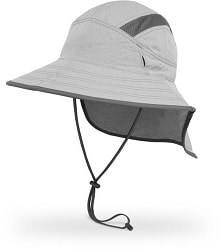 As the weather warms, this hat shades your neck and holds your sunglasses. This is a perfect hiking hat for women who love utility!
The Sunday Afternoons Ultra Adventure Hat is available in a pumice gray color and in sizes medium and large.
This protective hat has a full brim to shield your eyes and face while hiking. A 6" neck flap in the back helps prevent sunburn on your neck.
There are mesh panels on top for ventilation when it starts getting warmer, and it even has a sunglasses lock so you don't lose your shades on the trail.
It's made of 88% nylon and 12% polyester, with a UPF rating of 50. Finally, this lightweight hat has a wicking sweatband and is water and stain resistant.
In some places, the heat of summer is in full swing in the month of June. Celebrate the return of the heat with a cute nature-themed trucker hat!
This adorable snapback hat keeps the sun out of your eyes and off your face and comes in four different colors and patterns.
The body of the hat is made of a polyester mesh material so your head can breathe easily as the mesh allows cool breezes to blow through the hat.
The adjustable plastic snapback will fit even the smallest of heads and the visor comes pre-curved for shading your face.
You can wear your hair up in a ponytail through the snapback of this hat or wear it in braids. A trucker hat is a great option for many hairstyles.
July is UV Safety Month. As such, it's important to look to full-brim hats that maximize personal protection against damaging UV rays.
This wide brim sun hat has a UPF rating of 50+ and it's perfect for those hot days on the trail when sun rays are beating down.
When it's bright, it's often hot. This summer hat has a 360-degree mesh panel to help keep you cool during the heat of July.
This floppy hat is available in six different colors and features a drawstring closure to keep it on when there are strong winds.
This hat protects from the sun and has excellent ventilation for hot weather hikes. It even includes button snaps for customizing the brim to your liking.
August is hot and the bugs are out in full force. Don't let the bugs keep you from summer hikes!
This safari bucket-style hat is made of polyester and nylon and features a removable mesh net for keeping bugs off your face and neck.
It's perfect for avoiding pesky mosquitos and breathing freely through clouds of pesky gnats. This hat also provides excellent sun protection.
This cute hat is available in three different colors and can be worn with or without the mesh net.
This hat is perfect for running, cycling, hiking, kayaking and any outdoor activity where you'd benefit from face and neck bug protection.
Ball caps are perfect for ponytails, but they're not always great for sun protection. This wide-brimmed ponytail sun hat is the perfect solution.
This hat has breathable mesh vent panels, a flap for your ponytail, a chin drawstring with closure, and snaps on the brim for extra breeze.
This adorable hat comes in 19 different colors and color combinations and fits many head sizes with an adjustable elastic strap.
This hat is perfect for hiking. It also has more than 17,000 5-star reviews on Amazon! This hiking hat is well loved by women everywhere.
Reviewers love the color options, the fit, and they say that the brim is perfect. It's not too small but not too big either.
Air temperatures finally begin to cool in October, making this thermal bucket hat a perfect pick for early-fall hiking trips.
The bucket hat style is trendy again and I love this hiking hat for women who like to stay in style on the trail.
This stylish hiking hat is made from an acrylic and wool blend so it's super warm and water resistant while also windproof at the same time.
Reviewers love the hat, stating that its "super cute and looks so expensive," but it's actually very affordable!
This sherpa bucket hat fits snugly on your head, packs nicely without losing shape and comes in more than a dozen colors, including pink and black.
November is prime hunting season, and it's best to wear bright blaze orange outerwear on the trails during this time of year.
This blaze orange Carhartt beanie is cute, stylish, warm and functional all at the same time.
This hat is made of 2-ply acrylic and cuffs around the brim, providing extra warmth to your forehead, neck and ears.
Carhartt produces some well-loved outdoor gear and this hat is no exception. It's technically a men's hat, but it's perfect for women, too.
It's in style, warm and the perfect shade of neon orange for hiking during hunting season.
A warm toasty cable knit hat with a pom pom is a must as you gear up for the holidays.
This adorable hat comes in a one pack or two pack with multiple color options, including oatmeal, black, burgundy, mint and navy.
This hat is made with 100% acrylic yarn and a thick and soft fleece lining for extra warmth, even in the coldest weather.
This is a chunky beanie that is designed to fit a little slouchy, and it's one of the most perfect cold weather hiking hats for women.
The beanie is water-resistant and super warm. With the slouchy fit, you could totally wear a messy bun underneath.
Wrap-Up: Best Hiking Hats for Women
These 12 hiking hats will keep you comfortable and protected no matter what the weather has in store for your outdoor adventures.
For summer, always remember to look for hats with UV protection that will shield your eyes, face, and neck, while also allowing your head to breathe.
For winter, opt for warm hats and beanies made from moisture-wicking material that resists wetness from rain and snow.
Finally, for the spring and fall seasons, choose the type of hat that best suits the weather for your area!
For more winter hiking gear picks (which by the way, make great gifts for hikers), check out my Gear Guides.