Hiking Gear for Kids: What Do Kids Really Need?
I spent a lot of time hiking with my kids when I researched and wrote my first book, Hiking with Kids Virginia: 52 Great Hikes for Families.
We had so much fun together on the trails. I learned a lot about hiking gear for kids, including what my kids like and what they don't like.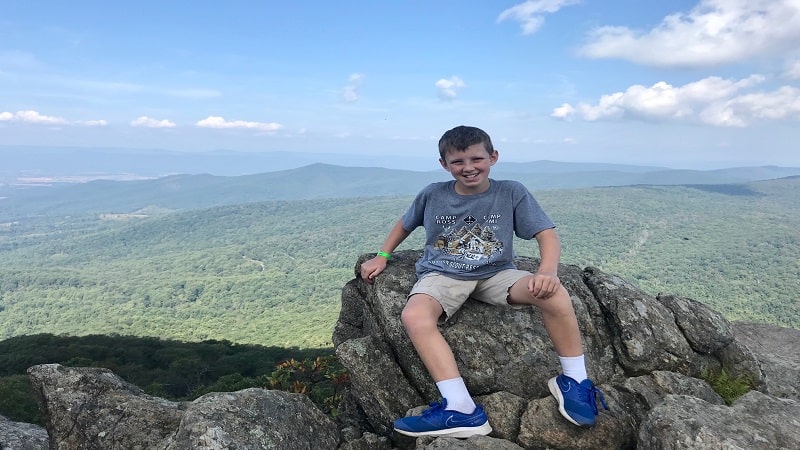 There may be affiliate links in this post. If you make a purchase, I earn a small commission at no extra cost to you. Thank you.
I also learned what outdoor gear my kids really needed and what they didn't need. It was definitely a learning experience over many, many hikes.
Checklist: Best Hiking Gear for Kids
Below, I'm covering the best hiking gear for kids by age. I'm including both wearable gear, as well as must-have items like water bottles and hiking poles.
Even young children can wear or carry a lot of their own gear. But, there are some items you should pack and carry for them as well.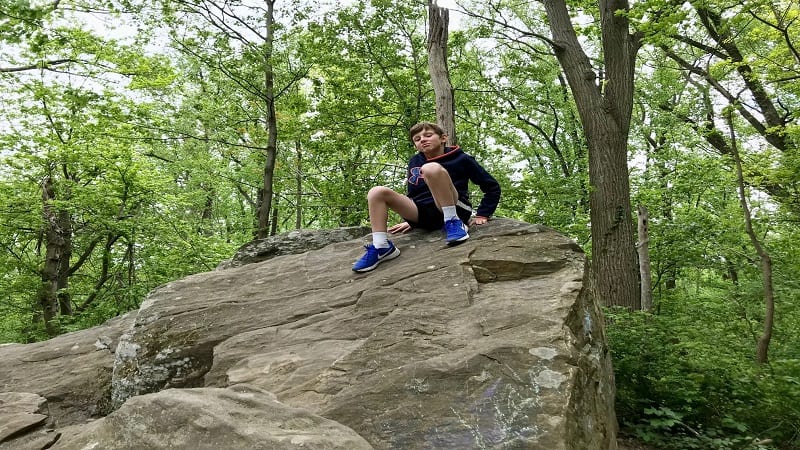 When preparing your own pack for your hike with kids, be sure to include sunscreen, a first aid kit, insect repellant, snacks and extra water.
Here are hiking essentials for young kids ages 5 and up:
A water bottle is among the most important items for kids to bring on a hike. This bottle is perfect to carry in their backpack or day pack.
This bottle comes in many fun colors and you can even order a 6 pack of water bottles for families with multiple kids.
These bottles seal nicely. They are also BPA free and virtually unbreakable when dropped on the hiking trail.
Your child should be able to carry their own water bottle, but be sure you pack an extra water bottle in your own pack in case they need a refill.
For big kids and little kids on the move, a kid-sized daypack is ideal. The best hiking backpacks have plenty of pockets for stashing water and snacks.
This kids hiking backpack features a main compartment, dual-side mesh pockets and a small front pocket. There is plenty of space for all the hiking necessities.
This kids hiking backpack comes in six distinct colors. This pack also has an internal name tag so this pack can even be used in the classroom.
Kids are hard on shoes, and even harder on them when their little feet are hiking on rugged trails. You'll want to look for hiking shoes or hiking boots.
Save their regular shoes for everyday use and get them a pair of hiking shoes that are just for the trails. These shoes come in 40+ different colors and styles.
The best hiking shoes for younger kids typically have an easy slip-on design with a no-fuss elastic drawstring for tightening as needed.
Kid-sized hiking poles are the right size for little hikers-in-training. They also help keep younger children balanced when hiking across uneven terrain.
These kid-sized hiking poles are made from a super lightweight aluminum construction and are adjustable to grow with your kids.
They come in four colorful designs and have different tips for hiking in different terrain. Easy-grip handles and wrist straps allow for comfort and stability.
I found that walkie talkies were a fun addition for my kids when we were hiking. They're great for multiple kids to talk back and forth on a short day hike.
These rugged multi-colored walkie talkies are great for hiking and camping, too. As a bonus, they have a built-in flashlight.
Note that these walkie talkies require AAA batteries, which are not included. The manufacturer recommends rechargeable AAA batteries.
A good quality wide brim sun hat is essential hiking gear for kids when hiking in the great outdoors on sunny days and in hot weather.
A sun hat with UPF 50+ sun protection will keep the sun away and protect children from sunburn on their neck, face and shoulders.
This hat has mesh panels to keep heads cool. This sun hat comes in 19 different colors and fits many sizes with an elastic drawstring and has a chinstrap.
An easy way to make a hike instantly more fun is to bring along a pair of colorful binoculars. They are a great addition to any nature adventure.
These kid-sized binoculars are drop resistant and come in six different colors and styles. Use them to play I Spy or look at far-off landmarks.
The eye pieces are adjustable and they come with a protective carrying case and a breakaway neck strap.
Checklist: Best Hiking Gear for Toddlers
Essential outdoor gear for toddlers is similar to what you'd need to bring for older kids, but you'll want toddler-specific sizes.
This list of toddler hiking gear is great for kids 4 and under to wear or carry when out on the trails, including good hiking shoes and a small pack.
A big pack full of snacks and water isn't ideal for toddlers, but they may still like to feel like they're carrying something to be like mom, dad or their siblings.
These toddler hiking shoes are perfect for both the trail and the playground. These shoes come in toddler, little kid and big kid sizes.
The best kids shoes are both rugged and comfortable and have an easy hook and loop closure. No tying involved.
The soles of these hiking shoes for toddlers have a flexible grip with great traction to avoid slips and falls in wet or slick areas.
Trails with water crossings and swimming features require hiking sandals, and these fit the bill for your little one.
These water shoes for toddlers come in eight fun colors and designs and have toe protection with a non-slip sole for walking over mossy rocks.
These shoes are easy to slip on and take off. An open design allows water to flow in and out. Closed-toe sandals keep little ones from stubbing toes on the trails.
If your little one insists on carrying their own backpack, this tiny toddler pack is a great option. It also allows little ones to carry their own water and snacks.
It comes in 10 fun designs, from rockets and unicorns to dinosaurs and mermaids. At just 12 inches tall, it's smaller than an A4 sized notebook.
This toddler backpack comes with a chest strap to keep the pack from falling off. The chest strap will make them feel like they're wearing a real hiking pack.
Sun protection for toddlers is critical The younger they are, the more susceptible their scalp is to burning. A sun hat is an essential piece of gear for toddlers.
This adjustable toddler-sized sun hat has a wide brim to protect their head, face, neck and shoulders.
It has a UPF 50+ protection rating and comes in 14 fun colors. The hat has mesh panels on both sides for cool breezes and a chin strap.
Children in the toddler years can get tired fast. The younger they are, the more quickly they can tire out, even when hiking short distances.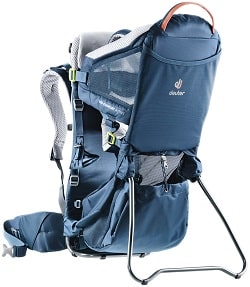 When hiking with kids under 3 or 4 years of age, you can expect to carry them the majority of the time. So, a child carrier is a must-have item.
Make the job easier with a backpack carrier that evenly distributes their weight and comes with an additional section for packing your own hiking essentials.
This one comes with a base so that it will stand upright when you set it down with your child in it, too. The seating area and food rests are height adjustable.
This backpack carrier is ventilated and has super-padded shoulder and hip straps for comfort while carrying the weight of your little one.
FAQs: Hiking with Kids
You've seen the gear, but now, for those who have questions, I've got answers about kids and hiking.
How Far Can Children Hike by Age?
Every child is different, so your mileage may vary (literally) depending on your own children's preferences and needs.
Although they may be physically capable, you should account for boredom and tantrums that can quickly cut a hike short or force you to turn back.
The general consensus for how far kids can hike is around half a mile for every year of age.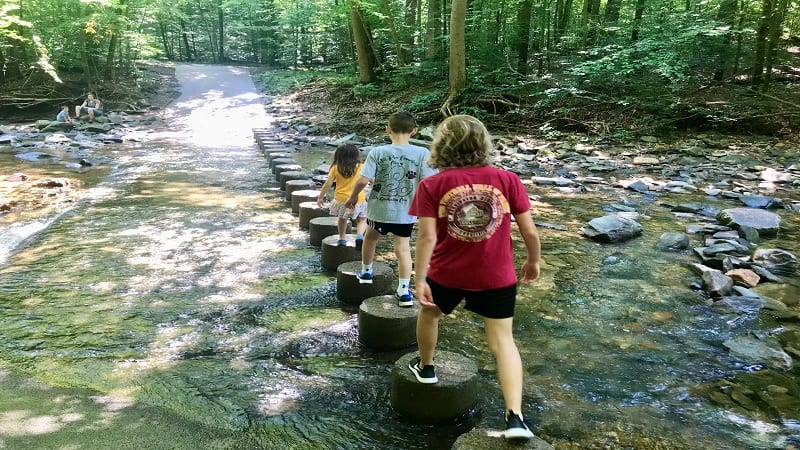 For ages 0-3, you may be carrying them for the entire hike. Or at least for the majority of a hike with toddlers.
So for this age, it's not about how far they can hike. It's really about how far you can hike while carrying a small child.
Kids ages 4-7 can reasonably hike from 2 to 4 miles at a time. Plan to bring a backup plan like a carrier or portable wagon for toddlers and young ones.
Children ages 8 and up can handle more miles and longer hikes depending on their own personal preferences.
If your child carries their own backpack, the weight of it may decrease their stamina. If this is the case, it's a good idea to plan for shorter hikes.
When Can Kids Carry Their Own Daypack?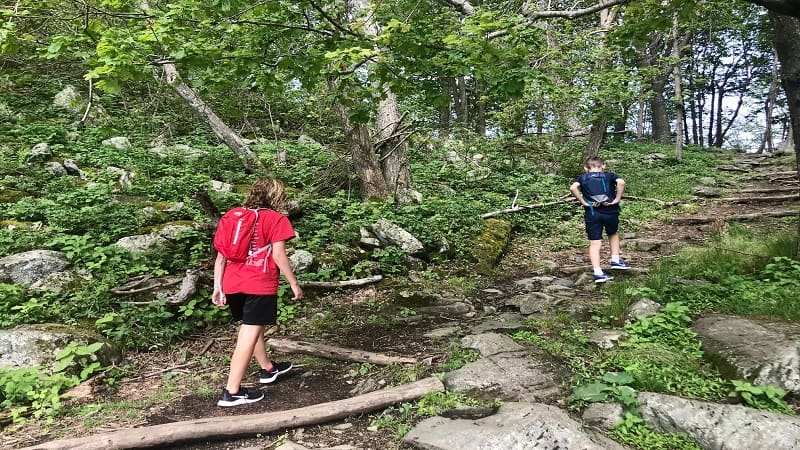 Children 4 and up can carry their own daypacks, but the weight will vary by age and physical ability.
It's not recommended for children under the age of 4 to carry anything. If they insist, a small backpack with light snacks is appropriate.
In general, kids ages 4 to 7 can carry 5 to 10% of their body weight in a well-fitting, kid-sized daypack. That's according to the experts at Backpacker.com.
For kids 8 and above, 15% of their body weight is acceptable. The most important thing is that they're comfortable.
If your child carries a pack, be sure it's a well-fitting child-sized backpack with adjustable straps.
Kids don't need a big adult backpack. An appropriately sized pack can make all the difference on a day hike.
Pay attention to how it fits their back and shoulders. Make sure they're happy with how it feels when filled up for a family hike.
Be sure you account for the weight of the empty backpack itself, too.
As far as what they should carry in their pack, include things like water, snacks and a lightweight extra layer, such as a rain jacket or fleece pullover.
What Makes a Good Hike for Children?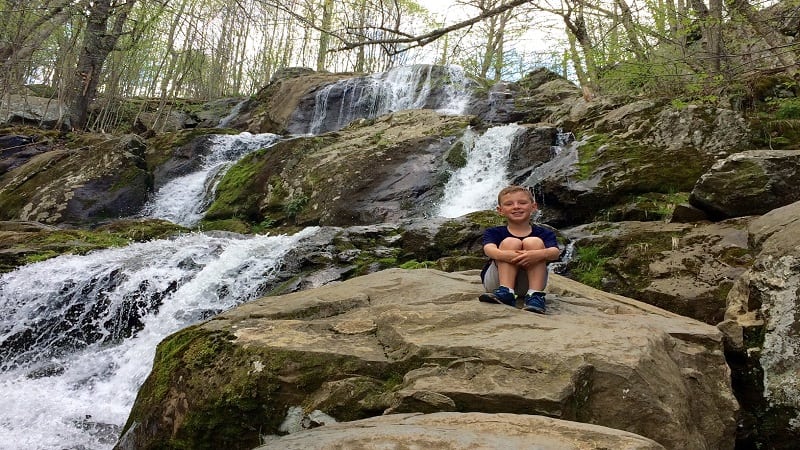 Hiking with children is an art. As I share in my book, Hiking with Kids Virginia: 52 Great Hikes for Families, a good hike for kids is engaging, fun and kid-led.
Avoid setting a time or length on a family hike. Look to kids to decide how far you go, when you stop and when it's time to head back to the car.
The most important aspect of hiking with kids is making sure they're enjoying themselves. The right hiking gear can play a big role, too.
They will want (and need) to stop for breaks, eat snacks (lots and lots of snacks) and play while hiking on the trail.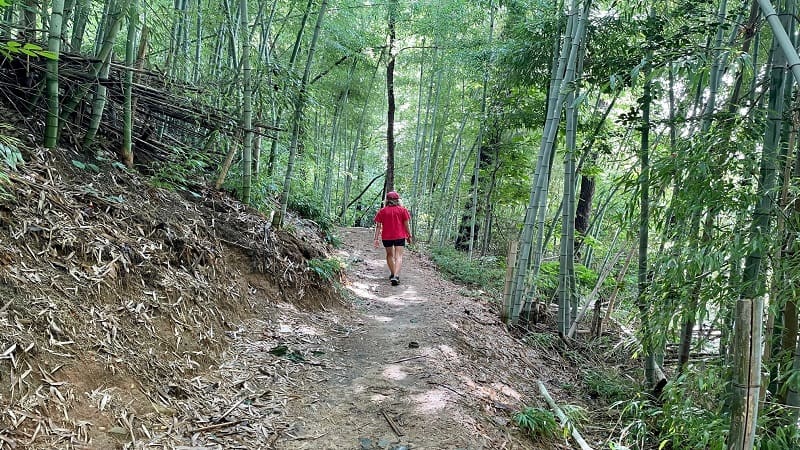 Look for shorter hikes with interesting features when picking out hikes to do with your kids. The length of the hike isn't always the most important factor.
Hikes that include waterfalls, rock scrambles and other natural features are very good options. Shade and benches are also key elements.
To keep your kids engaged and having fun, think about planning hiking games like a nature-themed scavenger hunt or I Spy.
What Should Children Wear When Hiking?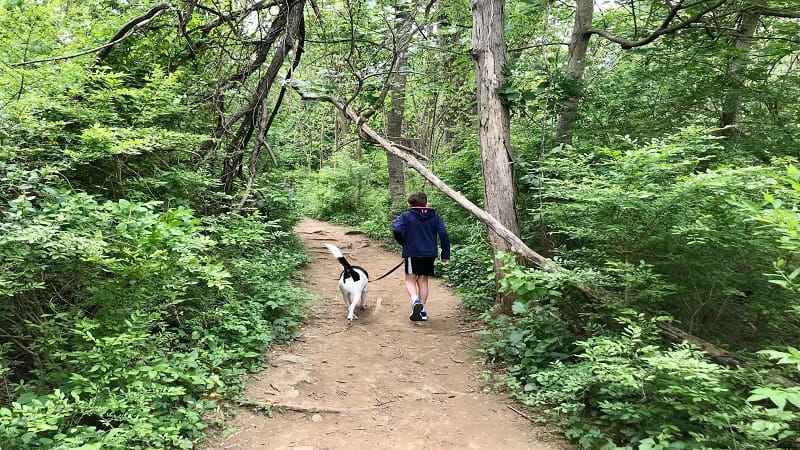 For the most part, children should wear weather and trail-appropriate clothing and shoes when hiking. It's also a good idea to bring extra outer layers.
"Trail appropriate" means water sandals for water crossings, non-slip soles, and shoes that fit and stay on well.
Lightweight long sleeves and long pants are great hiking clothes for kids in the summertime. They also protect against sunburn, ticks, scratches and falls.
If there will be water crossing or playing, consider a set of dry kids hiking clothes and/or shoes to change into to prevent chafing on the return hike.
Wrap-Up: Hiking Gear for Kids
Hiking is a great way to spend time with your kids and teach them about nature, but it can be challenging if you don't have the right outdoor gear.
Always be sure to bring more snacks than you think you'll need, plenty of water, sunscreen, bug repellant and the right kind of shoes.
If your child carries their own supplies, be sure their backpack isn't too heavy and fits them appropriately.
With the proper family hiking gear, you'll worry less about minor details and be able to focus on making great hiking memories as a family.