Need to Know: Is There a Best Time of Day to Hike?
I've hiked at all times of day, though I do prefer to hike in the early-morning hours on weekdays. You know, when the trails are quiet and still.
All you can hear are leaves rustling, streams flowing and squirrels scurrying. At this time of day it's easy to be one with your thoughts.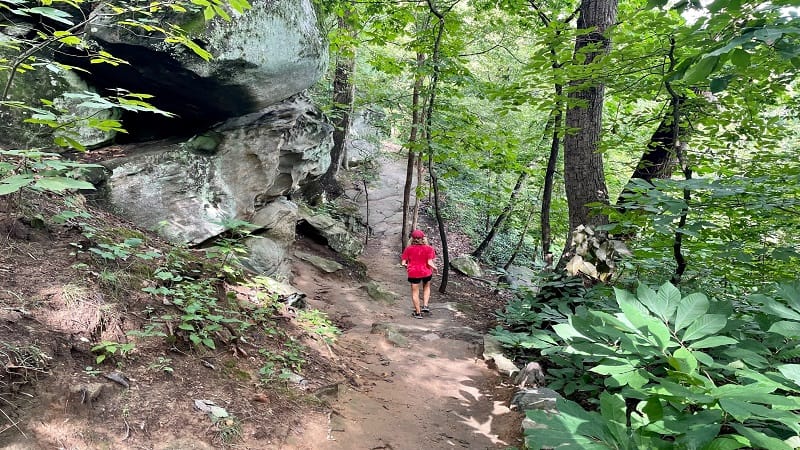 Not everyone is an early bird. Some prefer to hit the trails late-morning or mid-afternoon. Still others prefer sunrise or sunset hikes.
All times of day have pros and cons for those eager to hit the hiking trails in Virginia. Still, I had to wonder, is there a best time of day to hike?
Going one step further, is there a best day of the week to hike? Further still, is one season better than another season for hikers? I have so many questions.
When Do I Have the Most Energy for a Hike?
For me, the best time to do anything is early in the morning. That includes running, writing, reading, driving, and of course, hiking.
Really though, it's about your circadian rhythms. These dictate your daily energy cycles and determine when you will be active and inactive each day.
Your energy cycles change every day, too. The schedule depends on a lot of factors, including sleep, light exposure, exercise and temperature.
There are two peak energy periods each day – one in the morning and one in the evening. The morning peak typically occurs within 90 minutes of waking.
Energy decreases mid-day (in time for the 3 pm coffee break), then ramps back up by evening. At this time, you'll feel more alert and energetic.
From a pure energy perspective, the best time for a hike may be in the 7 to 10 am window. You may be juiced up again in time for a sunset hike.
Is It Safe to Go Hiking Early in the Morning?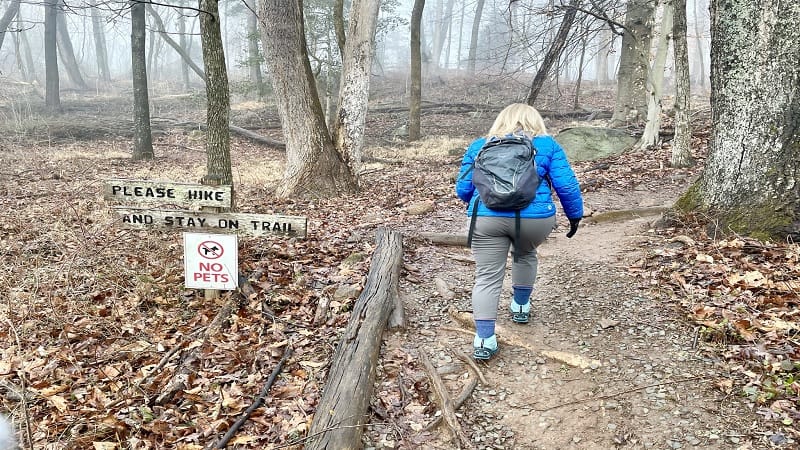 Of course, the next question concerns the safety of hiking in the early morning hours. I prefer to start a day hike in the early light, typically by 8 am.
This depends on the season. In summer, I may get out a little earlier. In winter, I may reach the trailhead a little later. My start depends on sunrise.
There are a lot of reasons it makes sense from a safety perspective to get in a hike in the morning, especially on a well-trafficked hiking trail.
Weather-wise, an early start in summer means you'll be hiking when the air temperatures are cooler and humidity has not yet peaked for the day.
Bugs appreciate cooler weather too, so you'll see fewer mosquitoes, black flies and spiders in the morning. They're still waking up to start their day.
It's not safe to hike mid-day in summer. Always avoid the hottest time of day – generally between noon and 3 pm – for your own personal safety.
When hiking a popular trail, an early start is wise too, largely because if anything goes wrong, another hiker should be by before too long.
Finally, an early hike helps keep you safe because you have more daylight hours if you get lost or injured. You don't want to be either in the dark.
Is it Safe to Go Hiking at Night?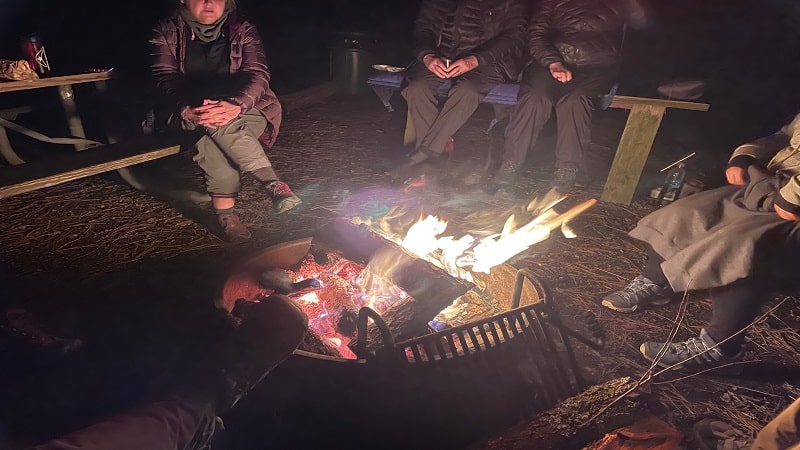 On the flip side, given your circadian rhythms allow you more energy in the evening too, you may want to know if it's safe to go hiking at night.
If you plan to do a sunset hike, you're going to end up on a night hike on the way back to your car. As in, after the sun has dropped below the horizon.
The two most important pieces of advice with regard to night hiking are 1) bring and wear a full-power headlamp and 2) stay on the hiking trail.
Do not look for geocaches or wander off the trail in the dark. Stay focused as you make your way from point A to point B under the cover of darkness.
For a night hike, choose a well-marked trail, preferably one with a GPS map that can be found on a trail finder site, like AllTrails.
Take it slow and be mindful of the terrain as you proceed on the trail. In the dark, it's not as easy to see rocks and roots, even stream crossings.
Hike with a group, if you can. While I often hike alone, I would feel much more comfortable hiking in the dark with a group of fellow hikers.
Whether you hike during the day or at night, let a friend, family member or roommate know where you plan to go and when you plan to return.
What is the Best Day of the Week to Go Hiking?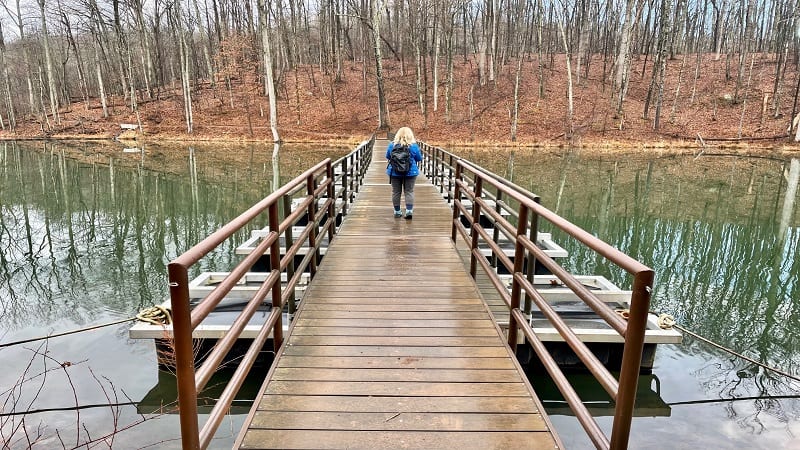 In my opinion, the best day of the week to go hiking comes down to personal preference. More specifically, do you like solitude or crowds?
I like quiet trails, so I tend to hike mid-week, on Tuesdays, Wednesdays and Thursdays. I always go early in the morning to get home by mid-afternoon.
Mid-week, the trails are lightly-trafficked and I can always get a parking space. Some days, I may not see a single hiker and have summit views to myself.
Not everyone can take off for a hike mid-week, I know, but if you have the flexibility, it's a great option for serenity-seeking hikers.
Many hiking groups meet up on Saturdays. These can be fun and allow you to hike a popular trail and get to know fellow hikers at the same time.
If you plan to hike on a weekend, do your research. It can be easy to get shut out of popular hikes, like McAfee Knob. The parking lot just isn't big enough.
Is There a Best Season to Hike?
Choosing a best season for hiking is truly like choosing a favorite child. It's just not possible. There are too many factors to consider.
You've got to think about weather, bugs, daylight hours, temperature, foliage, lack of foliage, water flow, sun strength, overgrown trails, wildlife and more.
You can't just select a season either, since early-spring is very different from late-spring. In March, the trees may be budding, but by May they are all green.
The same is true for fall. Here in Virginia, early-fall may be quite warm with no colorful foliage. By mid-fall, the landscape is awash with reds and oranges.
The leaves have all fallen by mid- to late-November. The trails can get slippery with fallen leaves and views once obscured by foliage open up to trail-goers.
Winter hiking can be lovely with frozen waterfalls and snow-covered trails. Or you may find yourself hiking across a snowless, leafless forest in every shade of brown.
The best part about winter, however, is the welcome relief from ticks, mosquitoes, snakes and black flies. The black bears are off hibernating, too.
In summer, the days are long, allowing for a full day of hiking the trails. But, yes, you've got to contend with the bugs, especially in marshy areas.
The heat can be a real drag too, especially on a punishing, full-sun trail. Wear sunblock and stay hydrated. It's wise to bring more water than you may need.
Final Thoughts: When to Go Hiking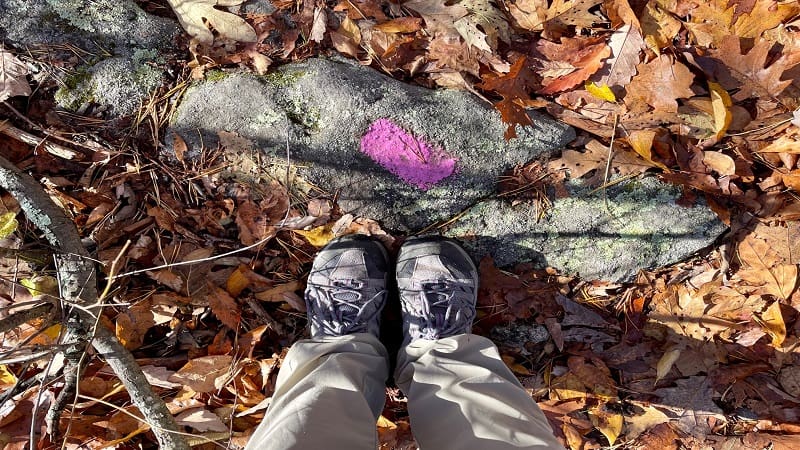 I hate to give an answer that's more personal opinion than science-based, but maybe this is a mix of both. I have to stick with early-morning hours.
Circadian rhythms ensure you're at near-peak energy, ready to tackle the hiking trails. By 7 to 10 am you're no longer groggy. You're ready to kick butt.
A morning hike serves as your exercise for the day, so you can skip the morning run. This could be reason enough to get an early start on the trails.
The first hours of the day are quiet and peaceful. You'll see few people so you can fully revel in the sights, sounds and scents of nature. It's truly amazing.
There are fewer bugs, cooler temperatures (in warm weather months), less unnatural noise (music, talking, barking dogs). It's a win-win-win.
Whether you choose to hike in the morning or in the evening, even-mid-day, just get out there. Your body, mind and soul will thank you.