9 Best Fleece-Lined Hiking Pants for Women
Fleece-lined hiking pants are among the coziest and most comfortable options for cold conditions and winter hikes, especially for women.
There are few things more miserable than being cold while you're hiking in winter. But lucky for you, you don't have to be on your next winter adventure.
Seasoned hikers know that the key to extra warmth on the trails comes down to choosing the right materials and learning how to layer for the wintery cold.
For new hikers, all this information can feel overwhelming. But don't worry, you're in the perfect place for learning about staying warm on cold days.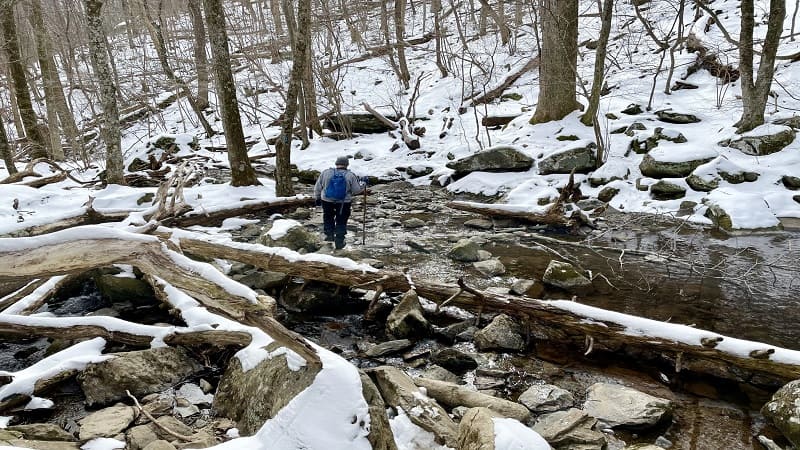 There may be affiliate links in this post. If you make a purchase, I earn a small commission at no extra cost to you. Thank you.
Fleece-lined pants have a water-resistant exterior and a super soft and warm fleece lining that feels great on bare legs or with a base layer, like thermals.
They also wick sweat away from your skin, which is incredibly important for helping you regulate body temperature while hiking in colder weather.
If you're looking for warm winter hiking pants for women that don't break the bank, but also have the proper technical and performance specifications, read on.
In this article I'll go over some frequently asked questions about winter hiking pants and share nine of the best winter hiking pants for women.
I'll also share my top three Quick Picks, my faves in the bunch, including fleece-lined hiking pants that look and feel just like your favorite sweatpants.
The options for both comfort and performance are practically endless. Let's get into it to get you back on the trails.
Quick Picks: Fleece-Lined Hiking Pants
What Pants Should I Wear for Winter Hiking?
Picking out winter hiking pants can feel like a daunting task – but don't worry, I'm here to help get you and keep you on the trails in winter months.
In the winter, you have to be mindful of staying warm and dry in cold temps while also maintaining a good range of movement.
And of course, hand pockets are always a huge bonus! If you need more pockets, cargo hiking pants can be a great option on winter days.
Never wear denim or cotton pants while hiking in cold weather. Denim and cotton may feel warm and cozy, but they're terrible materials for the elements.
Cotton and denim both attract and hold onto moisture, which can cause hypothermia. It's best to simply avoid these materials altogether.
Good materials for hiking pants include Gore Tex, fleece, Merino wool and synthetic fabrics, like polyester and nylon.
When choosing winter hiking pants, avoid baggy-fitting pants. Baggy clothing can catch on plants and rocks and limit your movement.
Winter hiking leggings can be worn as a base layer for added warmth or you can wear them on their own. Some hiking leggings even have pockets!
Winter hiking pants are better if you're snowshoeing because pants tend to be made of multiple layers.
When snowshoeing, you need a water-resistant outer layer. This is why pants are an excellent choice.
Convertible hiking pants can also be a good choice if it's not extremely cold and you're wearing extra layers.
What Should I Look for in Winter Hiking Pants?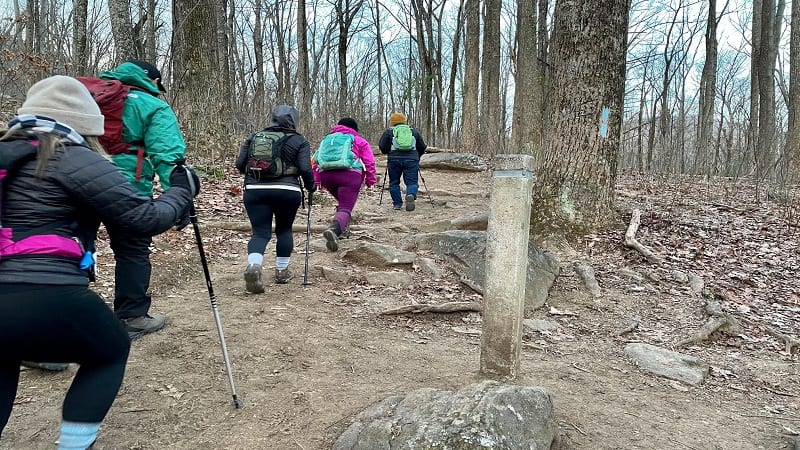 There are two main categories of things to look for when buying winter hiking pants: comfort and fabric performance.
When considering your comfort, keep these factors in mind:
– Breathability
– Stretch
– Form fitting or loose
– High-waisted or low-waisted
– Range of motion
– Pockets
– Waistband – elastic or belted
With regard to fabric type and material performance, look at:
– Breathability
– Insulation
– Water resistance
– Sweat wicking
This might sound like a lot, but the best hiking pants are typically designed to tick off every box. Look for materials like:
– Synthetic fabrics, such as nylon, spandex and polyester
– Merino wool lining (a good fabric for hiking bras and hiking underwear, too)
– Water resistant exterior material, such as like Gore Tex, coated nylon
Unless you plan to hike in a winter snowstorm, you should look for hiking pants that are water resistant rather than waterproof pants.
Water resistant fabrics are typically coated with a water resistant coating. This keeps most water out but still allows the fabric to breathe.
Breathability is important, even in winter hiking clothes. As you hike, you sweat, even if you don't feel hot from your body heat.
If your sweat gets trapped in your clothes, it can actually make you colder and lead to hypothermia.
Picking fully waterproof fabrics will keep all water out, but they will also keep your sweat in because they do not breathe.
This is why water-resistant is better than waterproof for most winter hiking needs.
Are Fleece Pants Good for Hiking?
Fleece and fleece-lined pants are a very good option for winter hiking. They can be worn alone or as a base or mid-layer in extremely cold temperatures.
Some fleece pants might seem like run-of-the-mill sweatpants, but there's a very important – even life-saving – difference.
Most sweatpants and lounge pants are made from cotton. As we've already established, cotton is one of the worst materials for winter hiking clothing.
Cotton attracts, absorbs and holds moisture from the environment and from sweat. This can quickly lead to hypothermia in cold weather.
Fleece, on the other hand, is made from polyester. Although fleece is the name for the fur on a sheep, fleece fabric is actually synthetic material.
Fleece fabric is water-resistant, breathable and has sweat wicking properties. Thick fleece fabric retains its insulating properties in wet conditions.
Fleece fabric is very popular and commonly used as a lining on the inside of winter hiking pants.
If you're looking for comfortable pants that you can move freely in, fleece and fleece-lined pants are great for winter hiking.
Top Fleece-Lined Hiking Pants for Women
Fleece-lined hiking pants are perfect for winter hiking. These pants have a water-resistant outer layer and a warm and soft fleece lining.
Here are the top-rated fleece-lined hiking pants for winter and cold weather hiking, even for hiking in wet weather.
These fleece-lined pants stretch, repel moisture and are super comfy.
These pants even have a drawstring around the ankles to cinch up the bottoms in wet or blustery weather conditions. Talk about convenience!
These winter outdoor pants are available in sizes from 0 – 16. You can get these pants in black, charcoal or mauve.
The pockets on these pants are among my favorite features! Each hip pocket is zippered, and there is a closed cargo pocket on each leg, too.
The Eddie Bauer Polar Fleece-Lined Pants are ideal for any winter outdoor activity, like hiking, backcountry skiing, snowshoeing and fishing.
Plus, they're comfortable enough to wear for your everyday errands. Not too baggy or too loose, these pants are perfect for any winter activity.
These water resistant winter hiking pants have tons of pockets and come in so many colors.
If you're looking for versatile budget winter hiking pants, these are perfect! The soft fleece lining is insulating and also feels so great on your skin.
These pants aren't baggy, but they aren't extremely form-fitting either. The waistband has a button and elastic so thee pants can easily move with you.
BALEAF fleece-lined hiking pants have four zippered pockets – including one specifically designed to hold your cell phone!
You can cinch the ankles of these pants to keep your legs warm and dry during wet or windy weather, and the knees are reinforced for movement.
Available in sizes from X-small to 2XL with black, green, gray, purple and blue options, there's a pair for every hiker and occasion.
These pants are made from materials that wick moisture, including 90% polyester and 10% spandex. They are just right for a snowy hike.
An elastic waistband, wind and water resistant exterior, zippered pockets and super soft fleece lining… what's not to love?
These fleece-lined winter hiking pants from Toomett are available in seven colors from XS to XL and are perfect for winter and cold weather hiking.
These winter hiking pants have reinforced seams which make them great for hiking and rigorous outdoor activities.
They're water resistant and super warm, but they're still breathable! Both are important qualities when selecting proper winter hiking pants.
This pair of pants comes with five zippered pockets to protect your phone, keys, ID cards, snacks and more.
The knees on the Toomett pants are designed for ease of movement. The 4% spandex gives them a good amount of stretch for comfort.
These pants are excellent for winter hiking, hunting, camping, fishing, backpacking, snowshoeing, skiing, and more.
These hiking pants are warm, breathable, form-fitting and stretchy.
With warm fleece lining and a water-resistant outer layer, these pants are great for any winter outdoor activity from hiking to skiing to snowshoeing.
The Free Soldier hiking pants run about two sizes smaller, so we definitely recommend sizing up if you decide to pick up a pair of these awesome pants.
The exterior material is 92% water-resistant nylon with 8% spandex for comfort and stretch.
The interior is lined with 100% polyester polar fleece which is soft on the skin and incredibly warm.
With the nylon outer layer, these fleece-line hiking pants for women are breathable yet incredibly wind and water resistant.
You'll stay warm and dry in most winter conditions, even ice and deep snow, with these pants which come in eight colors and over 15 sizes.
Finally, these pants have zippered pockets, an adjustable waist, knee panels and a D-ring for clipping keys and essentials.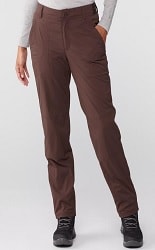 REI took their beloved hiking pants and added a fleece lining to create the ultimate pair of winter hiking pants.
These REI hiking pants are made from a nylon and spandex exterior with a super soft and warm micro tricot lining for insulation and sweat wicking.
These pants have a button closure, but the waistband has elastic so you can move easily. There's also a drawstring to help you customize the fit.
If it's hand pockets you need, these pants have them. Five pockets, to be exact, with a zippered back pocket for holding your essentials.
These pants have been field tested in temps as low as 20 degrees while hiking, rock climbing and backpacking all over the world.
These straight-leg pants aren't form-fitting, but they're not loose or baggy either. Available in sizes from XXS to 3XL.
Stretch fleece-lined pants with two-way stretch nylon/spandex exterior and zippered cargo pockets? Sign us up.
These Eddie Bauer Guide Pro Lined Pants are warm, comfortable, water repellent and stretchy. They are absolutely perfect for winter hiking!
The First Ascent Guide Pro pants feature two zip-cargo pockets, UPF 50+ sun protection and have just the right amount of stretch.
While they're great pants for hiking in the winter or cold weather temperatures, they're also great for climbing, scrambling and cross-country skiing.
The material consists of an exterior with 94% nylon and 6% spandex with a two-way stretch, and a polyester stretch fleece lining.
These pants are available in four colors and sizes from regular to plus size with different leg length options, too.
Insulated water-and-windproof fleece-lined pants are exactly what you need for winter hiking, and these pants cover all the bases.
Not only do they cover all the technical features: they look super cool and are incredibly comfortable to boot.
The Rdruko winter hiking pants are made from a 92% polyester and 8% spandex shell for plenty of wind and water resistance with just the right amount of stretch.
The interior of the pants is lined with 100% polyester fleece to keep you warm and cozy, and it feels great on your legs.
These winter hiking pants have articulated knees for easy hiking, climbing and bending. They have reinforced seams and panels for plenty of outdoor activity.
These fleece-lined hiking pants come in nine different colors and sizes from XS to 2XL.
These hiking pants are semi-form fitting, so they won't work well with layers unless your base layer consists of very thin leggings.
However, they're warm and cozy enough on their own to wear in many winter conditions.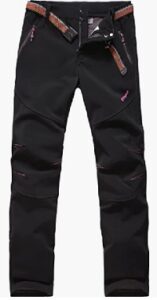 These thermal fleece-lined soft shell pants are super cute and warm with all the right technical features.
Lined with thick polar fleece, these pants are perfect for freezing and below-freezing temperatures and work great for layering, too.
The Tofern winter hiking pants are made from a 94% polyester and 6% spandex exterior that is both water-resistant and breathable.
The interior is lined with thick moisture-wicking polar fleece.
These pants are available in four colors and sizes from XS to XL. They have a belt closure with an elastic waistband for a perfect fit.
The seams of these pants are reinforced and they have articulated knees for comfort and ease of movement while hiking or climbing.
Zippered pockets are always a great addition to any hiking pants, and these pants have three zippered pockets.
The zippered pockets are perfect for keeping all your trail essentials safe, no matter how rough the terrain.
These jogger-style fleece-lined winter pants are perfect if you want technical wear that feels just like your favorite sweatpants.
These pants have a zippered pocket for keeping your essentials safe and fit and feel just like loungewear.
The Backcountry Winter On the Go Pants are available in four colors and sizes from 2 to 14. They're perfect for both casual and rigorous wear.
The exterior fabric is made from 90% polyester and 10% spandex with a 100% polyester fleece interior lining.
These pants don't have as many pockets as the other options, but they do come with one zippered pocket that's perfect for your phone and keys.
They're not tight, but they're not baggy either! When we say these pants are comfortable, we mean it. You'll want to live in them!
These jogger-style winter pants are just as great for winter hiking and camping as they are for lounging on the couch on a snow day.
Wrap-Up: Winter Hiking Pants for Women
Fleece-lined hiking pants are among the absolute best options for winter hiking pants for women. They keep you warm, they keep you dry, and they're comfy.
On top of all that, some come with all the pockets a girl could ever want!
Or, if you're the lounging type, you can even find your next favorite pair of joggers or lounge pants, perfect for the trails.
Just be sure your pants are free from cotton or denim, are water-resistant and moisture wicking, and are comfortable, too.
For more winter gear picks (which by the way, are great hiker gifts), check out my Gear Guides.