Best Lightweight Base Layers for Winter Hiking
There's so much to love about winter hiking. The trails are less crowded, the views through the leafless forest are phenomenal and the stillness is palpable.
Winter hiking is not fantastic, however, when you are cold. Lightweight base layers for winter hiking are critical. You sweat a lot to reach the summit.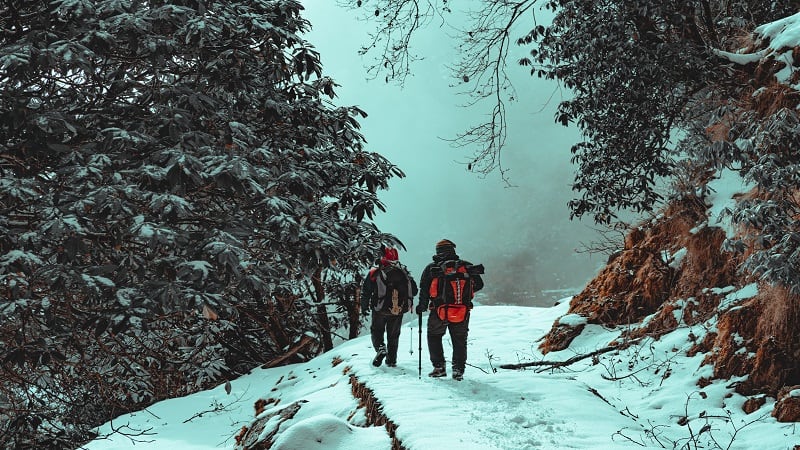 There may be affiliate links in this post. If you make a purchase, I earn a small commission at no extra cost to you. Thank you.
Hiking layers closest to your skin should be made of synthetic performance materials, like polyester or nylon. Merino wool is tops, too.
No materials will keep you completely dry as you hike, but the above materials are moisture-wicking. They push sweat and wetness to the fabric's outer surface.
Many hikers opt for at three hiking layers (I often wear five layers) to stay warm: a lightweight base layer, an insulating middle layer and an outer shell layer.
For this post, I'm going to focus on lightweight base layers that are tops among hikers, including me. For one more layer, a Merino wool hiking bra is ideal.
Quick Picks: Lightweight Base Layers
The raves for this long-sleeve thermal base layer go on and on. On Amazon, the MERIWOOL Long-Sleeve Thermal Shirt has an average rating of 4.8 stars.
Reviewers love the cozy feel of this base layer, as well as the lower price point as compared to near-identical thermal shirts at outdoor retailers, like REI.
This base layer is made of a super-fine Merino wool that keeps you comfortable for the duration of your winter hike without getting itchy. I despise itchy wool. Eek.
The MERIWOOL Long-Sleeve Thermal Shirt is both quick-drying and breathable, which also helps make this hiking base layer more odor-resistant.
Even in bracing winds, this base layer keeps you warm and toasty. There's a lot of hype around Merino wool, but believe the hype. This thermal does its job.
This long-sleeve thermal comes in more than a half-dozen colors, including charcoal gray, sky blue and wine. It's available for both men and women.
The fitted 32 DEGREES Cozy Heat Base Layer is just right for layering for a cold-weather hike, but comfy enough to sport on its own while lounging at home.
This lightweight knit top is made from a blend of 90% polyester and 10% spandex, which allows for a soft and smooth feel against your body as you hike in the forest.
This base layer is lightweight, but also warm and comfy. You can wear this under a windbreaker for a fall hike or under more layers without feeling bulky.
This long-sleeve base layer is both quick-dry and odor-resistant. This lightweight layer also has four-way stretch, allowing for great mobility when out on the trails.
The 32 DEGREES Cozy Heat Base Layer comes in several styles, including a scoop neck, crew neck and mock neck. It's also available in a range of neutral colors.
Matching base layer leggings are available for a complete head-to-toe primary layer of warmth to keep you comfy and cozy on cold-weather hiking days.
One more popular option in base layers is the fleece-lined option. The MANCYFIT Fleece-Lined Long-Sleeve Base Layer wraps your body in warm and cozy fleece.
This base layer is made from a blend of 95% polyester and 5% spandex. It's super-soft, breathable and moisture-wicking, as you would hope a base layer would be.
You'll feel like you've been scooped up in a warm hug with this base layer, ensuring a toasty winter hike from start to finish, no matter the length of the trail.
It's worth noting that this base layer runs small, so I would suggest that you order up a size. You want the layer to be snug, but not too snug or short in the arms.
The MANCYFIT Fleece-Lined Long-Sleeve Base Layer comes in multiple solid colors and patterns, including ultra-cute stripes and polka dots.
This base layer comes with a 30-day, money-back guarantee if you are unsatisfied with this fleece-lined top for any reason. This top is available for men, too.
Wrap-Up Notes: Hiking Base Layers
As of late, I've become a big fan of Merino wool. In my opinion, socks and mittens, in particular, that are made from this fabric live up to the hype. Ah, toasty warm.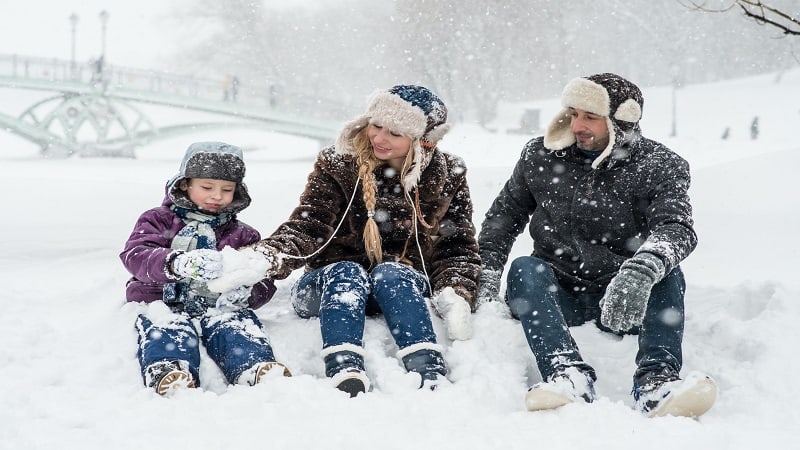 However, having also worn base layers made of polyester blends, I feel these are a good choice, too. They also have a lower price point than Merino wool base layers.
The downside to polyester blends is that they can hold onto odors. More so than Merino wool. For challenging, sweat-inducing hikes, consider two base layers.
So long as you stay away from cotton, you'll be in good shape. The fabric won't keep you warm for long and you'll wind up cold and uncomfortable by hike's end.
For more winter gear picks (which by the way, make great gifts for hikers), check out my Gear Guides.